If you're keen on a coffee shop latte, then why not consider one of the best coffee machines for your morning cup? There are all sorts of models, from bean-to-cup machines to simple filter coffee makers. What you choose should be influenced by your lifestyle, coffee requirements and style. Luckily, we've done most of the work for you.
At the moment, when you might be looking to save money where you can. There are plenty of ways to still enjoy a proper cup of coffee at home. The odd £3 on coffee isn't going to radically change your finances, but instead of visiting a coffee shop and spending those coins, they will easily add up over the course of a year, especially if you have a coffee subscription too.
Last chance Black Friday deals on coffee machines
We interrupt the regularly scheduled content to let you know that although Black Friday is over, there's still time to grab some last-chance  Black Friday deals on coffee machines. Want to grab a bargain? These are the retailers that have the best Black Friday deals right now, or keep scrolling to continue reading our buyer's guide.
Shop the best coffee machine deals: Very | John Lewis | Delonghi | Tassimo | Harts of Stur | Kitchenaid | Amazon UK
Save 21%: Sage the Barista Express, Bean to Cup Coffee Machine with Milk Frother WAS £629.95, NOW £498.95
Save 57%: Nescafe Dolce Gusto Mini Me Automatic Coffee Machine Starter Kit WAS £114.99, NOW £49.99
£170 off: Nespresso Creatista Plus by Sage WAS £499.95, NOW £329.95
£470 off: De'Longhi Eletta Fully Automatic Bean to Cup Coffee Machine WAS £999.99, NOW £549
£83 off: Tassimo Happy Pod Coffee Machine WAS £127, NOW £44
Crank up your machine every morning and make yourself your favourite coffee - whether it's a latte, espresso, or you prefer to reap the benefits of a black coffee. Here are our top picks for the best coffee machine featuring our coffee pod machine picks and more. Most importantly, we have details on where you can make the biggest savings.
Best coffee machines at a glance
• Best of the best: Sage The Barista Express Machine
• Best for a bargain: Russell Hobbs 20680 Buckingham Filter Coffee Machine
• Best for convenience: De'Longhi Magnifica Automatic Bean to Cup Coffee Machine
Best coffee machines
Best of the best
Description
Sage is well-known for professional espresso machines. This Sage The Barista Express Machine is a
Pros
Classic stylish design
Heats milk fast
The water tank can be filled in the position
Versatile
Best coffee machine starter kit
Description
A recognisable and popular De'Longhi Nescafé Dolce Gusto Mini Me Coffee Machine Starter Kit comes
Pros
Includes six boxes of capsules
Compact size, easy to use
Easy to clean
A wide range of compatible products
Cons
Tank is smaller than most - can do just three to four coffees with one tank
Premium coffee machine
Description
As it only takes three seconds to warm up, this is a real time-saving coffee machine. The
Pros
Fast heat up
Easy one-touch programmes
Fuss-free, easy-to-read display
Cons
Quite expensive compared to other coffee pod machines
User-friendly machine
Description
Easy to use, with over 70 drinks to choose from, and an adjustable cup stand means you can
Pros
Compact size
Two years manufacturers warranty
Cons
Small capacity compared to others
Best for convenience
Description
This best-seller gives you versatility in your coffee making as you can either choose to use fresh
Pros
Self-cleans
Easy to use
Reasonable size
Can create great-tasting coffee to your taste
Cons
Is quite noisy when cleaning and grinding
For lovers of frothy coffee
Description
The De'Longhi Eletta features an automatic latte and cappuccino function to get really creamy
Pros
Easy to clean and use
Slimline design
Cons
Some reviews mention they thought it made the coffee quite slowly
Perfect for espresso
Description
Steam milk for lattes and cappuccinos, or use the hot water setting for Americanos or tea. A
Pros
Narrow design
User-friendly control panel
Cons
Cleaning the filter takes time
Best coffee pod pick
Description
This coffee machine features individual settings to personalise your coffee depending on how much
Pros
Compatible regular and taller glasses
Choose from eight drinks
Best for a bargain
Description
Go a bit old-school with this Russell Hobbs 20680 Buckingham Filter Coffee Machine and make it
Pros
One to four-cup option
Built-in filter saves waste
Energy-efficient option
Description
A large-capacity water tank and 250g bean container mean you can make up to 10 cups of coffee from
Pros
Generous water tank size
Easy to read and operate
Cons
Steam nozzle is tricky to use
What to look for in the best coffee machine
Coffee machine type
The type of coffee machine will affect which features are included; these include bean-to-cup, filter coffee, and coffee pod machines. We've included a selection of these in our pick of the best. But, overall, the right one for you will depend on your lifestyle and coffee preferences. We've explored these in a little more depth in our FAQs section.
Milk frother
If you prefer milk-based coffee drinks, choose a machine with a milk frother or steamer that will whip up froth or heat the milk in a contained jug for you to add to your drink. However, you can also buy these individually (milk frothers make great presents!). You'll need a frother or steamer if you want a latte or cappuccino.
Settings and controls
Machines will have different settings so you can personalise the strength of your brew, keep your cup of Joe warm, or auto shut off once your cup is full. Some newer models are smart, too. You can connect via an app to set it to make a coffee while you're still in bed or on the sofa. Talk about living your best life!
Size and capacity
This appliance will be a permanent fixture on your kitchen counter. So, you may want to consider the size of the machine if you're limited in space. Filter and pod machines tend to be smaller than bean-to-cup machines. You can even create your own coffee bar so that you have a designated space.
You'll also want to consider the capacity of your machine. A larger water tank and/or bean hopper capacity is ideal for frequent coffee drinkers or those looking to refill less frequently. However, if you're more casual in your coffee-drinking habits, a coffee pod machine or one with a smaller capacity may be more suitable.
Best coffee machine FAQs
Which type of coffee machine should you buy?
There are several different types of coffee machines, so think about what your favourite drink is and how much time you might have in the morning. Plus your budget will come into play, obviously - before deciding whether to buy a capsule appliance, one that uses ground coffee or a bean-to-cup version.
Bean-to-cup coffee machines
Quite literally take the coffee beans and at the touch of a button, you'll get the freshest coffee at home. The coffee beans are freshly ground, pressed, and filtered for a perfectly smooth and aromatic blend.
Filter coffee machines
Choose your pack of ground coffee, pop it in, and off the machine goes. You can buy ready-ground coffee or buy a separate coffee grinder and grind fresh beans yourself. This type of coffee machine is arguably the most cost-effective and simple to use, and ideal for making a no-frills black coffee to fuel your day. You can have control over the strength of your coffee, unlike a pod machine, however, it can take some trial and error to get the measurements right. You may even want to learn how to use a cafetière and make your coffee this way which is a great way of making numerous cups.
Capsule coffee machines
These use little capsules, like a Nespresso machine. Pop the capsule in and off it goes. No messing around with beans or grinds, so these appliances are real-time savers and need less tidying up after. One for you if time is precious.
However, you're often limited to one type of capsule, and then there's the matter of recyclability of single-use plastics, so they're not the most eco-friendly - and they can be pricey.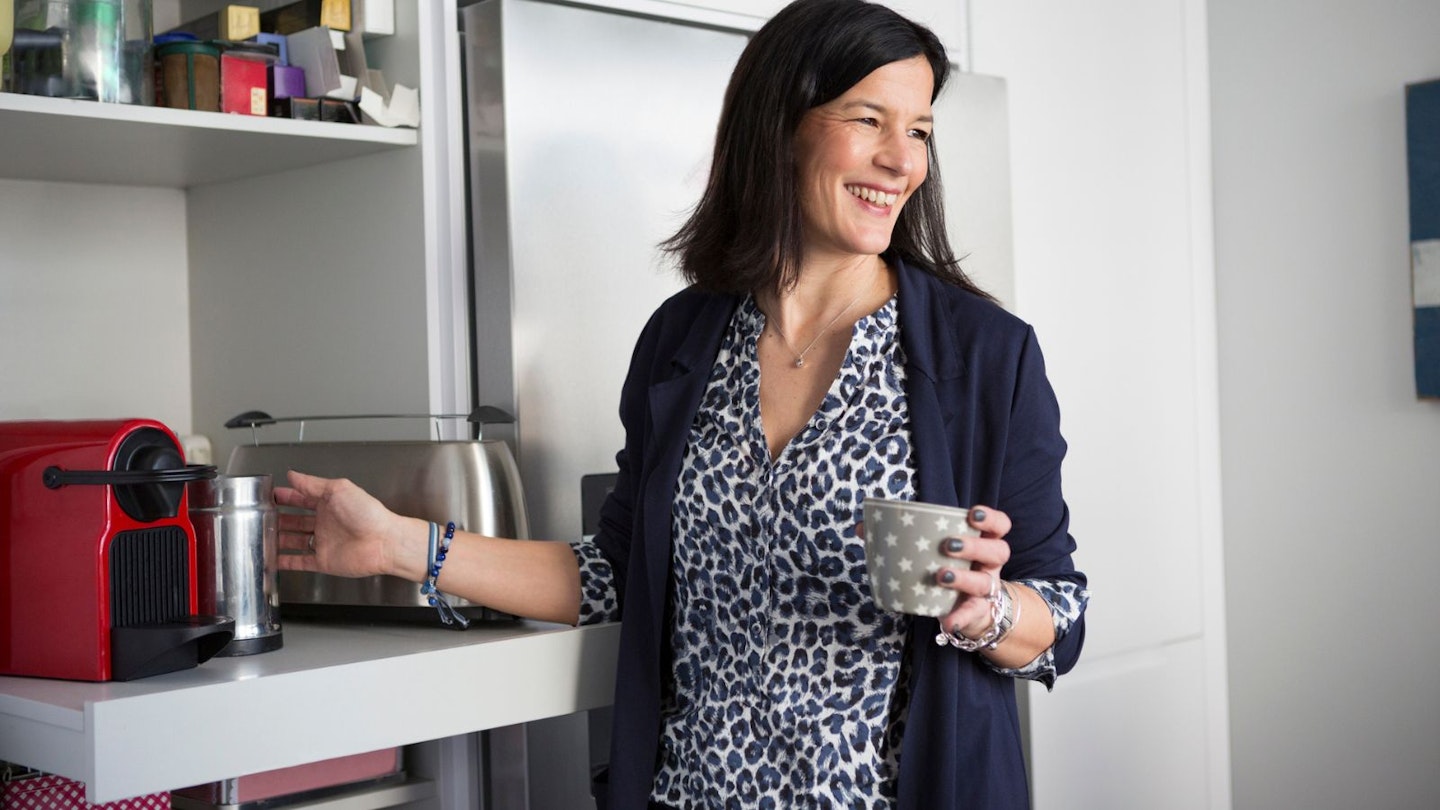 Is it really cheaper to make coffee at home?
We compared the cost of high street coffee shops compared to buying the homebrew alternatives.
High street coffee shop costs:
If you were to buy a medium Americano from these coffee shops every day for a year, you'd spend:
Starbucks: Tall Caffe Americano £1.95 - £711.75 per year
Costa Coffee: Medium Americano £2.20 - £803 per year
Caffe Nero: Americano Regular £2.80 - £1,022 per year
Home coffee costs:
In comparison, you could buy the below for a much more affordable price:
Nescafe Dolce Gusto Starbucks House Blend 12 Capsules: £5 - £152.08 per year
Starbucks House Blend Medium Roast Ground Coffee 200g (10g per serving): £4.40 - £80.30 per year
Tassimo Costa Americano Coffee Pods x 12: £4.50 - £136.88 per year
You could save yourself over £600 a year and even more when buying the non-high-street alternatives.
How to clean a coffee machine?
You'll need to be prepared to take good care of your coffee machine, regularly descaling and cleaning to make your machine last longer and perform at its best.
You should refer to the manufacturer's instructions which should come with a clear guide to help you maintain your machine. Fortunately, many of these appliances now alert you when they need cleaning or descaling. Some even have handy features like automatic cleaning that can make this job a little easier.
For most machines, you can add a suitable descaling solution into your machine's water tank which will flush through the system when switched on. The easiest machine to clean is a coffee pod machine, followed by a filter coffee machine which requires you to remove the coffee beans before cleaning. In comparison, bean-to-cup machines require the most attention. It'll require more maintenance to prevent blockages in the pipe system. If not, these could lead to potentially expensive repairs to stop the build-up of limescale.
Sophie Knight is the Group Commercial Content Editor for Bauer Media, working across many of Bauer's high-profile brands including Mother&Baby, Yours, Heat, Closer, Empire, CAR, Parkers, MCN, and launching WhatsTheBest.