Calling all coffee lovers: If you are someone who needs delicious fresh coffee to kick-start your morning, nothing beats the best bean-to-cup coffee machine. Whether you need your caffeine fix or consider yourself a coffee connoisseur and love a coffee subscription, we can all agree that no coffee taste beats that of a bean-to-cup brew. The coffee beans are freshly ground, pressed and filtered for a perfectly smooth and aromatic blend and are easy to use, making them our favourite type of coffee machine for the home.
Although they are more expensive than budget coffee machines, you can save money in the long run on your coffee shop favourite and become your own barista at home by adding one of these bean-to-cup coffee machines to your own coffee bar. They'll revolutionise your coffee and take it from bean to cup with the push of a button.
The best bean-to-coffee machine at a glance:
• Top pick: De'Longhi Magnifica - view on Amazon UK
• Best slimline bean-to-cup coffee machine: De'Longhi Eletta Explore - view on Amazon UK
• Most user-friendly bean-to-cup coffee machine: Melitta Purista F230-101 Bean to Cup Coffee Machine - view on Currys
When it comes to picking the best bean-to-cup machine for you, consider your favourite type of coffee. If cappuccinos or lattes are your go-to, opt for one with a milk steam wand built-in for seamless froth. Different coffee types call for adjustable grind settings, so if you're a household that enjoys coffee in all its glory, this will help you achieve a variety of coffee flavours and intensities.
We'd also recommend making sure it can fit on your kitchen countertop. Bean-to-cup coffee machines tend to be larger thecoffee pod machines for example so make sure to consider the dimensions of your new machine. For more information on choosing the best bean-to-cup coffee machine, scroll down to our FAQs section.
The best bean-to-cup coffee machines
Top pick
Description
This silver coffee machine is the whole package with an integrated coffee grinder adjustable to
Pros
Simple to use
Cleaning the milk spout is easy 
Built-in hard water area filter
Cons
Takes a little bit of effort setting up
Best slim line bean-to-cup coffee machine
Description
The De'Longhi Eletta Expore has LatteCrema technology, which not only sounds fancy but will give
Pros
Easy to use functions
Space saving design
Programmable
Cons
Some customers would like more specific size information (Instead of small, medium, large and x-large)
Most user friendly bean-to-cup coffee machine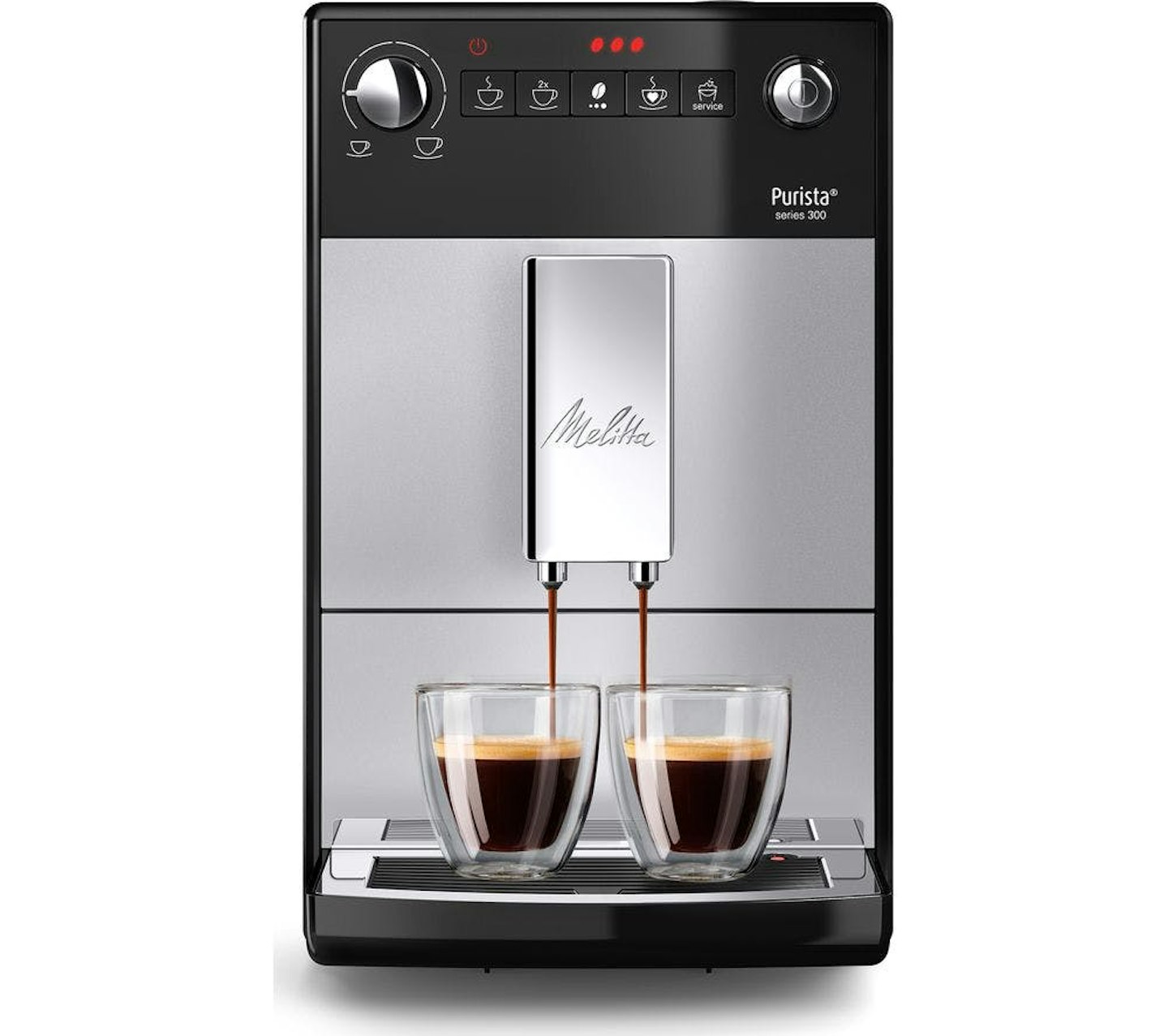 Credit: Currys
Description
Personalise your coffee-making experience with the 'Favourite coffee button' on the Melitta
Pros
User friendly
Compact
Stylish
Cons
Needs to be sited close to the sink
Best bean-to-cup coffee with a large water tank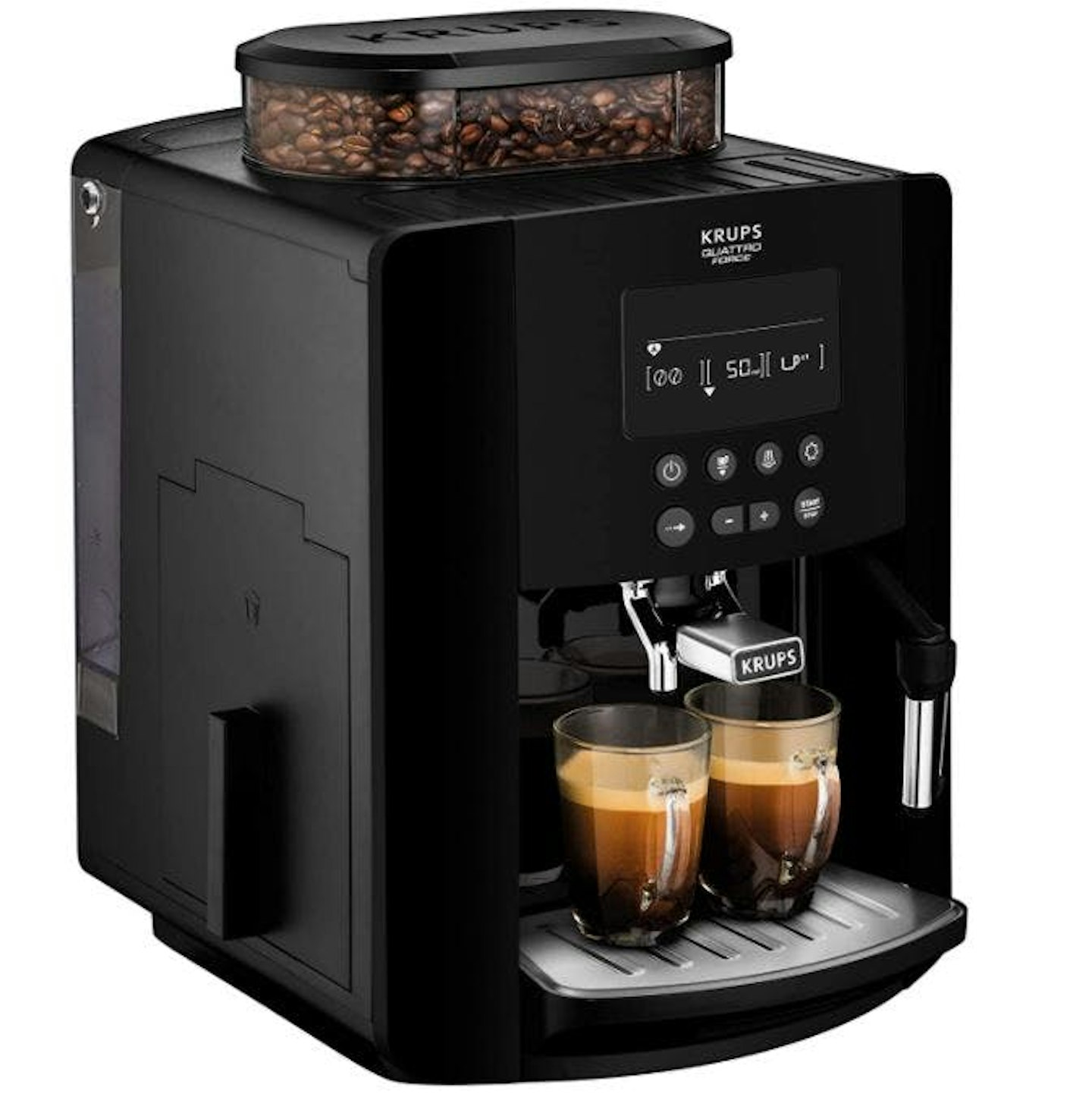 Credit: Amazon
Description
The Krups bean-to-cup machine boasts a generous 1.7L water tank, which means you can make up to 10
Pros
Easy-to-read LCD screen
Digital's customisable settings
'Favourites' button lets you store two recipes for instant access
Onscreen prompts
Cons
Some customers found the instructions challenging
Best bean-to-cup beverage selection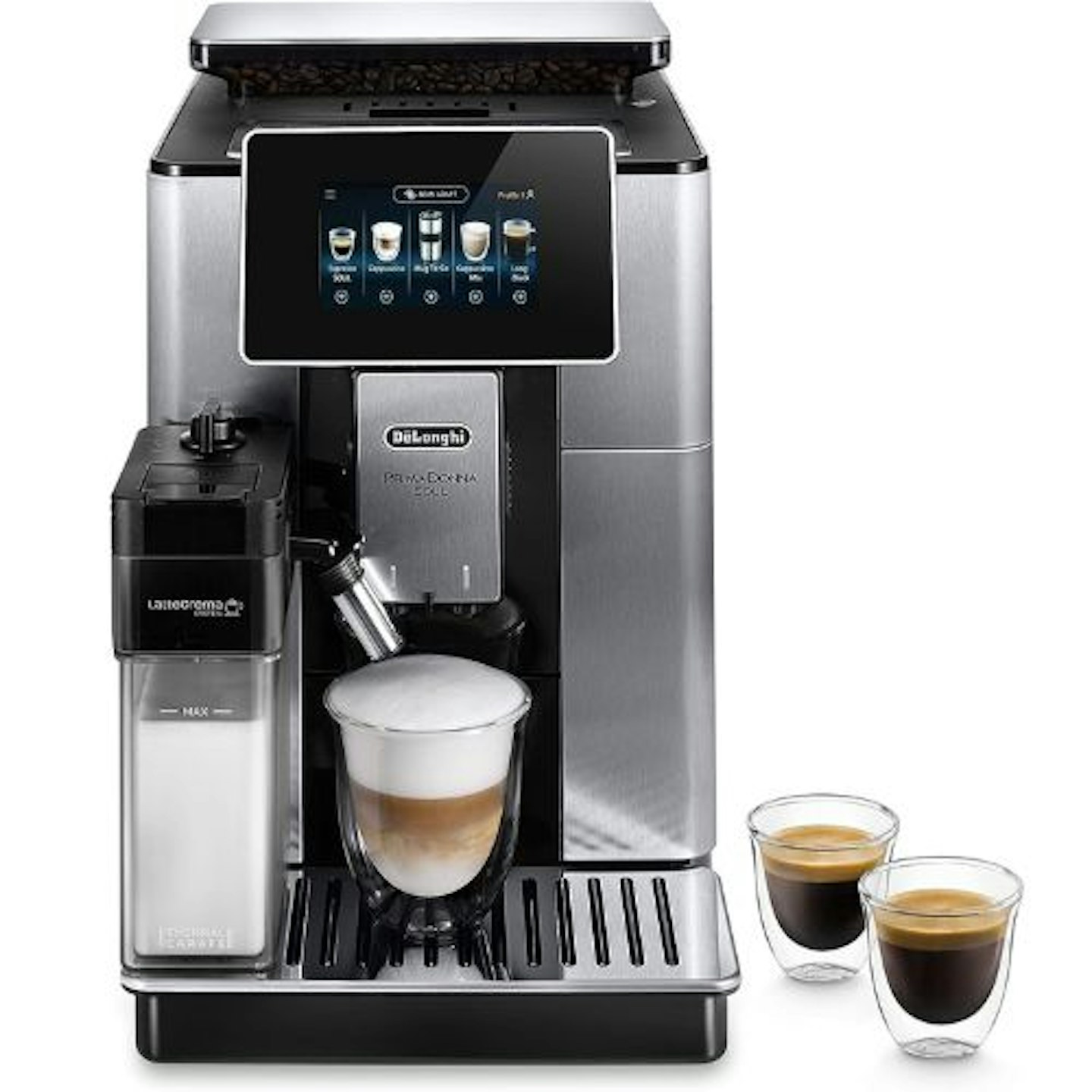 Credit: Amazon
Description
The De'Longhi Prima Donna bean-to-cup machine is perfect for large families, with 21 beverages
Pros
Up to 21 beverages
Easy pour
Reusable filter
Cons
No warning on beans or water running out
Easiest to clean bean-to-cup coffee machine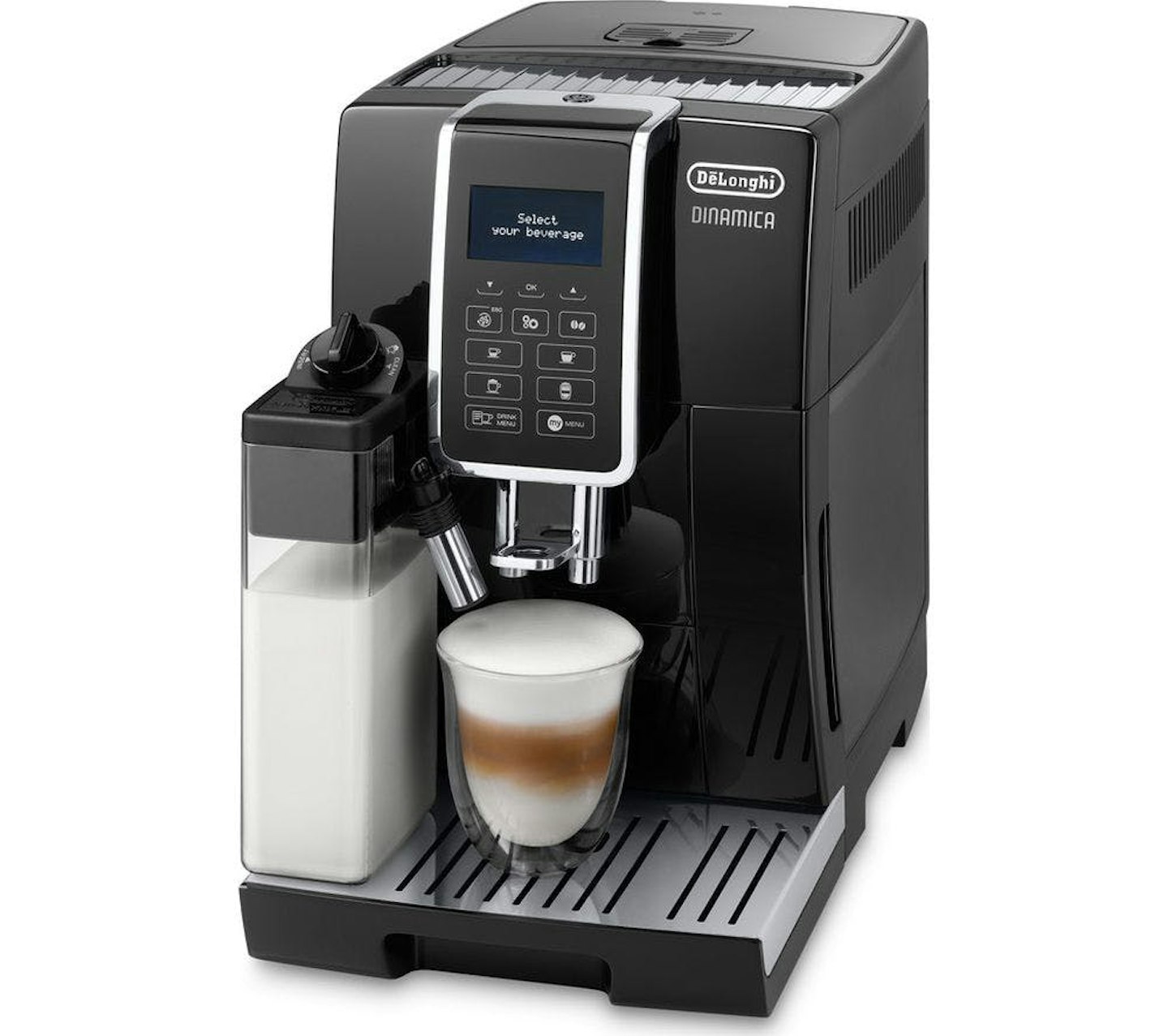 Credit: Currys
Description
With the high 19-bar pressure, your coffee will always have a deep and rich aroma with the
Pros
Dishwasher safe parts
Personalised coffee settings
Easy to clean
Cons
Some customers wished the water tank was a little bit bigger
Most stylish bean-to-cup coffee machine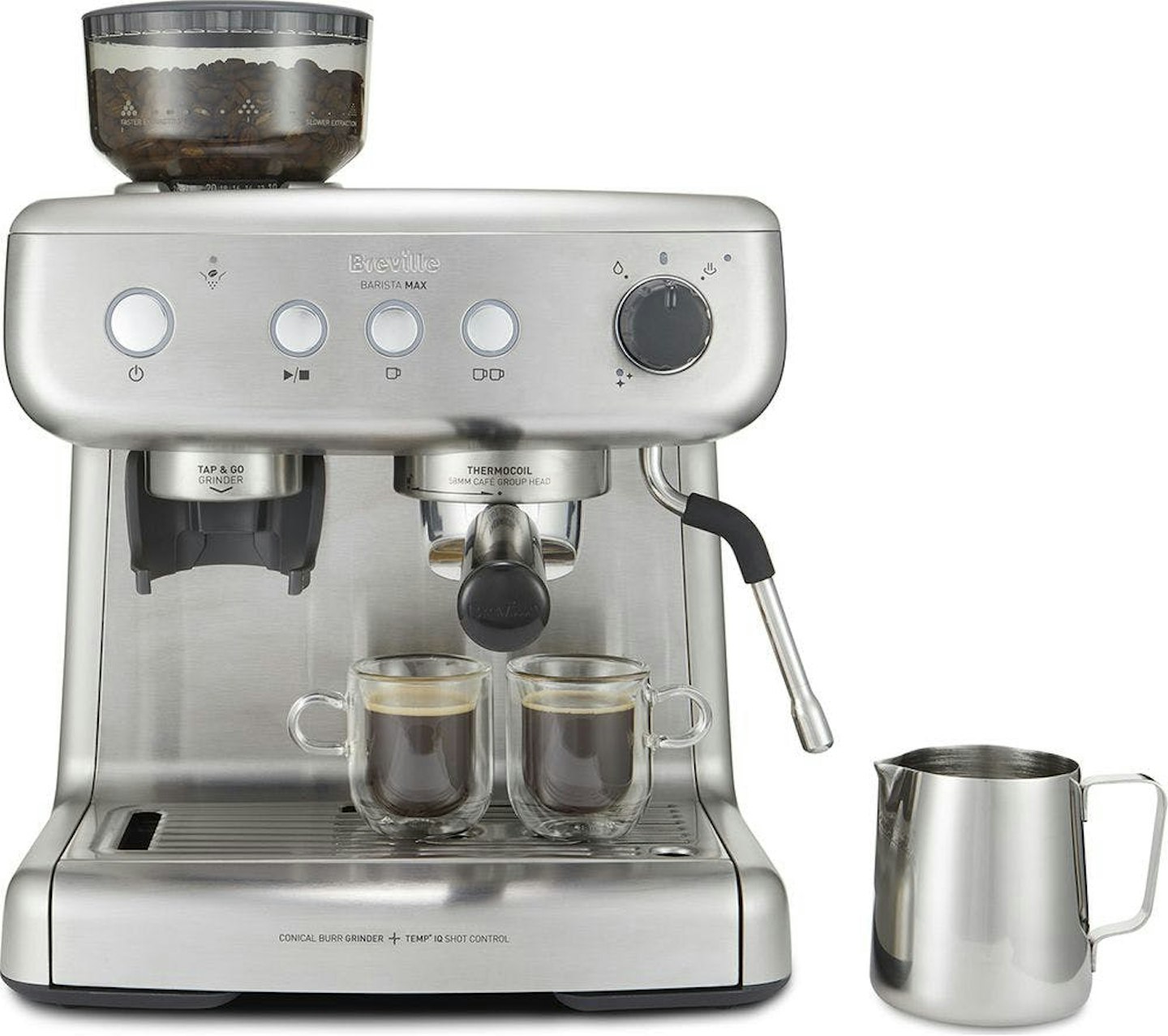 Credit: Currys
Description
This coffee machine looks 'the real deal' and will make a statement in your kitchen. The
Pros
The integrated grinder has 30 settings
Easy to use
Stylish
Our favourite design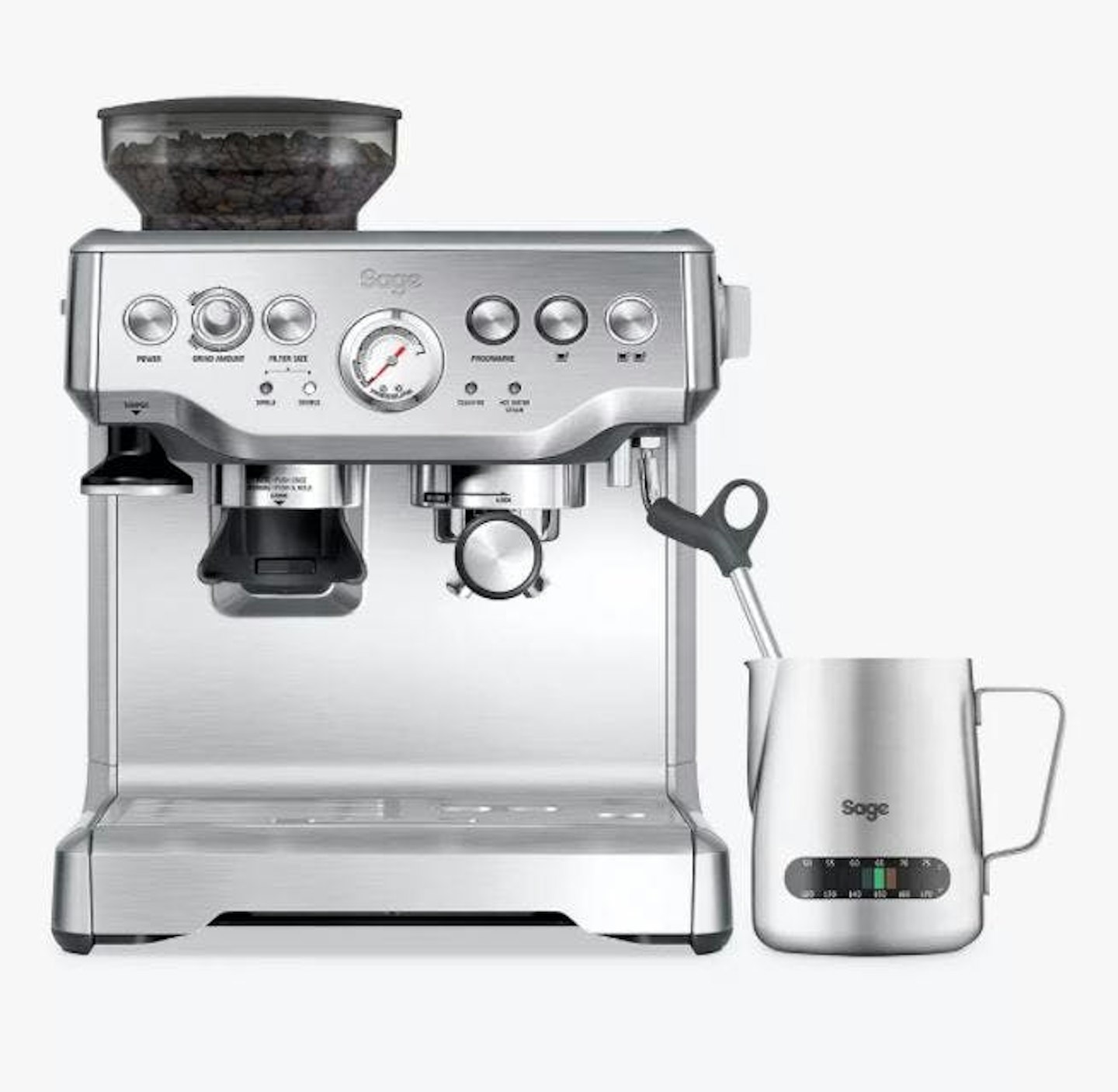 Credit: Currys
Description
If you want your coffee and fast, this coffee machine from Sage delivers your cuppa, from bean to
Pros
Big water tank
Can personalise settings
Suits most kitchens
Cons
Not suitable for espresso
Quietest bean-to-cup coffee machine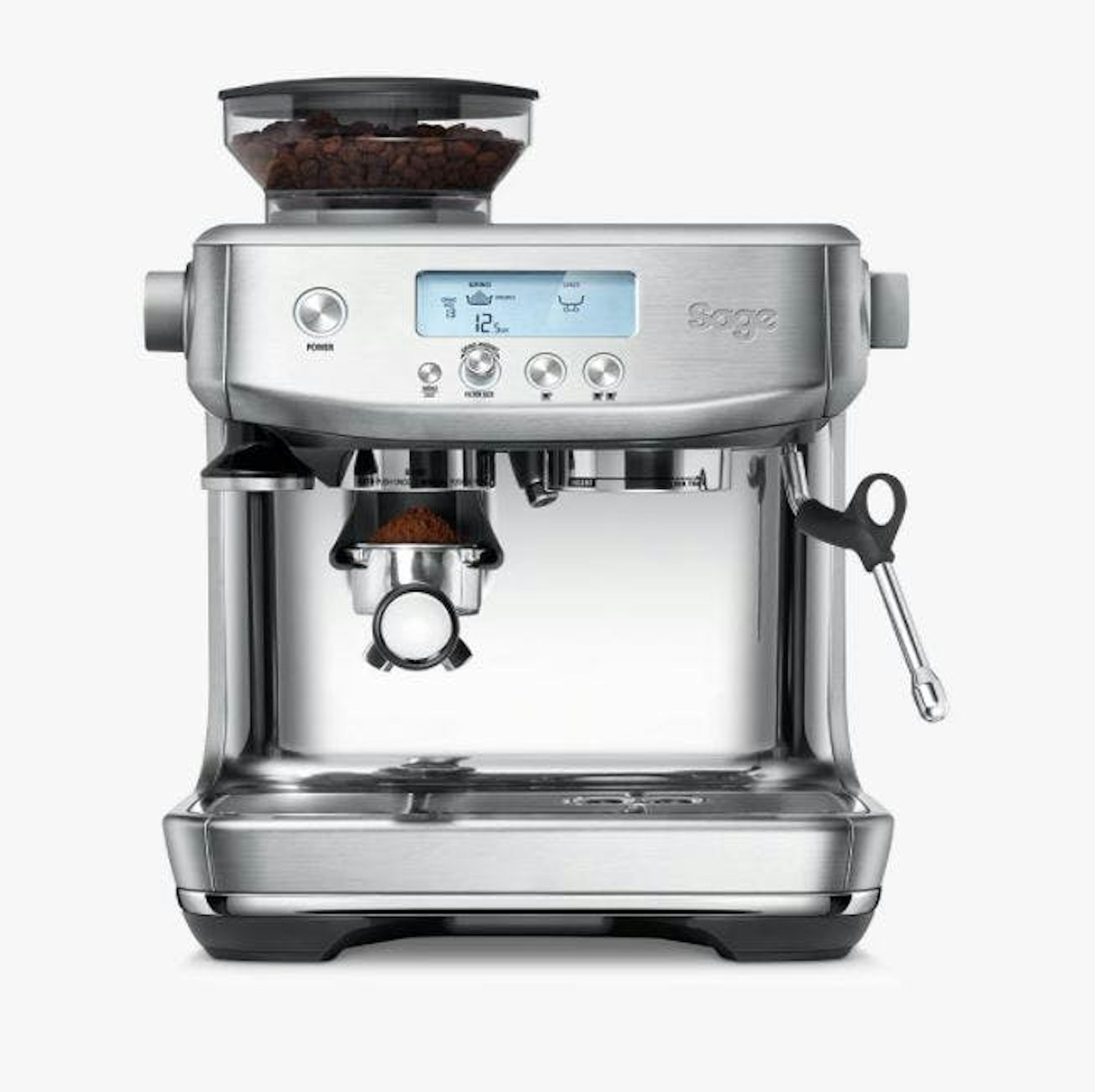 Credit: John Lewis
Description
We love that this Sage model of bean-to-cup coffee machine has been awarded the Quiet Mark, which
Pros
Three second heat up time
Two colour options
Two litre water tank
Cons
The milk frother has no options to increase heat or froth level
Best bean to cup for versatility
Description
We love this Beko CaffeExperto Bean to Cup Coffee Machine, which helps you explore a world of
Pros
Several coffee options
Built-in milk frother
Integrated cup warmer
Cons
A little bit noisy - expected
FAQs
How do I choose a bean-to-cup coffee machine?
When it comes to choosing a bean-to-cup coffee machine, there is one adjective - creating the most delicious fresh coffee possible. However, there are a few things to consider before parting with your well-earned cash. Here are our key things to look out for:
Personalisation:
The perk of modern technology means that most cup-to-bean coffee machines can now be personalised to your preferences. Making it even easier to enjoy your morning cup of joe. Some devices will allow you to store your cup size, aroma preference and strength, so all you need to do is grab your favourite mug, and you are good to go.
Cleaning:
Like any kitchen appliance, your coffee machine will need cleaning from time to time. Some machines will come with a free filter, whilst others will not. Finding a device that doesn't need constant cleaning and re-filling will save you time and money. We recommend opting for a machine with an auto-cleaning function because, let's be honest, cleaning a coffee machine is a bit of a faff.
Smart controls and LCD screens:
Smart controls and LCD screens are great for letting you know when you are running low on beans and water or if your machine needs cleaning. The last thing anyone wants is pouring coffee in the morning and the dregs of a watery coffee coming out.
How to clean the infuser of your bean-to-cup coffee machine?
It's essential to regularly clean your bean-to-cup coffee machine to keep it in the best working condition and maintain the quality of your drinks.
You should run a monthly descale cycle according to the specific instructions of each coffee machine manufacturer, using a descaling liquid to shift any limescale residue.
As the market leader for bean-to-cup coffee machines, De'Longhi shares how to clean the infuser in your machine with this quick and easy-to-follow video:
Types of coffee beans to try
If you're looking to expand your coffee palette while reaping all the black coffee benefits, here are some different types of coffee beans to try with their delicious taste profiles:
Arabacia
Arabacia is the most highly produced species of bean as is often considered the most superior in taste. Coming from the plant Coffea Arabica, it tends to have a sweeter, vibrant and smoother taste with floral and fruity notes. It has a lower caffeine content than the other beans but packs the punch when it comes to flavour.
Robusta
Robusta beans on the other hand has a slightly more bitter taste with a strong, deep flavour, woody and earlthy notes and a high caffeine content. This is definitely the one that'll wake you up in the morning!
For this reason, Robusta is more ideal for instant coffee for the pick-me-up we all need.
Liberica
Liberica is the rarest species of coffee bean and accounts for just 2 per cent of the world's coffee consumption (Arabacia on the other hand makes up 60-70 per cent).
It comes with a higher price tag due to its rarity but is favoured for the smooth aftertaste and a lingering hue of rich dark chocolate.
The flavour profile is completely unique with a mix of nuttiness, smokiness, floral and spice - you'll have to try it to see what you pick up!
Hannah James is a Senior Home, Parenting and Lifestyle Product writer for Yours, specialising in product testing and reviews. As a mother of three, Hannah loves finding clothes that makes her feel fabulous and products that are great for large families.