If you're looking to elevate your coffee to a fresher, more flavourful brew like the kind from your local coffee shop, the best coffee grinder will take your coffee from bean-to-ground-to-cup. After all, having a fresh cup of coffee in the morning (even if it's from a coffee machine) is an important part of the day that is savoured for its gorgeous taste and lively goodness using coffee from your favourite coffee subscription service.
Coffee oxidises quickly, so by grinding your beans yourself, you'll get a more aromatic coffee than anything you'd get from your local supermarket. They're a particularly great idea if you're a fan of black coffee and don't own a bean-to-cup coffee machine. It has many benefits if you're keen to try some different beans.
Best coffee grinders shortlist:
Best easy-to-use coffee grinder: De'Longhi, Coffee grinder - view on Amazon UK
Best compact coffee grinder: Bodum Bistro Electric Coffee Grinder - view on Bodum
Best manual coffee grinder: Manual Coffee Grinder by Henry Charles - view on Amazon UK
Read on to look at our pick of the best coffee grinders you can buy for making that fresh coffee at home (or away!), no matter your budget. And if you are obsessed with Italian-style coffee take a look at our guide to the best espresso coffee machines.
7 of the best electric coffee grinders:
Best easy-to-use coffee grinder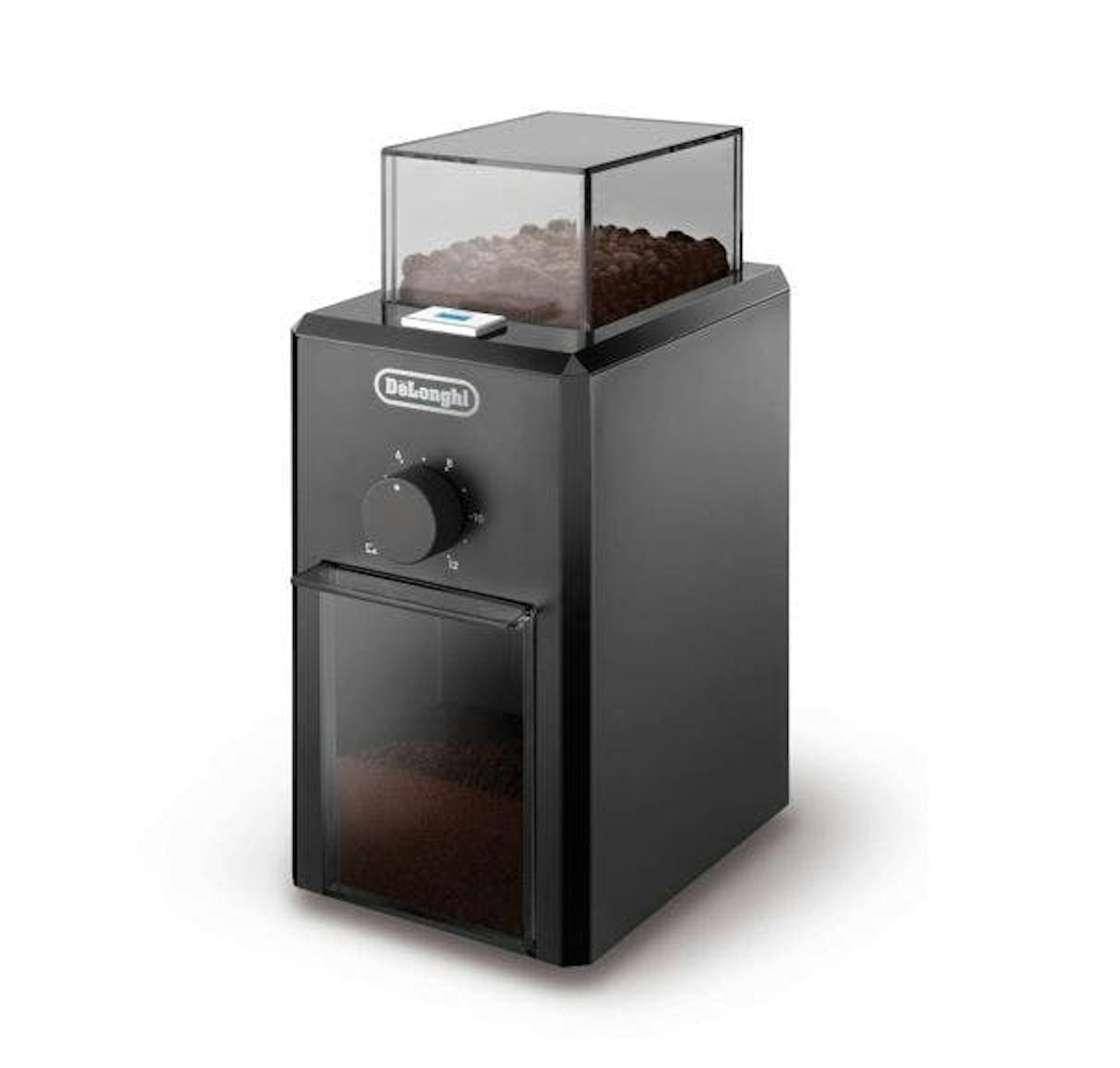 Credit: Amazon
Description
This compact but efficient coffee grinder is simple to operate with a removable transparent tank
Pros
Reliable
Compact
Can be used for grinding not only coffee beans but also spices and nuts
Cons
Like most electric coffee grinders, De'Longhi grinder can be noisy
Best compact coffee grinder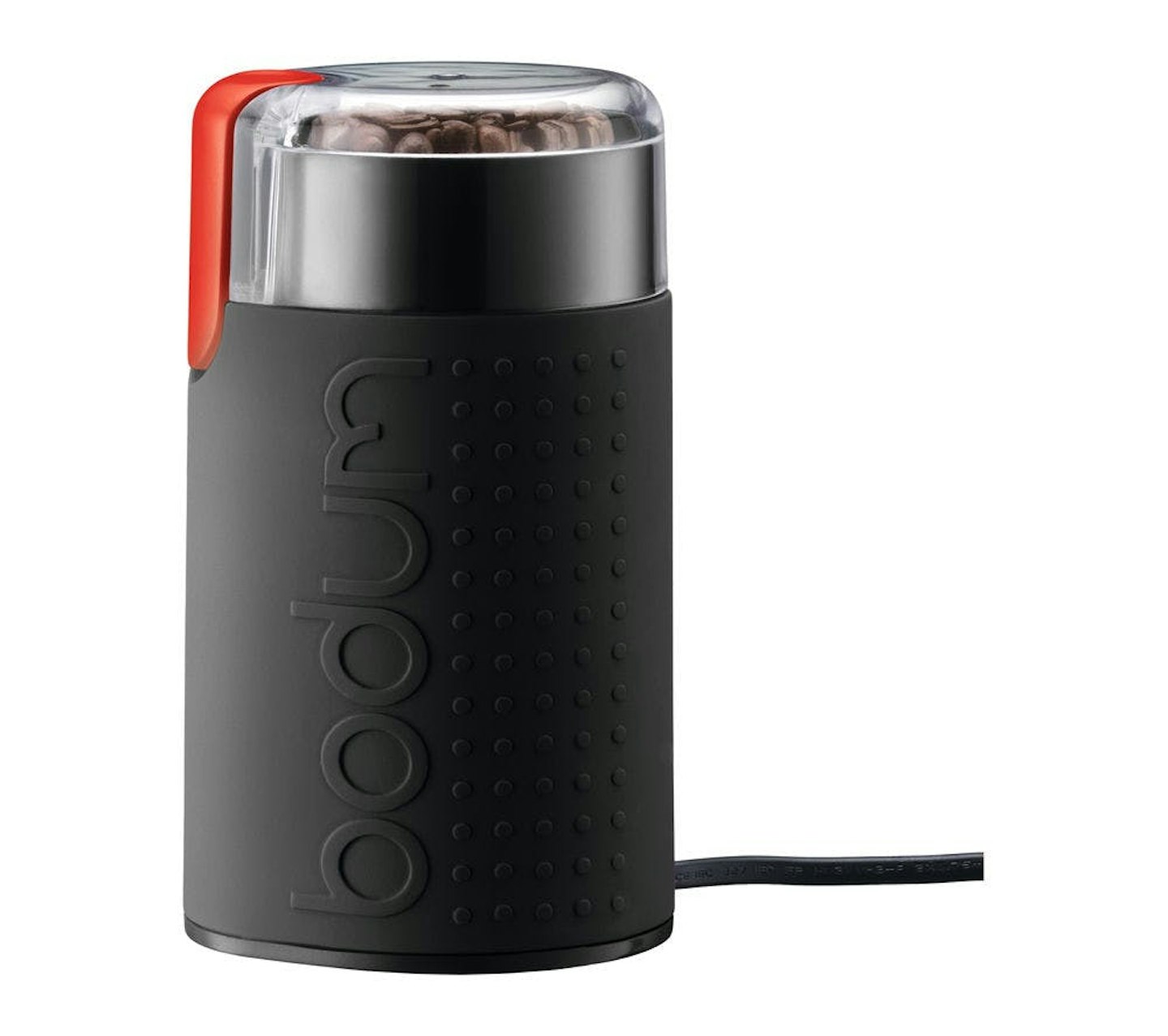 Credit: Bodum
Description
With its neat, compact design, this handy little grinder is very user-friendly, operated with
Pros
Range of grind settings
Space-saving design
Budget-friendly
Cons
Some users have reported issues with the long-term durability
Best pre-programmed coffee grinder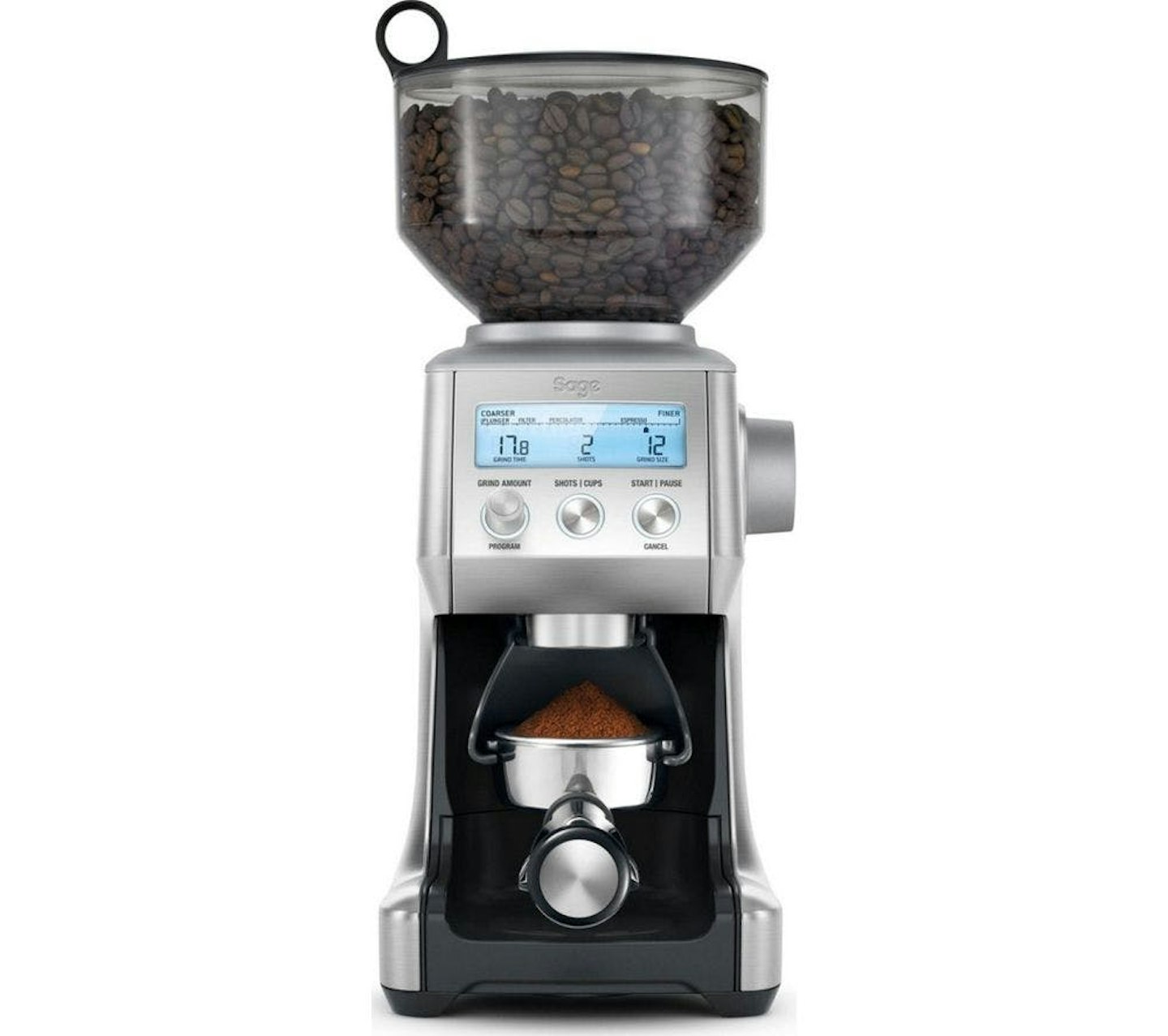 Amazon: John Lewis
Description
With a snazzy LCD display, you can clearly and concisely set your grind setting, time and number
Pros
Wide range of grind settings
Adjustable
Durable
Best stainless steel coffee grinder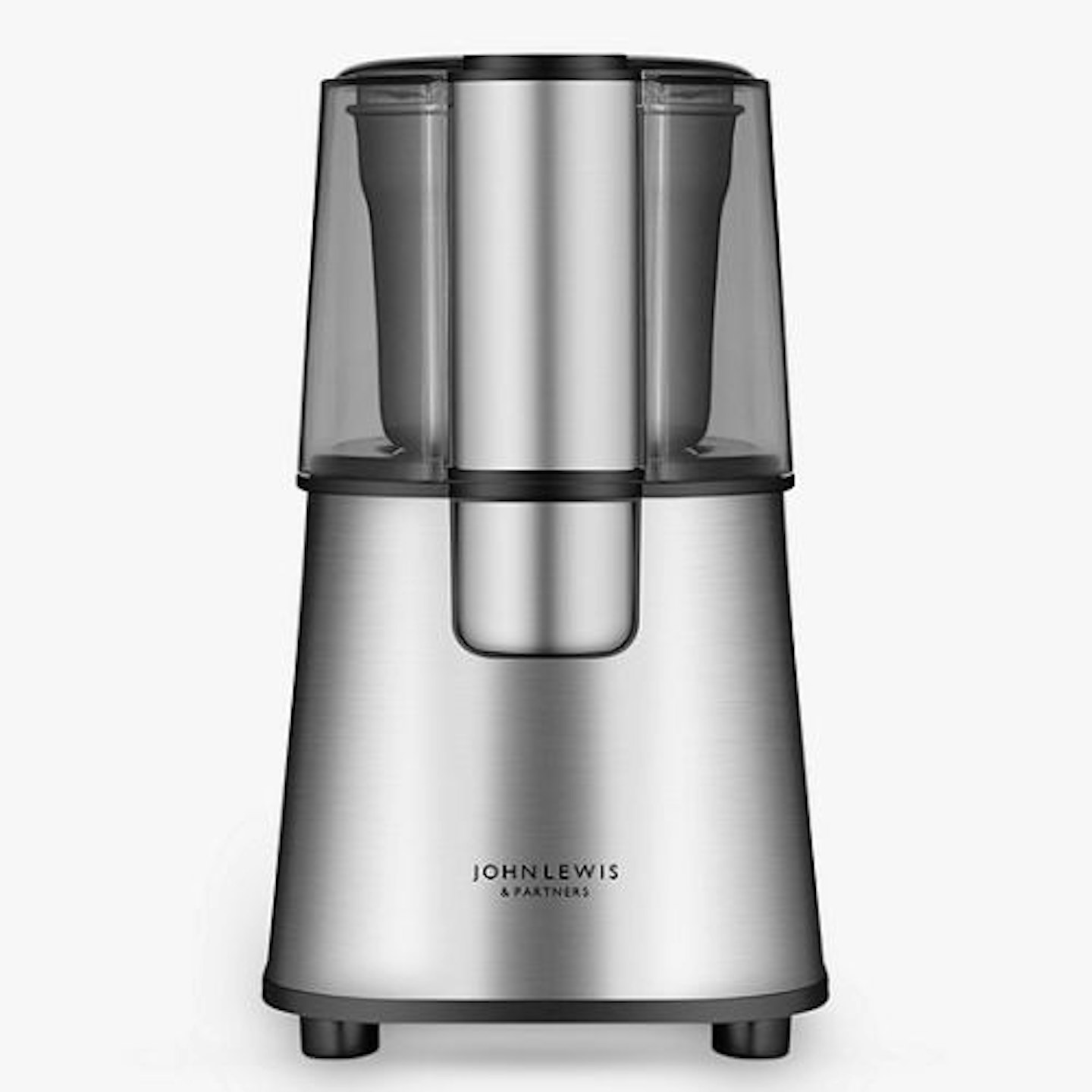 Credit: John Lewis
Description
Elevate your coffee game with the John Lewis Stainless Steel Coffee Grinder. Combining sleek
Pros
Easy to clean
Good grind consistency
Sleek
Cons
No adjustable grinding features
Best large coffee grinder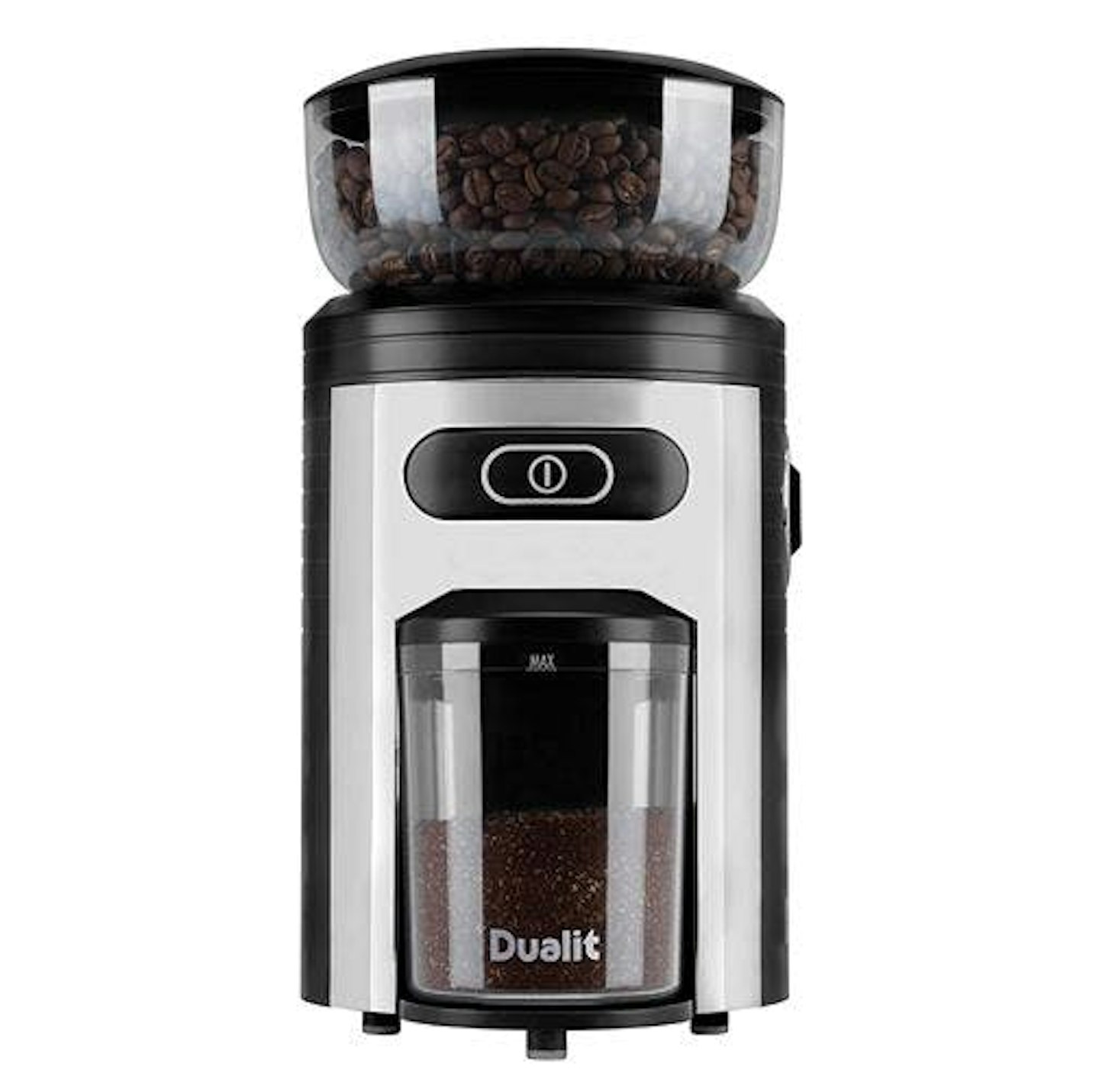 Credit: Amazon
Description
At 450RPM, the conical burrs on this grinder spin slower than others, helping to minimise heat and
Pros
Coffee beans are ground evenly
Well-built
Versatile
Best energy efficient coffee grinder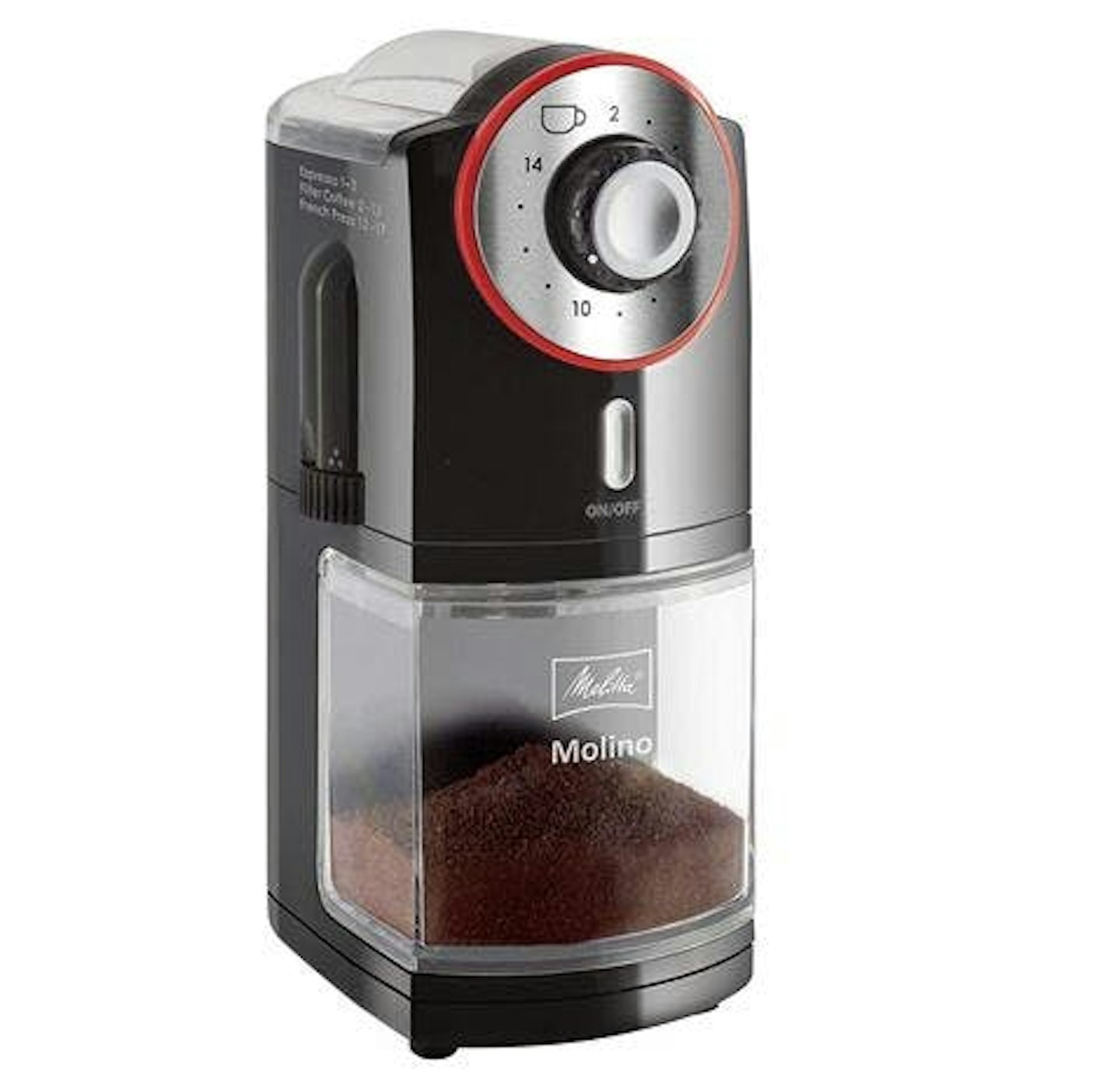 Credit: Amazon
Description
Prepare delicious coffee with a variety of grounds with the Molino coffee grinder. With low power
Pros
Easy to use
Compact design
Adjustable settings
Cons
Some customers found it difficult to clean
Best retro-style coffee grinder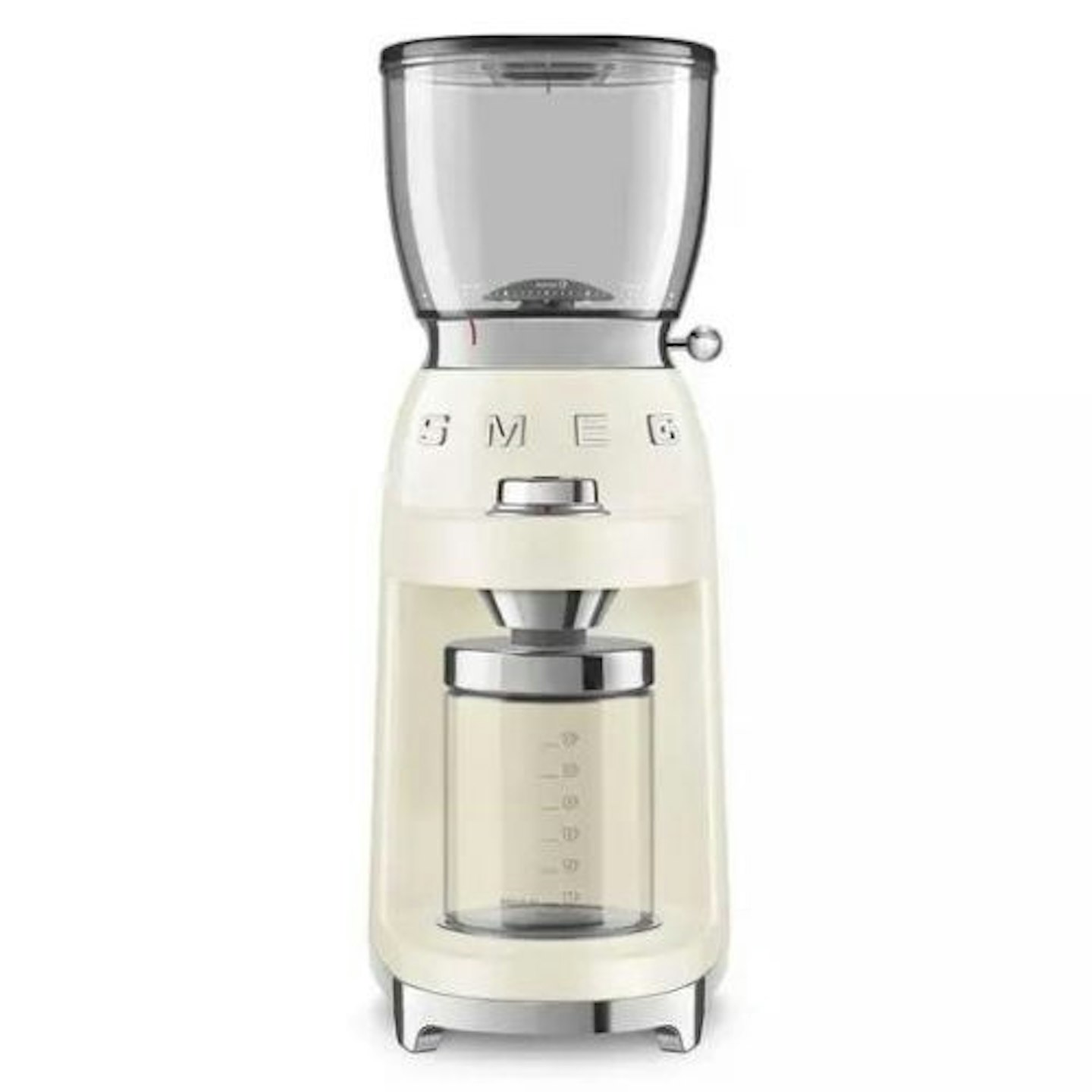 Credit: Curry
Description
If you love the retro 50's style chic of SMEG appliances, then a coffee grinder in the same style
Pros
Retro style
Comes with a separate container
Consistently good grind
Cons
May not suit all kitchens
4 of the best manual coffee grinders:
Best manual coffee grinder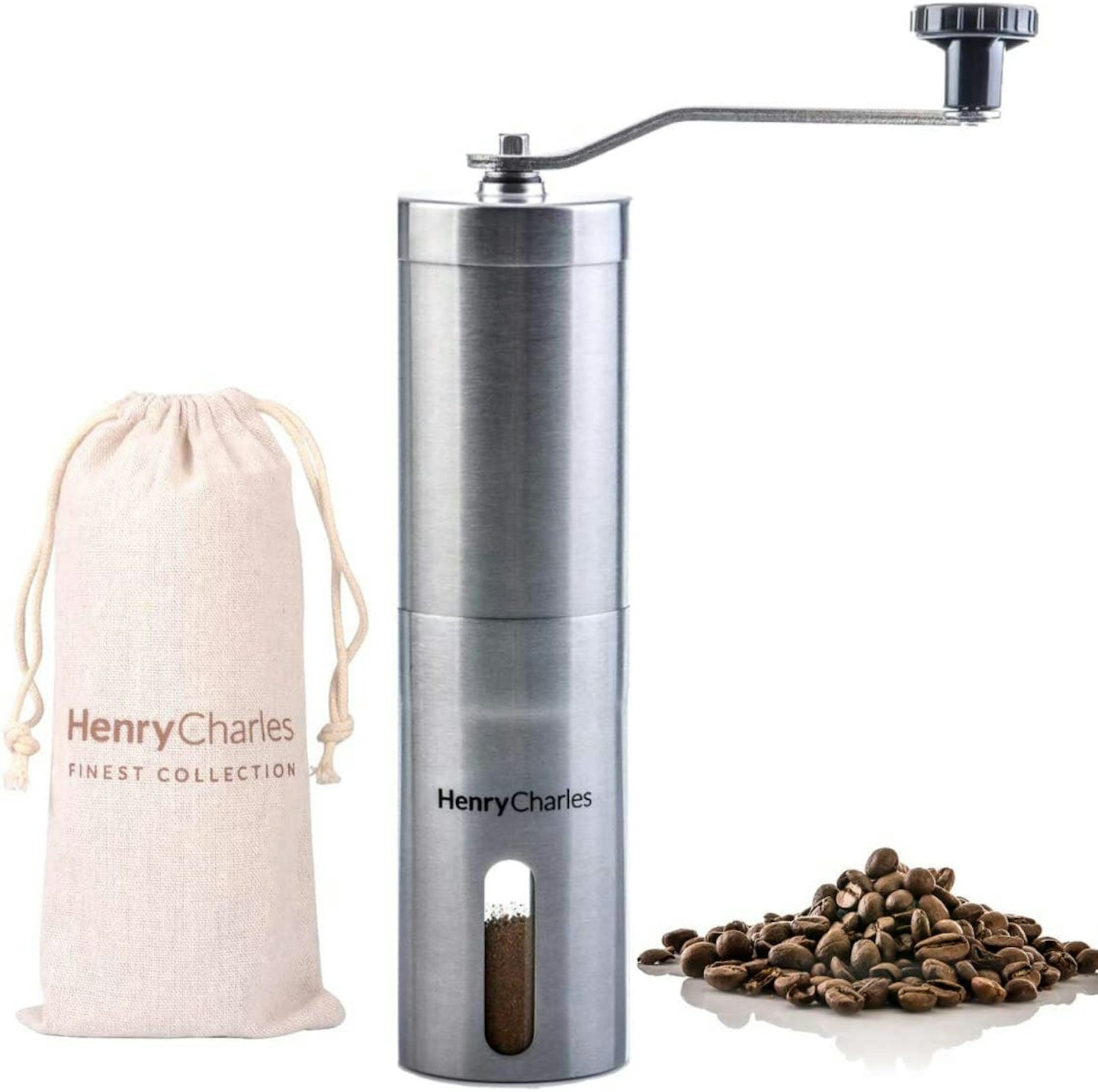 Credit: Amazon
Description
This compact and portable coffee grinder is great for carrying on the go and for easy cleaning.
Pros
Budget friendly
Comes with a bag
Portable - perfect for travelling
Cons
The grind setting will slowly change position
Our favourite manual coffee grinder design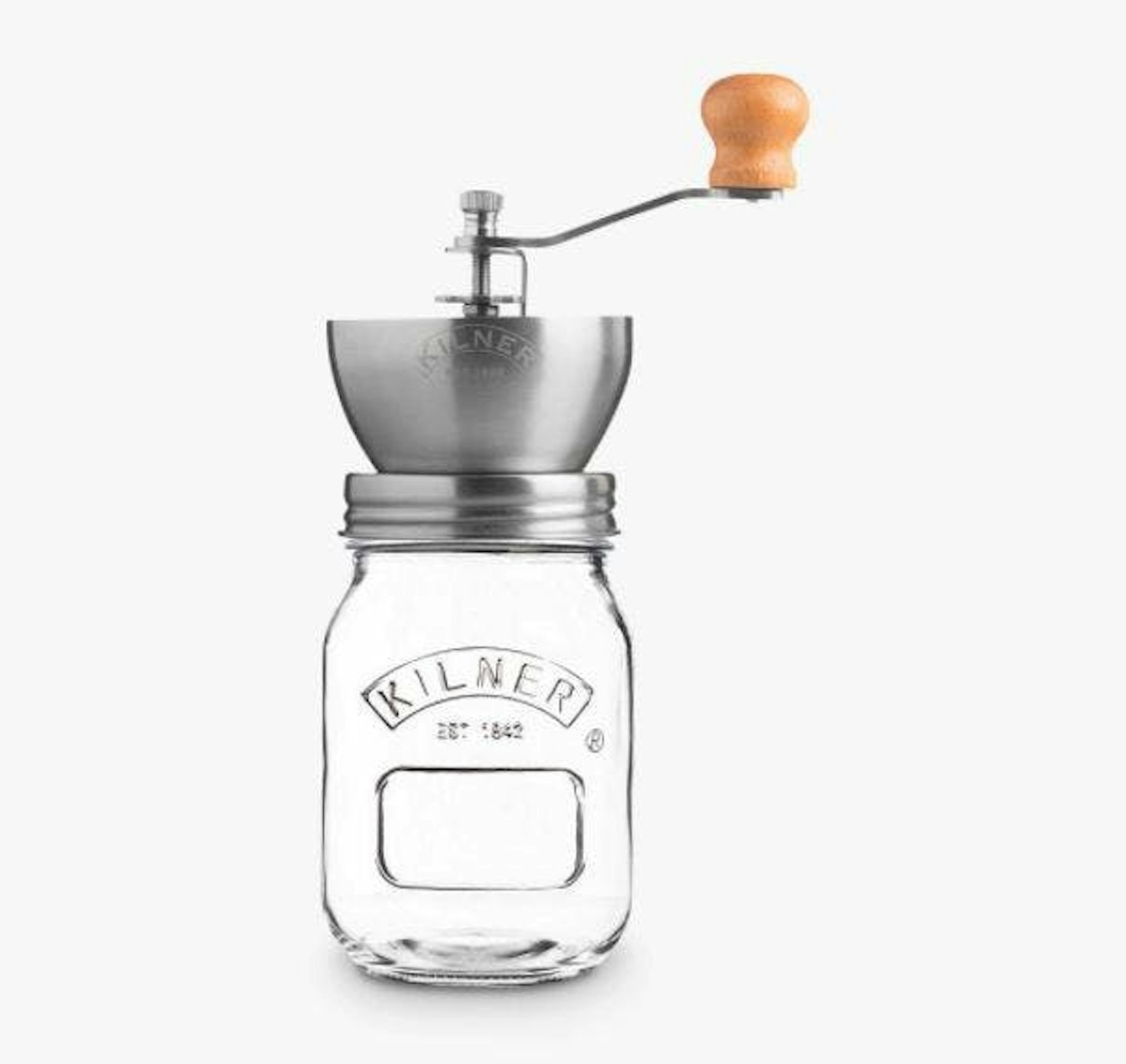 Credit: Amazon
Description
We love the Kilner storage jar as part of this grinder which makes for easy, fresh, airtight
Pros
Gorgeous storage jar
Easy to use
Budget- friendly
Most value manual coffee grinder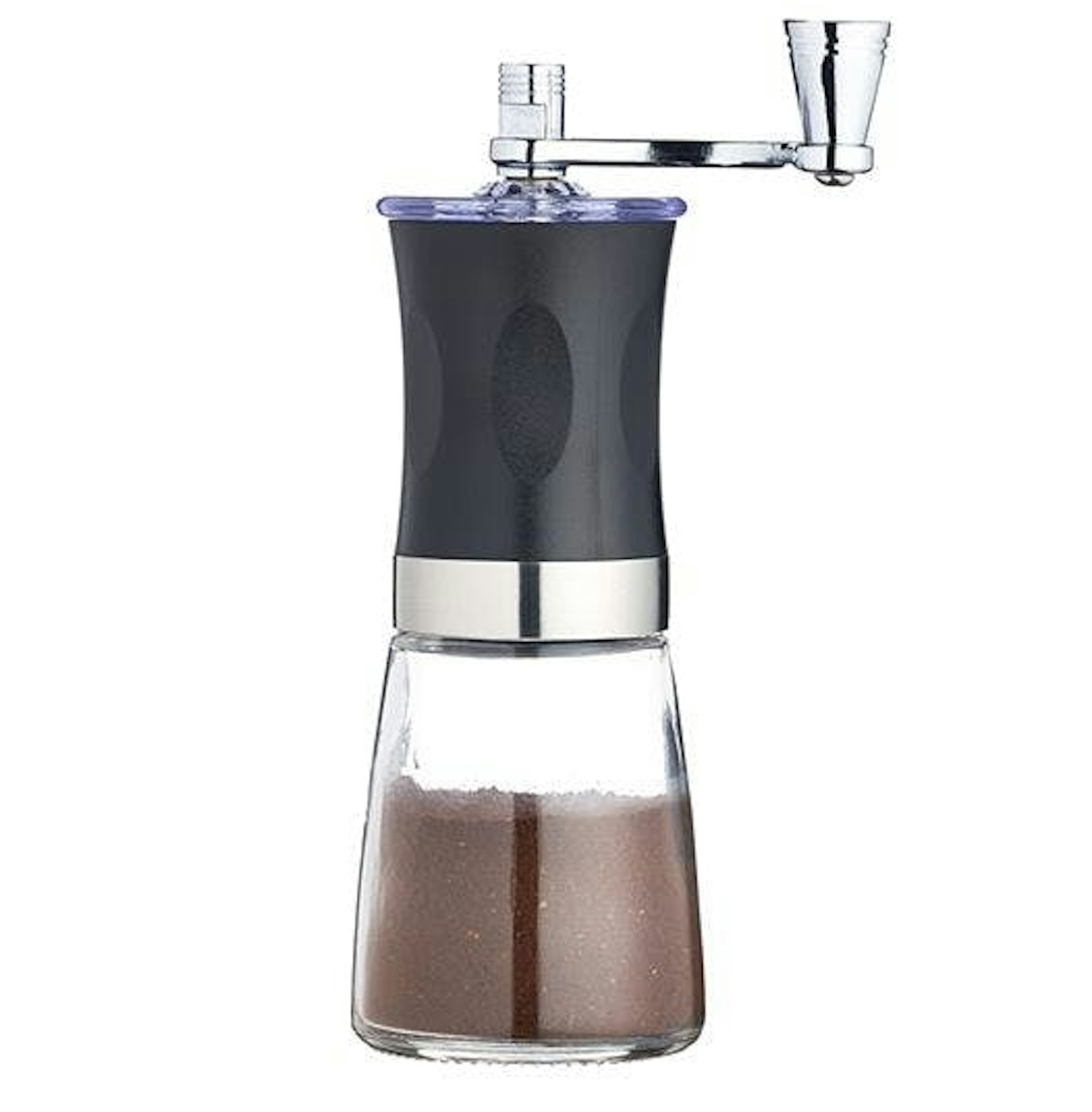 Credit: Amazon
Description
Made of durable plastic and glass, simply rotate the handle to grind your beans into coffee
Pros
Sturdy
Well packaged
Cheap manual grinder
Cons
Some people found it took some effort to grind
Best lightweight coffee grinder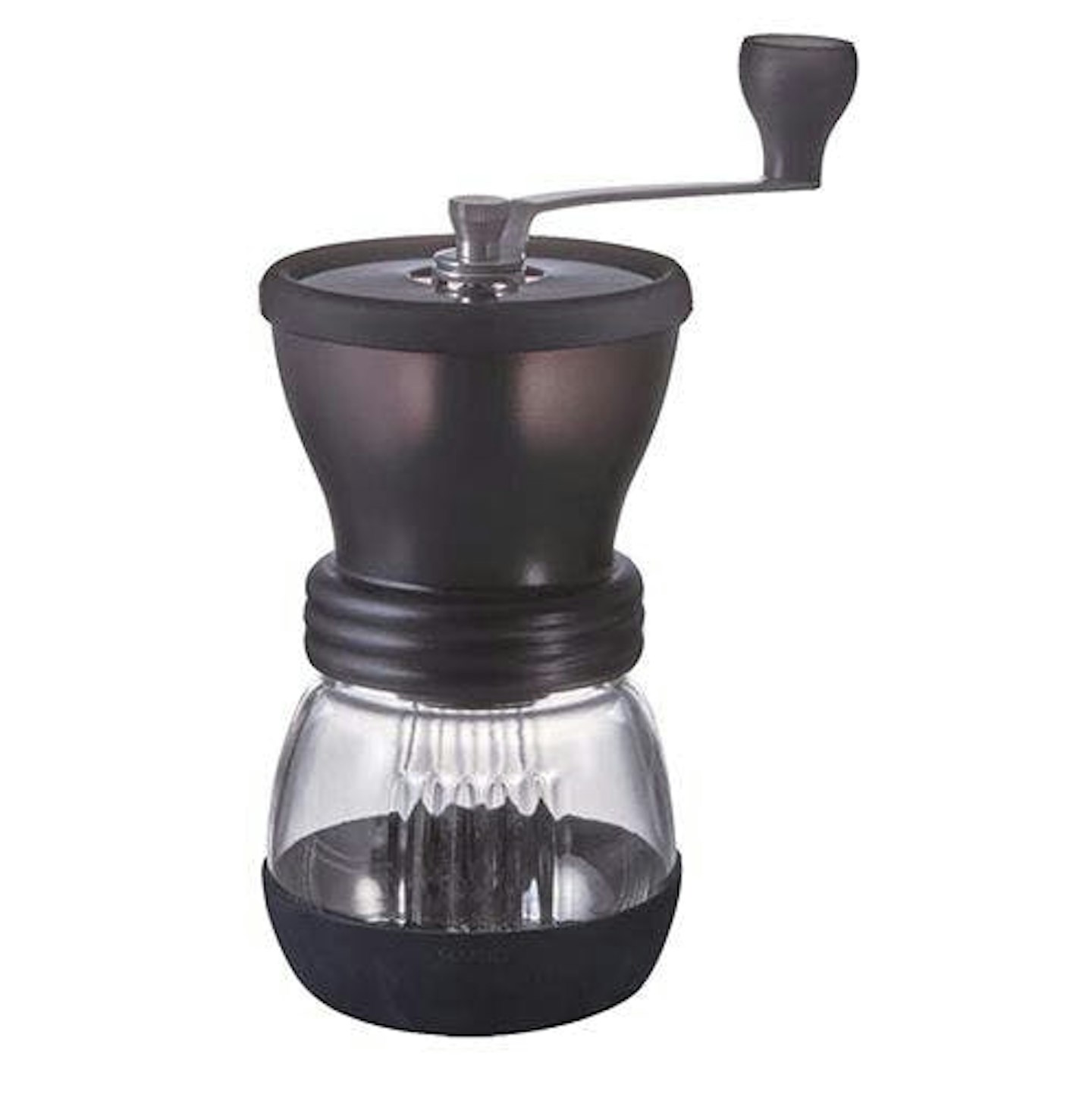 Credit: Amazon
Description
This new and improved Hario Skerton grinder with a steadier ceramic conical burr and stabiliser
Pros
Lightweight
Adjustable
Easy to clean
What type of coffee grinder should I buy?
Electric blade coffee grinder
A blade coffee grinder is the most popular option for coffee bean grounds as it's relatively easy to operate and an affordable gadget to add to your kitchen arsenal.
The electric-powered blade chops up coffee beans in a similar way to a blender or food processor but is better suited to coffee beans with more power, high speeds and finer chopping.
The fineness of the coffee grind can be controlled by how long you let the blades chop, but a pulsing action will help kick up chunkier bean particles. This type of grinder will be less consistent with uneven particle sizes and the machine can heat up in the grinding process, resulting in a slightly more bitter brew.
Burr coffee grinder
While it might be the most expensive option, burr coffee grinders pack a punch with improved consistency and quality. These grinders are fitted with two revolving burrs or rotary files that will ground the coffee beans between the two.
Conical burr grinders are cone-shaped in the centre and this design makes it more naturally energy-efficient and heat resistant - great for wallet and taste! It's the industry standard but the cone-shape means that the ground still may not be perfect.
For completely evenly ground coffee, a flat burr grinder is your go-to. With two ring-shaped burrs, the beans are symmetrical ground between the two delivering precision. These are the less energy-efficient option and can be louder but are the best choice if you're an avid coffee-lover looking to grind for espressos and more.
Manual/ handheld coffee grinder
These grinders come with a lower price point than the electric-powered options and are a great portable grinder for carrying on the go or storing away. As it requires some effort to turn the crank handle to move the burrs in the canister, it's worth considering that this might not be the best option if you have weakened hand dexterity.
The grinding is still relatively quick but the finer you want your grind, the longer the process will take. If an espresso is your coffee of choice, an electric grinder will save you time in the long run if you're happy to pay a higher expense.
These little grinders are more eco-friendly, durable and as they're powered by hand they're unlikely to heat up in the process, keeping your coffee taste and aroma at its best!
What grind setting do I need for my brew?
If you're a coffee aficionado in the making looking to brew different types of coffee or a novice not knowing the right particle size for your favourite coffee, we've got you covered! Here's a list of the different grinds you need for different brew methods:
Extra Fine: Turkish coffee
Fine: Espresso and moka pots
Medium: Filter coffee, pour-over coffee and machine drip
Coarse: French press (ideal for using with a cafetière)
Extra Coarse: Cold brew and cold press
How can I keep my beans as fresh as possible?
To help keep your coffee fresh, follow these top tips from European Coffee Trip to find out how to keep your coffee from going stale at home and to keep your coffee as flavourful as possible!
Eleanor Weaver is the Deputy Homes & Garden Product Editor for Yours, specialising in home décor, furnishings and appliances. Having worked commercially on Yours magazine and Yours.co.uk for the past six years, she's previously hosted Yours Live events and loves looking for home inspiration online.