Getting a home coffee bar is your first step to being a home barista – the perfect idea if you love a good cup of coffee from your favourite coffee machine. All you have to do is create some space in your kitchen, buy some stylish bar stools, and treat yourself to some new coffee mugs.
Whether you like a milky coffee or all the benefits of a black coffee, having a dedicated corner of the kitchen allows you to put your own stamp on your morning cuppa. Your own personal coffee bar means you don't need to rely on a coffee shop to get your fix.
You can have a lot of fun creating your coffee bar, getting creative with the design and buying a new counter, special signs for the walls, hooks for equipment like milk frothers and stylish cups to set the mood.
Coffee bar inspiration
In need of some inspo for your dedicated coffee space? We're here to help.
1. Farmhouse coffee bar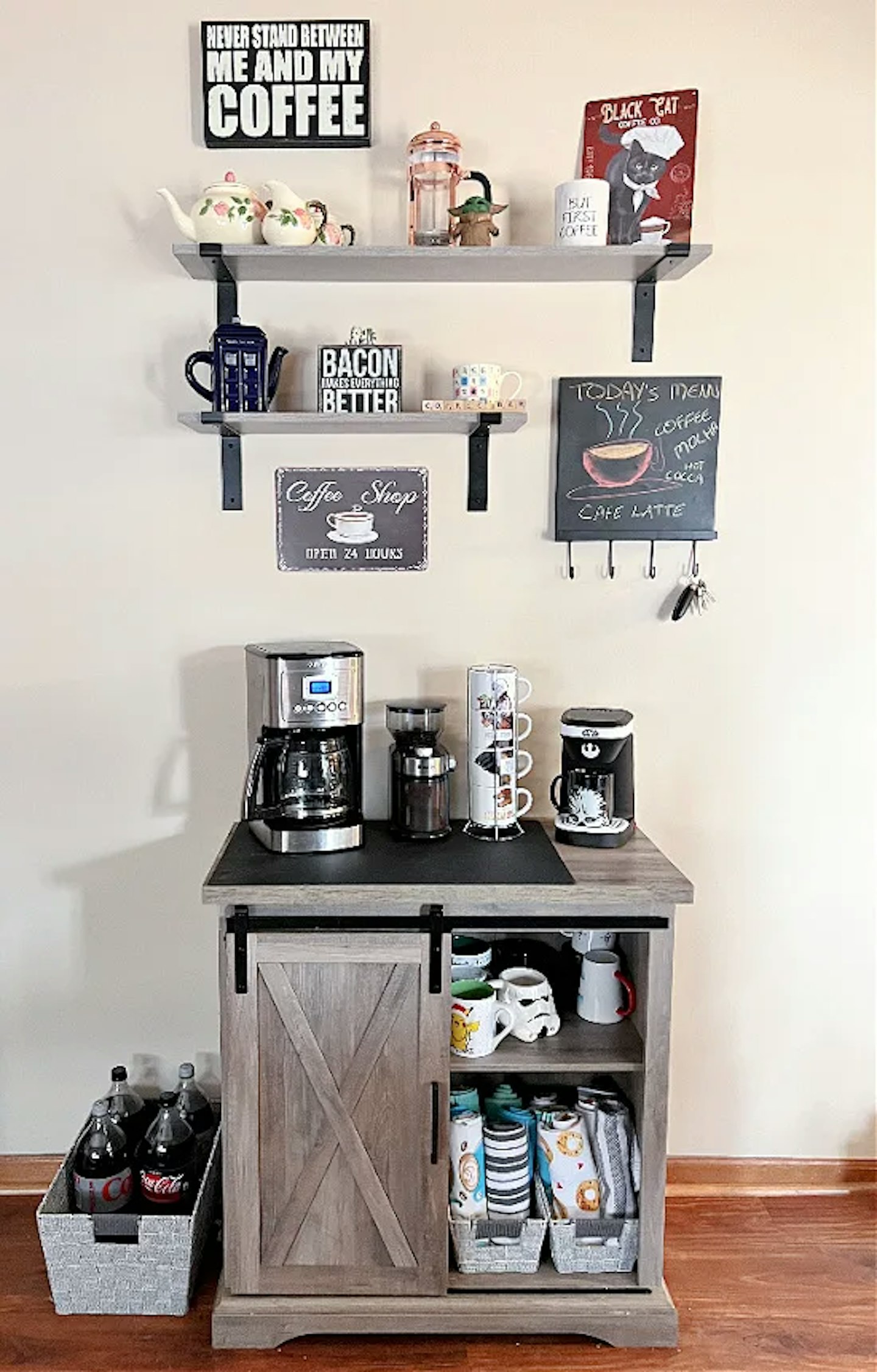 With a sliding barn door front, you can display your cups and coffee pods neatly on one side of this cupboard, and hide anything else behind the door itself. It gives a nice rustic feel, and leaves plenty of space on top for your coffee machine or kettle. You can even add shelves for some quirky coffee bar signs.
See more at Mashup Mom.
2. Minimal coffee cart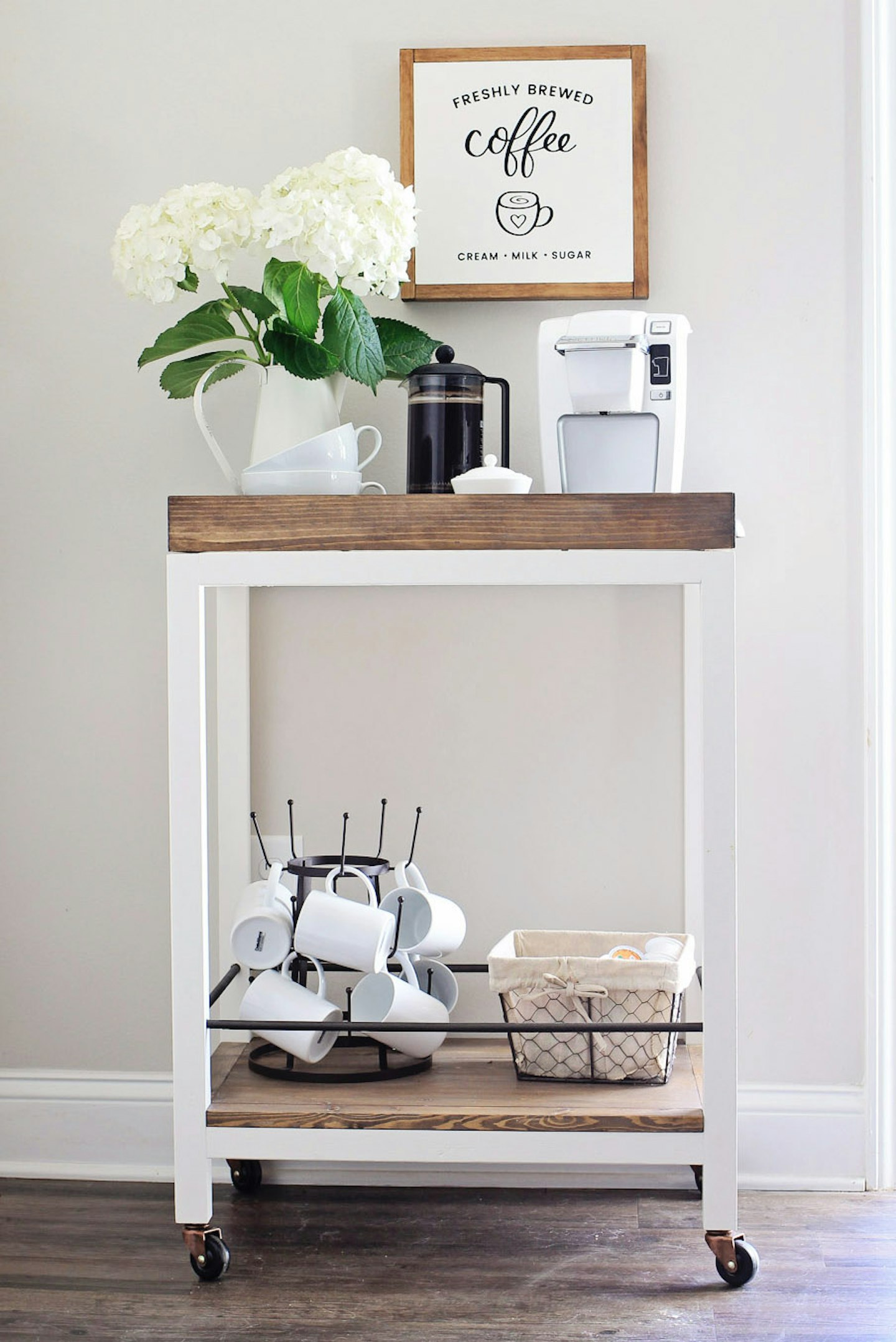 This coffee cart can be moved around your home with ease, but also looks great with its minimal design. With a basket for your coffee pods and a cup rack, who would've thought that you can fit so much coffee essentials onto a small cart and it look good?
See more at Angela Marie Made.
3. Floating shelves bar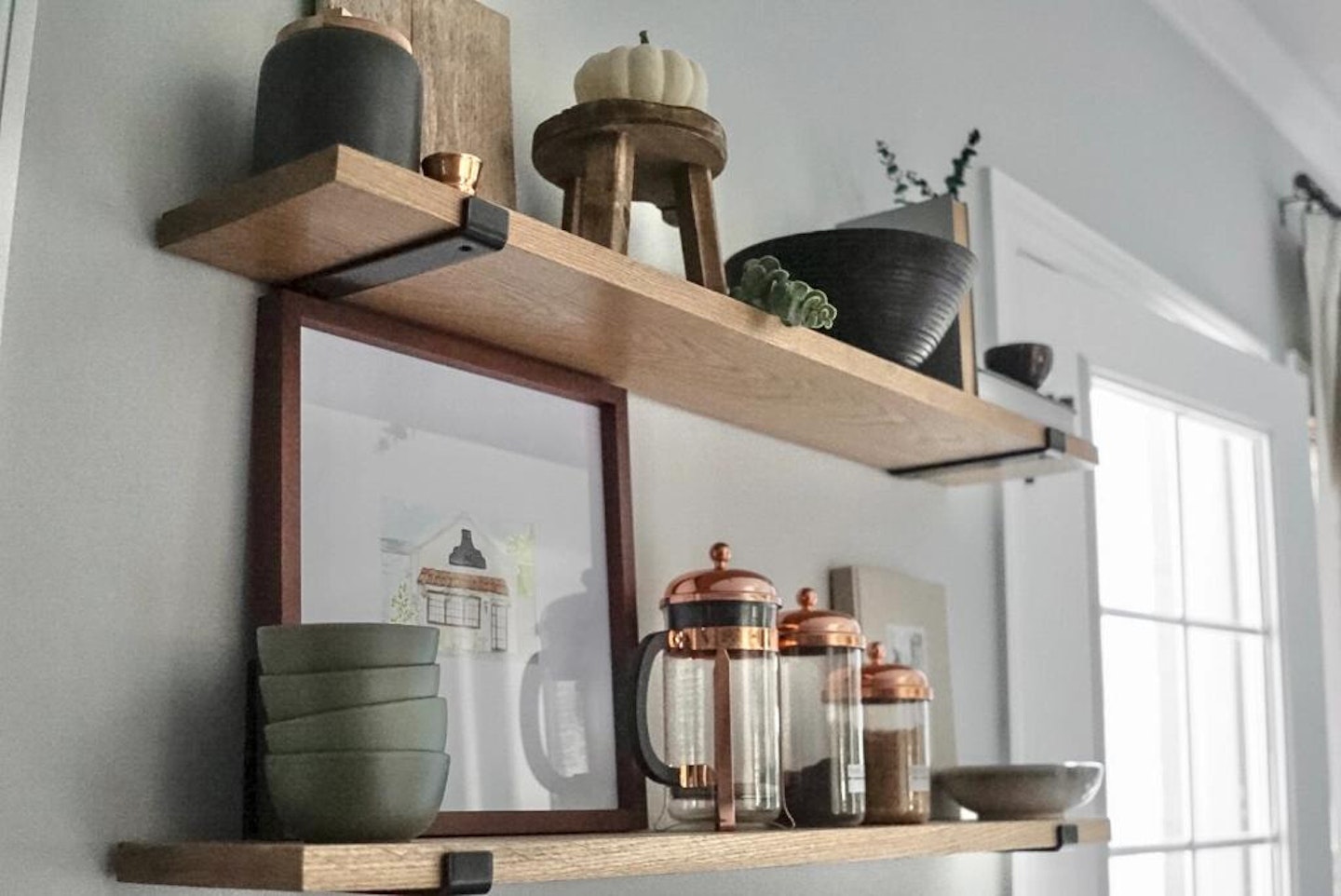 If you don't have much space to add a coffee bar to your kitchen counter or for a unit, then just two large floating shelves will do the trick. You can DIY them yourself or buy from a store.
See more at Stay Home Style.
4. Under cupboard shelf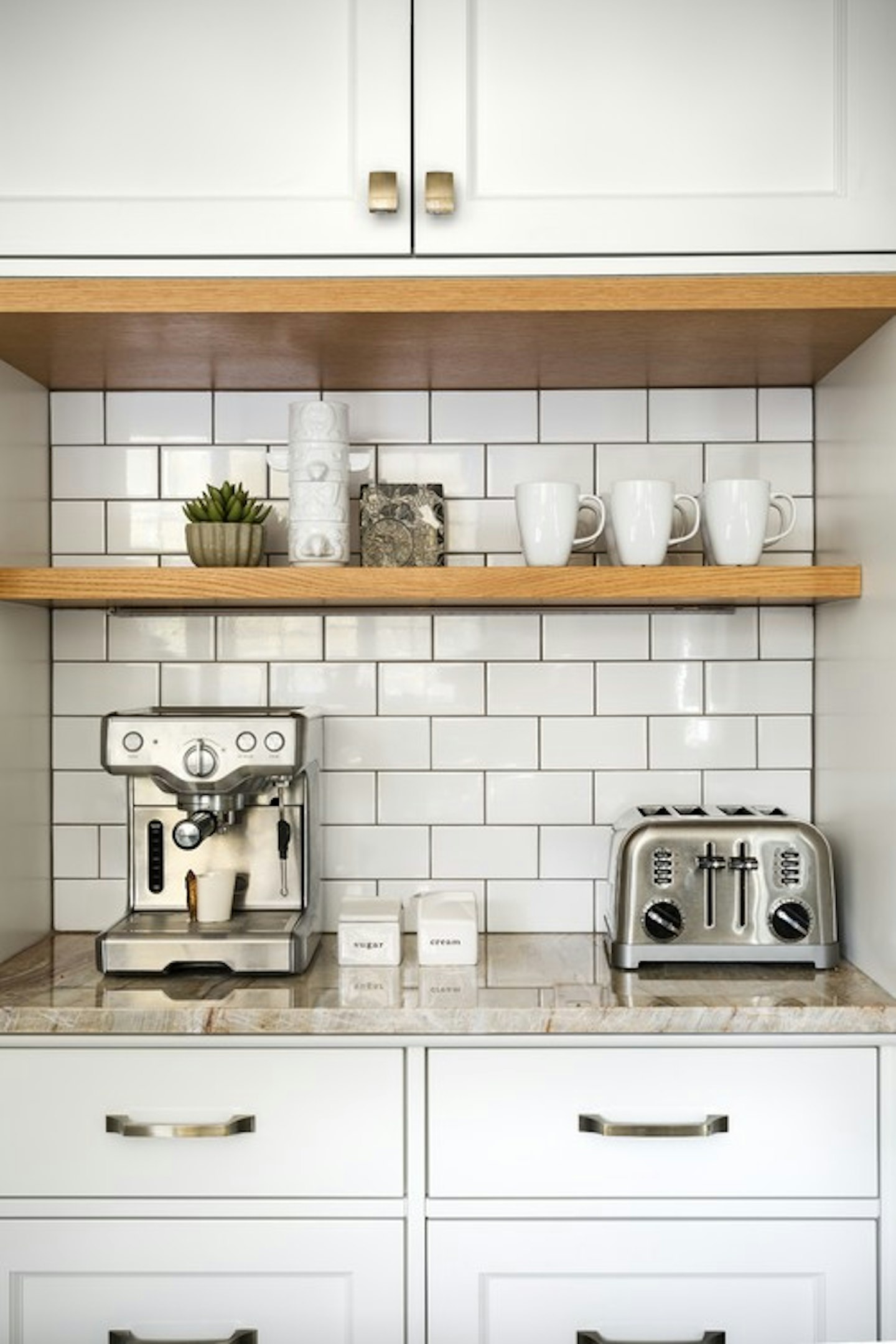 If you have a lot of wall space underneath your cupboards, it's easy to add in a shelf to create a coffee space. Fill your shelf with your favourite mugs, coffee pods or jars and pop your coffee machine below.
See more at Pickled Barrel.
5. Cup display bar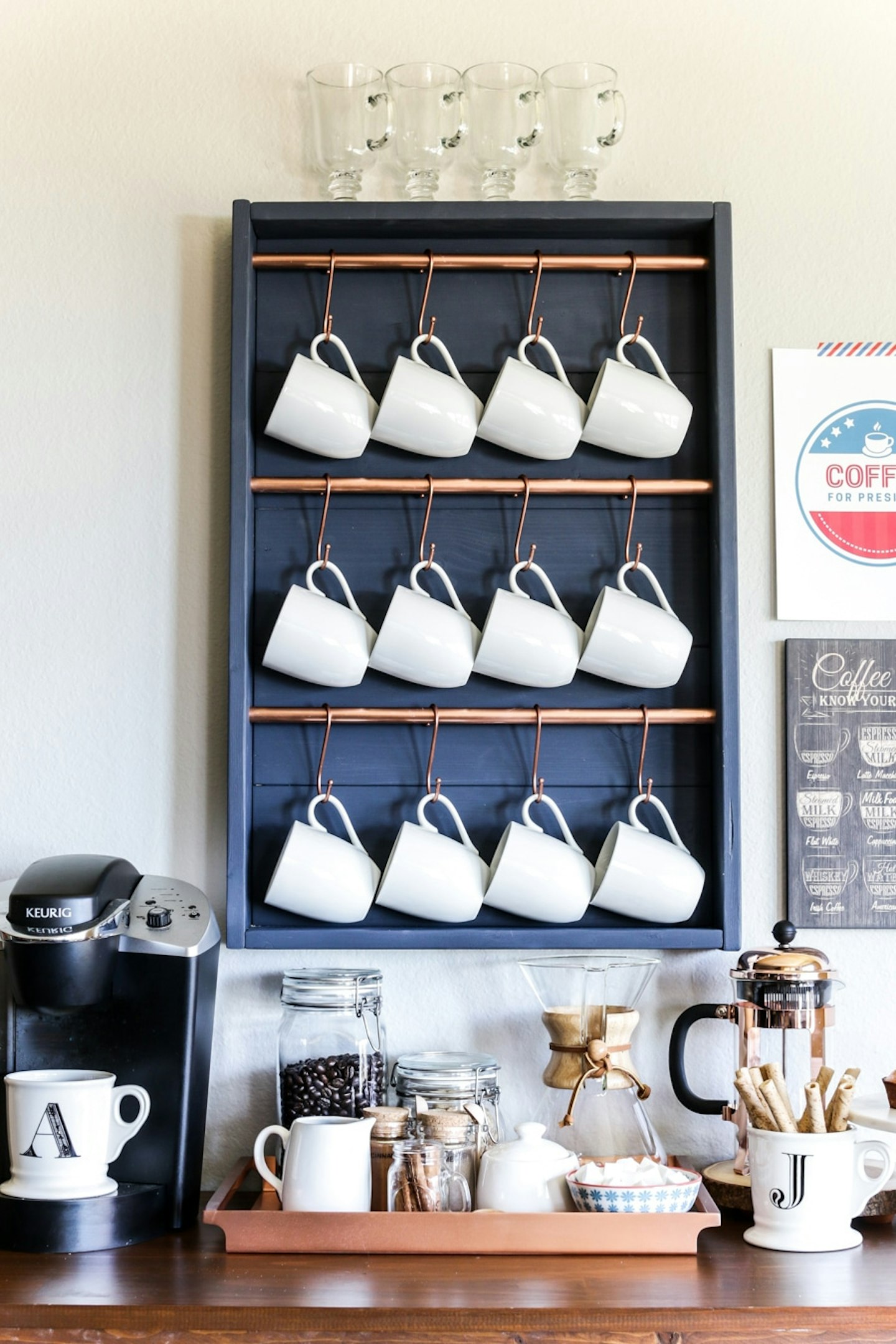 You can set this up anywhere and have your cups hanging in an open cupboard as decorative display. By having no doors, it makes grabbing your cup for a quick hot drink a lot easier.
See more at Jen Woodhouse.
6. Modern style coffee bar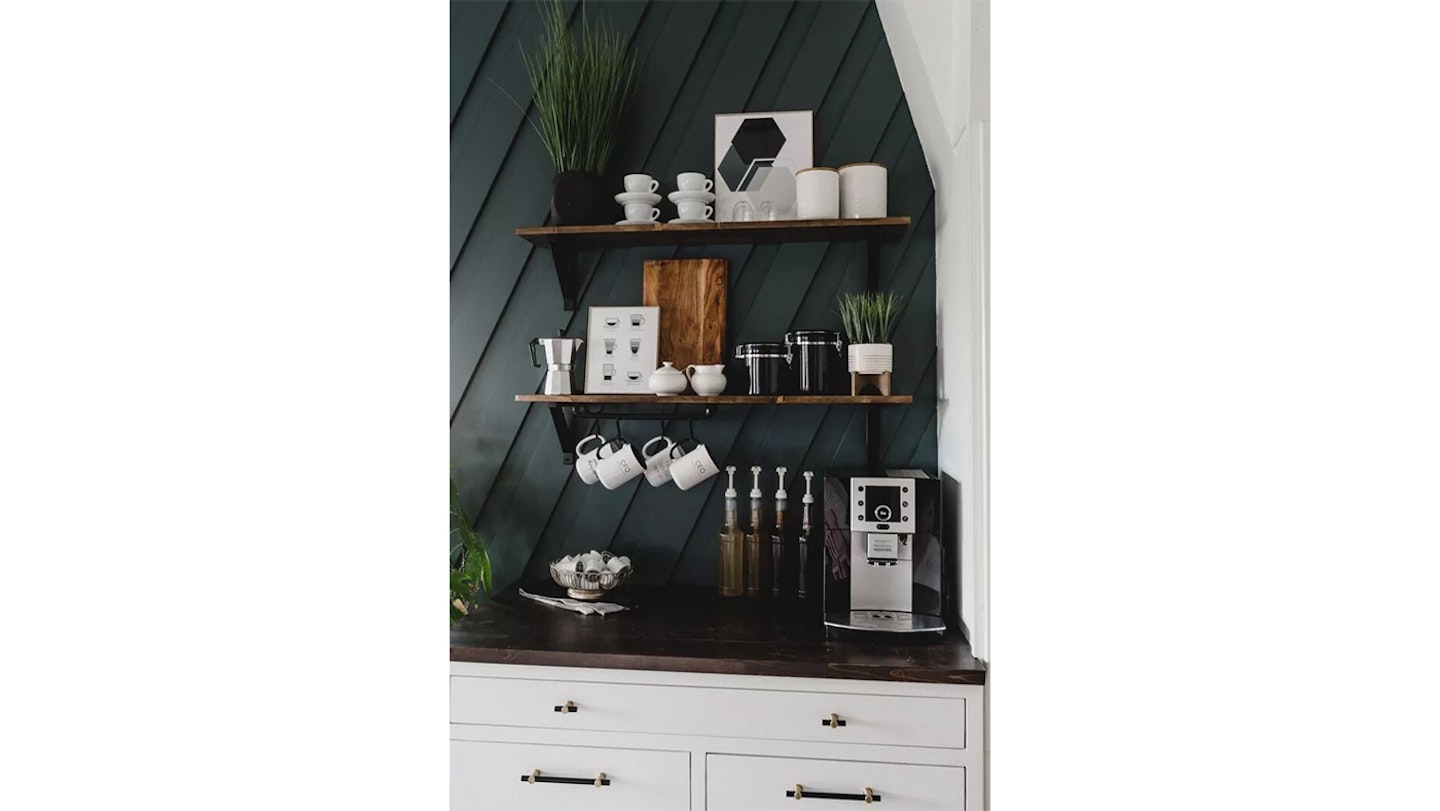 We love how stylish this DIY coffee bar from lovecreatecelebrate.com is. Making the use of stained pine board shelves, modern art and a moulding accent wall have helped create a chic space to prepare coffee.
See more at Love Create Celebrate.
7. Modern neutral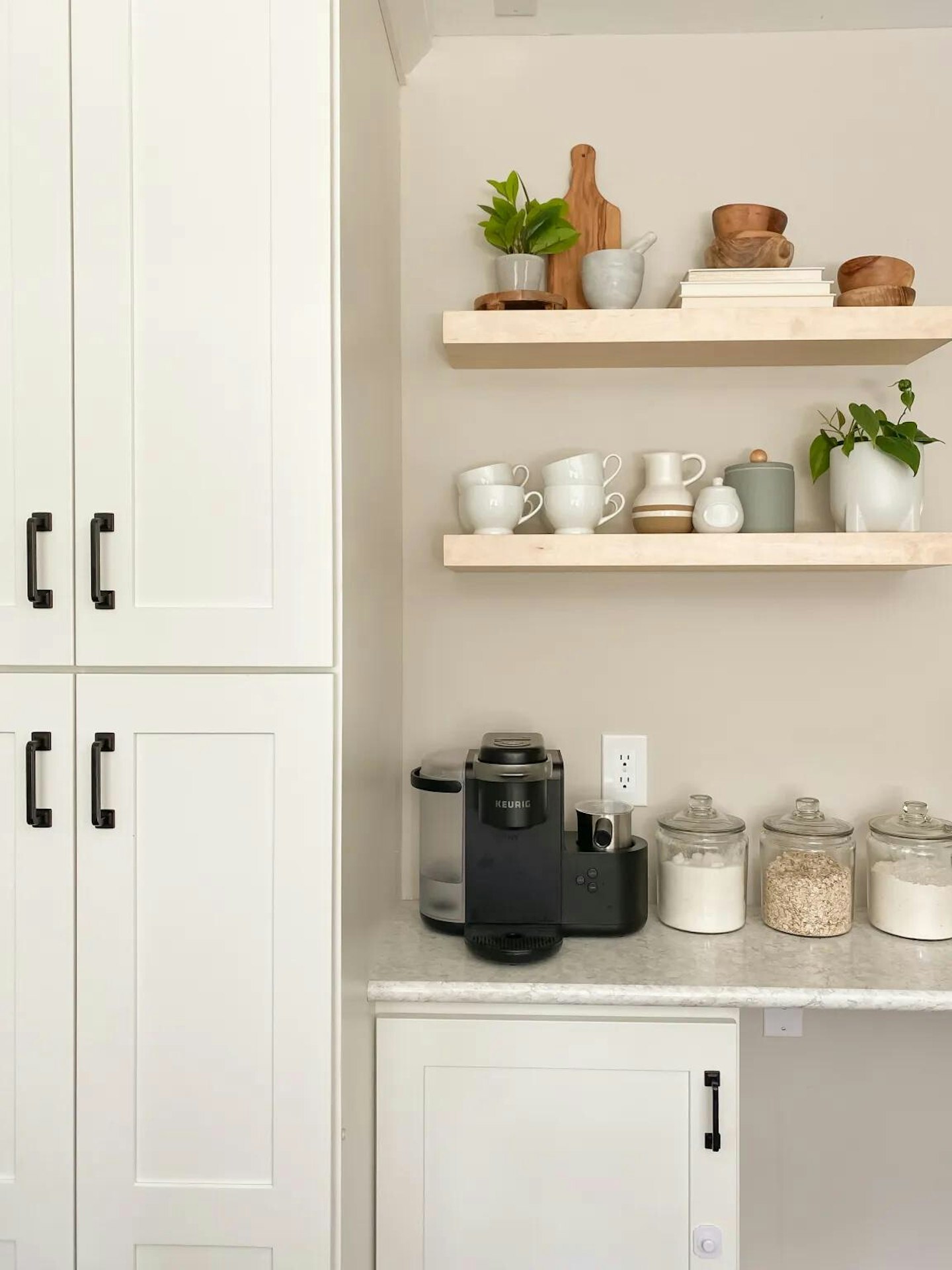 If you love a neutral and minimal look, this coffee bar is the perfect choice. With neutral colours, clear jars for storing your coffee and minimal decor, it gives a clean look to your at home coffee bar.
See more at Everyday Grace Designs.
8. Coffee drawer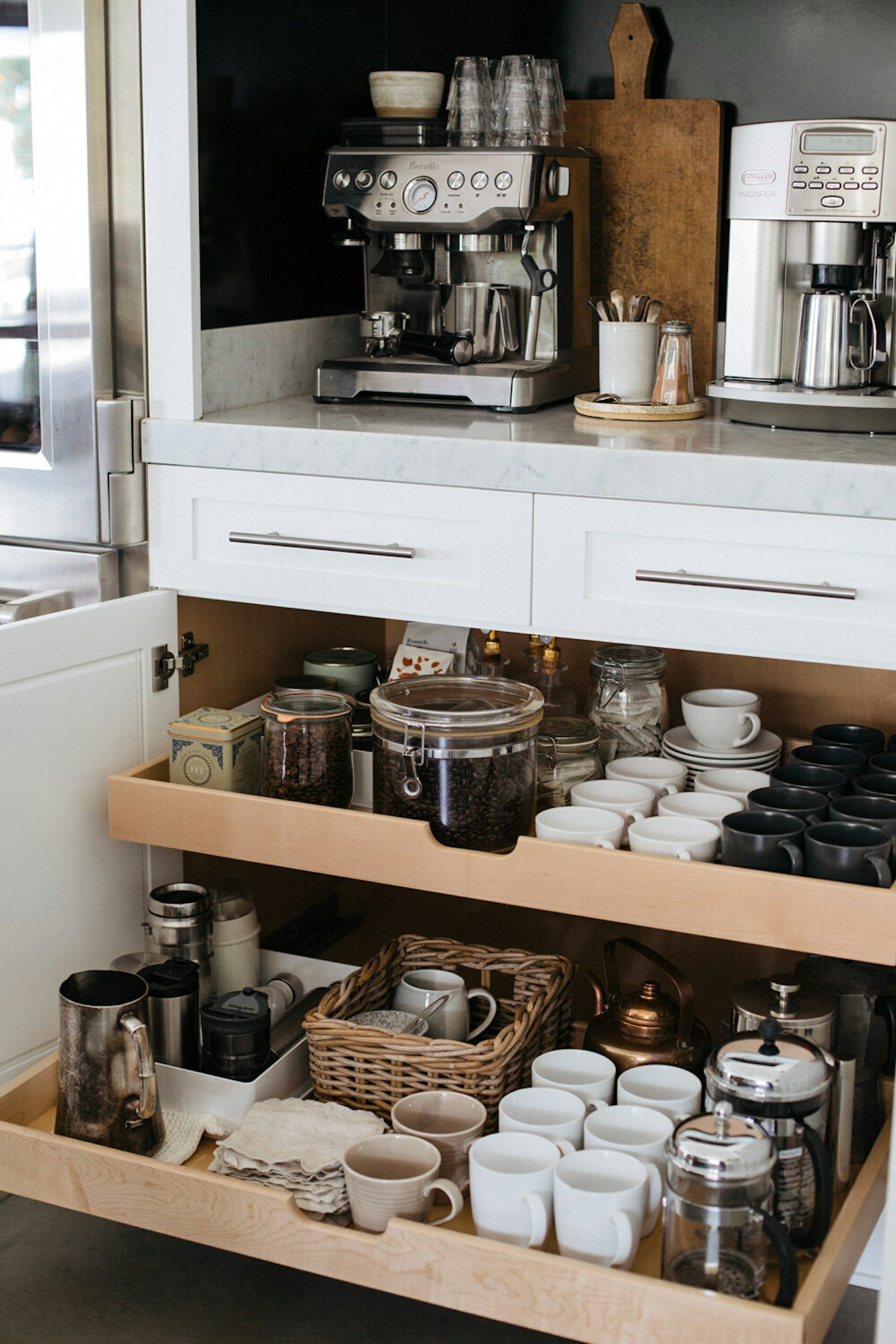 We're all guilty of having a drawer in our kitchen that's full of items we probably don't need. Empty one of your least-used drawers and fill with your favourite coffee mugs and all your coffee essentials. It's the perfect excuse to declutter some items in your home while creating an easy to find coffee drawer.
See more at Heather Bullard.
9. Vintage cottage style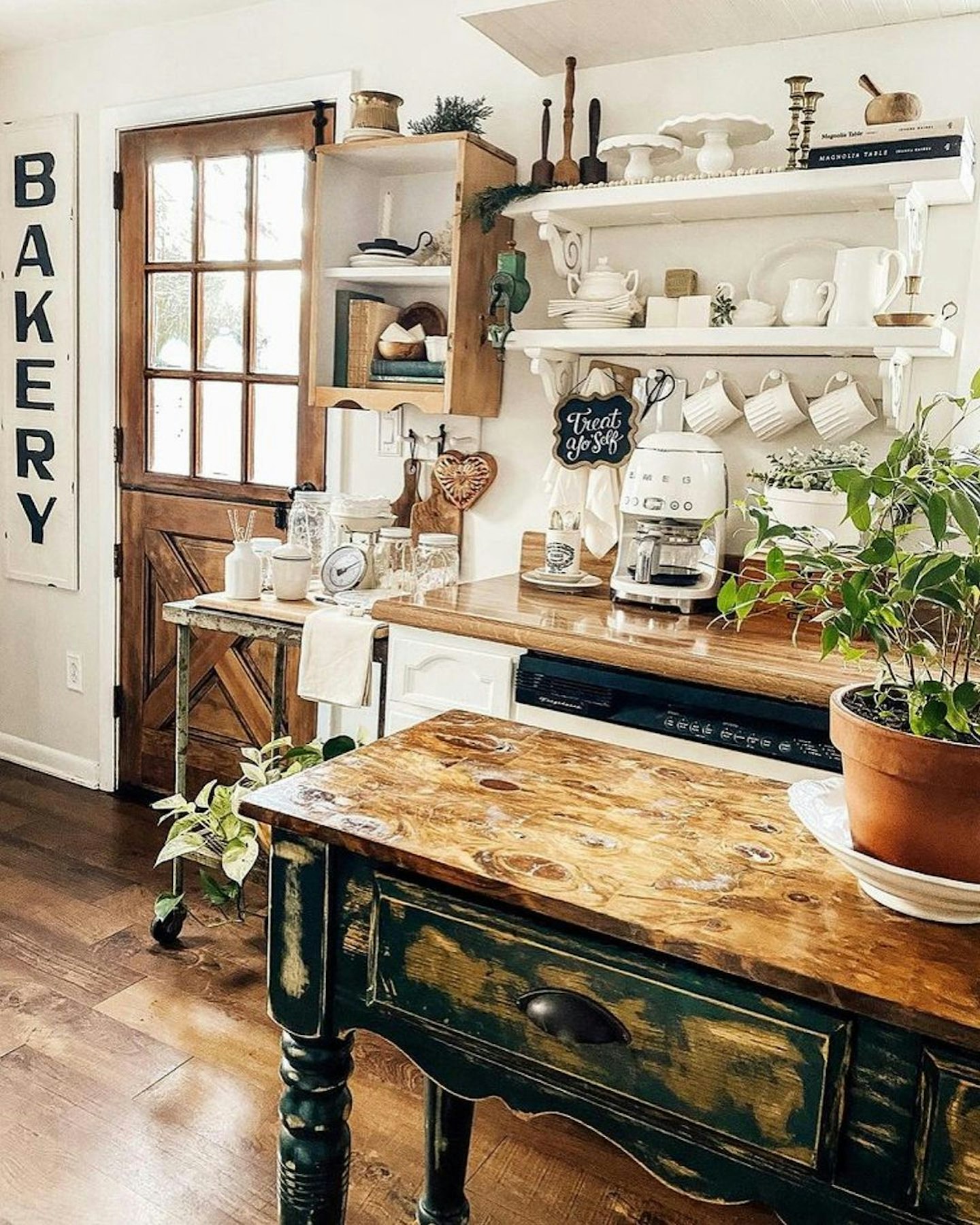 Who doesn't love a cottage style? Perfect for your own home or even if you have a little cottage let. It gives all the cosiness.
See more at My Vintage Cottage Style.
10. Hutch coffee bar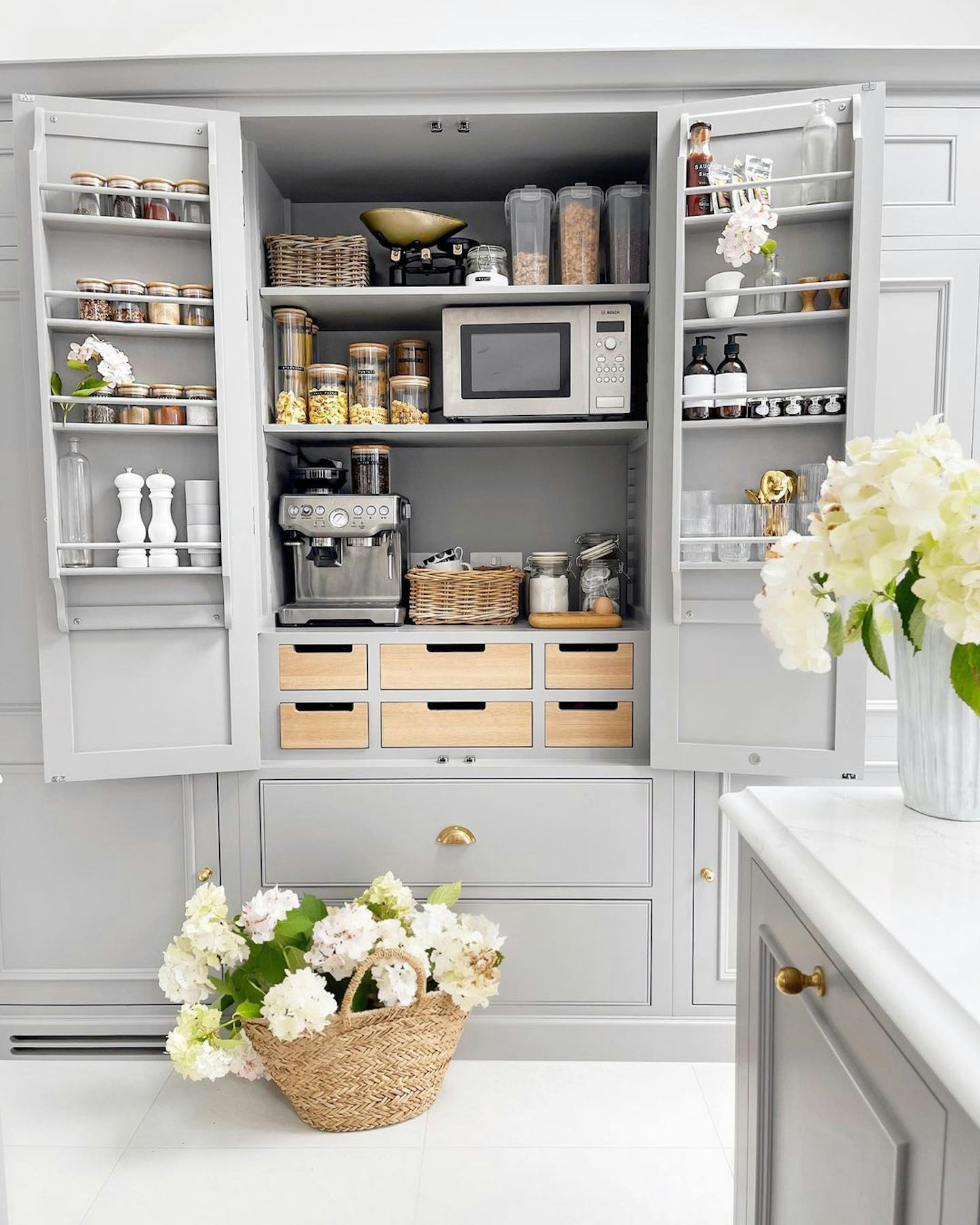 A hutch can be made from the cupboards you have, or from a welsh dresser. You can fill it with all your essentials, and you'll probably have space to use it as a mini-utility for all your coffee treats.
See more at Love Tears and Teepees.
11. Boho coffee cart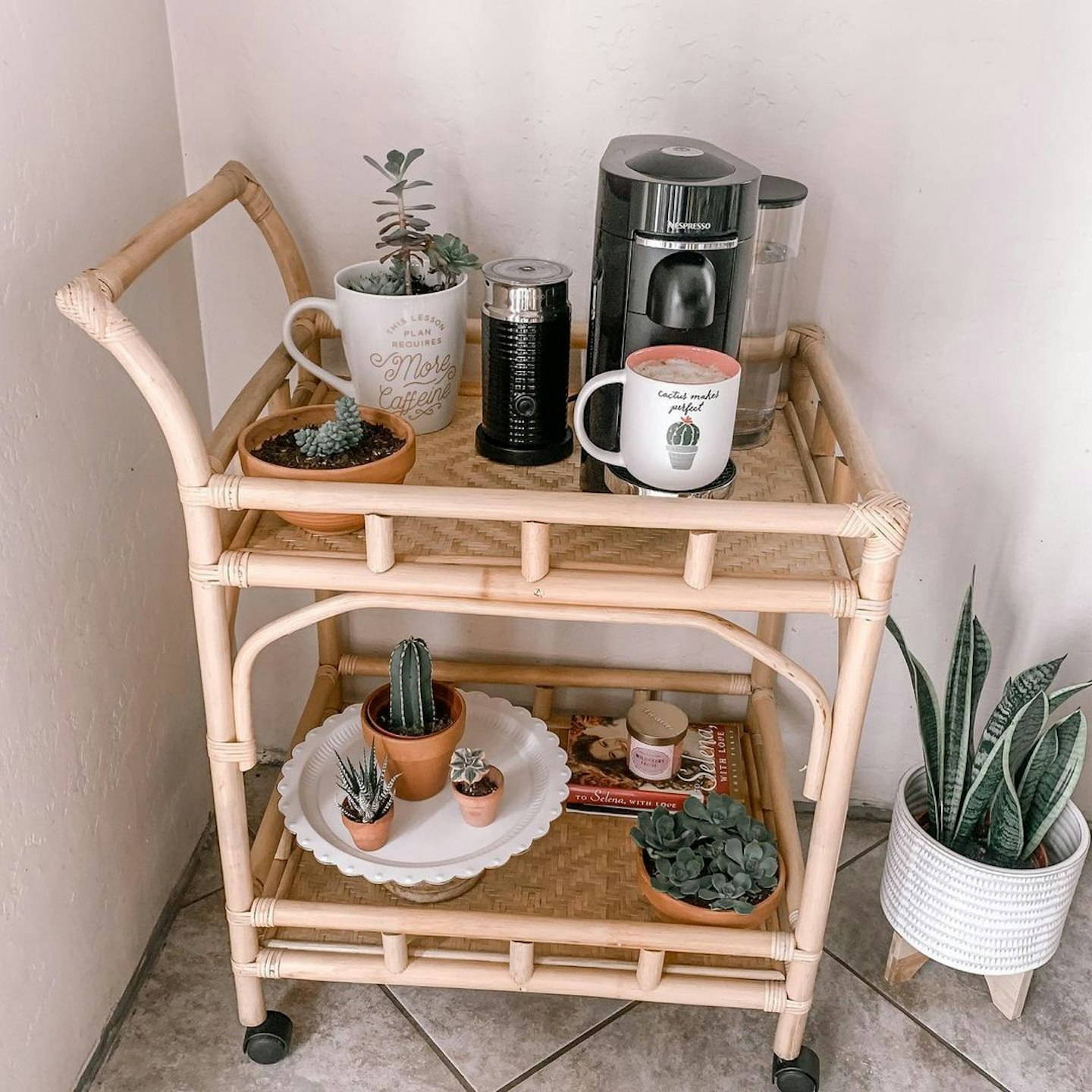 Use any style rattan cart to recreate this boho look. You can even use a magazine rack on the bottom or add stacked books. Add a few plants to the cart too to fill any empty space.
See more at Jessica Alva.
12. Coffee bar tray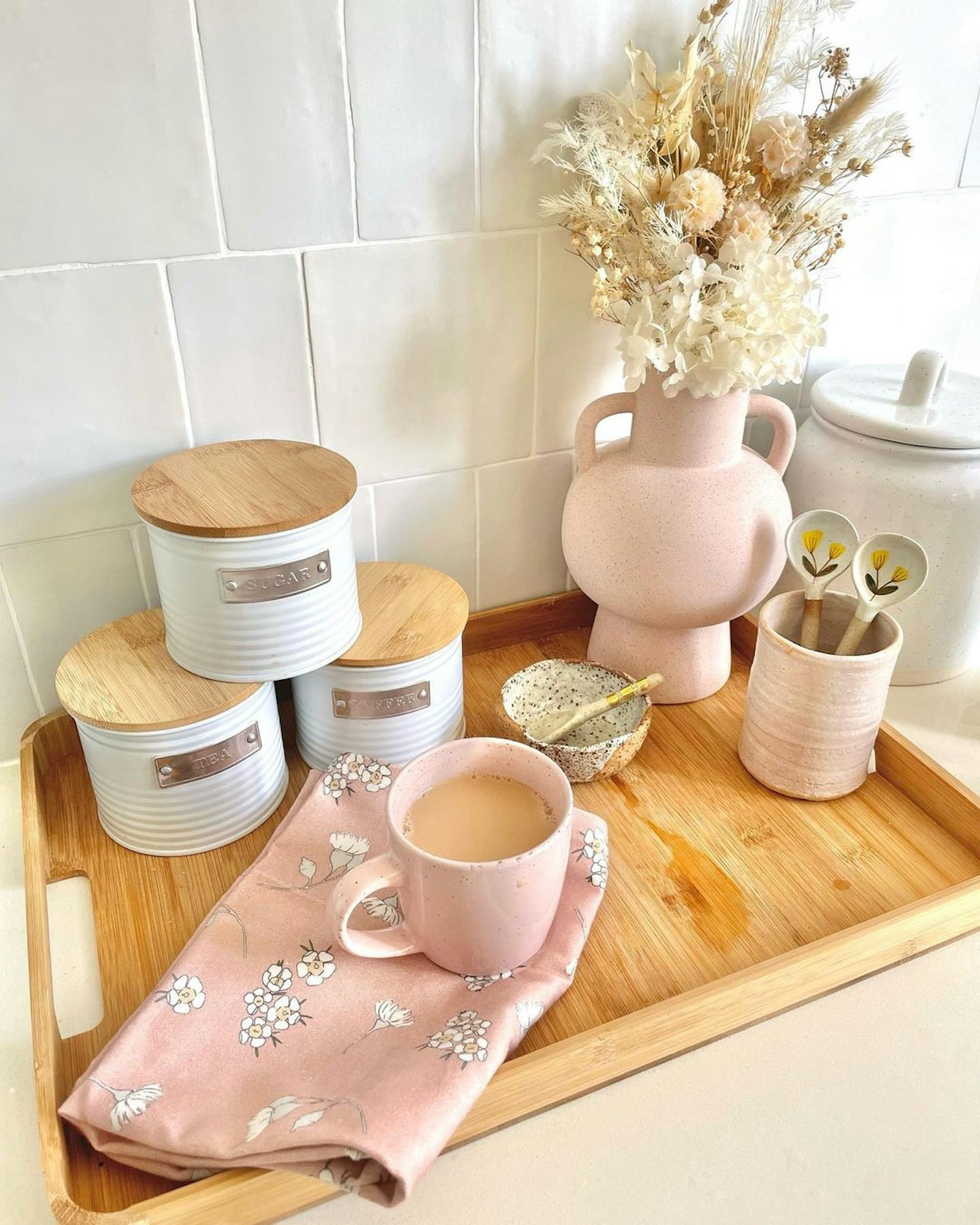 If you don't want to go overboard with a full coffee bar look, you can use a large tray to section off part of your kitchen counter, and keep your cups, coffee jar and a pot of spoons on it. You can even move the tray if it's not too heavy into the room you need it in. No more disappearing into the kitchen when you have guests at your home!
See more at Forest Sanctuary Abode.
13. Chalkboard coffee bar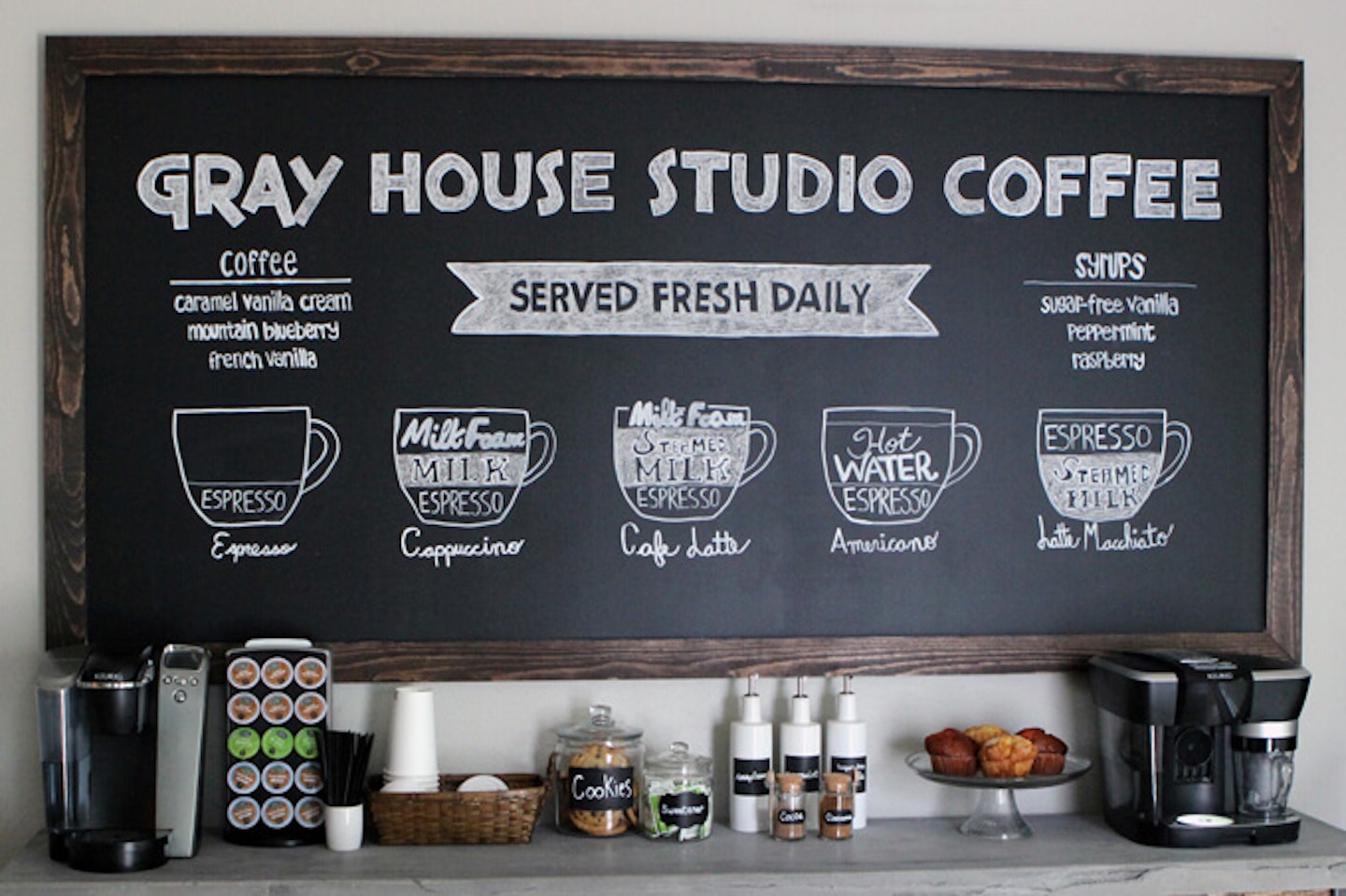 Chalkboards give the ultimate coffee shop atmosphere, and they're great for being able to change up your space with the least amount of effort. You can draw or write something on it to keep until you want to change it up! It can sit behind your coffee space or you can hang it on the wall.
See more at Gray House Studio.
14. Minimal cabinet bar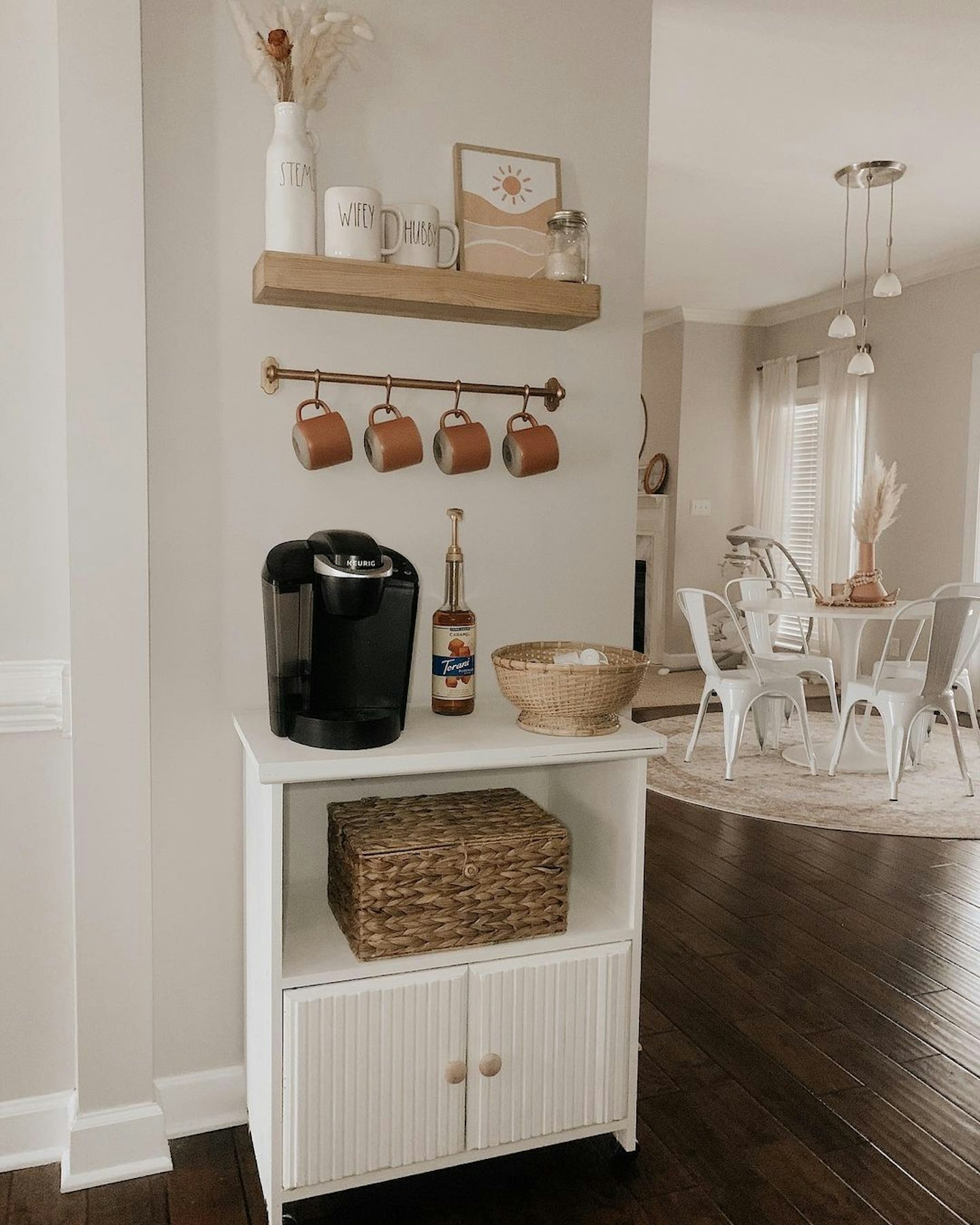 If you're not a fan of clutter, a simple cabinet with coffee machine on top and a few baskets will be better suited. Using neutral colours, gold and wood can create a space that looks good but isn't too over the top. You can even display some matching mugs on a hooked rail.
See more at Marie Nelson Home.
15. Reclaimed dresser coffee table
Do you have an old dresser in your home? A simple upcycle by removing the top draws and you can create a similar look! It gives an old piece of furniture a new lease of life, while creating the perfect space for your to store all your coffee essentials.
See more at DIY Duda.
16. Practical use of space coffee bar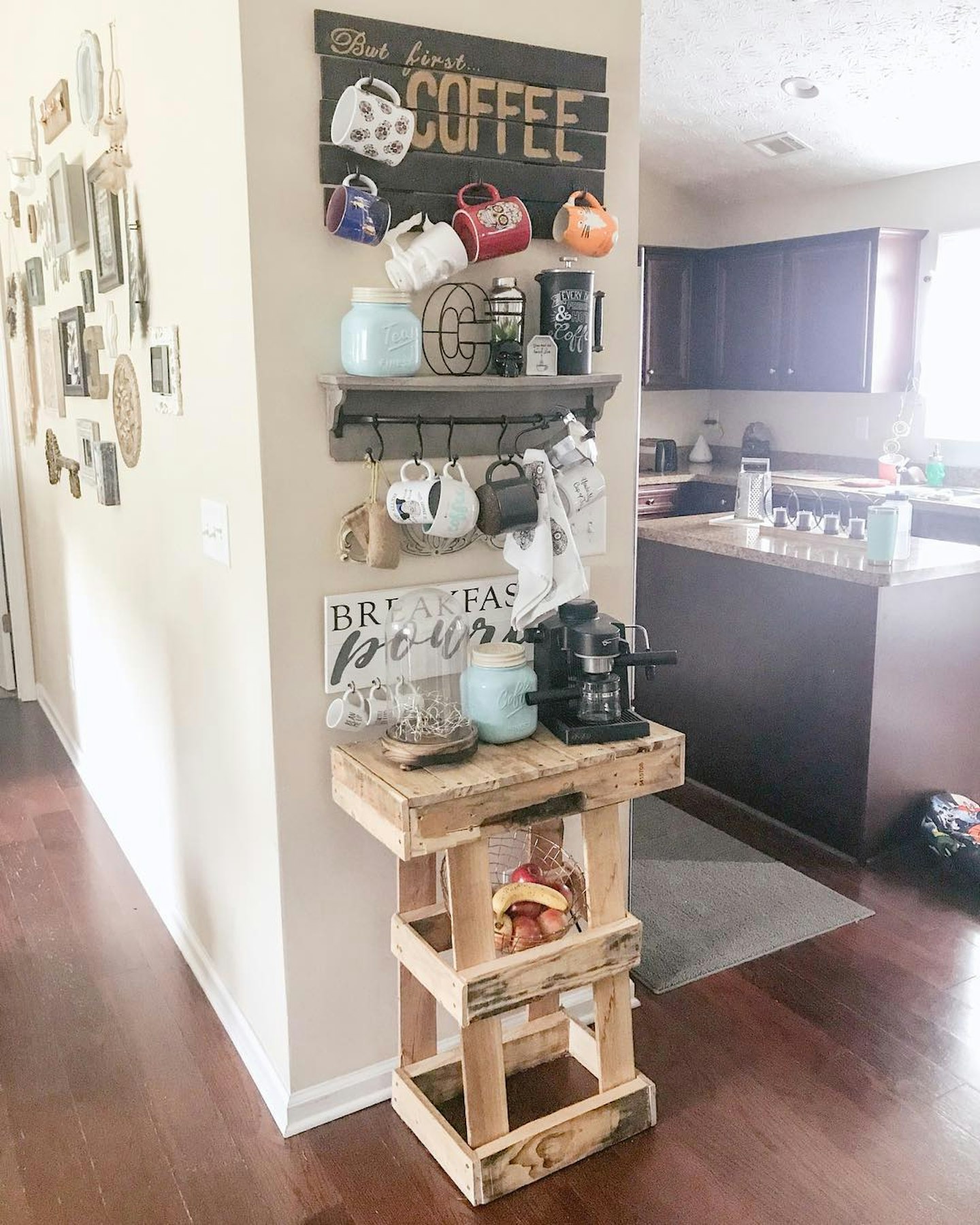 Not all of us have the space to create a big coffee bar, so if you have some empty space in your hallway or an awkwardly placed wall, you make or buy a small table to use as a coffee bar. Shelves in this situation will also be your best friend. They're a practical use of space and you can utilise blank wall space.
See more at Mac Col.
17. Café corner style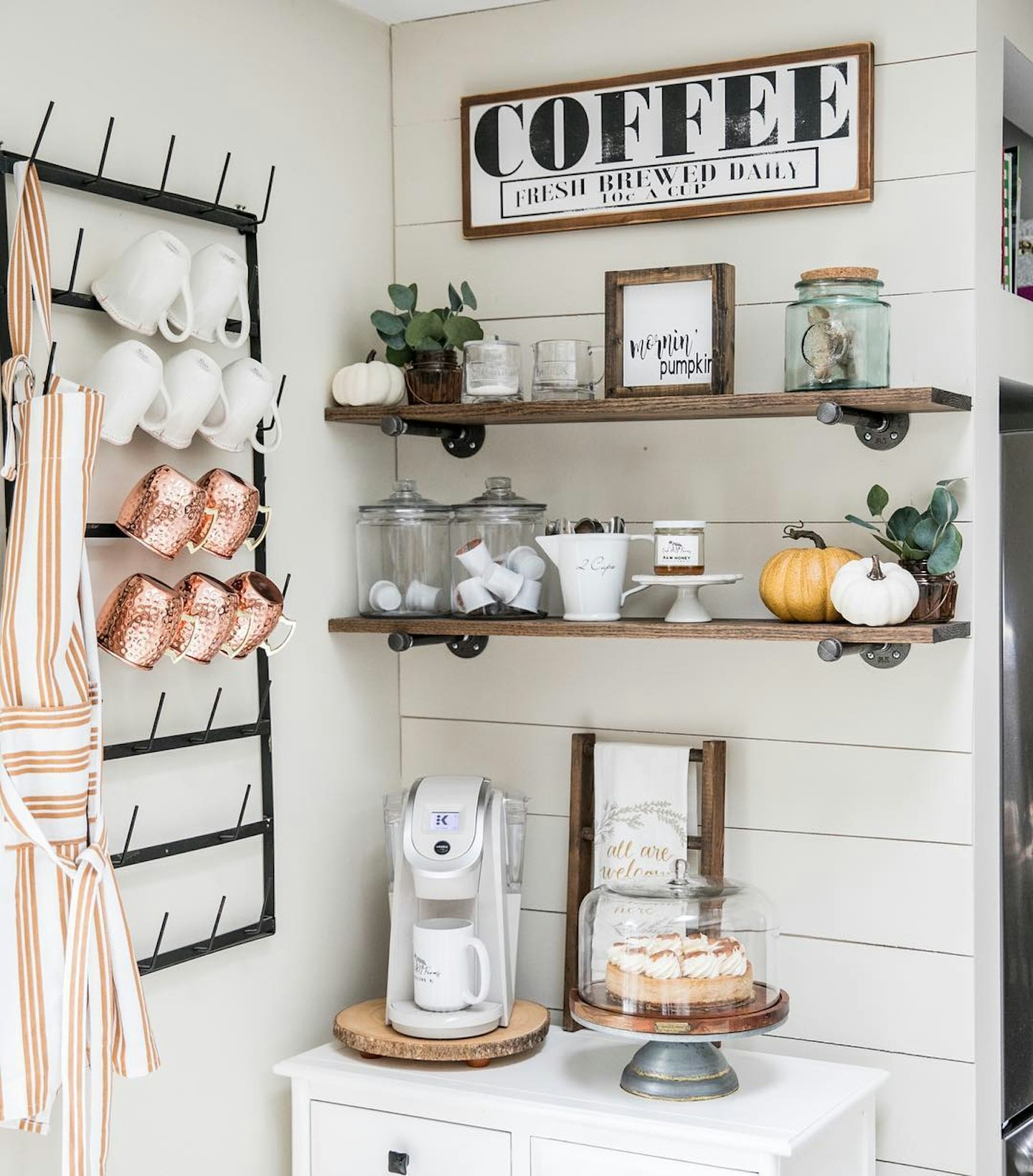 Re-create a café style bar in the corner of your living room or kitchen! Using shelves to store your coffee pods and syrups, you can have your favourite coffee mugs on the adjoining wall. You can then save the space next to your coffee machine for a cake stand. Whether you like to bake your own or buy treats in, coffee tastes better with a sweet treat.
See more at Carla Bushey.
18. Built in coffee bar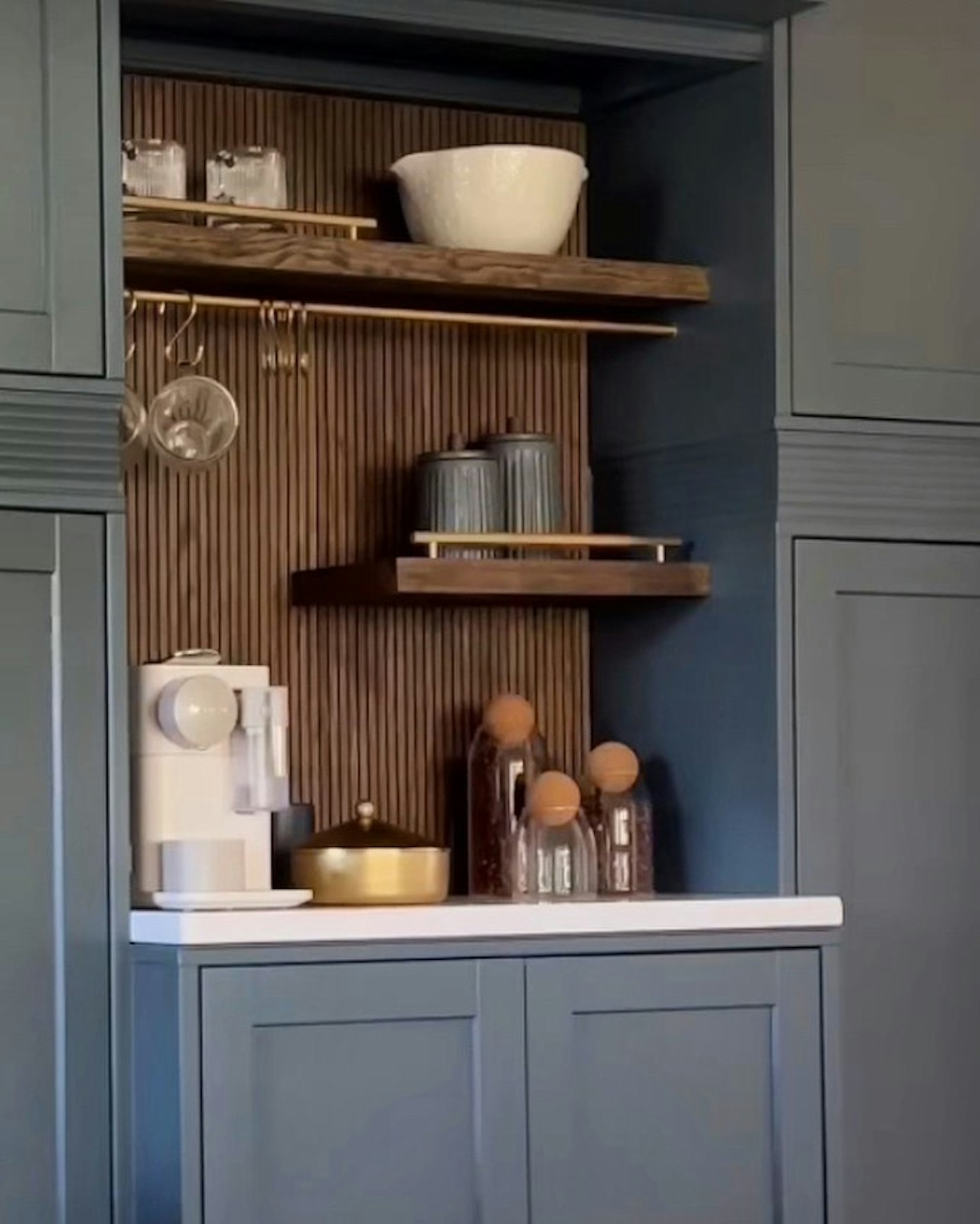 Use shelves to fill the gaps between cupboards, and by adding a different backsplash you can really create a whole different space.
See more at Living for weekend.
19. Pocket cupboard coffee bar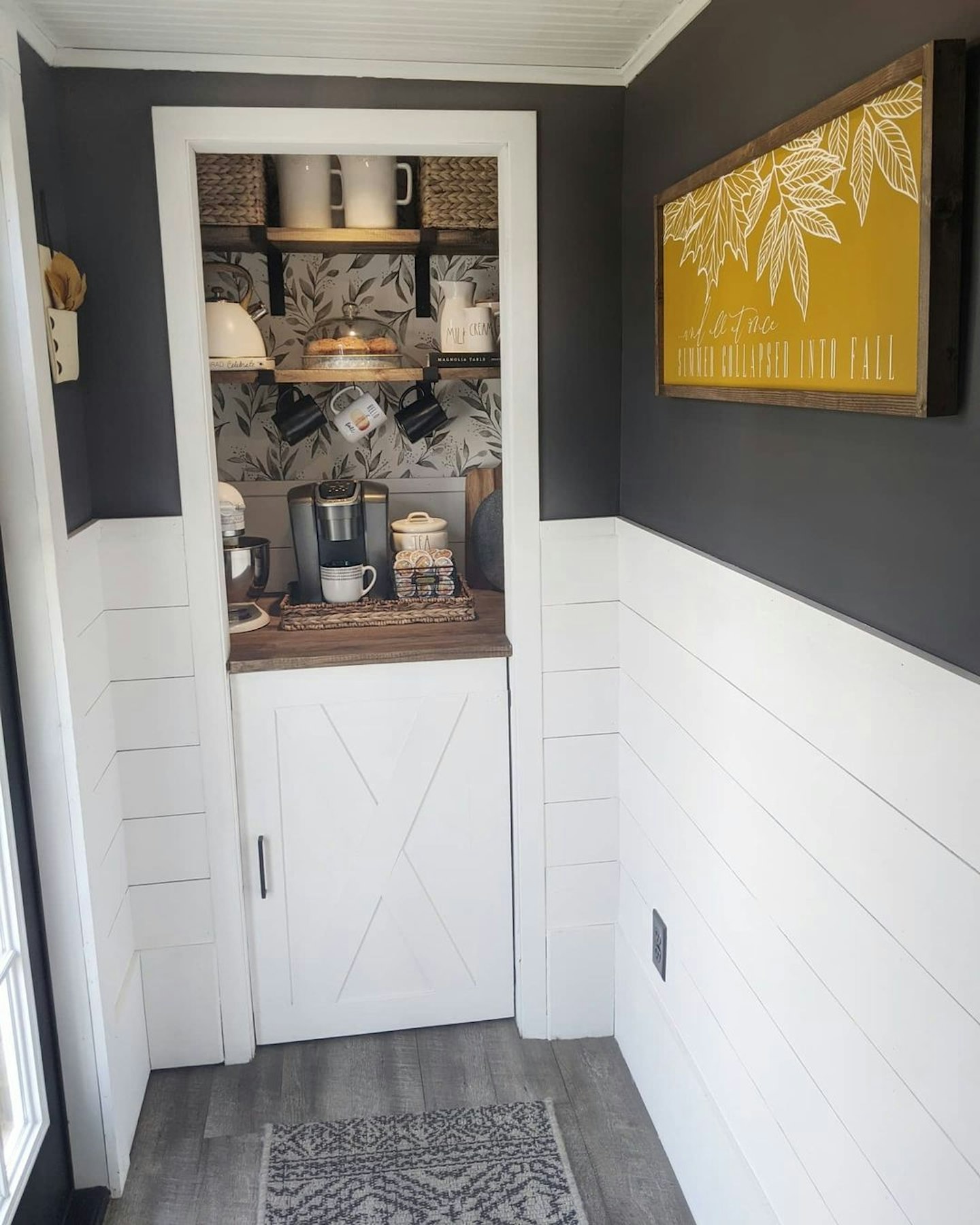 Most pocket cupboards are often used for storing coats, shoes and sometimes the hoover. But if you can box in the bottom with a fitted door, you can use the top half of the cupboard a lot more practically!
See more at Our 1905 home.
20. Accessorised coffee bar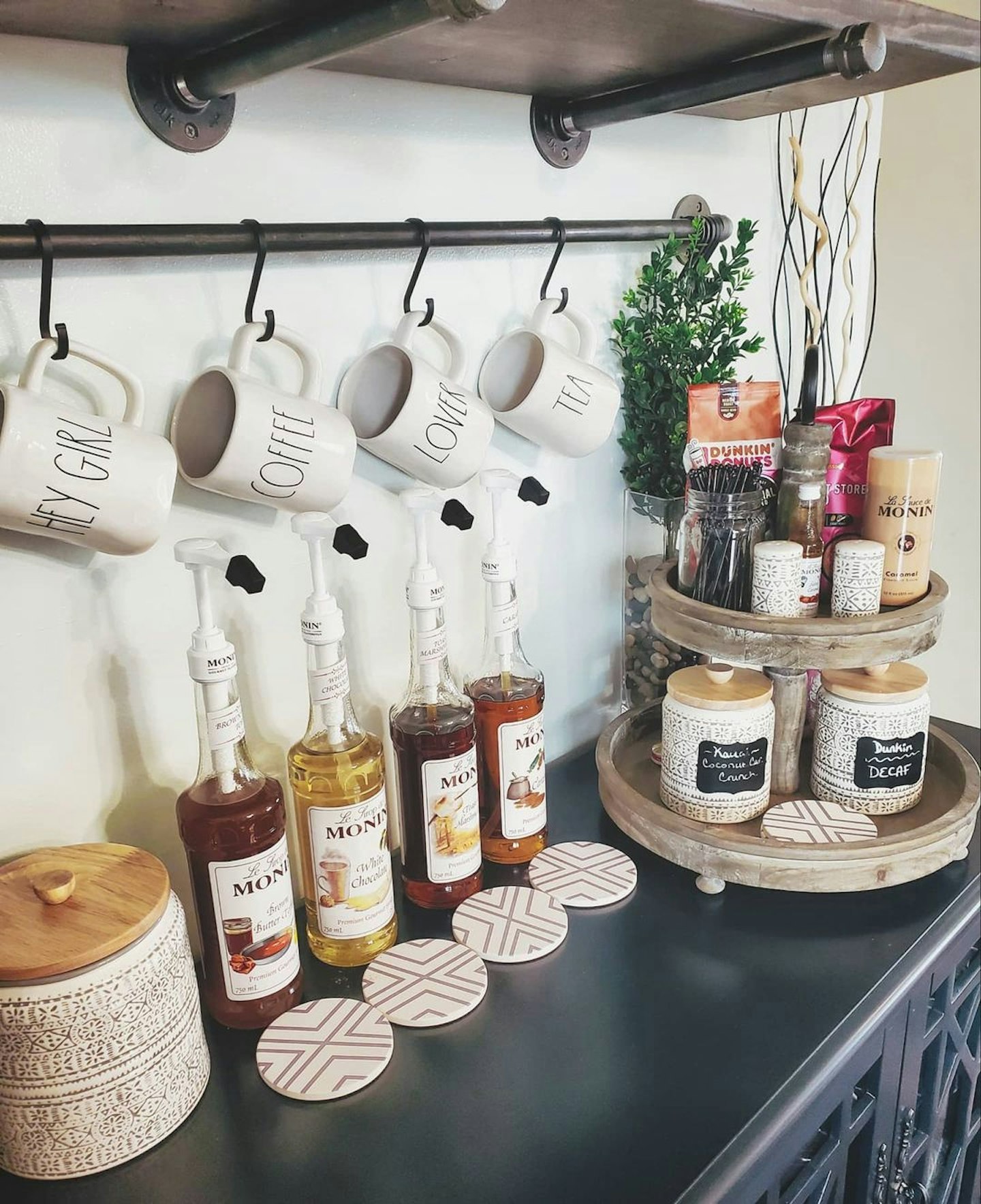 If you're a fan of flavoured coffee, the right accessories can go a long way to create a coffee bar that doesn't look cluttered. We love the use of the fruit stand for those all important coffee toppings.
See more at Little corner of joy.
21. Alcoved tea and coffee bar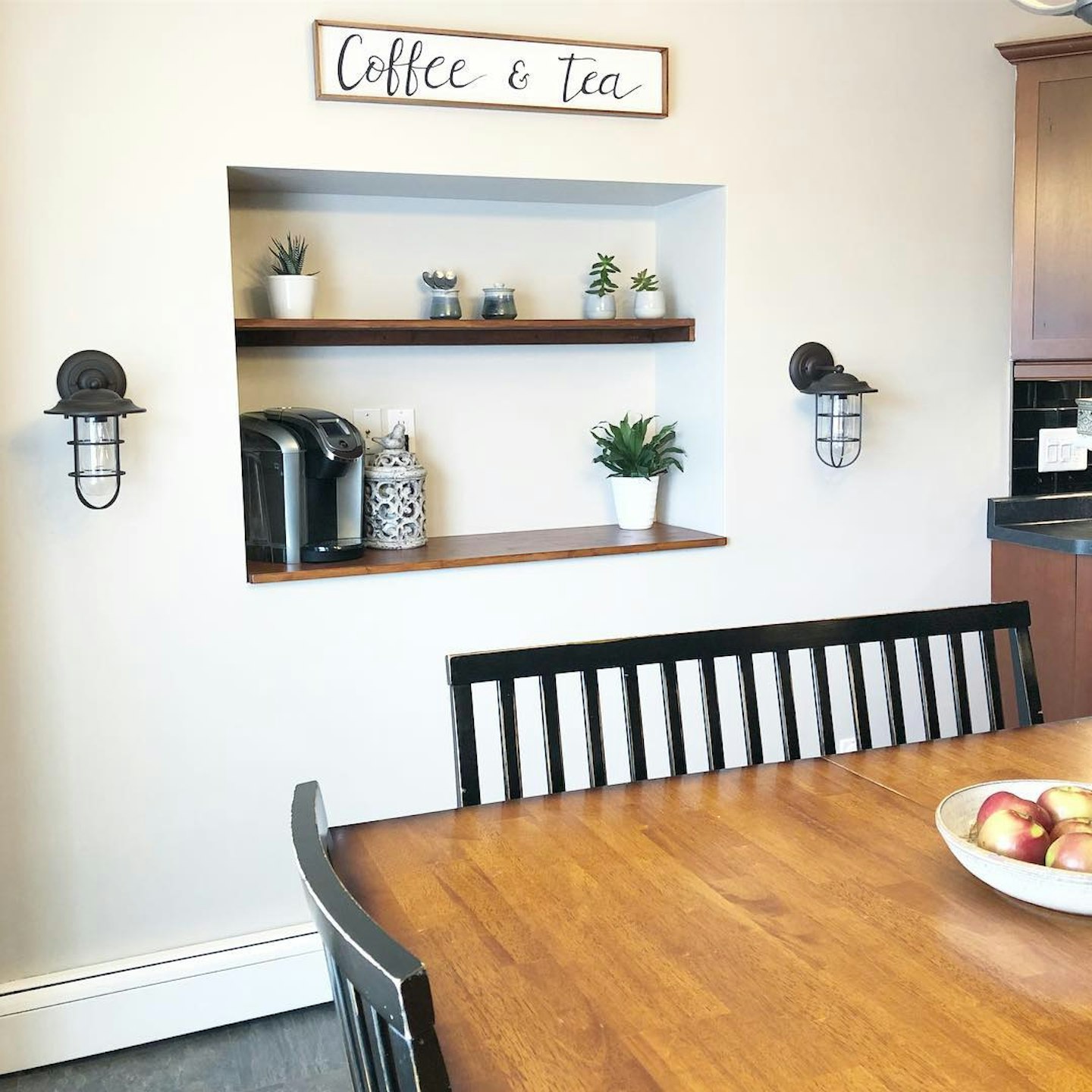 Some homes have awkward alcoves or filled in kitchen windows that leave a blank space. We're often tempted to fill them with photos, but you can create a much more practical coffee bar space. They're usually in a convenient place too, meaning they're easier to access too.
See more at Simple lion heart life.
22. Stylish coffee bar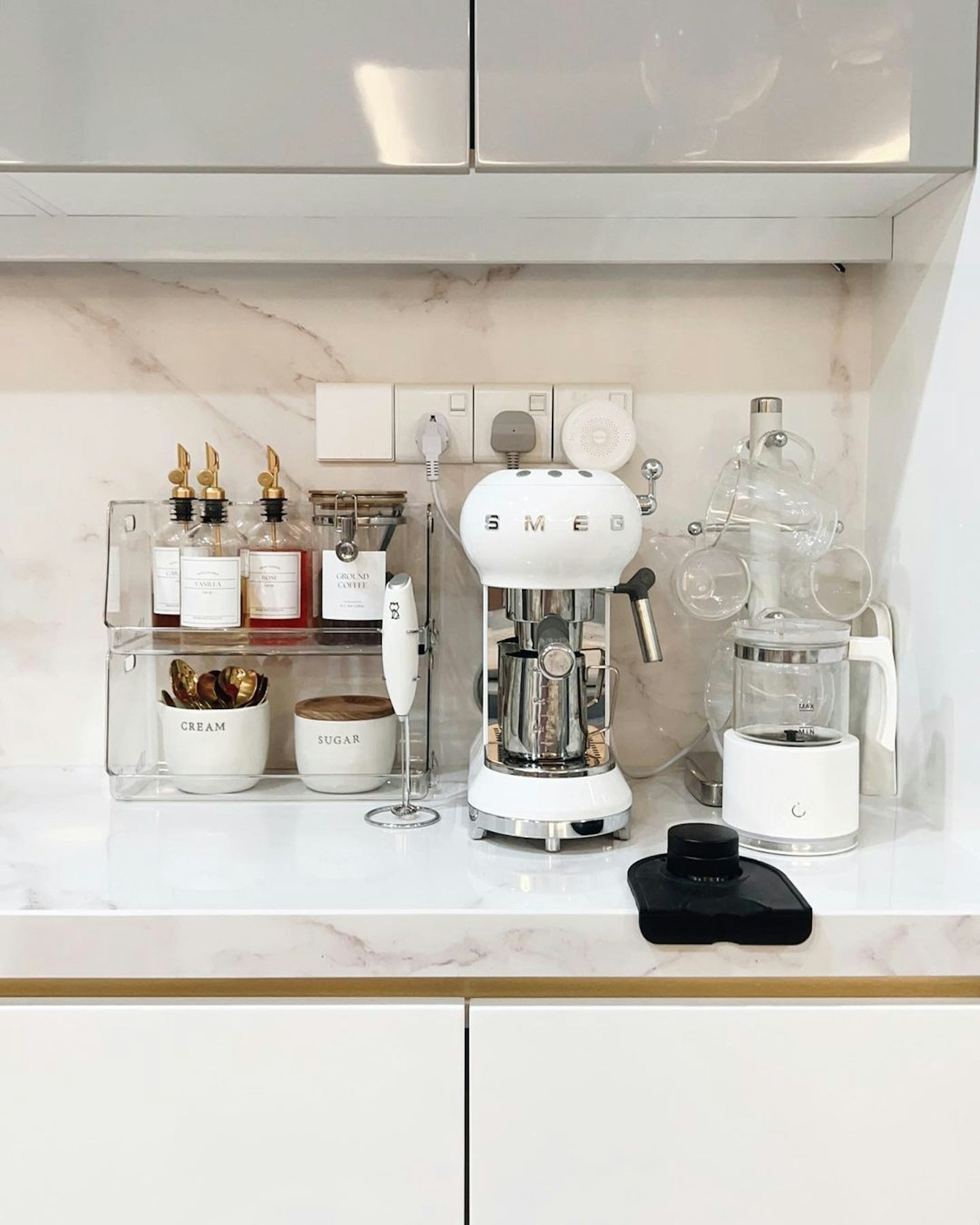 If you love a sleek and stylish space, then use of whites, acrylics and gold works great and getting a stylish look. We love how much you can pop in your stylish coffee bar space, but it doesn't look cluttered.
See more at The Pink Stilettos.
23. Space saving coffee bar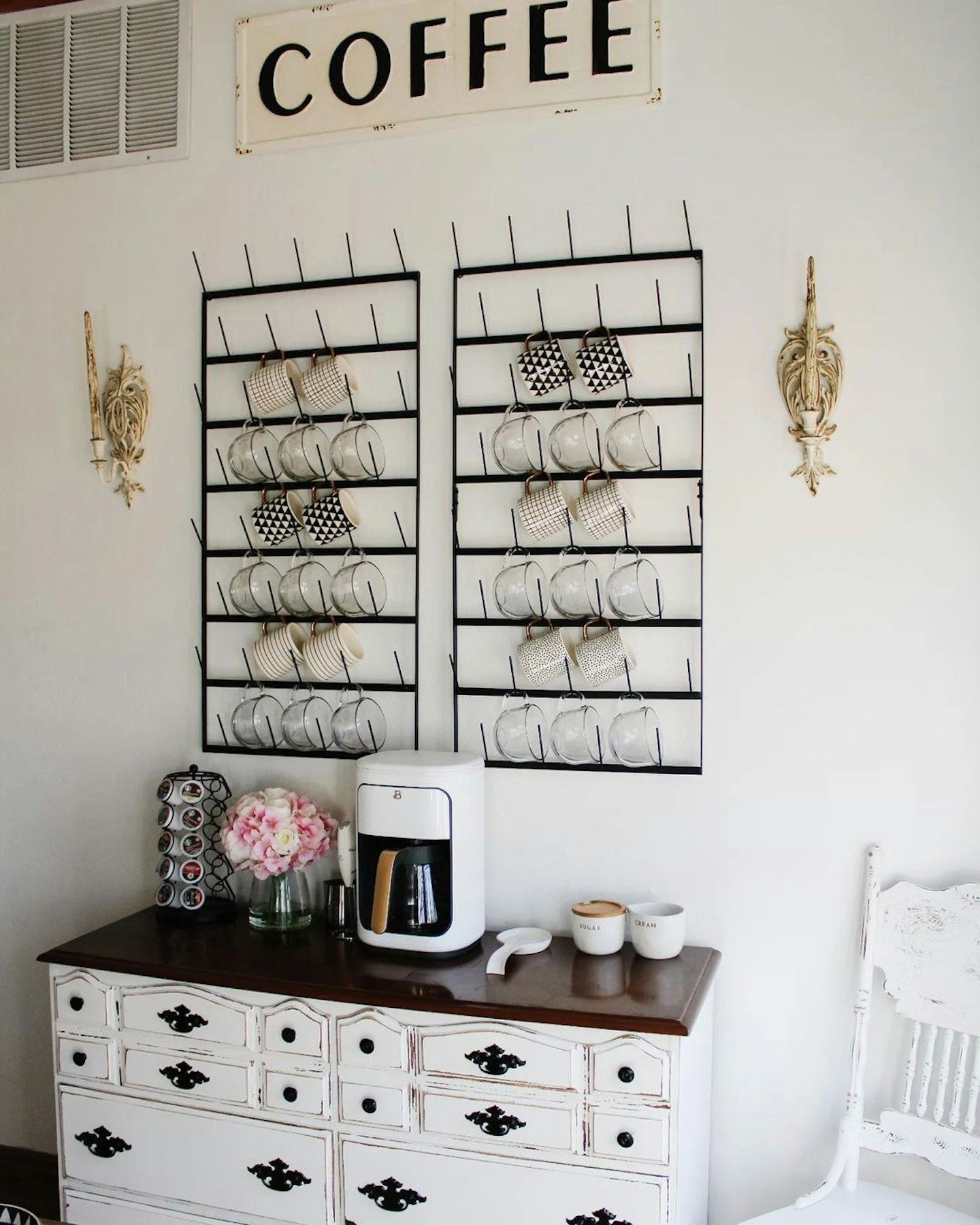 If you've only got enough counter space for your machine, pods and sugar bowl, then cup racks for your wall are a great way to save space in cupboards and on the side!
See more at At home with Astra.
24. Converted closet coffee bar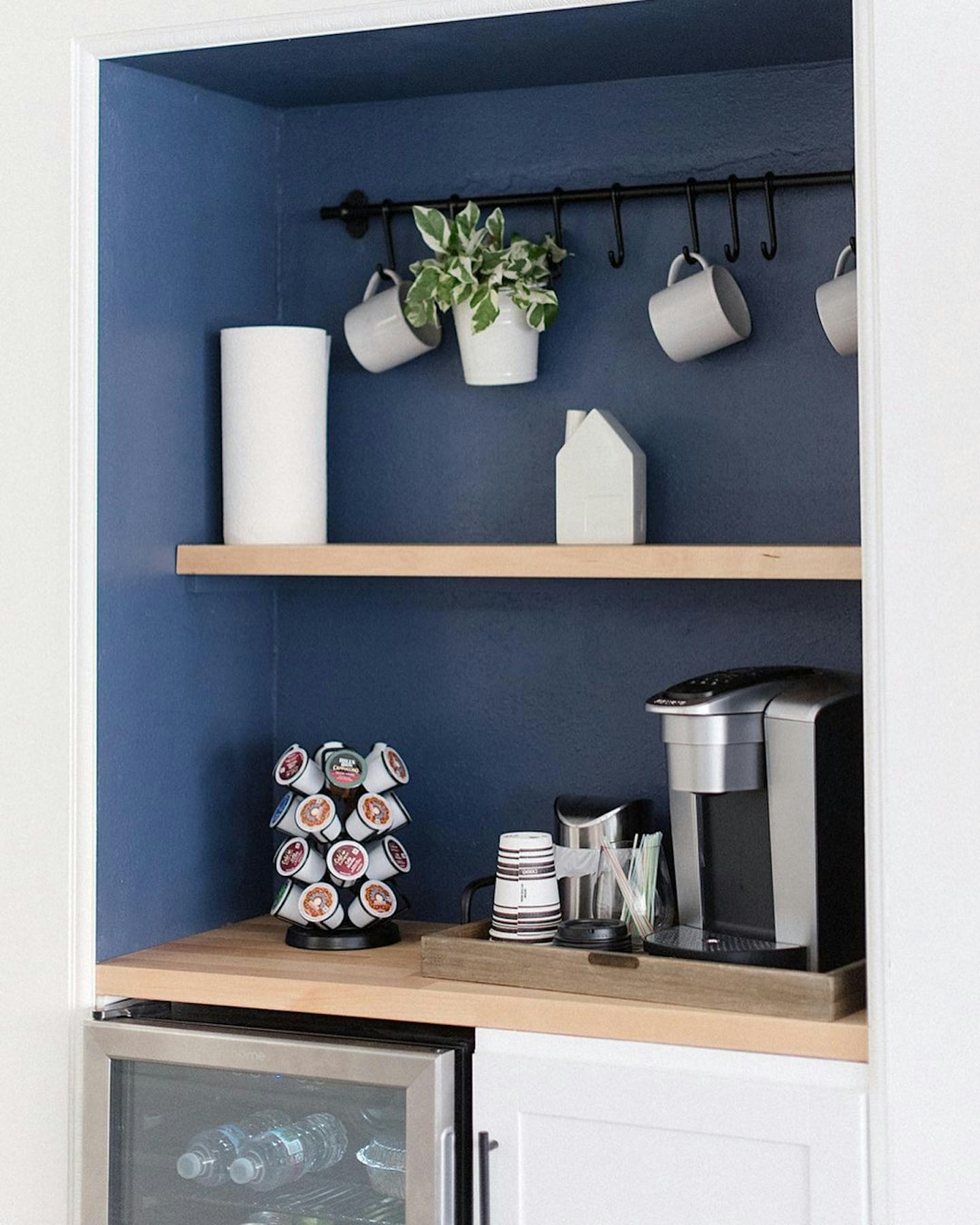 By converting a closest, not only will you be using the space practically but you can significantly reduce clutter (we're all guilty of pushing everything into a cupboard for another day!) You can still keep some storage space underneath the counter, but with shelving and a pod stand you can create a practical coffee bar space.
See more at Petrocelli homes.
25. Art deco coffee bar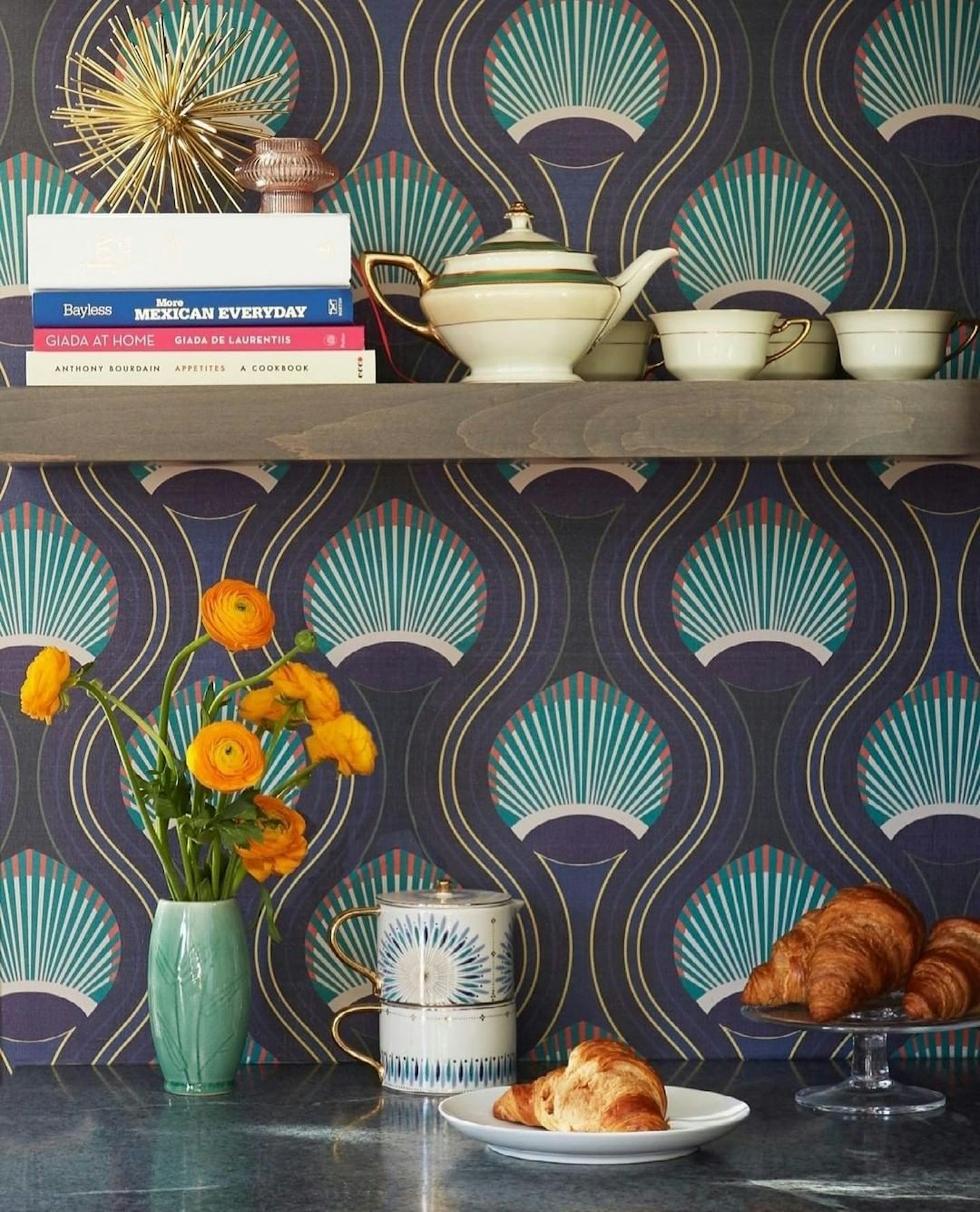 Bold prints and patterned accessories give the best art deco vibe to a home. Pops of colour also compliment this style, with a wooden shelf to store all your coffee essentials on.
See more at Mitchell Black.
26. Reclaimed wood coffee bar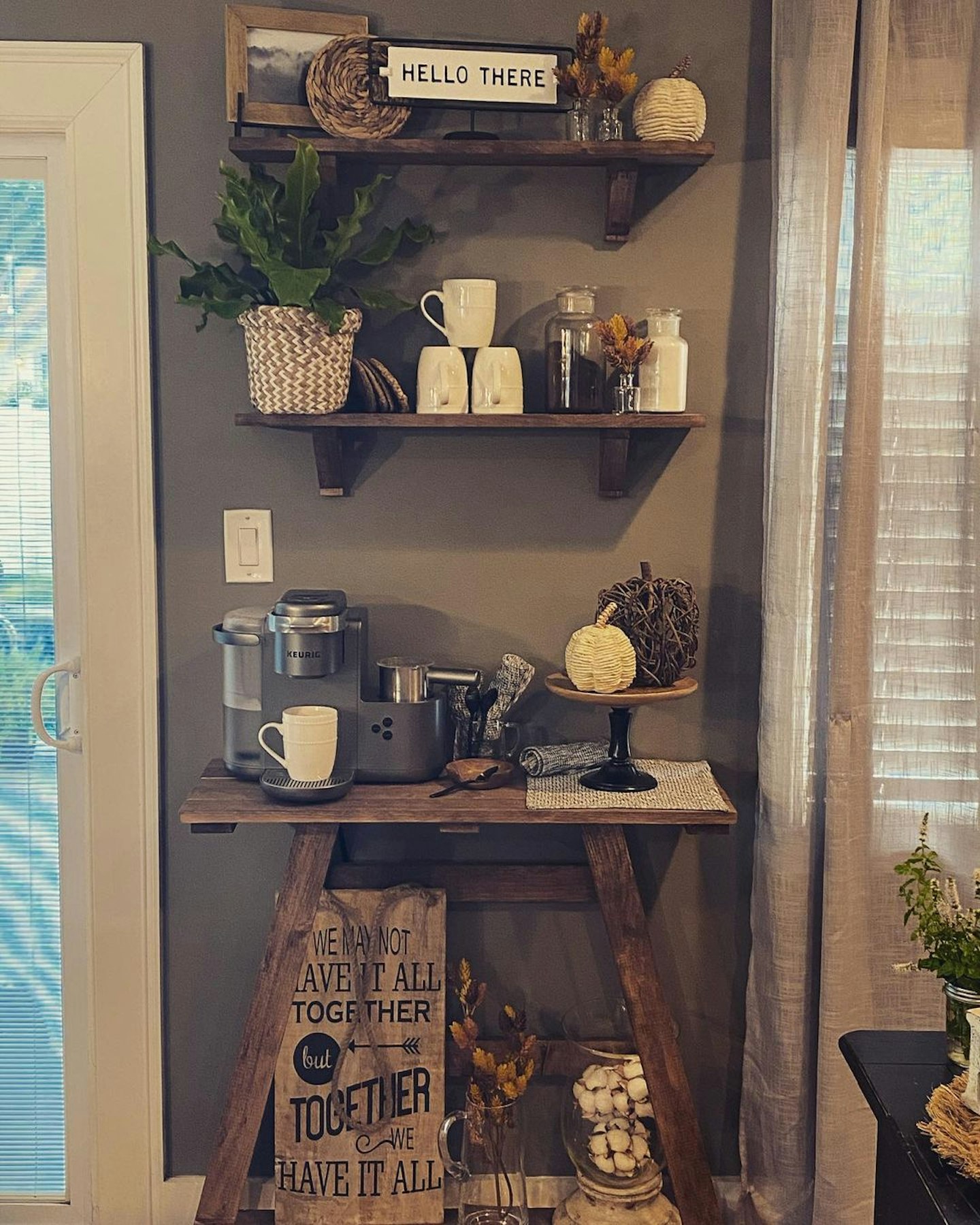 Using wood from pallets or old furniture, you can follow an easy online tutorial to create your own shelves and wooden table. It gives a rustic vibe and you can stain the wood to a colour that suits your home style.
See more at Livin Leski home.
27. Corner shelf coffee bar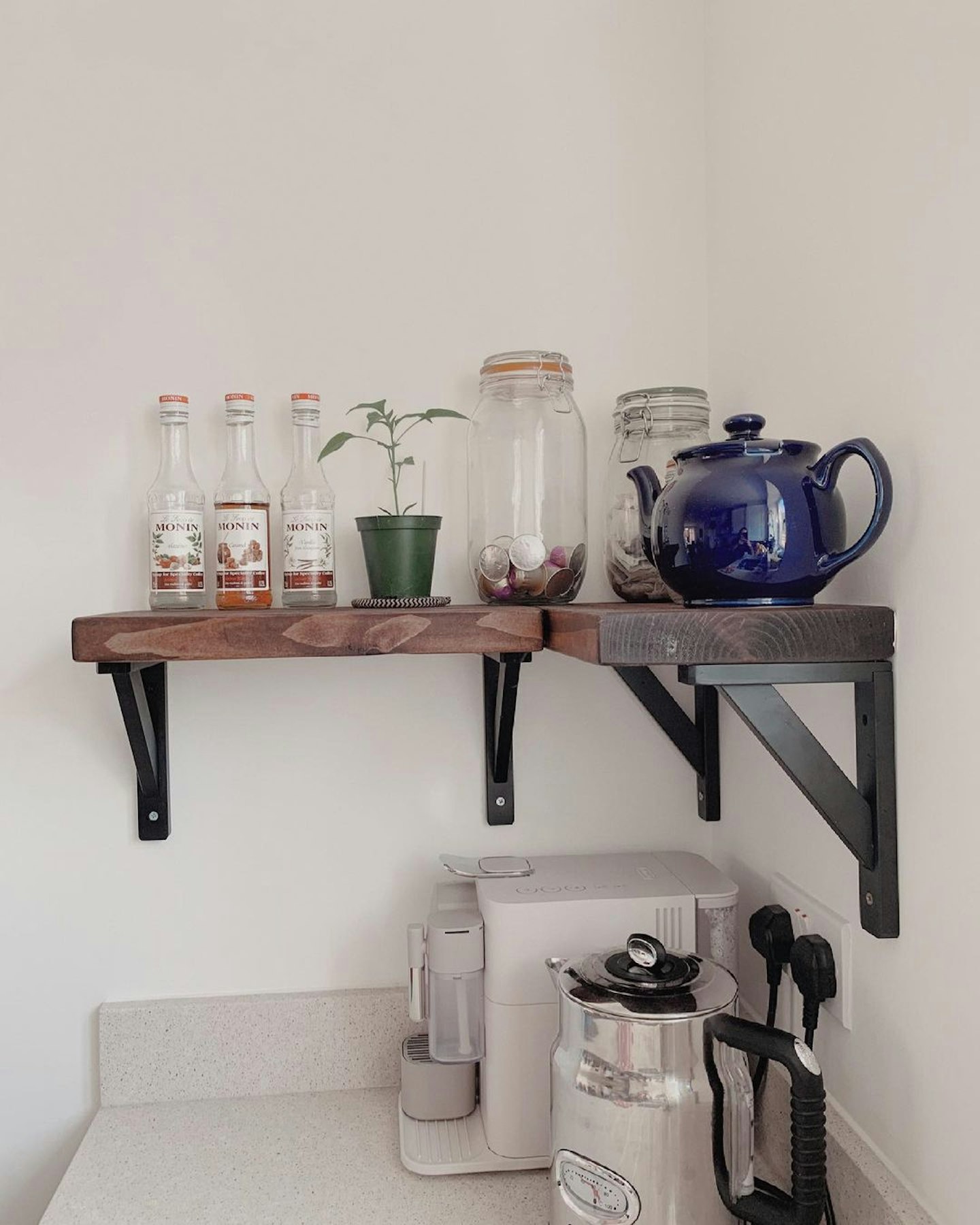 If you only have a small corner of your kitchen or home to create a coffee bar in, you can use two shelves in a corner to really utilise space.
See more at Von crumb home.
28. Mid century modern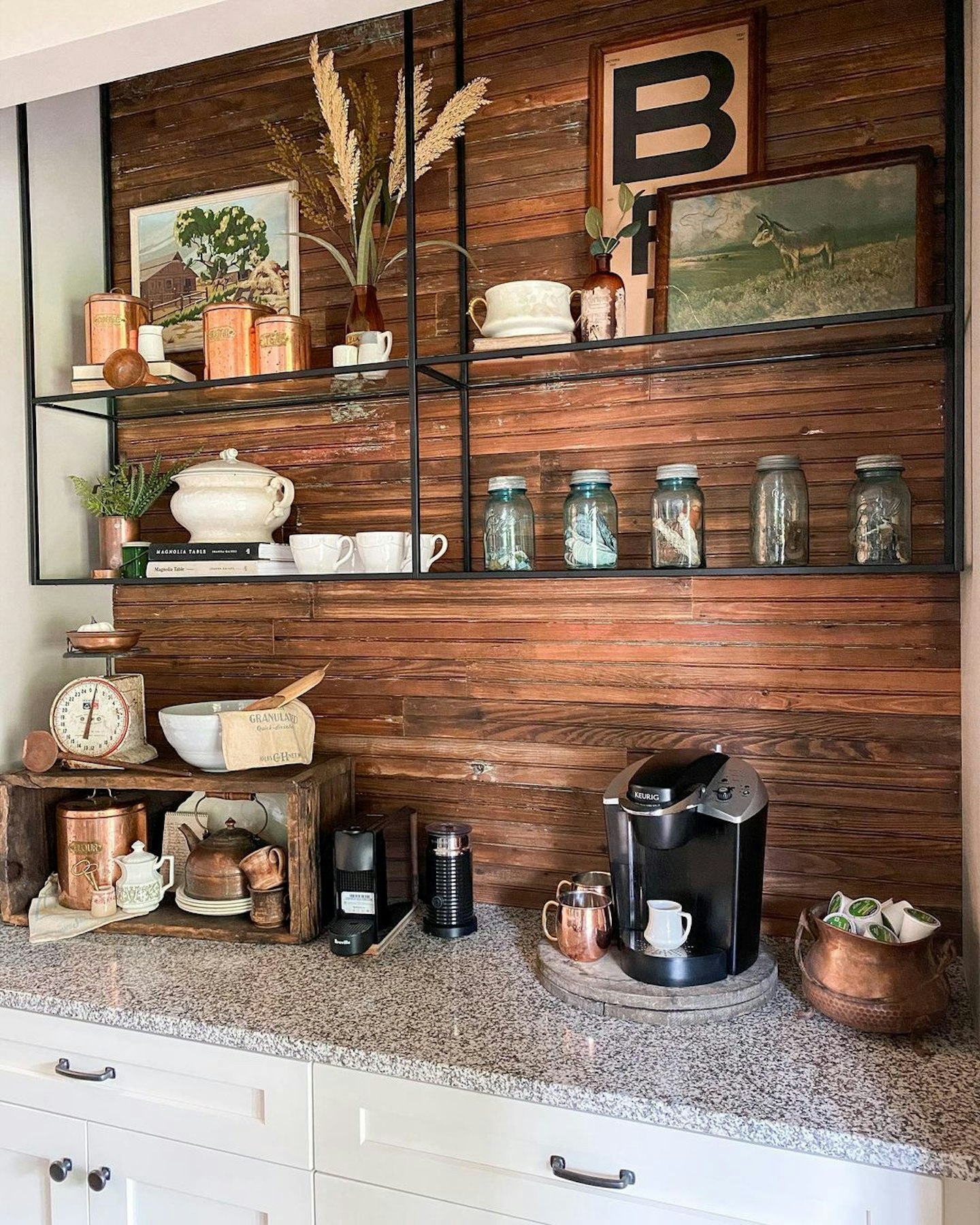 The wood panelled wall and rustic crate really makes this look stand out. It creates a great statement area of your home and is best complimented with brass or black storage and accessories.
See more at Maple and Dickerson.
29. Timeless coffee bar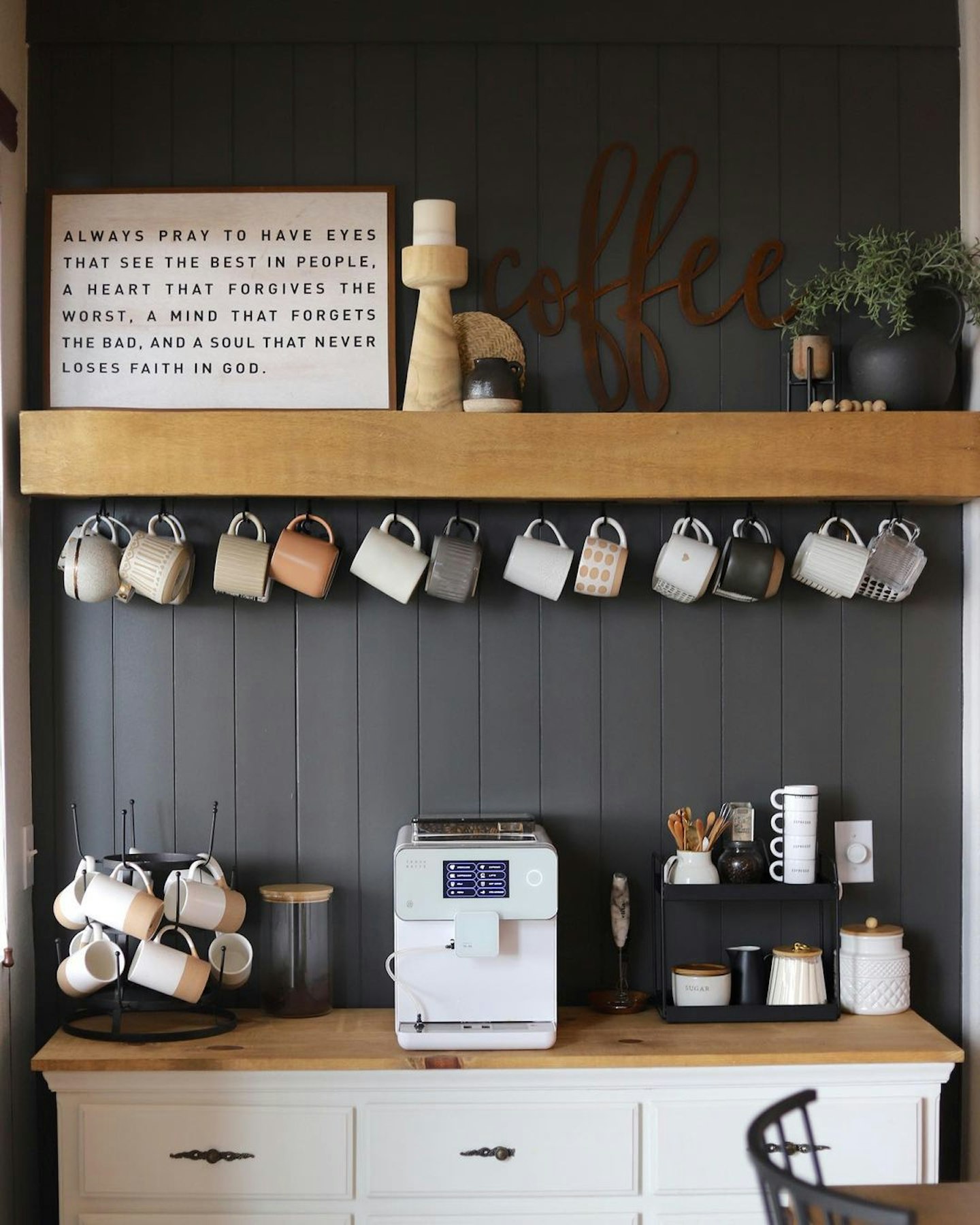 A timeless styled coffee will go with any style you have in your home, and will go with whatever style you change it to. Use a mixture of natural woods, black and whites to create this look. Plus, add a floating wooden shelf to create more space.
See more at Lyndsay Dewey.
30. Narrow coffee cupboard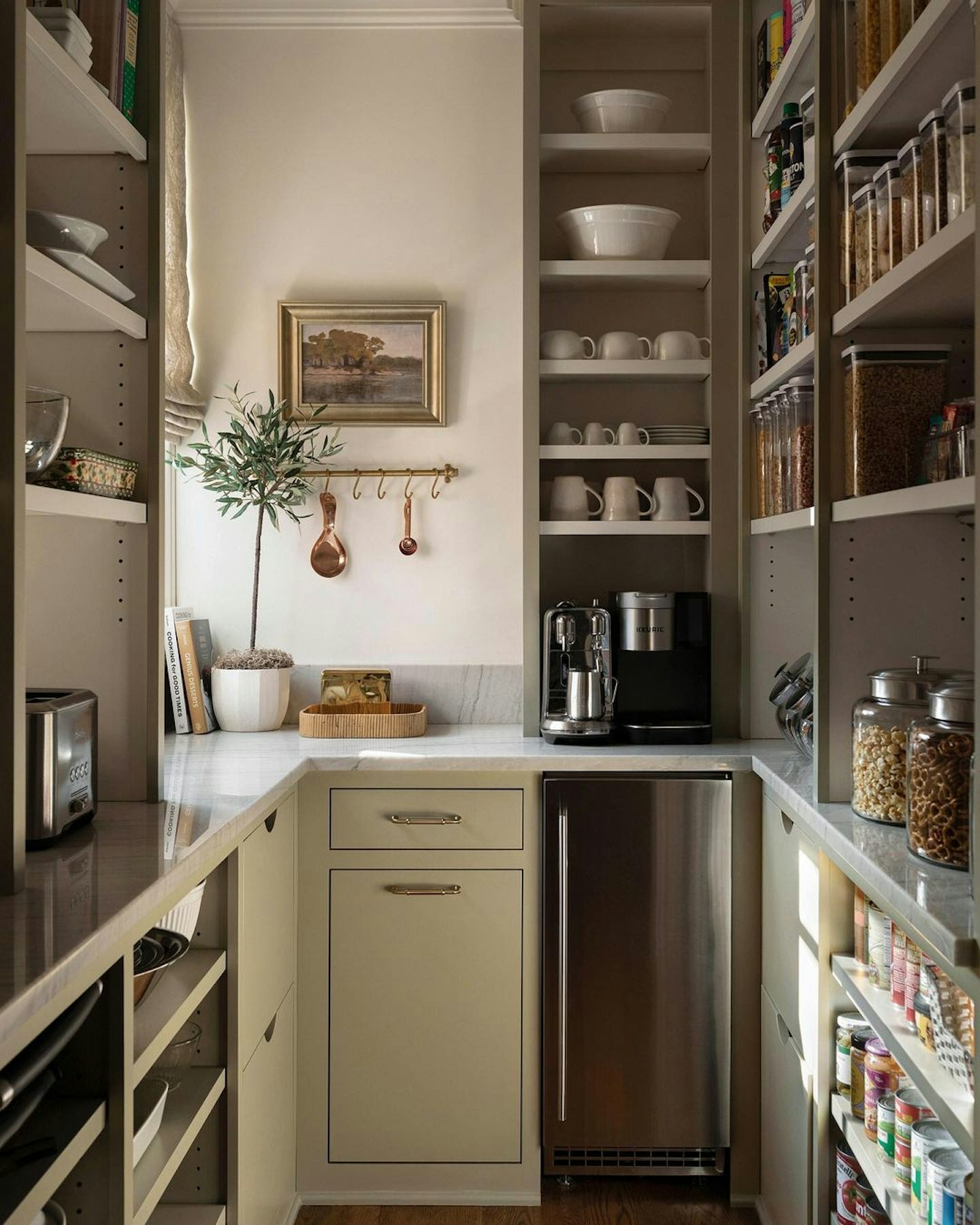 If you have a narrow counter space or even an awkwardly shaped cupboard, you can take off the doors (or leave them on) to create your own small coffee cupboard. It's a great use of a narrow space!
See more at Caroline Sharpnack.
How to make the best home coffee bar
Set aside one of your kitchen counters, or buy a new station, to make your home coffee bar. You can use a stylish tray to hold some of your equipment and keep it neat. Shelves above the counter give you more space to store gadgets and show off your mugs.
You don't have to set up your home coffee bar in the kitchen, either – it could look great in your dining room or lounge, too. Or, if you work from home, setting up a home coffee bar in your study or office is a great idea.
Do I need a coffee machine?
If you're creating a coffee bar in your home, you don't necessarily have to buy a coffee machine. You can set up a little space with your kettle or if you prefer the best cafetière.
Samantha Ball has been a journalist since 2018, having worked across different online lifestyle brands. Having freelanced as a content writer for two years, she then joined the team full time.