The best air fryers will enable you to cook delicious healthy food whilst saving you both time and money. This is why it has become a must-have kitchen appliance. Over the last decade, air fryers have risen in popularity, offering a way to have all the tasty fried foods we want but without the unhealthiness that comes with deep-frying.
In some households, air fryers have become the family's preferred way to cook pretty much everything, as they're quicker than conventional ovens, especially when you include cleaning your oven in the process. Air fryers can also come with pre-set modes, reminders and auto-shut-off capabilities, taking the stress out of cooking for the whole family. If you have a large household, you may want to purchase a dual-air fryer because it has a larger capacity.
Best air fryers at a glance:
• Best overall air fryer: Ninja Foodi AF400UK 9.5L Dual-Zone Air Fryer - View on John Lewis
• Best user-friendly air fryer: Instant Vortex Plus 6-in-1 ClearCook 5.7L Air Fryer - View on Argos
• Best dual air fryer: Salter Dual Cook Pro Air Fryer - View on Amazon UK
• Best budget air fryer: Instant 3.8L Air Fryer - View on Argos
If you're ready to take the plunge and purchase your first air fryer or are looking to upgrade your current appliance, we've compiled a list of the best air fryers to help you out. We've also got some tasty and healthy air fryer recipes for you to try.
Our product recommendations are based on a combination of real-world testing from customers and the extensive knowledge of our experienced editorial team and product specialists.
The best air fryers
Best overall air fryer
Description
Ninja has become one of the leading brands in terms of air fryers. Customers love the versatile
Pros
Easy to use
Two independent cooking zones
Perfect for families or large households
Six customisable functions
Easy to clean
Cons
Takes up a lot of worktop space
Best quiet air fryer
Description
This sleek piece of kit will not only look great on your kitchen counter, but it's intuitive,
Pros
Sleek and stylish
Ultra-quiet
Easy-to-use glass display
Dishwasher-safe cleaning
Even cooking
Lightweight and compact
Cons
Not suitable for larger families
Best user-friendly air fryer
Description
The Vortex Plus 6-in-1 ClearCook Air Fryer combines six cooking programmes in one appliance: Air
Pros
ClearCook window
OdourErase technology
Best dual air fryer
Description
The Salter Dual Air Fryer has several auto-cooking functions – like different meats, muffins,
Pros
User-friendly
Easy-to-follow instructions
Doesn't take up too much space
Notifies you when you need to turn food
Cons
Difficult to keep the display clean
Best dual-zone air fryer
Description
With the Instant Vortex Plus VersaZone Air Fryer, you don't have to choose between an air fryer
Pros
Can be split into one or two zones
Easy to use
6 different programmes
Dishwasher-friendly
Cons
Air fryer picks up dust easily
Best mid-range air fryer
Description
This large 5-litre air fryer has a very generous-sized basket with a non-stick interior and
Pros
Large basket easily fits a whole chicken or four pieces of fish/meat
Easy to clean
Simple to use
Reheats food quickly
Good results with less oil than conventional roasting
Cons
No dehydrate or steam setting
A little noisy
Best smart air fryer
Description
This is smart technology at its best. Have you ever wished that you could let technology do the
Pros
Clever basket design
App controlled
Cons
Too many buttons can be tricky to use
Best air fryer with a large capacity
Description
This air fryer has a 5.5 litre of cooking capacity, so it's perfect for large families. The LED
Pros
Seven pre-set cooking modes
Dishwasher safe parts
Available in black and white
Cons
Takes some time to heat up compared to other air fryers.
Best air fryer with plenty of features
Description
Ninja prides itself on its TenderCrisp Technology - which involves pressure-cooking to lock in
Pros
Lots of useful features
Easy to use
Cons
It's hard to make the most of the space in the pot when using the reversible grill rack
Best for design
Click voucher box for £39 off
Description
For food that contains 85 per cent less fat than traditionally fried foods but with all the
Pros
Dishwasher-safe
Removable non-stick coated fryer basket
Cons
Hot air releases out of just one vent at the top
Best easy-use air fryer
Description
This Salter AeroGrill Pro Air Fryer cooks food quickly, making those last-minute but healthy
Pros
Cool zone to keep the oil fresher for longer
Removable bowl
Best self-stirring air fryer
Description
Tefal's leading low-fat fryer has a few nifty additions that some people may enjoy. It has a
Pros
Food cooks evenly and consistently
self-stirring wand
Cons
No drip tray to catch excess fat
Best multi-use air fryer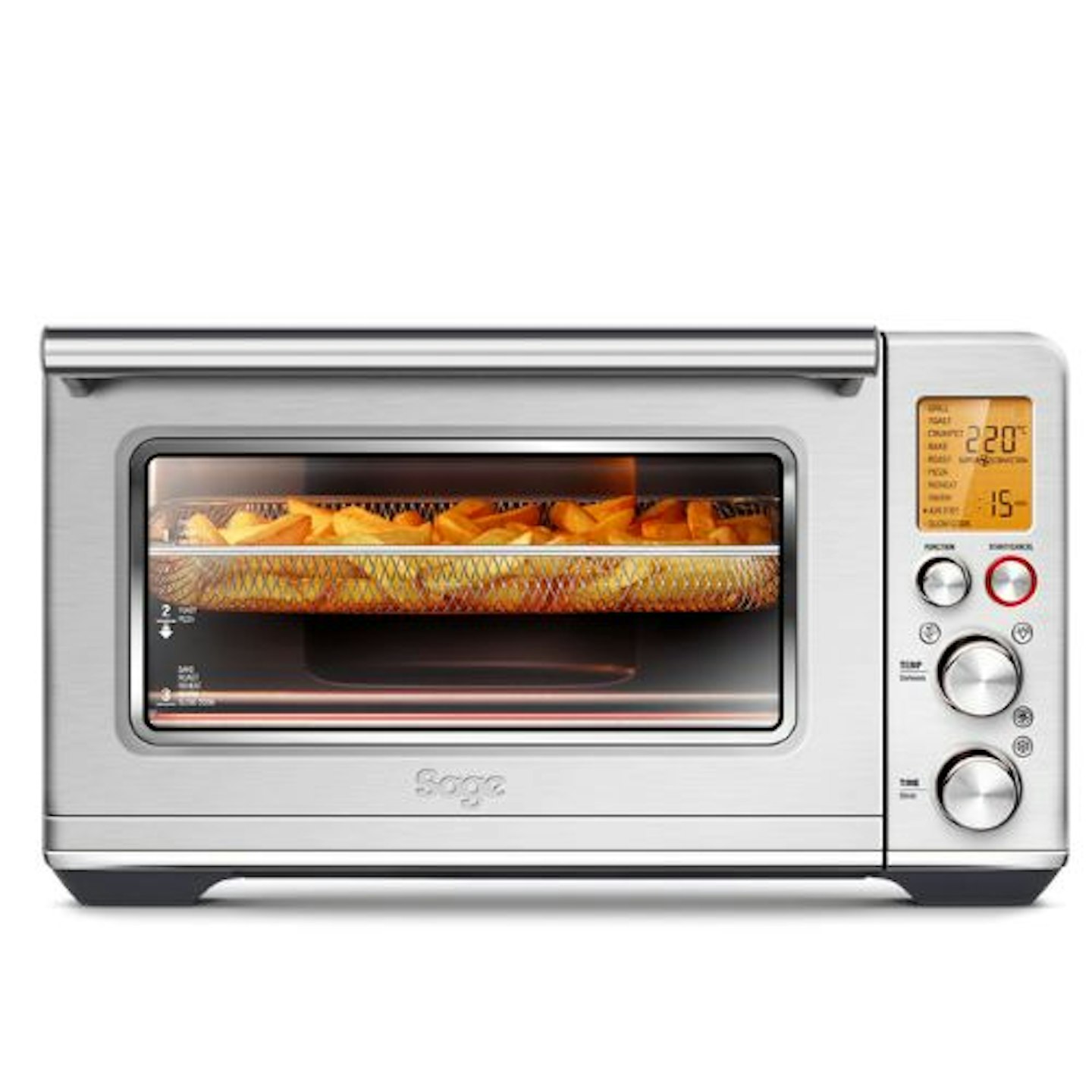 Sage
Description
If you have a small kitchen space having lots of different appliances is a no-go. Often this will
Pros
LCD display and interior oven light
Dual speed convection
Super versatile
Element IQ system
Dedicated air fryer setting
Cons
Timings can be trial and error
Best air fryer for large households
Description
Pros
Cool zone to keep the oil fresher for longer
Safety cut out and two cooking compartments
Includes dishwasher-safe parts
Removable bowl
Up to 75 per cent faster than fan ovens
Best budget air fryer
Description
Kitchen appliances can cost a small fortune. The good news is you can still get a good air fryer
Pros
Includes dishwasher-safe parts
One cooking compartment
Easy to clean
Small and simple to use
Best air fryer with a slow cooker
Description
This Russell Hobbs appliance is a multi-cooker with an air fryer all in one. The Satisfry Air &
Pros
The cooking pot is dishwasher safe
Circulates air temperatures up to 260°C from the top and bottom for even cooking
Adjustable thermostat with precise temperature control
Cons
Not recommended for larger households
FAQs
How does an air fryer work?
Air fryers work by circulating hot air around the food using convection - basically a smaller version of a convection oven. They're great for getting that crispy outer layer we all love while the inside remains fluffy or moist, depending on what you're cooking.
They were created to replace deep fryers, which use hot oil, but instead, they use either a minute amount of oil or none at all. This means we can have healthier versions of our favourite fried treats in our homes. Over time, they've been tweaked to include many other features, such as steaming, grilling, baking, roasting and more.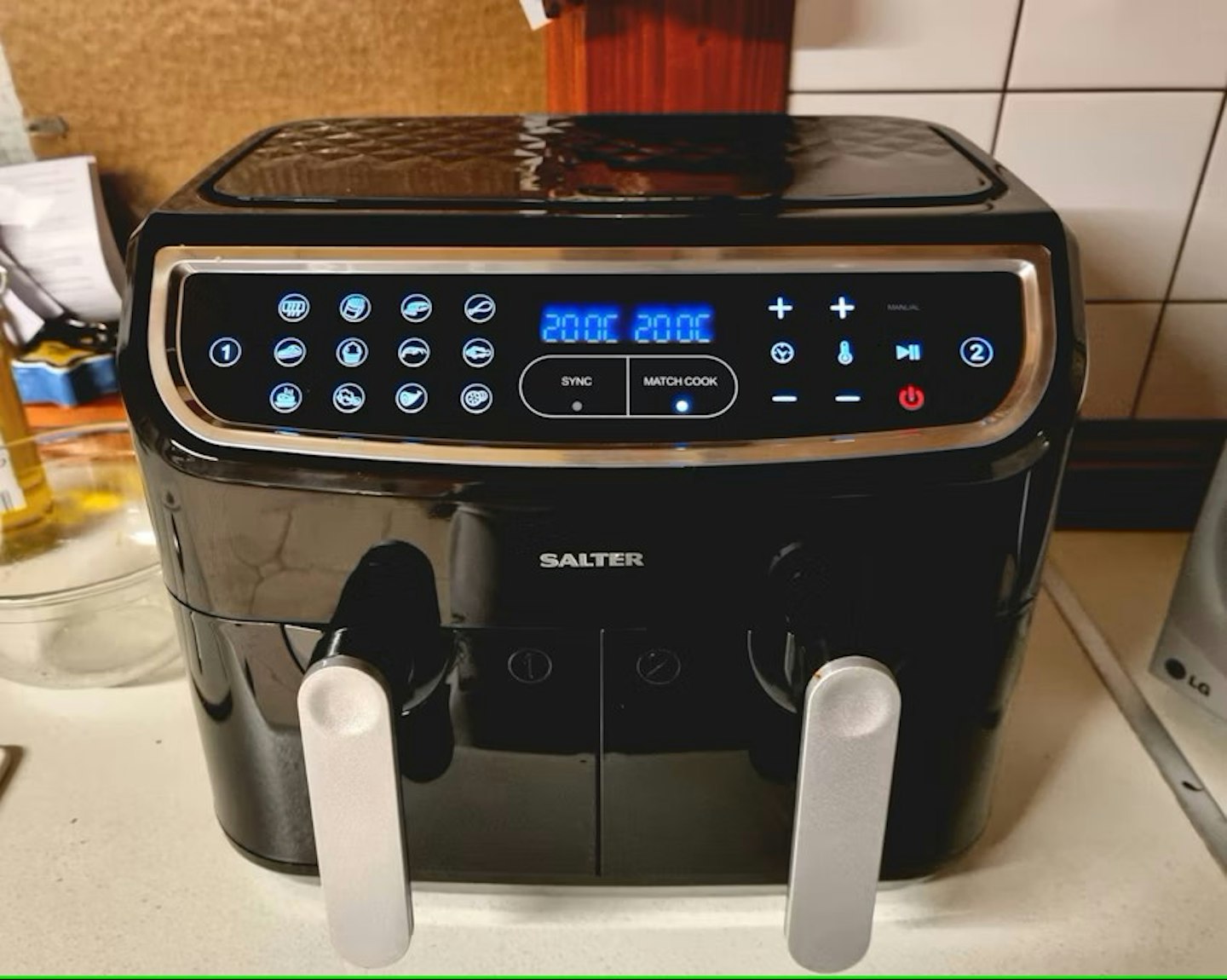 How do I clean my appliance?
Each appliance is different. Always check the manufacturer's guidelines before cleaning your air fryer. Lots of air fryers on our list can be cleaned in a good-quality dishwasher, so check this before you start scrubbing it, as it will save you time. If it is, then put it in upside down with the tray and basket drawer facing downwards. If it's not, then just wash the tray and drawer in warm soapy water.
Can you put tin foil in an air fryer?
Yes, you can. It is a great hack for making cleaning easier. However, always make sure it's flat and not in contact with the top fan.
Can I use oil in the air fryer?
Yes, you can, but you do not always need to. But, if you want your food to be extra crispy, put a small splash of oil.
Hannah James is a Senior Home, Parenting and Lifestyle Product writer for Yours, specialising in product testing and reviews. As a mother of three, Hannah loves finding clothes that make her feel fabulous and products that are great for large families.