Air fryers continue to grow in popularity and it's no surprise - who wouldn't want to enjoy healthier versions of their favourite fried treats. There are also a range of healthy air fryer recipes you can cook.
If you're new to the world of air fryers and don't know where to start, or if you're simply after some fresh inspiration, we've got a selection of healthy air fryer recipes for you to try, whether you have a dual air fryer or a small air fryer. After all, there's a lot more to air fryers than crispy chips - however much we enjoy them!
Chicken air fryer recipes
Healthy air fryer recipes for chicken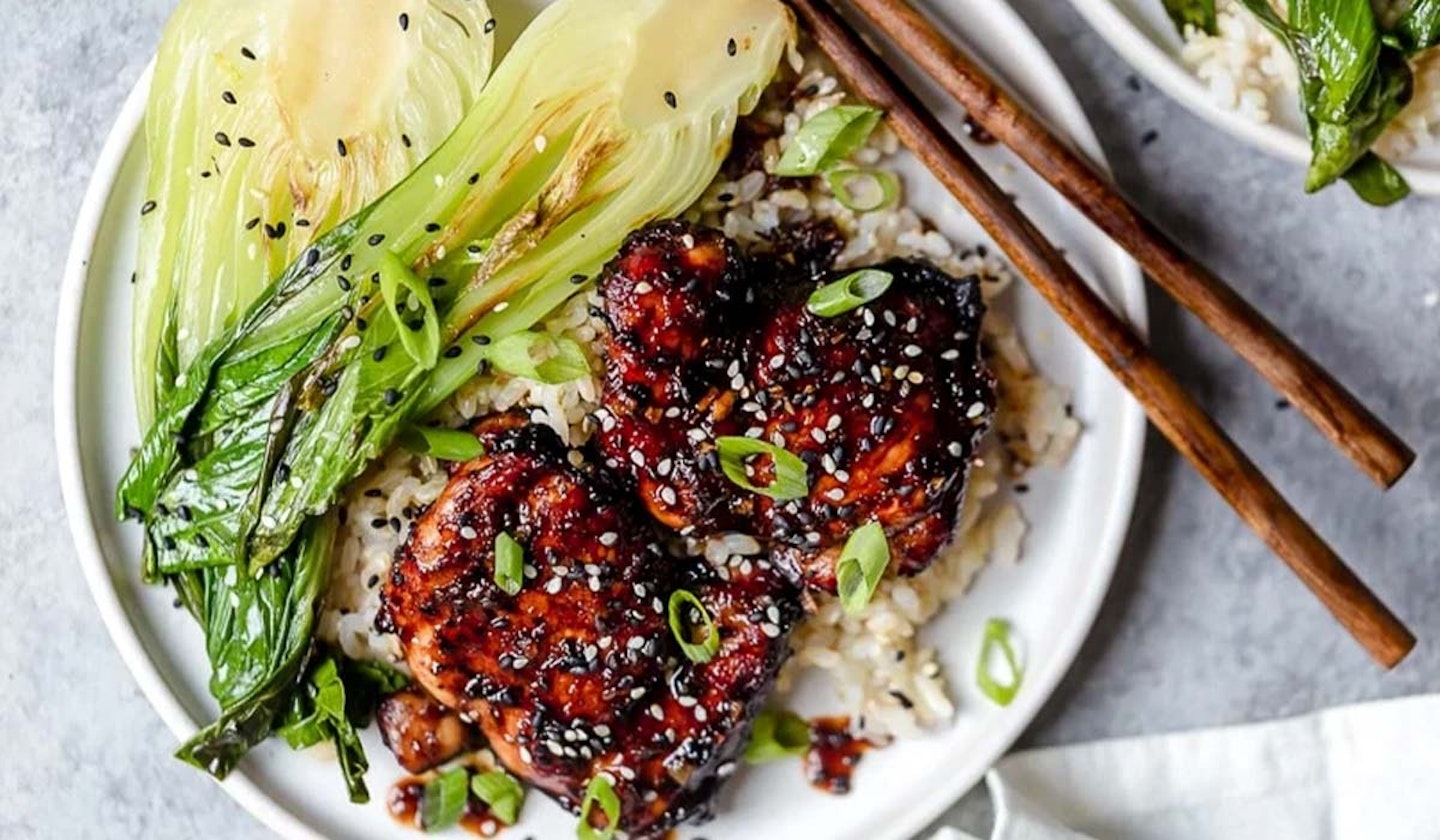 1 of 10
CREDIT: Skinnytaste.com
Asian-glazed boneless chicken thighs
With no breading, these juicy Asian inspired chicken thighs require very few ingredients. Enjoy with rice or steamed veggies.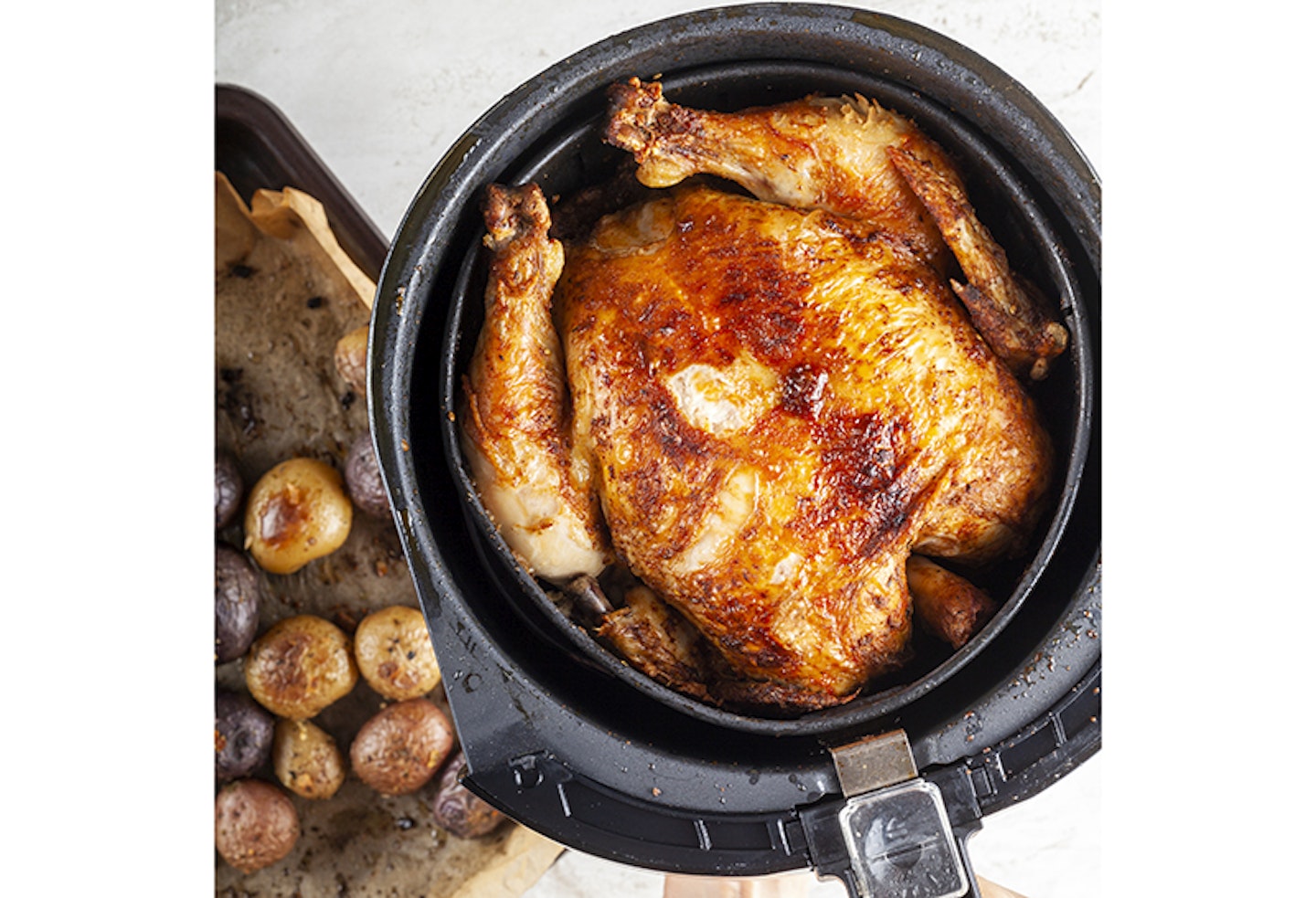 2 of 10
CREDIT: asouthernsoul.com
Whole chicken
Did you know that in many air fryers you can cook a whole chicken? Tender and juicy on the inside with crispy skin, it's a great one to do at the start of the week so you can use the chicken in your mid-week meals.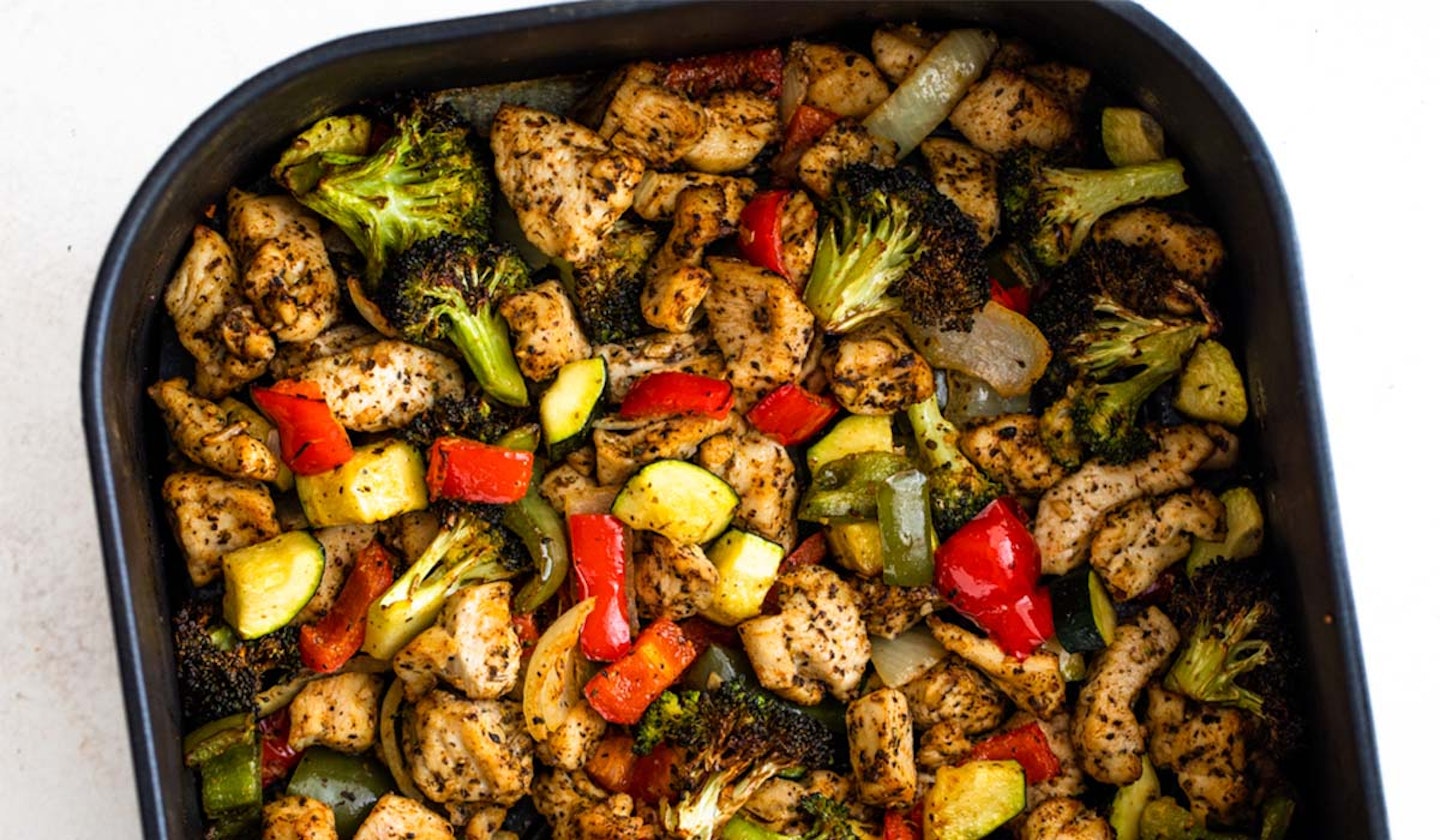 3 of 10
CREDIT: gimmedelicious.com
Chicken and veggies
A whole meal in under 20 minutes, this recipe combines succulent chicken with plenty of fresh veggies including peppers, broccoli and more.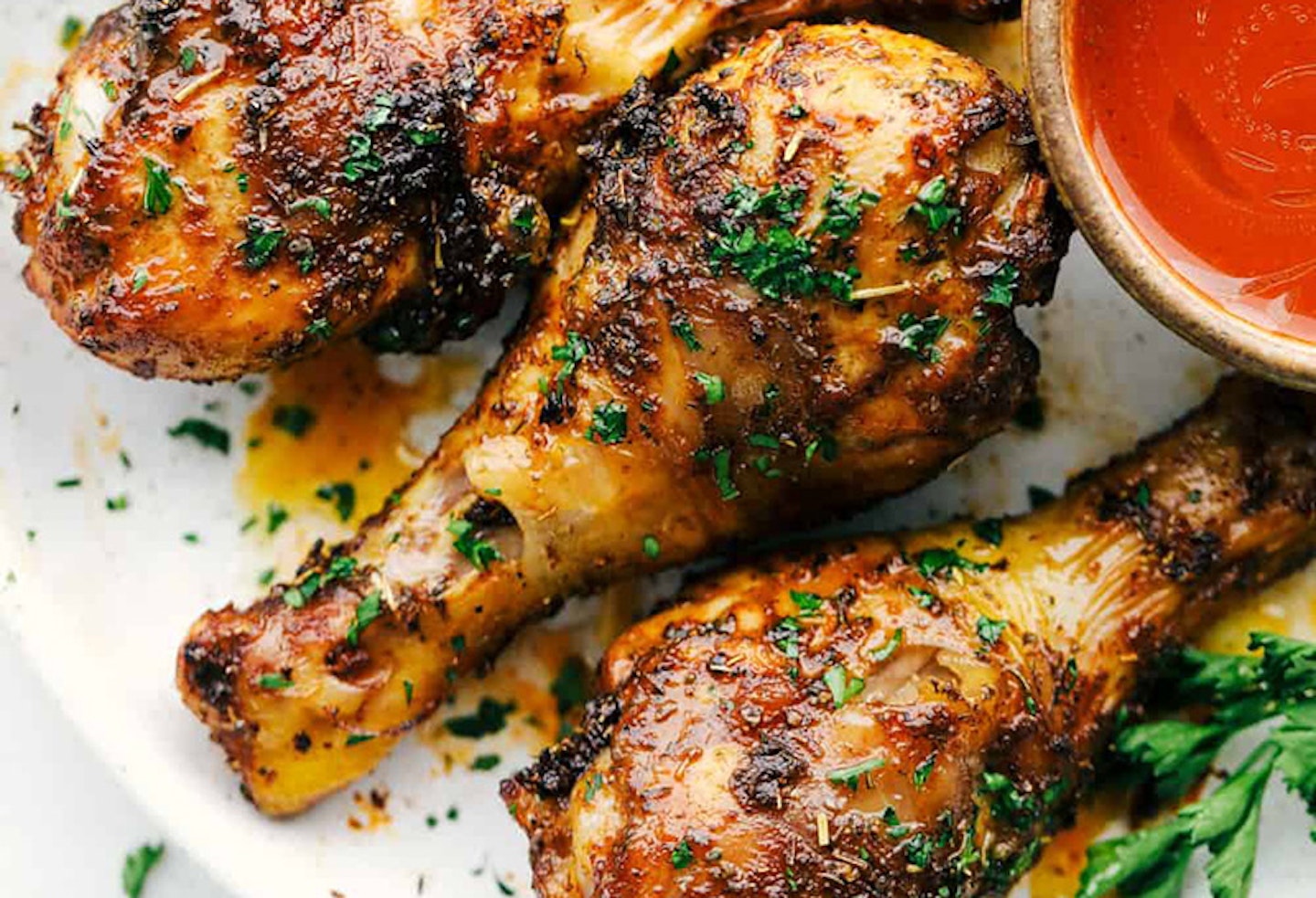 4 of 10
CREDIT: therecipecritic.com
Chicken drumsticks
These crispy chicken legs will be perfect served with green beans, brussel sprouts or potatoes. They're a great finger food too!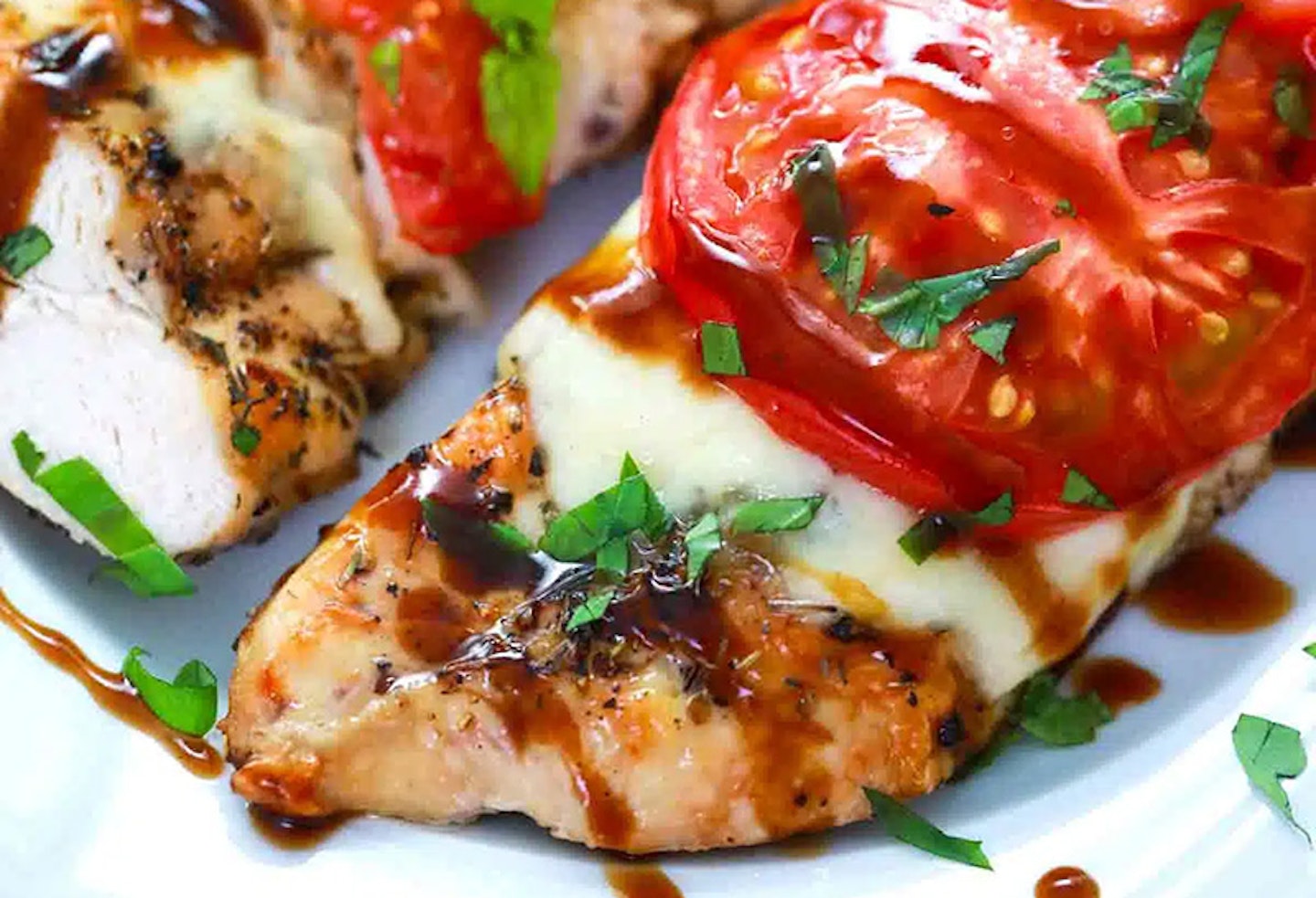 5 of 10
CREDIT: sweetandsavorymeals.com
air-fryer-caprese-chicken copy
Air Fryer Caprese Chicken is made with chicken breast, mozzarella cheese, and tomatoes. A healthy family dinner, that is ready in less than 30 minutes.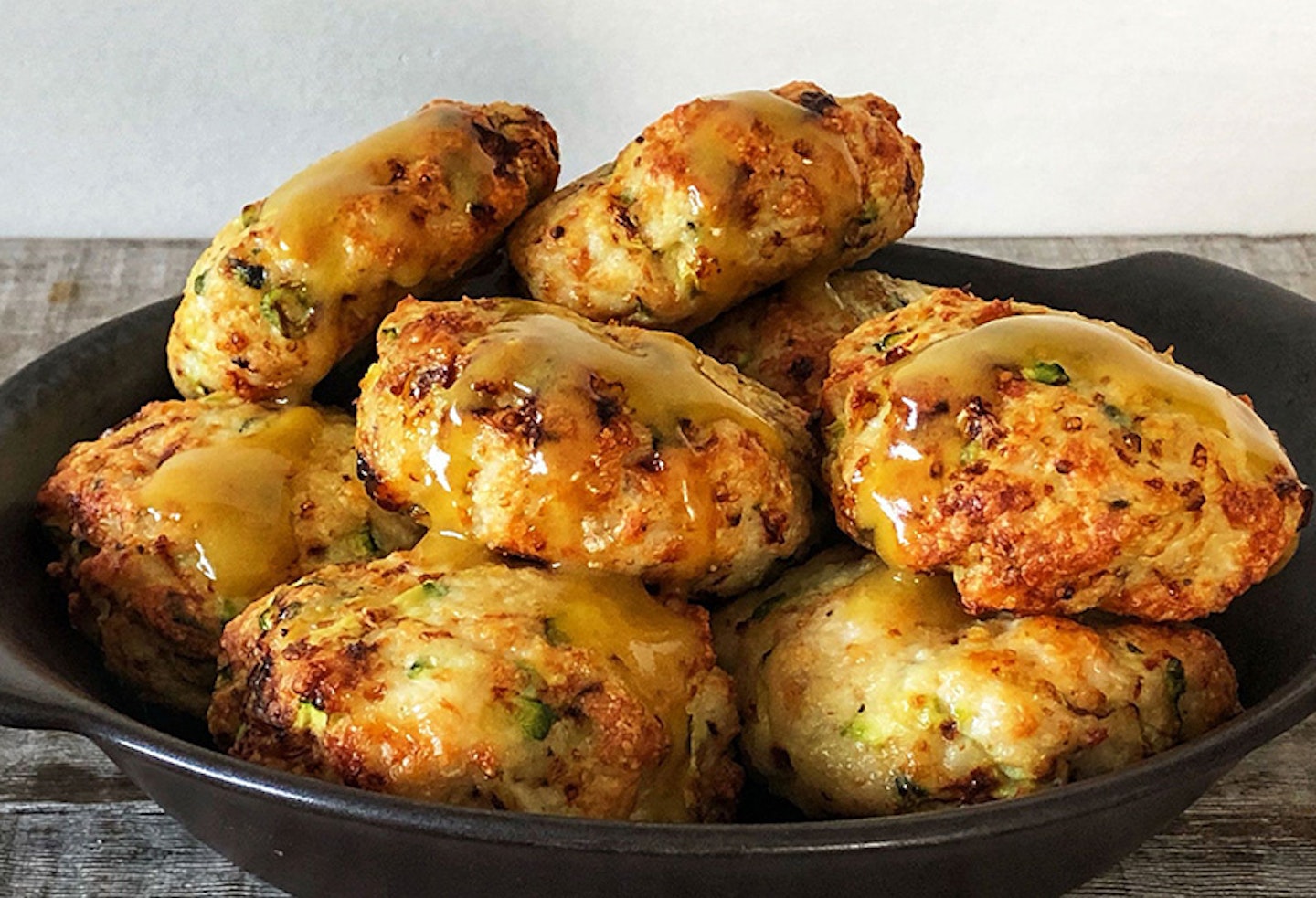 6 of 10
CREDIT: taste.com
Chicken rissoles
Another easy chicken air fryer recipe to add do your rotation are these rissoles made with chicken mince, panko breadcrumbs and courgette, they're great for dinner with a salad. The next day you can pop them into a bread roll with your favourite accompaniments for a quick lunch.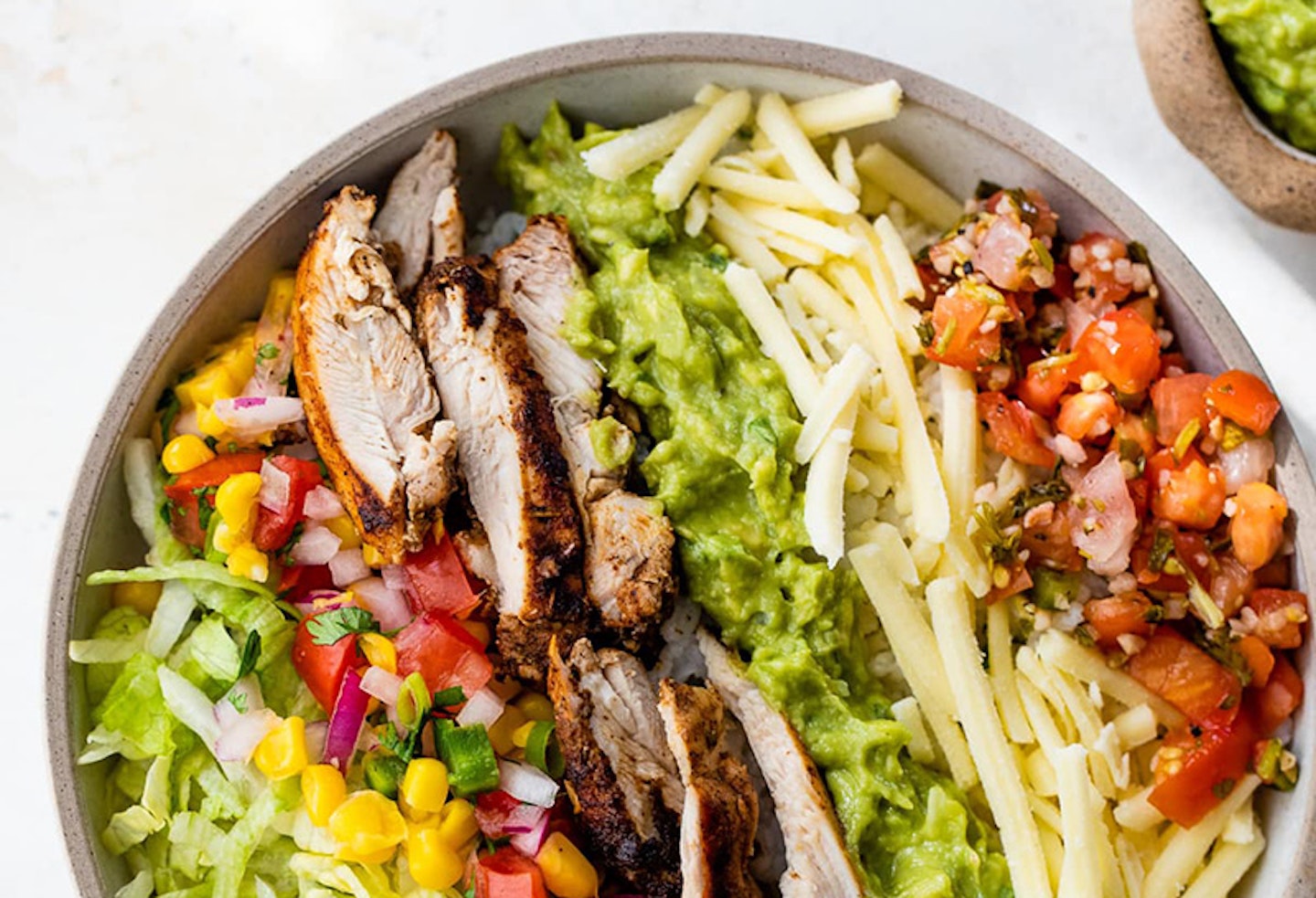 7 of 10
CREDIT: skinnytaste.com
Chipotle chicken thighs
This quick and easy chipotle chicken recipe is made with boneless chicken thighs (or breasts), delicious for homemade burrito bowls, tacos, quesadillas, and more.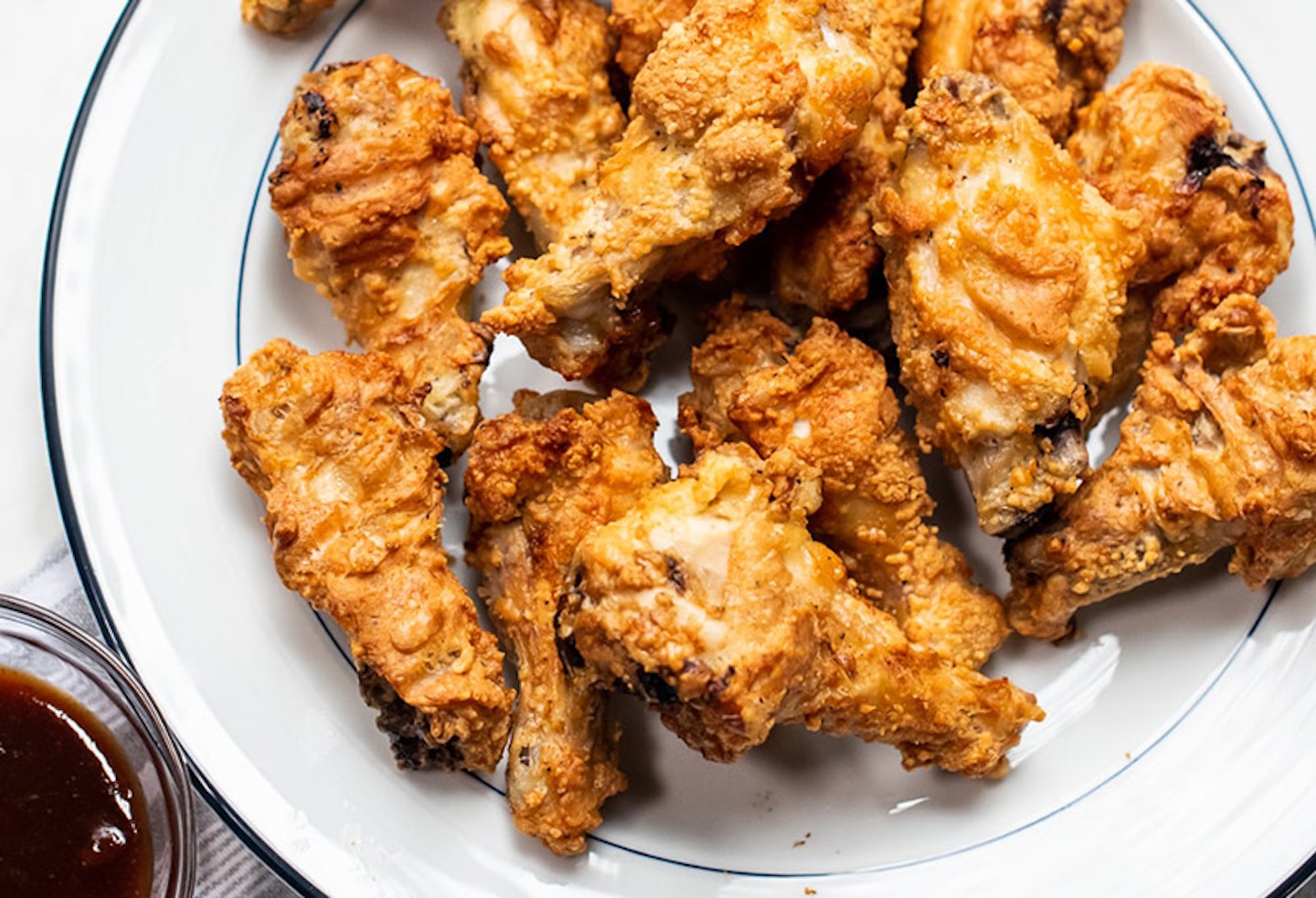 8 of 10
CREDIT: eatbetterrecipes.com
Parmesan chicken wings
The crispy parmesan cheese crust is fantastic and a great way to make keto and low carb air fryer chicken wings quickly and easily.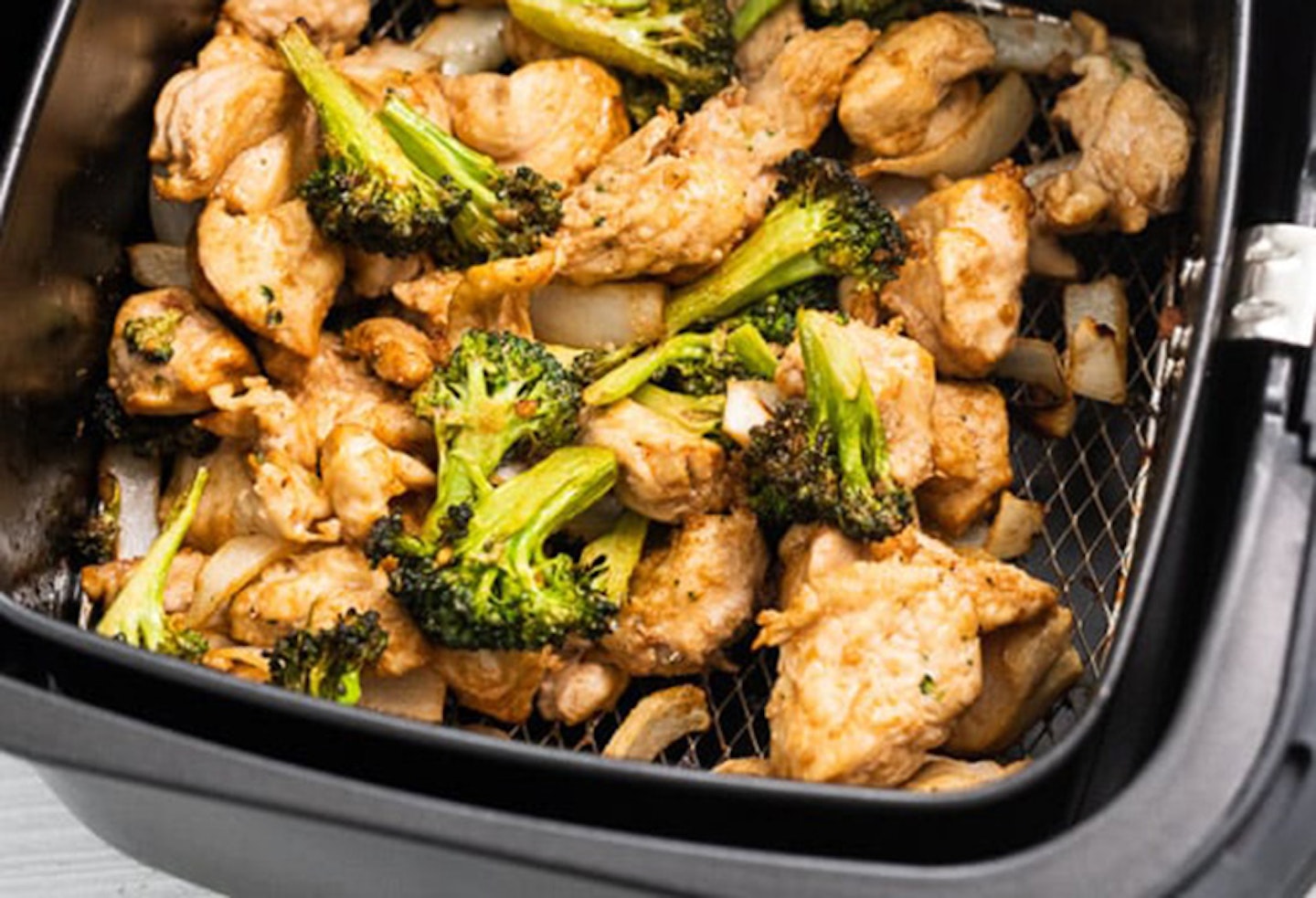 9 of 10
CREDIT: eatbetterrecipes.com
Chicken and broccoli
Stir fries like this chicken and broccoli stir fry are so easy to make in the air fryer.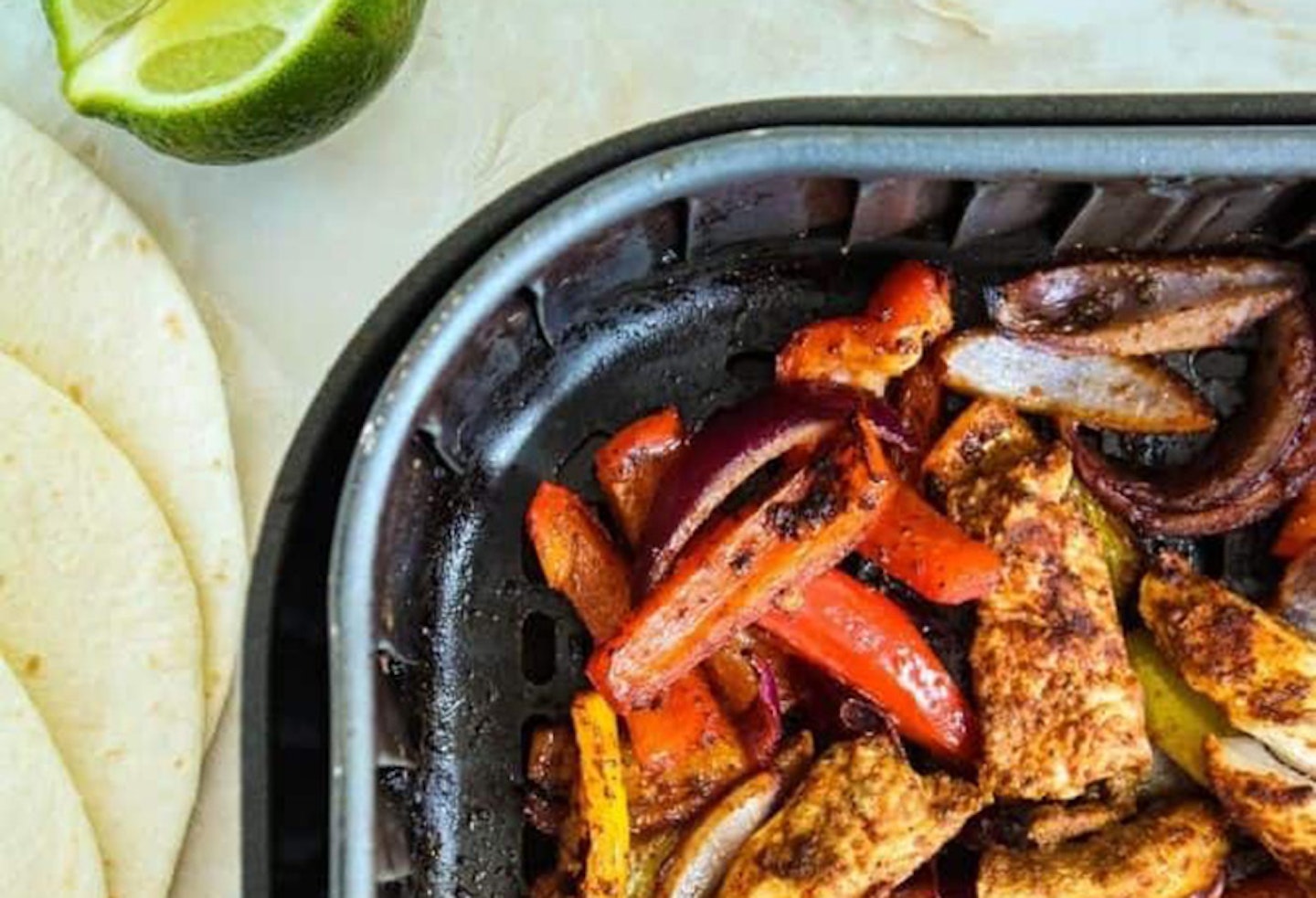 10 of 10
CREDIT: everydayfamilycooking.com
Chicken fajitas
Air fryer chicken fajitas with a homemade chili-lime fajita seasoning are an easy busy night weeknight meal!
Meaty air fryer recipes
Healthy air fryer recipes for red meat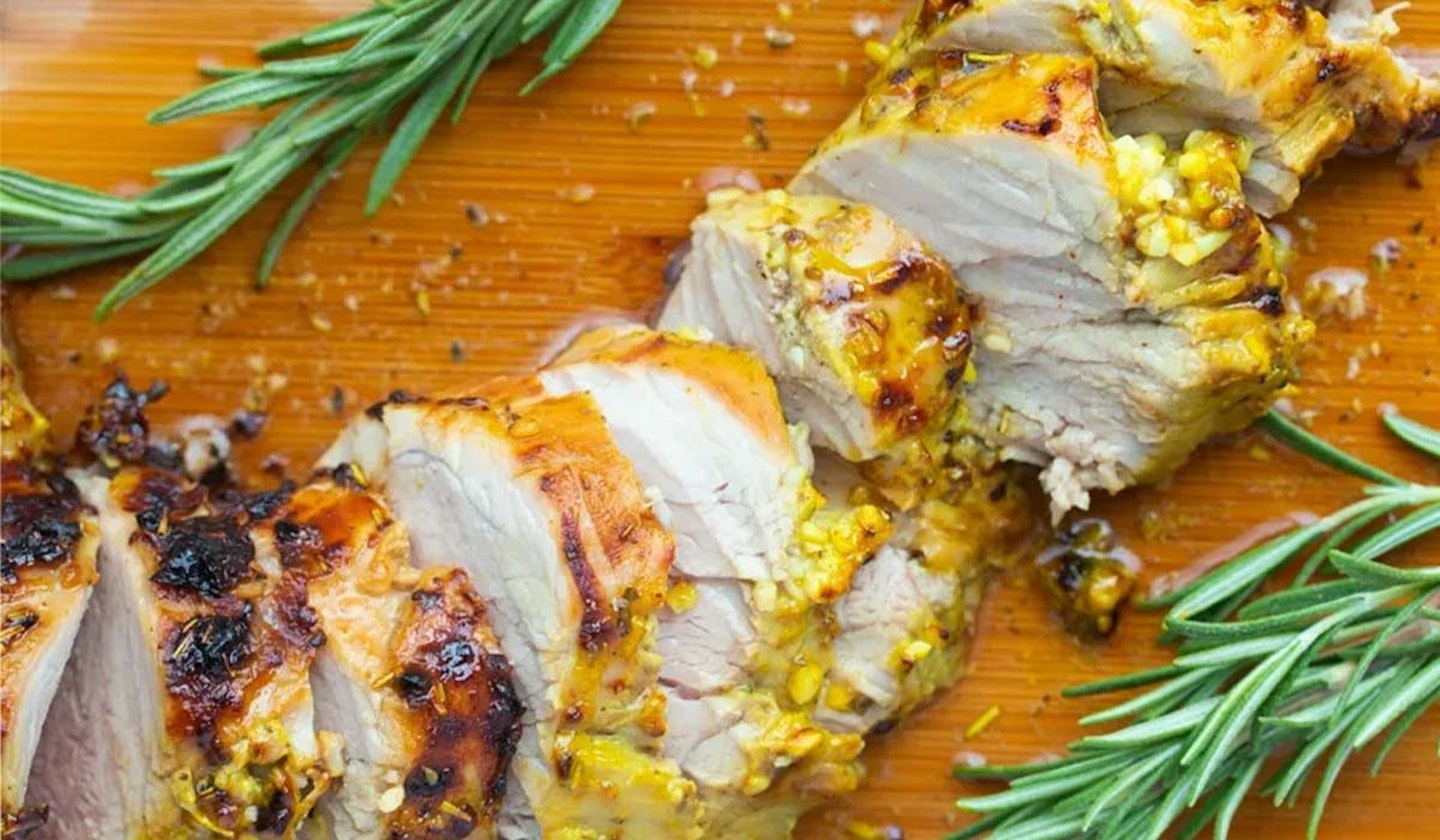 1 of 10
CREDIT: myforkinglife.com
Mustard Glazed Pork Tenderloin
Fancy pork for dinner? This tender pork tenderloin is marinated in a gorgeous mustard glaze. Serve with a variety of sides including veggies and rice.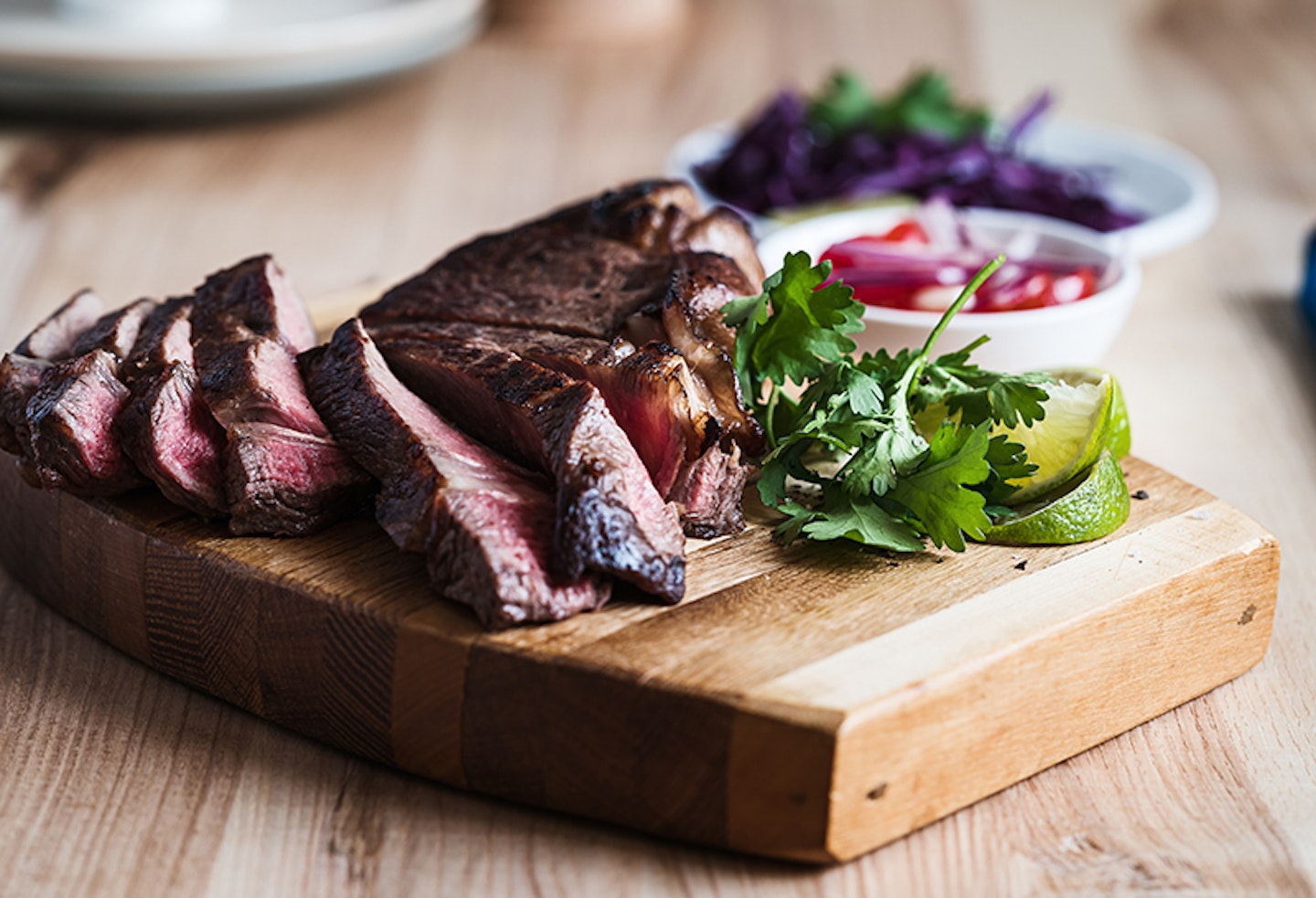 2 of 10
CREDIT: goodfood.com
Air fryer steak
Use your air fryer to cook steak and you won't look back. Enjoy topped with your favourite sauce and serve alongside a seasonal green salad or roasted veg.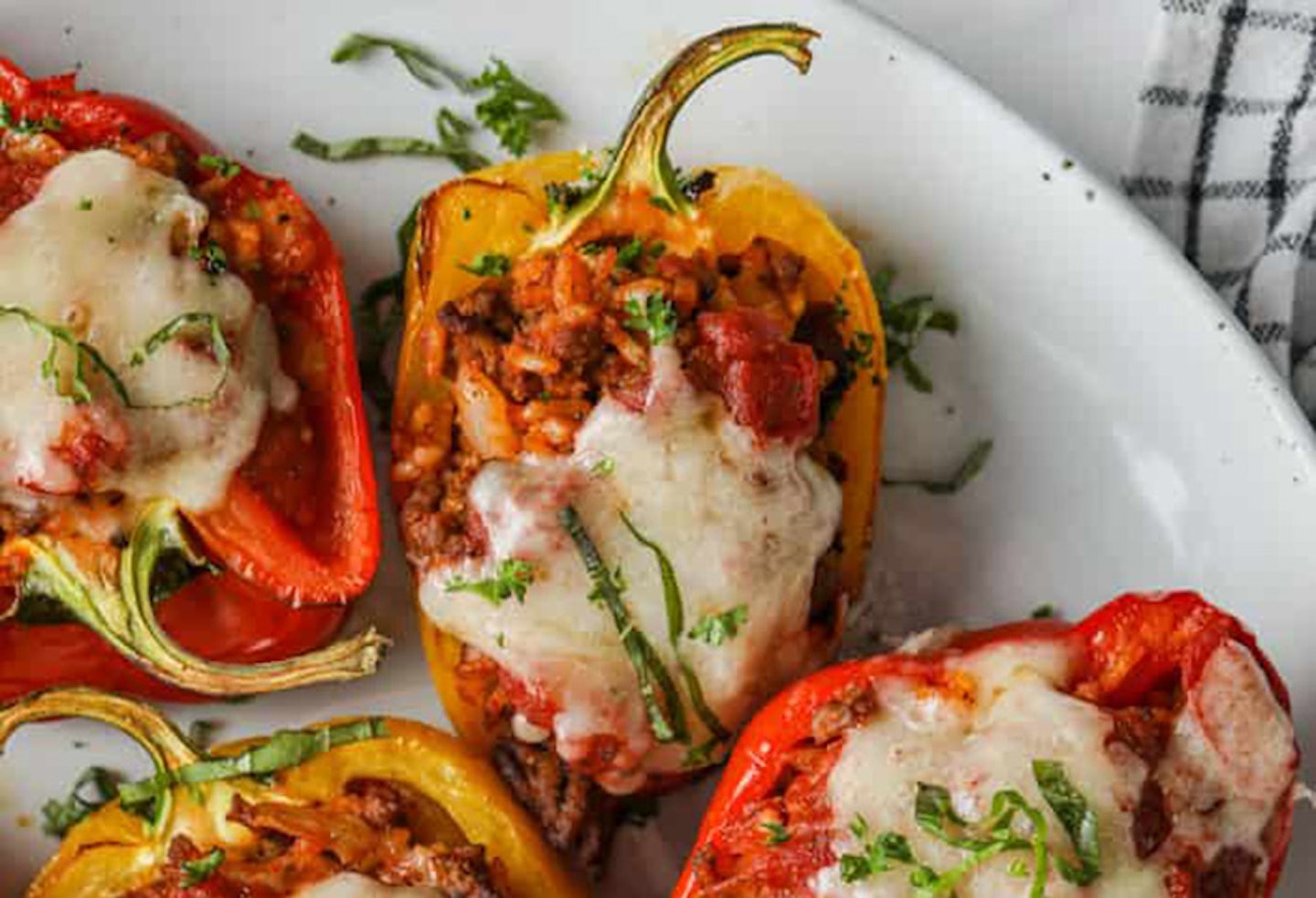 3 of 10
CREDIT: spendwithpennies.com
Stuffed peppers
We love this stuffed peppers recipe with a delicious savoury filling of ground beef and rice. Add some tomato sauce and melted cheese on top for a new air fryer favourite!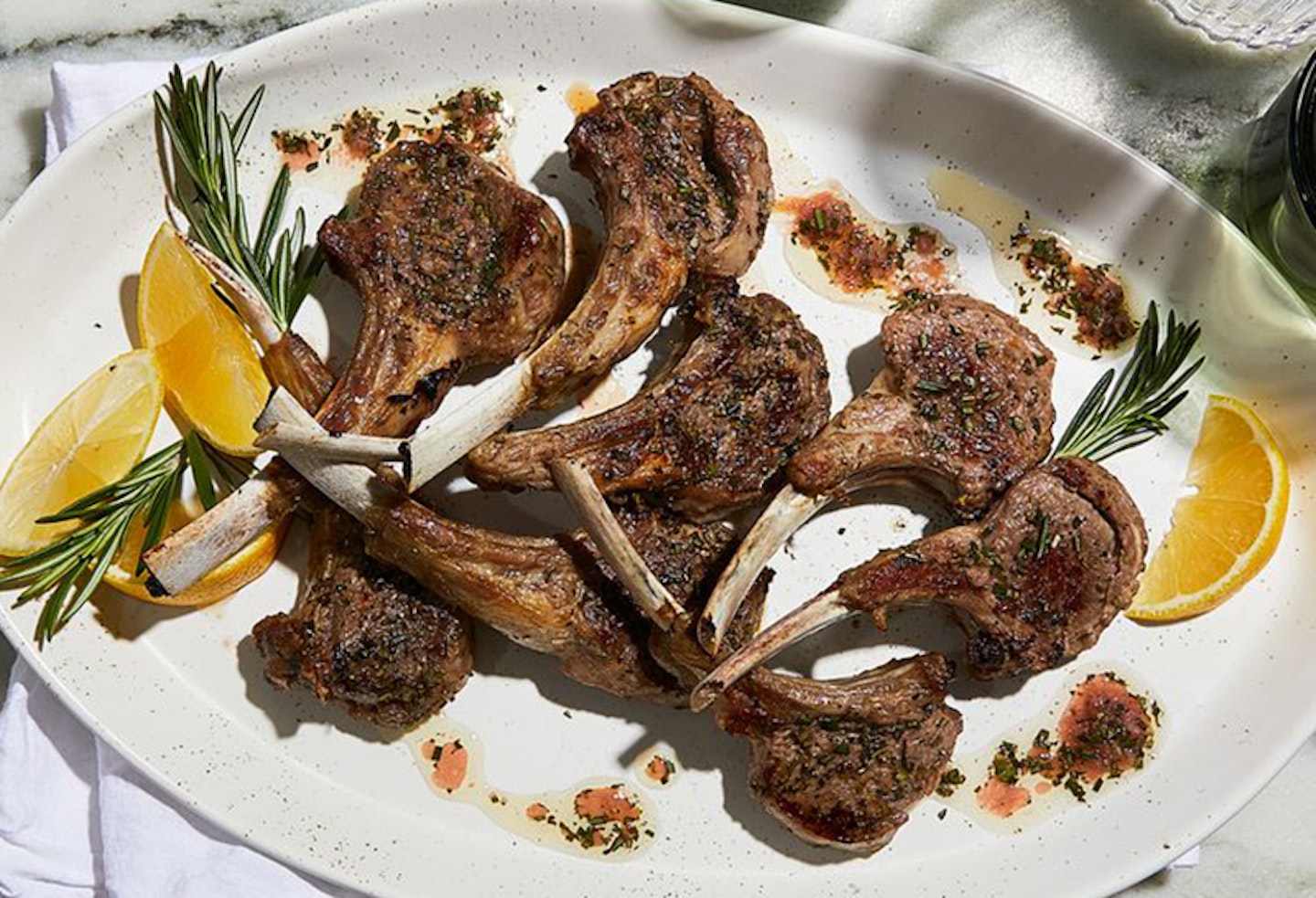 4 of 10
CREDIT: PHOTOGRAPHER / JENNIFER CAUSEY, FOOD STYLIST / KAREN RANKIN, PROP STYLIST / CHRISTINE KEELY
Lamb chops
It's so easy to make this lovely lamb chop recipe, with a quick red-wine vinegar marinade and herbs like rosemary and oregano add plenty of freshness. Serve alongside roasted potatoes or green beans.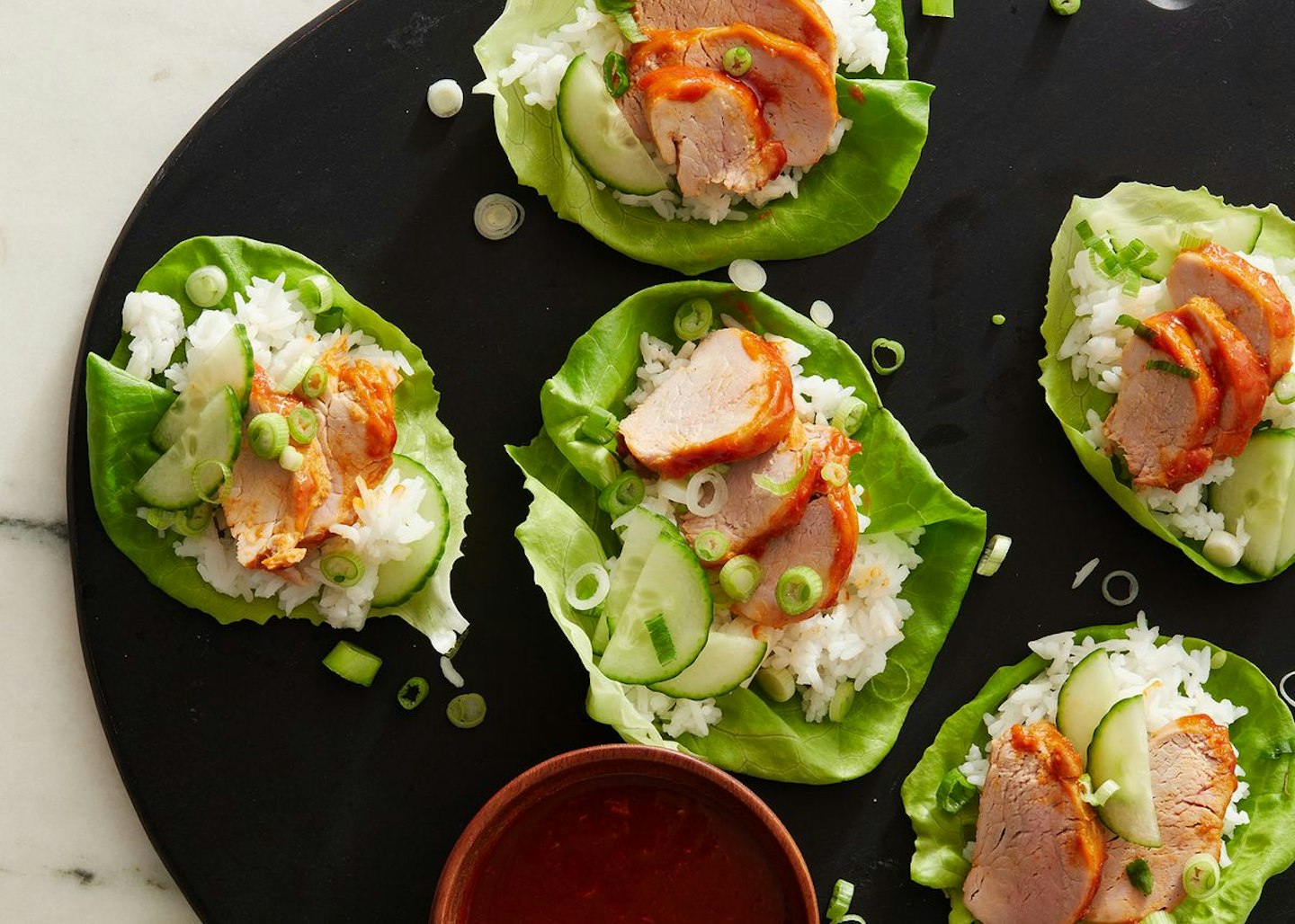 5 of 10
CREDIT: delish.com
Korean-inspired pork tenderloin lettuce wraps
Pork tenderloin pairs perfectly with the spicy sweet sauce in these lettuce wraps. If you'd rather not make wraps, try out a tasty rice bowl instead!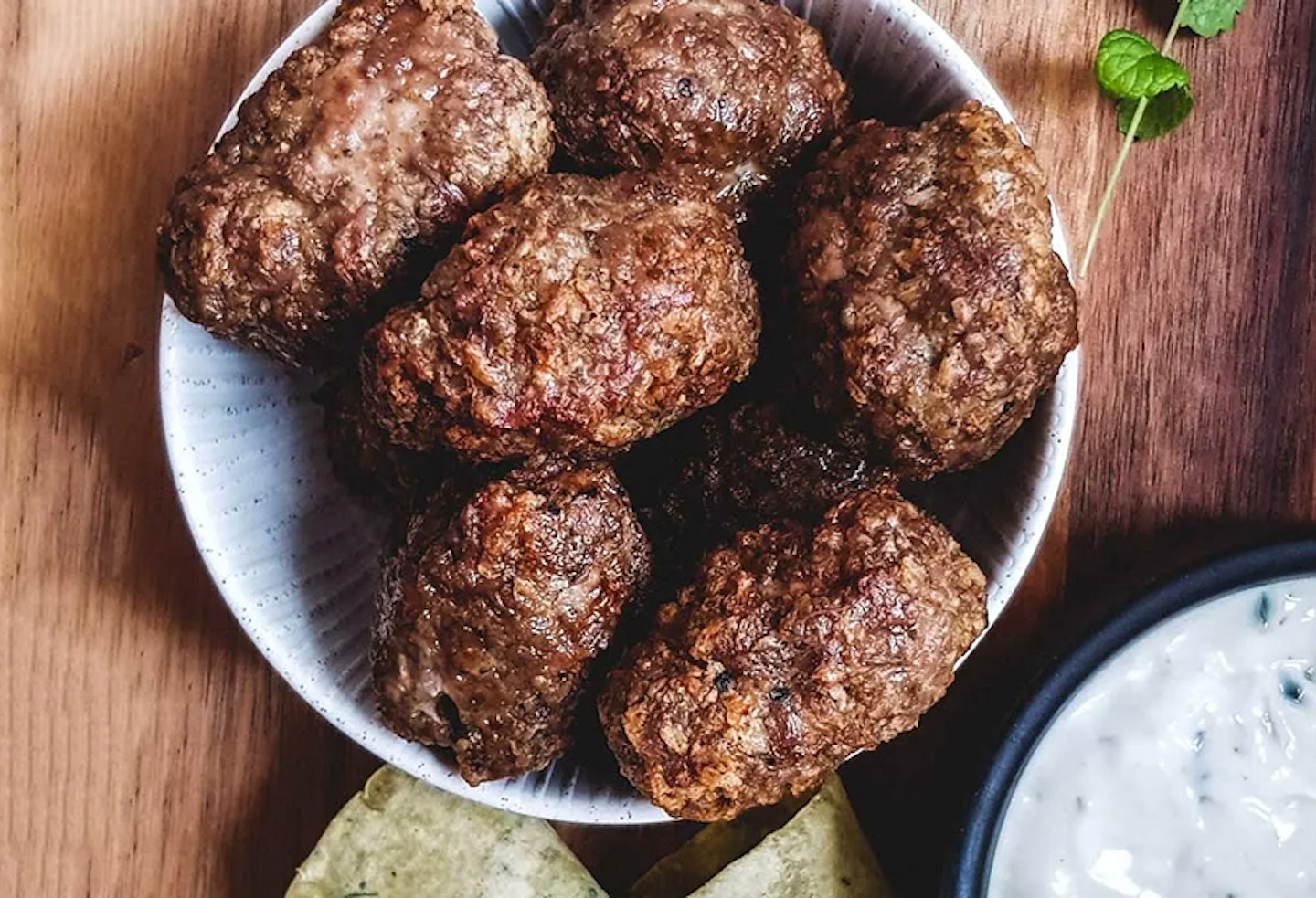 6 of 10
CREDIT: lovefoodnotcooking.com
Lamb koftas
These lamb koftas are delicious and versatile as they can be served in so many ways, as appetisers, party food, or as a main meal for a week night dinner.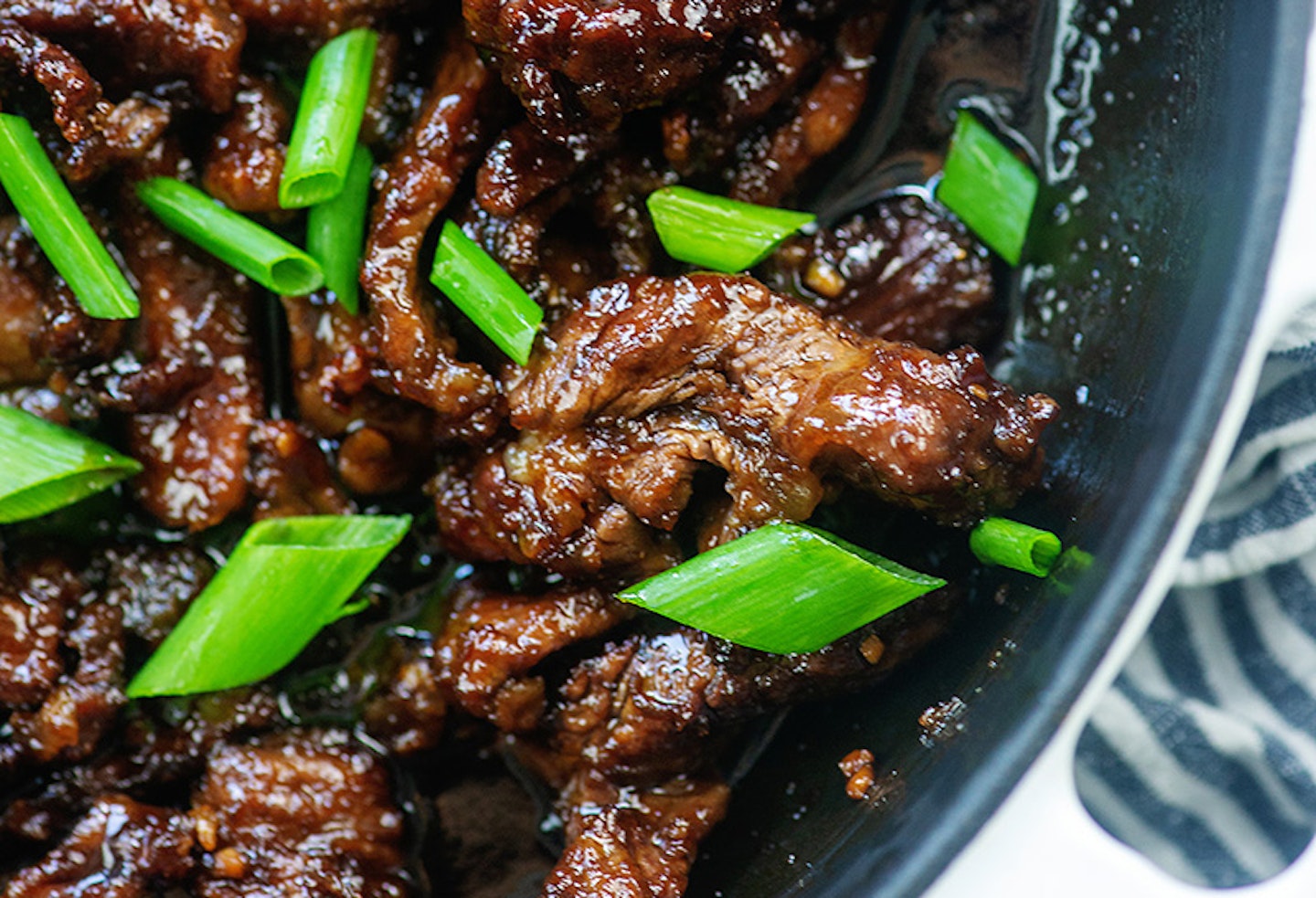 7 of 10
CREDIT: airfried.com
Mongolian Beef
This easy Mongolian beef is made in the air fryer to save cooking time and clean up time. No hot grease to deal with, but you still get crispy beef coated in a sweet and savoury sauce.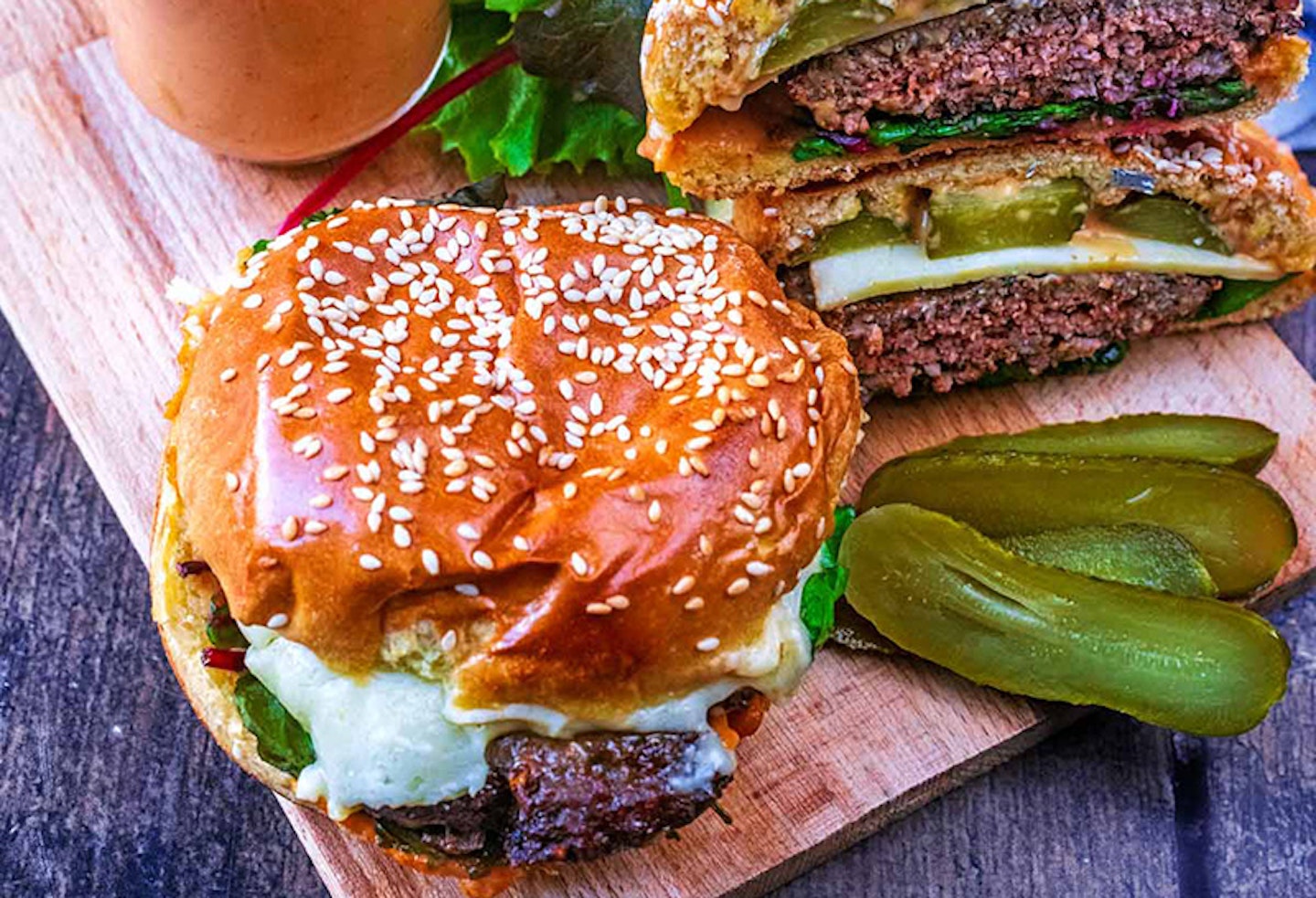 8 of 10
CREDIT: hungryhealthyhappy.com
Air fryer burgers
A quick and easy way to make burgers, and healthier because you don't need to fry them in oil. Air Fryer Burgers are going to totally transform the way you make burgers.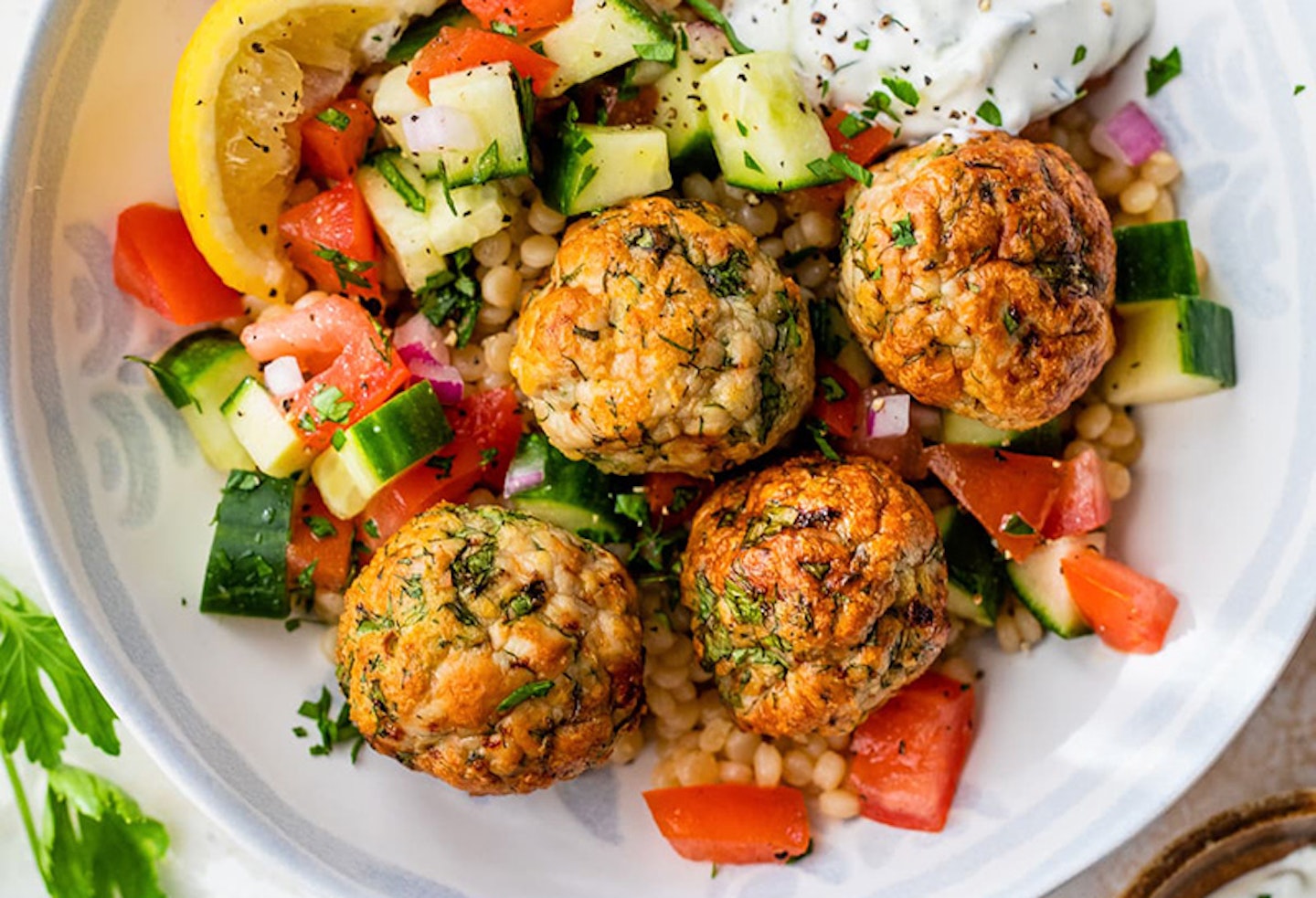 9 of 10
CREDIT: skinnytaste.com
Mediterranean meatballs
Mediterranean Meatballs made with flavourful mince served over Israeli couscous and a bright, lemony cucumber tomato salad. This recipe uses turkey mince, but you could also use beef, lamb or pork mince.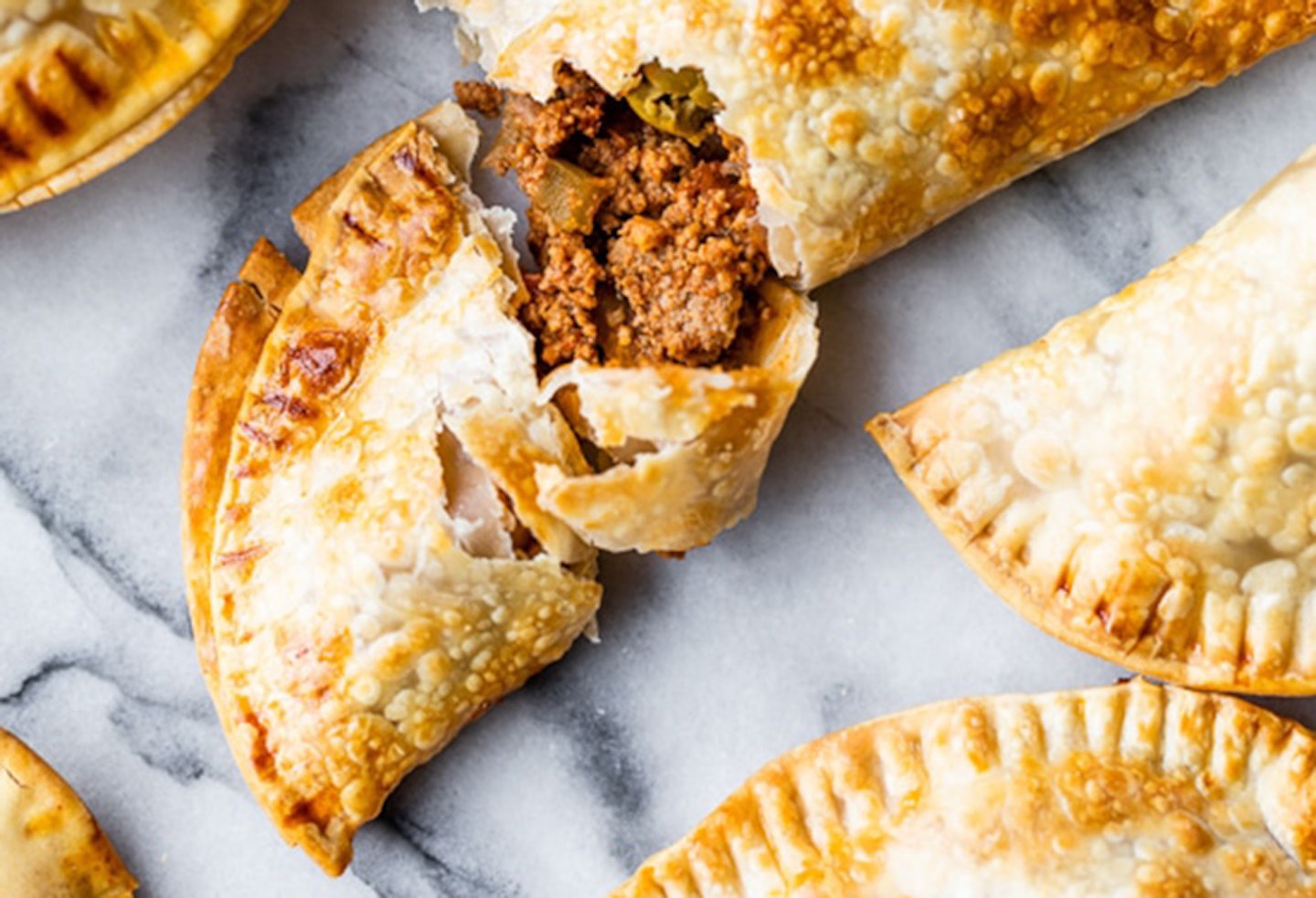 10 of 10
CREDIT: skinnytaste.com
Beef empanadas
These easy Air Fryer Empanadas are filled with homemade beef picadillo – they come out crispy and delicious, much healthier than deep frying!
Fish air fryer recipes
Healthy air fryer recipes for fish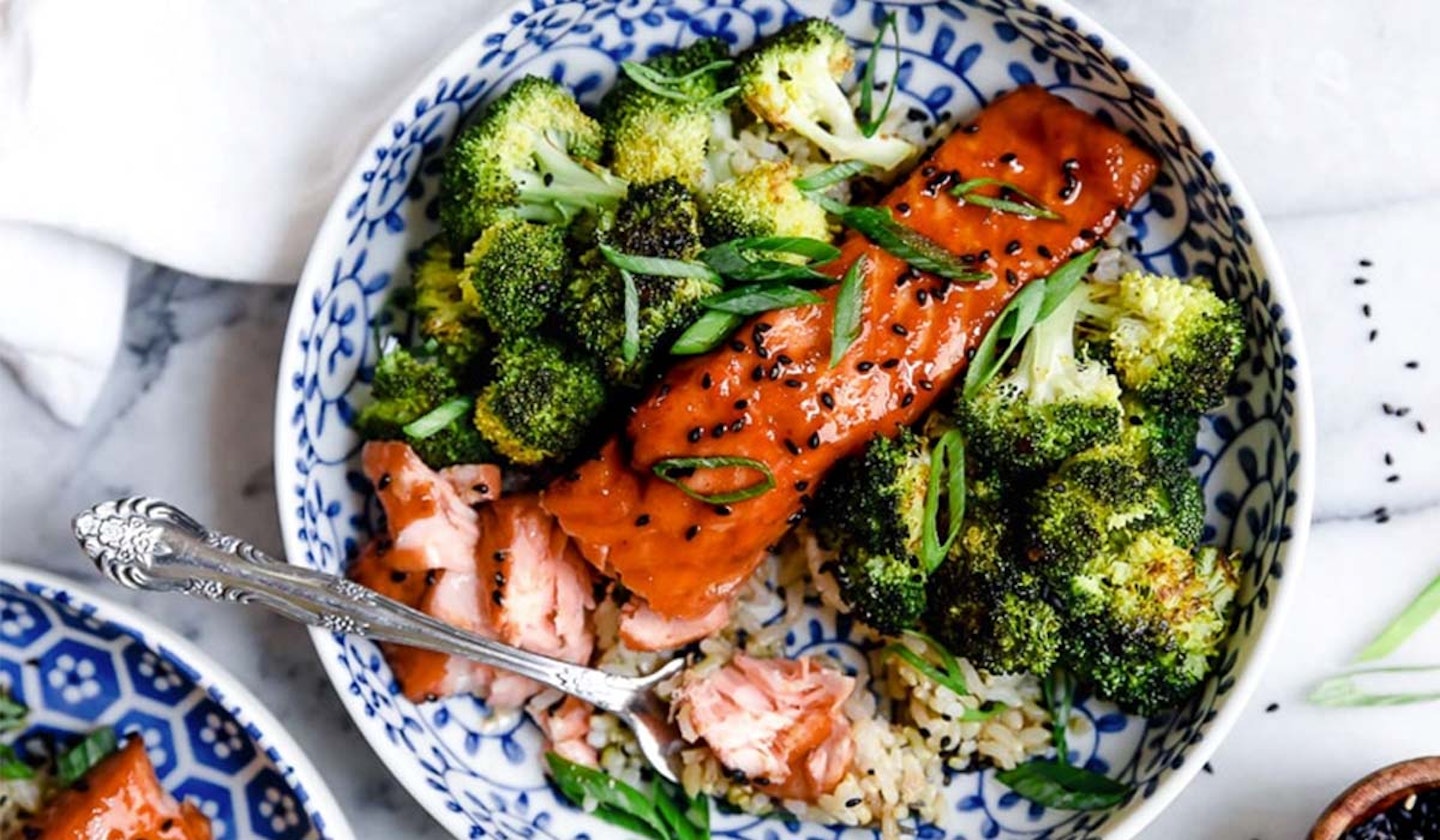 1 of 10
CREDIT: Skinnytaste.com
Salmon with maple soy glaze
Rich in Omega-3 Fatty Acids and a fantastic source of protein, salmon is a great option if you're trying to eat healthier. This recipe takes less than half an hour and the salmon is smothered in a delicious maple soy glaze.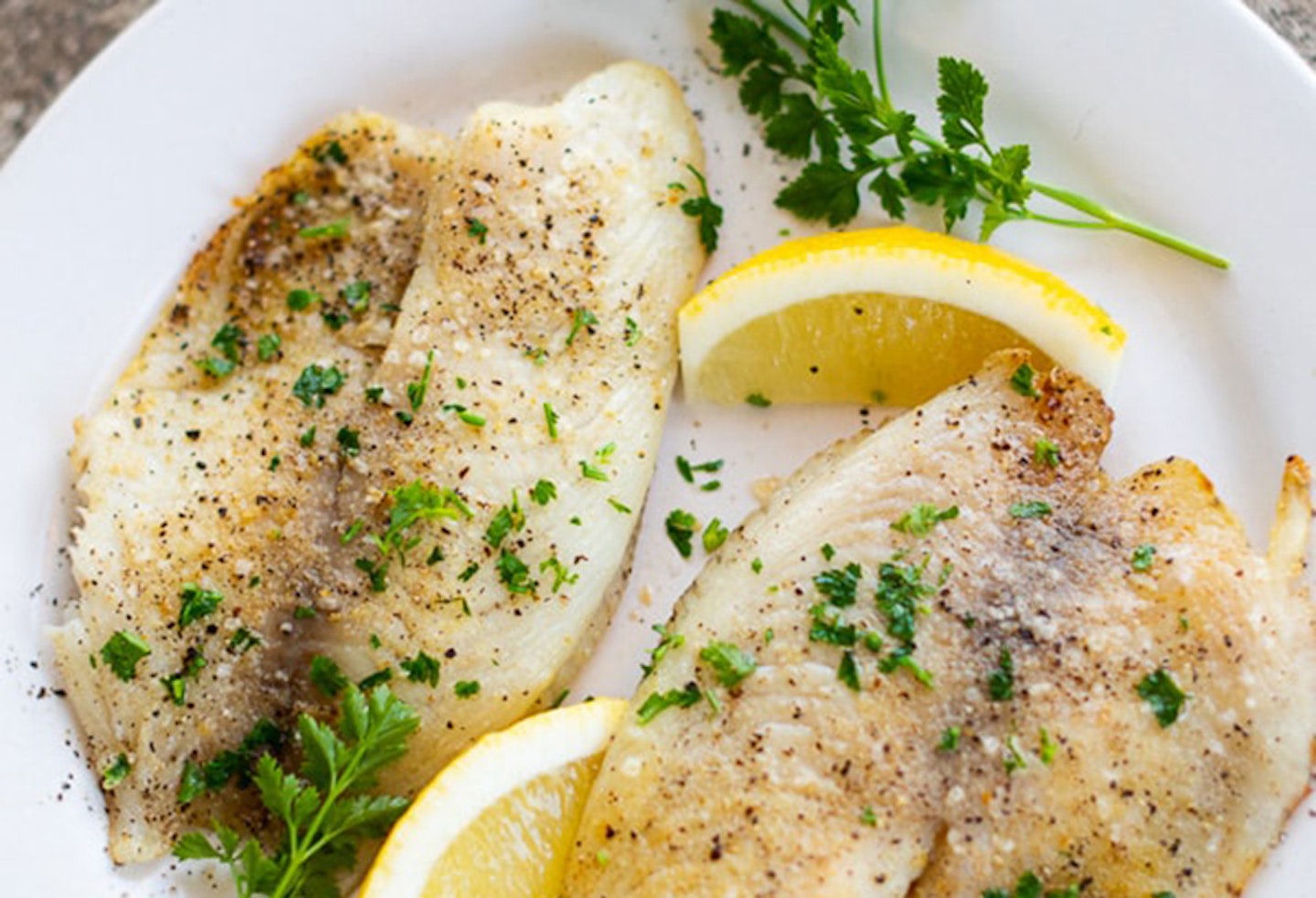 2 of 10
CREDIT: airfryerworld.com
White fish with garlic and lemon pepper
This versatile recipe is low carb and can be used with any white fish - basa filets would work great. You can also play with the seasonings you use to create new flavours and taste sensations.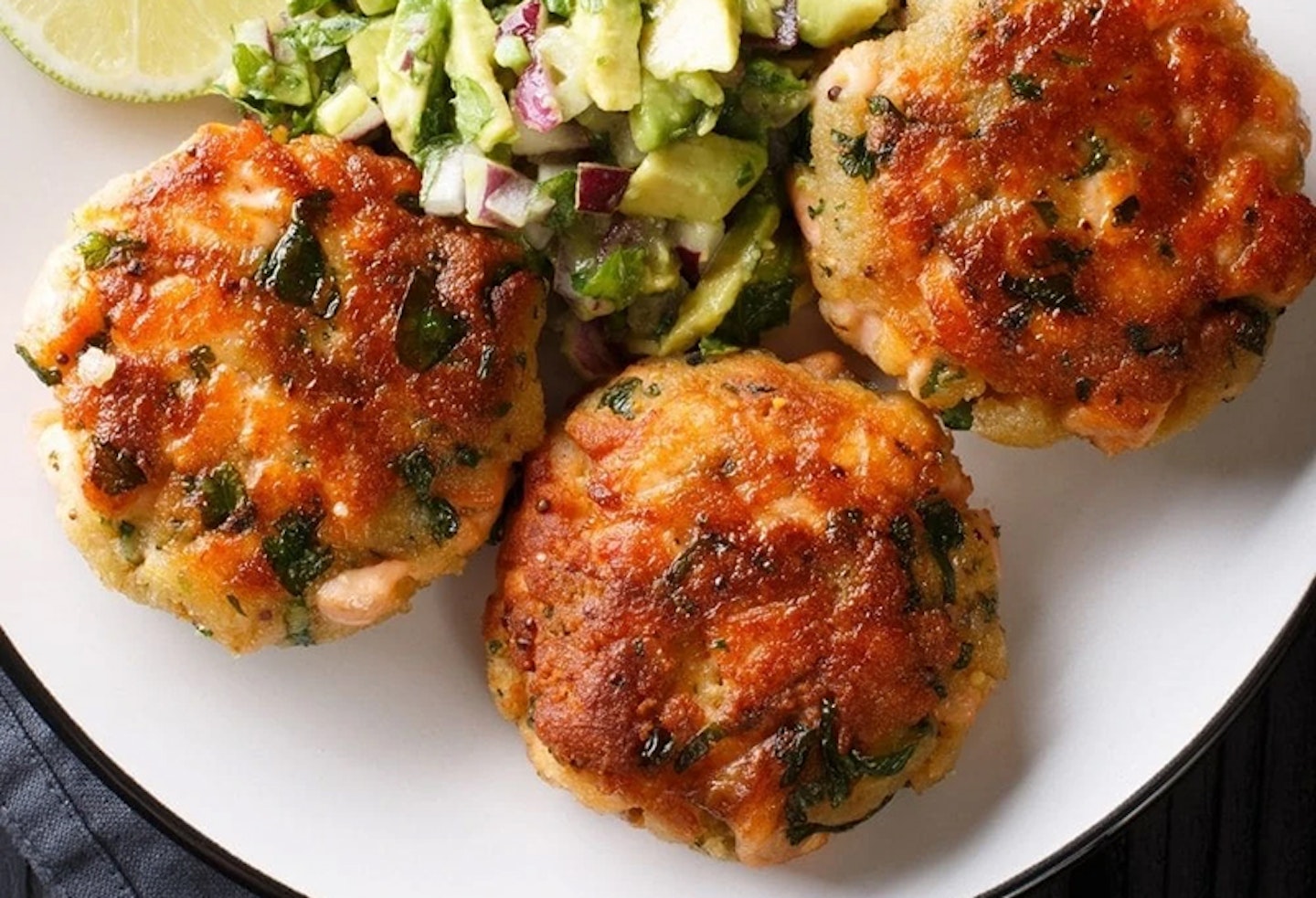 3 of 10
CREDIT: insanelygoodrecipes.com
Fish cakes
These salmon fish cakes are golden and crispy on the outside, soft and flaky on the inside, and delicious in every bite.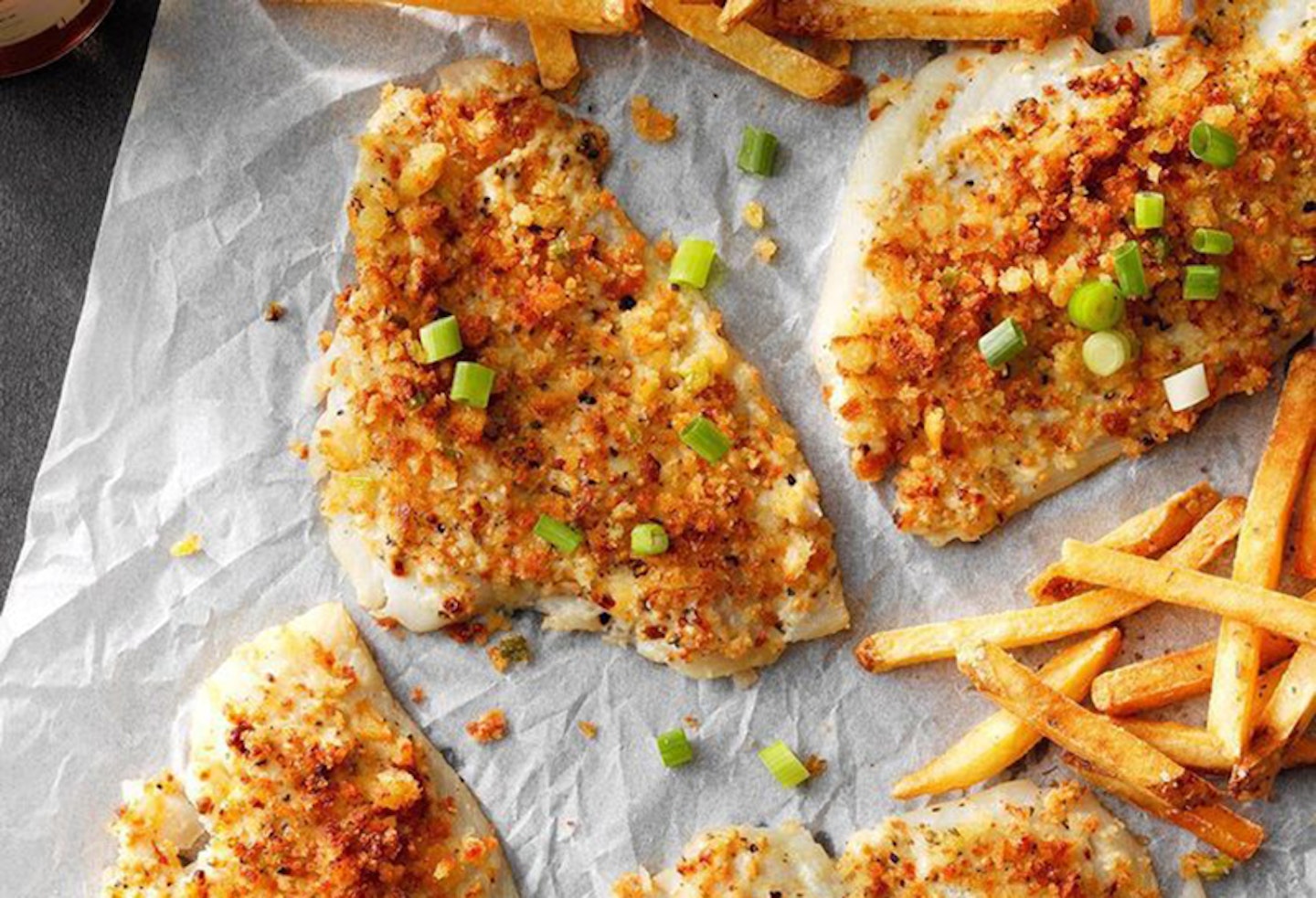 4 of 10
CREDIT: tasteofhome.com
Crumb topped sole
Looking for a low-carb supper that's ready in a flash? These buttery sole fillets are covered with a rich sauce and topped with toasty bread crumbs. A great healthy alternative to fish and chips.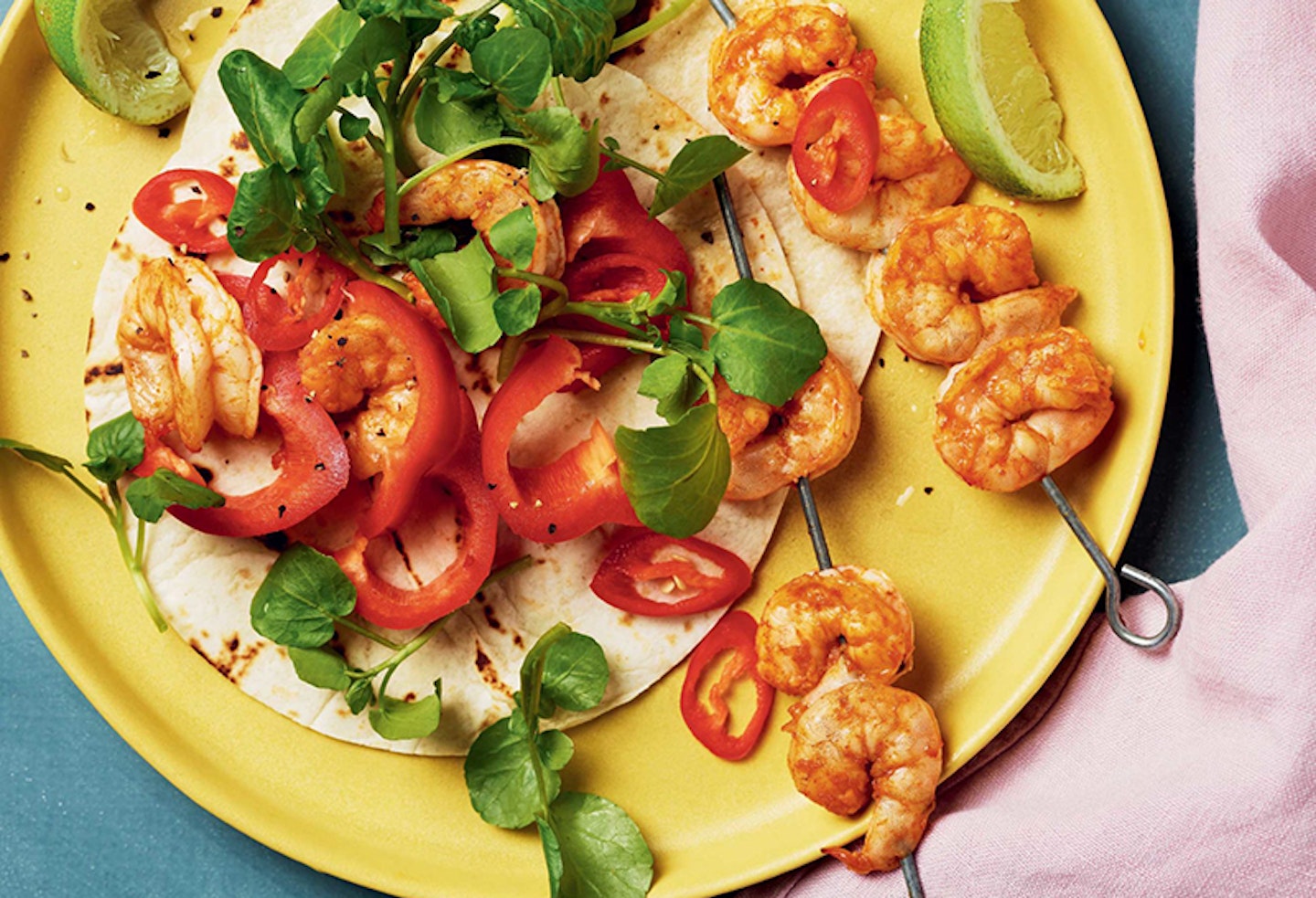 5 of 10
CREDIT: thehappyfoodie.co.uk
Paprika prawn skewers
This super simple air fryer recipe delivers plump prawns in a fresh and gently spiced marinade. Serve with wraps or a summer salad.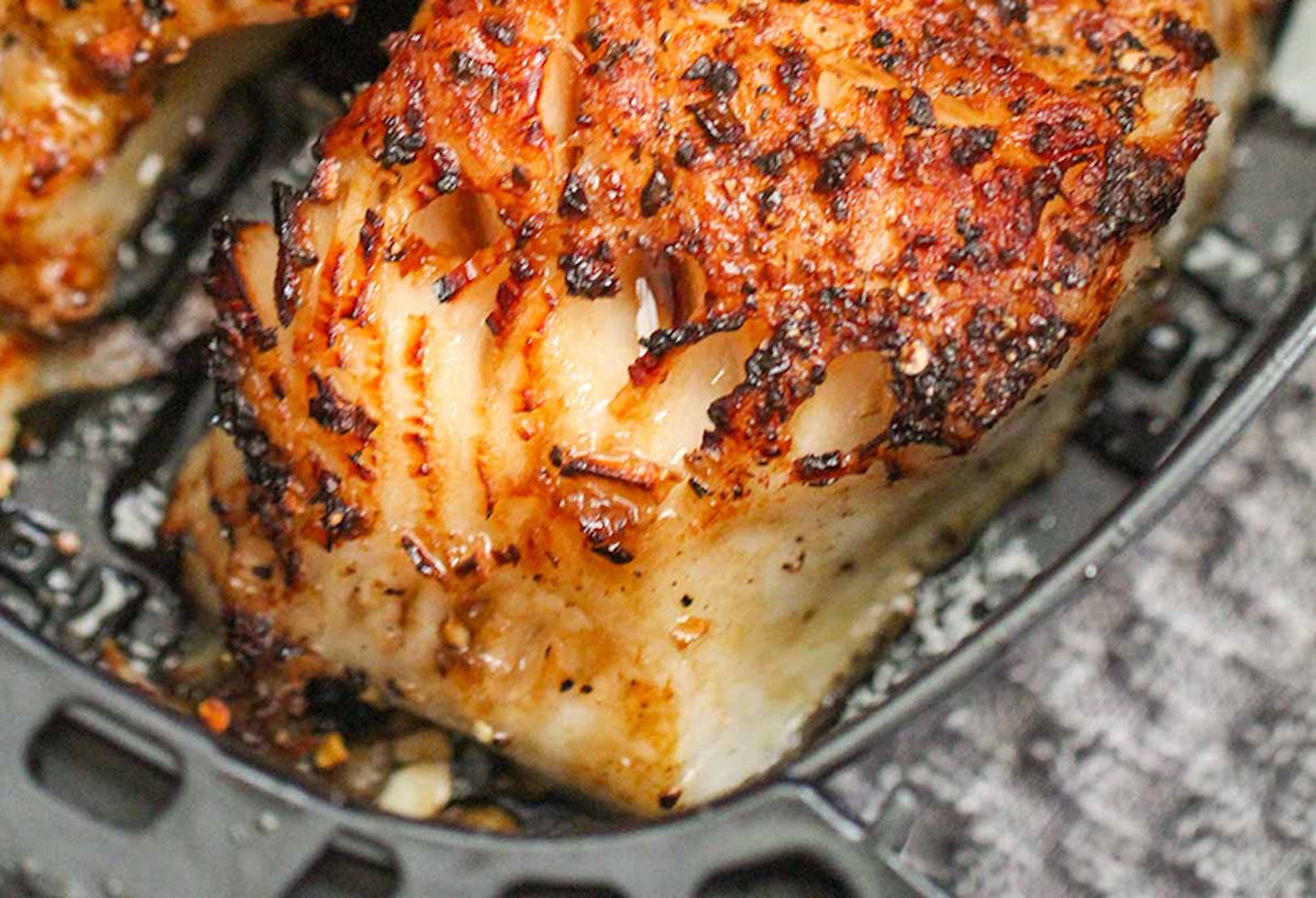 6 of 10
CREDIT: cookedbyjulie.com
Sea bass with honey and soy sauce
Sea bass is packed with healthy fish oils, this recipe is sweet and savoury with honey and soy sauce giving this tasty fish a punch of flavour.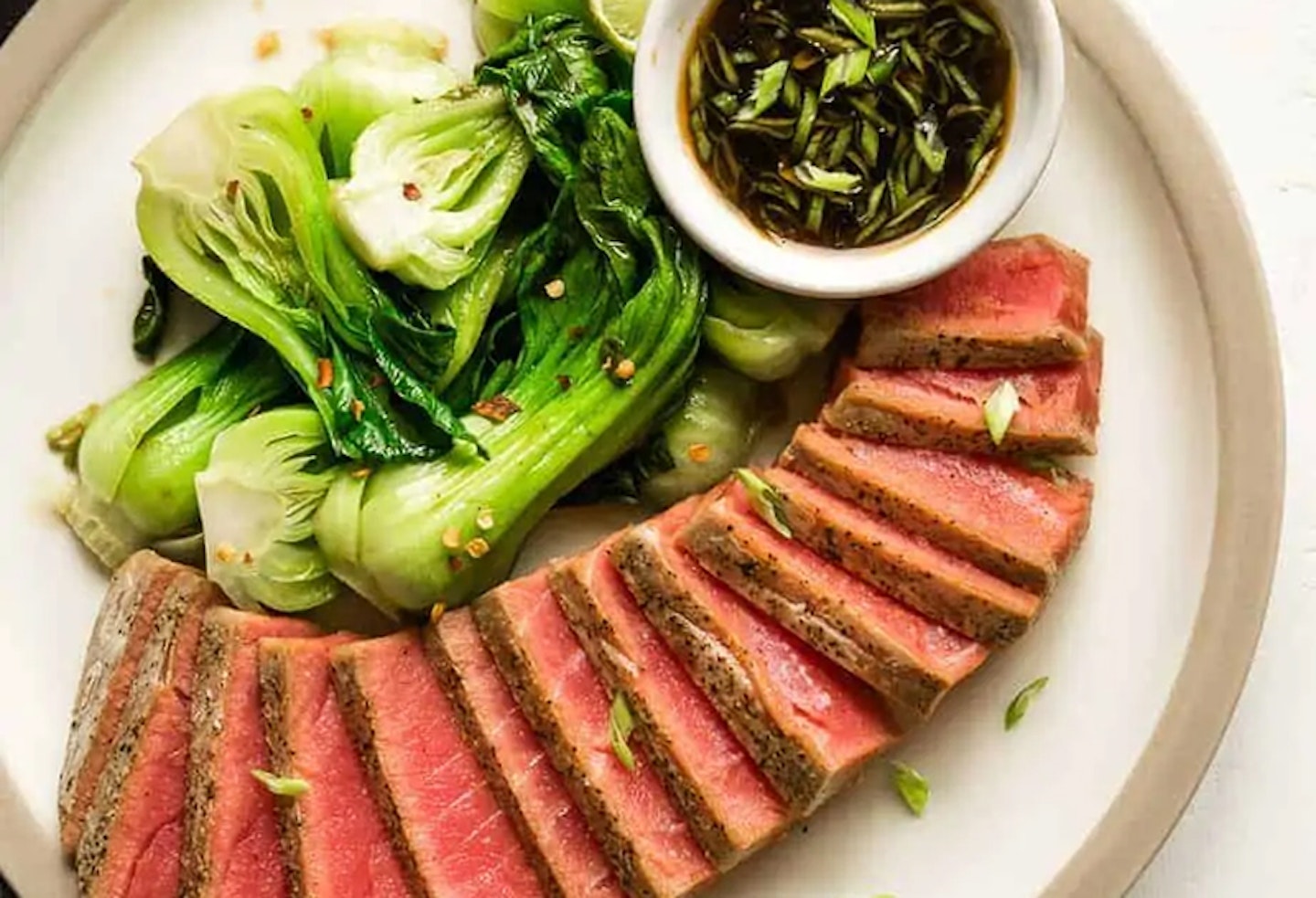 7 of 10
CREDIT: enjoycleaneating.com
Air fryer tuna steaks
These juicy and tender air fryer tuna steaks are so easy to make, you don't even have to marinate them. Serve with a dipping sauce that adds so much flavour to the fish.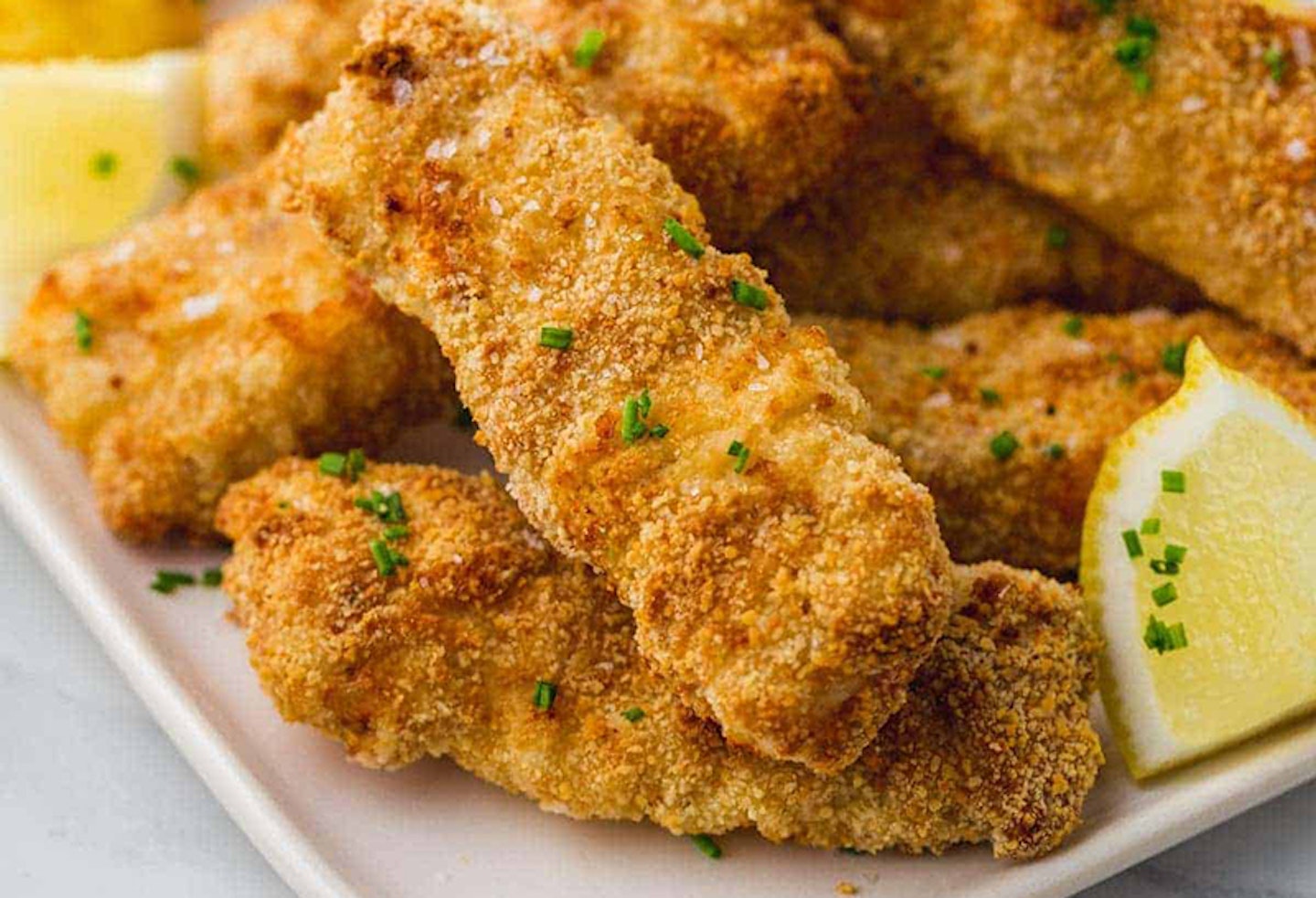 8 of 10
CREDIT: littlesunnykitchen.com
Homemade fish fingers
Fish fingers taste so much better when they're made from scratch rather than cooked from frozen shop-bought ones. Dipped in flour, egg, and dried breadcrumbs makes a delicious and perfectly crispy breading, ideal for fish finger sandwiches and they make a great recipe for cooking for a family of four in the air fryer!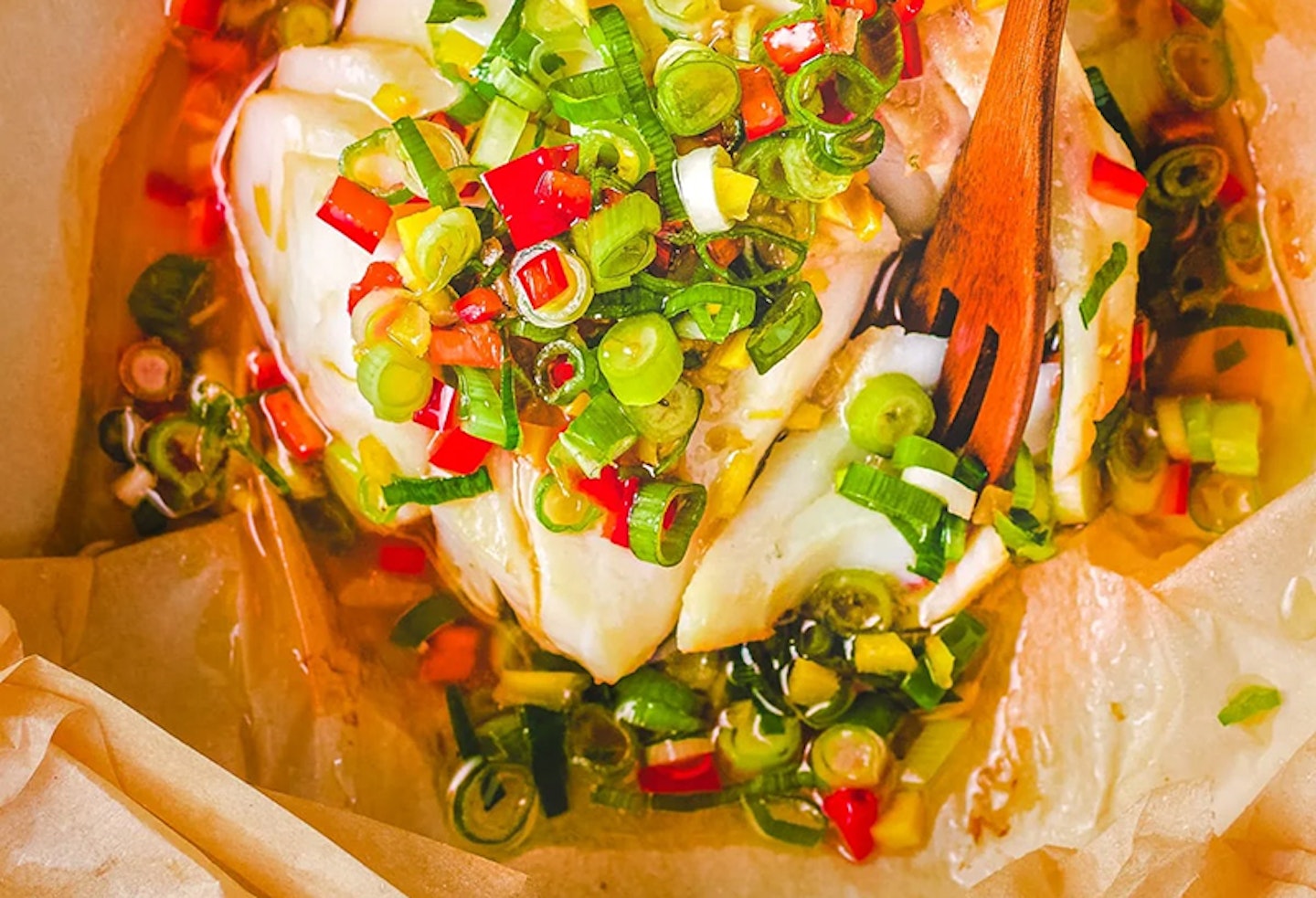 9 of 10
CREDIT: iheartumami.com
Chinese steamed fish
You don't need a steamer for this delicious steamed cod with ginger and spring onions, this recipe shows how to make steamed fish perfectly in the air fryer.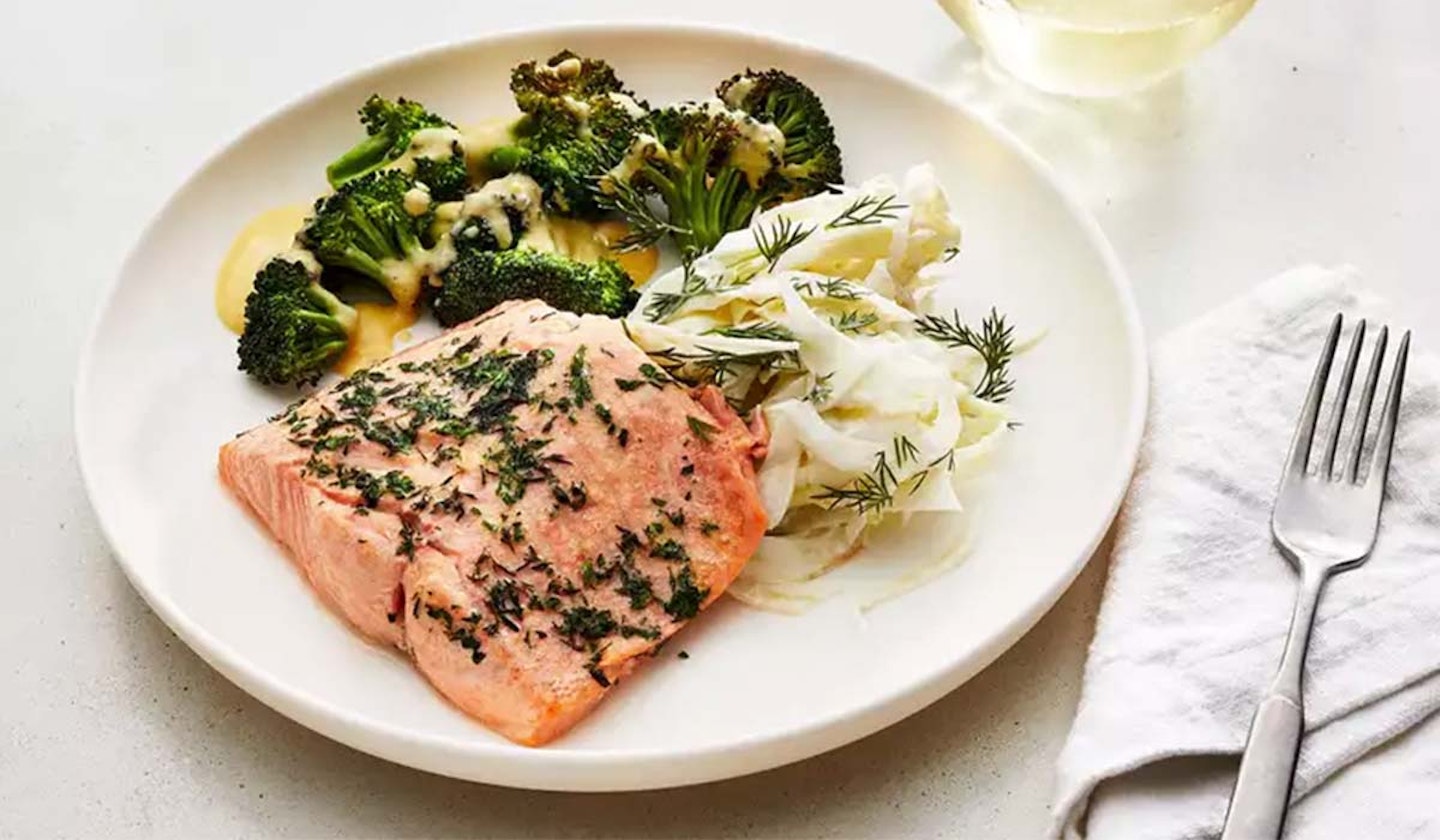 10 of 10
CREDIT: GINA DESIMONE/cookinglight.com
Roasted Broccoli With Cheese Sauce
For a tasty side dish for salmon, what about this crunchy roasted broccoli with creamy cheese sauce? It pairs perfectly with fish dishes.
Vegetarian and vegan air fryer recipes
Healthy vegetarian and vegan air fryer recipes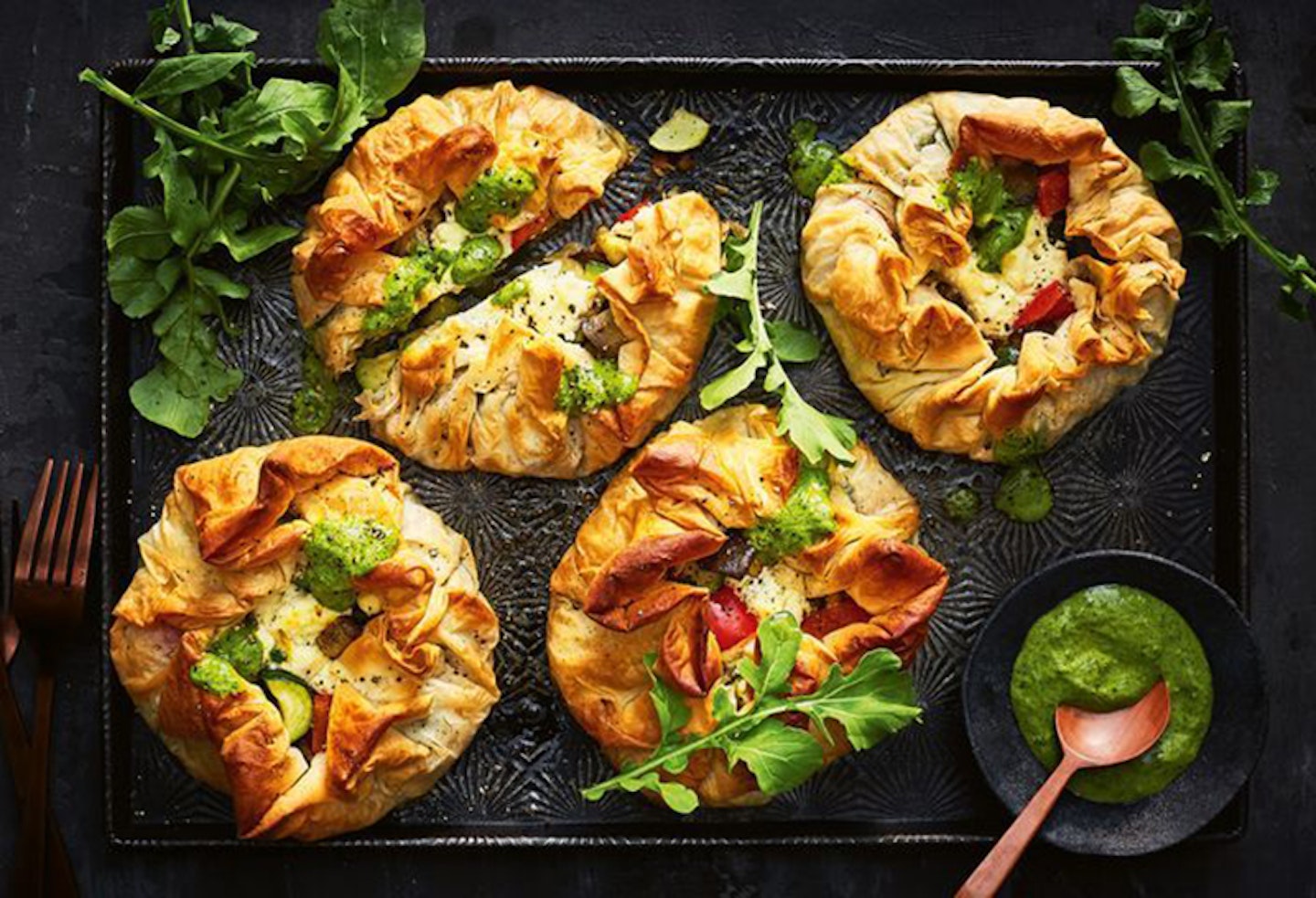 1 of 10
CREDIT: taste.com
Ratatouille filo parcels
These individual filo pastry parcels are packed with vegies. Serve with basil pesto and you are sure to have a dinner-winner for the whole family.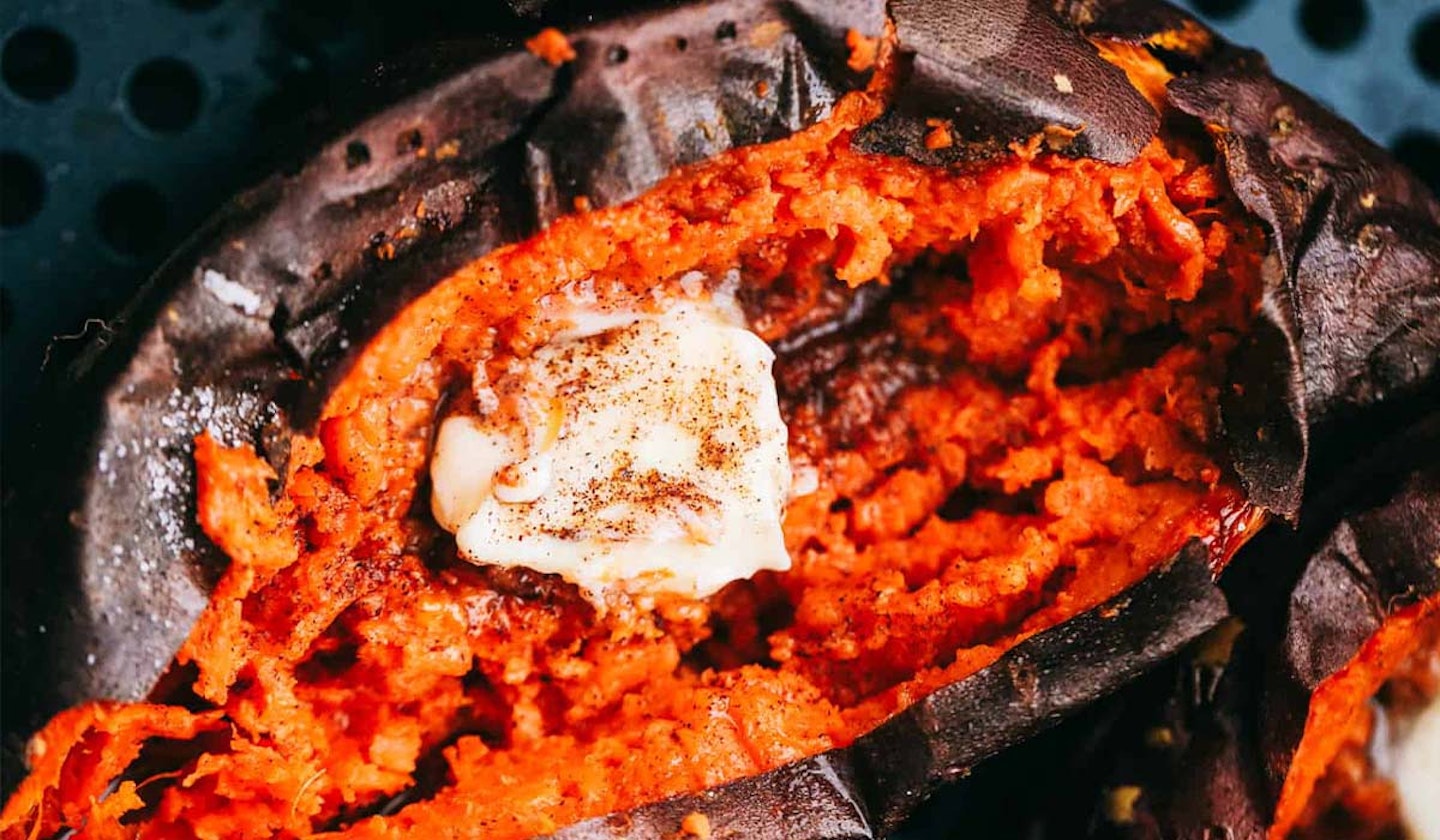 2 of 10
CREDIT: therecipecritic.com
Sweet Potatoes
Swap out your baked spud for the healthier alternative made in the air fryer. Perfectly fluffy on the inside, crispy on the outside, simply finish with your favourite topping.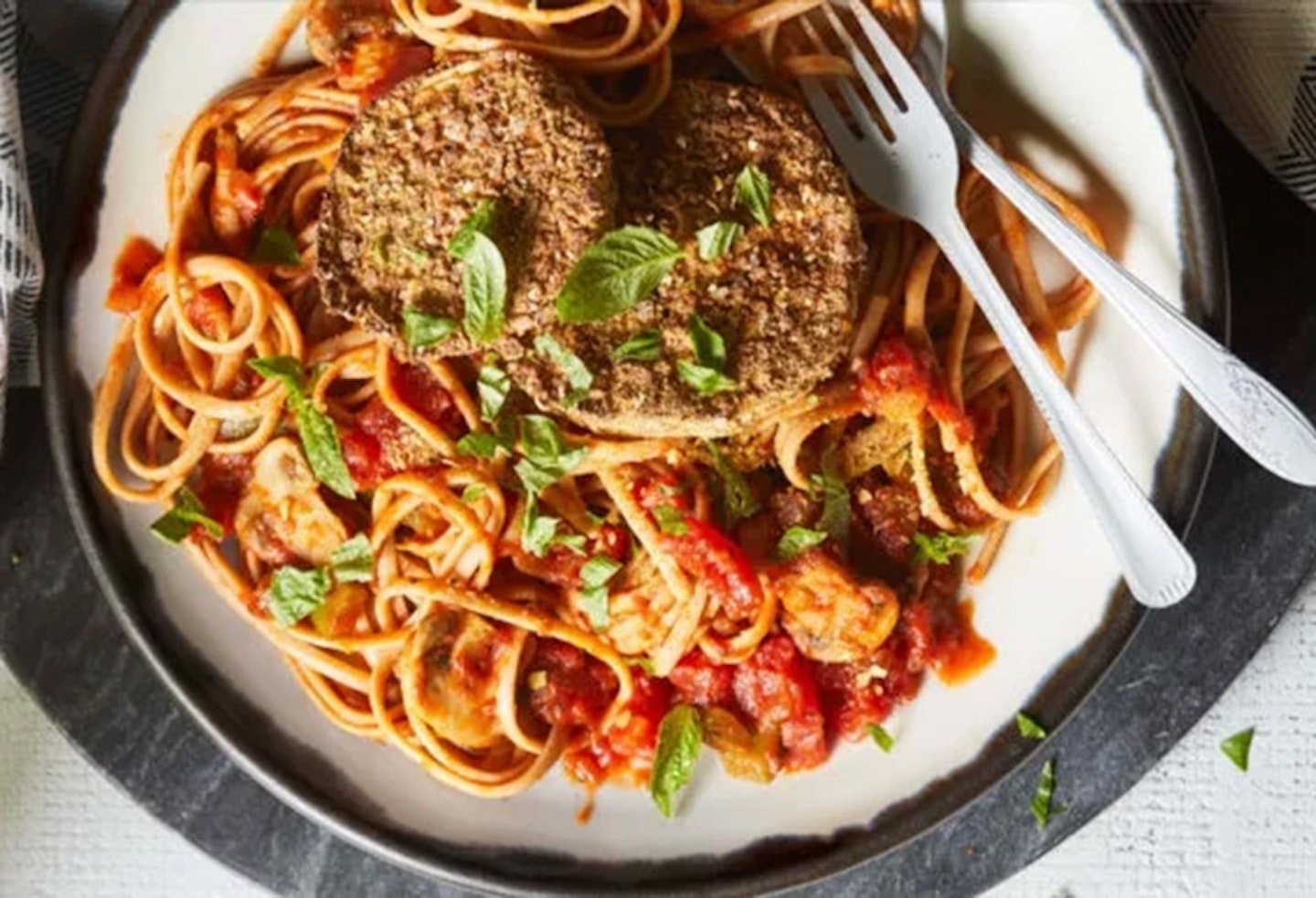 3 of 10
CREDIT: forksoverknives.com
Aubergine Parmigiana
In this plant-based take on an Italian favourite, air-fried aubergine slices sit atop linguine in marinara sauce with fresh basil.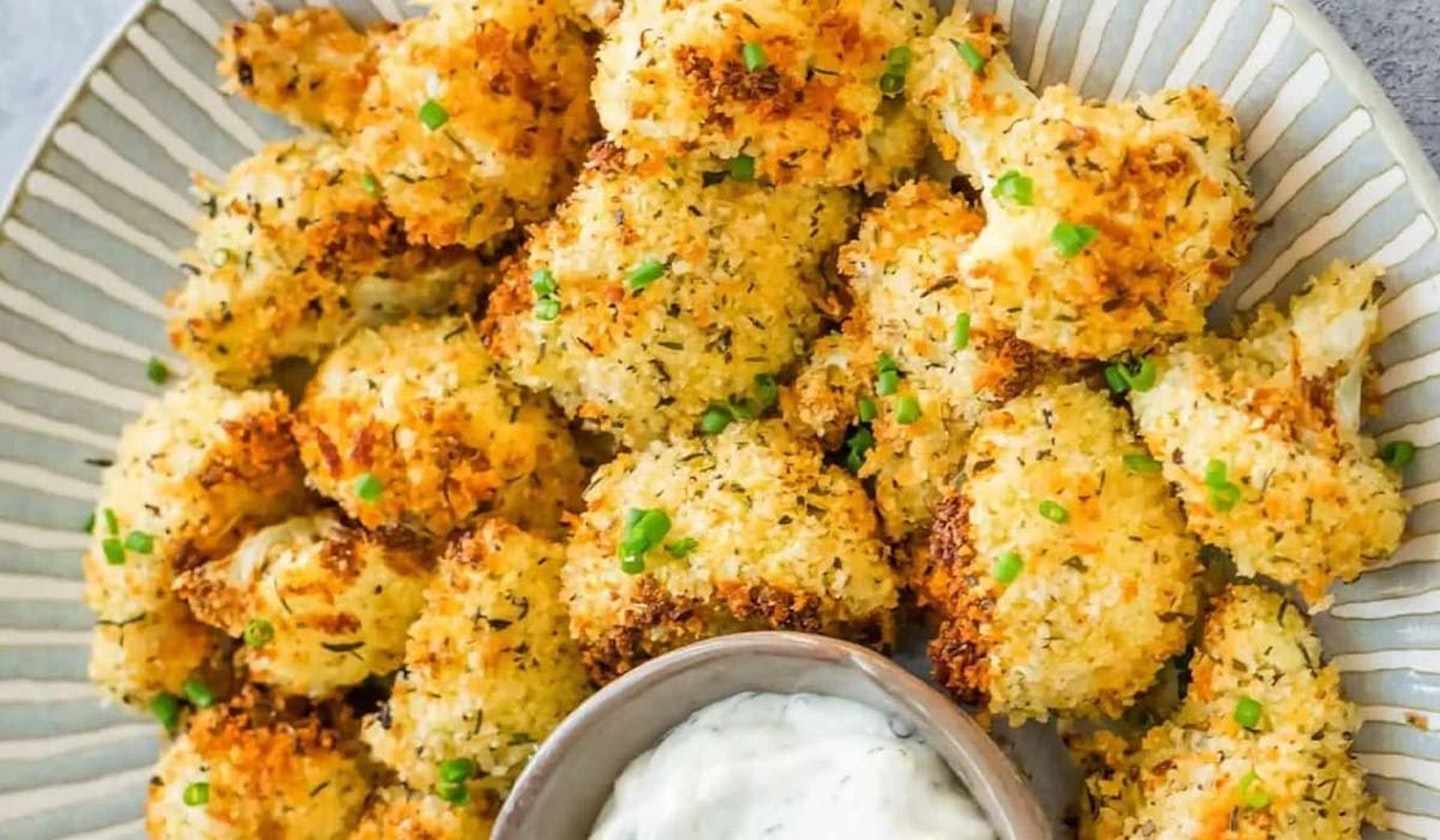 4 of 10
CREDIT: enjoycleaneating.com
Cauliflower bites
A healthy snack option, these crispy bite-sized pieces of cauliflower are coated with a panko and parmesan crust and finished with Italian seasoning.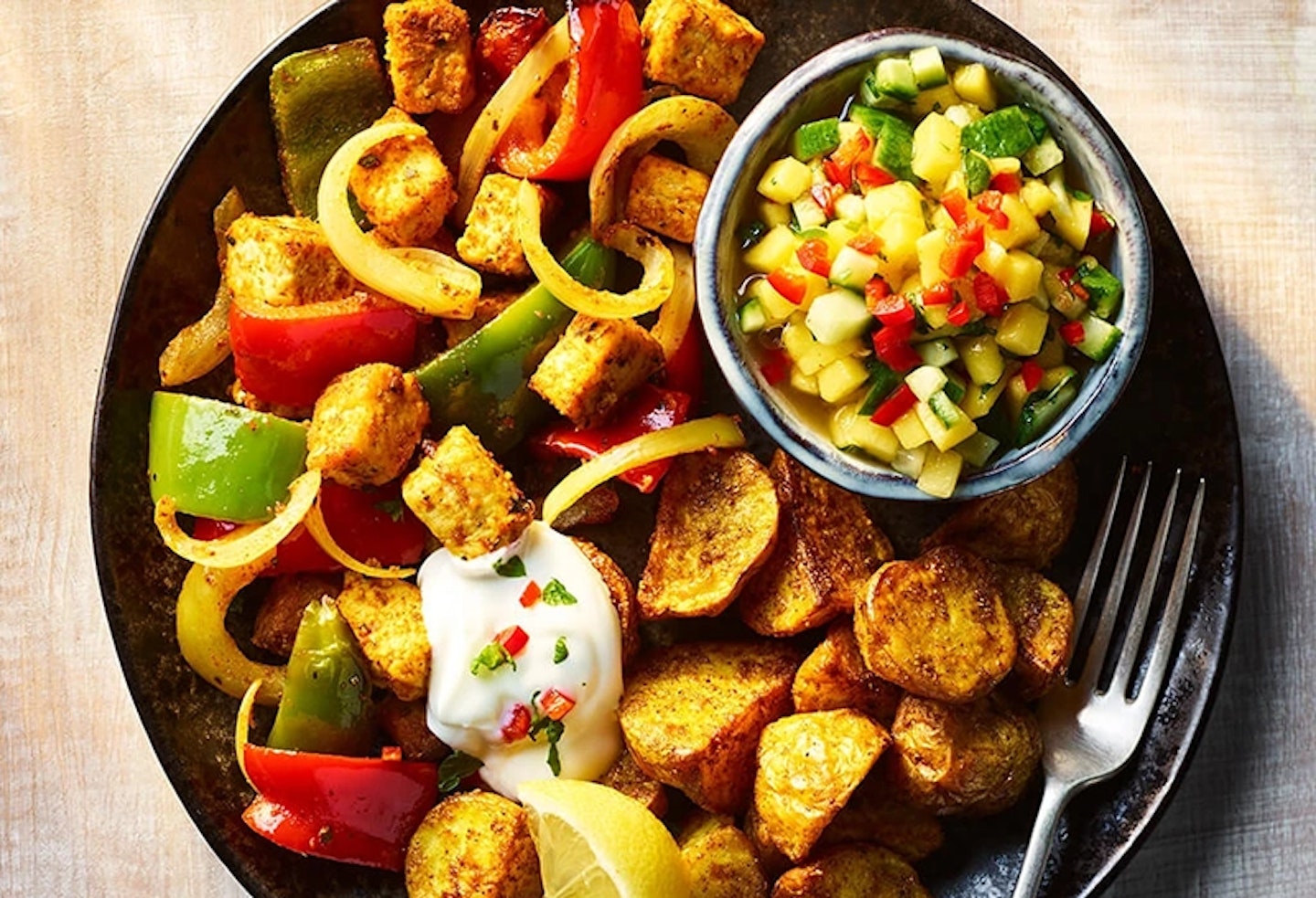 5 of 10
CREDIT: Quorn.co.uk
Tikka with Bombay potatoes
This meal makes a great alternative to a takeaway – crispy, fragrant Bombay potatoes with a tasty Quorn Tikka made with Quorn Pieces, all cooked in the air fryer for a healthier take on the takeaway classic.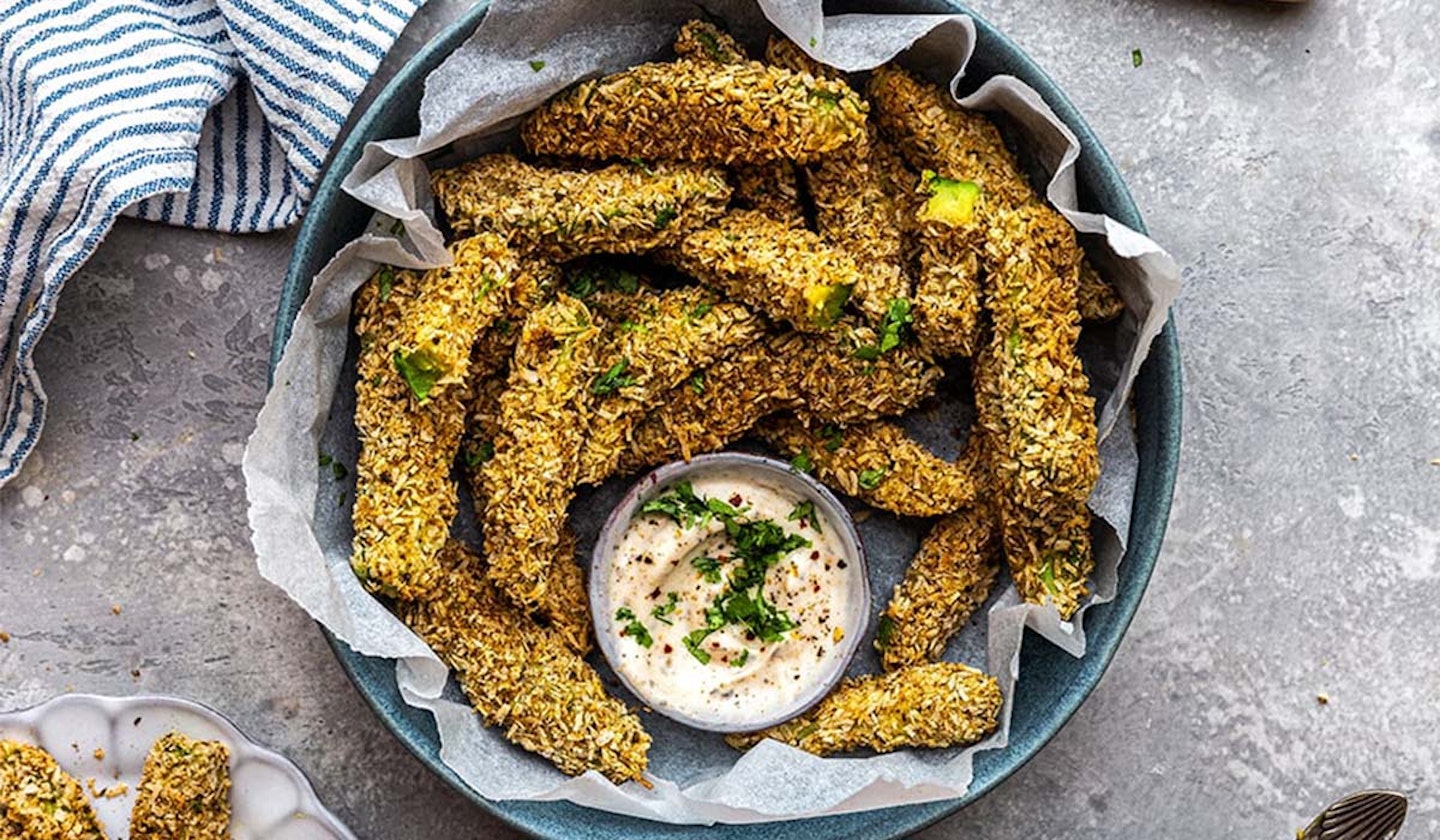 6 of 10
CREDIT: lifemadesweeter.com
Avocado Fries
We bet you haven't tried these before! You may need a few unusual ingredients for these avocado fries but we're sure they'll be worth it!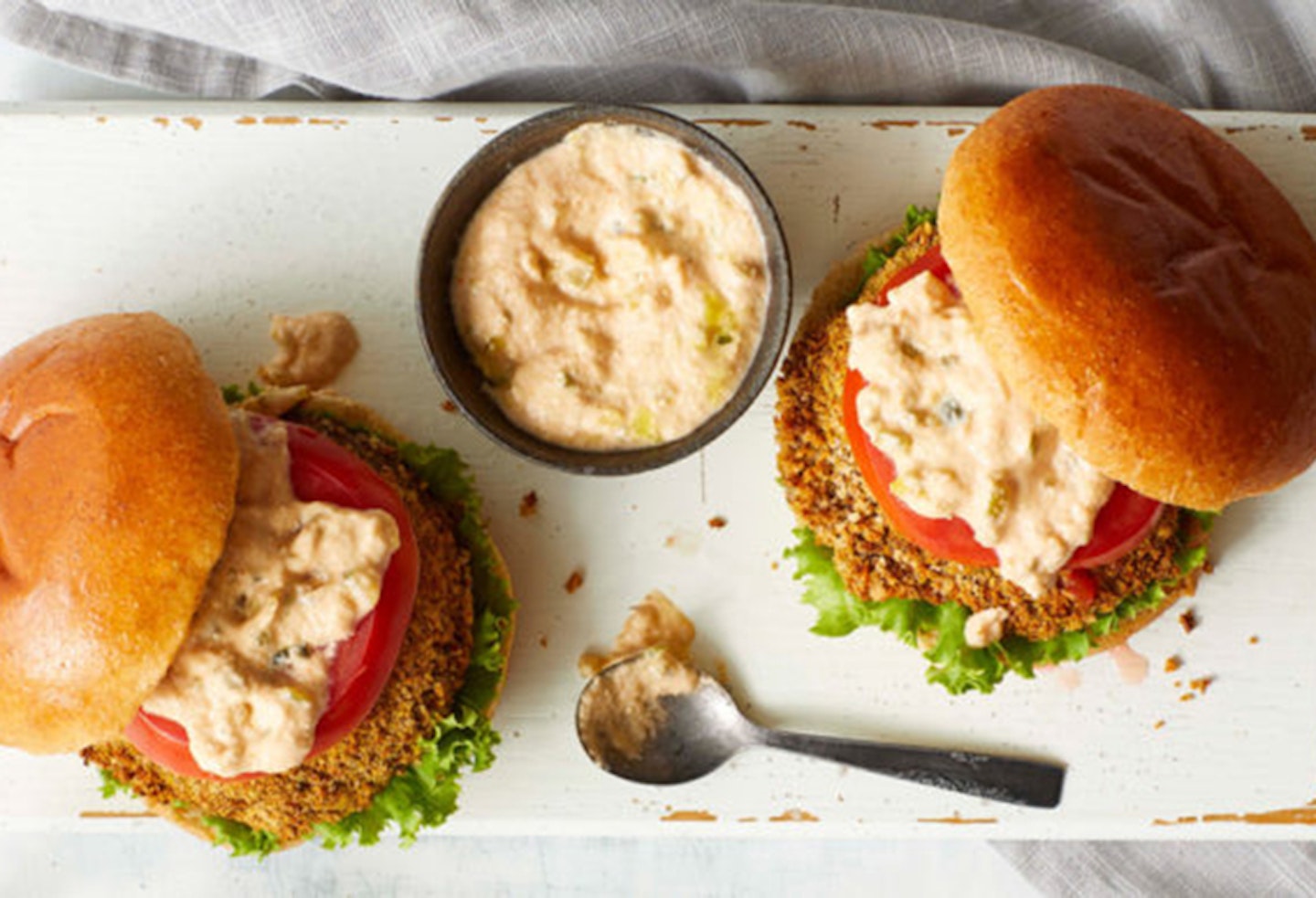 7 of 10
CREDIT: forksoverknives.com
Air-Fryer portobello burgers
Breaded, air-fried, and topped with a creamy vegan Thousand Island Aïoli, these aren't your basic vegan burgers.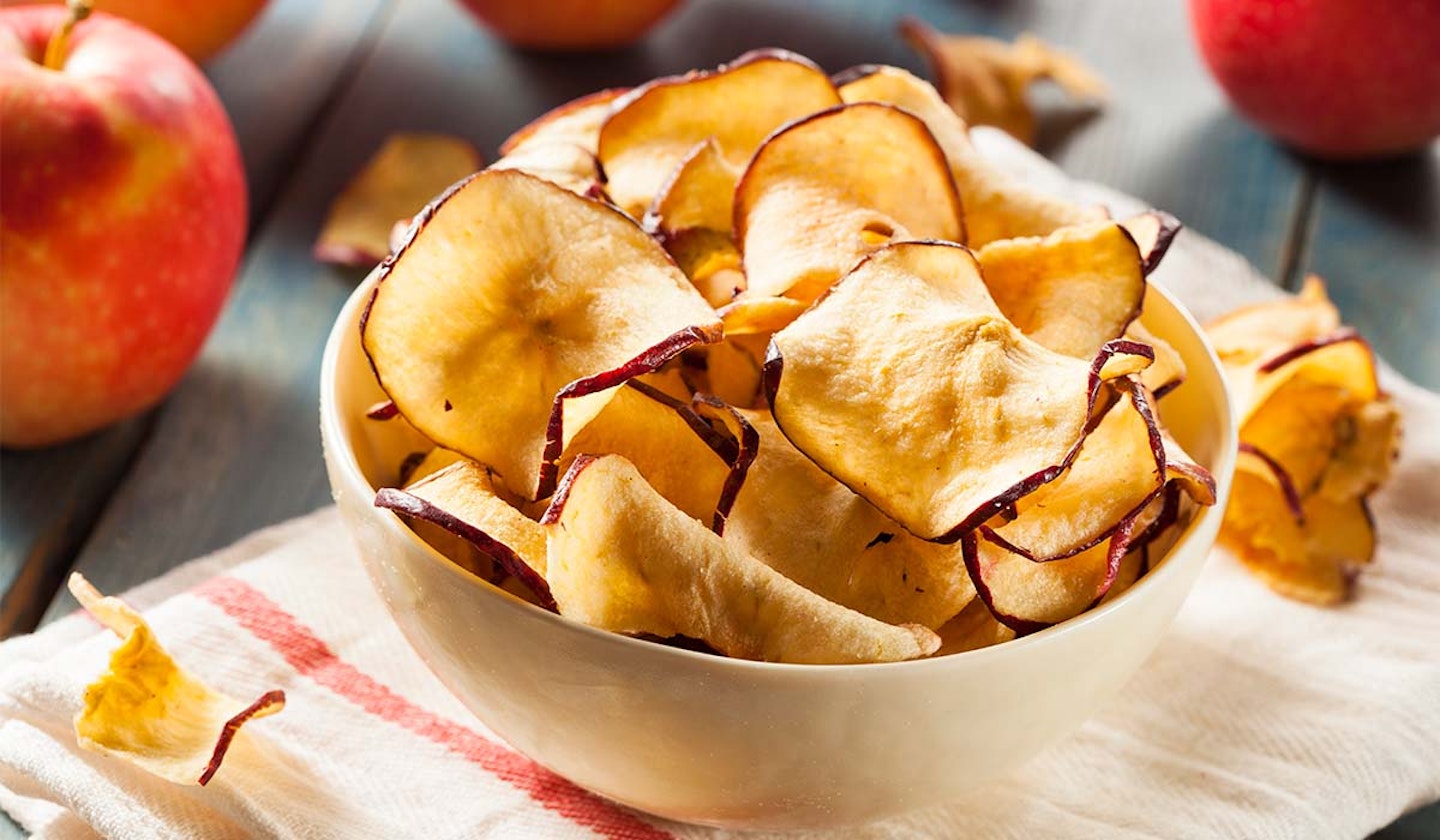 8 of 10
CREDIT: delish.com
Apple crisps
We all love a bag of crisps now and again but by using your air fryer, you can create a healthier alternative to snack on - apple crisps!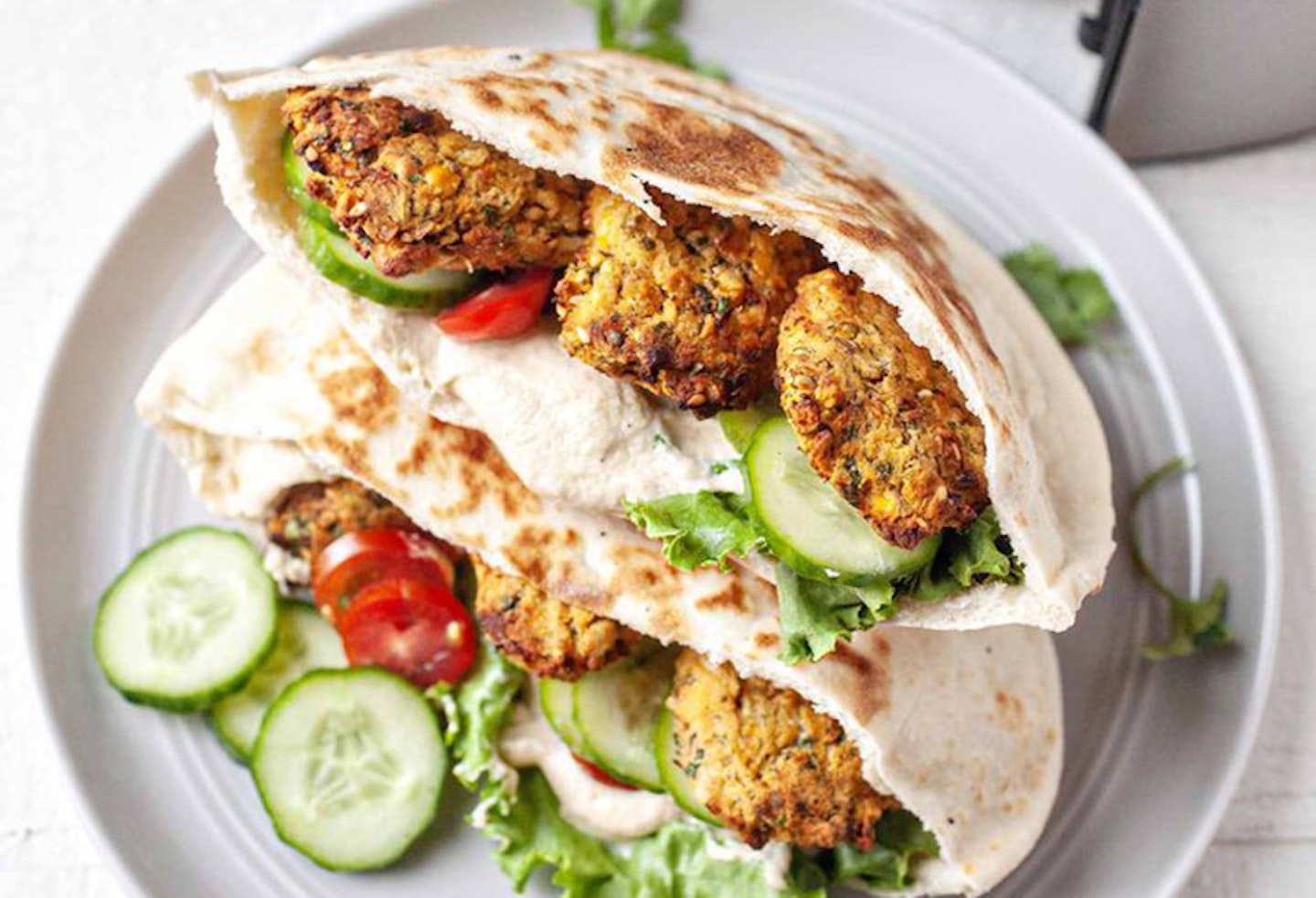 9 of 10
CREDIT: simplyrecipes.com
Air fryer falafel
Falafel made in the air fryer is crunchy on the outside and soft in the middle. Stuff them in a pita packed with veggies and tahini sauce for an easy healthy meal!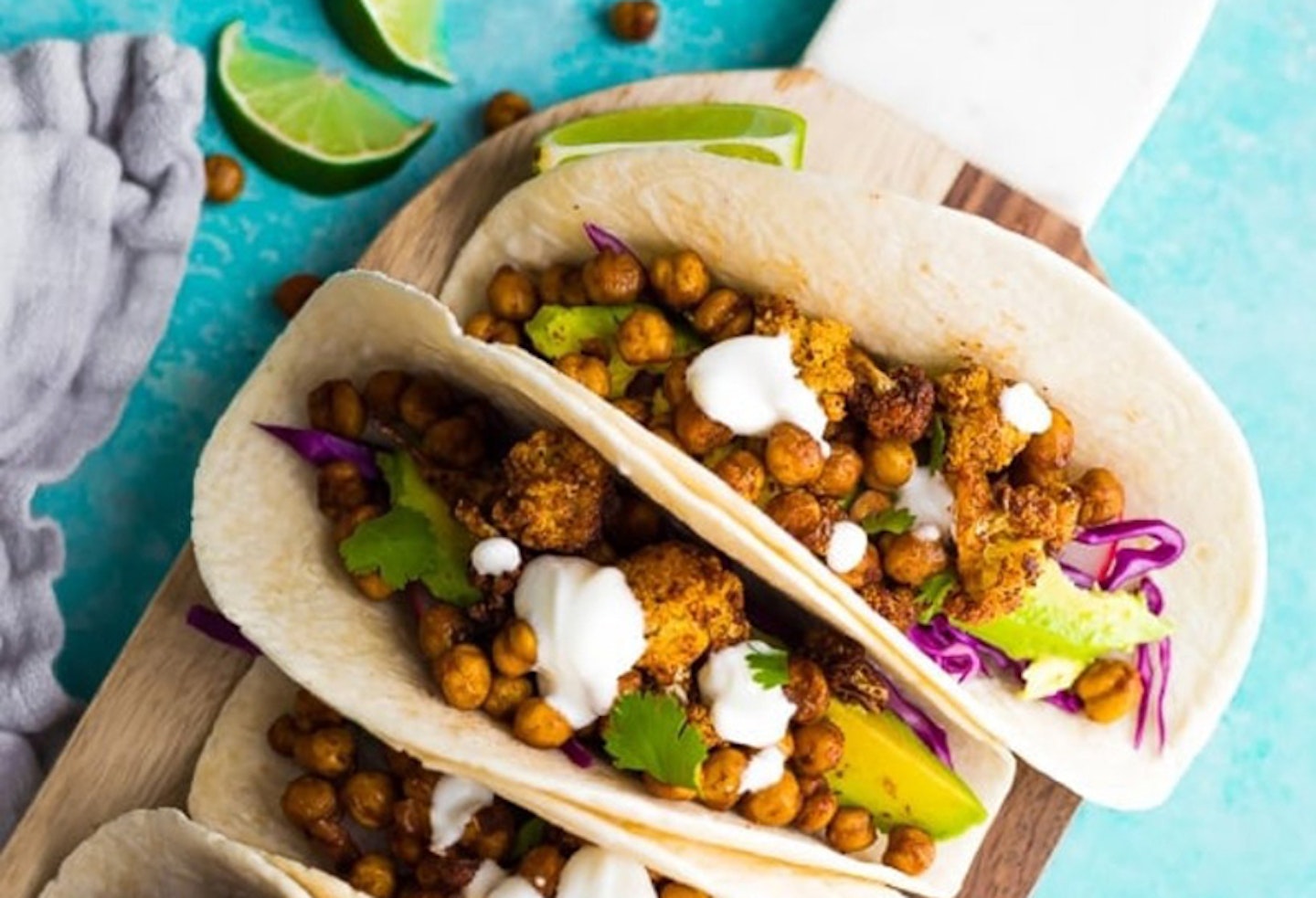 10 of 10
CREDIT: sweetpeasandsaffron.com
Cauliflower Chickpea Tacos
These tasty tacos are made by frying cauliflower florets and chickpeas in the air fryer for a quick roast – bringing out their intense, nutty flavour. Piled into corn tortillas with avocado, red cabbage and coconut yoghurt, they make the perfect Meatless Monday or Taco Tuesday dinner.
How do air fryers work?
First of all, air fryers don't actually fry. Instead, the food goes into a perforated basket and the machine cooks the food by blowing hot air around it. The force of the air produces a convection effect that cooks and browns the exterior of the food in the basket.
Is using an air fryer healthier?
Since Air fryers use significantly less oil than deep fat fryers, foods cooked using an air fryer are substantially lower in fat. An air fryer does this by heating the food in hot air which contains fine oil droplets. It cuts calories by 70% to 80%.
Features & Reviews Editor Emily Gilbert has been a journalist since 2016 and has worked across a variety of specialist and lifestyle brands both in print and online. Specialising in product reviews, Emily is the first to know about all the exciting new releases, her favourite being gadgets for the home.