If you've kicked off the new year with a lifestyle reset and you're trying to be a little bit more conscious about how you cook your food then it only makes sense to possess an air fryer.
An air fryer has become an extremely popular kitchen appliance in the past couple of years thanks to its ability to help us appear more accomplished in the kitchen than we may really be. It's certainly made cooking easy again.
The biggest bonus about owning an air fryer is not only the promise of cutting down your cooking time but doing so with as little need for oil as possible, not to mention it saves energy on the household bills. It means you can still achieve that deep-fried effect you're probably craving after healthy eating, without that unhealthy aftertaste.
What is an air fryer?
An air fryer is essentially a small convection oven. It circulates hot air around the food to get that crispy outer layer and fluffy or moist inside. It is also more energy-efficient due to its size and power, compared to heating your kitchen oven.
It does take some adjusting to get used to how quickly your food takes to cook compared to traditional oven times, and also what you can actually cook in the air fryer. But mostly the best food to go in there is potatoes and bacon. More on that later.
We put the Salter Dual Cook Pro Air Fryer to the test, the kitchen brand knows a thing or two about home appliances with over 200 years of experience and is a well-trusted and established name. The Salter Dual Air Fryer proved more than capable over the busy Christmas period and well into January, testing a series of recipes (mostly potato based) to see how it compares against deep-frying and oven cooking.
Description
Specifications:
12 Cooking Functions
Sensor Touch Display
9 Litre
160 W
How did this product make your life easier?
The Salter Dual Air Fryer is honestly so useful that I could potentially see myself not switching on an oven again. Almost everything that you can cook in an oven can be put in the air fryer instead, with less need for oil and my waistline has definitely thanked me for it.
The best feature of the Salter air fryer is of course the dual drawers. You can batch cook your ingredients if it's a big batch and you need to cook them exactly the same. Or you can sync the drawers, so they finish together. If you're looking to cook a small portion of food you only need one drawer and it means less cleaning.
You just need to get familiar with your recipes and end results first, otherwise, you may end up disappointed and waiting for dinner longer than you expected if you didn't sync your timers correctly.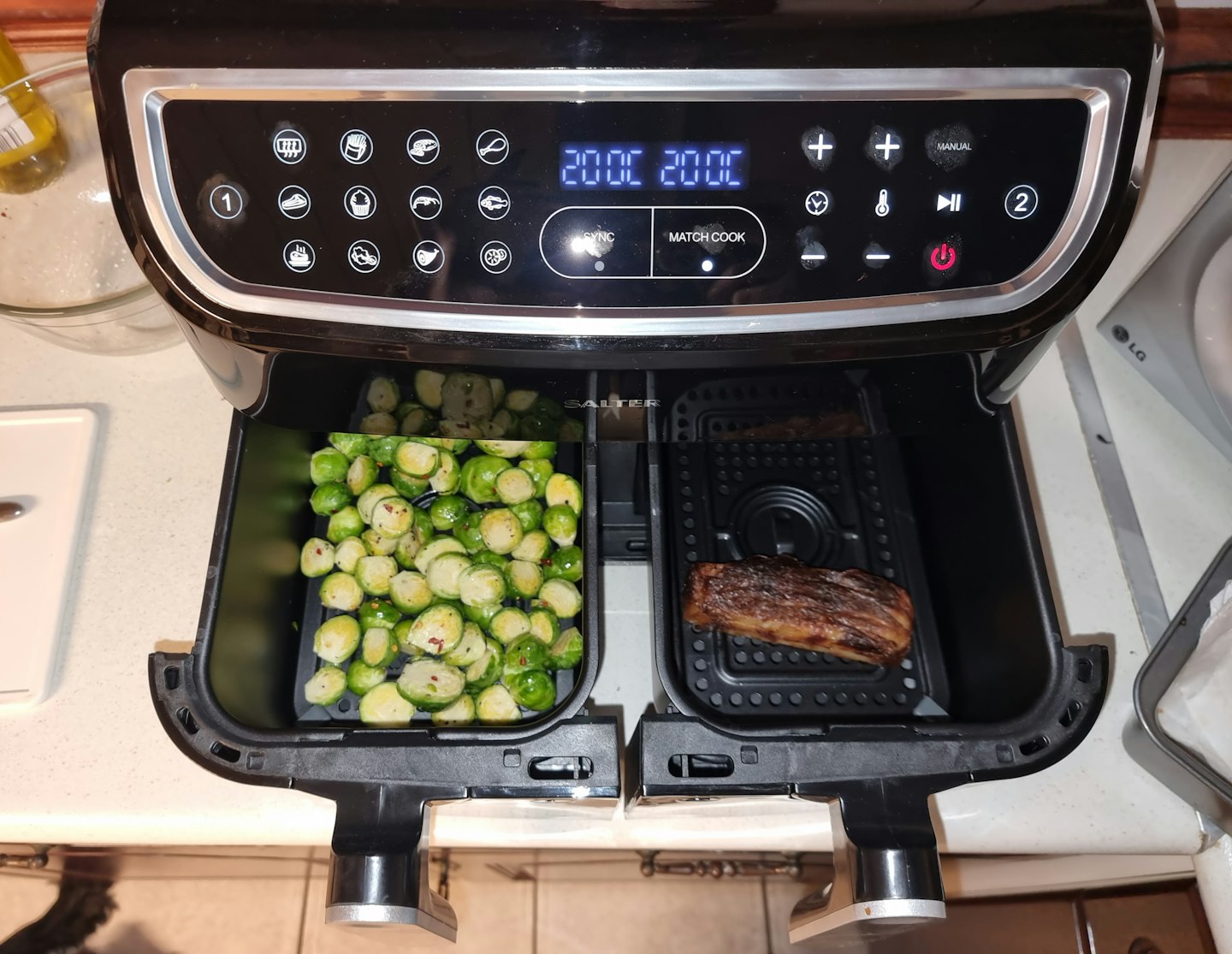 Would you recommend the Salter Dual Cook Pro Air Fryer?
Yes without a doubt. To get to grips with the air fryer as a beginner I started off with simple potato recipes like roasts, brunch potatoes, potato pillows, hash browns and so on. I quickly found that it was a case of trial and error, even though the recommended time listed in the Salter recipe book was 25 minutes for a whole jacket potato, it was still raw in the middle. Instead, I had to blast the potato for seven minutes in the microwave and then put it into the air fryer for 15 minutes, this gave me crispy perfection and a fluffy inside.
To prepare for Christmas dinner, I tested out Brussels sprouts cooked with bacon. Too long meant they reduced to barely the size of a pea and were very crispy, but by Christmas Day, I'd learned the perfect cooking time of 10 minutes and they were plenty flavourful. Bacon is also a great meat to cook in the air fryer if you like it crispy, but a beef burger dried out and didn't retain its moisture, so it was almost inedible.
The Salter Dual Air Fryer has several auto cooking functions – like different meats, muffins, fish, chips, and vegetables – that will help you select the right temperature and time for your chosen dish. But I'm also the type of person that likes to press buttons without instructions. So if you're unsure of the buttons (and the little images they represent) and it's too much choice, I recommend selecting manual cook and guessing the time and temperature. Always go lower and shorter than you need.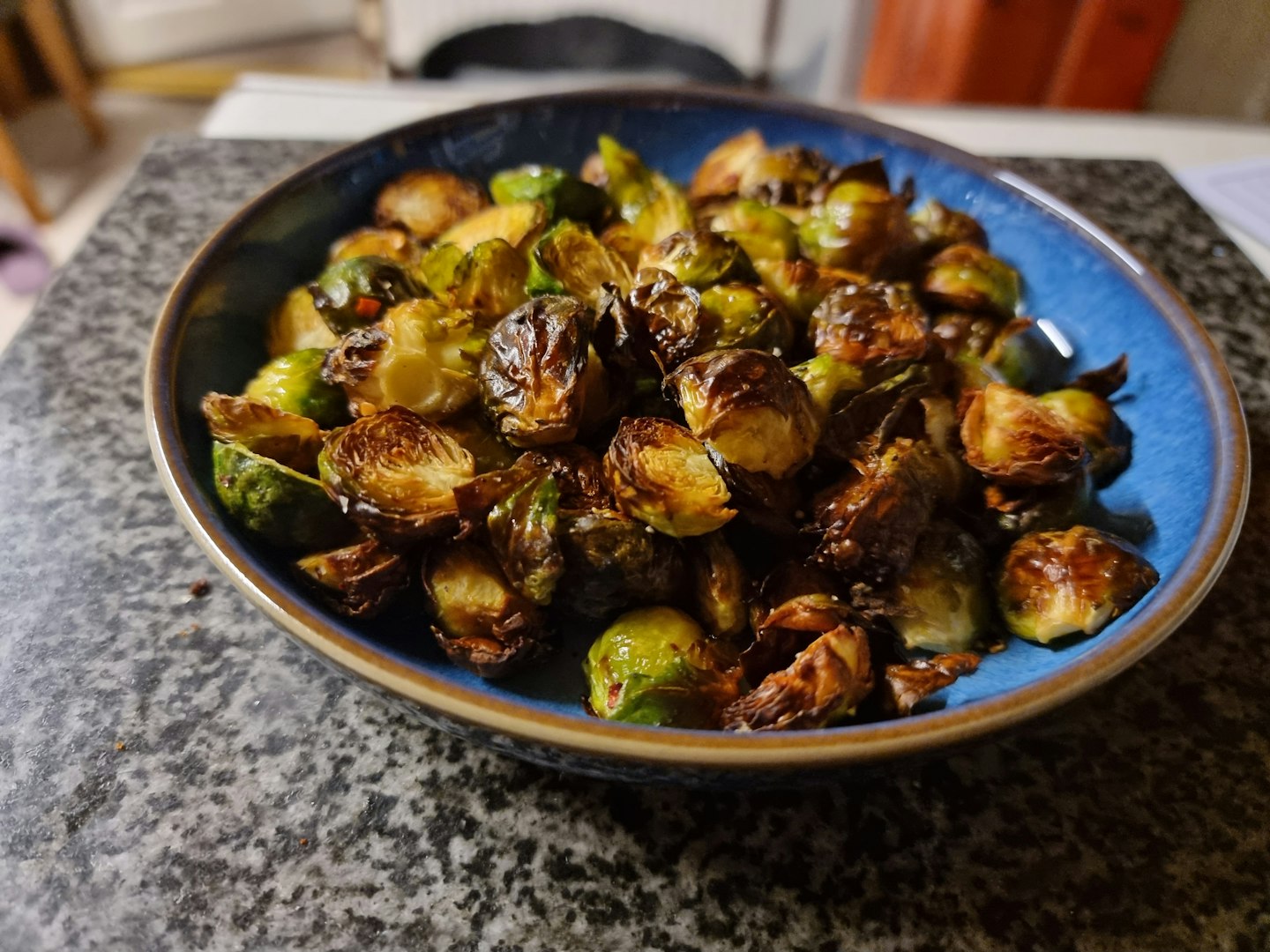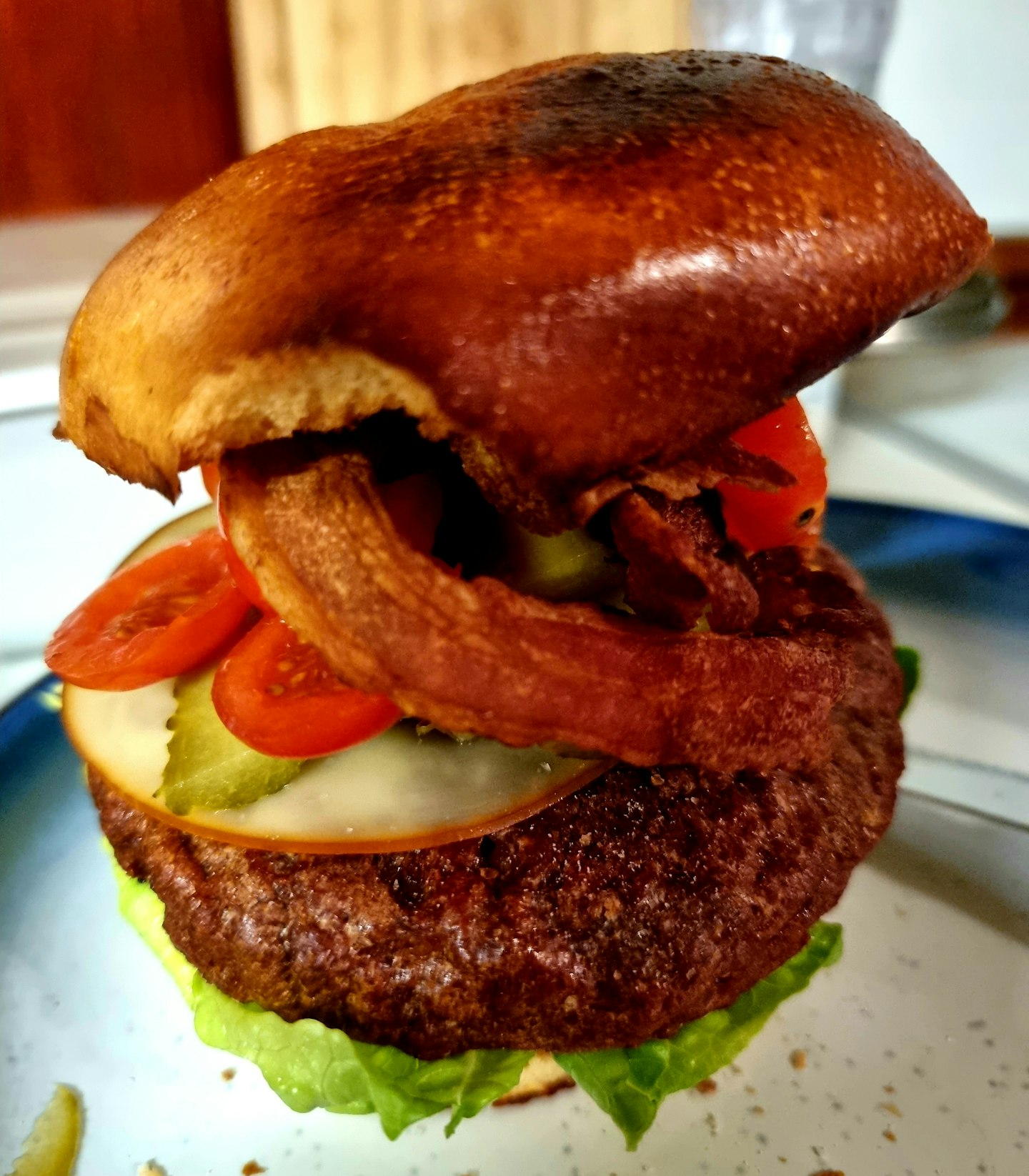 What changes would you make to this product?
I was particularly surprised just how much depth the drawers have on the Salter Dual Air Fryer. From the frying rack to the top of the drawer, it measures 12cm, with space underneath the rack for the air to circulate and catch any crumbs from food.
But the frying racks proved pretty fiddly when removing from the drawer because the metal handle is small for any fingers to pick up, let alone when it is covered in grease and other foodstuffs.
Despite reading the instructions that say you must not tip the cooked food onto your plate, it is so easy to forget and the rack can cause a bit of a mess. I thought I could get away with tipping out my brunch potatoes and hash browns I made only for the crispy crumbs to also topple out. It's my own fault, but be aware, your dish may end up ruined and if the rack falls on your hand, you can end up burning yourself.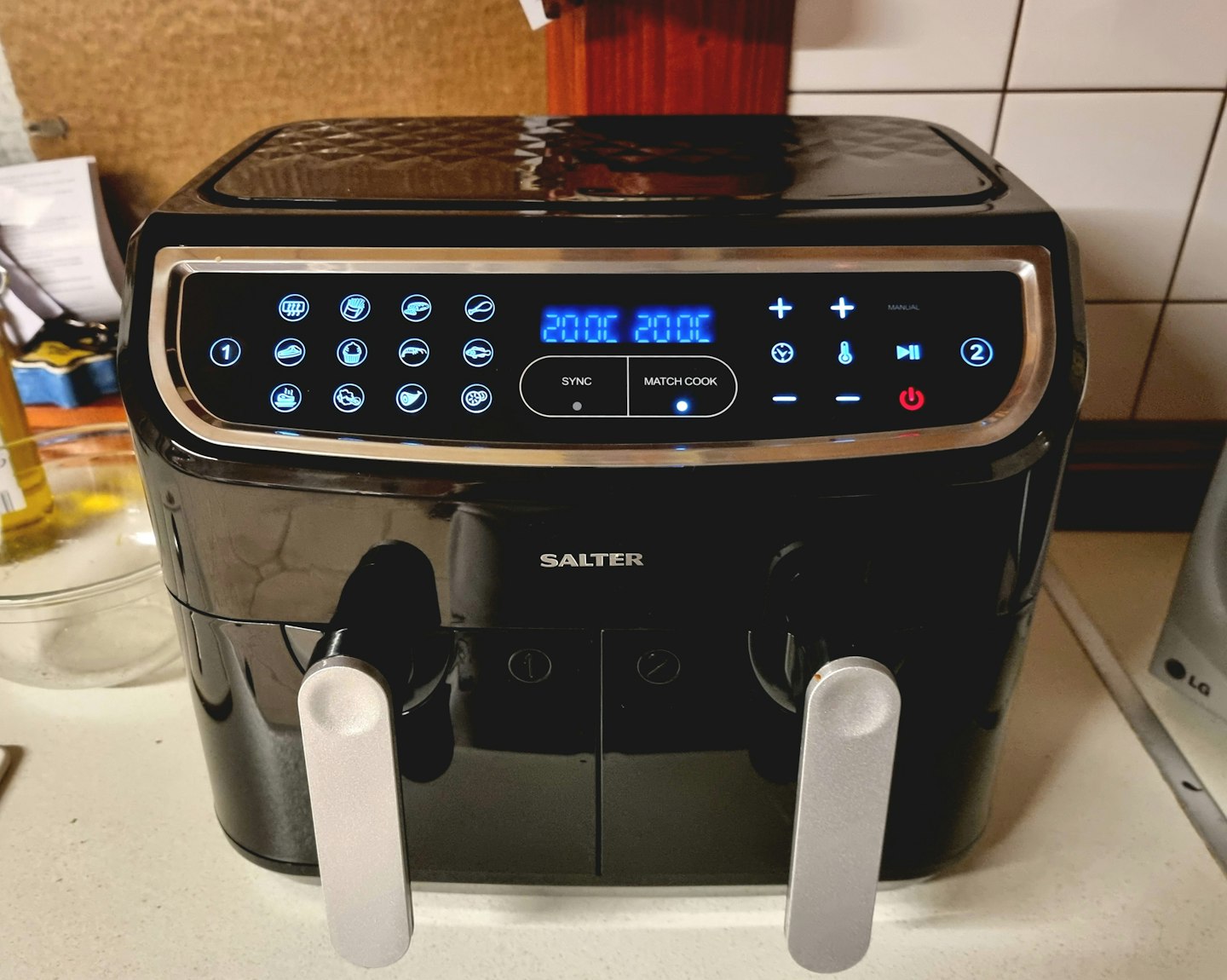 Verdict: Should I buy the Salter Dual Cook Pro Air Fryer?
Starting from around £119.99, the Salter Dual Air Fryer is on the lower end of the price scale when it comes to good quality air fryers, compared to the likes of the Vortex Plus 6-in-1 Air Fryer.
So you have to take into consideration your kitchen countertop space. It is a precious commodity and if you're considering the Salter Dual Air Fryer, be aware of how much room it takes up. It measures 40cm in length, 36.1cm in width, and 32cm in height – that is bigger than your average four-slice toaster. If you already have a microwave, kettle, toaster and perhaps a food blender, you may have to think about where your air fryer will go, or do you have cupboard space for it?
Currently, my kitchen has the space, but if I were to move to somewhere smaller, I would need to factor in how important my air fryer is compared to other appliances, which is a bit of a problem, but because it only needs a plug to work, it makes the Salter Dual Air Fryer portable.
The Salter Dual Air Fryer may sound like a luxury addition to your kitchen, but until you have one, you don't realise how much of a necessity it is. It gives you the luxury of extra time to improve your skills as a cook, to produce tasty food quickly, without complicated recipes and cooking times.
For more expert advice on the best home appliances visit our sister site A Modern Kitchen, a destination for homeowners and renters looking for a solution to their kitchen problems. Whether you're looking for advice on how to save money on appliances or the latest models to buy.