Choosing the best air fryer for your kitchen can be a daunting task, particularly if you've never used one before. We've all heard that they cook food quickly using little to no oil, but there are many things to consider, including the size and the number of functions it has. If you're after a two-basket air fryer, the Ninja Foodi Dual Zone AF300UK Air Fryer is a brilliant option, as it has two compartments and a generous 7.6-litre capacity. Better yet, it still has £50 off in the Ninja Black Friday sale.
And even though the big day may be over, that doesn't mean the Black Friday deals have ended as they continue well into this 'Cyber week'. Ninja for one have continued with their savings until stocks last so you can still score up to 25% off products including air fryers, multi-cookers, knife blocks and pan sets.
Unlike many of its predecessors, this Ninja Foodi is a dual air fryer, so you may be wondering what the functions are like. Ninja is a very popular, highly-rated brand but other competitors have started to infiltrate the market, so we've decided to put the air fryer to the test to see how it performs.
Pros
Lightweight drawers with big handles
Auto shut-off
Dishwasher safe
Cons
There's no viewing window
Testing the Ninja Foodi Dual Zone AF300UK Air Fryer
I had never used an air fryer before and wondered if it could really shorten the cooking time by that much. It was especially appealing to me as after a long day at work, you want a quick meal that takes little time to prepare. My main hope was that it needed to be big enough to cook dinner for at least four people. With 6 cooking functions, there are plenty of different modes to try and the Ninja Foodi Dual Zone AF300UK offers more than just frying. You can crisp, roast, reheat, dehydrate and bake your favourite foods, even from frozen!
Initially, I was apprehensive about how to use all of the different functions, particularly as there are two zones, but the clear buttons and the Quick Start Guide it came with made it easy. It's great that you can set both drawers to Sync or Match so that everything cooks at the temperature and time, thanks to the DualZone technology.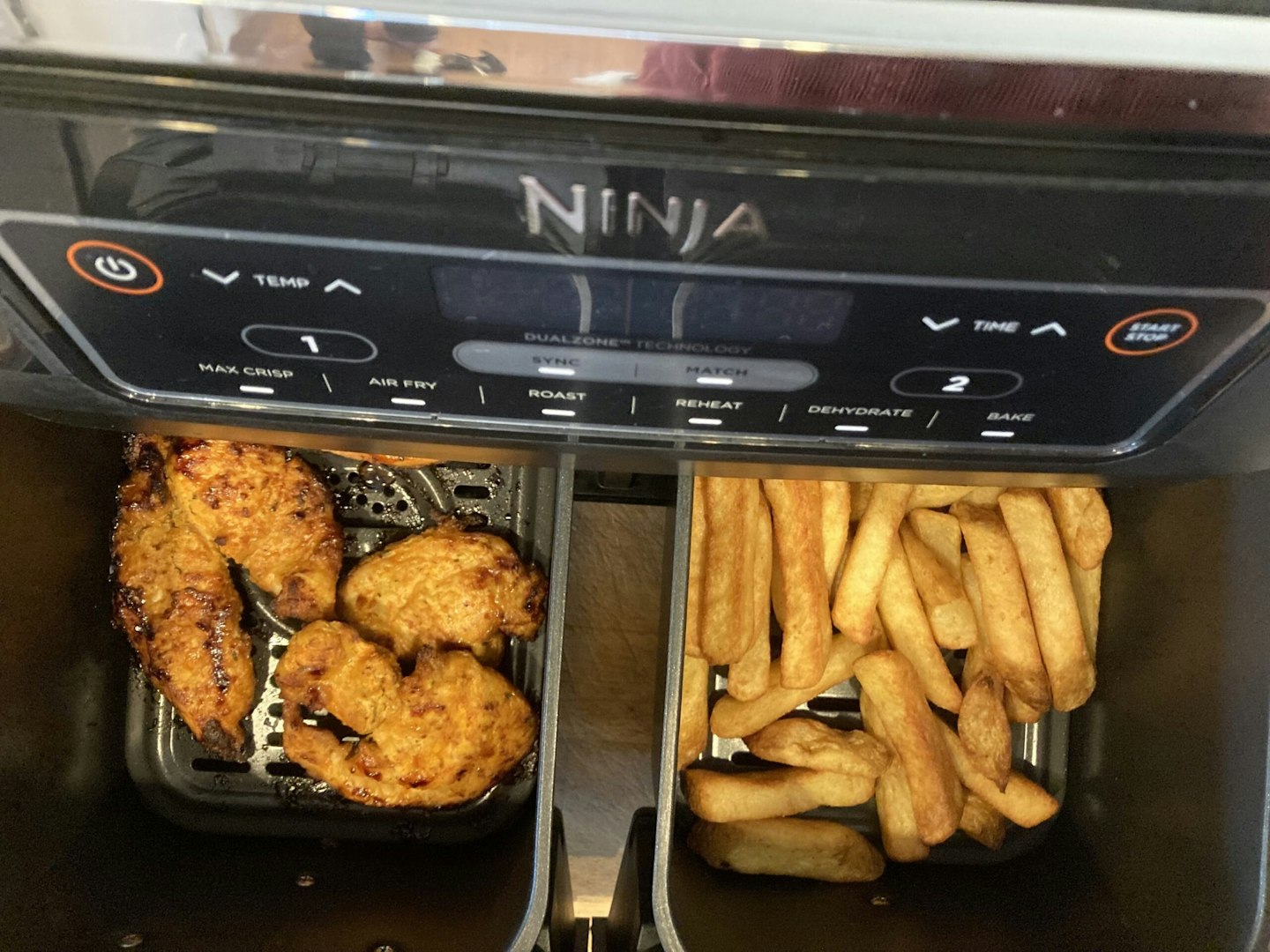 Inside the booklet, there are pages full of charts that list different types of food (both fresh and frozen), how long you should cook them for, the temperature the air fryer needs to be at and if you should add any oil, which is particularly helpful for newbies like me.
The first food I had to try was, of course, chips. Normally I would make homemade chips in the oven, coating them in oil beforehand but with the Ninja Foodi Dual Zone, l didn't need to add any (although next time, if I were using a seasoning I would perhaps toss them in a very small amount beforehand to make sure that it sticks to it). To make sure that the texture was perfect, I began with the Air Fry mode and then pressed Max Crisp at the end and I was blown away at how crunchy they were on the outside but how fluffy the interior was.
As for size, it's more than capable of making a meal for a family and if someone is late to the party, you can simply use the Reheat function to warm up their food. I would say that if you're preparing a large amount of food that should be quite crispy, you need to regularly open the drawers and give them a bit of a shake to make sure that everything gets fried evenly.
Cleaning is made simple due to the dishwasher-safe components (the crisper trays are detachable and the drawers can be placed into the dishwasher), although I prefer to hand-wash mine to increase their longevity. Most things don't seem to stick to it which is brilliant, but if there is a bit of tough food residue leftover, I simply pour in some warm water and a drop of washing-up liquid and leave it to soak for a minute or two and then it wipes off easily.
Final verdict
I love how simple the Ninja Foodi Dual Zone Air Fryer is to use. It's made me more creative and spontaneous with my food choices as I now have more time to prepare my lunch and dinner because it cuts the cooking time drastically. Each meal feels healthier as I'm using less oil and I'm able to cook two things at once, without fussing over different pans and the oven. Whilst you can cook a whole small chicken inside each drawer, I would've liked to have more space to be able to fit a larger one in, but I understand that this may be tricky as there are two zones instead of one.
Ninja Foodi Dual Zone AF300UK Air Fryer FAQ
Can you sync the two zones together in the Ninja Foodi Dual Zone AF300UK Air Fryer?
Absolutely! Whether you're cooking the same thing in each compartment or simply want all of the food to be ready at the same time, you can sync up both of the drawers on this Ninja air fryer. All you need to do is set it up like usual and then press the Sync button.
Can you cook frozen food in the Ninja Foodi Dual Zone AF300UK Air Fryer?
Similar to the Instant Vortex Plus VersaZone Air Fryer, you are able to prepare a multitude of different dishes with both fresh and frozen food. The booklet guide includes a whole section on how to air fry frozen foods including chunky oven chips, fish fingers, chicken goujons and even Yorkshire puddings.
Alternatives to the Ninja Foodi Dual Zone AF300UK Air Fryer
Description
The Salter Dual Air Fryer is a cheaper but just as reliable option. With a choice of either a 7.6
Description
Similarly to the Ninja Foodi, the Instant Vortex Plus VeraZone has a SyncFinish setting, allowing
Description
This Vortex Plus air fryer has many of the features that VersaZone offers, but the drawers are
Arabella Horspool is a Commercial Content Writer at Bauer Media. She's a bookworm who enjoys cooking and spending time with her many pets.