Searching for the best supplements for skin can be tricky to navigate. With a myriad of products promising a youthful glow and healthy radiance, it is normal to feel wary if supplements will do anything. Here's the secret: exceptional skincare begins from within. Just like your heart, liver, or lungs, your skin - your body's largest organ - needs nourishment too. We are here to help you find the best supplements for your needs so you can take a targeted approach to skincare. However, it's important to consult a healthcare professional before starting any new supplement regimen to ensure it's appropriate for you or any medication you may be on.
Your skin is often referred to as the third kidney, as it indicates what's going on internally and reflects your lifestyle and diet. Think about it this way - your skin is your body's billboard. If your liver or kidneys struggle to detoxify your body, the skin takes on the extra load, often resulting in blemishes or dullness. Similarly, a diet lacking vital vitamins and minerals might manifest as dry skin or premature ageing. Good skin is often a reflection of good internal health.
The best supplements for skin shortlist:
• Best powder supplement for skin: WelleCo The Super Elixir
• Best supplement for skin as a retinol replacement: The Nue Co.'s Skin filter
• Best collagen supplement: Ancient + Brave Bovine Collagen 200g
• Best Omega 3 supplement for skin: Antarctic Krill Oil Capsules 1000mg by LLS
• Best functional mushroom supplement for skin: DIRTEA Tremella Mushroom Powder
• Best liquid collagen supplement: NeoCell Collagen + C Pomegranate Liquid
This is where skin supplements come into the picture. While a balanced diet is key to nurturing your skin from the inside out, supplements can be a valuable addition to your skincare regime. They help provide those crucial nutrients you might not get enough of from your diet. While some capsules, like menopause supplements, will already include ingredients that benefit your skin - explicitly targeting skin supplements will contain those essential nutrients to give you that glow. From vitamins A, C and E to Zinc and Selenium, there's a range of skin-supporting supplements that can complement your daily intake of nutrients. We also have a guide to the best supplements for hair growth too.
With the help of Dr Simoné Laubscher, WelleCo formulator and founder of Rejuv Wellness - we've rounded up the best skin supplements out there. These range from powders to capsules, each designed to target specific skin concerns or to enhance overall skin health. Whether you're looking for something to maintain skin elasticity, reduce signs of ageing, or address skin conditions like acne or rosacea, we've got you covered. Plus, be sure to read below the product roundup for extremely valuable insights from Dr Simoné Laubscher on how we can best take care of our skin from within.
Disclaimer: Always talk to your GP before starting a new supplement regime.
Best supplements for skin
Best powder supplement for skin
Description
WelleCo's Super Elixir Daily Greens pouch is the ultimate all-encompassing superfood supplement.
Pros
Contains a wide range of superfoods for optimal nutrition.
Suitable for various dietary preferences.
The powder form is great for putting in smoothies or even in water
Refillable pouch uses minimal packaging
Free from synthetics and made from all organic natural ingredients
Best supplement for skin as a retinol replacement
Description
The Nue Co.'s Skin Filter revolutionises your skincare routine with its innovative blend of
Pros
Clinically proven formula with impressive results.
Addresses multiple skin concerns.
Enhances overall skin health.
Contains Camu Camu Extract - a potent form of Vitamin C
Best collagen supplement for skin
Description
Ancient +Brave's award-winning blends are clean, effective and made from the highest quality
Pros
Clean ingredients made from grass-fed bovine collagen powder
Tasteless and odourless
The cows have been raised naturally without hormones, antibiotics, chemicals, or GMOs. 
5000mg per Serving
Made from type 1 grass-fed bovine collagen
Cons
Not suitable for vegetarians or vegans
Best Omega 3 supplement for skin
Description
High-quality and enriched with the health benefits of 100 per cent pure Antarctic krill oil, these
Pros
High Omega-3,6,9 content
No fishy aftertaste
Sustainably fished in the Antarctic by Aker BioMarine, where heavy metal levels are negligible
Produced in the UK
Cons
It may not be suitable for those with seafood allergies or vegans
Best blue light protection supplement for skin
Description
If you are looking to heal your skin from within, then Advanced Nutrition's new blue light
Pros
Contains a fusion of cell-protecting nutrients and targeted antioxidants.
Biotin and Vitamin B7 contribute to the maintenance of normal skin health. 
Lutein and Zeaxanthin increase skin luminosity and elasticity and give skin a more tone
Olive Fruit Extract offers anti-ageing benefits and reduces the appearance of skin discolouration
Spirulina extract makes it blue and is a great source of protein, copper, and B vitamins.
Cons
May not target areas such as acne
Best skin supplement for psoriasis
Description
Your gut health is often the root cause of skin issues, and these AxisBiotix supplements are a
Pros
AxisBiotix 28-Pack is a probiotic supplement that contains 12 different probiotic strains.
The supplement aims to reduce inflammation, and help support most of the skin symptoms of psoriasis, such as redness, itchiness, flaky skin, and dryness.
It strengthens the gut barrier, which has been shown in some studies conducted on people with psoriasis to be a little bit 'leaky'.
Convienient sachets for on the go
Cons
Best value when purchasing a subscription
Best vegan collagen supplement for skin
Description
If you are plant-based and are looking for a collagen alternatiprioritiseshe Arella Vegan Collagen
Pros
Vegan collagen supplement alternative
Contains Biotin (Vitamin B7), which contributes to the maintenance of normal hair and skin.
Japanese plum taste
Cons
Panax Ginseng may be incompatible with some medications - please consult a health care professional before taking any supplements
Best supplement ingestable spray for skin
Description
This expert blend of beauty-boosting nutrients includes vitamin C, biotin, pantothenic acid, zinc,
Pros
Easy-to-use oral spray format
Targeted blend of beauty nutrients
Supports skin, hair, and nail health
Cons
Some may not want a product with flavouring
Best functional mushroom supplement for skin
Description
The DIRTEA Tremella Mushroom is a pure and potent mushroom powder packed with polysaccharides and
Pros
Promotes skin hydration and collagen production.
High in polysaccharides and antioxidants.
It comes with  one empty DIRTEA tin and a 60g Tremella refill pouch
Made from organic mushrooms
Cons
Some may not like the taste
Best iodine supplement for skin
Description
Doctor Seaweed's Weed & Wonderful supplements bring the benefits of seaweed into your daily
Pros
Incorporates the benefits of seaweed into your diet
Supports hair, skin, and nail health
Packed with whole food sources of vitamins A, B2, C, E, biotin, selenium, and zinc
Cons
Some may not like the taste
Best liquid collagen supplement
Description
NeoCell Collagen + C Pomegranate Liquid is a standout option for those who prefer liquid
Pros
Convenient liquid form
This collagen drink requires only one tablespoon a day for a potent dose
Antioxidant-rich blend
It does not contain artificial flavours
Provides Collagen Type 1 and 3
Cons
Not suitable for vegetarians or vegans
Best collagen liquid supplement for vegans
Description
This skin-enhancing elixir is based on bio-fermented probiotics; this drink supports your body's
Pros
Plant-based approach to supporting collagen production
The blend contains organic maqui berry, acai, papaya, blueberry, goji berry, pomegranate powders, grape seed extract, zinc, and vitamin C
Free from sugar and artificial additives
Cons
Not suitable for vegetarians or vegans
Best food-grown supplement for skin
Description
Wild Nutrition Food-Grown® Complete Beauty Support is your comprehensive solution for nurturing
Pros
Provides an array of essential nutrients for skin health.
Supports hair, skin, and nail well-being.
Uses Food-Grown® technology with organic ingredients
Buyer's guide to the best supplements for skin
First, let's start with the types of supplements out there available for skin health:
There are various types of supplements specifically designed to support skin health. Some common types include:
Collagen supplements: Collagen is a protein that helps maintain skin structure and elasticity. Collagen supplements aim to promote youthful-looking skin and may help reduce the appearance of wrinkles and fine lines. You can find our article on the best collagen supplements here.
Antioxidant supplements: Antioxidants such as vitamins C and E, coenzyme Q10, and resveratrol help protect the skin from free radicals and oxidative stress, which can contribute to premature ageing and damage.
Omega-3 fatty acid supplements: Omega-3 fatty acids, found in fish oil and other sources, help maintain skin hydration, reduce inflammation, and support overall skin health.
Vitamins and minerals: Supplements containing vitamins A, C, E, and D, as well as minerals like zinc and selenium, provide essential nutrients for skin health and may help address specific concerns such as acne or dryness.
Herbal and botanical supplements: Natural ingredients like green tea extract, turmeric, and aloe vera are often used in supplements for their potential anti-inflammatory and skin-soothing properties.
We spoke to Dr Simoné Laubscher, WelleCo formulator and founder of Rejuv Wellness, to help us get to grips with what supplements are best to support skin health and what we could be doing more of to nourish our skin from within.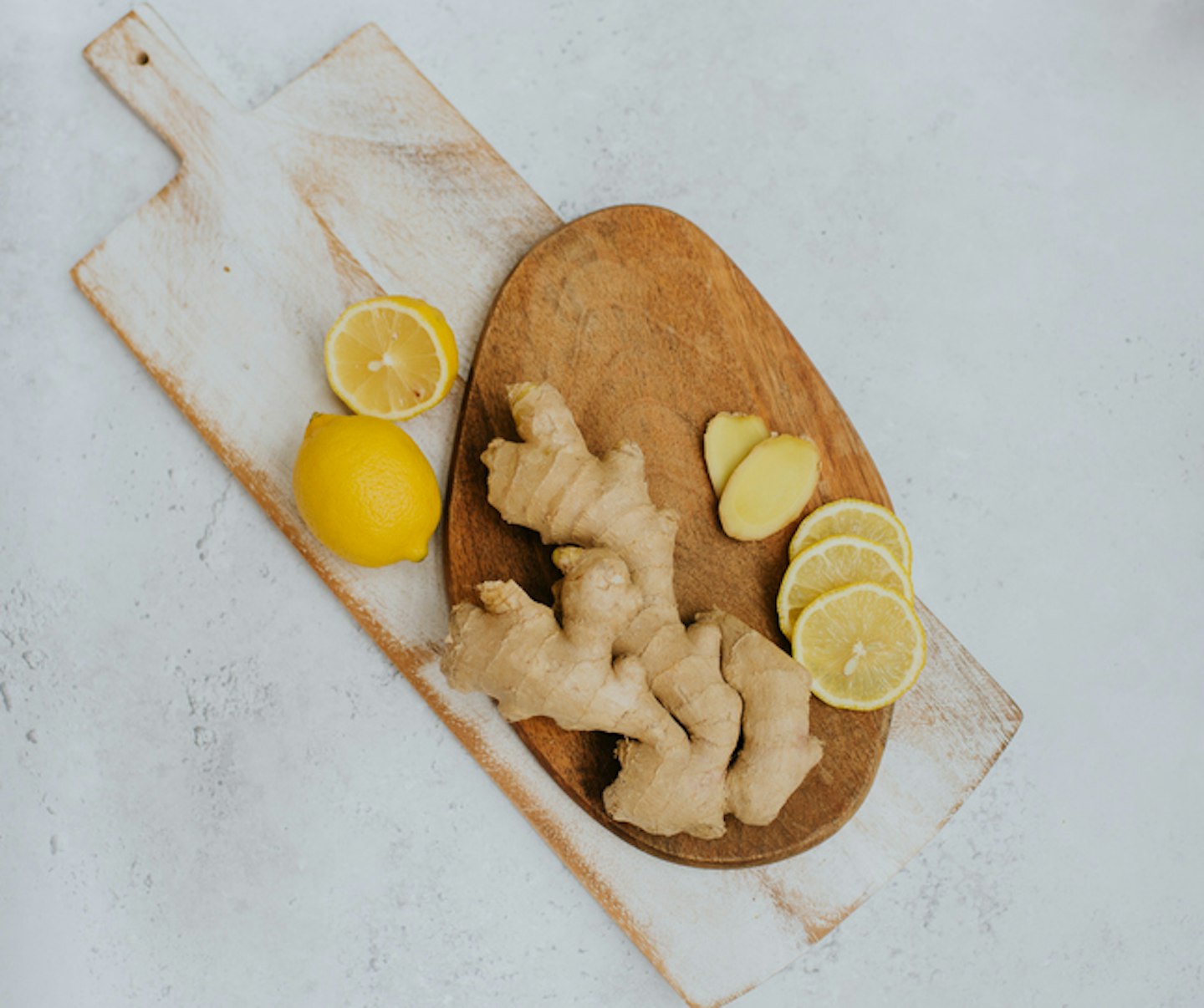 What are the best vitamins and minerals for maintaining skin elasticity and reducing signs of ageing?
Simoné starts by telling us that your skin is your biggest organ, so it needs to be nourished like all your internal organs. "Skin is often referred to as the third kidney because, for example, whatever the liver doesn't want, it dumps onto the kidneys and what the kidneys can't handle, it will dump into the skin!"
"In terms of vitamins and minerals, you should be looking for the likes of Vitamin A, C and E, Zinc, and selenium, which all have great skin-supporting qualities. For mature skin, or to reduce signs of ageing, add in curcumin, collagen, theanine and the likes of rhodiola and astragalus."
I always recommend WelleCo's The Super Elixir as my number one skin-supporting supplement, which is simply a nutritional powerhouse formulated with over 40 vitamins, minerals, whole foods and herbs, and contains some of the most important ingredients for skin health, such as:
Super Greens – these nutritional powerhouses balance the acidity in your skin and the alkalinity in your blood. And when that balance is achieved, your skin holds moisture and your cells function properly, giving you that radiant glow
Horsetail and dandelion – the horsetail herb contains silica, long known to benefit your hair, skin and nails. Dandelion, another herb, promotes healthy liver and digestive function, reducing toxins in the body that would otherwise damage your skin. Good digestive function also prevents breakouts that can develop on your jawline
Aloe Vera Juice – a wonderful overall tonic for the body, from digestive to kidney support
Grape seed extract – a wonderful antioxidant, which therefore acts as a free radical scavenger, reducing internal and external ageing
Prebiotics and probiotics – both supporting digestion and keeping candida at bay, which will help to reduce sugar cravings and have an excellent effect on acne and overall ageing
Plus using a collagen powder, such as The Collagen Elixir, which I formulated with the highest-grade marine collagen peptides from wild-caught fish, together with vitamin C, hyaluronic acid, silica and digestive enzymes, can support skin hydration and elasticity, maintaining skin integrity and structure.
Are there any specific supplements that can help with skin issues like acne or rosacea?
"The main hormones that can cause adult acne are the reproductive hormones, like oestrogen, progesterone and stress hormones such as cortisol, and it can affect both men and women – though it's more common amongst women as it's often tied to menstrual cycle changes, menopause and pregnancy," Simoné tells us.
"One of the first places I start with any skin condition is the gut, and simply helping the body absorb nutrients from your diet makes a tremendous impact, often allowing the body to heal itself. You can also support your gut health by weaving in more prebiotics to your diet, through foods such as sauerkraut, kimchi, kefir, flaxseeds, chia seeds and organic vegetables."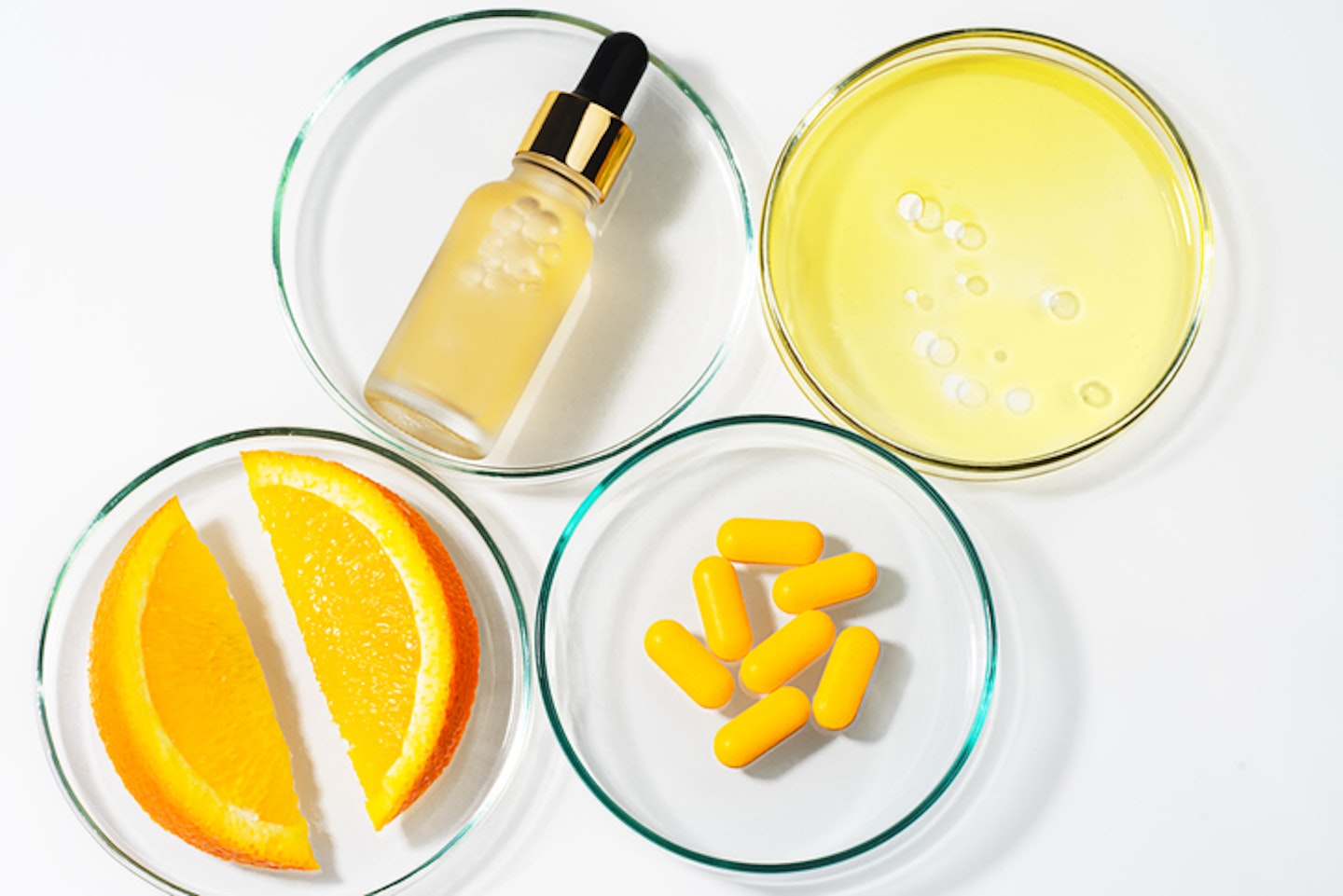 Suggestions for treating menopausal acne or other skin conditions?
"Often, hormonal imbalances are the drivers for blemished skin and acne. Before I use herbs to balance hormones, I balance a client's gut and blood sugar levels. The best diet to balance hormones is a Low GI, Anti-Inflammatory and Whole-Food diet, eating more plants and fewer animal products. This doesn't mean that you need to be vegan, but I would try a pesca-vegan diet for a month to see how you get on.
"Choose a good, clean protein like wild fish to balance your blood sugar levels, organic vegetables and salads, and good foods like avocado, olives, nuts and seeds. Essential fats are high in omega-3 and are also very healing. Try using oils from coconut, avocado, hemp, evening primrose, borage and extra virgin olive oil. These omega-3 oils also help reduce inflammation and support hormone balance.
"If you are vegan, or eat little animal protein, it is vital to get your amino acids each day, so choose a good vegan protein powder, like the Nourishing Protein I formulated for WelleCo. Add in Zinc-rich foods to support wound healing, such as organic eggs and chickpeas, and pumpkin seeds, pine nuts and almonds.
"Vitamin A and C-rich foods are also anti-inflammatory and great for your skin; add berries, kale, spinach, sweet potatoes lemons, limes and carrots to your diet.  With over-farming and environmental toxins, it isn't easy to get all the nutrition you need, so I complement with whole food plant-based supplements, such as The Super Elixir which I formulated for Elle Macpherson and which became the original supplement in the WelleCo collection, or the Rejuv Wellness Sea and Soil Super Greens capsules, providing you with all you need for optimum fuel and functional support."
How long does it typically take to see improvements in skin health after starting a skin supplement regimen?
"We know that it takes three to four weeks to establish significant changes in habits that will affect your health and wellness, but it's important to note that there are, in fact seven pillars of wellness, of which supplementation is just one. The seven pillars of wellness also include nutrition, sleep, mindfulness, movement, body balance and environment, and these pillars have to work in harmony for you to truly heal yourself and feel well – it's unlikely that a supplement will work miracles if the other pillars are all completely unbalanced.
"The body does a great job at healing itself of almost anything when the field (diet) and function are supported – kind of like a car, you need to service the engine and use good, clean energy to get optimum performance! So start from a place of nurture and nourishment, instead of a harsh detox and cutting everything out, so you can embrace this as a lifestyle change, not some crash diet."
How do skin supplements work?
"Due to their external application, topical skin and beauty products are limited in their ability to deliver long-term changes to the way that we look and feel, and that's where "ingestible beauty" – or supplements – can really come into their own, boosting what our body is currently lacking and keeping it all topped up as you age", says Simoné.
"This is backed by research, which shows promising evidence that using potent ingestible supplements really can support your beauty and body goals, whether you're seeking a more radiant complexion, fewer signs of ageing, or to tackle an issue such as acne.
"Of course, just as with topical skincare, supplements are only as effective as their formula allows them to be, which means that not all ingestible beauty is created equal. Choose your products wisely, and be prepared to commit, as consistency is key to getting results."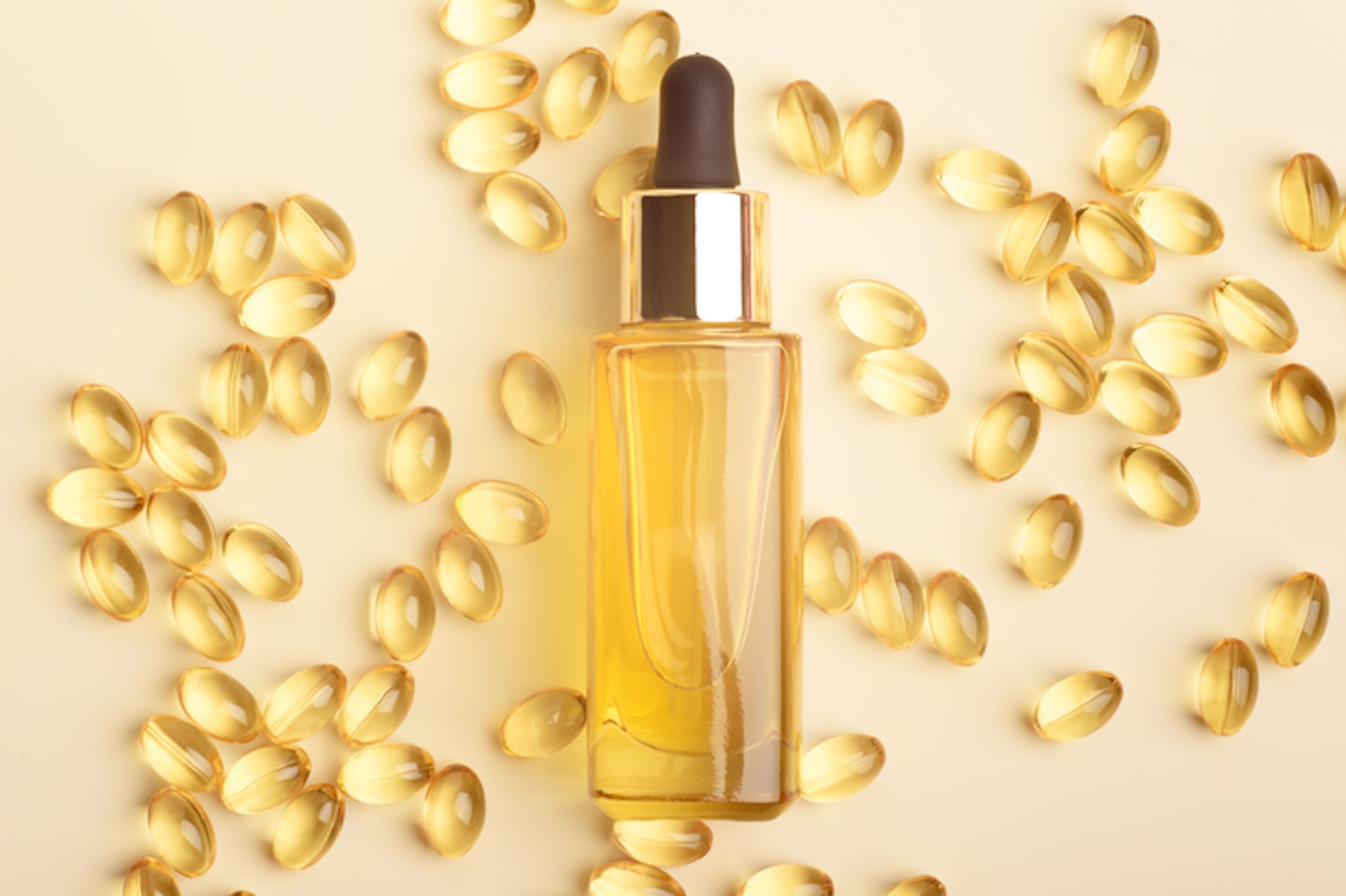 Does Simoné have any natural beauty tips for ageing skin?
Support your digestive system, which in turn helps your body to heal itself – chew each mouthful 20 times, eat more warm foods, boost your vegetable intake to improve your prebiotic culture, eat foods naturally high in probiotics like sauerkraut, organic kefir, kimchi and boost your anti-virals and anti-bacterial with foods like pumpkin seeds, garlic, ginger, cayenne, lemon, grapefruit and cloves
Balance your hormones with a Low GI diet, enjoying good, clean protein like wild fish, organic vegetables, and good fats like avocado, olives and coconut, hemp and extra virgin oil
Hydrate – many are simply dehydrated and try to drink enough, but might not be absorbing the water. I love to use infused waters to improve your hydration at a cellular level, marrying in lemon, lime, ginger, cinnamon and fresh mint leaves. This will also help flush out your kidneys!
Open your detox pathways – doing the above is a great start, but to further support this process, cardiovascular exercise to vasodilate your arteries is terrific. The increased blood flow supports an abundance of nutrients to be delivered to the cell and toxins removed. Skin brushing is also excellent for improving lymph flow and constantly moving from your feet towards your heart!
Let your skin sweat – thus removing toxins, bacteria and even heavy metals. It's a great way to reduce inflammation but always make sure you wash your skin, especially before exercise, as you don't want any dirt or makeup to block your pores. Don't forget that when you use a sauna, a cold shower is best afterwards, opting for an organic body wash so that you remove all toxins, and none are reabsorbed when you cool down.
Manage stress – living under high stress increases inflammation, reducing the body's ability to heal itself, including that healing blood flow to your skin.
Get your beauty sleep – during deep sleep, blood flow is increased to your skin-supporting healing, repair and collagen production, facilitating repair and reducing wrinkles and age spots. Also, deep sleep supports growth hormone release, which creates new cells that help heal any damaged skin cells.
Feed your face – ageing, age spots and slow wound healing are due to a lack of. Vitamins, minerals and antioxidants. When your body has the tools it needs to deal with free radicals, the mitochondria in the cell can flourish, which slows down ageing. Eating a diet with more living plants is vital over a junk, or high animal protein base.
Meet the expert:
This article contains expert advice from Dr Simoné Laubscher, WelleCo formulator and founder of Rejuv Wellness. We've made sure to review and evaluate each supplement we have recommended with the help of expert professionals. Always speak with a healthcare professional before starting a new supplement regime. This will ensure that the supplement is appropriate to you, that you're taking the right dosage for your individual needs, and to ensure it doesn't interact with prescription or over-the-counter medications you mayspecialising
Ellen Kinsey is a senior health and wellness product writer for Yours, specialising in natural health and beauty. She lives and breathes all things food, travel and wellness.