If you are looking to invest in your wellbeing and ways to enhance your natural beauty from within - here are the very best collagen supplements. Collagen products are not limited to rejuvenating your skin, however. They can be extremely effective in providing a holistic approach to supporting your wellbeing and ensuring you feel your best from the inside out. If you are wondering what collagen does - it is a crucial protein that supports our joints, bones, nails and hair and serves as our bodies' structural foundation. Consistency is key when it comes to taking collagen - as with any of the best supplements. To achieve lasting effects, a simple way we like to incorporate them into your routine is by adding a scoop to your morning hot beverage or smoothie. So let's get into it:
Collagen has many benefits and is among the best supplements for perimenopause and menopause due to its connection with hormonal changes experienced during this phase. As we age, our estrogen levels decrease and, in turn, collagen levels naturally decline, impacting our strength, health, and vitality. This depletion reduces skin elasticity and may cause joint discomfort and slower injury recovery. Research demonstrates that high-quality collagen supplements containing hydrolysed collagen peptides can be absorbed by the body, stimulating natural collagen production in the skin's fibroblasts. So what does this actually mean? Well, this means that collagen supplements can help alleviate symptoms associated with skin ageing and maintain bone density, which is particularly important considering the increased prevalence of osteoporosis during menopause.
The best collagen supplements at a glance:
• Best overall collagen supplement: Ancient + Brave Bovine Collagen 200g - view on Amazon UK
• Best collagen capsule supplement: Ingenious Beauty Ultimate Collagen+ Marine Capsules - view on Amazon UK
• Best collagen supplement for beauty: JS Health Vitality X + Collagen - view on JS Health Vitamins
• Best vegan collagen supplement alternative: NOW Foods L-Proline Supplement - view on Amazon UK
These natural powdered supplements are derived from animal sources, such as bovine collagen from cows or marine collagen from fish. These powders stimulate the body's collagen production and offer many benefits. However, choosing clean and sustainable sources is vital to ensure it is truly high quality and effective.
We had the opportunity to speak with Jo Woodhurst, Head of Nutrition at Ancient + Brave, who provided us valuable insights into selecting the best collagen supplements and answered questions about the benefits of collagen, options for vegan individuals and more. Read on below to find Jo's expertise. With this knowledge in mind, here is our curated selection of the finest collagen supplements to help you find one tailored to your needs.
Disclaimer: Always talk to your GP before starting a new supplement regime.
Best collagen supplements
Best overall collagen supplement
Description
Ancient +Brave's award-winning blends are clean, effective and made from the highest quality
Pros
Clean ingredients made from grass-fed bovine collagen powder
Tasteless and odourless
The cows have been raised naturally without hormones, antibiotics, chemicals, or GMOs. 
5000mg per Serving
Made from type 1 grass-fed bovine collagen
Cons
Not suitable for vegetarians or vegans
Best affordable collagen
Description
Available in a range of different forms including supplement tablets and powder form to add to
Pros
Affordable
Skin hydrating
Unflavoured
Easy to swallow
Cons
Three tablets per day
Not suitable for vegans or vegetarians
Best hot drinks collagen supplement
Description
Treat yourself to the delectable blend of Peruvian raw cacao and hydrolysed collagen peptides in
Pros
Adaptable and versatile
Great flavour
Organic and high-quality ingredients
All of the ingredients are certified by the Soil Association
Cons
Not suitable for vegetarians or vegans
Best collagen marine capsule supplement
Description
These innovative capsules, scientifically tested through double-blind placebo-controlled trials,
Pros
The capsules release collagen in the small intestine for optimal absorption
Double-blind placebo-controlled trials support the efficacy of these capsules
Trusted brand with an independent trial
Cons
You have to take three capsules on an empty stomach, preferably before bed, which may not be convenient for everyone
Best bovine collagen capsule supplement
Description
HUM Nutrition's beliefs are that self-care and skin care begin from within, and their collagen
Pros
A blend with Collagen 1 and 3
The capsule form of convenience
It contains chondroitin sulphate and moisturising hyaluronic acid
Cons
Not suitable for vegetarians or vegans.
Only 30 day supply
Best marine collagen supplement
Description
This is the collagen supplement Jennifer Aniston praises for her youthful-looking skin. Designed
Pros
Endorsement by Jennifer Aniston
The unflavoured collagen powder can be easily added to various hot or cold beverages.
Vital Proteins offers different sizes, forms, and flavours
Cons
Not suitable for vegetarians or vegans.
Best collagen supplement for beauty
Description
Vitality X + Collagen's specially formulated ingredients feature peptan hydrolysed marine collagen
Pros
Added nutrients for a boost
High-quality ingredients
Includes L-Glutamine for digestion
Uses Marine Collagen (primarily Type 1 collagen)
Cons
Not suitable for vegetarians or vegans
Best vegan collagen supplement alternative
Description
In the same vein as collagen supplements - L-Proline is a major amino acid in cartilage. It is
Pros
L-Proline, an essential amino acid in this supplement, aids in the body's collagen production,
Suitable for vegetarians or vegans.
Highly-rated
Cons
Not strictly a collagen product
Best collagen supplement with Vitamin C
Description
These hydrolysed collagen peptides powder from Love Life Supplements deliver exceptional quality
Pros
Unflavoured, clean and high-quality ingredients
Includes Vitamin C
Excellent value
Cons
Not suitable for vegetarians or vegans
Best liquid collagen supplement
Description
For those who prefer liquid supplements, this collagen liquid stands out. With just one tablespoon
Pros
Convenient liquid form
This collagen drink requires only one tablespoon a day for a potent dose
Antioxidant-rich blend
It does not contain artificial flavours
Provides Collagen Type 1 and 3
Cons
Not suitable for vegetarians or vegans
Best collagen creamer
Description
US import Dose & Co is a celebrity-loved brand favoured even by the Kardashians. With this popular
Pros
It has a dairy-free collagen creamer
The creamer can be easily stirred into various food and drink options, including yoghurt, ice cream, porridge, and more
It has plain collagen too
Cons
Not suitable for vegetarians or vegans
Best collagen liquid supplement for vegans
Description
If you are plant-based, you, too, can reap the benefits of vegan collagen with this skin-enhancing
Pros
Plant-based approach to supporting collagen production
The blend contains organic maqui berry, acai, papaya, blueberry, goji berry, pomegranate powders, grape seed extract, zinc, and vitamin C
Free from sugar and artificial additives
Cons
Not suitable for vegetarians or vegans
Best vegan collagen liquid supplement for skin
Description
Whether you are plant-based on are looking for a potent skin supplement to take on the go - the
Pros
Plant-based approach to supporting collagen production
Delicious flavour
Sachet form is easy to take on the go
Cons
It is not recommended to take a supplement with ginseng if you have an auto-immune condition.
Buyer's guide to collagen supplements
What are the different types of collagen?
There are three main types of collagen: type one is the most common type of collagen – found in skin, bone, teeth, tendon, ligaments, vascular ligature, and organs. Type two is usually found in cartilage. Then type three is in the skin, muscle, and blood vessels.
As mentioned above, we had the opportunity to speak with Jo Woodhurst, Head of Nutrition at Ancient + Brave, who answered our questions about the benefits of collagen:
What are the benefits of taking collagen supplements?
When we spoke to Jo, she told us that collagen is one of the main proteins and much like structural scaffolding, it keeps everything held together, keeping us strong, healthy and vital. Jo says, "as well as factors such as UV exposure, diet and smoking, as we age, our collagen levels naturally decline."
As we move past roughly 40 years old, it is thought that collagen depletes faster than our body can produce it. Whilst this is happening, we might notice changes in our body, like a downturn in our skin's elasticity, joint pain, or we feel like we're more prone to injury and less likely to bounce back like we once did."
Jo mentions that studies show that supplementing hydrolysed collagen peptides can combat collagen depletion, improve skin elasticity and hydration, support joint repair and preserving our bone density. "Collagen peptides stimulate your body's production of this nourishing protein at a cellular level providing you with whole-body benefits."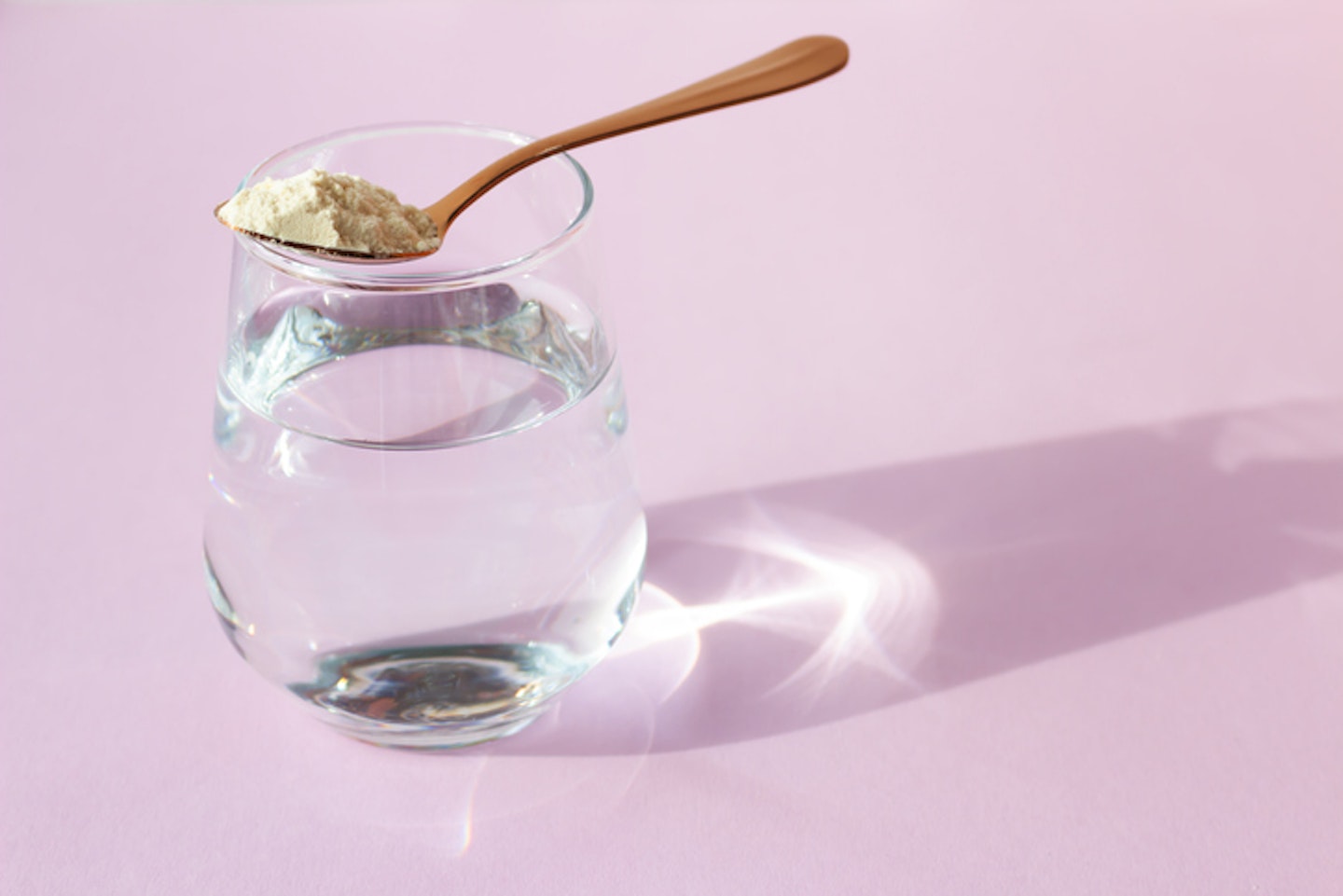 What are collagen supplements made from?
"Collagen is an animal-derived protein, which may initially give some of you the 'ick', but it is worth remembering that collagen has been part of our ancestors' diet for thousands of years," says Jo. "Only now do we have it in an easy-to-use (and thanks to Ancient + Brave True Collagen) tasteless, odourless form."
Collagen comes from bones, and the most popular choices are collagen derived from cows, commonly known as bovine collagen, and collagen derived from fish, called marine collagen. Whichever you choose, it is important that both of these sources are clean and have traceability - states Jo.
"Just like all products in the wellness market, not all collagen is created equal. Finding a high-quality supplement that delivers results while ticking the boxes for sustainability is key."
Why is collagen good for perimenopause and menopause?
"Many of the symptoms we experience throughout the menopause journey are, of course, related to the flux and change in our hormone levels," Jo states. "As collagen is closely linked to oestrogen levels when oestrogen drops, so does collagen formation." This means that collagen should be on your radar when it comes to menopause supplements.
"This happens relatively quickly, with studies showing up to 30 per cent of dermal collagen lost in the first five years after the menopause and continuing at a rate of 2 per cent loss per year.
"This means it is important within this time to reduce things that decrease levels or break down collagen fibres further, such as smoking, poor nutrition, inflammatory foods, stress, and poor hydration.
"On top of this, research is showing that high-quality collagen supplements, which contain hydrolysed collagen peptide, are absorbed by the body and travel to your skin's fibroblasts, which leads to enhanced natural collagen production - helping your skin offset some of those symptoms we see. Collagen is a huge component in our bone health too, and as osteoporosis is so prevalent in menopausal women, we should be looking to protect our bone density too. In addition to that, the best vitamin D supplements can also contribute to strong bones and muscles, as without Vitamin D, our bodies cannot effectively absorb calcium, which is essential to adequate bone health."
Can there be vegan collagen supplements?
We always try to be inclusive in our product roundups, ensuring there is an option for different dietary requirements. However, unfortunately, it is important to note that there is no such thing as vegan collagen. Here is Jo's explanation:
"Plants don't naturally make collagen. However, new technology is seeing some lab-created vegan collagen come to market. At Ancient + Brave, however, our groundbreaking vegan Collygyn collection looks to provide the body with the building blocks it needs to create its own collagen, such as the plant-based key amino acids glycine, proline, hydroxyproline, arginine and alanine alongside some nutrient cofactors required for collagen production, such as Vitamin C and antioxidant-rich botanicals."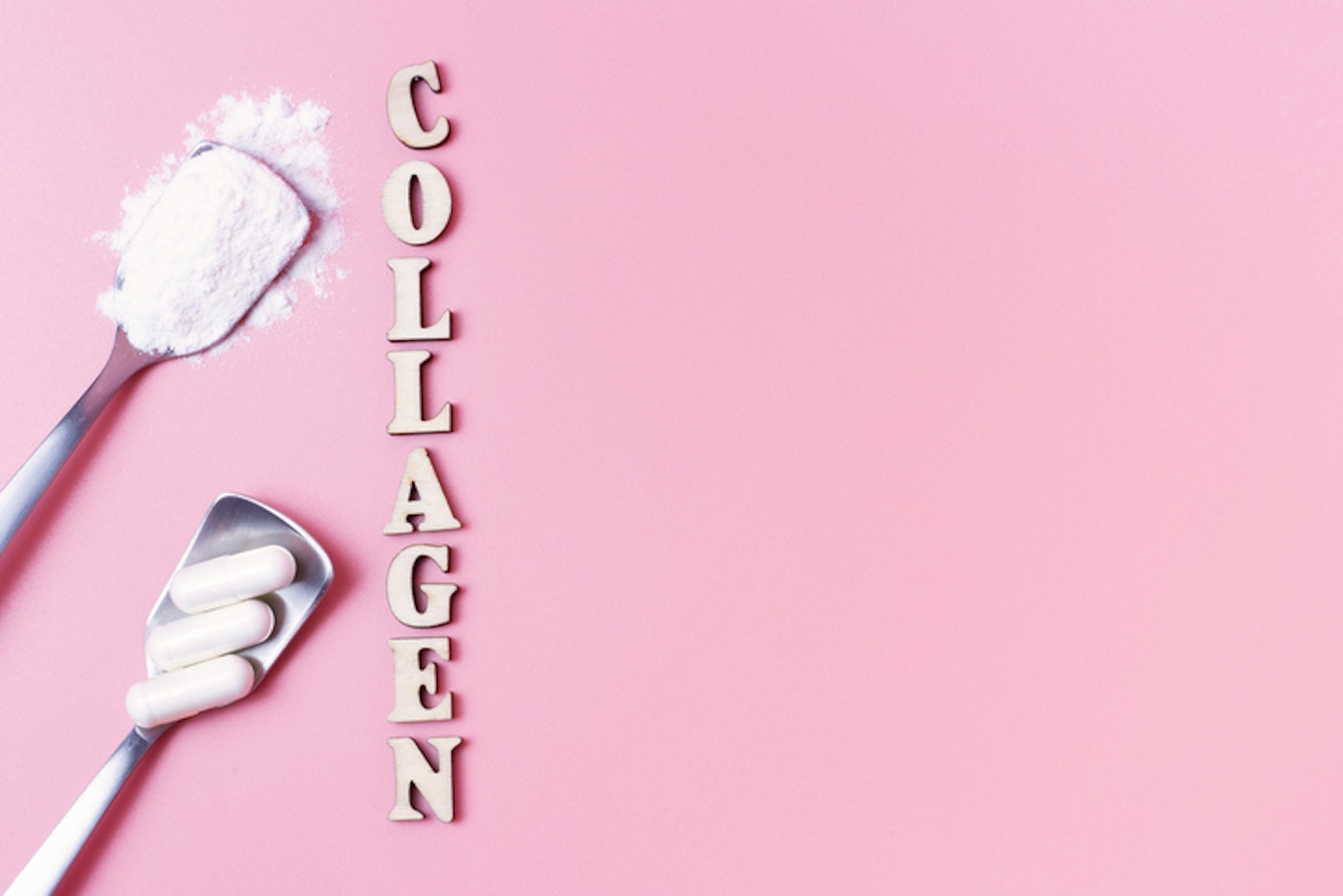 What is the best way to take collagen supplements?
Here is Jo's suggestion: "Taking collagen consistently is key, as the effects will become more sustainable with regular use. Therefore, the best way to take collagen supplements is by attaching this new habit to an existing one, such as adding a scoop to your morning hot cuppa."
How to tell if it is good-quality collagen?
When compiling the best collagen list, we ensured to take note of Jo's suggestions and ingredients to be wary of to ensure only the highest-quality and highest-rated supplements were listed. Here are a few things to take heed of when navigating the world of supplements and powders:
"Whilst we see the potential benefits of some formulations out there, which include extra 'collagen boosting' nutrients, a concerning issue in some collagen products is the use of artificial flavours, sugars and fillers, which can greatly reduce the benefit of taking the powder in the first place", states Jo. "On top of this, some of these substances can be harmful for our gut health."
"Another huge benefit of collagen peptide supplements is its great safety profile. Hydrolysed collagen peptides have been regarded as safe by the European Food Safety Authority and so far have no known drug−nutrient interactions."
When should collagen not be taken?
It's always important to consult a healthcare professional before starting any new supplement regimen to ensure it's appropriate for you or any medication you may be on - Jo elaborates on this:
"Due to the severity of the disease, we do urge caution around cancer and breast cancer diagnosis, however. Research is lacking on the effects of collagen supplementation during cancer treatment. So, as with any other supplements, it is advised to speak to your personal health professional during these instances."
Additionally, if you are a fan of Liz Earl, she interviewed Ancient and Brave's head of nutrition, Jo, on her podcast.
Meet the expert:
This article contains expert advice from Jo Woodhurst, Head of Nutrition at Ancient + Brave. We've made sure to review and evaluate each supplement we have recommended with the help of expert professionals. Always speak with a healthcare professional before starting a new supplement regime. This will ensure that the supplement is appropriate to you, that you're taking the right dosage for your individual needs and to ensure it doesn't interact with prescription or over-the-counter medications you may be taking.
Ellen Kinsey is a senior health and wellness product writer for Yours, specialising in natural health and beauty. She lives and breathes all things food, travel and wellness.