Trying to keep fit at home can be tricky, but it couldn't be easier with pedal exercisers. This portable piece of kit allows you to multitask and is perfect for fitting some cardiovascular exercise into your day. You can use a pedal exerciser to work your legs or work your arms if you set them up on a surface in front of you.
A pedal exerciser can be used at your desk while working from home, or on the sofa watching your favourite programme on TV. Compared to other at-home fitness equipment, pedal exercisers are versatile, affordable and don't take up too much space.
How effective are pedal exercisers?
A pedal exerciser is a great tool for keeping fit and maintaining an active lifestyle. The low impact exercise can help reduce the risk of arthritis by keeping your joints healthy. It can increase strength and muscle tone, with upper and lower body exercises available.
As well as this, the pedalling motion can help improve blood circulation and be used gently to help rehabilitate from any injuries. Not only that, but exercise can help to increase your overall mood as it gets endorphins going.
Key features to look for in pedal exercisers
Resistance adjustment
On a standard pedal exerciser, you can adjust the resistance of your workout using friction. Magnetic resistance may be available on more expensive machines. The magnetic resistance is quieter which means the bike requires less maintenance. However, this is not recommended if you use a pacemaker.
Display
You want to have a bike with a clear display to track your exercise performance. A large, clear and easy-to-navigate screen is ideal. However, what the screen shows can definitely differ from model to model so be sure that you're comfortable with the display beforehand.
Pedals
For optimal comfort and stability, look for non-slip pedals with grips that will keep your feet in place as you cycle. There's nothing worse than your fit slipping out of the pedals whenever you move your feet.
Collapsible design
Most pedal exercisers are compact, but if you're really low on space or prefer to keep your exercise equipment tucked away, foldable exercisers might be a better option for you.
Best Pedal Exercisers for 2022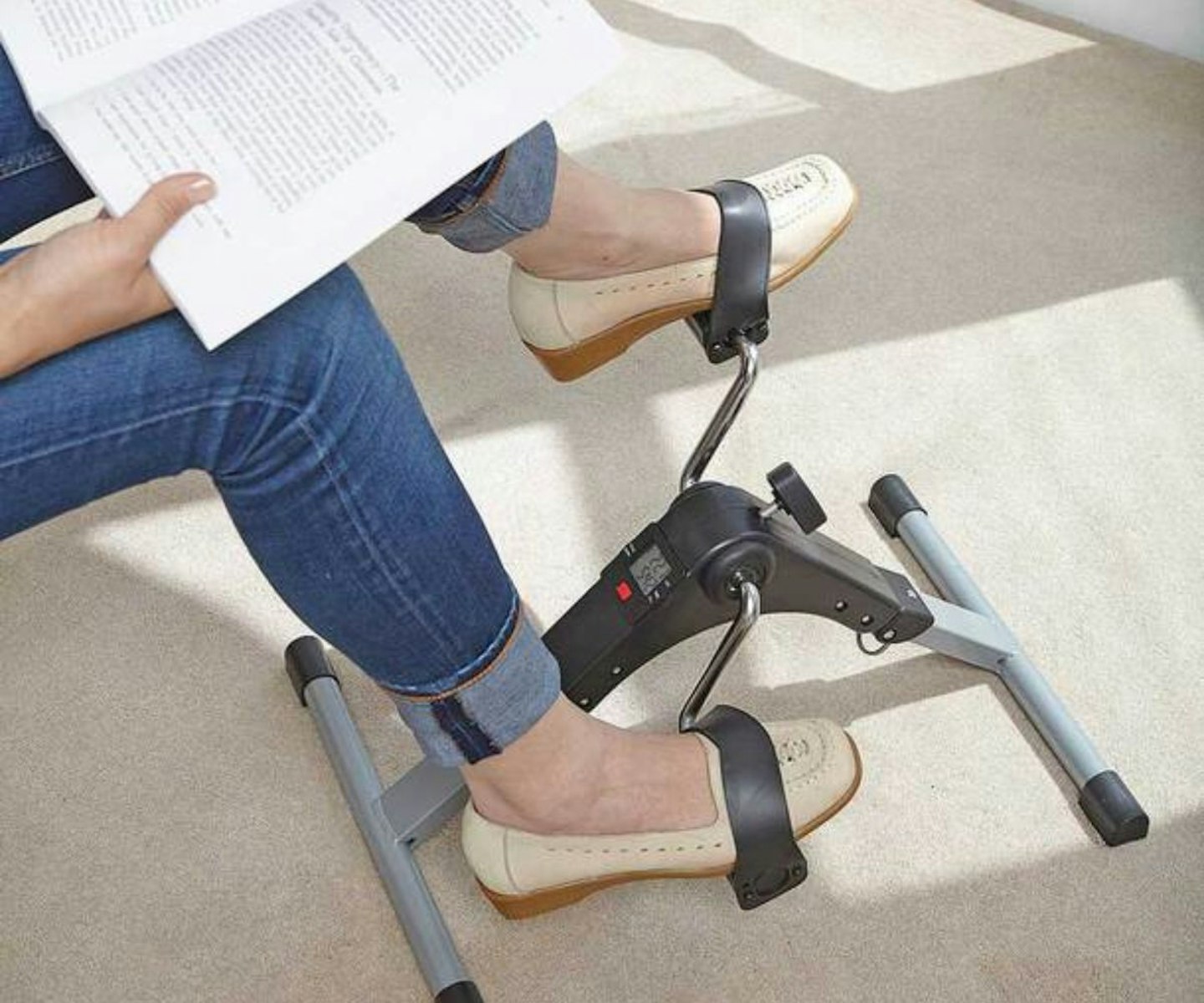 1 of 9
Easylife Portable Pedal Exerciser
Yours Recommends
This best-selling pedal exerciser is an ideal way to help keep active at home. Use it as a bike to exercise your lower body, or on a table, hand-cranking the pedals to exercise your arms. Adjust the resistance by simply turning the black knob and use the clear LCD screen display to track your time, the number of revolutions and calories burned in your workout.
Specifications:
L47 x H37 x W25cm
Lightweight steel frame
Non-slip rubber feet
Pros:
• Adjustable resistance
• Folds away for easy storage
• Clear LCD screen
Cons:
• Delivery may take a while
Review: "Husband has rheumatoid arthritis, so can't walk far, but using this daily is helping him have gentle exercise. He's already noticed his knees are strengthening."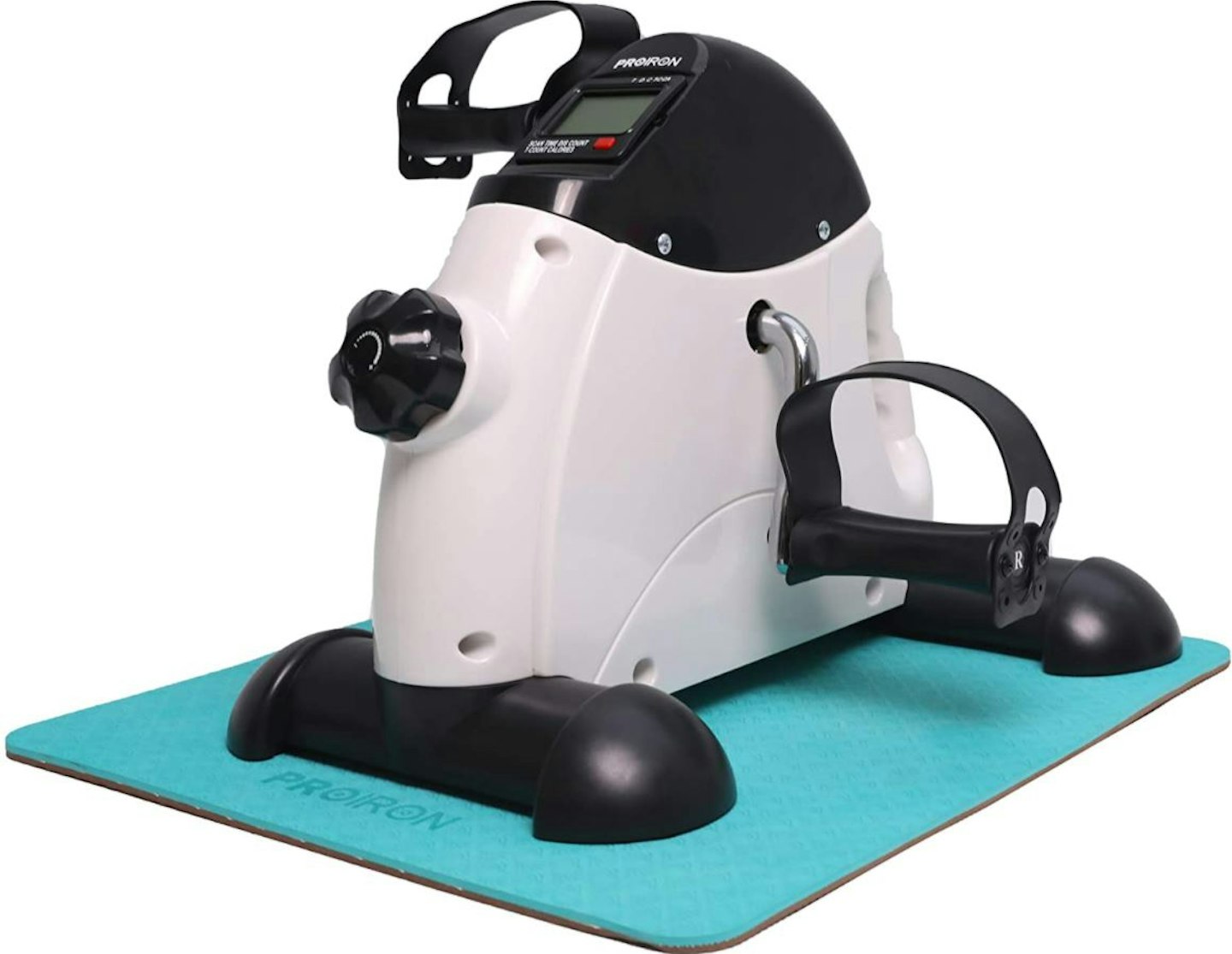 2 of 9
PROIRON Pedal Exerciser
With a built-in carry handle, this pedal exerciser is great for portability around your home. The durable steel frame comes with an LCD screen displaying time, total cycles, distance and calories burned, all at the touch of a button. Operate the pedals forward or backwards and adjust the resistance to meet your needs, offering a range of workout variations for you.
Specifications:
L40 x H35 x W30cm
One-touch multi-function LCD display
Non-slip pedals with adjustable straps
Non-slip rubber feet
Pros:
• Additional TPE mat for anti-slip
• Compact and lightweight
• Built-in carry handle
Cons:
• May make noise
Review: "Really pleased with it! Easy and quick to assemble, just had a bit of trouble screwing the peddles on, but did it in the end. It seems solidly built and I like the mat with it to keep it steady, but it is stable without it. So quiet and a hit with all the family, bought it on the recommendations of a physiotherapist for my husband. We are all very impressed with it!"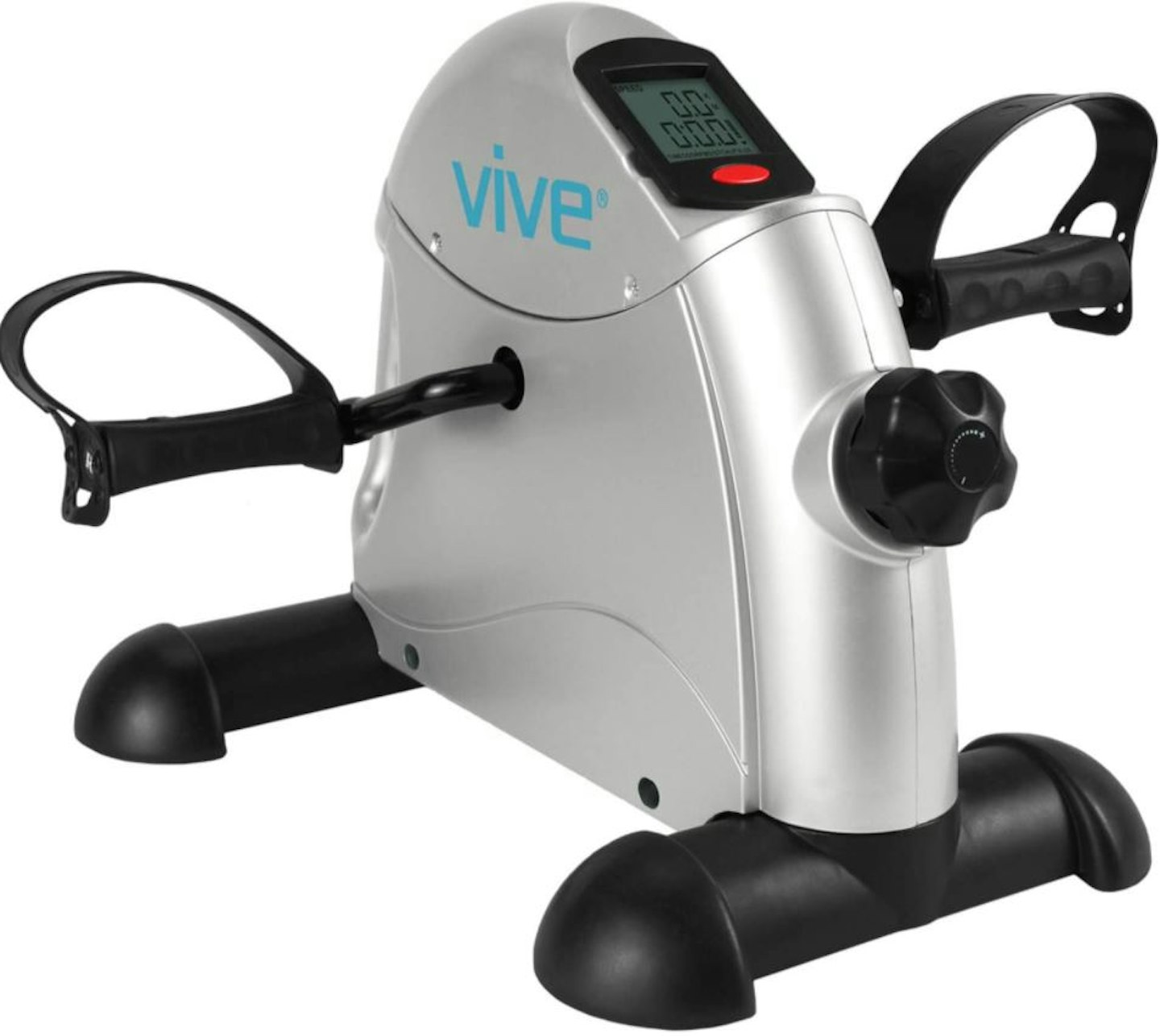 3 of 9
Vive Pedal Exerciser
This convenient design is perfect for fitting discreetly under a table or desk. Customise the resistance and track your RPM, time, speed, distance and calories burned with a touch of a button on the display. It also comes with a workout app to download on your phone to help inspire your workouts.
Specifications:
L16 x H12.5 x W13.75in
Non-slip rubber base
Non-slip rubber pedals with adjustable foot loops
One-touch multifunction LCD display
Pros:
• Adjustable resistance
• Workout app included
• Compact design
Cons:
• Non-slip base may not be as effective
Review: "Love this, used it from day one of receiving. I sit on a proper chair, use while watching TV. Stable on a carpet or rug. Arm exercising really useful too. Small enough not to take up space and could be put away easily."
4 of 9
Cubii Seated Elliptical Trainer in Purple
This elliptical pedal exerciser makes it so easy to use, regardless of your age or fitness level. It's the perfect way to add some movement into your life, whether you're just starting out on your fitness journey, or you simply want to burn extra calories while you're sitting on the sofa or behind your desk.
Specifications:
H58.5 x W30.5 x D24cm
Eight levels of resistance
Multi-function LCD display
1 year guarantee
Pros:
• Easy to use
• Sturdy
• Built-in handle
Cons:
• Heavy
Review: "Rely pleased with my purchase. I use it under my desk when I work from home. Very sturdy. Handle at top handy for moving but it is pretty heavy. It also travels across a laminate floor."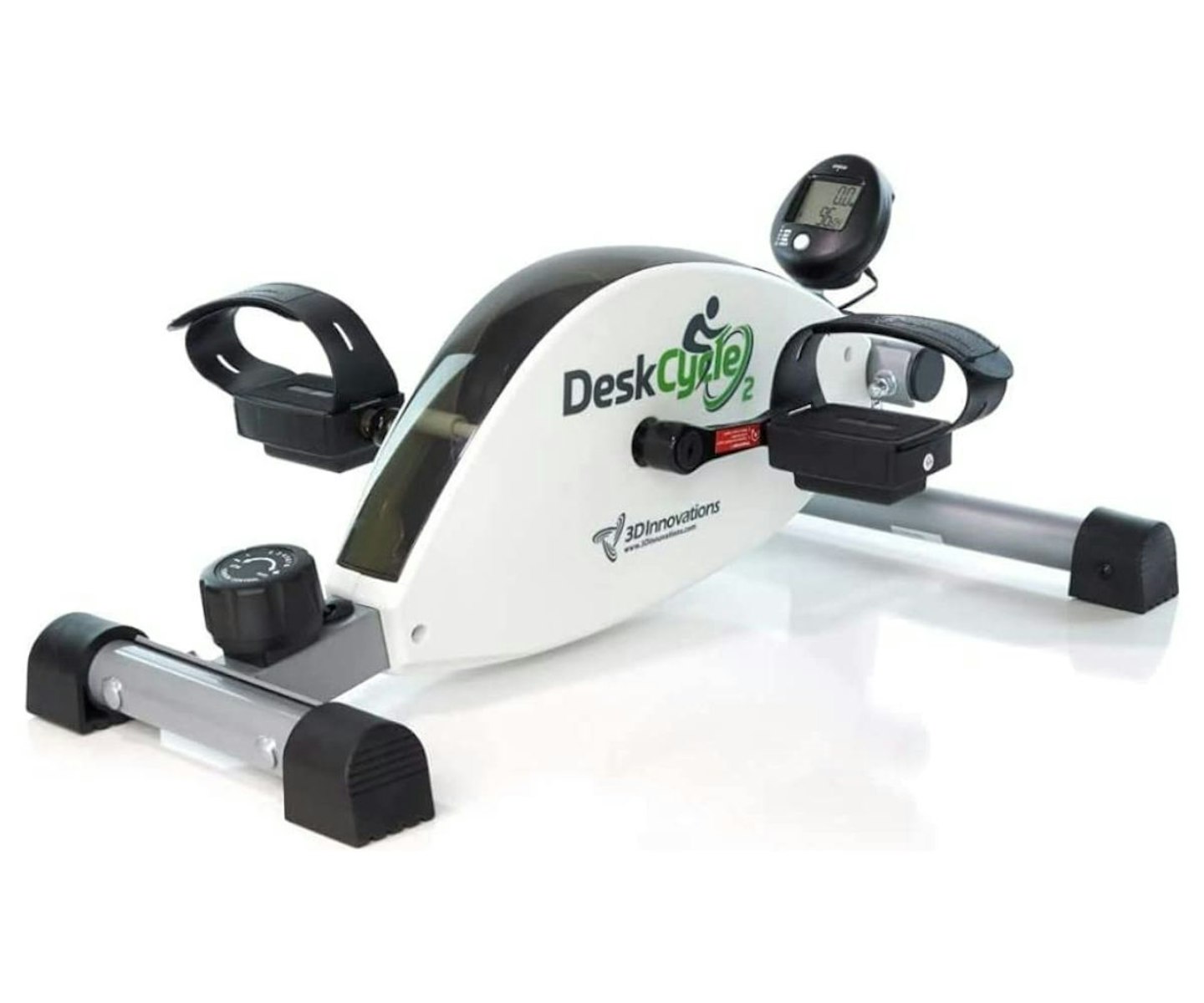 5 of 9
New DeskCycle2 Pedal Exerciser
With magnetic resistance, this pedal exerciser offers really quiet and smooth pedal rotation. It has 8 resistance levels, double that of standard pedal exercisers on the market and with adjustable legs, you can lower the height of the machine to fit into necessary spaces. This display included speed, time, distance and calories burned and a free display extension means you can track your progress from your tabletop. This might be more expensive compared to others on this list, but worth the price if you're looking for that extra performance and quality
Specifications:
L62 x H51 x W31cm
Magnetic resistance
Five function display
Adjustable legs
Non-slip rubber feet
Pros:
• Quiet performance
• Eight resistance levels
• Free display extension
Cons:
• Not recommended for those with a pacemaker
Review: "I usually go swimming regularly but in the winter I wanted to do more exercise indoors. I initially looked for indoor cycling machines but they take up a lot of room. I use this cycle as it is the perfect height for me to use when I am in a reclining sofa. The height is adjustable but I didn't need to change anything. I wanted something with a heavy flywheel so that it would not move whilst I was using it. It looks robust and I hope it will last for a long time. It is very quiet so I can watch TV without it making a noise whilst I'm using it. Very happy so far. I thought the price was reasonable for the quality of the product."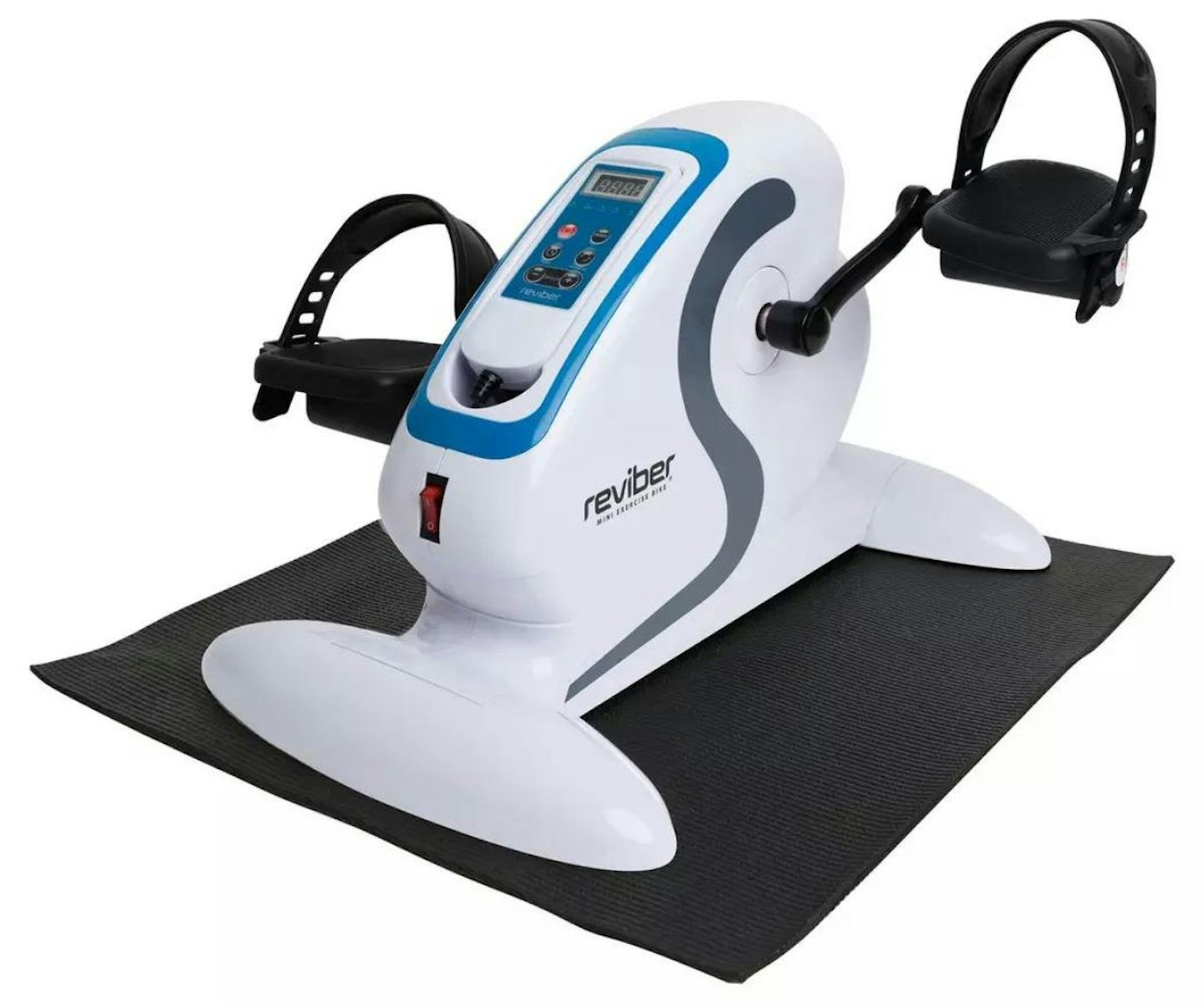 6 of 9
Reviber Mini Motorised Exercise Bike
This pedal exerciser is motorised for low-impact exercise, making it ideal for rehabilitation or for people to looking to maintain or regain physical fitness without putting stress on joints. Mains powered, it comes with a controllable digital screen that displays speed, time, distance, calories and the automated program selection.
Specifications:
L49 x H28 x W30cm
2 year guarantee
5 auto user programmes
Pros:
• No assembly required
• Handheld controller
• Quiet
Cons:
• Self-propelled
Review: "Bought this 5 weeks ago, after having major back surgery, and needed to build up my legs. Does all the work for you, not too heavy, and great remote control features, would recommend."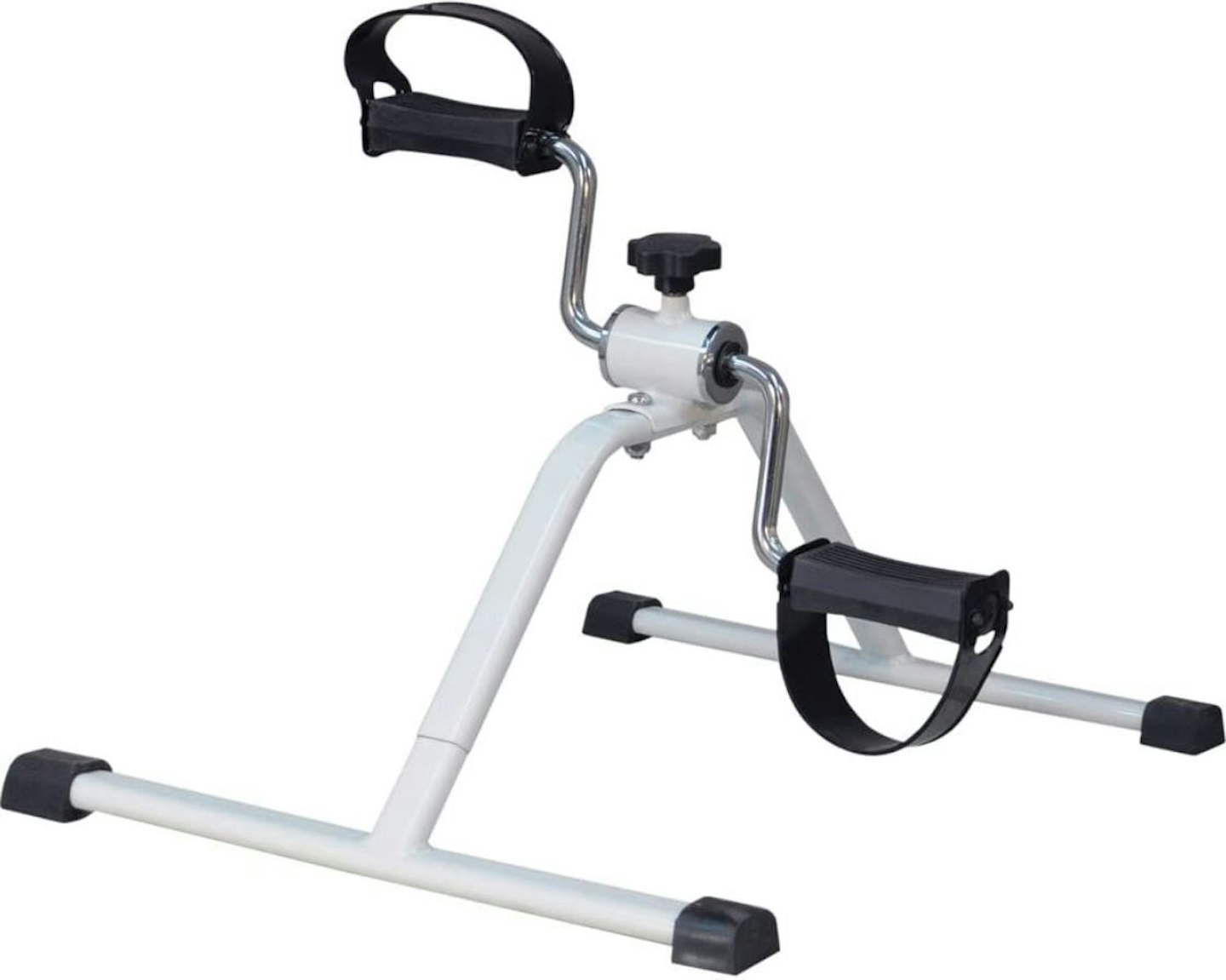 7 of 9
Aidapt Pedal Exerciser
This pedal exerciser is a good solution if you're looking for a low-cost alternative, or if you are rehabilitating from injury - the resistance is slightly more limited than other models on this list. Its compact design means you can store it easily and it's simple to assemble so you can get pedalling in no time.
Specifications:
L28.5 x H50 x W40.5cm
Pros:
• Sturdy
• Compact design
• Affordable
Cons:
• No instructions
Review: "Bought this for my mother, she is 80+ and uses it every day, good exercise and lightweight. Easy to assemble."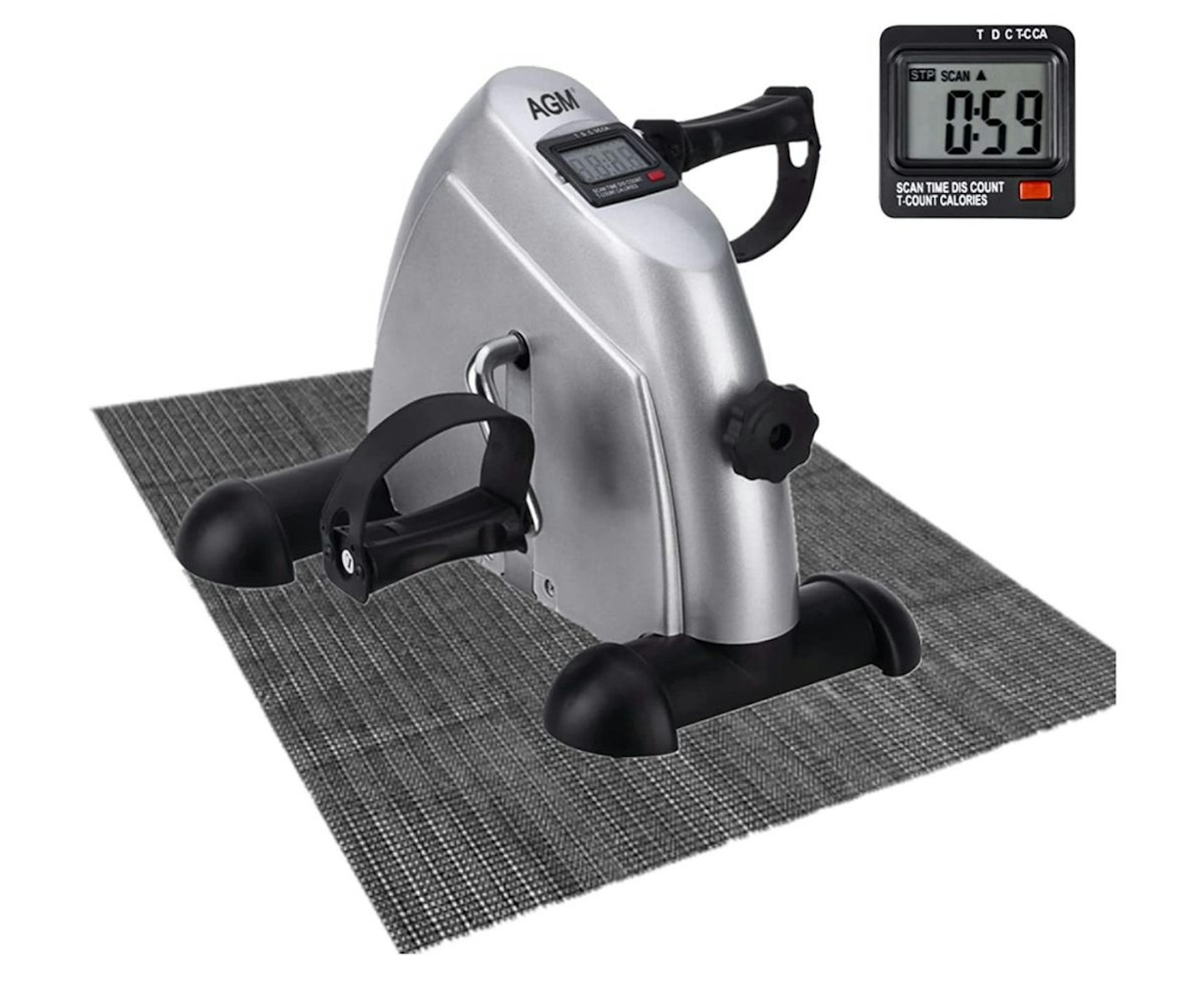 8 of 9
AGM Mini Bike Pedal Machine
The easy-to-use multi-function LCD computer displays exercise time, speed, revolutions per minute, distance and calories burned. The pedals are comfortably designed to suit upper and lower body workouts and the adjustable foot straps make it much more flexible for accommodating users of different sizes. The good, simple design means you can adjust the resistance quickly and efficiently while exercising with the front-facing tension knob.
Specifications:
L40.6 x H32 x W35.1cm
One-touch multi-function LCD display
Hand and foot pedals with adjustable straps
Non-slip feet
Pros:
• Adjustable resistance
• Easy to use
• Sturdy
Cons:
• Small pedals
Review: "I ordered this for my husband who was diagnosed with progressive arthritis of the spine and knees some 3 years ago following the reviews and it has made such a difference to his mobility. He uses it every day since I bought it from his armchair whilst watching TV/reading etc and has truly been remarkable the improvement this exercise equipment has made to his joints such that it has enabled him to walk so much farther with less restriction. I would highly recommend."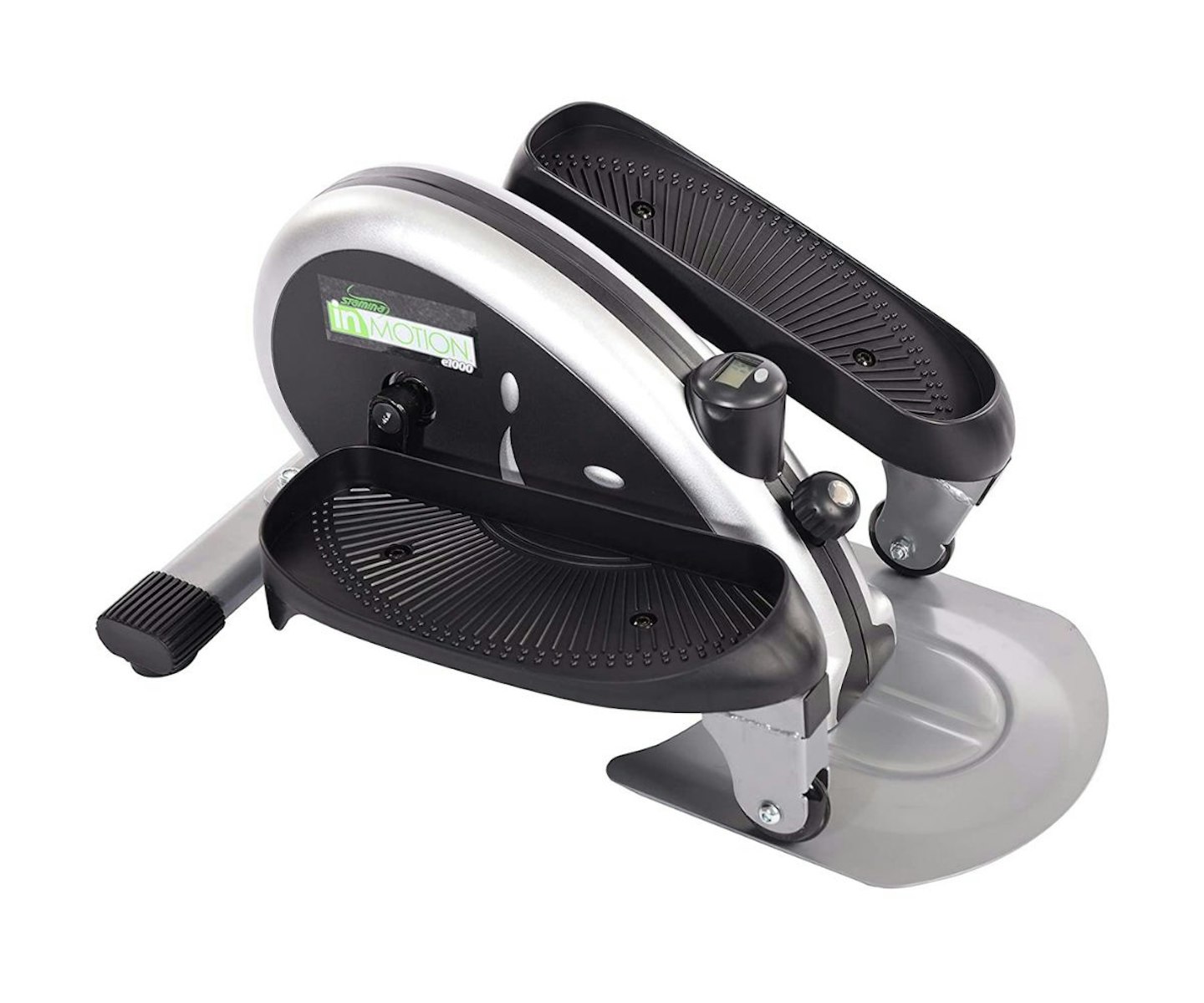 9 of 9
Stamina Inmotion Elliptical
Specifications:
62.2 x 43.2 x 29 cm
Magnetic resistance
Multi-function LCD display
Adjustable tension dial
Textured pedals
Pros:
• Compact
• Lightweight chassis
• Sturdy
Cons:
• Not recommended for those with a pacemaker
Review: "I've been using this as much as I can for a few months ever since I got it and my legs are so toned! I do HIIT cardio standing up, holding onto the back of my workout machine if I need a bit of help balancing and it definitely works you out. If you want to tone you gotta increase the resistance. Pedalling backwards works the glutes!
I also have a bad knee and this is much easier to manage than a treadmill."
Workouts for your pedal exerciser
We would recommend using your exerciser for 30 minutes a day. However, if you're new to exercise bike workouts, it would be worth starting with low resistance and slowly building up to the time and levels.
Using on a table and hand-cranking the pedals can help strengthen and tone your arms, whilst using on the floor can help your hips, thighs and calves.
So, if you're looking for inspiration this 10-minute workout video from Vive Health on Youtube, led by personal trainer, Coach Kim, may be just what you need.