An exercise bike is a brilliant piece of cardio equipment that can help burn calories, while gently strengthening your lower body. Many think the exercise bike is something you just simply hop on and pedal till your heart's content, but there are actually lots of exercise bike workouts you can do to make it more of a challenge and help build up your fitness levels.
Exercise bikes are a popular piece of home gym equipment for working out at home thanks to how compact and affordable they are, with many budget exercise bike options available to buy. In fact, mini exercise bikes have risen in popularity in recent years, and are better suited to smaller homes with limited space. There's also foldable exercise bikes that can store away easily when they're not in use. For under desk use or just to use when watching TV, pedel exercisers provide a brilliant and discreet form of exercise, even if you're at work or in a meeting.
Exercise bike benefits
There are many benefits of an exercise bike workout, from helping you burn calories to strengthening your lower body:
• Great for interval training - this can boost your cardio fitness and help you burn calories more quickly.
• Low impact - this makes it particularly good if you're prone to bad knees and or hips, as it's gentle on your joints.
• Safe and convenient - an exercise bike allows you to workout whatever the weather and is safer than cycling on the road.
• Strengthens lower body - naturally the exercise bike works your calves, hamstrings, quadriceps and glutes, but upping the resistance can make this a tougher lower body workout.
Whether you're looking to lose weight, are a bike beginner or you want to strengthen your lower body muscles, here's some exercise bike workouts you can give a go.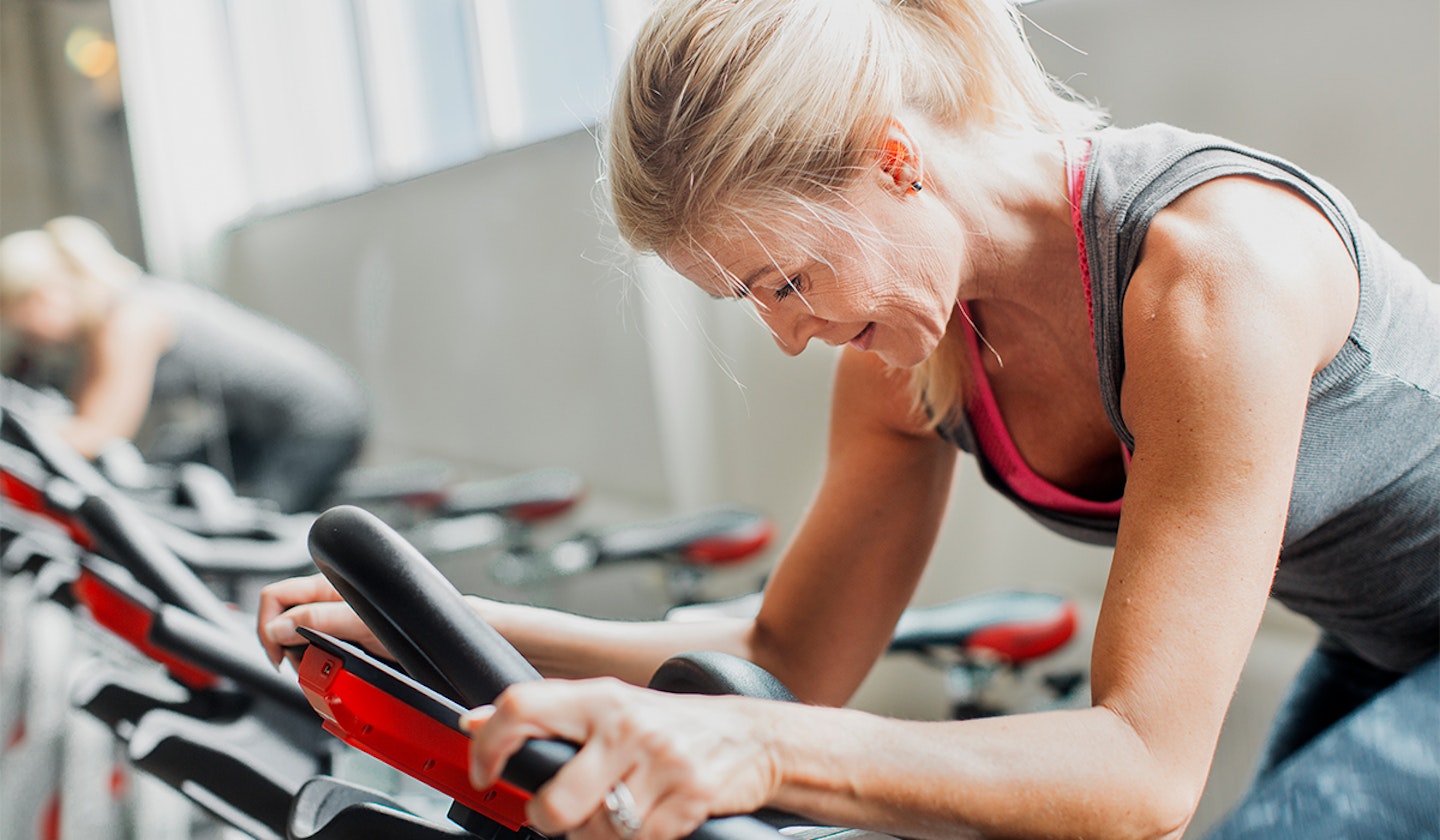 Beginner exercise bike workout
If you're new to the bike and exercise in general, start slowly and gradually increase the intensity and length of time you cycle as you go.
The workout:
• Aim to cycle for 25 to 35 minutes
• Start by cycling for 5 to 10 minutes on a low intensity to warm up your muscles and prevent injury
• Select a medium intensity and cycle for 5 minutes
• Once that five minutes is up, switch to a higher intensity and cycle for 1 to 2 minutes
• Alternate between cycling at a medium intensity for 5 minutes and then a high intensity for 1 to 2 minutes three more times
• Finish by cycling on a low intensity for 5 minutes to cool down
Weight loss exercise bike workout
If your aim is to lose a few pounds and burn the calories then this exercise bike workout which sees you switch resistance levels regularly is a good option.
The workout:
• Warm up cycling for 5 to 10 minutes on a low intensity
• Switch to a medium intensity and aim to cycle between 3 to 5 minutes (it may feel tough but really try to push yourself). Once you've completed this, cycle on a high intensity for 1 to 3 minutes
• Alternate between medium intensity and high intensity for the next 25 to 30 minutes
• Finish by cycling on a low intensity for 5 to 10 minutes to cool down
Interval training exercise bike workout
Made popular by the likes of Joe Wicks, interval training is where you alternate between short periods of working out at a high intensity and then having short periods of recovery. It's good for when you don't have a lot of time on your hands for a really long workout and is great for endurance and weight loss too.
The workout:
• Warm up cycling for 5 to 10 minutes on a low intensity
• Switch to a medium intensity and cycle for 10 minutes
• Once this is complete, switch to a high intensity and cycle for 2 minutes, then a low intensity for 2 minutes
• Repeat switching between cycling at a high and low intensity for at 2 minutes each four more times.
• Finish by cycling on a low intensity for 5 to 10 minutes to cool down
• Overtime, you can try increasing these two minute intervals for a little longer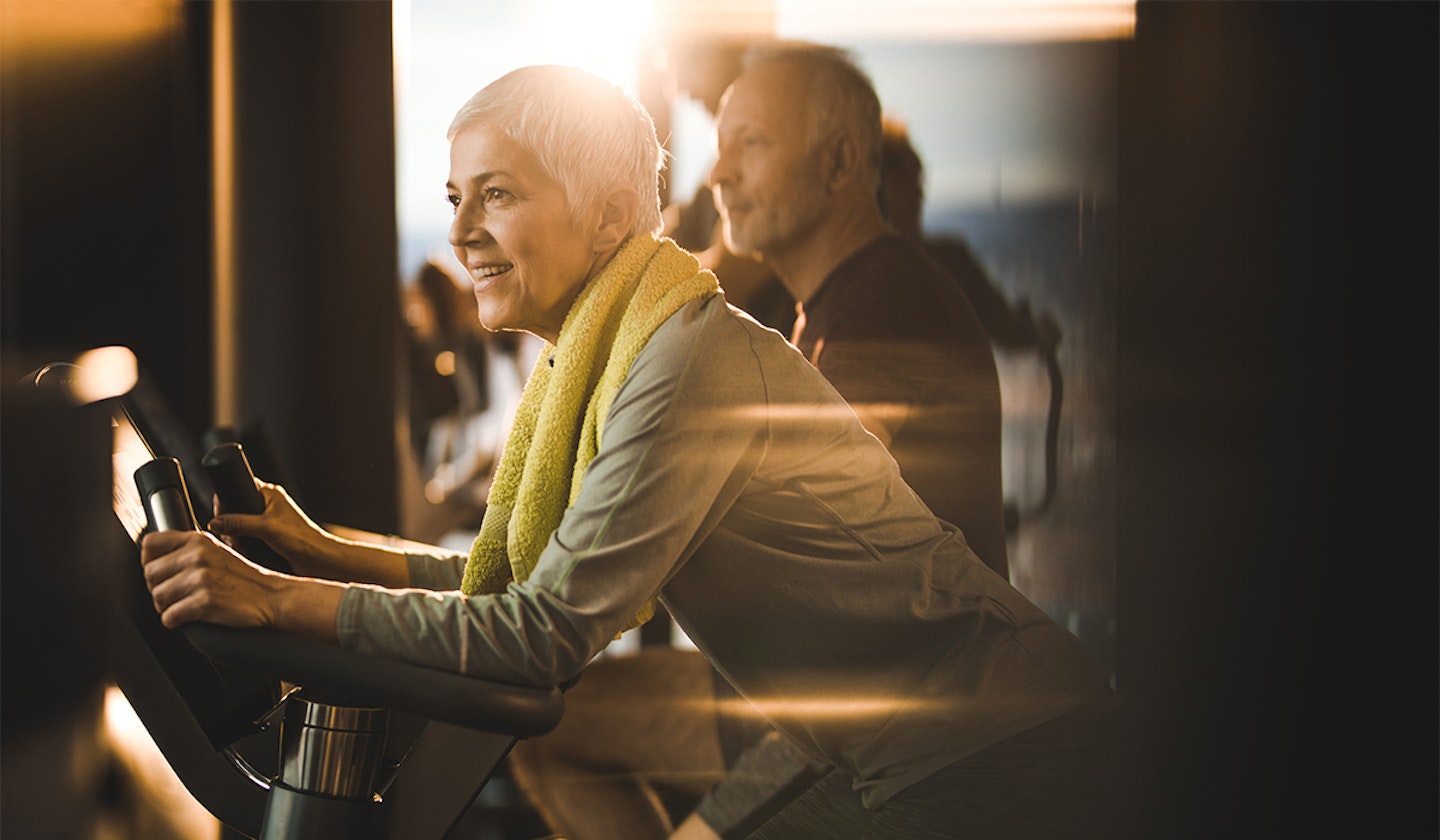 How long do I need to bike for a good workout?
Anywhere between 10 to 30 minutes per day is an ideal workout. If you're a beginner, it's more about building up your stamina and confidence on the bike.
Is 30 minutes of stationary bike the same as 30 minutes of walking?
If you don't have an exercise bike at home, or if you struggle with the motion of biking, you may be wondering if there are any alternatives.
While both walking and cycling have similar benefits in that they work the same muscles, you tend to activate your muscles more when cycling as it requires more force in a similar way to how you have to work harder when walking up hill. If it's your muscles you want to workout, then cycling is the better workout.
If it's burning fat you want to achieve, then walking could be the better workout. According to some studies, walking increased the bodies metabolism better than cycling.
What is the difference between exercise bike and spin bike?
There a a few important differences between exercise bikes and spin bikes. Firstly, spin bikes are designed for more intense exercises and burning calories, while exercise bikes are better for getting your body moving and building stamina.
Resistance: There's often more resistance in a spin bike compared to exercise bikes, as they're designed for more intense workouts
Seating position: Exercise bikes are designed for a more comfortable workout, often with a larger seat for a more low-impact workout. Spin bikes on the other hand have a more upright seating position for standing in the saddle.
Price: Spin bikes tend to have more features making them more expensive, and are a real investment for those wanting a good stationary cycling workout.
To enjoy more regular stories just like this, become a Yours subscriber and become part of our fun and friendly community of like-minded readers.
After previously working at Heart Radio West, Good Housekeeping, Prima and Red magazine, Bryony Firth-Bernard joined the Yours team as a writer. Her hobbies include hitting the weights in the gym and pole fitness (where she gets countless bruises). On the weekend she loves whipping up new recipes in the kitchen and spending time with her friends and family.