Just like a mini exercise bike, an under-desk treadmill, also known as a 'walkpad', is a great way to stay active, especially if you have a pretty sedentary lifestyle. It's important to keep moving, even if it just means quickly exercising your legs on a scenic walk, or doing a couple of easy at-home exercises, as this can lower the risk of health problems such as diabetes, heart disease and forward head posture, caused by hunching over your desk.
Under-desk treadmills are usually small, compact and lightweight, making them easier to move from desk to desk. Some even have wheels on the bottom or fold up, so that you can easily store them away when not in use. However, unlike a normal home treadmill, they're designed for slow pacing so that they're suitable to use whilst working, with most models having a speed range from 0.5 up to 4mph.
In order to live a healthy lifestyle we should aim for at least 150 minutes of exercise a week, between four to five days. An under-desk treadmill is a great way to keep this up, especially if you struggle to get out and about. To help you achieve these health goals, we've found the best under-desk treadmill deals, so that you can keep moving whilst at home, burn calories and improve your cardiovascular fitness.
The best under-desk treadmills 2023
Best compact under-desk treadmill
Description
Whether you want to do some walking or light jogging whilst working, this treadmill has a compact
Pros
Large LED screen for easy viewing
Compact
Sleek design
Low step-on/off safety feature
Best value under-desk treadmill
Description
If you're after a slightly more affordable option, then this folding treadmill from CITYSPORTS
Pros
Decent speed variety — goes up to 6kph
12 workout programmes to choose from
Comes with safety rails
Best inclined under-desk treadmill
Description
This under-desk treadmill has a five-degree incline to make your walk, or jog, that little bit
Pros
Inclined for a harder walk
Sporty design
App-controlled
Cons
Can only go up to 6kph when handrails are up
Expensive
Best under-desk treadmill for speed
Description
If speed is what you're after in your under-desk treadmill, then this one from Bluefin Fitness is
Pros
Speedy
Bluetooth speakers
Comes with safety key feature
Safety handlebars
Best overall under-desk treadmill
Description
This under-desk treadmill comes with everything you want: a sleek design, activity counter, work
Pros
Decent speed
12 workout programmes
Bluetooth speakers
Cons
Reviewers have commented that the distance tracker is a little 'off'
Doesn't come with handlebars
Best foldable under-desk treadmill
Description
As well as getting you moving on your feet more whilst working, under-desk treadmills are a
Pros
Available in black and white
Ligthweight, wheels underneath and folds up for easy storage
Child-lock feature in the app
Step on/off safety feature
Cons
No handlebars
No workout programmes
FAQs
What do I need to consider when buying an under-desk treadmill?
Space: Although an under-desk treadmill is significantly smaller than a regular treadmill, you'll still want to pay attention to its dimensions, shape and whether or not it's foldable (as this will make storing easier). If you're planning to use it underneath your work desk, make sure there's enough room there too.
Speed: The average adult walks at about 3mph. If you're planning to use your treadmill desk to fit in a couple of walks or light jogs, make sure you pick one that has the speed and stability to support this. Most under-desk treadmills don't come with handles to hold onto which can make pacey walks and running difficult to do, although some do.
Other features: Some under-desk treadmills can be controlled via remote controls, apps or by hand, so think about how you'd like to control yours. Some models can be quite noisy too, so if you're working in an office setting you'll most likely want to choose a model that has a quiet belt. Safety features are another common feature on many under-desk treadmills, with many turning off when you step off of it. If this is an important feature to you, then do keep it in mind whilst shopping for one.
Maximum user weight: Understandably, under-desk treadmills can't manage the same weight as a standard treadmill, as they're significantly smaller. Many models have a maximum weight capacity of 100kg (just over 220 lbs).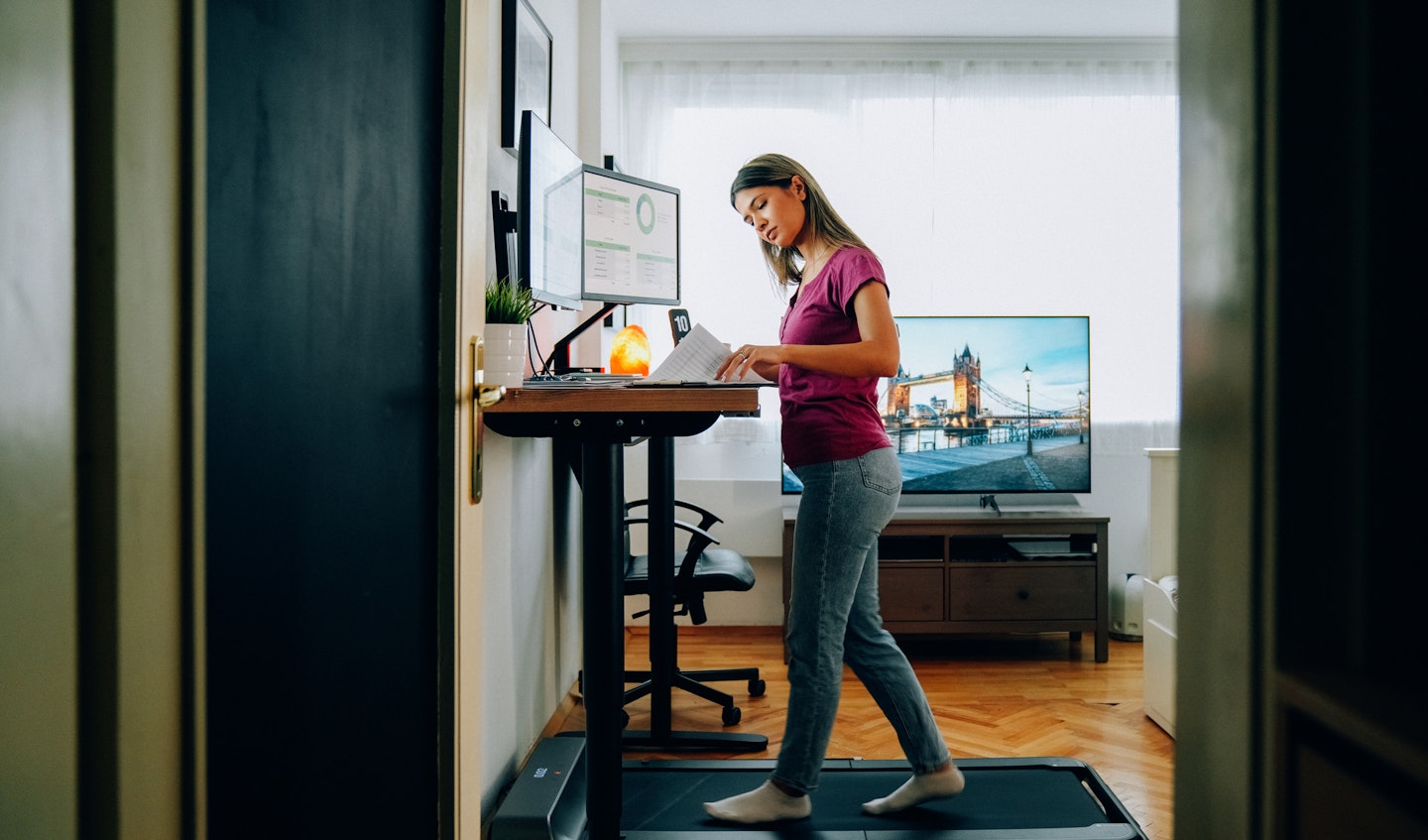 What are the health benefits of an under-desk treadmill?
As this is a piece of equipment that encourages walking, the benefits will be similar. As a cardiovascular activity, walking is great for increasing blood flow around the body, while lowering our blood pressure. It's also great for boosting our energy levels too, as it increases the release of endorphins (one of our happy hormones) and is a brilliant physical activity to help us lose weight. Overall, it's a fantastic activity for our physical health and our mental health, especially when done outdoors in nature.
What are the drawbacks of an under-desk treadmill?
While an under-desk treadmill can help us stay active whilst we work, it's important not to forget to still take time away from your screen. As we've stated in the above question, walking, outdoors especially, is great for your mental health, so make sure you try to fit some in during those lighter months to get your daily dose of Vitamin D and to contribute towards a healthy mindset.
An under-desk treadmill won't always be for everyone either. If you struggle to multitask, then you may be more prone to tripping whilst on your under-desk treadmill. This could lead to an injury, or you simply may struggle to get work done. Also, if you have any underlying health conditions make sure you check with your GP that it's safe for you to use one before you start.