If you are curious about where to find the best bed linen, you have come to the right place. Whether you are looking for the best bedding in terms of its design or function - looking at the type of material is an important step. It's not just about the feel, either. Natural fibres such as cotton or linen have added benefits that can contribute to a quality night's sleep. From its breathability to sustainable manufacturing, investing in a quality bedding set goes a long way. Plus, nothing beats a new set of bed linens. Climbing into bed after a long day, met with fresh sheets, is a small indulgence each of us should enjoy.
This small luxury need not set you back a fortune, either. Style and comfort are available to suit all budgets; you just need to know where to look. When it comes to bed linen, we think every factor and minute detail should be considered - what you sleep on is also a crucial factor in how you sleep. For those with sensitivities, searching for the best bedding for allergies can be a game-changer, ensuring a peaceful and itch-free slumber.
Best bed linen at a glance:
• Best overall: White Company Symons Double Row Cord Cover – View offer at The White Company
• Best value: John Lewis ANYDAY Pure Cotton Double Duvet Cover – View offer at John Lewis
• Best budget bedding set: Dunelm Super Soft Microfibre Plain Set – View offer at Dulemn
If you've found your perfect pillow and favourite duvet, you now need to dress it well. Spare no expense when it comes to your bed linen. From the soft touch of fleece bedding sets to the cool comfort of linen, find the right set, and you'll be thanking yourself for years to come. Similar to a weighted blanket, these fleeces are on the heavier side, so if you are looking for something more lightweight, aim for a material like cotton.
To help you on your journey to find the best bed linen, we're delving deep into the world of bedding, exploring everything, from what to look for when browsing as well as our favourite brands to shop from, luxury to budget-friendly.
Best bed linen
Best overall
Description
White bed linen with a touch of elegance and the highest-quality fabrics. The White Company do bed
Pros
1000-thread-count Egyptian-cotton satin
Soft and silky
Finished with a double row of cording
Cons
It doesn't include pillowcases
Best embroidered bed linen
Description
Give your bedroom a touch of botanical beauty with La Redoute's beautiful collection of bed linen.
Pros
100% Cotton
Certified product by OEKO-TEX®
Beautiful embroidery
Best value
Description
Gorgeous duvet cover sets in colours and prints to suit every kind of decor style. Heritage and
Pros
Eight colours
Great value
Pure cotton
Cons
Pillowcases sold separately
No super king option
Best for colour selection
Description
Brilliant quality bedding you can pick up on the high street. M&S do an amazing job of offering
Pros
Soft Egyptian cotton
Many colours to choose from
StayNew™ technology with a non-iron finish
Cons
Pillowcases come separately
Best linen duvet cover for hot sleepers
Description
Made using the finest flax, the Catarina collection from Woolroom offers a softness that's simply
Pros
Great for night sweats and hot sleepers
Breathable and bacteria-resistant
Suitable for allergies and sensitivities
Six colours
Cons
Some may prefer the feeling of cotton to linen
Best durable bed linen
Description
Ridiculously comfortable bedding essentials made from the highest calibre natural materials. This
Pros
Oeko-Tex certified
It comes in a bundle with sheets
Seven colours
Cons
Some may prefer the feeling of cotton to linen
Best budget bed linen
Description
If you are looking for something cheap and cheerful, then look no further than Dunelm's range.
Pros
OEKO-TEX® verification
Good value
Quick drying
Comes with pillowcases
Cons
Not as breathable as natural fibre
Best bed linen FAQs
What to consider when buying the bed linen
Fibre
The finer the fibre, the softer the feel. Sheets are available in a wide variety of fabrics and fibres, but you'll want to try to avoid any synthetic materials like polyester; these tend to make you sweat more in bed. For budget-friendly bed linen, we recommend 100 per cent cotton; it's soft, breathable and strong.
Egyptian cotton is a luxury pick if you're willing to splash a bit more cash for a truly good night's sleep. This has the same qualities as cotton, but as the cotton is hand-picked, less stress is placed on the fibres, so the material is softer, stronger and more durable.
Silk and satin bedding is a great option for those who have sensitivities or struggle with allergies at night. It's typically more expensive but will keep the sniffles at bay as dust mites find the material inhospitable.
One hundred per cent linen is a brilliant pick for bedding; it's luxurious and has a wonderful texture. Linen is a top choice for many hotels and holiday rentals due to its durability and hypoallergenic qualities.
Thread count
Thread count is important to understand, especially if you're after Egyptian cotton sheets and want the best of the best. Thread count is simply a way of measuring the number of vertical and horizontal threads per square inch of your bed linen. The higher the thread count, the more threads there are within the fabric.
High-thread bedding tends to feel denser and a lot like hotel-style bed linen and is generally more pleasant to sleep in. However, lower thread counts can still be high-quality and super soft - a lower thread count just may feel lighter and airier to the touch.
While this isn't top of the list of things to look for, if the thread count is good, then the retailer will definitely make it known.
Design
Whether you're a minimalist or maximalist, there truly is something for everyone in the world of bed linen. From delicate florals to stand-out patterns and hotel-style luxury whites, Whatever colour or design you're after, you'll find it.
If you're unsure of the design you want, take a look at the bedroom interiors you already own, and think what textures and prints will compliment your décor style and any existing throws or cushions.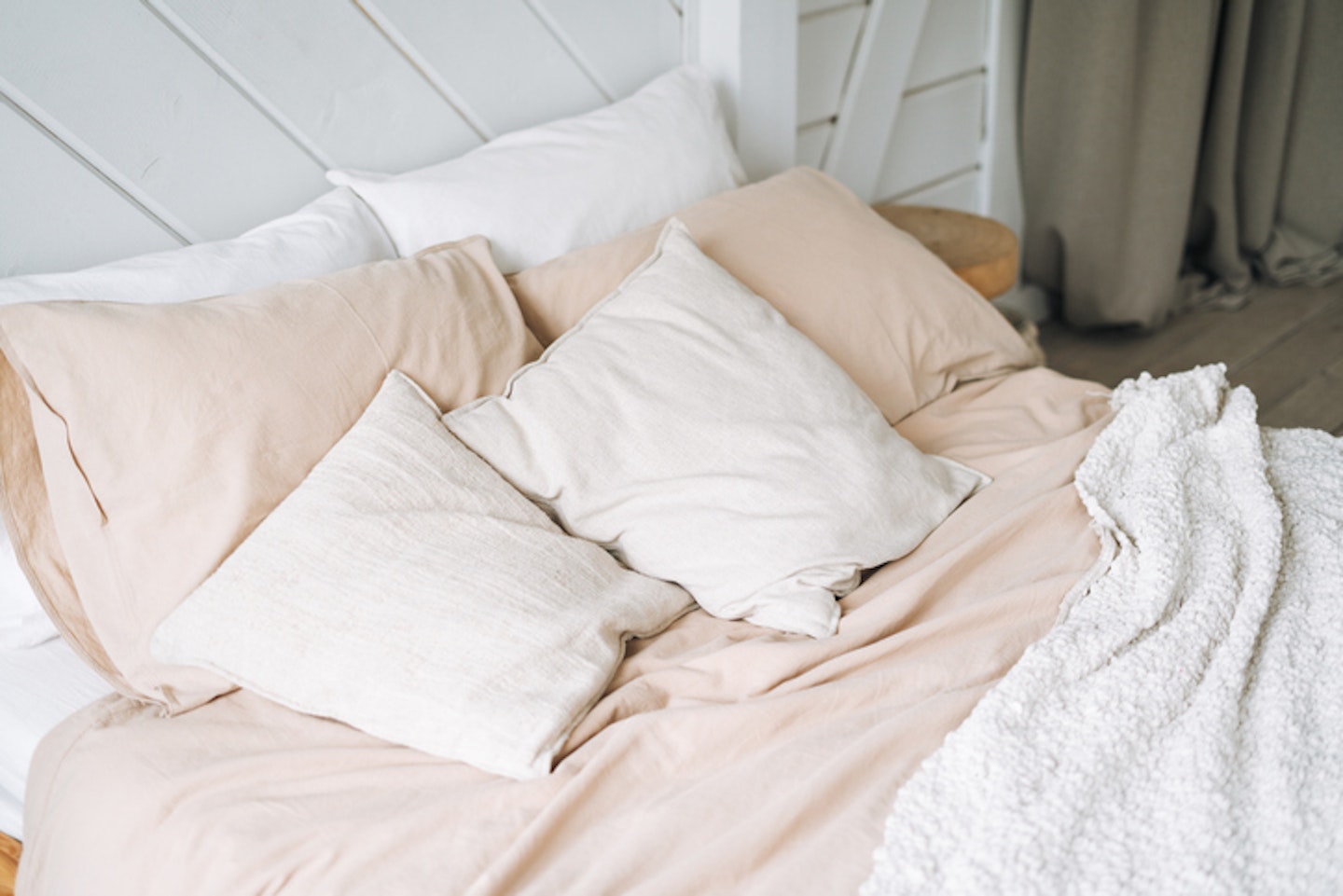 Buyer's guide: Best bed linen
We spoke to Chris Tattersall, Sleep Expert and MD of Woolroom, to find out more about the benefits of opting for cotton and linen when it comes to the best bed linen for you.
What are the benefits of opting for natural fibre for bedding
We have mentioned natural fibres a lot in this guide, so here is Chris' advice on natural fibre materials and their benefits: "Choosing natural bedding offers a myriad of benefits that contribute to a healthier, more comfortable, and environmentally responsible sleep environment. Natural materials like organic cotton, linen, wool, and silk are hypoallergenic, promoting better sleep for those with sensitivities. These materials are highly breathable, regulating body temperature and preventing overheating, ensuring a more restful and clean night's sleep."
"We often overlook the impact of our daily choices such as the bedding fibre we sleep with, and natural fibre bedding comes with sustainable sourcing practices and biodegradability, making them an eco-friendly choice too. The durability of these materials provides long-lasting comfort and support, while their chemical-free composition reduces exposure to harmful substances. Ultimately, opting for natural bedding aligns with both personal well-being and sustainable living principles, making it a wise and responsible choice."
Why choose cotton or linen bedding
Polyester is the most common and affordable material when it comes to clothing and bedding. While it can be harder to find clothes made purely from natural fibre fabric, bedding is much easier to swap out. Here is Chri's opinion on synthetic materials regarding the bedroom setup.
"Synthetic bedding, often made from petroleum-based materials such as polyester and polyurethane foam, have gained popularity over the last few decades due to their affordability and convenience. However, their production and disposal are contributing significantly to our mounting plastic waste crisis and contain many toxic chemicals."
Additionally, these materials take centuries to decompose, they clog landfills, pollute our oceans, endanger marine life, and threaten our delicate ecosystems worldwide." Not only are cotton, wool, linen and other natural materials more breathable, but also far more sustainable for the planet. Of course, this totally depends on your budget and sleeping preferences, but cotton bedding is still an affordable investment.
Ellen Kinsey is a senior health and wellness product writer for Yours, specialising in natural health and beauty. She lives and breathes all things food, travel and wellness.