For those searching for a luxurious sleep, an Egyptian cotton bedding set is the best place to look. This prestigious material is soft and renowned for its superior quality. Egyptian cotton is one of the best bed linen, celebrated for its breathability, ensuring a serene night's sleep. The main difference between the cotton from Egypt and other countries is in the length of the fibres. These longer fibres result in an extremely fine yarn that's resistant to stress, making it incredibly strong, soft and long-lasting.
Egyptian cotton is unmistakably known for being a top-tier bedding. When it comes to bedding, natural fibre sets are the way to go. From cotton to linen to silk pillowcases - these are bed linens worth investing in. Cotton, in general, is a versatile and breathable fabric that has been used for centuries in various parts of the world. It's derived from the cotton plant and is a natural fibre known for its softness, strength, and ability to be woven or knit into many different fabrics. Plus, cotton is also highly absorbent, making it a popular choice for everyday wear, bedding and more. Its natural properties allow for air circulation, which helps reduce moisture, keeping night sweats at bay and regulating your body temperature, so you don't need an electric blanket at night.
The aesthetic appeal of this bed linen is undeniable. It offers that pristine, polished appearance often associated with upscale hotels. Nothing quite beats jumping into crisp sheets on holiday, and you can replicate that feeling at home with these gorgeous bedding sets.
The best Egyptian cotton bedding set at a glance:
• Best Egyptian cotton bedding overall: The White Company Symons Duvet Cover - View on White Company
• Best Egyptian cotton bedding for colour selection: Marks and Spencer Egyptian Cover - View on M&S
• Best Egyptian cotton bedding on a budget: Homescapes Egyptian Cotton Duvet Cover - View on Homescapes
So, let's get into our pick of the best cotton bedding sets. From the artistry of their stitching to the soft touch, these bedding sets will certainly upgrade your bedroom's decor and sleep quality.
Best Egyptian cotton bedding set
Best Egyptian cotton bedding overall
Description
White bed linen with a touch of elegance and the highest-quality fabrics. The White Company do bed
Pros
1000-thread-count Egyptian-cotton satin
Soft and silky
Finished with a double row of cording
Cons
It doesn't include pillowcases
Best Egyptian cotton bedding for colour selection
Description
M&S do an amazing job of offering affordable yet high-quality bedding from their high-street
Pros
Soft Egyptian cotton
Many colours to choose from
StayNew™ technology with a non-iron finish
Cons
230 threat count isn't as luxurious as others on the list
Best Egyptian cotton bedding on a budget
Description
This Homescapes Egyptian cotton bedding set is hotel-quality, even though it comes at a lower
Pros
Hypoallergenic and anti-dust mite
Made using single-ply finely combed pure cotton yarns
14 colour options
Excellent value
Cons
A 200 thread count - less compared to most on the list
Best Egyptian cotton bedding for the highest threat count
Description
Insanely luxurious, this is John Lewis's highest thread count bedding. Woven exclusively from the
Pros
The extremely high thread count of 1000 for a silky feel
Made using the finest quality fibres from the Nile Delta
Four colours
Cons
With such a high thread count, this duvet cover set needs ironing
Best Egyptian cotton bedding for value
Description
This John Lewis bedding is a blend of style and comfort. With a 200-thread count, this bedding set
Pros
Good value
It comes in white and white with a grey seam
Silky soft feel
Cons
Reviewer says it's not easy to iron to a smooth finish even when items are still slightly wet
200 thread count might not be as luxurious as higher thread counts
Best Egyptian cotton bedding for 400 thread count
Description
Dunelm is known for its accessible home range, and their Dorma's 400 Thread Count bedding range is
Pros
400 thread count
Made with responsibly sourced cotton
Part of a range so good for coordinated bedding sets.
Best Egyptian cotton bedding for hotel quality
Description
This authentic Egyptian cotton bedding set from Soak and Sleep has a 600-thread count and is the
Pros
600 thread count
Made with 100 per cent certified Egyptian cotton
Four colour options
Bundle sets are on sale
Best Egyptian cotton bedding for styles
Description
If you are looking for an Egyptian cotton bedding set with beautiful prints and pops of colours,
Pros
Made from 100 per cent Egyptian cotton
Active environmental protection printing and dyeing for no fading
Breathable and hypoallergenic
Cons
The styles might not appeal to everyone
What to consider when buying Egyptian cotton
Thread count: A higher thread count often means a softer and more luxurious feel. However, it's essential to ensure that the count is genuine and not artificially inflated by using multiple threads twisted together. You will find bedding up to 1000 thread count and as little as 200 on the list.
Weave: The weave can affect the texture and durability of the bedding. Sateen offers a silky feel, while percale is crisp and cool. Also, genuine Egyptian cotton is grown in Egypt. Always check the origin to ensure you're getting authentic quality.
Sets: Bedding sets typically focus on providing coordinated sheets, duvet covers, and pillowcases to help with the overall coherent look of a bedroom, but they are usually sold separately, so bear this in mind with your budget. You can check out our
Care instructions: Proper care can extend the life of your bedding. Always check if the set is machine washable and if any specific care, like cold wash or line dry, is recommended. Some bedding with a higher thread count will require ironing, too, so bear that in mind.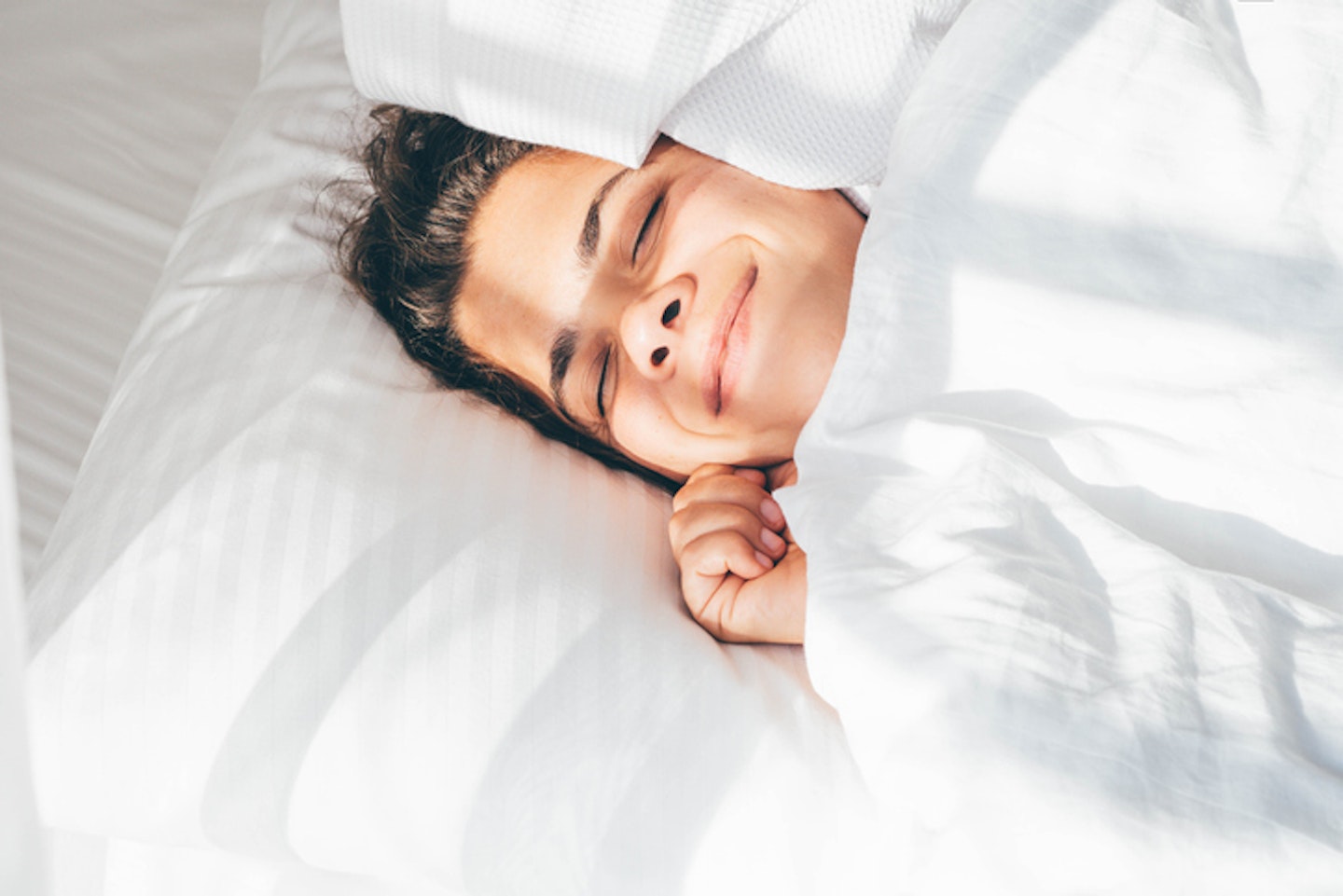 Buyer's guide: Best cotton bedding
What is Egyptian cotton bedding?
Egyptian cotton is renowned for its longer fibres, grown exclusively along the Nile River's banks. These long fibres produce smoother, more durable threads, offering a luxurious feel and exceptional quality. When you choose Egyptian cotton, you're opting for bedding that's both soft to the touch, long-lasting and a breathable natural fibre. Most bedding is made from Egyptian cotton and will not come with a print or pattern, so if you are looking for a printed cover, check out our best duvet covers guide.
Is a higher thread count always better?
While a higher thread count often indicates a denser weave and a softer feel, it's essential to ensure the count is genuine. Some manufacturers might inflate the thread count by twisting multiple threads together. Authentic Egyptian cotton with a genuine thread count offers a truly luxurious experience.
How do I care for my Egyptian cotton bedding set?
Egyptian cotton bedding benefits from regular washing. It's best to use a gentle cycle with cold water and avoid harsh detergents. Tumble dry on low, and consider removing from the dryer while slightly damp to prevent wrinkles. This care ensures the longevity and softness of your bedding. Also, as mentioned, bedding with a higher thread count will often require ironing, too.
Why is Egyptian cotton more breathable than other materials?
Egyptian cotton is a natural fibre known for its breathability. Its unique structure allows for consistent airflow, reducing the chances of overheating during the night. Therefore, this makes Egyptian cotton bedding sets a favourite for those living in warmer climates, who have night sweats or those who tend to get hot when sleeping. If you are a sensitive sleeper or have allergies, it could be a good idea to look at specifically anti-allergy bedding.
Ellen Kinsey is a senior health and wellness product writer for Yours, specialising in natural health and beauty. She lives and breathes all things food, travel and wellness.
A Print-Plus magazine subscription to Yours includes FREE UK delivery to your door, PLUS unlock a world of extra rewards and benefits including freebie prize draws and discounts from brands you'll love on our Yours app. Subscribe to Yours today!