If you are looking for the best pillows for your sleeping preference, we have got you covered. It's essential to spend some time researching the pillows rather than just buying a budget option from the supermarket next time you're doing your grocery shopping. A good pillow is key to a good night's sleep; it can also impact incredibly on your neck health, and the right pillow can help prevent or ease headaches, too.
There are pillows specifically designed to cater to those with sleeping issues. There are orthopaedic pillows who suffer from neck and back issues; these pillows provide the necessary support to ensure your spine remains aligned throughout the night. You can even buy anti-snore pillows that are designed to encourage sleepers to maintain a position that opens up their airways, reducing the chances of snoring.
Black Friday deals on pillows
We interrupt the regularly scheduled content to let you know that although Black Friday is over, there are still plenty of discounts to take advantage of, including a whole host of Black Friday deals on pillows. Want to grab a bargain? These are the retailers that still have the best deals live, or keep scrolling to continue reading our buyer's guide.
Shop for pillows deals on: Amazon UK | John Lewis | SIMBA | EMMA UK | The Range | HYPNIA | Very
There are also a range of materials to consider when buying the best pillows for your sleep, from feather pillows to memory foam. Material is possibly the most important factor to consider when ensuring a cool and comfortable sleep environment throughout the night.
Check out our guide below to help you navigate what pillow would be best suited to your needs. So, without further ado, here are the best pillows you can buy online today.
Best pillows at a glance:
• Best eco-friendly pillow set:  Silentnight Eco Comfort Pillow - View on Amazon UK
• Best memory foam pillow: The Emma Pillow - View on Emma Mattress
• Best hypoallergic pillow: Woolroom Wool Pillow - View on Woolroom
The best pillows
Best Eco-Friendly Pillow
Description
Choose an eco-friendly option with this Silentnight pillow, made from 100% recycled materials,
Pros
Eco-friendly and made from 100% recycled materials
Hypoallergenic and suitable for those with allergies
Machine washable
Cons
Polyester isn't as breathable as natural fibre
Best Memory Foam Pillow
Description
With three layers of foam, the Emma Pillow aims to give you maximum support and comfort as you
Pros
Offers maximum support and comfort with three layers of foam
Can adjust the pillow by removing layers.
Designed to ease shoulder and neck discomfort.
Cons
Might be too firm for some users.
Best Hypoallergenic Pillow
Description
This is naturally hypoallergenic, made from British wool with an organic cotton cover. The brand
Pros
Hypoallergenic
Wool from Wool Room is traceable back to the farm and is sustainable and ethical
Organic cotton cover
Anti-allergy
Best Down Pillow
Description
This goose-down pillow is naturally soft and comfortable, with anti-allergy properties. It's soft
Pros
Made from goose down with anti-allergy properties.
Moulds to the contours of the head and neck.
Soft and supportive
Cons
Might flatten over time and require daily fluffing
Best Cooling Pillow
Description
This isn't just a memory foam pillow but also features a cool-gel memory foam. It's specifically
Pros
Contains cool-gel memory foam.
Designed for comfort
Offers support for neck and shoulders.
Combines memory foam with cooling technology.
Cons
May not be everyone's preference
Best Budget Pillow
Description
An affordable pair of pillows that still provides good support – and Silentnight is a well-known
Pros
Budget-friendly option
Pack of two.
Microfibre filling with hypoallergnic properities
Cons
Support might be less compared to other premium options
Best Adjustable Pillow
Description
This innovative pillow features various layers designed to help regulate your temperature and keep
Pros
Features layers designed for temperature regulation.
Adjustable and can be tailored to individual preferences.
Multi-material construction
Combines cool night fibres, foam Nanocubes, and microfibre filling.
Cons
Might be too complex for those wanting a simple pillow
Best Pillow With Silk
Description
Made from microfibre with added silk, this is a luxurious pillow that's soft and supportive; the
Pros
Combines microfibre with added silk.
Moisture-wicking
Soft and supportive
Cons
Only 10 per cent mulberry silk
Best Pillow for Neck Support
Description
SupportUniquely shaped to follow the natural curve of your body, this ergonomic pillow helps align
Pros
Shaped to follow the natural curve of the body.
Helps ensure the head and neck are supported.
Targeted support especially designed for back and side sleepers.
Cons
Might not be suitable for stomach sleepers
Buyer's guide: Best pillows
What are the different sleeping positions
There are three main sleeping positions: side, back, and stomach, with varaitions for each type. Sleep specialists recommend sleeping on your side in order to rest more comfortably and decrease the likelihood of interrupted sleep. The Better Sleep Council provides research, insights and educational resources to help consumers better understand the relationship between sleep. Better sleep break down the types of sleeping posistions:
Freefall: About 7 per cent of people sleep on their stomachs with their heads turned to the side. They usually have their arms wrapped around a pillow or tucked underneath.
Fetal: A popular position which mirrors how we slept as infants, 41 per cent of people sleep by curling up on their sides with their knees bent. Some studies suggest that more women than men sleep in this position.
Log: Approximately 15 per cent of people sleep like a log, where they sleep on their sides with their arms down next to their bodies.
Yearner: If you sleep on your sides with your arms outstretched in front of your body, you are sleeping in the yearner position. This is especially good if you have breathing problems when you sleep.
Soldier: In this position, you lie on your back with your arms down and close to your body.
Starfish: Do you lie on your backs with your arms up near your head or pillows? Then you're sleeping in the starfish position.
Best types of pillows
There's no 'one size fits all' when it comes to pillows; every person and every body is different, with different requirements in order to be comfortable. That's why there are so many different types of pillows available to buy:
Memory foam
These pillows offer a great amount of support, starting off firm to the touch but softening with pressure and body heat. They mould around the contours of your head and neck and bounce back slowly. Memory foam pillows are durable and last a long time; they don't have any lumps or bumps and retain their shape. You might find they retain heat better than other pillows, as the material isn't as breathable. You might find them too firm if you sleep on your front.
Feather/down
Down feathers are the fluffy feathers of a bird, normally found on the belly area, underneath the outer layer of feathers. Down pillows are super soft, and they contour to the shape of your head and neck easily. They're breathable but do retain some heat; a down pillow should keep your head at a comfy temperature all night. They're long-lasting and great value. However, as they're made from a natural material, they aren't necessarily completely hypoallergenic. You can also get poked by spikey feathers. They also flatten during the night – not as much as a synthetic pillow, but they will reduce in shape overnight. They'll need fluffing up every day.
Synthetic/microfibre
Man-made, these pillows tend to be the cheapest options but also generally wear out the quickest. They're generally lightweight, ranging in thickness and firmness; they're a good option if you sleep in a range of positions rather than favouring one position all night long. You can find hypoallergenic versions, but they do tend to retain heat and moisture.
Water pillows
Water pillows are quite rare, but you might like to try one, especially if you get really hot in the night. A water pillow can help keep you cool. They allow you to change the amount of water they hold, meaning their height and firmness are customisable.
The only way to find out which pillow is best for you is to try them out and see how comfy you find them. If you have specific neck or shoulder pain, there are types of pillows that are recommended to help with these issues.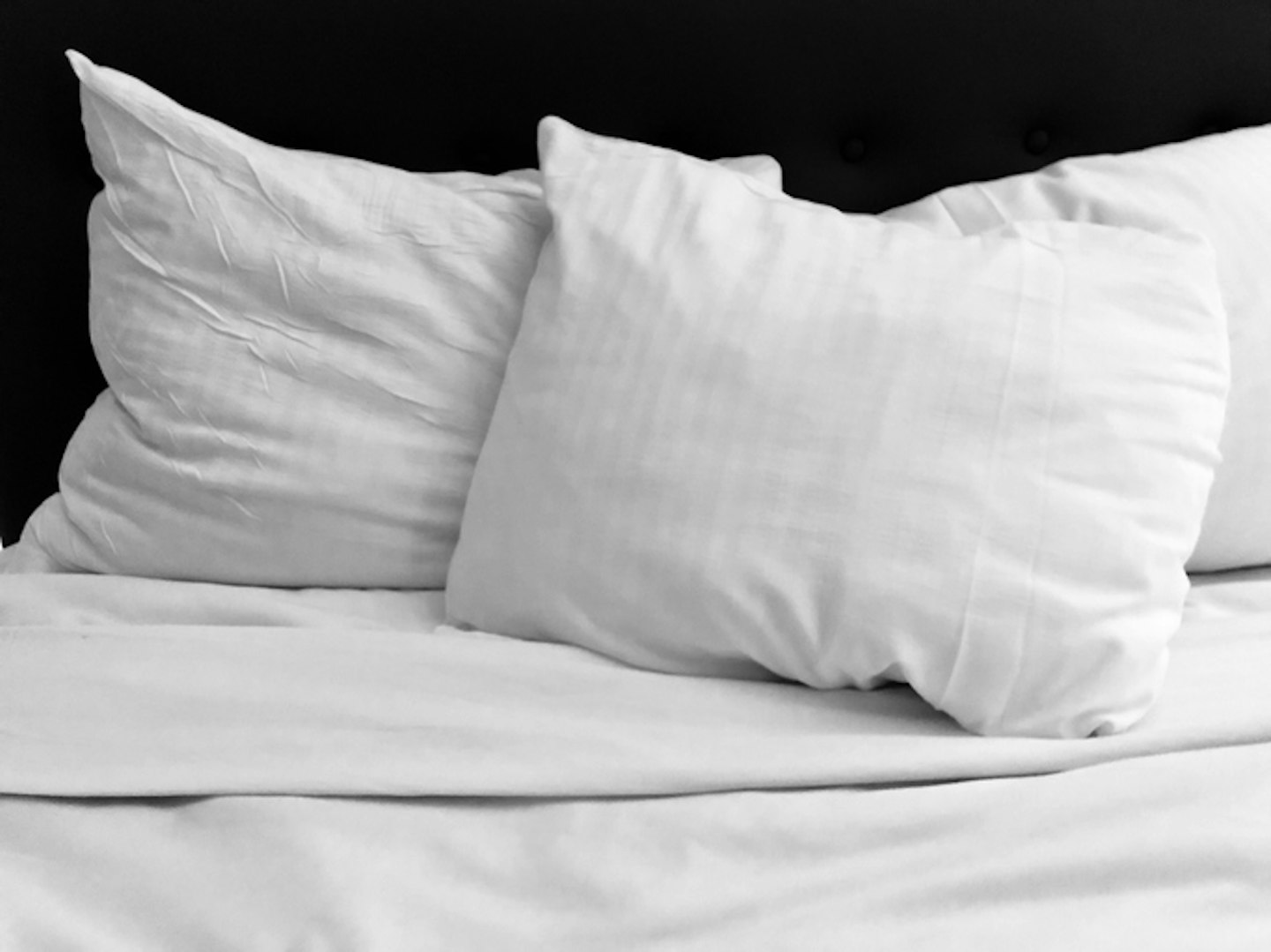 FAQs
Why do we use a pillow?
A pillow is designed to support your head and neck while you sleep, placing a comfortable buffer in between you and your mattress. The idea is to keep your head and neck supported in line with your spine.
What are the best pillows for neck pain?
If you suffer from neck pain or tension in your shoulders, a good pillow can make a lot of difference to your comfort at night. Sometimes, a dodgy pillow can actually be the cause of the pain in the first place, while a good pillow can ease your tension.
According to SleepFoundation.org, the best pillow for neck pain and shoulder pain "is firm enough to hold the head at a healthy angle, but soft enough to alleviate pressure points. Most sleepers find success with either a memory foam, latex, buckwheat, or feather pillow, as these materials offer the best balance of support and pressure relief."
You may also benefit from using an pillow for neck pain.
Personally, I used to suffer from serious headaches, named 'cluster headaches' by my GP. These really improved once I invested in a good-quality memory foam pillow; now, when I sleep at a friend's house or in a hotel, I really suffer if there's only a feather or down pillow available (I even consider taking my own pillow with me!).
What are the best pillows for side sleepers?
The type of sleeper you are can also affect which pillow you find more comfortable; for example, front sleepers may not benefit from a supportive pillow as much as side sleepers or back sleepers.
According to a survey performed by sleep specialist Chris Idzikowski, author of the book Learn to Sleep Well, 41% of us sleep on our sides.
So, is there a best pillow for side sleepers? SleepFoundation.org states: "Pillows that are too thin do not provide enough cushioning, while excessively thick pillows can interfere with spinal alignment and cause added pressure points to develop."
What pillows do luxury hotels use?
Generally speaking, there are three major types of pillows widely used in five-star hotels- Goose (feather) down pillows, down alternative and feather/down blend pillows.
How often should you change your pillow?
According to Sleepadvisor.org, you should aim to buy a new pillow every one or two years and, ideally, wash your pillow every three weeks. Yes, we were shocked to read this too.
Why do pillows turn yellow?
One of the most common reasons why pillows can turn yellow is sweat. Many of us sweat in our sleep, and not just in the summer. As the sweat dries, it can leave a yellow stain on the pillow. Even if you use pillow covers underneath the pillow cases, the yellowing can still occur.
If you often find yourself sweating or getting too hot when you sleep, you may benefit from using a cooling pillow.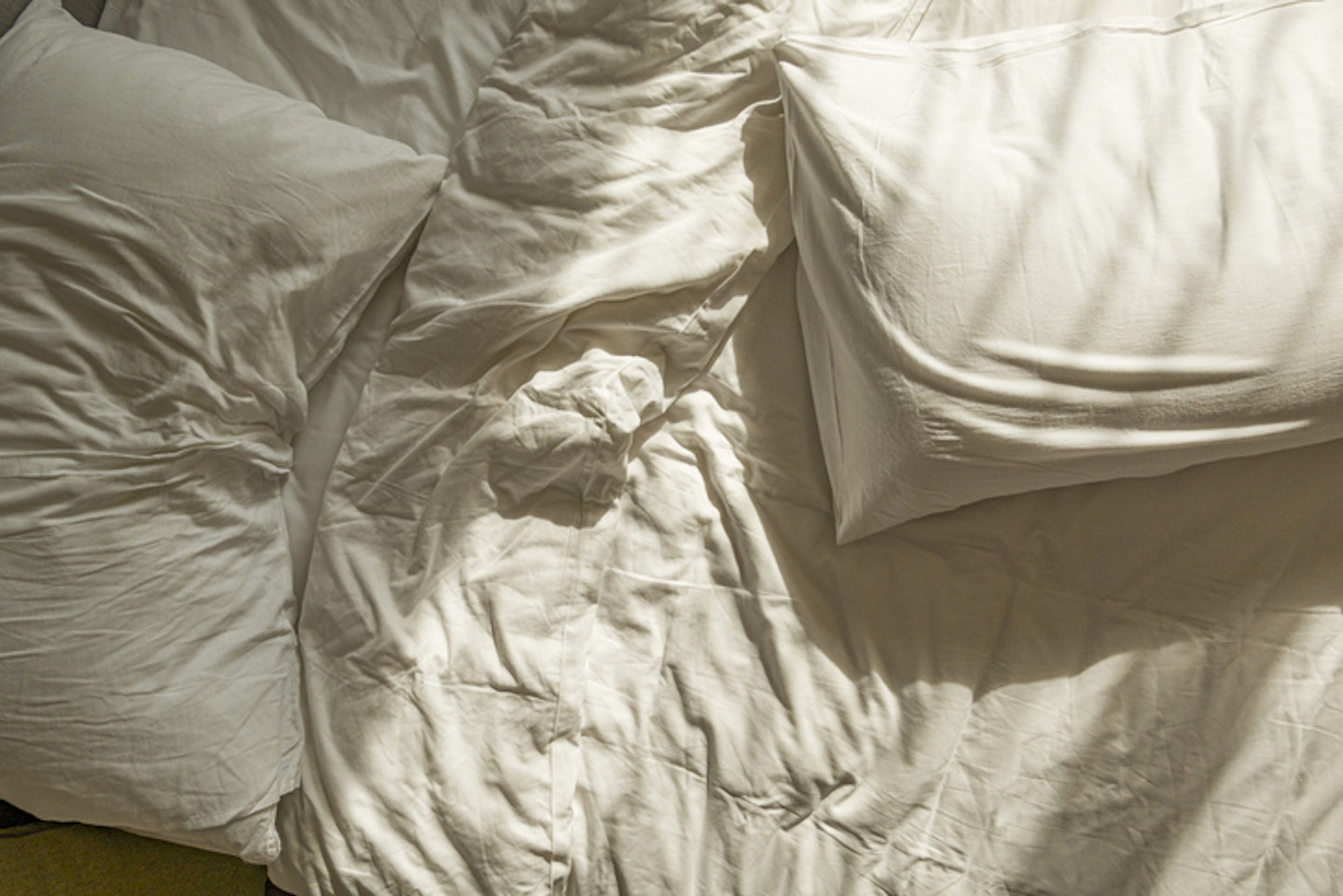 What happens if you don't change your pillow?
Every night, as you sleep, your body sheds skin, hair, and body oil that your pillow absorbs. If you don't change or wash your pillows, you could be unwillingly attracting critters to your bed.
An unwashed pillowcase can attract lots of dust mites, which in turn can accentuate issues for asthma and allergy sufferers.
Do homeless shelters accept pillows?
While many homeless shelters do accept pillows and pillowcases, these need to be new, as old pillows will not be accepted due to sanitary reasons.
What to do with old pillows
Duvets and pillows are not recyclable; however some animal charities may be able to use them for bedding. Otherwise, they should be put in the general waste. Double-check with your local council if you're not sure.
You could also turn your old unwanted pillows into a pet bed for your dog and cat. Or use them for stuffing soft toys or re-stuffing old toys or cushions that need a bit more padding.
Aside from donating your old pillows to an animal charity or a homeless shelter - provided they are in good reusable condition - some charity stores also accept used pillows.
Ellen Kinsey is a senior health and wellness product writer for Yours, specialising in natural health and beauty. She lives and breathes all things food, travel and wellness.