Our guide to the very best memory foam pillows should help you out if you're sick of tossing and turning throughout the night. As we spend around one-third of our lives sleeping, it makes sense that supporting our neck correctly while we sleep can help reduce neck pain. If you often find yourself waking up in the night with a stiff neck, you may already be familiar with memory foam pillows. It's been scientifically proven that memory foam pillows work. So let's get into these best pillows.
A recent study in 2019 monitored two groups of people who regularly experienced neck pain, giving one group a memory foam pillow and chiropractic treatment and the other just chiropractic treatment. The results were that those who also slept with the memory foam pillow demonstrated a significant clinical improvement post-test. You can also find memory foam orthopaedic pillows.
Best memory foam pillows at a glance:
• Best firm memory foam pillow: Silentnight Memory Foam Pillow - View on Argos
• Best memory foam pillow for neck support: John Lewis Memory Foam Standard Support Pillow - View on John Lewis
• Best gel memory foam pillow: Gel Fusion Memory Foam Pillow - View on Dunelm
• Best bamboo memory foam pillow: Panda Luxury Memory Foam Bamboo Pillow - View on Panda London
A good night's sleep has a lot to do with your sleeping environment, which includes your room, temperature and also your bed, duvet and pillow. Improving your sleeping environment has been proven to help you sleep better. The use of sleep support systems may be especially important in neck pain relief because humans have no active control of positioning and posture while sleeping. You can find our guide to the best pillow for neck pain here.
From firm pillows to softer pillows, memory foam pillows feature firmer and durable materials designed to perfectly mould around your head and neck to give you the perfect level of support so you can sleep better throughout the night. Here are our top picks for a more peaceful slumber.
The best memory foam pillows
Best firm memory foam pillow
Description
This affordable yet reliable Silentnight pillow is designed to mould around your neck, head and
Pros
Comes with a removable machine washable cover to keep your pillow feeling fresh.
Made in the UK and comes with a two-year guarantee.
Suitable for side and back sleepers, hypoallergenic.
Cons
You may need to purchase larger pillowcases as it is a struggle to fit into a normal-size pillowcase.
Best memory foam pillow for neck and spine support
Description
This is designed to keep your neck and spine aligned as you sleep to try and combat any morning
Pros
This dual-contoured pillow has a pressure-relieving core.
The larger contour supports the spine alignment of side sleepers
The shallow one is ideal for back sleepers.
Cons
Some people found it was too 'high' for them to sleep comfortably.
Best gel memory foam pillow
Description
As well as the supportive memory foam, this Dunelm memory foam pillow also contains a removable
Pros
Its specialist honeycomb design
Gel-infused memory foam insert helps to improve airflow between your head
The foam for a cooling sensation, so you can have a more relaxed night's sleep.
Cons
A slight odour can be expected that will disperse in use.
Best bamboo memory foam pillow
Description
Pros
Temperature-regulating technology will keep the pillow cool in the summer and warm in the winter.
Great for allergy sufferers
Suitable for those who have eczema, sensitive skin or hay fever caused by dust mites.
Cons
Some users found it too tall and hard for them.
Best contour memory foam pillow
Description
Designed with recommendations from sleep experts, this pillow is designed to relax the spine for a
Pros
It has a dust-proof and special breathable inner cover.
It will also help those who snore to snore less.
Cons
Smaller than a standard pillow, so doesn't fit standard pillowcases.
Best anti-allergy memory foam pillow
Description
A little on the pricier side, this pillow is made by sleep experts, Simba and is both
Pros
Clever airflow cooling channels help keep you cool while you sleep.
Suitable for front sleepers.
Cons
It's the priciest pillow in our list
Best two-pack memory foam pillow
Description
Designed for back and side sleepers, our memory cool pillow has a memory wrap to provide firmer
Pros
Comes in a two-pack
Firm support
Supports side sleepers
Cons
May not be as soft as some options
The verdict: best memory foam pillows
Still unsure what memory foam pillow to pick? Luckily our shopping experts here at Yours are on hand to help as we've chosen the best memory foam pillow.
The pillow that ticks all of our boxes is the Silentnight Memory Foam Pillow, we love that it supports the neck, head and shoulders when sleeping. This is perfect for anyone who loves a firmer option.
Different types of sleepers: is memory foam right for you?
There is no 'one-size-fits-all' when it comes to pillows. We all have different preferred sleeping positions. For example, you may be a back sleeper, prefer to sleep on a particular side, or on your belly.
Approximately seven per cent of people sleep on their stomachs. However, this has been linked with back issues as it doesn't allow your spine to relax in a neutral position.
41 per cent of people sleep most comfortably curling up on their sides with their knees bent - the fetal position. Some studies suggest that more women than men sleep like this.
In general, it comes down to finding a pillow that allows your spine to remain in a neutral position while you sleep, rather than bending your neck into the 'wrong' position and your spine having to compensate.
Often, a feather pillow is too soft to provide this support. For many people, memory foam provides the perfect level of comfort and support. According to Merrill Rudin, chiropractor and member of the International Chiropractic Pediatric Association, memory foam is a good choice for three reasons.
"It helps to support the head and neck, which in turn supports the spinal curve — it helps with spinal alignment," says Merrill. "It also provides more comfort and ease for people with pressure points, which can allow for a more restful sleep."
If you're not used to memory foam, it can feel a little odd at first and they do take some getting used to. That's why it's really important to do your research to find the perfect pillow for you. Take a look at our round up of the best memory foam pillows on the market for you to buy.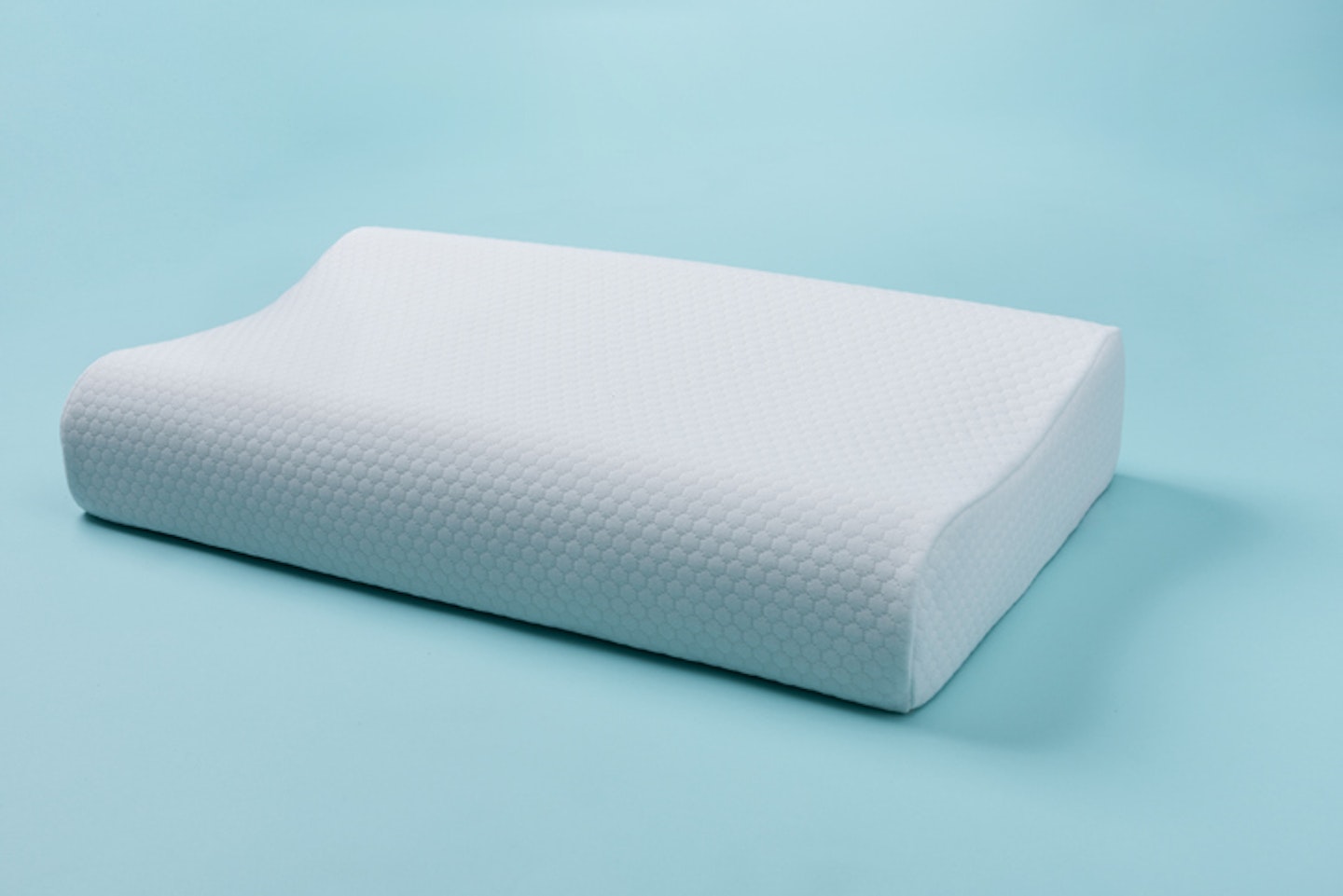 What brands do memory foam pillows?
You probably know the big name brands when it comes to memory foam pillows. We're talking the likes of Silent Night, Eve, Panda and Tempur. But don't forget that many brands such as John Lewis and Asda do their own memory foam pillows that can be often much cheaper, so are well worth checking out.
Where can I buy memory foam pillows from?
The good news is that it's pretty easy to get your hands on a memory foam pillow. For some, a bunch of great reviews is enough to feel comfortable enough to buy online, but if you fancy testing out the pillow in person, many high street stores stock the brand we have mentioned. Here are a few to check out:
Can you wash memory foam pillows?
We spend a lot of time with our memory foam pillows, so understandably, you'll be curious to know how you can keep it clean and hygienic.
The most important thing to note is that memory foam must not go in the washer or dryer and needs to be cleaned by hand. We recommend vacuuming your memory foam pillow every time you change your bedding, ideally once a week.
What other memory foam pillows are available?
If you've become fond of your memory foam pillow, why not go the whole hog and purchase more memory foam loveliness for your home? What about a memory foam body pillow? Or memory foam knee pillow? Or, if you're on the move, a memory foam travel pillow will make long journeys much more comfortable.
Lorna White is a Senior Digital Writer at Yours.co.uk. She was previously a writer at Yours Magazine writing features and news stories before joining the digital team. Lorna loves the great British countryside and likes to spend her spare time out and about in her home of Nottinghamshire walking her dog, Pippin.
A Print-Plus magazine subscription to Yours includes FREE UK delivery to your door, PLUS unlock a world of extra rewards and benefits including freebie prize draws and discounts from brands you'll love on our Yours app. Subscribe to Yours today!