If you're looking to up your cardio game an exercise bike or spin bike are great options. Both are quite compact, making them a great addition to your home gym, and can help you burn calories and build endurance. But although these two pieces of equipment look very similar, they're actually not. So what is the difference between an exercise bike and a spin bike?
Here's everything you need to know…
What is the difference between an exercise bike and a spin bike?
A spin bike, or indoor cycling bike as they're sometimes called is designed to feel like you're riding a real road bike. Typically they have a heavy flywheel to provide resistance, allowing you to feel like you are cycling uphill or against the wind. Spin bikes are ideal for high-intensity workout, featuring adjustable resistance, saddle height and handlebar position so you can tailor your workout.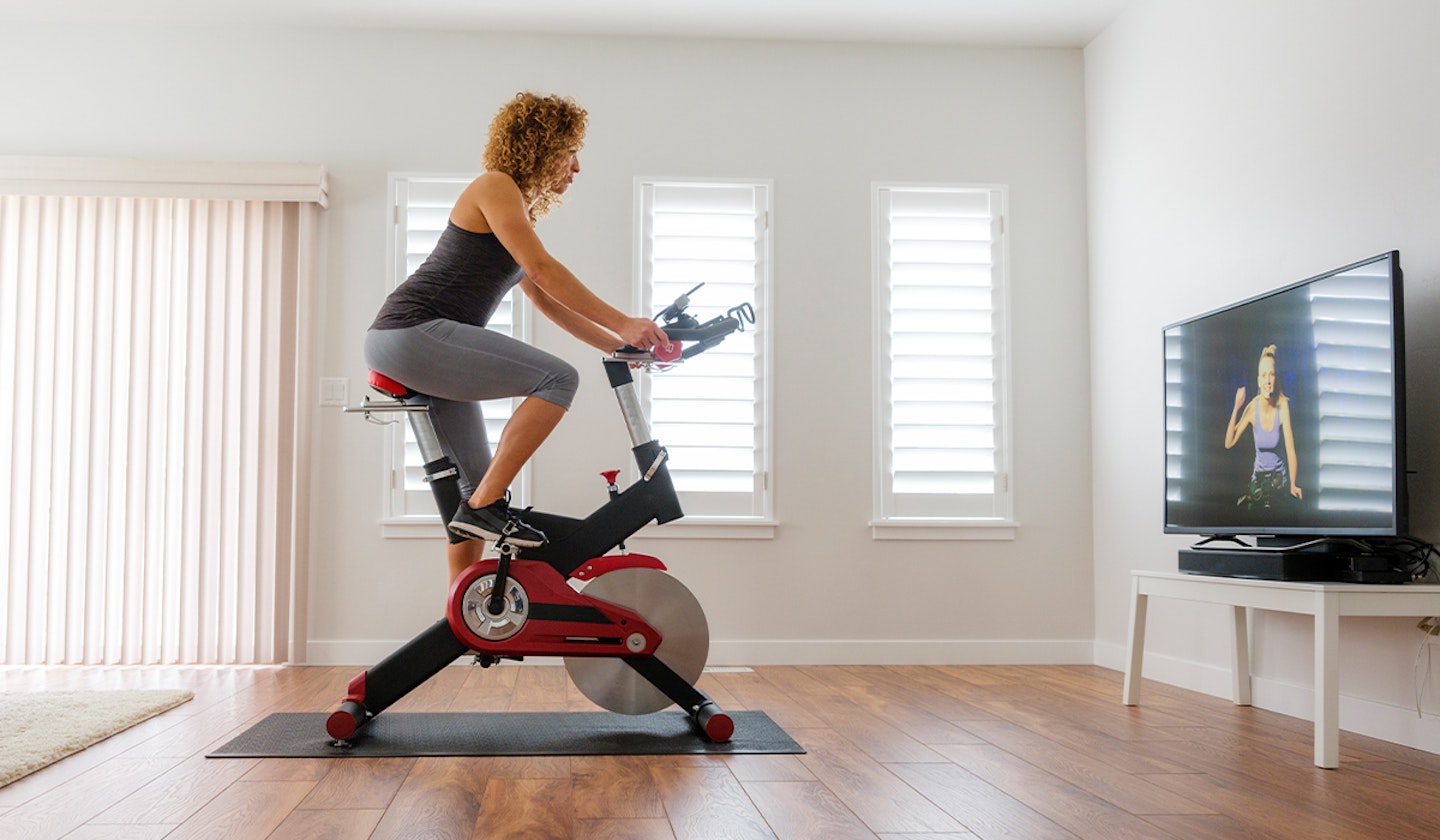 Exercise bikes are made for low-impact workouts. They feature a smaller flywheel and use friction or magnetic resistance for your workout. They can often feature larger seats with backrests and the technology tends to be more modern with heart rate monitors and workout trackers to make it easy to use. There are also many mini exercise bike options available to buy if you're limited on space at home.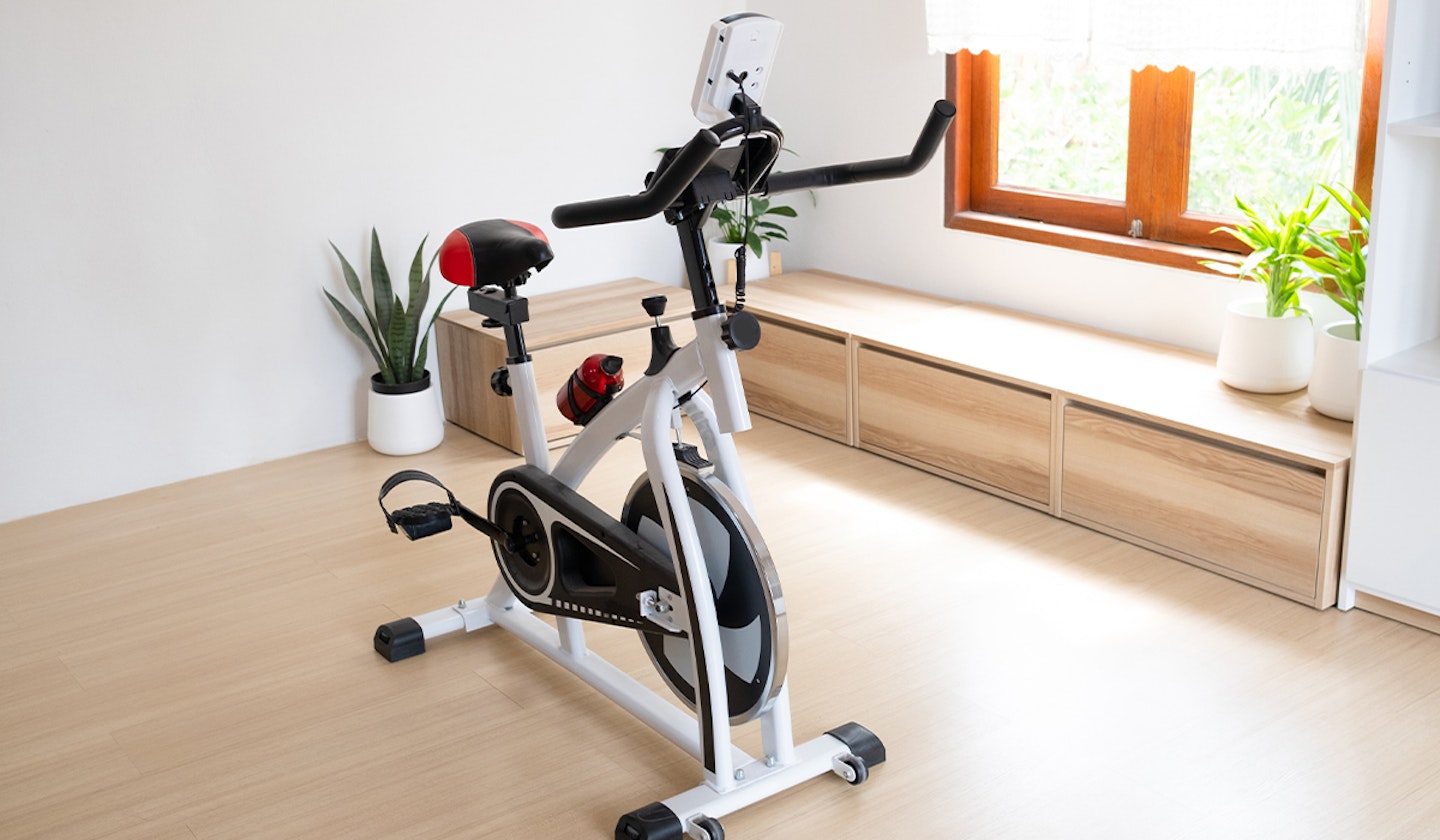 Despite the pedaling movement, there's quite a few key differences between these two bikes.
Pedals
The main difference here is that a spin bike has clips on its pedals, whereas an exercise bike doesn't. The clips therefore create a better grip and allow you to lift up and lean forward while pedaling, allowing you to create a more intense and speedy ride. As an exercise bike doesn't have these clips, this can be limited, as your foot won't have the same grip and may easily slip off the pedal. However, it's important to note, exercise bikes were not created for the same type of workout as a spin bike.
Flywheel
This is one of the biggest differences between the exercise bike and spin bike, specifically the weight of the flywheel. A spin bike has a much heavier flywheel than an exercise bike and its pedals are attached to it, so once you stop pedalling, the flywheel will continue to turn, as well as the pedals. It's weight also means you need to put in more momentum to get it moving in the first place, giving you a tougher workout.
Adjustment
An exercise bike is easier to adjust, for example its seat, than a spin bike. This is because on an exercise bike you stay seated during the workout, whereas on a spin bike you usually change positions (whether that's leaning forwards or standing up), so you're required to stay comfortable throughout these different positions.
Handles
You'll find the handles on a spin bike are inclined more horizontally compared to an exercise bike, which is more upright. Again, this is because a spin bike is meant to resemble a road racing bike where the rider leans forward a lot of the time, but they can still be used in an upright position too.
Is there a different in price?
Spin bikes tend to be a lot more expensive than exercise bikes because of the advanced features and design. However, if it's an intense workout you're after, then a spin bike is well worth the investment over an exercise bike. However, if you don't have serious fitness goals to reach, an exercise bike is a much more affordable option.
Should I get a spin bike or exercise bike?
While both pieces of equipment are a great addition to your home or garage gym, it really depends on what your goals are. The combination of changeable resistance and position on a spin bike usually leads to it providing a more intense workout than an exercise bike workout. Spin bikes are generally also a little more pricey due to the build quality often being better. An exercise bike does have its benefits however, and is still a great piece of cardio equipment, which is gentle on your joints and good at strengthening your lower body. If you're not a serious cycler or road racing isn't your thing, we'd recommend opting for an exercise bike.