Did you know that dog food only needs to contain 4 per cent chicken for it to be labelled 'with chicken'? Fresh dog food subscription box Butternut Box is on a mission to bring dogs everywhere a better choice.
Butternut box overview
Pros
• Fresh, healthy food for your dog that is full of good stuff
• Lots of positive reviews online
• Fantastic easy-to-use website
• Impressive attention to detail
• Great transparency in terms of ingredients
• 1-4 weeks' supply can be ordered in advance
• Meals are easy to serve to your dog
Cons
• Fridge and freezer space is required for the pouches
• The price tag might be a struggle for people with more than one dog
Butternut Box is a UK-based startup, founded by two friends, Kev and Dave who started the company went they struggled to find fresh food for dogs.
Butternut box uses 'human-quality' meat and vegetables, gently cooked to create simple but tasty meals for dogs, all created with those much-needed vitamins and minerals but with no nasties and no grains.
Luna's trial box consisted of 14 pouches of 200g pouches. After the trial, she would move onto four weeks' worth of food, so 28 pouches, which cost £1.60 a day.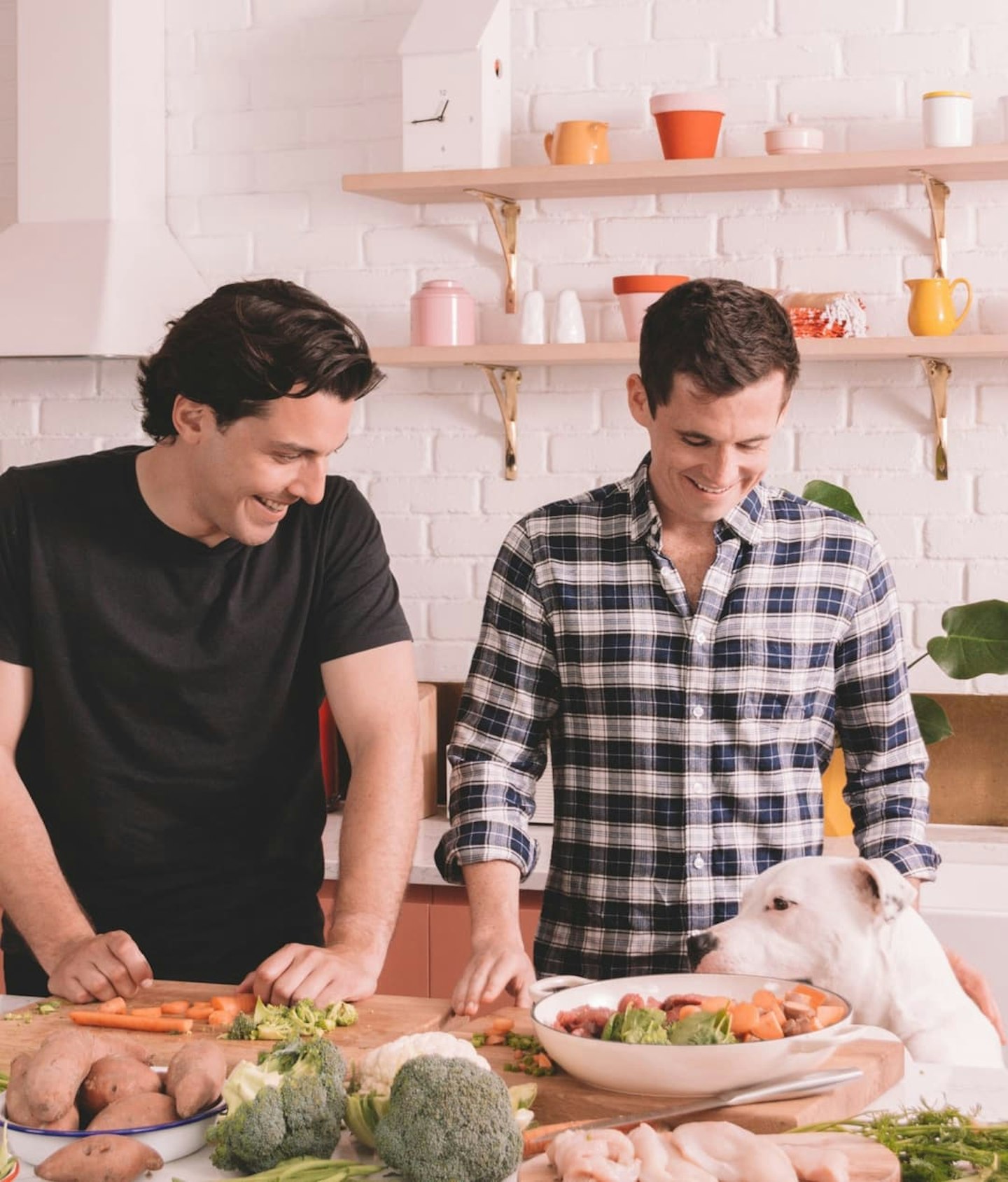 Key Features
• Customers fill out a few questions about the dog in order for Butternut box to create their pet's plan.
• The portioned meals are frozen to lock in the freshness before being delivered to your front door in insulated boxes.
• Customers are offered a choice of six different fresh meal recipes, three baked biscuit recipes, and three air-dried treats recipes to choose from.
• Recipes are taste-tested by humans.
• For every new dog that signs up to Butternut Box, they donate a much-needed meal to a dog in need.
Testing the Butternut Box
We tested the Butternut box for quality, convenience and value for money.
The butternut box was tested by six-year-old sausage dog Luna who was more than willing to take part in this review. Hypoallergenic, Luna usually has one bowl of dry food that she munches on throughout the day when she fancies, plus a couple of treats now and again.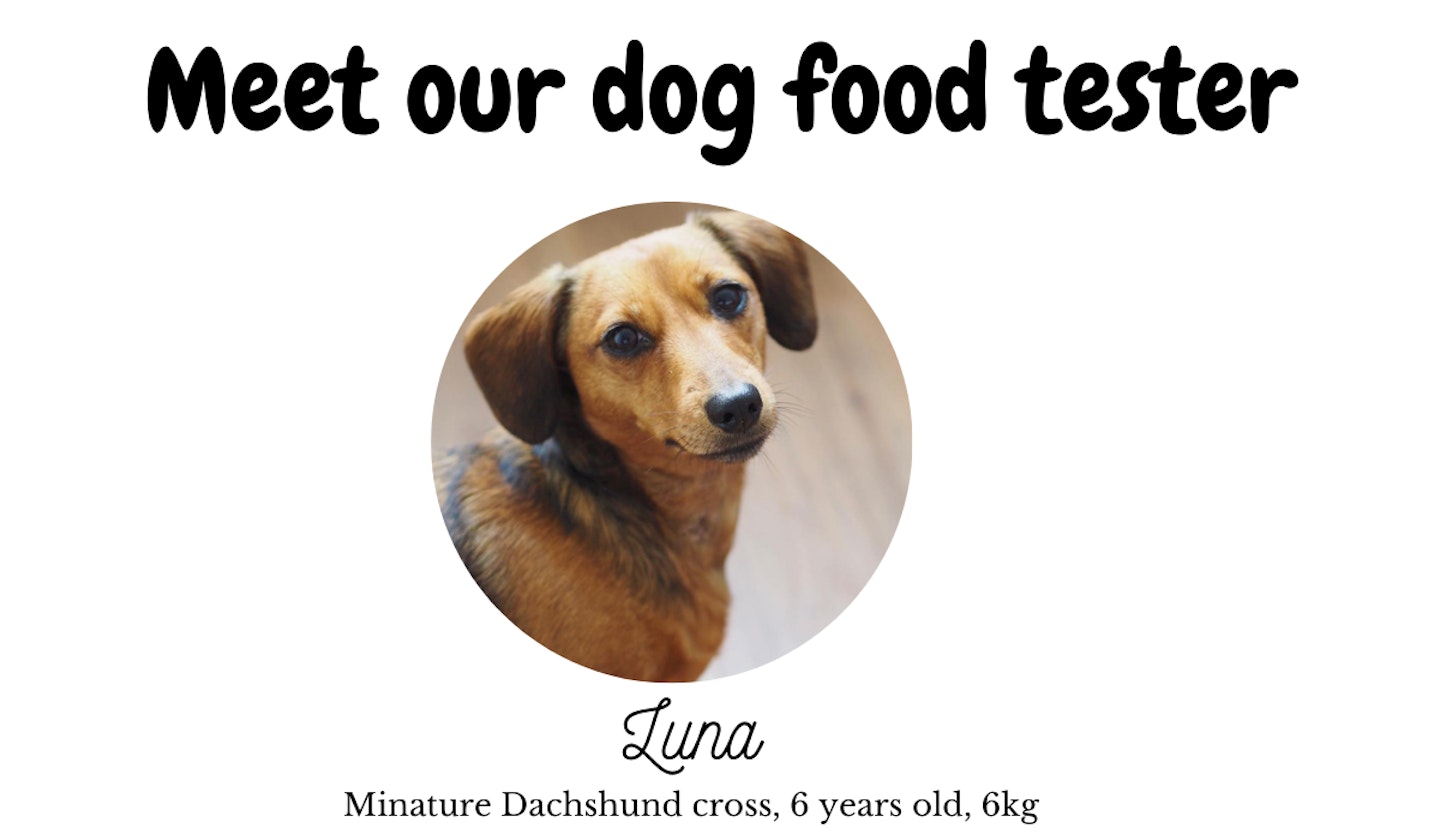 To start, Butternut asks you to fill out a short questionnaire about your pooch. This goes through various questions about age, weight, allergies, body type, activeness and more. It was really reassuring to feel like the brand were really working out the best requirements and recipes for Luna. This also helps determine the price of your plan along with how much of the Butternut diet you want to give your dog, completely or 'Almost all.'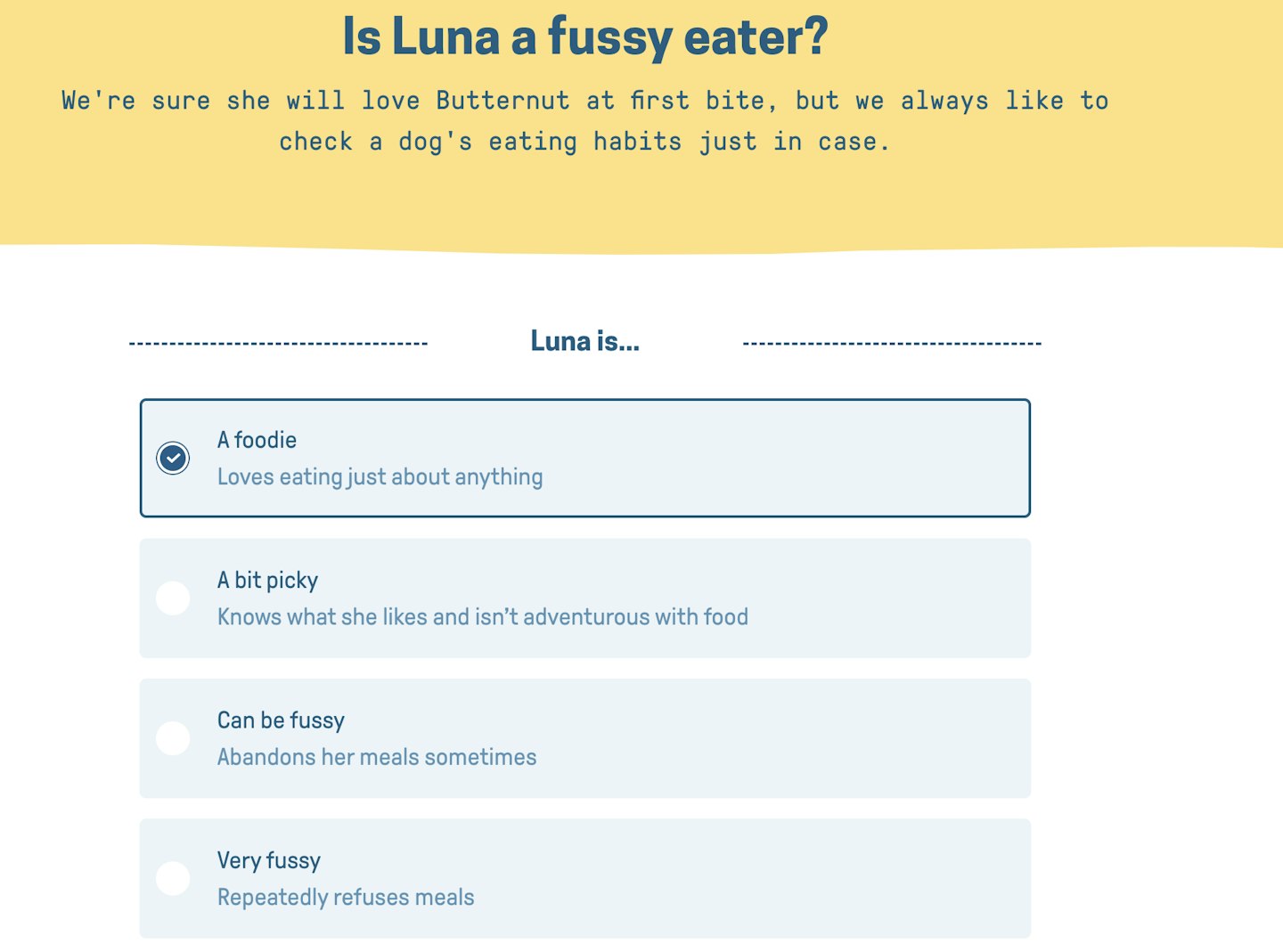 I liked the simple cardboard design of the Butternut Box which is bright yellow with the brand stamped on the side. The flaps of the box contained information about Butternut Box including how to store the pouches, the ingredients and more. Inside the box we found a tote bag, dog bandana (and accompanying style guide!), booklet and of course the pouches of food.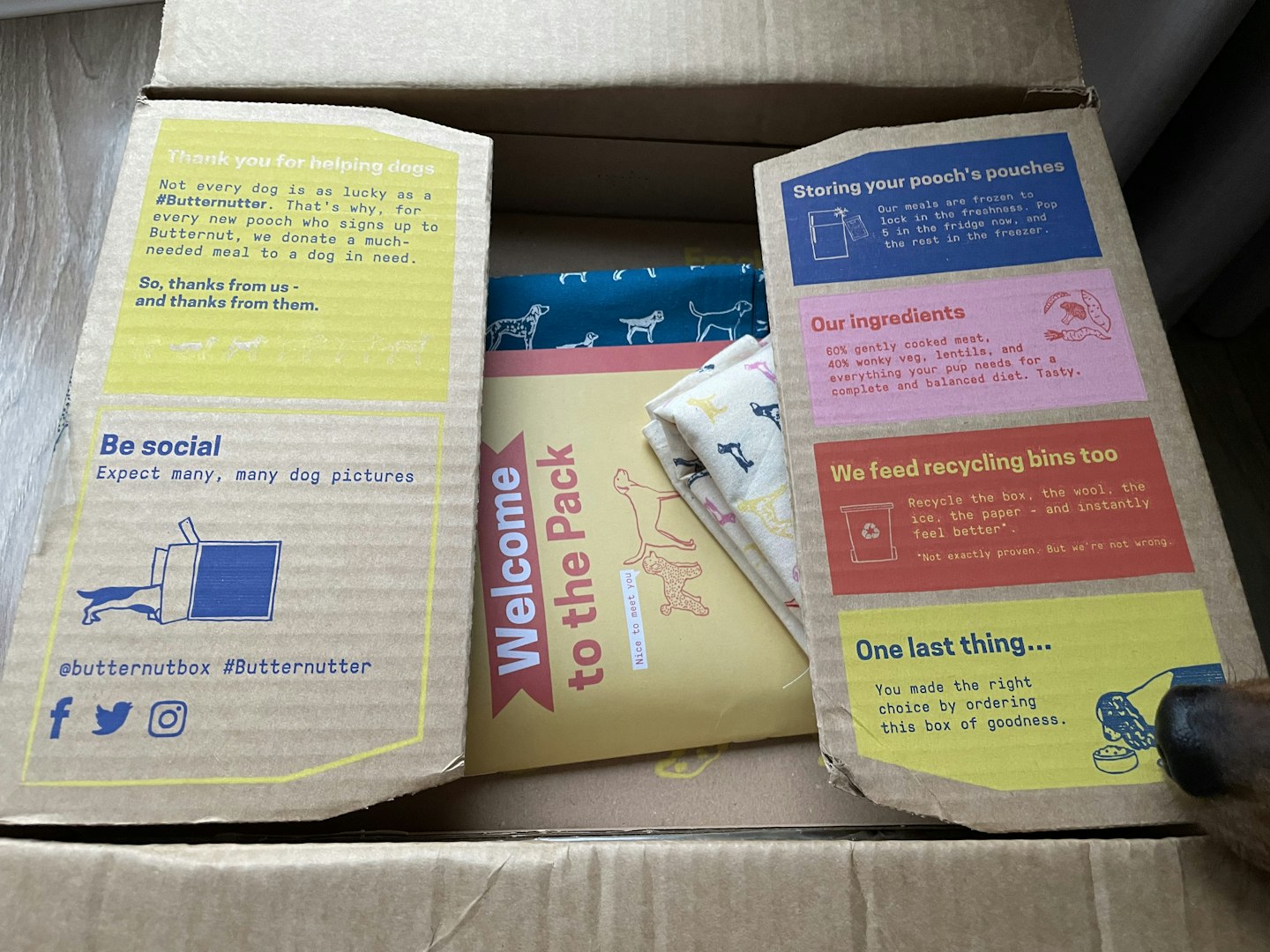 Butternut recommends storing five pouches of food in the fridge to thaw ready for eating and then popping the rest into the freezer. Our recipes included Beef It Up, Chicken You Out, Gobble Turkey, Duo of Duck & Chicken, Wham Bam Lamb and Pork This Way. I'll admit the names made me smile.
After slowly transitioning from her usual food to the Butternut box meals as recommended, during the two-week trial, Luna had half her pouch on its own in the morning and the rest mixed with her usual dry food. Following Butternut's guidance, we warmed the food in the microwave for 30 seconds before giving it to her.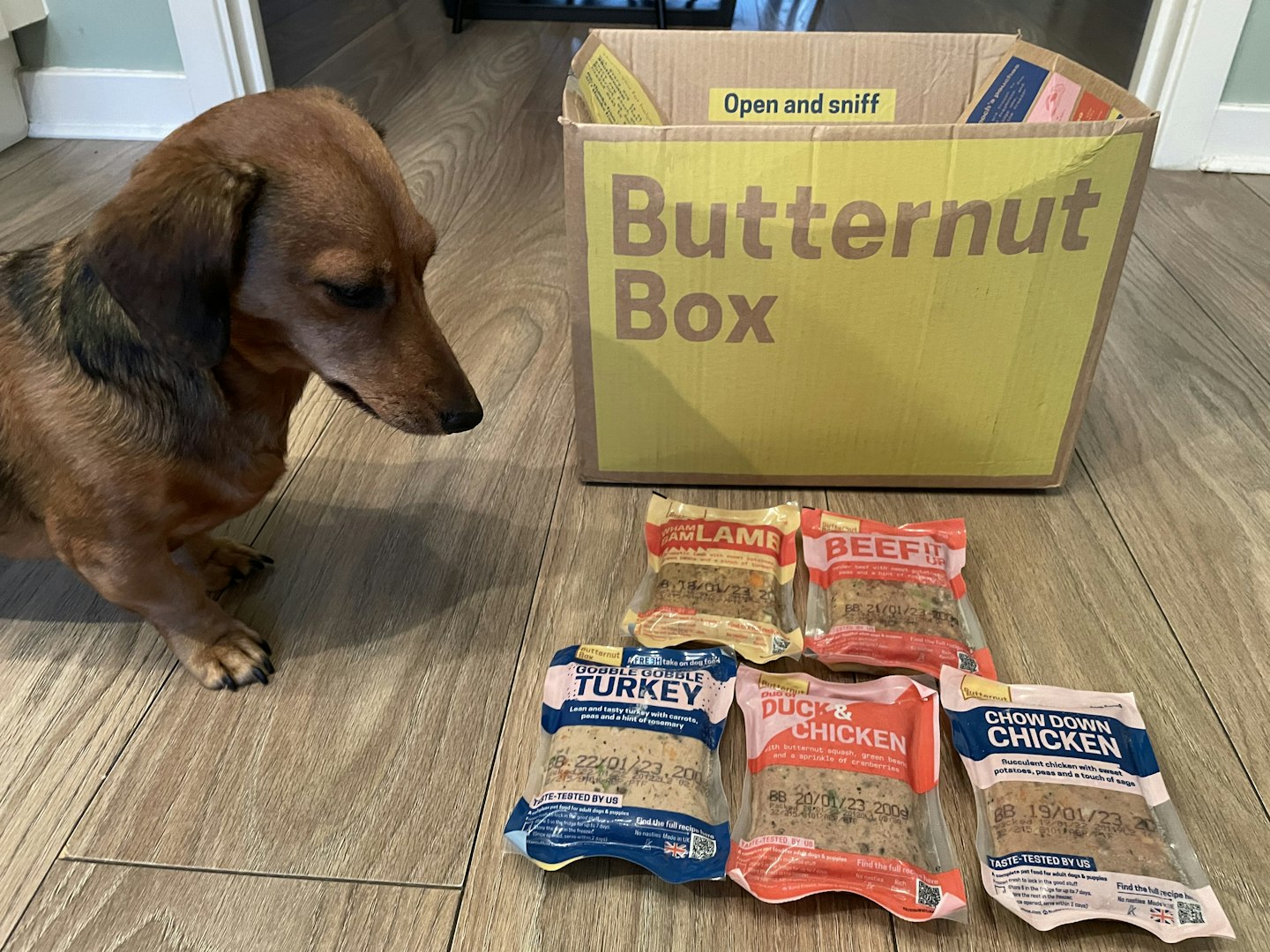 It's safe to say that Luna quickly took to her new food. She ate every single bit of food and soon anticipated the arrival of her breakfast or dinner, wagging her tail furiously when she saw us get the pouch out of the fridge and whining excitedly as we popped it in the microwave. It also became a habit of hers to hopefully check her food bowl when she trotted past, incase it just so happened to have been refilled without her realising.
How does Butternut Box compare to rival products?
As the only fresh dog box subscription on the market, the closest comparison to make to Butternut Box would be to Tails.com and even that's a pretty big stretch.
Just like Butternut, you fill in a questionnaire about your dog who then create a "unique kibble recipe" that is just for them. You can then add on wet food options and a selection of treats. The food is then delivered every month to your door.
As with Butternut, a Tails.com subscription totally depend on your dog, but the average price range for dry food is between £10.44 for small dogs and £39.03 for giant dogs.
When popping in Luna's details on Tails, the price was £14 for 31 days of primarily dry food. It did not give the option to add on wet food, perhaps because she is hypoallergenic.
The major difference between the two brands however is that while Tails.com recommends combining dry food with wet options, Butternut is either completely fresh dog food or mixed with a little dry food if the buyer desires. Read our in-depth review on Tails.com.
If you're looking to find more about other dog subscription boxes, we've done the hard work for you.
Final thoughts
The Butternut Box website is really slick and user-friendly. I found it easy to use and logging into my account to check over Luna's plan was nice and simple. You can quickly amend your plan too, changing things like the daily serving size, delivery frequency and recipe choice to suit you and your pooch.
It was genuinely really love to see how happy the Butternut food made Luna. While her dry kibbles always got eaten eventually, never has she shown so much excitement for her meals, apart from when she's having a dog-friendly roast dinner on a Sunday. Which makes sense - both are hot, fresh and tasty.
Although we weren't brave enough to try the food ourselves, it was nice to see the big chunks of veggies when serving the food and unlike wet dog food, the smell didn't make me gag either. Just how quickly Luna wolfed down and how excited she got at mealtimes was a testament to how much she enjoyed the food.
I love love love how transparent Butternut are about what is in their recipes and how it is all made. This is a huge selling point for me. It's also clear how much time, effort and knowledge has gone into crafting the recipes and ensuring that all the nutrient groups are covered.
The fact that it's all pre-portioned is handy too, ensuring owners are giving their beloved pups the right amount of food. Serving is a doddle as well, just tear the packet and pour.
Although I can't ask her myself to check if she agrees, I liked the different variety of flavours and recipes Luna got to have throughout her trial and I felt like a good dog-parent giving her such a wide range of different tastes. Here's a closer look into a couple of the recipes:
Beef It Up: Freshly Prepared Beef 60% (Minced Beef, Ox Heart, Ox Liver), Carrots, Sweet Potatoes, Green Lentils, Red Split Lentils, Peas, Cauliflower, Broccoli, Brewer's Yeast, Minerals, Sunflower Oil, Ground Flaxseed, Dried Rosemary.
Duo of Duck & Chicken: Freshly Prepared Duck and Chicken (60%, (Min. 26% Duck, 26% Chicken)), Carrots, Butternut Squash, Green Lentils, Red Split Lentils, Green Beans, Cranberries, Broccoli, Cauliflower, Brewer's Yeast, Minerals, Ground Flaxseed, Dried Rosemary, Dried Sage.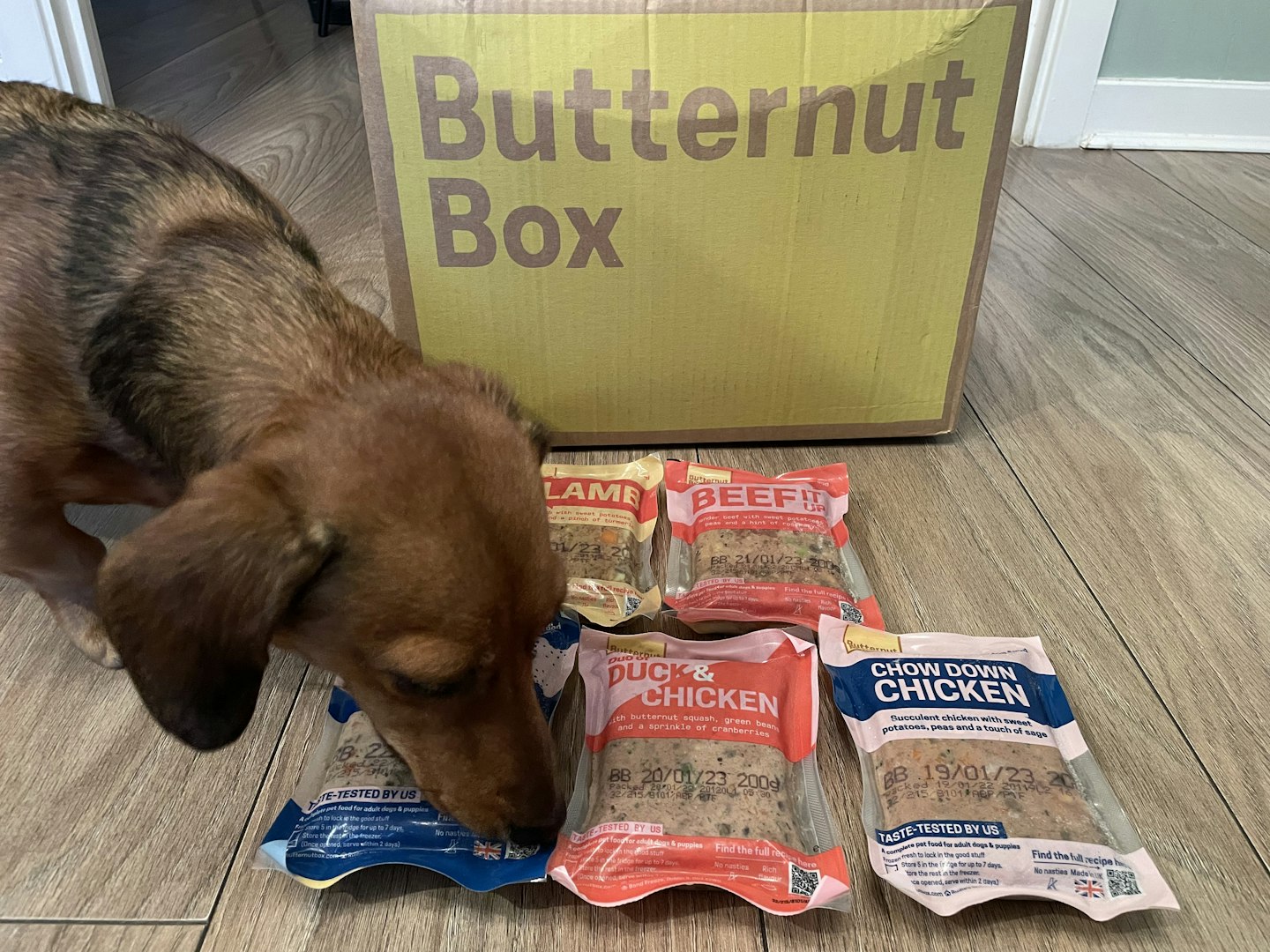 If we wanted to go forward with a Butternut Box subscription for the full four weeks, we would be looking to pay £1.60 a day for 200g pouches, so a total of £44.80 every four weeks while Luna's usual food usually costs us £9.99 for 2kg per month. While you simply cannot compare the two types of food side by side, there's no denying that at four times the cost for a Butternut Box, it would be a difficult switch to make.
An alternative option would be to instead opt for a smaller pouch size such as 125g. We would then make up the rest by mixing in other food. This would instead cost £1.31 a day and £36.68 a box. Slightly cheaper sure, but are still going to need another dog food to combine Butternut with.
Just like any subscription, it goes without saying that using Butternut Box is simple and efficient. It's nice to know that it's a job that's taken care of and you don't need to worry about running out of dog food. You just have to unpack the box and remember to get the pouches out of the freezer.
While we're fortunate enough to have two freezers and were fine with two weeks' worth of food, some families might struggle for room alongside their own food, especially with 23 pouches to fit in and another five in the fridge.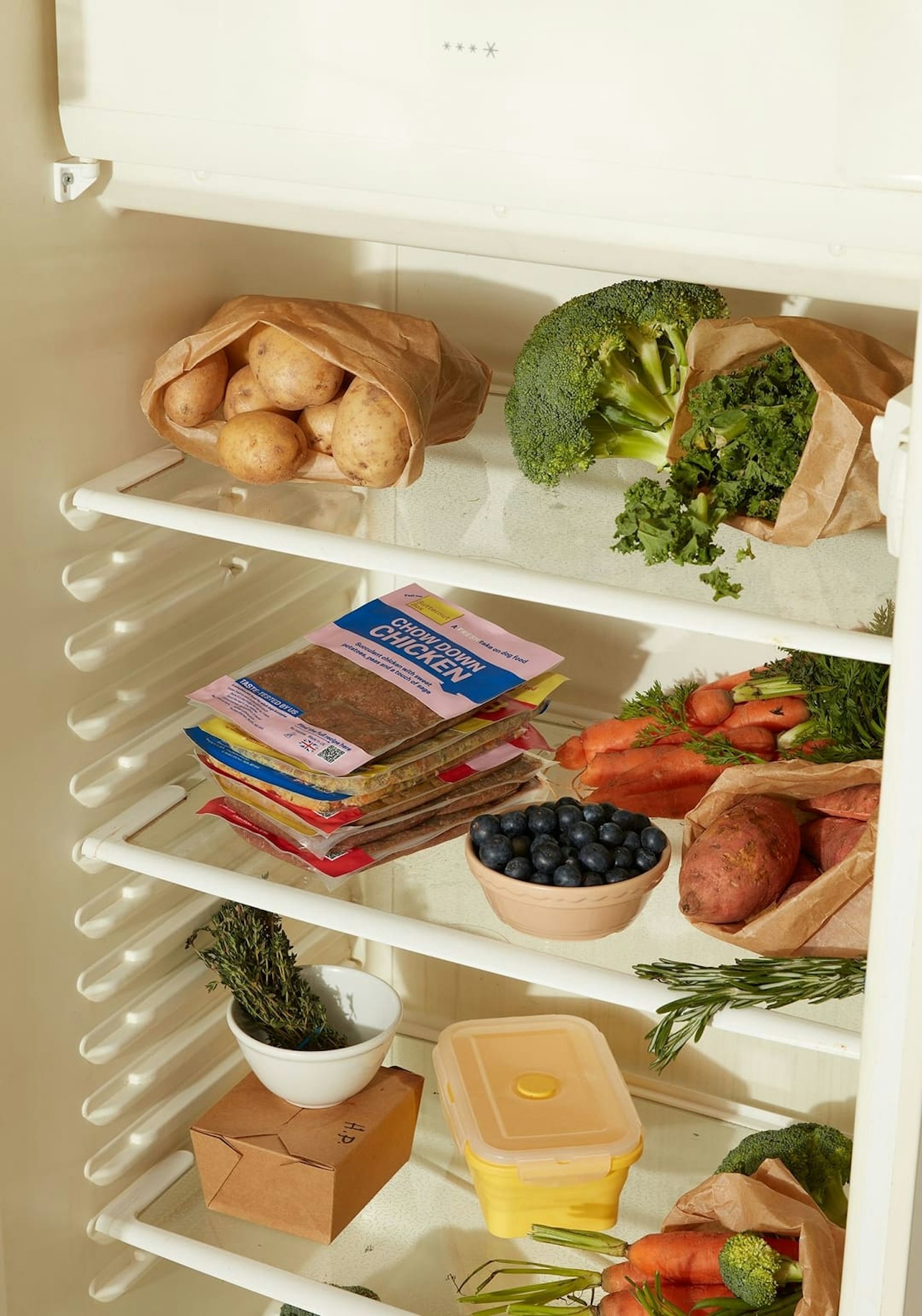 FAQs
Can humans eat Butternut box?
While the food is created for dogs, yes technically humans can eat Butternut meals. In fact, the brand personally taste-tests all of the recipes and encourages you to give them a try too.
Is Butternut box wet or dry food?
Butternut box is technically wet dog food but the brand are keen to stress that it's very different to the canned commercial wet foods you might usually buy. Butternut box uses only ingredients that you'd recognise from your local supermarket and rather than heating the ingredients to high temperatures (which can affect the nutrients inside the food), Butternut steam cooks instead, helping the ingredients stay wholesome while any bacteria is still killed off.
How often does Butternut deliver?
The brand can deliver anywhere from every seven to every 56 days, depending on your dog's plan. You're also able to manually adjust the delivery dates at any time.
Popular articles to read next