All dog owners want their beloved pet to have the very best, especially when it comes to dinner time. A tails.com food subscription box seems to solve the problem that busy dog owners face when it comes to buying high-quality, affordable food in the most convenient way. But does it work out cheaper than buying from your local pet shop or supermarket? And will your dog love it?
With so many dog subscription boxes on the market, we decided, (along with canine tester, Frankie) to put tails.com to the test.
Overall rating: 5/5
Ingredients/health rating: 5/5
Value for money: 5/5
While we may receive commission for purchases made through our links, we never allow this to influence product selections.
Jump to:
About tails.com
Tails.com was founded in 2013 by a small group of people who wanted to bring one vet's idea to life. With an enormous number of pet food brands jumping out from the supermarket shelves, vying for our attention, how could a dog owner possibly know what would suit their companion best?
A team of experts, including vets, nutritionists and engineers (and their dogs, obviously), came together to develop a way to create unique recipes for every dog - no, really. Everything is considered; from taste preferences to allergies, age and weight, tails.com puts the control back in the owner's hands, with no mysterious ingredients or jargon in sight. Each recipe is made from over a million combinations, and tails.com has been proudly delivering millions of meals to thousands of dogs, with excellent reviews.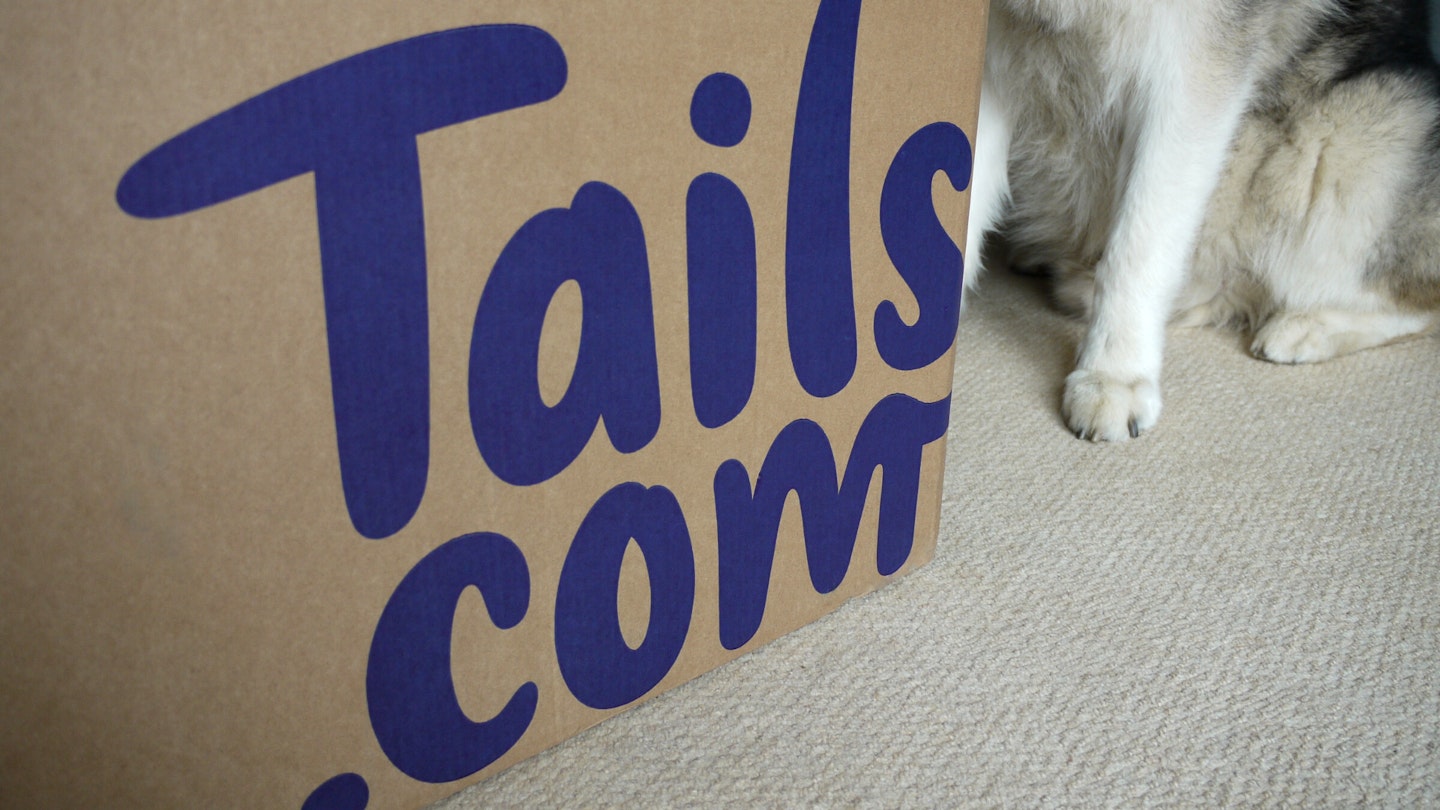 Related: The best dog towels to keep your pooch clean and dry
How does a tails.com subscription work?
It couldn't be simpler - you fill in your dog's profile online, including their age, size, breed, any sensitivities and health goals. The website is extremely straightforward to use, and you'll be done in a matter of minutes.
Then, the team sets to work, crafting your dog's unique kibble recipe. At this point, you can add in wet food trays, treats, dental sticks, dog waste bags and more, and set up your delivery schedule.
The experts will also work out how many calories your dog should be having each day from dry food, wet food and treats. Plus, you'll receive a scoop with a specific setting to ensure you never over or underfeed them. This makes it easy to manage your dog's weight - if that's something you struggle with.
From then on, you never have to worry about running out of food, as it's delivered to your doorstep every month.
You can tweak your subscription at any time, pressing pause, adding in extras or taking off what you don't need. Plus, as your dog's age, tastes or needs change, your recipe changes too, to give them the very best nutrition throughout all life stages.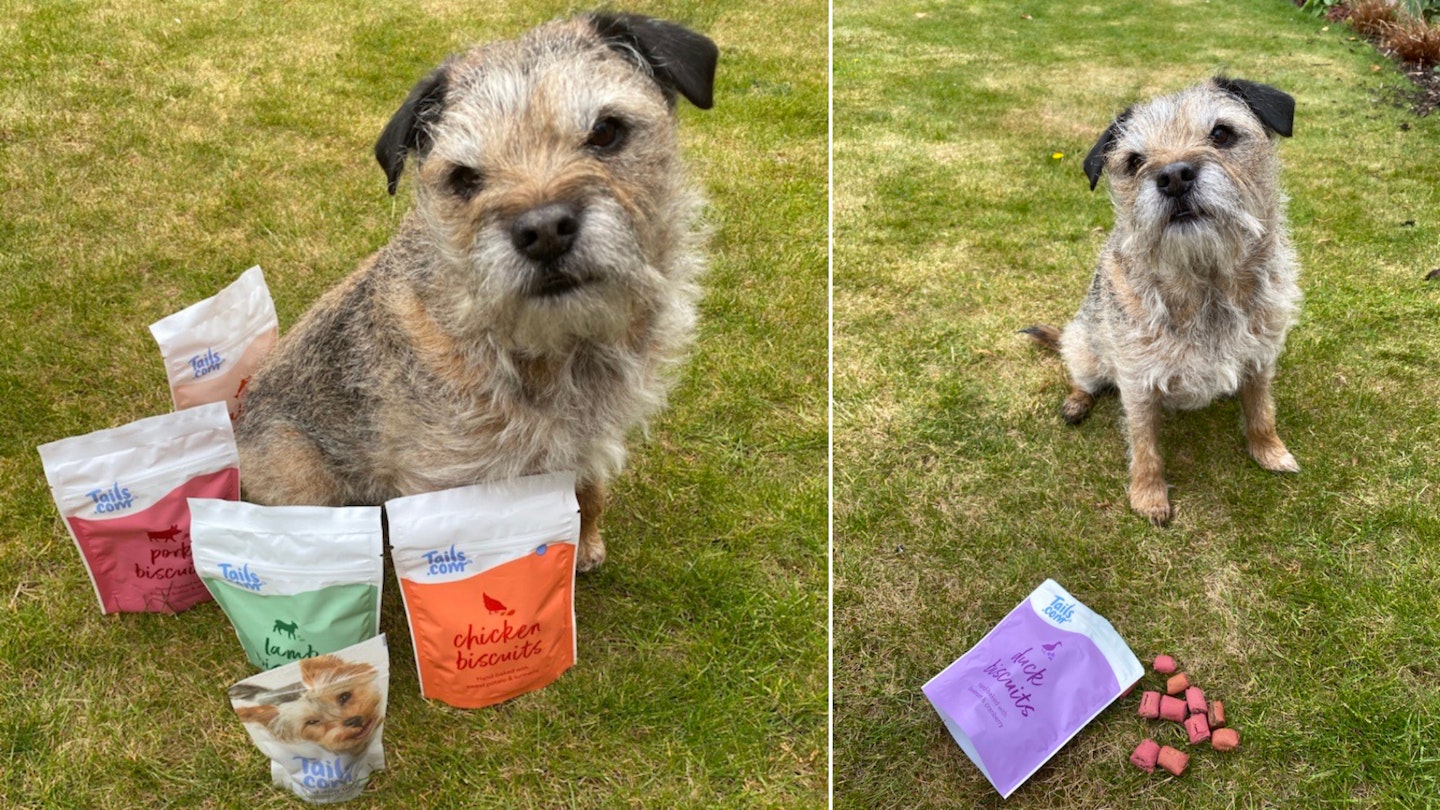 Tails.com dog food ingredients
According to the website, Frankie's dry food is made up of Advanced Mobility, Optimised Care and Senior Health. As a nine-year-old Alaskan Malamute with arthritic legs, this makes complete sense.
When it comes to the ingredients, I'm pleased to see there are no nasties sneaking in, plus everything is explained clearly and concisely.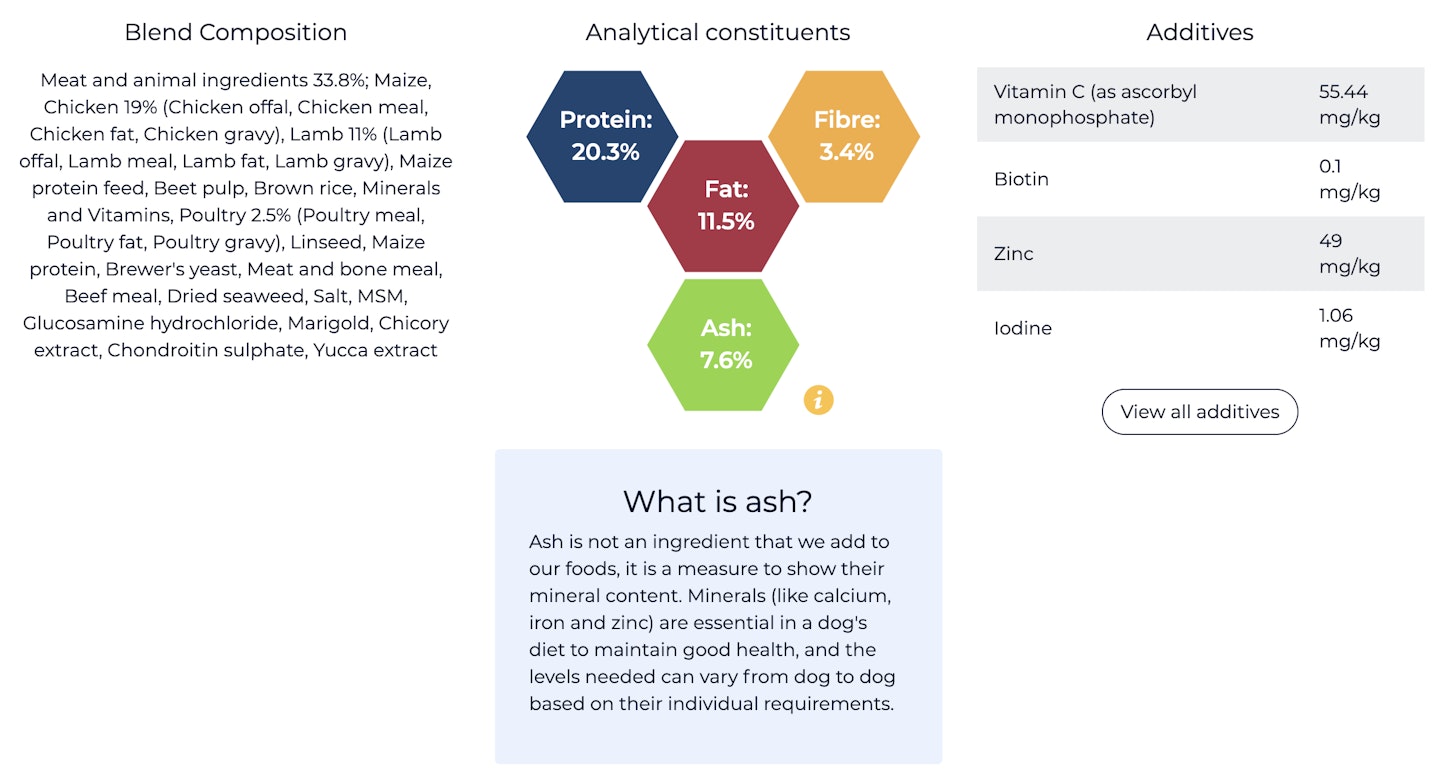 Tails.com kibble contains the right balance of meat, vegetables, vitamins and minerals for your dog, with natural ingredients sourced from the UK, EU and occasionally, further afield. The brand has high meat quality and animal welfare standards, which is great to see.
Pricing
Tails.com subscriptions totally depend on your dog, but the average price range for dry food is between £10.44 for small dogs and £39.03 for giant dogs. Once you add on your extras, like wet food, treats and chews, you'll be given a monthly total, which you can edit at any time.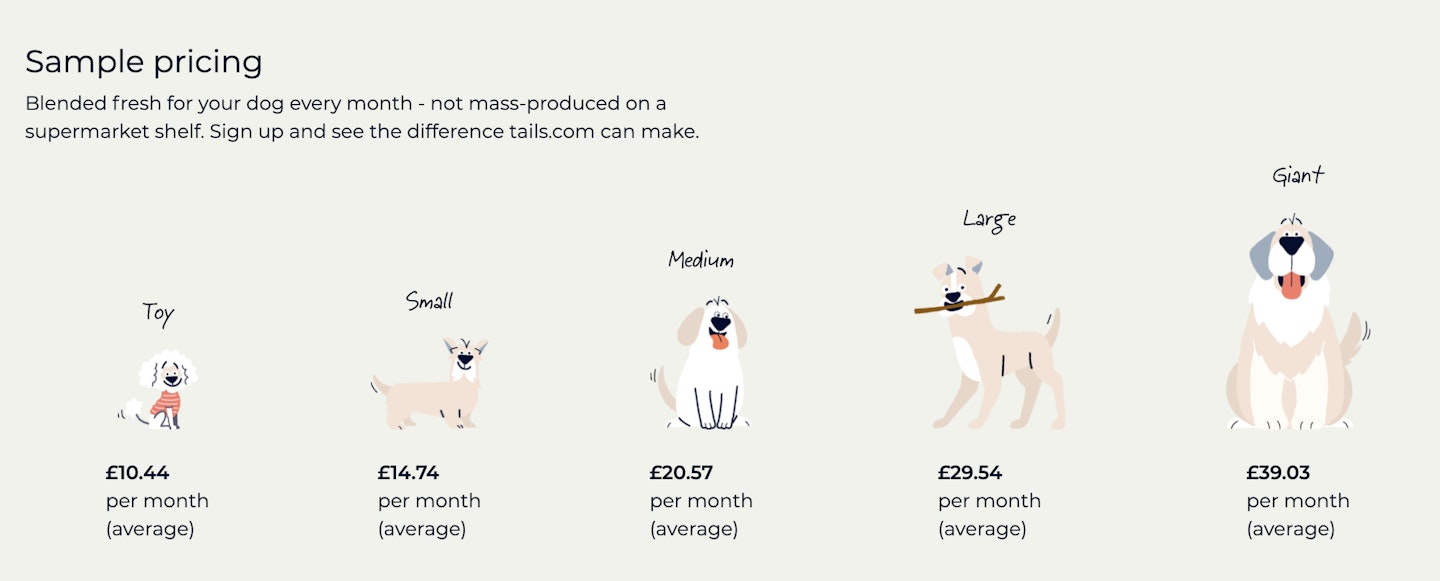 So, does a tails.com subscription box actually save you money? Let's find out.
Tails.com vs supermarket dog food
| | |
| --- | --- |
| Dry food: £32.37 | Dry food: £31.99 |
| Wet food: £26.35 | Wet food: £60 (£2 per tray) |
| Dental Dailies: £7.96 | Dental chews: £4.75 |
| Biscuits: £5.20 | Biscuits: £2.50 |
| Dog waste bags: £2 | Dog waste bags: £1 |
| Tails.com total: £73.88 | Supermarket total: £100.24 |
As you can see from this comparison, I'd save almost £30 per month if I stick with tails.com, rather than buying my usual, good quality products from the supermarket. Plus, I know that the food is tailored to my dog, which wasn't the case previously, and is of excellent quality.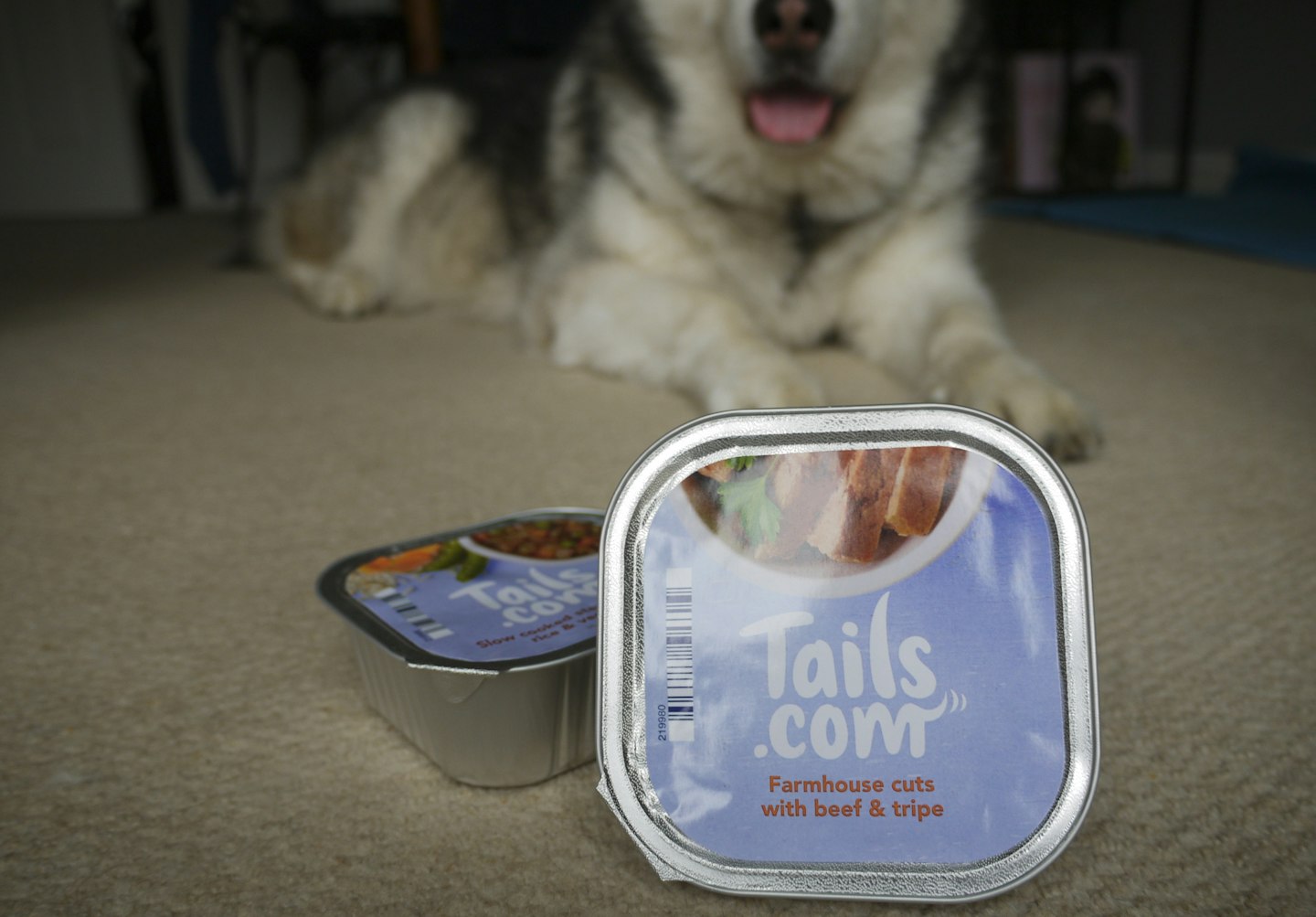 Tails.com taste test
Let's get to the most important part of all. Does my dog like it? As Frankie is food driven, he'll eat almost anything, but it's clear that tails.com is on another level for him.
Alaskan Malamutes are a vocal breed, so when they really love something, you'll know about it. Dinner time has now become an almighty song and dance - he leaps around the room, barking and howling at us until we're done dishing up and he can dig in, wolfing it down in just a few minutes. He's never been this vocal about any previous food brands, so I know he loves it.
He particularly enjoys the shepherd's hot pot with lamb, vegetables and rosemary in gravy - a dish that my partner also says "smells good enough to eat" himself. I opted for a mixture of flavours and textures, so every day is different - perfect if your dog is fussy and likes variety.
Whenever a delivery arrived, Frankie would patiently sit by the box, drooling as I emptied it out into the cupboard, hoping for a sneaky salmon biscuit. Obviously, I obliged (wouldn't you?).
All in all, tails.com definitely passed the taste test, plus Frankie's coat is shinier, he's shedding less, his teeth are cleaner and he's extra excited for each meal - a win-win for all of us. The handy scoop and tray sizes make it easy to keep his weight in check, too.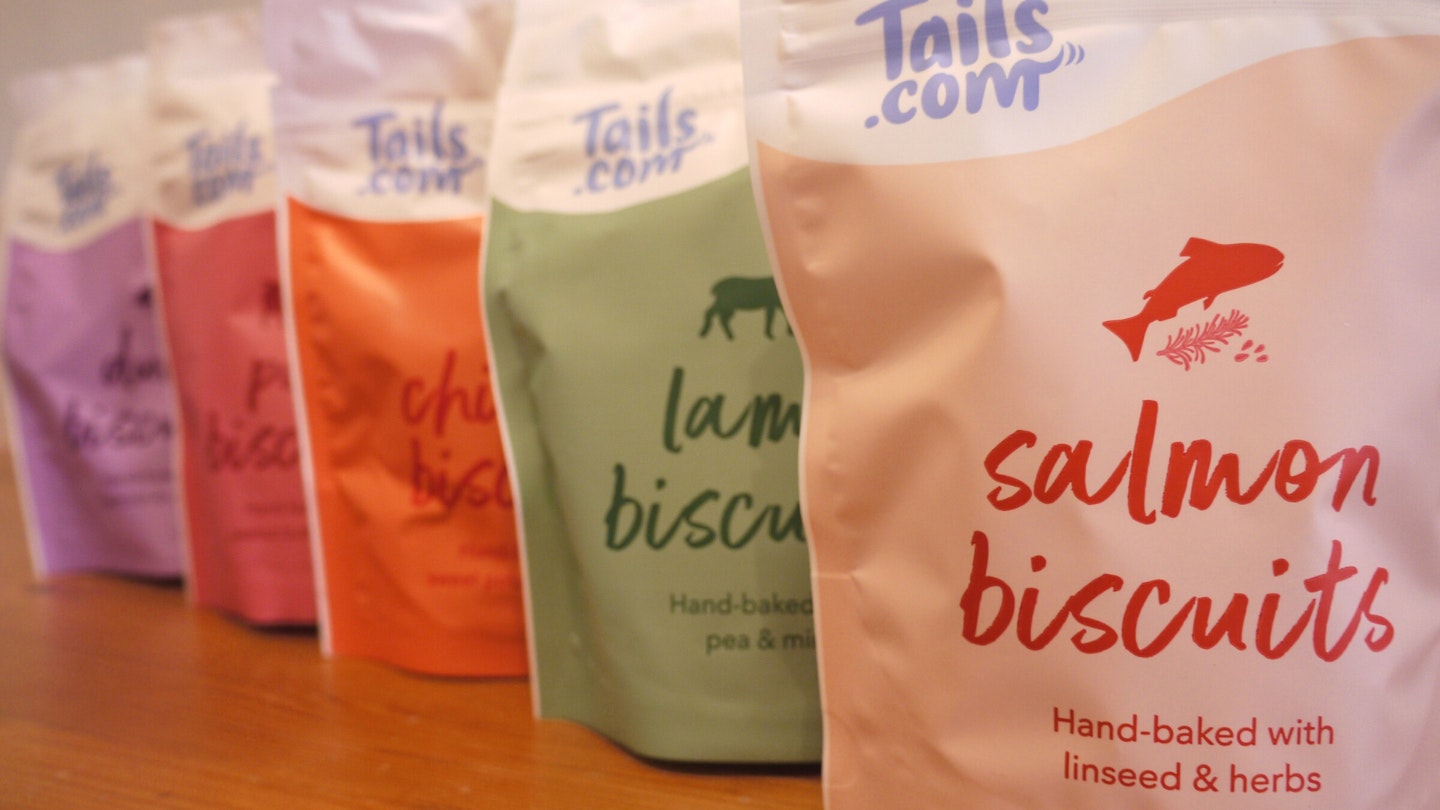 Tails.com review verdict
Having never felt truly comfortable that supermarket dog food was ticking all the right boxes for Frankie's health, but without the budget to spend on the top-of-the-range brands, I finally feel happy that he's getting all the essential minerals and vitamins he needs, with gentle and responsibly sourced ingredients that taste delicious.
It's clear that he loves his new feeding plan, and given all the positives I've seen since we made the switch, in his health and attitude towards dinner time (plus the extra £30 in my pocket each month), I can't ever see us going back to the way we fed Frankie before.
The handy email reminders and contact-free delivery make it as easy as possible for me as a busy dog owner, and I know that everything he needs for the month is in the box. I love the flexibility and the transparency of the brand, plus that it's founded by vets, nutritionists and dog lovers. Tails.com has transformed feeding time for us, and my only regret is that I didn't make the switch sooner.
Tails.com discount code
Description
Ready to try it out for yourself? New customers can get 75% off their first box by using the code
How we tested it:
Frankie and I tested a tails.com subscription over a period of several months, after switching over from shopping for dog food in the supermarket and pet shops. From the first month, I saw a difference in how excited Frankie was for mealtimes, plus it made life endlessly easier for me when it came to measuring his food and giving him high-quality food. I still continue to subscribe and Frankie is still just as excited when the deliveries arrive.
What to read next:
The best interactive dog toys and puzzles for your canine companion