Whether you are a hot drink lover or love your beverage ice cold - the best travel mug can really make your day. With an increasing number of coffee shops offering discounts for those who bring their own mugs, owning a travel mug is not just about sustainability - it helps you save money, too. Whether you're embarking on a scenic road trip, setting up camp under the stars, navigating the hustle and bustle of office life, or simply enjoying a warm cuppa from the best kettle in the comfort of your home, a trusty travel mug is an indispensable companion.
From the classic coffee-shop cups to the thermos-shaped designs perfect for longer adventures, there's a style of travel mug for every sip. Materials play a pivotal role in ensuring your drink stays just how you like it - so we have selected only the highest quality, leak-free products that will last. Stainless steel, for instance, offers durability and is impressive in maintaining the temperature of your beverages, ensuring that the first sip is as hot as the last.
Best travel mug at a glance:
• Best travel mug with a handle: ThermoCafé by Thermos - View on Amazon UK
• Best-sized travel mug: YETI Rambler Hotshot Bottle - View on Amazon UK
• Best travel mug on a budget: Lifeventure Thermal Mug - View on Amazon UK
Now, before you fill that mug, the quality of your drink often starts with the water source. For those grappling with the challenges of hard water, selecting the best kettles for hard water tailored for this issue is a good idea, so your tea or coffee remains true to its flavour, devoid of any unwanted nasties. Just like stainless steel travel mugs, the best stainless steel kettle is a surefire way to ensure your appliances stand the test of time.
Travel mugs also save you time as well as money. Think of the time and money you'll save by prepping your own beverages in the comfort of your home. With that in mind, here are our pick of the best travel mugs in all shapes and sizes to suit your lifestyle.
Best travel mug
Best travel mug with a handle
Description
The ThermoCafé Desk Mug is a vacuum-insulated, stainless steel mug that ensures your drink remains
Pros
Keeps beverages warm for up to eight hours
Double wall insulation ensures safety and temperature retention
Features a twist-lock lid and leak-proof
Cons
The soft-touch plastic exterior might not appeal to everyone
It doesn't fit in all cup holders
Best plastic-free travel mug
Description
For the eco-conscious, the Dualit Travel Mug is a dream. It is a plastic-free gem with a sleek
Pros
Plastic-free

Its minimalist design and travel-friendly

Keeps drinks hot for seven hours or cold for 12 hours
Cons
Some might find the removable silicon trims less durable
Best-sized travel mug
Description
The Yeti Hotshot Bottle is a real winner when it comes to design. It is leak-proof and crafted
Pros
Leak-proof experience
Made with top-notch kitchen-grade stainless steel
No Sweat Design ensures dry hands, and the colour remains vibrant
Cons
Limited size variations might not cater to everyone's needs
Best travel mug on a budget
Description
The Lifeventure Thermal Mug is an excellent value pick for those on a budget. It challenges its
Pros
14 different colours
Good value
Drinks stay hot for up to six hours 
Cons
Lacks a sipping hole, requiring the lid to be unscrewed
Best large rambler travel mug
Description
Meet the Yeti Rambler - the epitome of durability and style. Crafted from robust stainless steel,
Pros
14 colours
Durable stainless steel ensures longevity
MagSlider Lid offers added protection for your drink
BPA-free
Dishwasher safe
Cons
Might be too large for some users
Best travel mug for grip
Description
Sophistication meets functionality: the Contigo Luxe Autoseal Travel Mug has a curved design that
Pros
A stylish mug with a comfortable grip
Features a push-button seal for a spill-free experience
It can be used one-handedly
Cons
Doesn't keep warm for as long as others
Best silicone travel mug
Description
Using this portable coffee cup ensures a no-hassle drinking experience. Its latex-free spill-proof
Pros
BPA, BPS and melamine free
Vegan friendly
Very lightweight
Best collapsible travel mug
Description
Cheap and cheerful, this collapsible coffee cup is minimalist and comes in many different colours.
Pros
Very lightweight

100 per cent food grade Silicone and PP
Collapsible
Cons
To use this cup, you need to lift the drink hole cover
Retains heat for one hour
What to consider when buying a travel mug
Plastic: Plastic mugs are lightweight, making them easy to carry around. Plus, they are also often more affordable than their stainless steel counterparts. Over time, plastic can absorb flavours, which might affect the taste of your beverages. They also might not be as durable or efficient in maintaining temperatures.
Stainless steel: Stainless steel is known for its excellent temperature retention, ensuring your drinks stay hot or cold for extended periods. It's also durable and resistant to rust and staining. Some people might detect a slight metallic taste, especially if the interior isn't coated. They can also be a bit heavier than plastic mugs - but are generally the more preferred option.
Size and capacity: Consider how much beverage you typically consume. If you're a one-cup person, a smaller mug might suffice. But if you drink multiple cups or enjoy larger beverages, opt for a larger-capacity mug that can last the day.
Lid type: A leak-proof lid is crucial, especially if you're on the move. Some mugs offer twist-on lids, while others have snap or press seals. Choose one that you find easy to use and secure -there are even some options that are designed to be able to use one-handedly.
Handle: While handles can make a mug easier to grip, they might not fit all car cup holders. Decide based on where and how you'll be using the mug most often. If you want a more conventional mug feel, opt for one with a safely designed handle. If it's the flexibility you are after, then a handle-free mug is your best bet.
Insulation: Double-walled insulation is ideal for maintaining your drink's temperature and preventing the mug's exterior from becoming too hot or cold to touch. The best travel mugs will naturally be designed with this in mind.
Both materials have their advantages. Stainless steel is excellent for temperature retention, while plastic is lightweight. The choice often comes down to personal preference and intended use.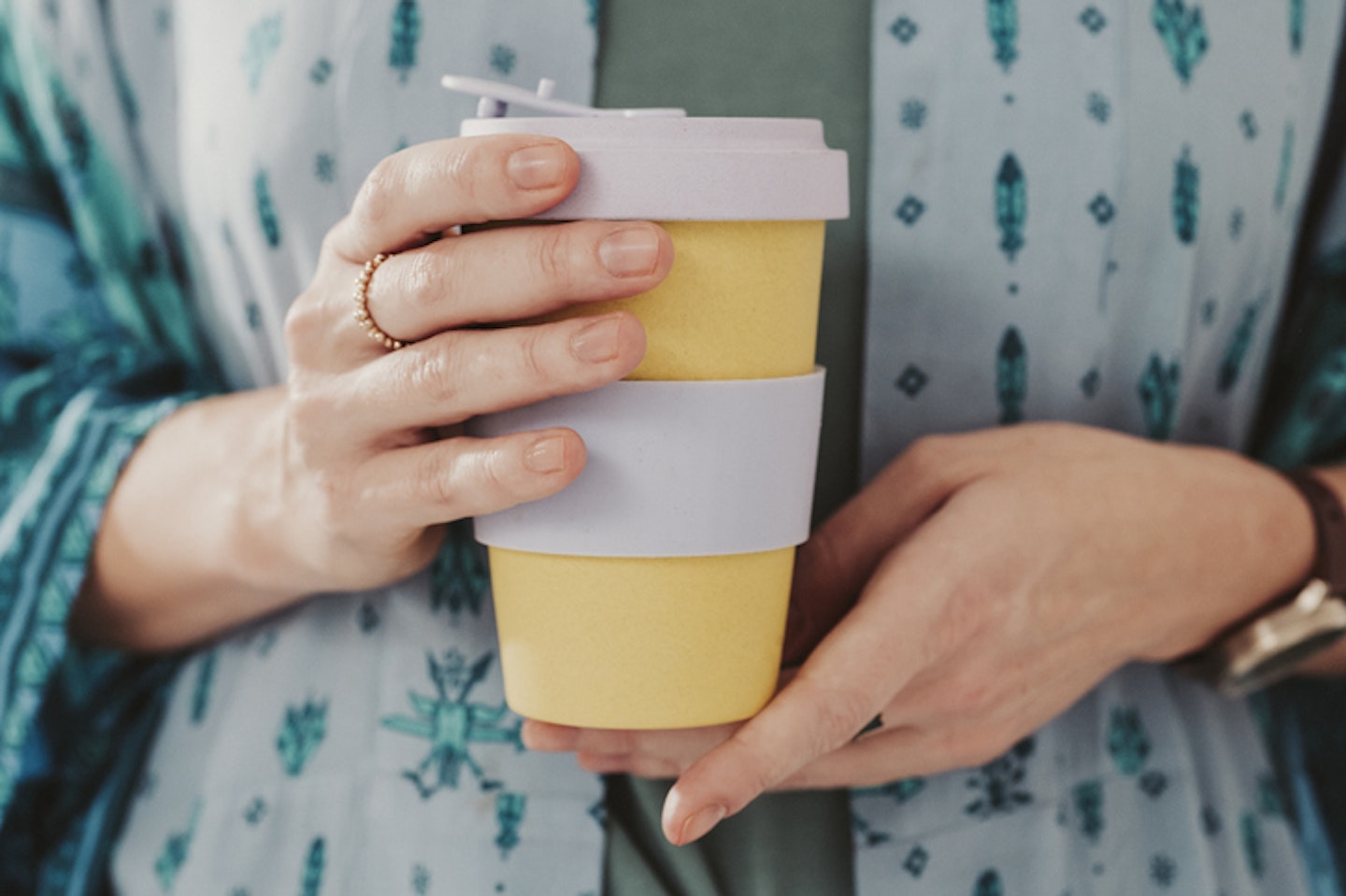 FAQs
What are the benefits of a travel mug?
Travel mugs are eco-friendly, economical, and convenient. They allow you to carry your favourite beverages on the go, reduce waste from disposable cups, and often lead to discounts at coffee shops. If you are looking for more eco-friendly appliances, then our guide to the best energy-saving kettle could be a good place to look.
How long can a travel mug keep my drink hot or cold?
This completely varies by design and material, but a good-quality travel mug can keep drinks hot for up to eight hours and cold for up to 12 hours.
Are travel mugs dishwasher-safe?
While many travel mugs are dishwasher safe, checking the manufacturer's instructions is essential. Some materials or designs might require handwashing.
Can I use my travel mug for both hot and cold drinks?
Absolutely! Most travel mugs are designed to handle both hot and cold drinks. However, always ensure the mug is at room temperature before pouring in a very hot or very cold liquid to prevent potential damage.
Ellen Kinsey is a senior health and wellness product writer for Yours, specialising in natural health and beauty. She lives and breathes all things food, travel and wellness.