Whether you're making your morning cuppa or boiling some water to assist with the cooking, the best kettles are, without a doubt, one of the most popular kitchen appliances. Whether you prefer to steep your tea in a pot or prefer the convenience of an instant cup, a good kettle is essential. But with so many options on the market, how do you know which one is the best kettle for your needs?
When it comes to kettles, the material is also an important aspect to consider. Most kettles are made of stainless steel, which is durable and easy to clean, but some may prefer a more traditional look with a ceramic or porcelain finish. Others may opt for a glass kettle, which allows you to see the water boiling and adds a touch of style to your kitchen.
Black Friday deals on kettles
We interrupt the regularly scheduled content to let you know that although Black Friday is over, there's still time to grab some last chance Black Friday deals on kettles. These are the retailers that still have deals available or keep scrolling to continue reading our buyer's guide.
Explore Black Friday kettle deals on: Amazon UK | Robert Dyas | Very | ao.com
27% off: Russell Hobbs 20460 Quiet Boil Kettle WAS £44.99, NOW £32.95
35% off: Swan Alexa Smart Kettle WAS £99.99, NOW £65
32% off: Russell Hobbs Brita Filter Purity Electric Kettle WAS £43.99, NOW £30
Additionally, some kettles have special features such as a built-in filter to purify the water or a keep-warm function to maintain the temperature of the water for a longer period of time. No matter what your preferences are, there is undoubtedly a kettle out there that will fit your needs.
So, there is a lot to think about when it comes to seeking out the best kettle for your kitchen - from size to its speed, noise levels and, of course, its price. Some of the best smart kettles even offer different temperature levels so that you can boil your brew at the optimum temperature. It can be thirsty work deciding on the right kettle for your kitchen, but we've helped narrow down the best on the market for you to choose from.
Best kettles at a glance
• Best quiet kettle (Top pick): Russell Hobbs 20460 Quiet Boil Kettle - view on Amazon UK
• Best eco kettle: Philips Eco Conscious Edition Kettle - view on Amazon UK
• Best Alexa kettle: Swan Alexa Smart Kettle - view on Amazon UK
• Best kettle and toaster set: Morphy Richards Illumination Kettle and Toaster Set - view on Morphy Richards
Best kettles for your kitchen
Best Alexa kettle
Description
Kitchen appliances just keep on getting smarter, and with the Swan Alexa Smart Kettle, you can set
Pros
Can be activated remotely to boil water
LED touch panel control
Cordless base
4 temperature settings
Sleek and stylish design
Cons
Not available in a range of colour options
Best quiet kettle (Top pick)
Description
If you have an open living space, then a quiet kettle is a must. This one from Russell Hobbs has
Pros
Can boil one cup in 45 seconds
Designed to boil quietly
Stainless steel is easy to clean
Cons
Stainless steel will get very hot to touch
Best eco kettle
Description
This ultra modern-looking kettle from PHILIPS has been created from 100 per cent Bio-based
Pros
Stylish design
Sustainably made
Easy to read water level and cup indicator
Automatic switch-off function
Good size
Cons
A little lower wattage than competitor kettles
Best smart kettle
Description
If you love having the latest bit of tech, are a new parent or have mobility issues, this smart
Pros
Ideal for those with mobility issues, new parents and brew lovers
Extra safe with the dry-boiling protection programme
App and voice control gives you the freedom to continue doing other things
Water indicator on both sides, ideal for left and right-hand users
Cons
Can take some time getting used to
Best energy-efficient kettle
Description
This clever kettle from Breville saves you time and energy and will prevent you from constantly
Pros
Still hot illumination light prevents unnecessary reboiling
Non-fussy, modern design
Best kettle for hard water areas
Description
Pros
Filters and boils simultaneously
Quiet
Delivers great-tasting water
Attractive blue light to indicate when boiling
Cons
Can take a while to filter water through
Best kettle and toaster set
Description
Pros
Powerful and quick to boil
Sleek design
Soothing illuminating blue light around the rim when boiling
Best for a speedy boil
Description
If you like your brew sharpish, then look no further, as this kettle from De'Longhi can boil one
Pros
Good size
Available in a range of colours
Three-level safety protection (turns off when water has finished its boil when lifted off base and has a thermal cut-off)
Best budget kettle
Description
Pros
Available in a range of colours
Stylish honeycomb design
Can boil one cup of tea in 43 seconds
Best mini kettle
Description
Mini kettles are ideal for smaller households or for those struggling with mobility in their
Pros
Elegant glass exterior, which will suit all kitchen interiors
Lightweight at 1kg
Powerful and boils fast
Easy to keep clean
Best for style
Description
Get all the benefits of an electric kettle but in the style of a traditional kettle with this one
Pros
Large, easy-to-grip handle
Affordable
Attractive, traditional design
Saves up to 66 per cent energy when boiling one cup
Cons
Slightly more difficult to see how much water is inside
How to choose the best kettle
Here are several things to think about before beginning the hunt for your new kettle:
Size: Think about who you are buying the kettle for. Is it for yourself? An office space? And if it is for your home, do you have a large family? The average kettle size in the UK is between 1.5 litres and 1.7 litres. However, if you need to accommodate more people, then you can get a 2-litre kettle.
Finish: Kettles come in a stainless steel or plastic finish. Stainless steel can look sleek and stylish but will be hotter to the touch than plastic. If your household consists of smaller children, then you may want to think about this.
Noise: Lots of well-known brands have created quiet boil kettles. This can be an important feature for those who have open-plan kitchens or if you simply don't want to listen to the sound of water bubbling away.
Easy pour spout: There's nothing worse than having to constantly wipe up spluttering water every time you make a hot drink. An easy pour spout will give you an even pour, therefore preventing water from going everywhere.
Water gauge: As well as showing you how much water you've filled your kettle with, some kettles will show how many cups it can cater to. This can help you boil the exact water you actually need, saving both energy and water.
Style: Are you after a regular electric kettle or a stovetop-style electric kettle? Think about what type of kettle you actually want and what will look best in your kitchen. Also, remember that a stovetop electric kettle will most likely have a pull-off lid, while a regular electric kettle has the option of a spring lid. You might also want your kettle to match your toaster for a coordinated look.
Energy efficiency and eco-conscious: As well as the cost of living rising, many of us are trying to be more eco-conscious to help the planet. You may therefore want to seek out a kettle that has been made sustainably or has a quick boil option to save you energy.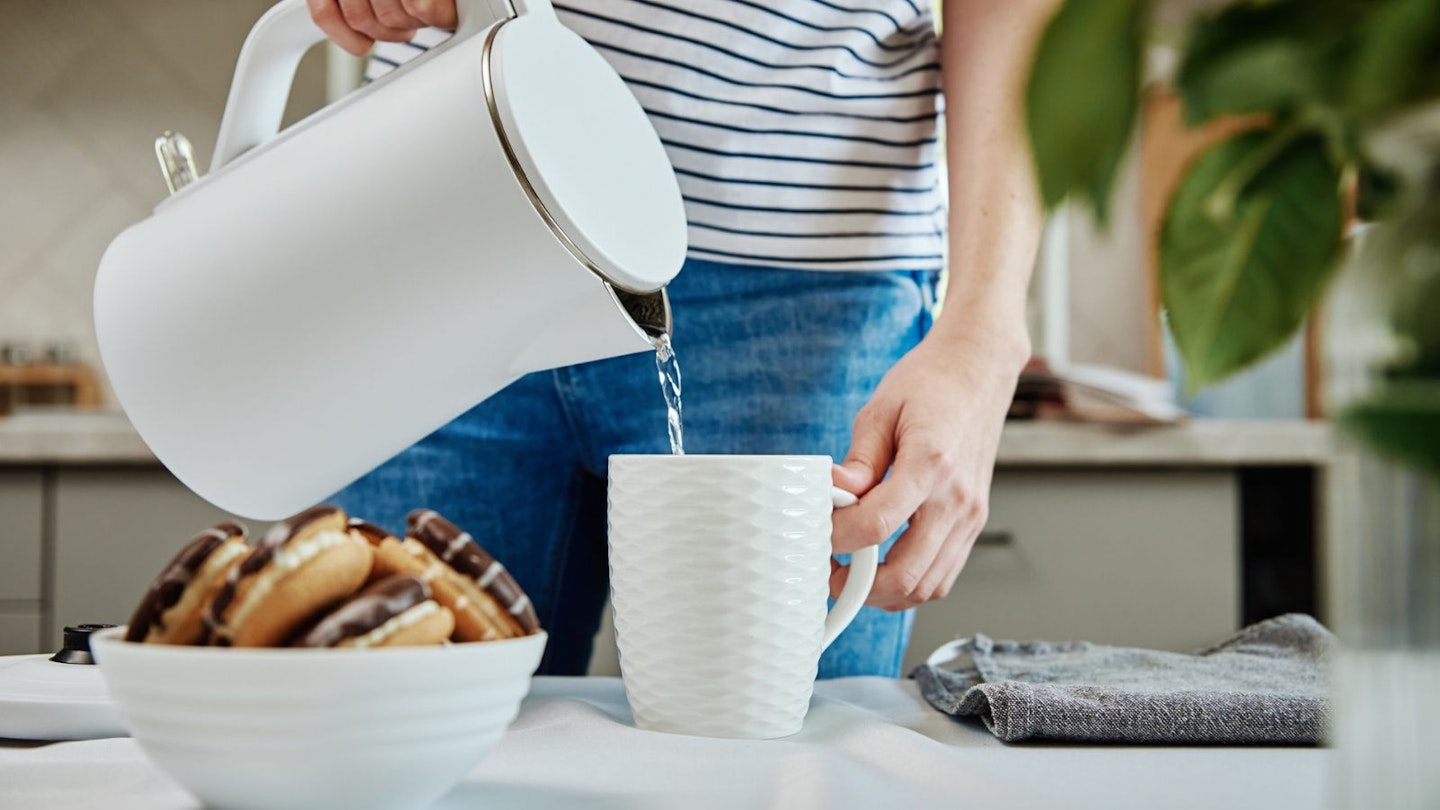 FAQs
What is the best descaler for kettles?
While you can buy descaling products for your kettle to keep it clean and limescale-free, you can actually descale your kettle using just vinegar and water. Here's a full tutorial on how to descale a kettle. Alternatively, boiling water taps are also becoming more popular as they come with built-in filter technology. With one of these, you can always count on your water being clean and clear.
What's the best kettle for hard water areas?
Filtration is key if you live in a hard water area. There are two filtration methods available; reusable mesh filters — which sit in/or near the kettle's spout and can be removed and washed — or cartridge filter technology. This is more advanced and works to eliminate the build-up of limescale in the kettle, boiling and filtering at the same time.
However, it is important to note that filtering cartridges will come with a higher cost for replacement, and the built-in filtration system will reduce the water capacity of your kettle. We've rounded up the best kettles for hard water areas so you can have a clean cuppa.
What's the best kettle to save electricity?
There are some kettles that have been designed to be more eco-conscious than others (such as the Philips Eco Conscious Kettle we've listed above). Others have a 'fast boil' option and can boil small amounts of water in as little as 45 seconds to help save energy.
In general, look for a kettle that has cup markers on the water gauge and good watt power. Filling a kettle up with the amount of water that you actually need, rather than filling it all the way to the top, will use less energy and save water too.