If you're looking for a safe haven to escape from the rain or harsh sun rays this summer, then you might want to consider some different ideas for gazebos to suit all gardens.
Like an outdoor garden room, gazebos provide a cosy shelter and impressive focal point of any garden or can be used to cover things like a gas or charcoal bbq or hot tub that you don't want to get wet, as well as keeping you protected from summer showers and provide some shade.
While some can cost a small fortune, there are many DIY ideas for gazebos that you can spruce up with some shed paint as well as budget options that look just as impressive and stylish. Your gazebo can have many functions too; you could add some comfy chairs to create an outdoor reading area, a small chair and table set where you can enjoy your morning cuppa or a larger outdoor dining space for entertaining guests.
Cosy gazebo with sofa and fairy lights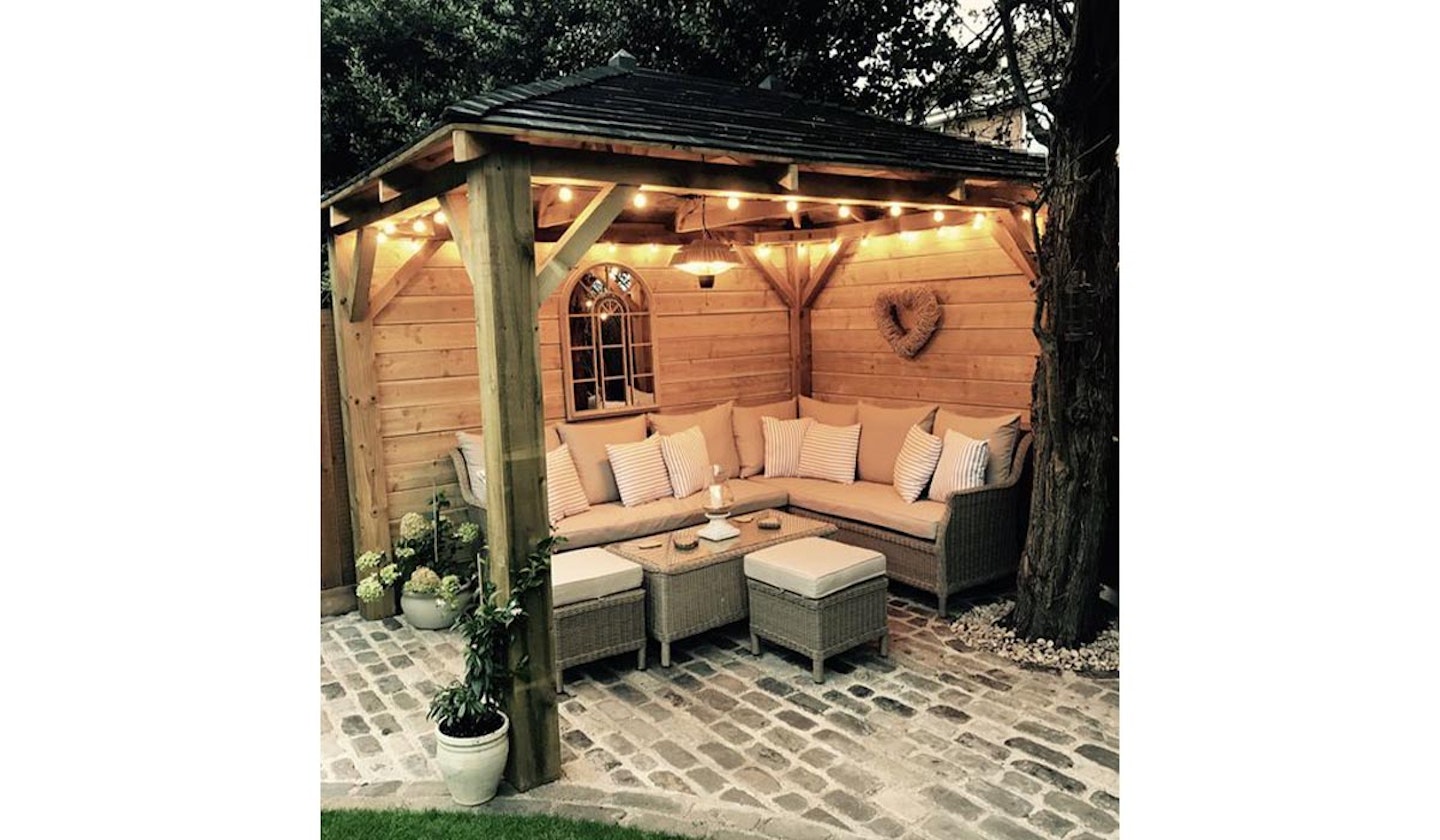 To create a real cosy haven in the comfort of your garden, take inspiration from this corner gazebo complete with luxury outdoor garden furniture with cushioned sofa, table and stools. With the addition of some homely features such as an outdoor mirror, outdoor fairy lights and plants.
Cabana style gazebo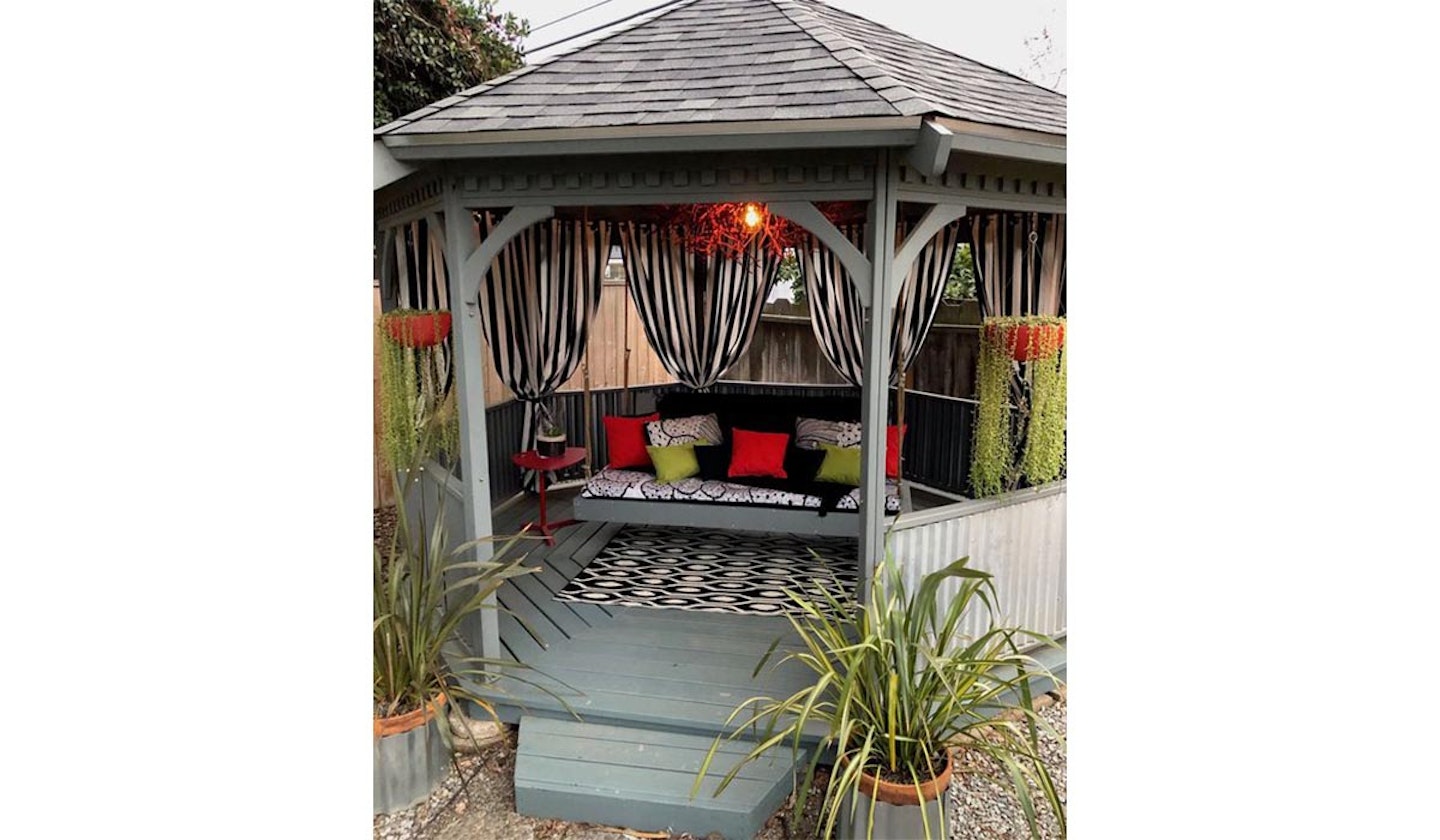 Ideal for warm summer months, this gazebo idea takes inspiration from cabana style beach cabins with the curtains draped around the side plus the addition of some brightly coloured pillows and outdoor rug to bring a real summer beach feel to your garden.
Gazebo idea for a large garden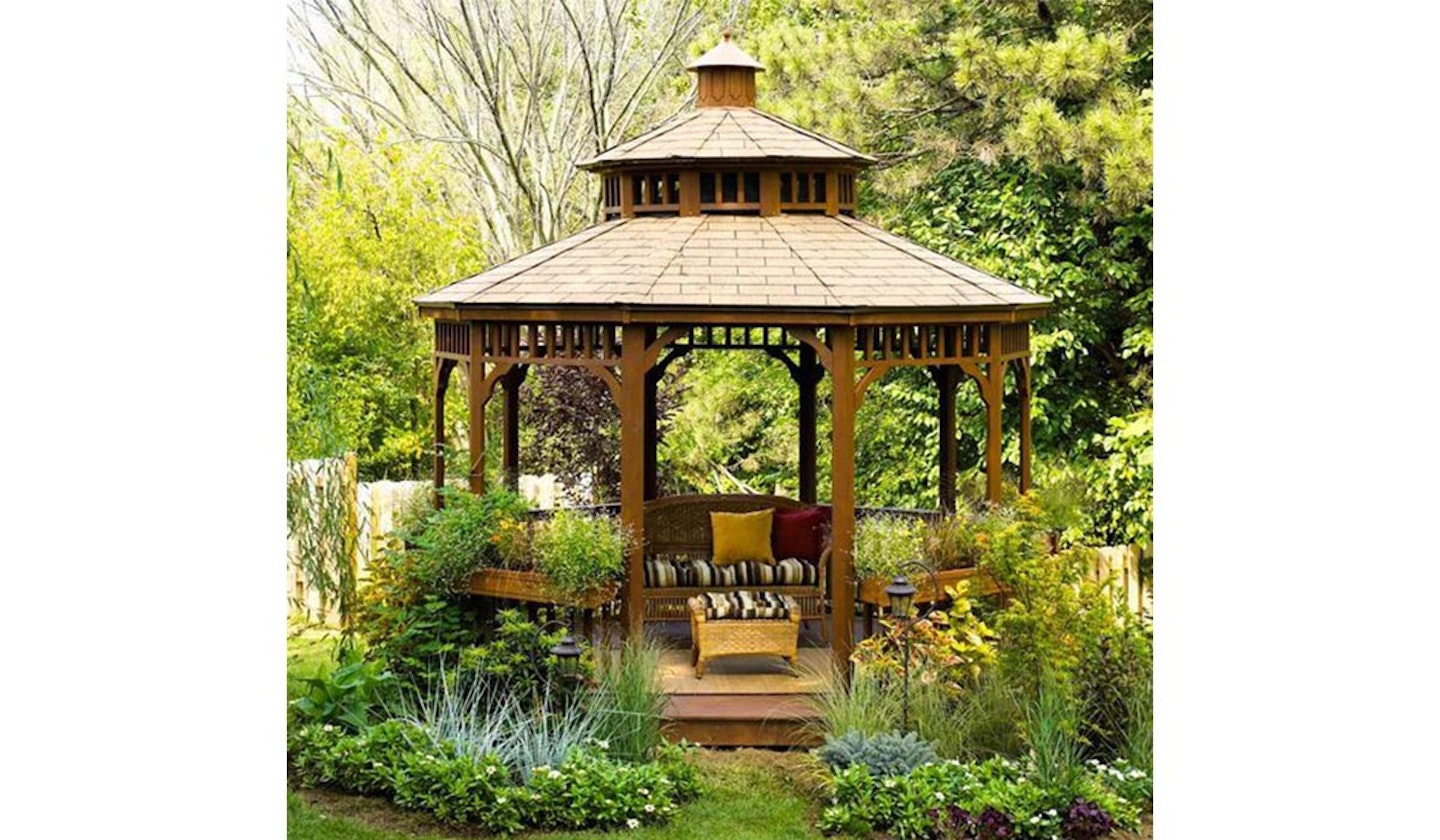 If you're lucky enough to have a large garden, then you might want to go for a larger sized gazebo that could act as the centre feature of your garden. We love how this one has a lot of greenery built up around it with traditional Pagoda style roof.
Gazebo for social gatherings
If you want to use your gazebo for your BBQ, then we love this gazebo that's got everything in it for a little BBQ area. With a large BBQ, side table for all your cutlery and condiments, stools if you want to relax with a drink and even a TV, this one is ideal for gatherings or alternative to a shed bar.
Hot tub gazebo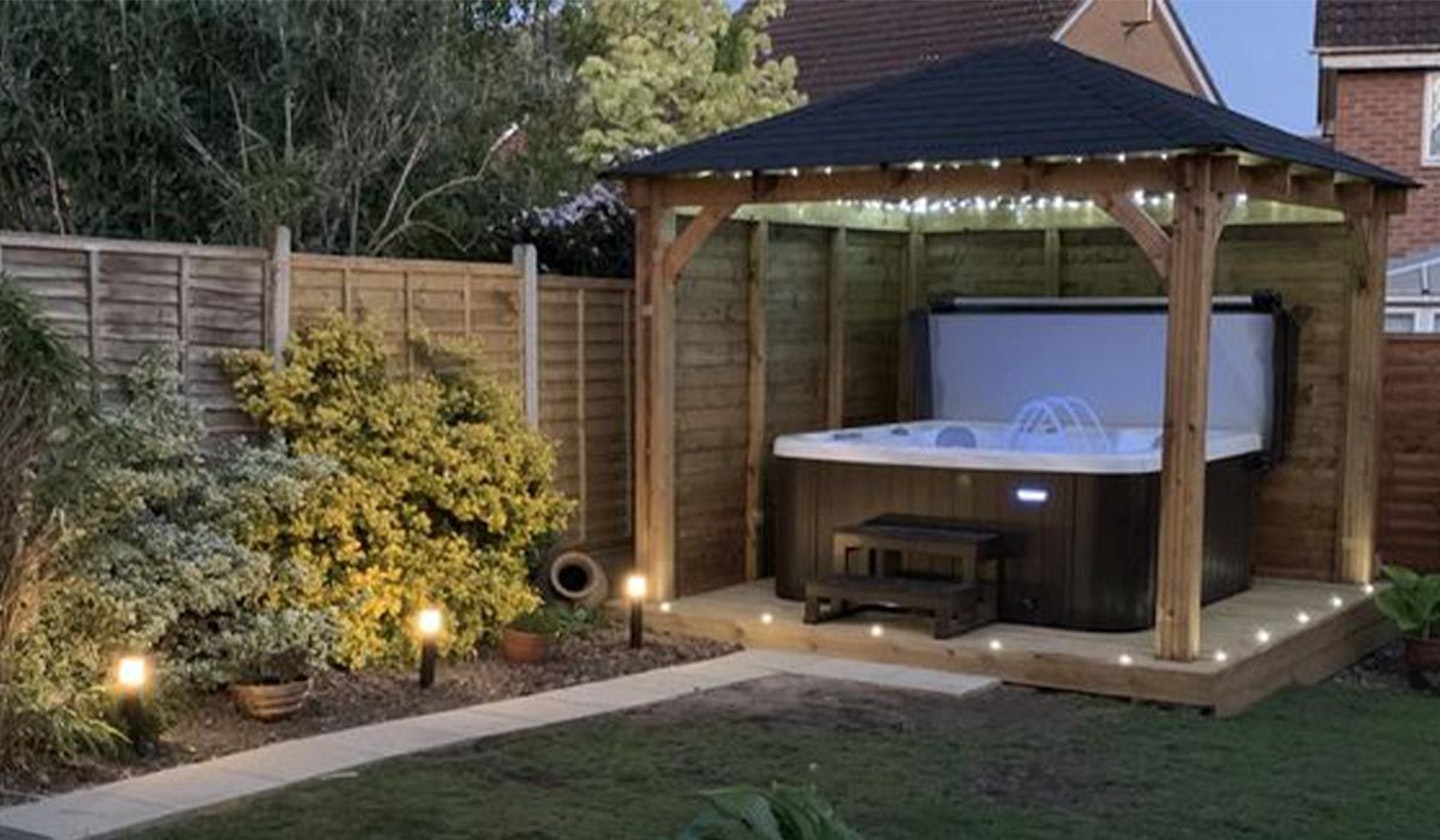 If you want to protect your hot tub or lazy spa from the rain, then putting it under a gazebo is a great idea. It means you can still enjoy your hot tub in any weather and it should also protect it from any falling leaves and debris too while you're in there. We also love the addition of garden fairy solar lights to make things even cosier.
Gazebo idea for decking spaces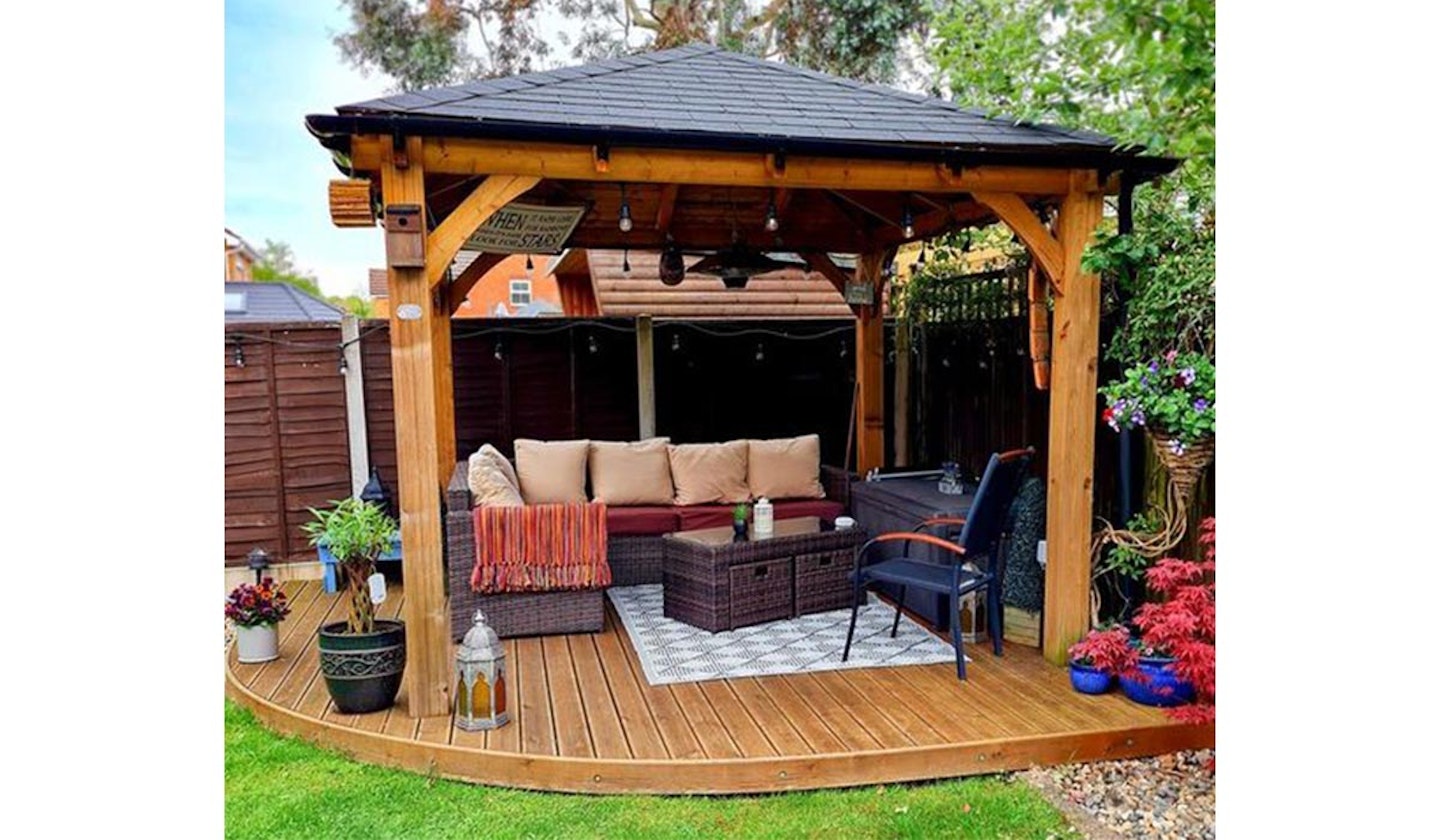 We love a decking space in any garden to add some different dimension to your space and with the addition of a gazebo, you can truly make this the main area of your garden space. We love the outdoor rug, rattan furniture and potted plants to make it feel like a proper outdoor living space.
BBQ gazebo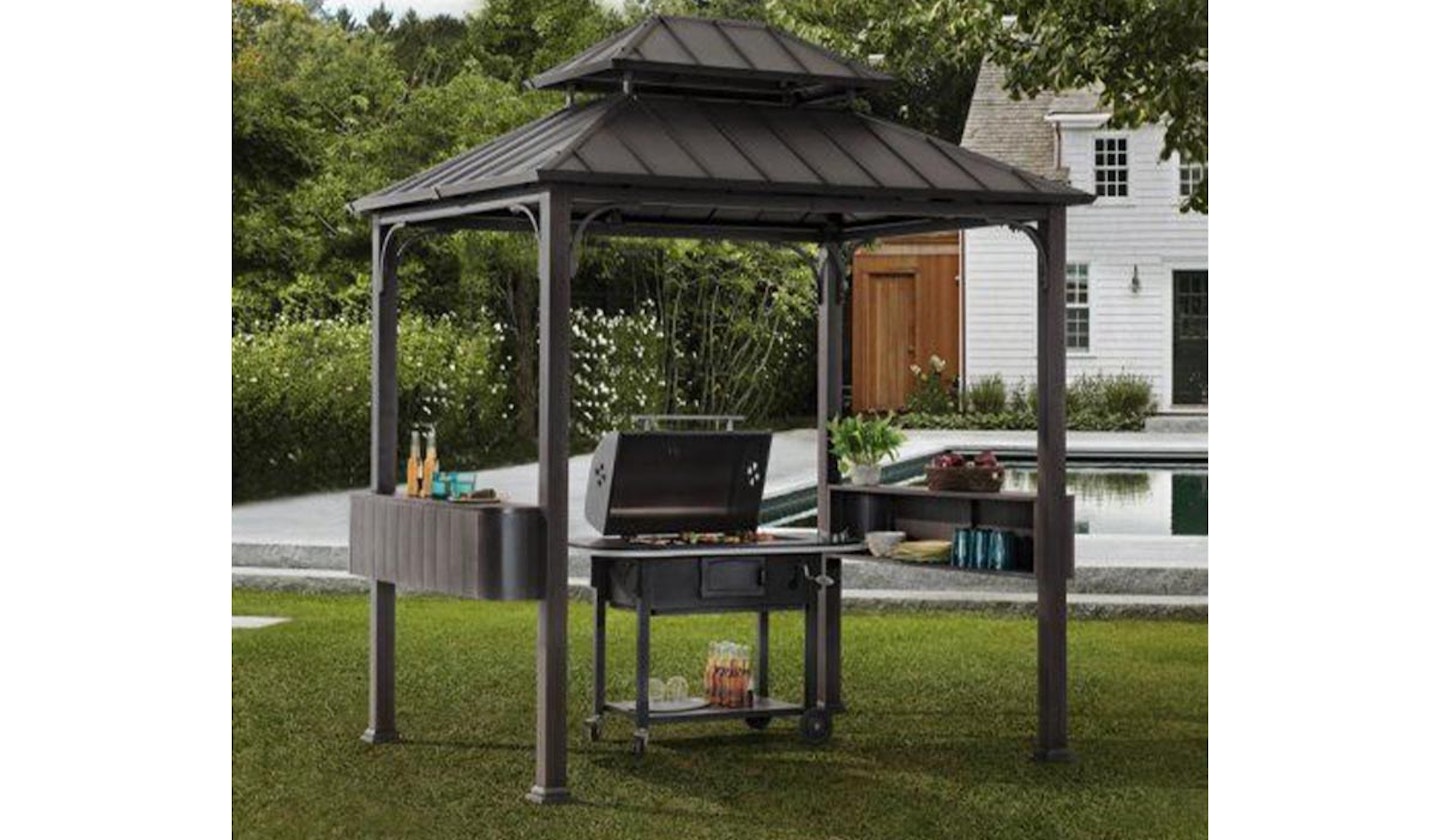 Whether you have a smaller space or you simply need a gazebo to cover your BBQ, we love this idea, particularly for summer. With a real modern feel, it features practical shelves that guests can even sit up against and enjoy a drink while their BBQ food is being cooked.
Picnic gazebo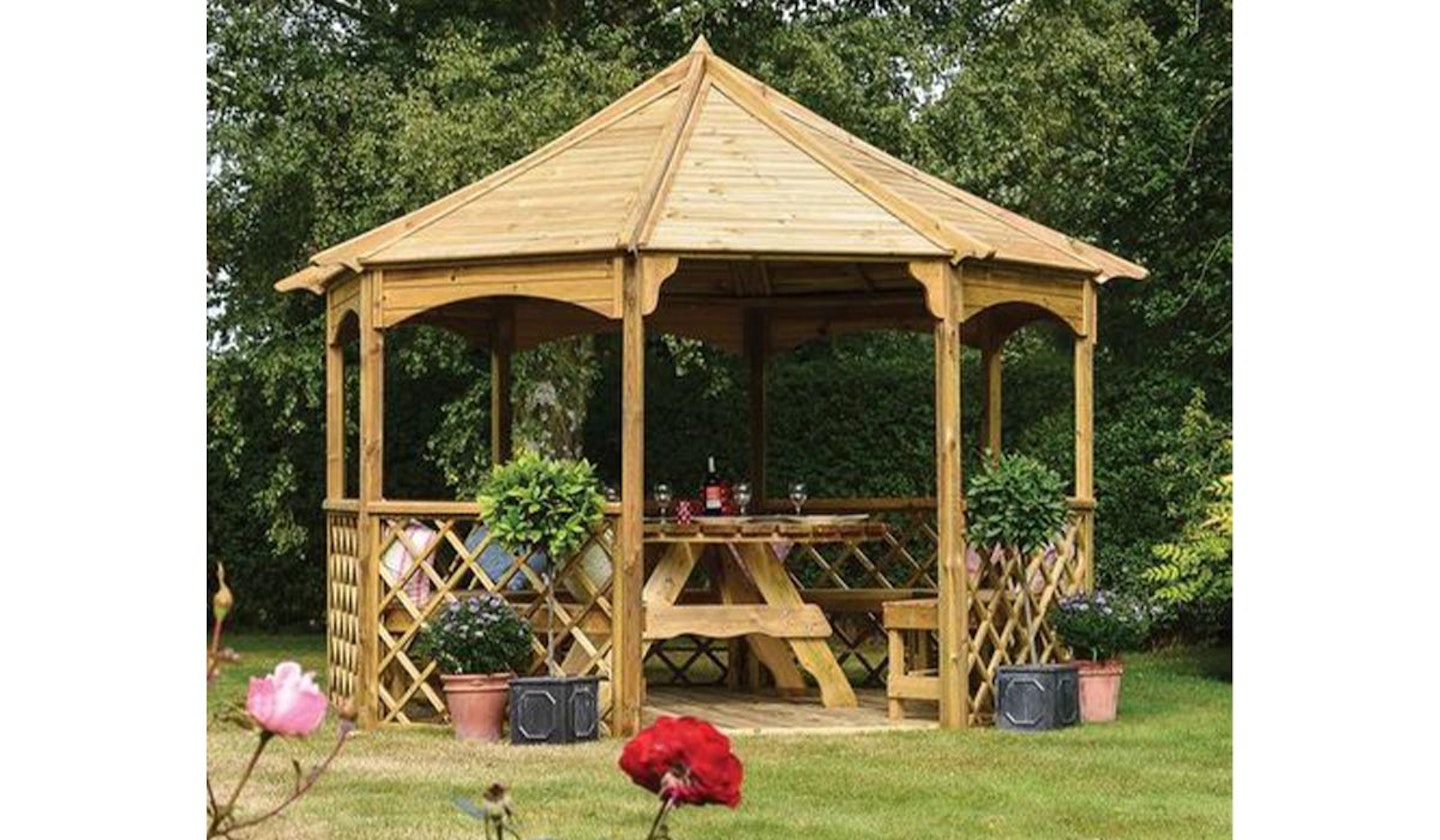 If there's one thing us Brits know is how to make the perfect summer picnic, so why not dedicate your gazebo to some wonderful picnics? We love the traditional style with trellis sides, ideal for growing climbing roses, and inside, a wooden picnic table and bench around fits perfectly.
Small gazebo ideal for tea
This gazebo is taller in style so ideal if you want to add some height to your garden. There's not too much room inside, but we think it's perfect for enjoying some tea and cake with friends or escaping the summer rain.
Gazebo for smaller gardens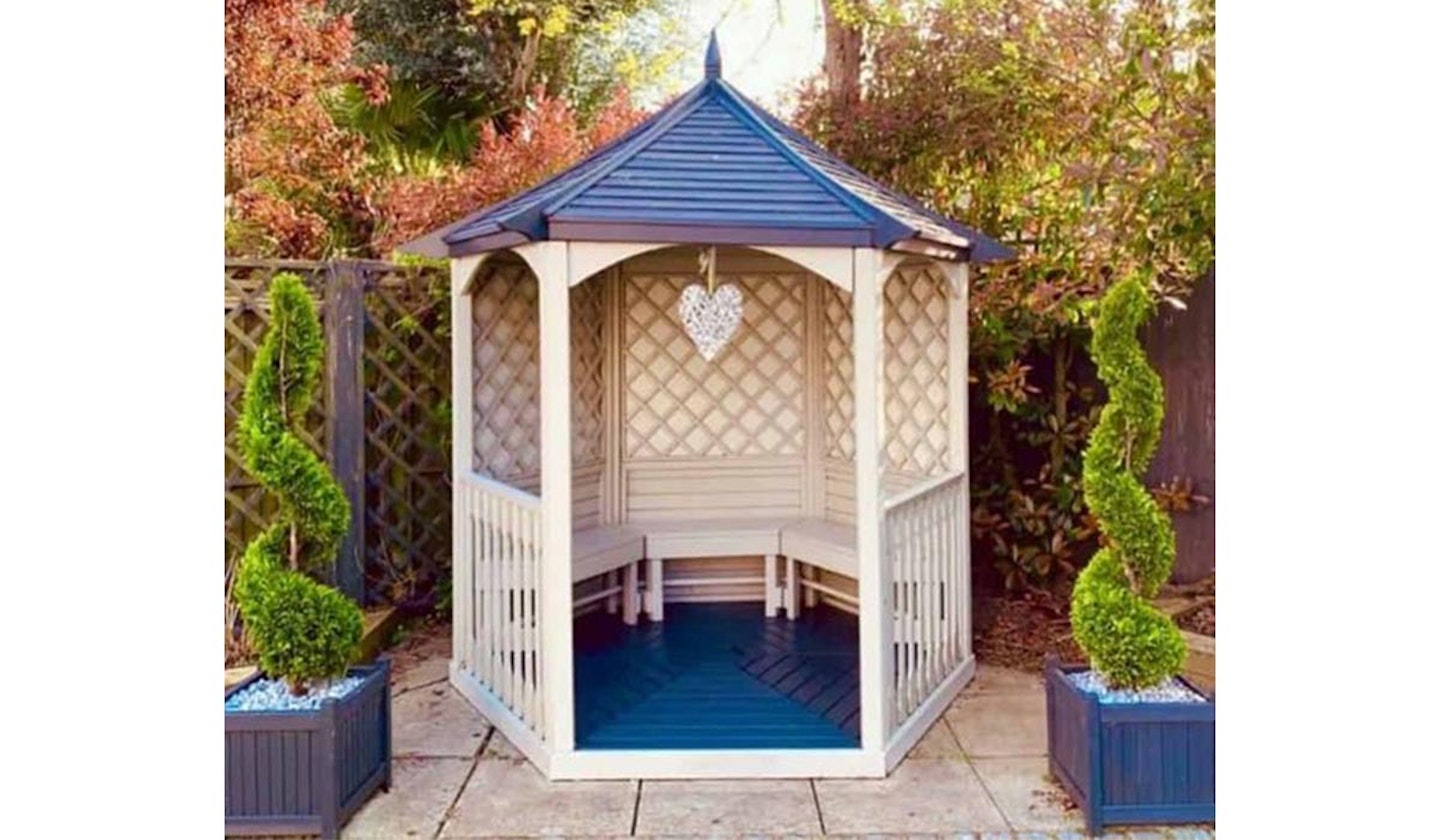 We love this adorable little gazebo painted cream and blue. It's only small, but add some outdoor cushions, and it makes the perfect outdoor reading spot for those days when you need a little fresh air. We also love the wicker heart hung above the entrance for a stylish and cosy touch.
Gazebo with roll down blinds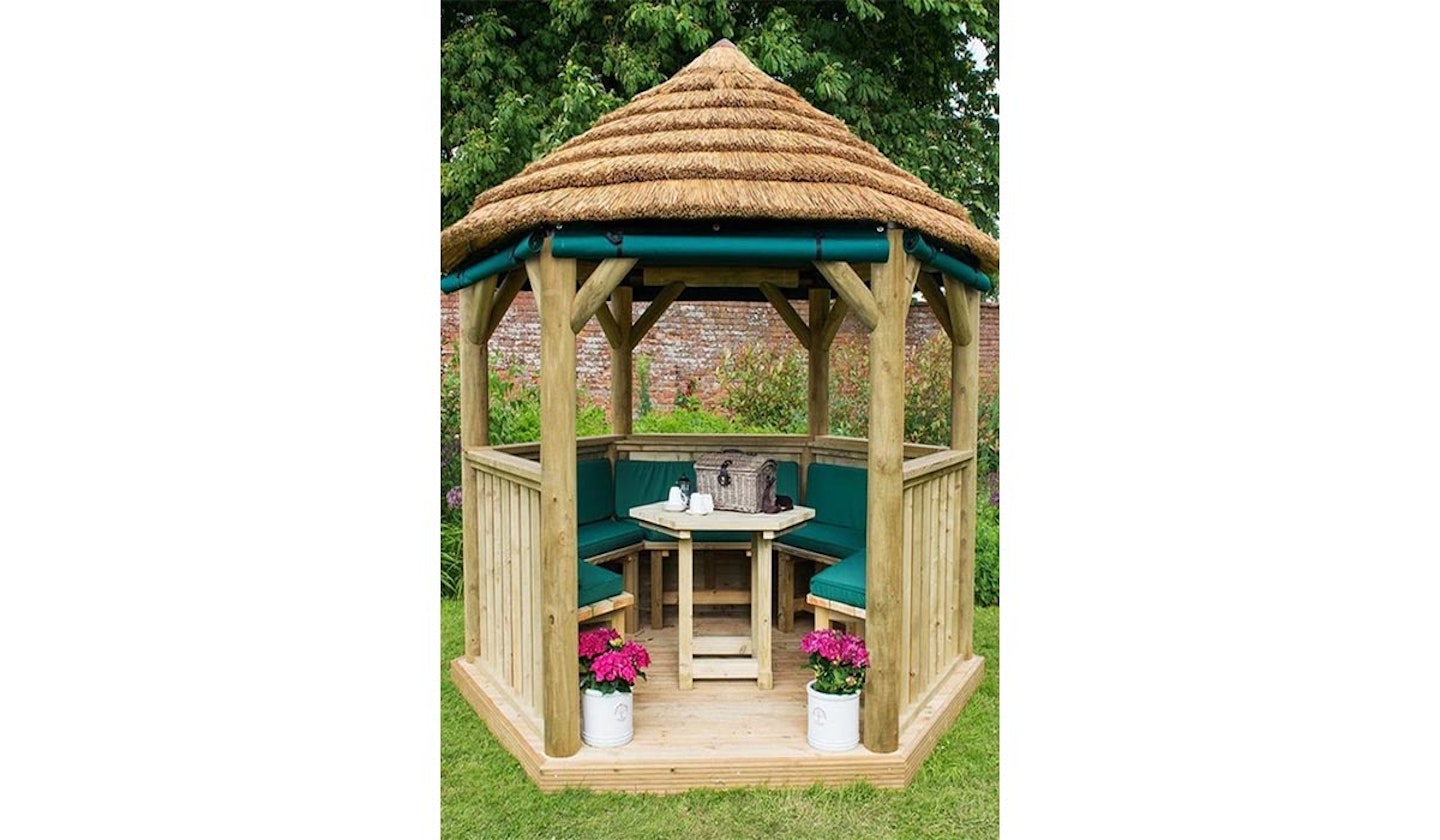 If you've not got room for chairs in the middle, then this cushioned bench that is built in to the sides of the gazebo is ideal. You could even have a go at making your own seat cushions for it. This gazebo also features roll down blinds that tie at the top. These are idea if the sun is in your eyes and you need a little shade and can be easily made yourself.
Gazebo with glass windows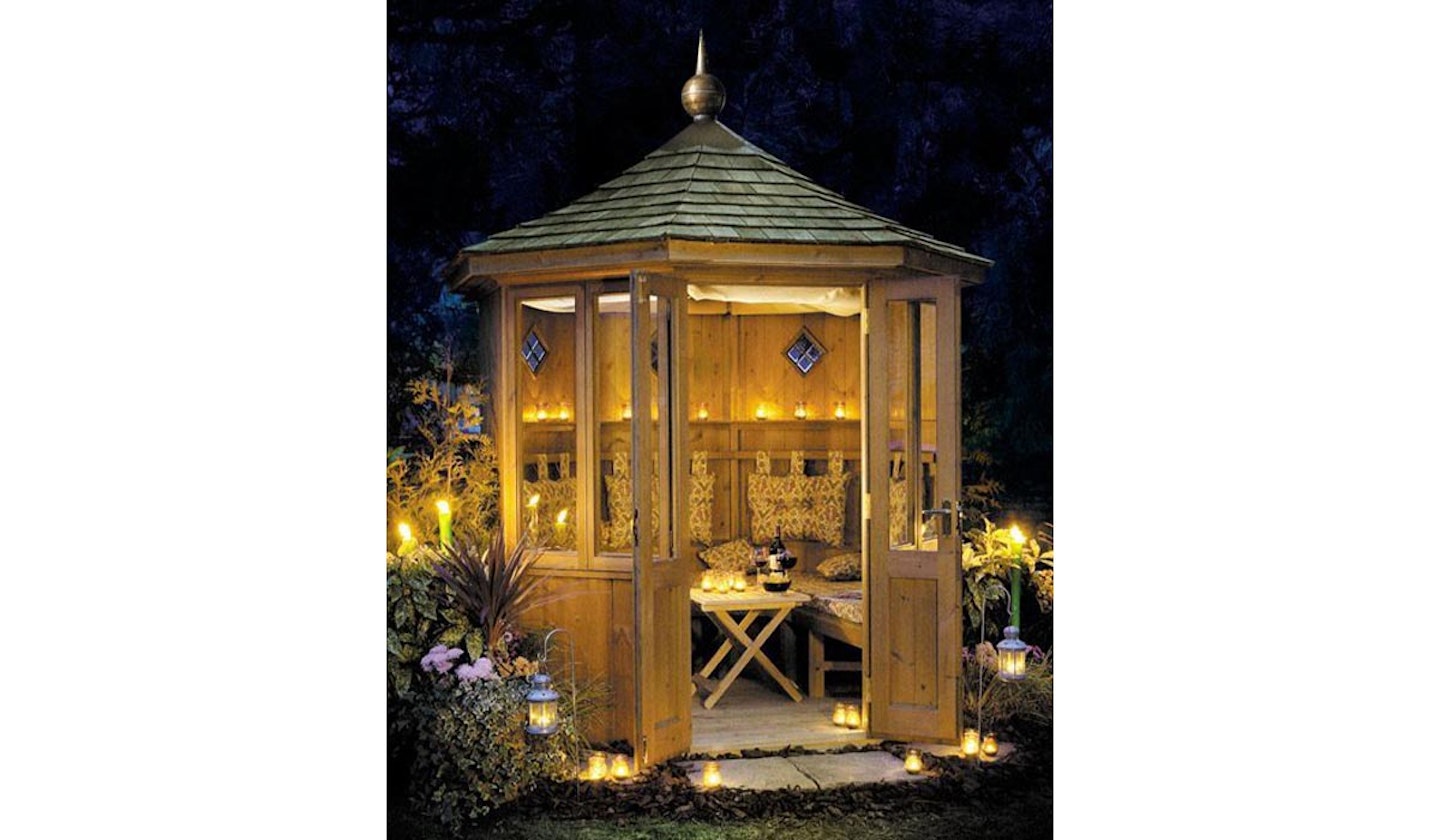 To fully protect yourself from the elements this gazebo acts more like a garden summer house in that it features windows and doors that'll keep you protected from the rain. Inside, you'll find cosy features like candles, cushions and a small table.
What's the difference between a gazebo and a pergola?
With so many different pieces of garden furniture you can buy these days, the terms can get confusing. Put simply, the biggest difference between a gazebo and pergola is the roof. A pergola often has an open roof canopy and a gazebo has a permanent fixed roof so is better for sheltering from any rain.
Do I need planning permission for a gazebo?
If you live in a listed building and you're wanting to build a gazebo in the garden, you should speak to your local council to check whether or not you'll need planning permission, as most likely, you will. This is the same if you're in a conservation area or national park.
If none of the above apply to you, then you need to keep the floor dimensions under 10m². If you want anything larger, you'll need to apply for planning permission. In most cases, one story gazebos don't require planning permission.
Can you get temporary gazebos?
If you're just needing a gazebo for an event, then it's probably worth just getting a pop up temporary version. These are often like tents with no sides and are great if you've had a bad weather forecast and need some shelter at short notice. Good quality folding pop-up gazebos don't come cheap, and if you can't see yourself using it on a regular basis, you may just want to rent one.
Lorna White is a Senior Digital Writer at Yours.co.uk and MotherandBaby.com. She was previously a writer at Yours Magazine writing features and news stories before joining the digital team. Lorna loves the great British countryside and likes to spend her spare time out and about in her home of Nottinghamshire walking her dog, Pippin.