Hands up, who already owns a pair of trainers? Most of us do, but chances are you're more likely to wear them to walk the dog than pair them with your favourite dress. However, fashion trainers are having a bit of a 'fashion moment'. For example, Emma Thompson even donned hers to collect her Damehood from Prince William. While you wouldn't catch us meeting the royals in our trainers, we like the comfort they give! You'll just need to know how to keep your trainers very clean to keep them looking stylish for longer. Not convinced? Read on for our tips on wearing fashion trainers to 'just about' every occasion...
Read More: The best Marks & Spencer jeans for the perfect fit every single time
The best fashion trainers - UK
Description
Veja Campo Trainers are by far our favourite fashion trainers, as they go with practically
Description
With a dash of pink, grey and leopard print, we love the touch of boldness. These White Leopard
Description
Inject some colour into your wardrobe with this pair of Office Framing Lace Up pink fashion
Description
Dazzle your audience with this gorgeous pair of starry White Glitter Star Real Leather Trainers.
Description
We adore the quilted detail on this pair of otherwise basic white Dune Excited Leather Trainers. A
Description
A twist on the classic trainer, this White Mark Making Faux Suede Trainers pair features a leopard
Description
We love Jigsaw for all things fashion, and these Jigsaw Riva Leather Flatform Trainers are no
What are the best outfits for trainers?
Trainers are hugely versatile, stylish and an easy way to bring your outfit up to date.
"I love how they can be worn with anything and are no longer just for casual wear," says stylist Susie Hasler (www.styledbysusie.co.uk)). "I wear mine with midi dresses, jumpsuits and even a tailored suit – they're one of the hardest-working items I have in my wardrobe! They're also particularly great for women who prefer (or have) to wear flat shoes but feel frumpy in more formal styles."
There are some rules, though, as Susie explains: "It's so important to remember these are not trainers to exercise in. Stick to styles that are white or smart metallic shades in the warmer months, while black is more practical in winter. By choosing these shades, you'll find they go with more outfits, too."
Read More: Shop dresses inspired by Susanna Reid
Will trainers be flattering for my figure?
If you're new to the trainer trend, then the idea of wearing a heavy trainer with a dress might feel odd initially, but they can be more flattering than you might think.
"Chunky, thicker-soled styles are great for making the legs and ankles look slimmer and to balance out a big tummy," advises Susie. "I like the Puma Cali, the Adidas Superstar and the Adidas Stan Smith, which all have a timeless appeal."
Lots of high-street brands also have their own cheaper versions, too.
"For slender legs, choose thinner soles like those on classic Converse or Superga trainers."
Sportier styles are available too and are just as stylish, plus can give a little extra support. Our advice is to stick to neutral shades so they don't look like gym shoes.
How to keep trainers white
If you're wearing them a lot, you'll need to know how best to wash your trainers. White trainers rarely stay their dazzling shade, but this clever trick is great for tacking grubby canvas or leather-look shoes. Start by wiping them over with a damp cloth. Apply a white toothpaste to an old toothbrush and massage in. Leave for ten minutes before wiping away any paste with a clean damp cloth or sponge.
Trainers worn by celebs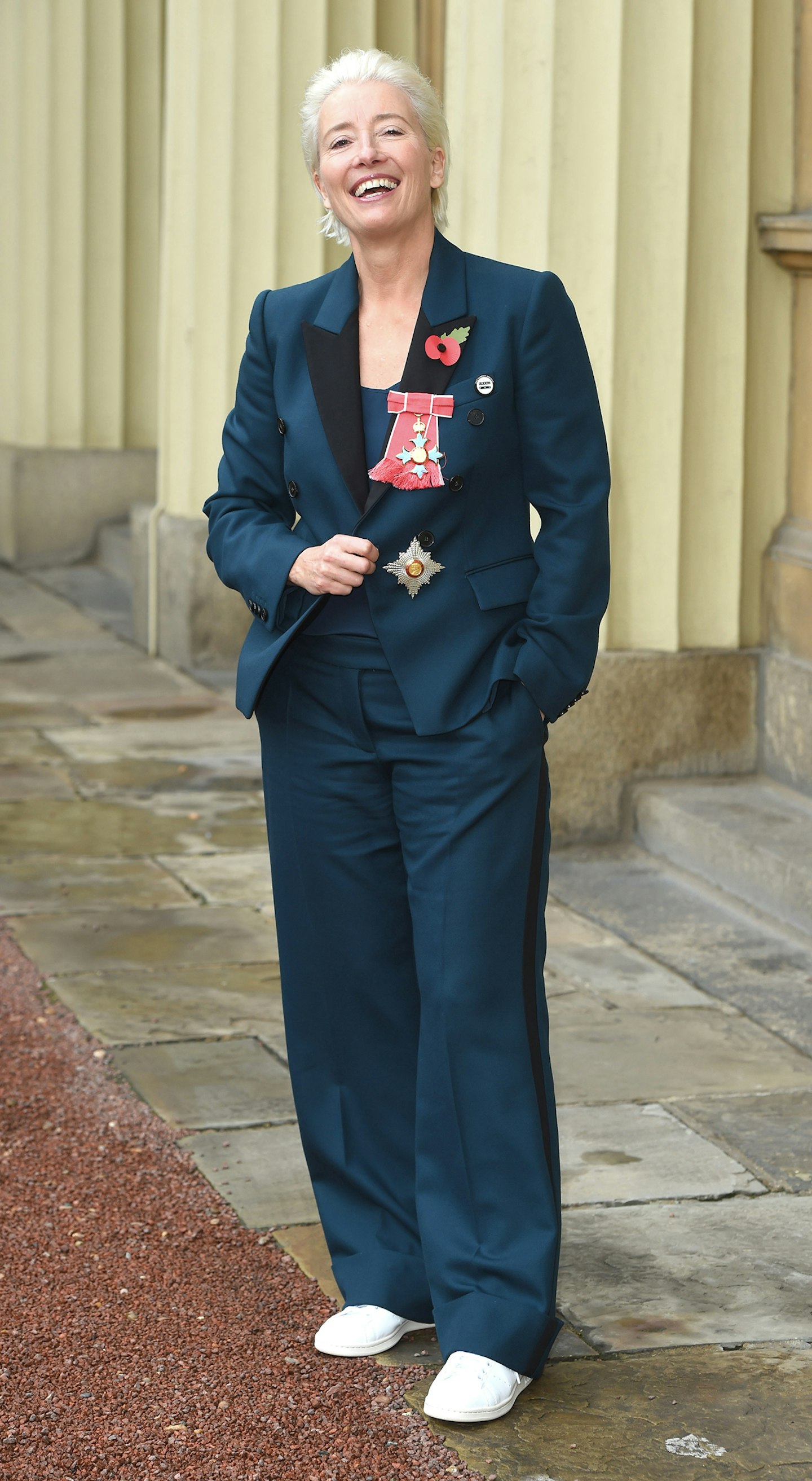 1 of 3
Emma Thompson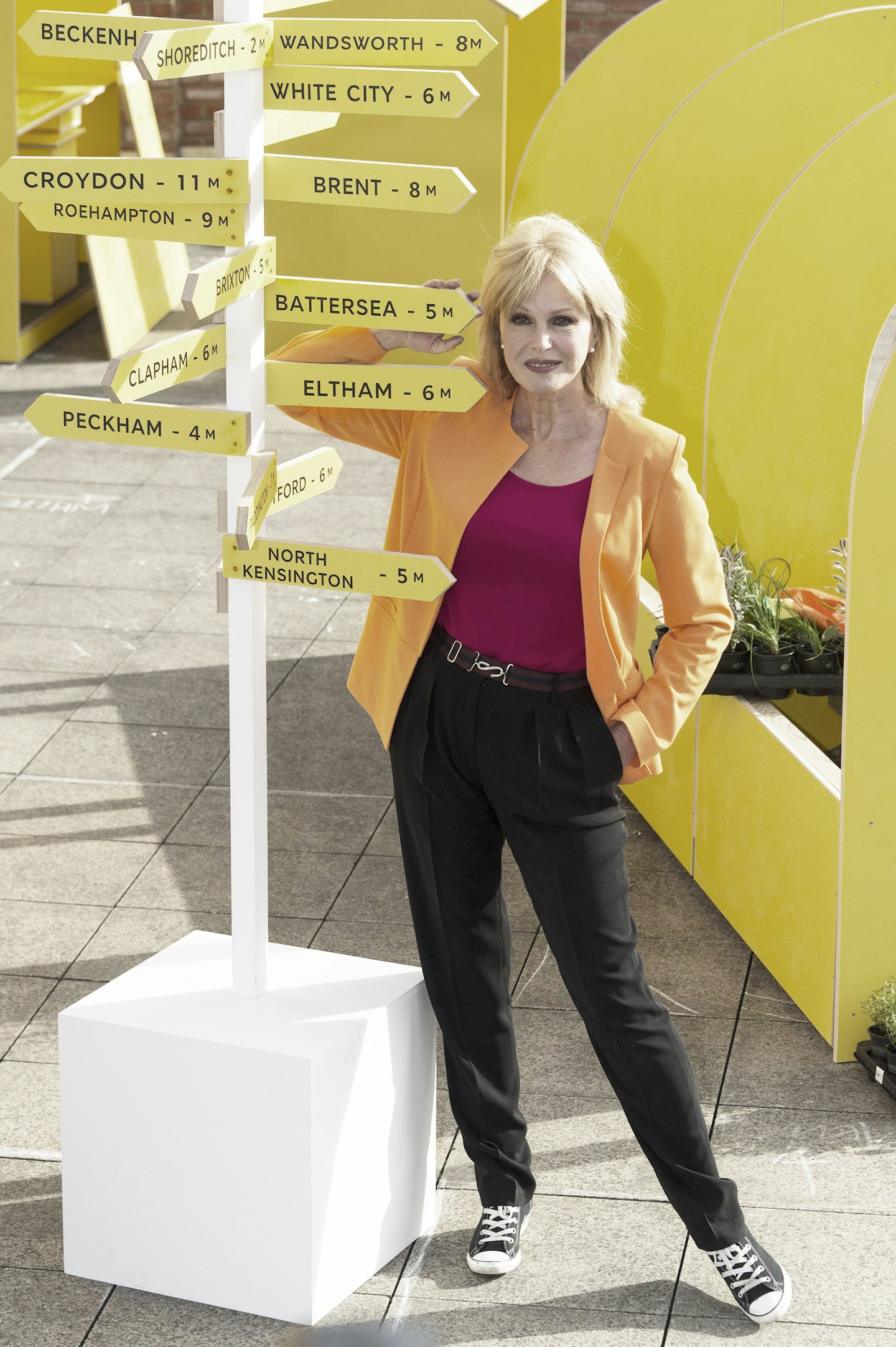 2 of 3
Joanna Lumley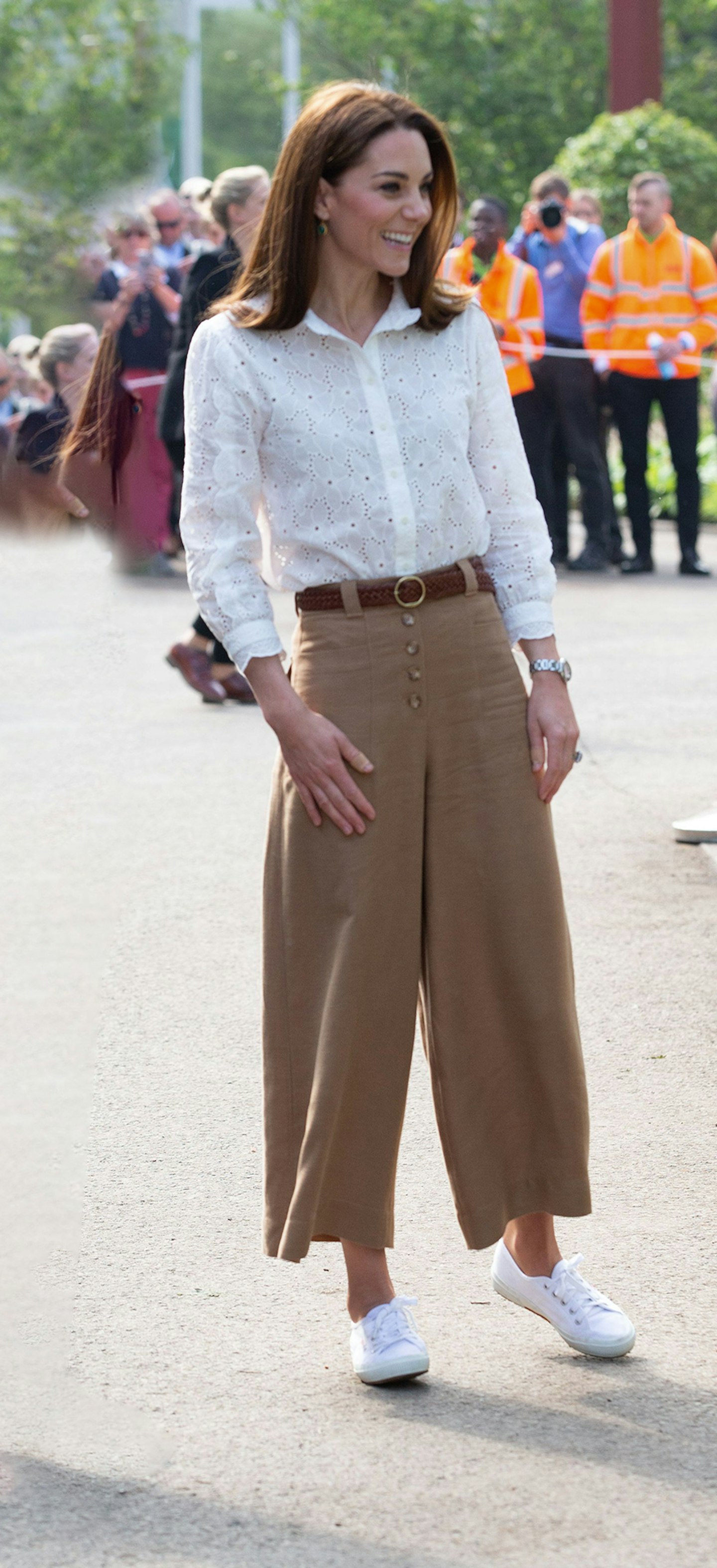 3 of 3
Duchess of Cambridge
Trained to perfection: From left, Emma Thompson wore Adidas Stan Smith-style trainers to collect her Damehood; Joanna Lumley goes for Converse-style kicks, and the Duchess of Cambridge sticks to her faithful Superga trainers.