As one of our most worn and trusted pair of shoes, knowing how to clean trainers without ruining them is an essential skill to have in your cleaning arsenal.
Whether you're wanting to give your favourite gym trainers a good clean after a big workout or need to spot clean a spillage off your brand new pair of sneakers, there are certain do's and don'ts when it comes to cleaning trainers depending on the material and what exactly you're needing to clean from them. After all, the last thing we want to do is ruin our favourite pair of walking trainers when washing them.
From how to clean trainers on a regular basis and give them a general clean to removing more hard to budge stains and smells, we've covered all your trainer cleaning questions in our simple guide.
How to clean trainers: Step-by-step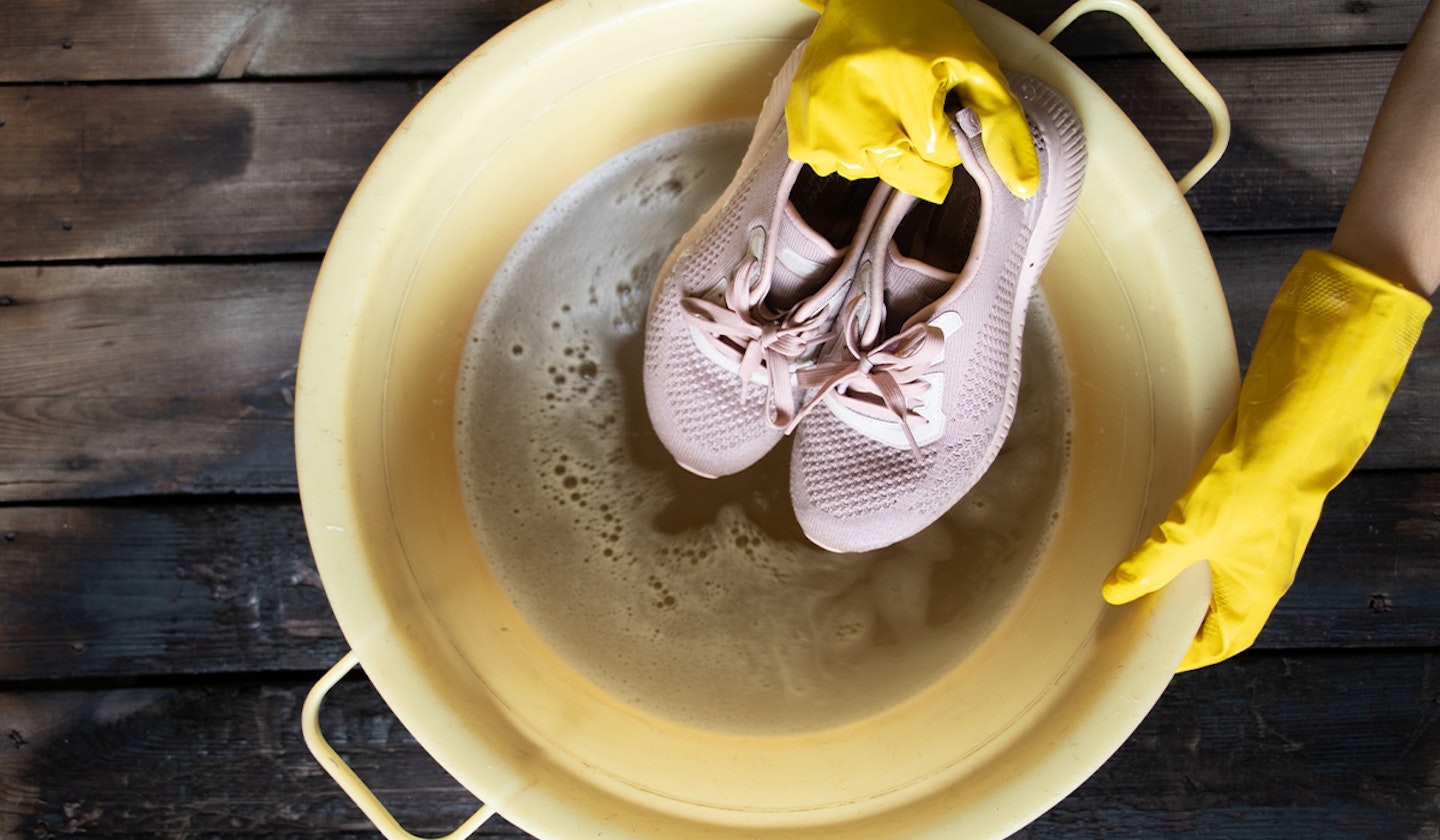 With all the dog walking, running, and general usage our trainers get on a daily basis, it's no surprise they need a little TLC and a good clean overtime. If it's just a general refresh and clean your fashion trainers are in need of, there are some simple cleaning steps you can take to leave your trainers looking and feeling as good as new.
Step one: Start by removing all the excess dirt from your trainers by tapping them against a brick wall (such as the side of your house or front door) with force to get rid of any dry mud or gravel from the grooves of the sole. Use an old toothbrush or coarse brush to remove or scrub off any remaining dirt from your trainers.
Step two: Remove the laces and insoles from your trainers (if they can be removed) and pop them in a pillowcase or washing basket and wash in the washing machine on a cold or delicate cycle with some mild detergent. This is a particularly important step if you want to eliminate any bad odours that might be harbouring in your trainers.
Step three: In a washing up bowl, mix some mild laundry detergent in some lukewarm water to make a soapy mixture and use a white flannel or cloth to wipe away any stains or marks from the fabric part of your trainers.
Step four: Step three: Use this mixture with a flannel to clean the sole and outer areas of the trainers. You may want to use a soft bristled toothbrush for these parts to remove any tougher marks or dirt.
Step five: Leave your trainers to air dry at room temperature on a towel.
Is it ok to put trainers in the washing machine?
If your trainers come with care instructions, you should always follow these as your first port of call before washing your trainers in the machine. As a general rule, animal made products including leather and suede should never be washed in the washing machine as they may get water damaged.
In comparison, manmade materials such as nylon or polyester are much more hardwearing and can withstand a wash in a washing machine. Start by carrying out steps one and two from the step-by-step guide above. Then, place your trainers in a laundry washing bag and wash your trainers in the washing machine on a cold wash using a high quality colour washing detergent.
How do you clean dirty white trainers?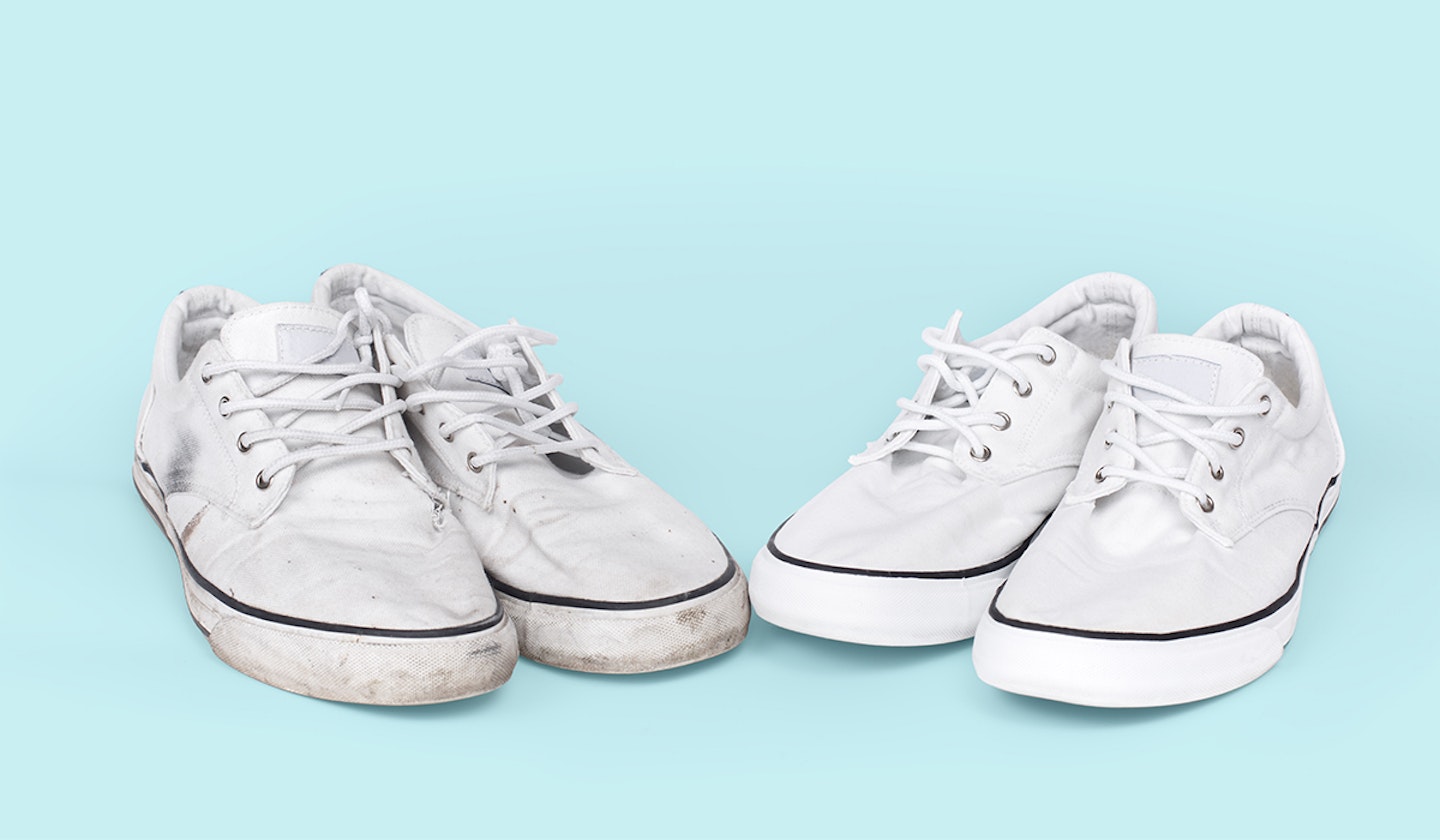 Cleaning your white trainers can be a tricky task, as things like grass stains and mud will show up much more clearly on white trainers compared to other colour trainers.
Firstly, start by cleaning your laces as mentioned in step two. Carry out step one and then carefully carry out step three, removing any marks and stains with a soft bristled brush or cloth.
It's also a good idea to keep your trainers protected by spraying them with a stain protector to form an invisible barrier on your white trainers to protect them against spills and stains.
How do you clean suede trainers?
For natural materials like suede, avoid using water as this can leave behind water marks and stains.
Start by using an old toothbrush with pressure to buff out deep stains. You may also want to use a suede polish kit for any tougher to remove or deeper stains.
How to clean canvas trainers
Canvas trainers, such as your favourite pair of Converse, can be tricky to clean as dirt can build up fast, especially if you're wearing them daily.
Start by carrying out steps one, two and three from above before rinsing out the soap with clean warm water and leaving to dry on a clean towel, using the towel to absorb as much moisture as possible. You'll want to ensure your canvas trainers keep their shape while drying by stuffing them with paper towels or dry flannels before leaving them to dry in a warm spot in your home. Avoid leaving them in direct sunlight as this can discolour the canvas.
Lorna White is a Senior Digital Writer at Yours.co.uk. She was previously a writer at Yours Magazine writing features and news stories before joining the digital team. Lorna loves the great British countryside and likes to spend her spare time out and about in her home of Nottinghamshire walking her dog, Pippin.