Trainers, whether they're fashion trainers or trainers for walking, are an incredibly popular choice of footwear that can go with almost anything you choose to wear. This does however mean that they can quickly get dirty, so knowing how to wash trainers. But what's the best way to wash trainers without ruining them? We spoke to cleaning influencer Laura Mountford for her top tips.
How to wash trainers in the washing machine
"You can wash trainers easily in the washing machine by first removing the laces and then putting them into a mesh laundry bag with the shoes," Laura recommends. "I pop a laundry pod in the drum and a scoop of stain remover as I find this combination is best for removing any stains. Put on a cool 30c wash with a low spin speed setting. My top tip is to also add a couple of towels to the wash to minimise the trainers rattling around in the machine."
How to wash trainers by hand
If you'd rather not use your washing machine and want to save money on your energy bills, washing your trainers by hand may be the way to go. Knowing how to clean your trainers by hand can also be a life-saver on those days when you're in a hurry and quickly need to make your trainers look like new!
"Firstly allow any mud to dry and then brush off to remove any loose debris," Laura says. "Fill up a washing-up bowl with warm water and add a few drops of laundry detergent or washing-up liquid. Soak the laces and trainers and scrub them clean."
If you want to clean white trainers specifically, these require a slightly different method.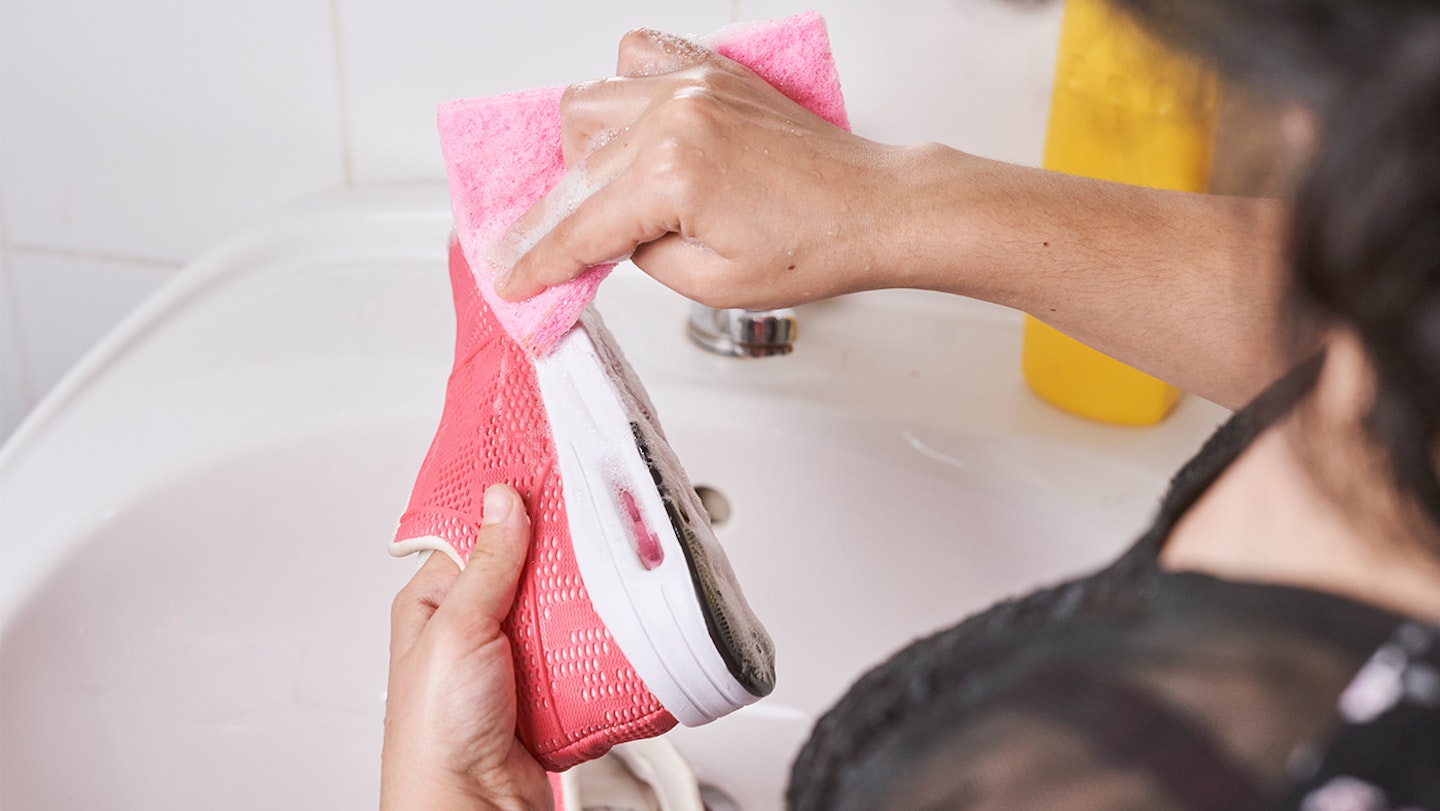 Can I dry my trainers in the tumble dryer?
Laura advises against using a tumble dryer to dry your trainers. "The heat can cause the glue to melt, damaging them which means they won't last as long," she warns.
How to dry trainers
Once you've washed your trainers by hand or in the washing machine, you'll want to make sure they're nice and dry, ready for you to wear.
"The best way to dry trainers is by hanging them on a drying rack," Laura says. "You can also stuff them with newspaper or a microfibre cloth which will speed up the drying time by absorbing the excess water."