Finding dresses for mature women to make you look and feel great used to be a difficult task. However, now that the internet provides us with endless options, trendy and flattering dresses are now easier to find than ever, no matter your age or personal style.
You never know when you might need something glamorous on standby. Perhaps you're after a frock for a meal out with your partner or afternoon tea with friends? Or maybe you're on the hunt for something special for a big occasion, like an anniversary celebration. That's why the fashion and shopping experts here at Yours have put together a helpful guide to help you find the best dresses for mature women.
Last chance Black Friday deals on dresses for mature women
We interrupt the regularly scheduled content to let you know that Black Friday has finished, but hang on: Black Friday deals on dresses for mature women remain this Cyber Monday. Want to grab a bargain? These are the retailers that have the best deals right now, or keep scrolling to continue reading our buyer's guide.
Shop post-Black Friday deals on dresses for mature women: Debenhams
• Save 60%: Wallis Silk Mix Feather Print Tie Neck Midi Dress, WAS £95, NOW £38
• Save 34%: Jolie Moi Dorothy 3/4 Sleeve Maxi Dress, WAS £89, NOW £59
• Save 20%: Dorothy Perkins Denim Shirt Midi Dress, WAS £39, NOW £31.20
• Save 9%: Roman Long Sleeve Jersey Maxi Dress, WAS £35, NOW £32
But it's not just those special occasions, you might just be looking for an everyday dress for over 50 that'll make sure you're comfortable and confident. That's why we've included dresses in a range of styles, sizes and lengths, including petite and plus-size dresses, but we'd always recommend shopping for a dress that's season-appropriate. If none of our top picks takes your fancy, we've listed our favourite places to shop for flattering dresses so you can browse to your heart's content.
Plus, we've enlisted the help of an expert stylist, Styled By Susie, for dress shopping tips for when you're over 50, along with style inspiration from much-loved celebrities and bloggers.
Dresses for mature women at a glance:
• Our favourite midi dress: Jersey Printed Belted Midi Tea Dress – view on M&S
• Our favourite midaxi dress: Joe Browns Glorious Golden Leaves Midaxi Jersey Dress – view on JD Williams
• Our favourite shirt dress: Twist Waist Print Midi Shirt Dress – view on Cotton Traders
• Our favourite for special occasions: Abstract Print Balloon Sleeve Midaxi Dress – view on Wallis
Our pick of the best dresses for mature women
Our favourite midi dress
Description
We just know this Jersey Printed Belted Midi Tea Dress from M&S will be a style staple for your
Pros
Easy to dress up or down
Rounded neckline
Two eye-catching prints
Cons
Some may prefer to add their own belt to add more contrast
Our favourite midaxi dress
Description
The Joe Browns Glorious Golden Leaves Midaxi Jersey Dress is simply autumn in a dress. From the
Pros
Autumnal colour
Ruffle detailing
Cuffed sleeves
Cons
If you're petite, it might be more of a maxi rather than midaxi length on you
Best for versatility
Description
Everyone needs a comfy midi dress in their wardrobe and this Veronica Midi Dress from Seasalt
Pros
Made from a comfy jersey material
Relaxed fit
Choice of lengths
Cons
Some reviewers recommend sizing up
Best for stretch and comfort
Description
Midi in length, the Adele Shirred Midi Dress from Fat Face ticks all the boxes for a comfortable
Pros
Shirred chest for comfort
Fits true to size
Available in five colours
Cons
Some customers recommend sizing down
Best for size range
Description
With a contrasting black and white design, this dress from JD Williams is perfect for all your
Pros
Large size range

Relaxed, shirt fit

Dress up or down
Best tea dress
Description
You can't go wrong with a spot-print dress! In a classic tea dress silhouette, this jersey midi
Pros
Flattering fit
Comfortable

Available in navy or black
Cons
One reviewer said the skirt part isn't lined compared to the bodice part
Best jumper dress
Description
Stay cosy while you're out and about with this John Lewis ANYDAY Ribbed Midi Jumper Dress. There
Pros
Cosy for changing weather
Can be worn and styled for different seasons
Choice of neutral, black and pink colours
Cons
If you like a dress with a little more shape, you may want to add a belt around the middle while wearing it
Our favourite shirt dress
Description
A shirt dress is just one of those items of clothing that never goes out of style, the cut and
Pros
Seasonal print
Effortless to wear
Flattering twist waist detail
Cons
Some reviewers have reported it comes up big
Best wrap dress
Description
We're just dotty about this Jersey Printed Belted Midi Wrap Dress from M&S. A black and white
Pros
Fab smart casual option
Flattering v-neckline
Classic print
Cons
Some may prefer to add their own belt rather than use the self tie that comes with it
Our favourite for special occasions
Description
Perfect for a winter wedding or any other occasions you've got in your diary during the colder
Pros
Gorgeous seasonal colours
Great occasionwear piece for autumn winter
Flattering shape
If your diary is looking full of big events this upcoming season, you'll probably be looking for more than one special dress. We've rounded up a fabulous selection of cocktail dresses for over 50s that are both figure-flattering and stylish to cater for a whole host of occasions.
Best British shops to buy dresses for mature women
With so much choice on the web, you can easily spend hours scrolling through websites in search of the best dresses for mature women. So we've rounded up some British brands you can count on when it comes to elegant, casual, and stylish fashion - and yes, some fabulous dresses for us older ladies.
Distinctly Cornish and with a seaside vibe, the Yours team love this brand's quirky style and pretty prints. Their clothing collection features beautifully flattering dresses and versatile tunics in soft, plain and patterned natural fabrics, all in lovely nautical colours, emphasising blues and reds. Stocks UK sizes 6-20.
Cotton Traders' story goes all the way back to the 70s… so, they know their stuff! They have lots of floral maxi dresses, perfect to pair with a cardigan when the weather gets a little frosty. Stocks UK 8-22.
If you're a fan of vibrant colours and pretty patterns in complimentary cuts, look no further than Boden. Whether you're a fan of minis, midis, or maxis, their offering includes so many options that you'll be able to style with flats, white trainers, and heeled sandals alike. Stocks UK sizes 6-22.
Not only do Wallis offer great tailoring and wearable separates, but they offer it all at a reasonable price point. Designed with a contemporary feel, their clothes focus on quality and fit. You can expect beautiful jersey floral dresses and chic floral shifts perfect for those special occasions when you want to stand out from the crowd with something a little different. If you struggle with finding the length, the brand also has a petite range especially designed for women 5' 3" and under. Available in UK sizes 8-18.
In recent years, M&S has reviewed and relaunched its clothing brands in a bid to appeal to a broader range of shoppers, with highlights from their Classic range being absorbed into the main M&S Collection. M&S says that pieces in the range are now designed to be worn and loved by women of all ages. With more than 200 different dresses available website, there's something to suit all shapes and tastes. Stocks sizes 6-24.
If you love M&S as much as we do, we've rounded up all the best M&S dresses for you to shop in one place.
A classic from the high street, Matalan is home to a range of affordable dresses in all lengths and styles for all occasions. Its mission is to provide quality clothes suited to family budgets, which means they also stock homeware and clothes for the whole family. Stocks UK sizes 6-28 as well as petite and plus-size options.
Discover day dresses with the key colour palettes and prints, including classy floaty silhouettes and midi lengths at Monsoon. Stocks UK sizes 8-22.
If you're ever lost on where to look, take a trip to John Lewis. A favourite for all things fashion, beauty and home, John Lewis is home to a huge number of brands, sizing options, and dresses for all occasions. Alongside their own John Lewis ANYDAY range which is surprisingly affordable, you can find brands including Ghost, FatFace, Nobody's Child, and some of the other brands on this very list. As mentioned, definitely a great place to start
Hobbs Ltd. is great if you're looking for something for a special occasion and you want to dress to impress. Hobbs Ltd. stocks luxury clothes, shoes and accessories to suit any occasion. Treat yourself! Stocks UK 6 to 18.
It may not be where you think to go instinctively, but Amazon Fashion is full of dress options from both well-known brands and more obscure ones. You can find casual dresses and occasionwear, and better yet if you're an Amazon Prime member, you can get plenty of options for next-day delivery. Perfect for emergency holiday outfits or if you just don't like waiting around!
Which style should I look for?
We're all about choosing the style you feel most comfortable in, but there are certain styles that are recommended for women over 50 for the most flattering fit:
A-line dresses: Designed to skim off the hip in an 'A-shape', this style of dress accentuates your waist whilst flowing over the stomach, an area some consider a 'problem area' as they get older.
Shift dresses: This style of dress is always popular and well-suited to most body types. More often than not, they are sleeveless but there are cap sleeves, balloon sleeves, and long-sleeve options for those that are self-conscious about their arms.
Shirt dress: Available in lengths ranging from mini to maxi, a shirt dress can be dressed up and down and is a lovely lightweight option for the summer/ those going through menopause. As well as having a flattering V-neck shirt design, this style of dress often comes with an optional tie waist or belt to accentuate the waist.
Wrap dress: With similar flattering features to the shirt dress, a wrap dress drapes around under the bust, accentuating the bust and waist. This a great option if have a smaller chest you want to emphasise, or a larger bust you want to flaunt!
Midi dresses: You'll spot many midi dresses in our list and that's for two reasons; they're both on-trend for year-round wear and a great all-rounder for a flattering fit. With so many stylish options available, this style of dress covers any and all problem areas, leaving you feeling your most confident and comfortable.
Can over 50 wear off-the-shoulder dress?
Yes, we're of the mindset that you can wear anything you feel comfortable in and off-the-shoulder dresses are great for the summer or in formal gowns for special occasions. That being said, you may not spot many over 50s wearing off-the-shoulder dresses. We love what Robin LaMonte has said on the matter on her blog, 'Hello I'm 50ish':
"Because baring shoulders isn't a general style women over 50 wear, it will get criticised, especially by other women over 50. I saw comments from women who work out that they wouldn't bare their shoulders after 50. Why the heck not, I thought to myself? When does baring your shoulders become inappropriate for women over 50?"
She went on to write, "Age has nothing to do with baring your shoulders if you feel confident doing so."
Dresses for mature women: Celebrity fashion inspiration
Before you hit the shop button on the best dresses for mature women, we've looked to some of the most incredible women on TV to help give you the style inspiration you need. We say that there is no age limit on feeling fabulous, and these ladies prove it!
If Good Morning Britain host, Susanna Reid, can wow us in a pencil dress, so can you. She's wearing a Closet London Navy Blue Pencil Dress, and we think she looks incredible. We're a big fan of Susanna's dress sense and have shared more of our favourite dresses from the GMB presenter.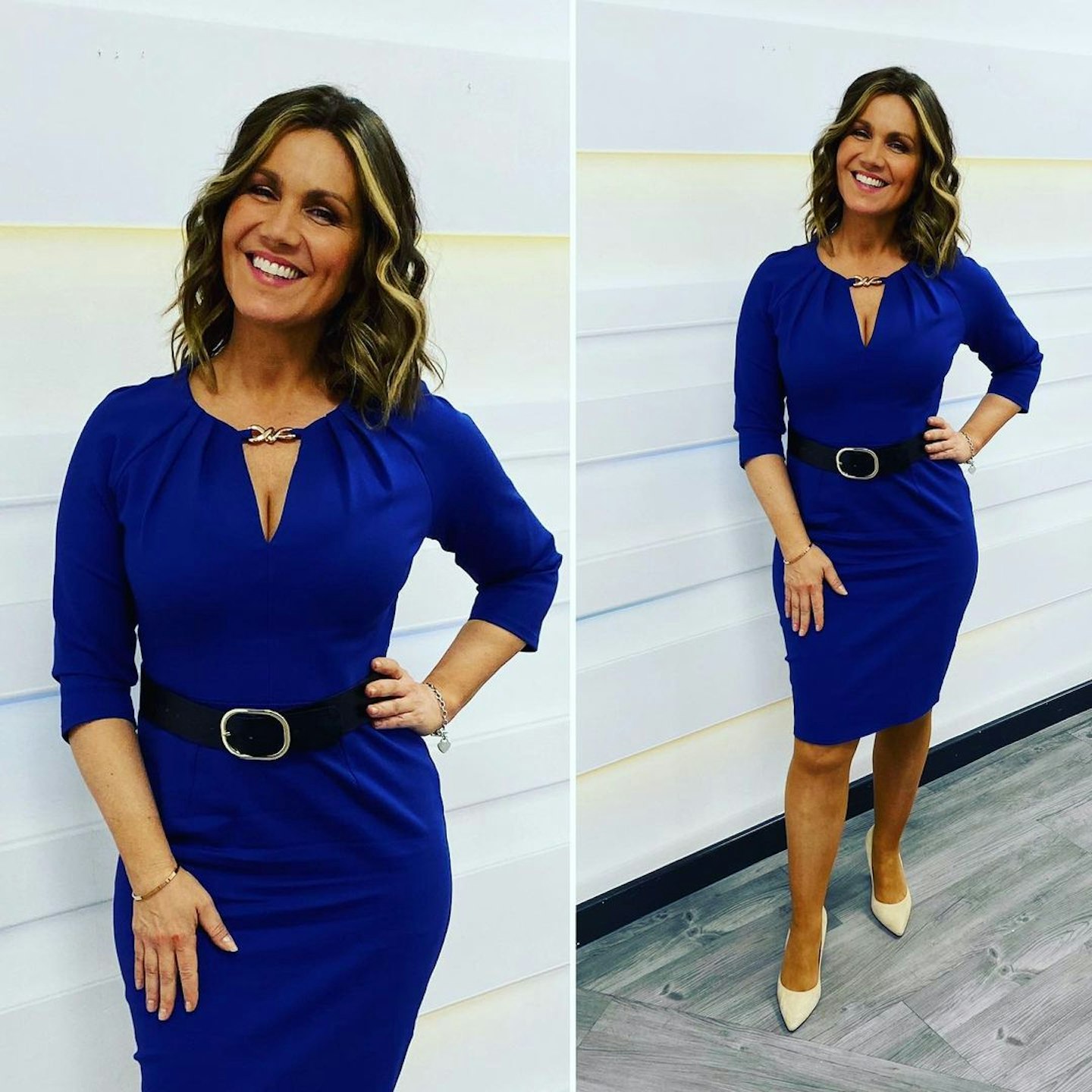 Another TV legend and our fashion go-to is Lorraine Kelly. We think that the gorgeous Megan Slinky Recycled Jersey Frill Detail Midi Wrap Dress from Pour Moi would make a fantastic addition to your wardrobe. Plus it comes in a bunch of gorgeous prints and colours!
For more Lorraine Kelly fashion favourites, take a look at our round-up of her looks.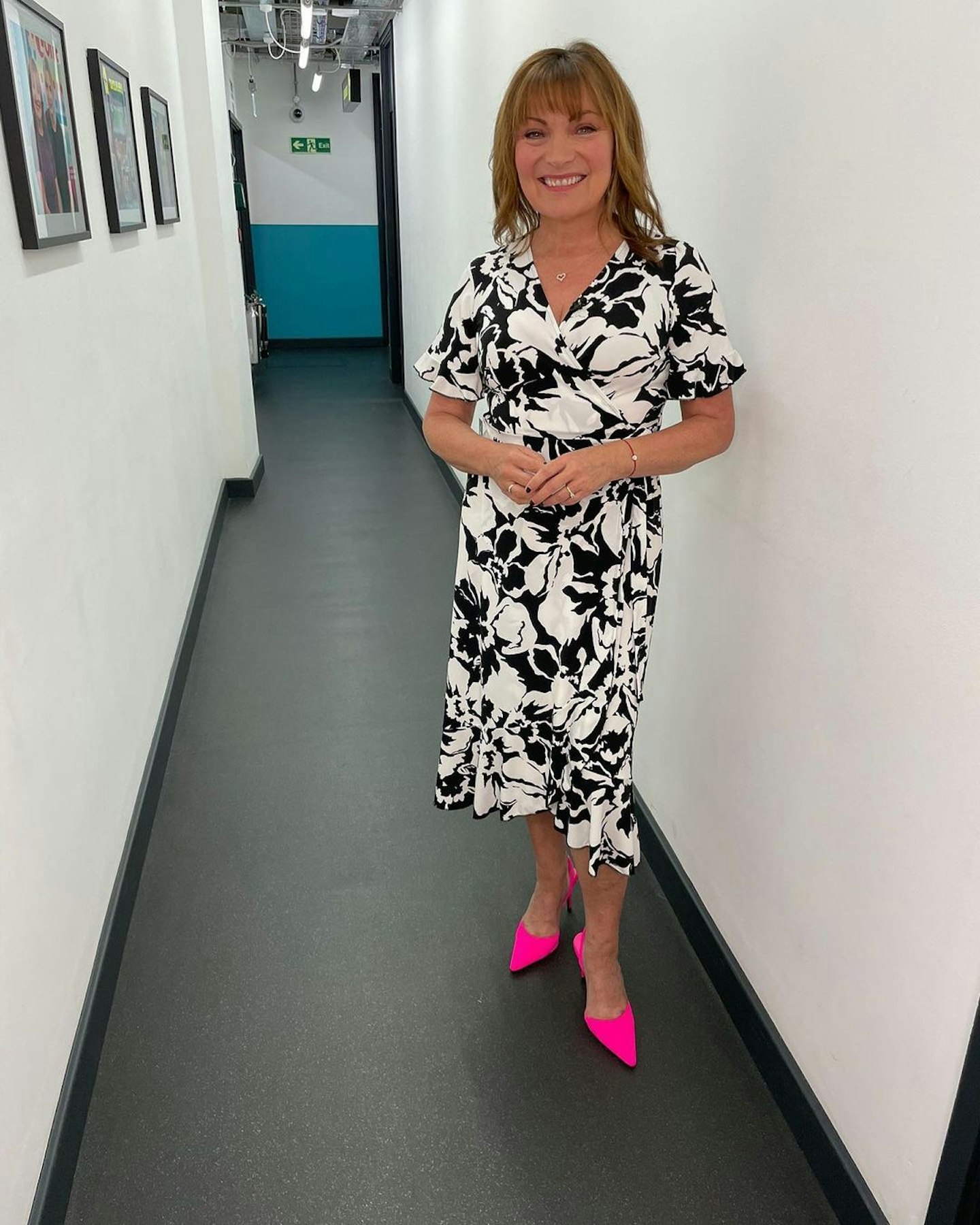 And finally, if you love comedian Judi Love as much as we do, you can also add a pop of pink to your wardrobe with this Pink Animal Print Wrap Midi Dress from River Island. A flattering, wrap-front, waist-cinching dress for ladies under and over 50.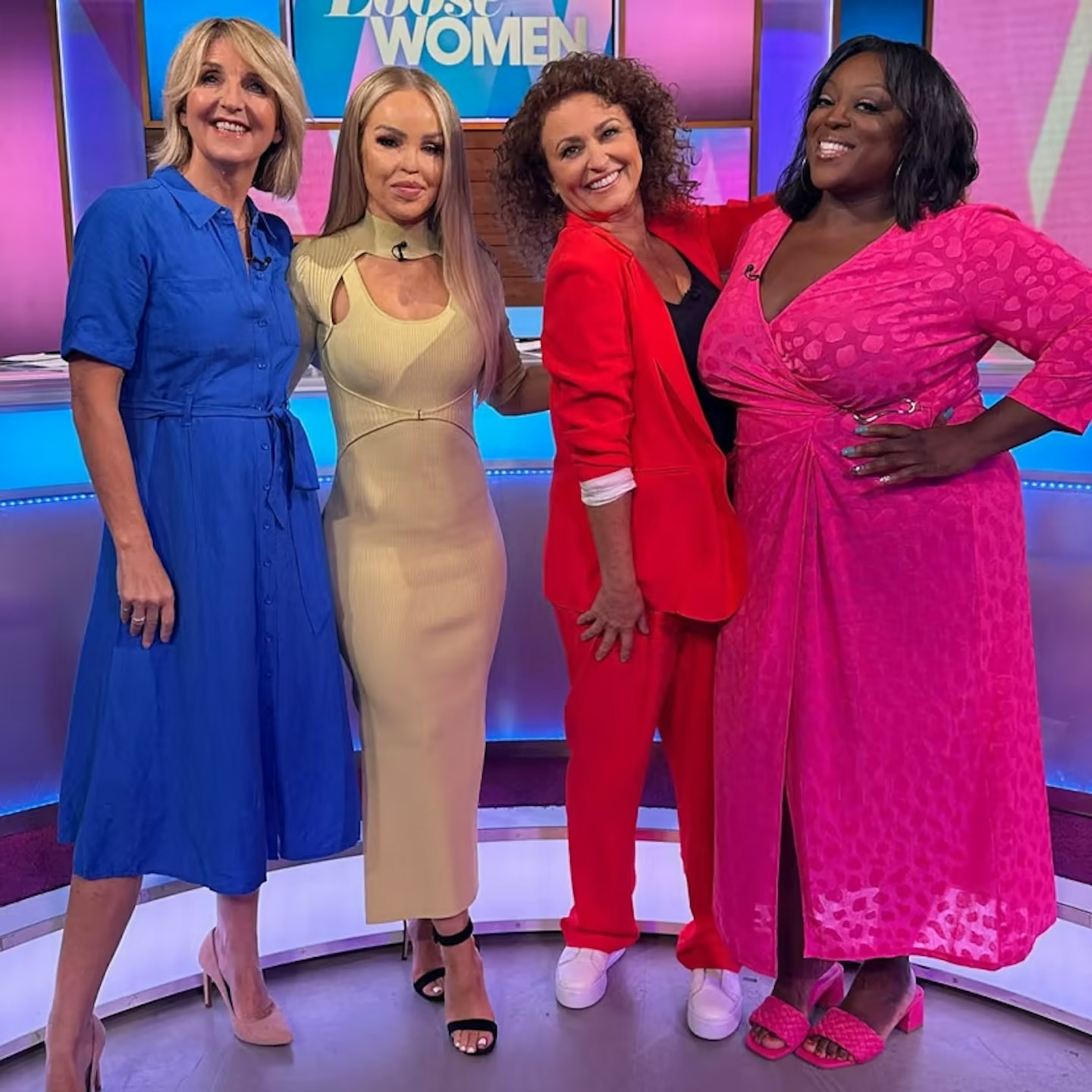 The best over 50 fashion blogs and Instagrams to follow
You don't just have to look to the women on the telly for inspiration for dresses for mature women that look great but feel comfortable. Many mature women are taking to the internet to show off their glamorous garments. These are some of our favourite over 50 fashion influencers:
Dorrie Jacobson runs Senior Style Bible and had this to say about finding the right dresses for mature women, "Number one style rule to live by? Forget about being 'age-appropriate. Defy the rules… No one should dictate your style to you. It's a means of self-expression. Make it your own."
She then went on to talk about our favourite fashion subject: shoes, "What do you look for in footwear? I love statement shoes. I usually dress from the shoe up… So my footwear really needs to turn heads.
"At 80, I still wear high heels almost every day because they're my trademark. People probably wouldn't recognise me without them."
Now all that's left to do is go shopping for the best dresses for mature women from the comfort of your living room and revamp your wardrobe.
Fashion tips from the experts
Meet the expert: Susie Hasler runs Styled By Susie, specialising in styling real women on a budget whose body type has changed due to pregnancy, gaining or losing weight, or menopause.
"Many of the mature ladies who I work with prefer to have a little more coverage in the summertime, rather than opting to bare all," says Susie.
"My clients aren't too keen on showing their arms or too much cleavage - and there are so many ways you can dress stylishly while not looking frumpy. If you're not keen on sleeveless styles, try a cap sleeve."
She also recommends opting for a patterned dress if you normally dress head-to-toe in black.
"The tummy area can be troublesome for many women, particularly post-menopause. Dressing in summer clothing can make many ladies feel exposed, and it can become tempting to wear black to hide away.
"However, a pattern is actually going to flatter the figure much more as it glosses over lumps and bumps and is much more summery than black!"
Eleanor Weaver is the Deputy Homes & Garden Product Editor for Yours, specialising in home décor, furnishings and appliances. Having worked commercially on Yours magazine and Yours.co.uk for the past six years, she's previously hosted Yours Live events and loves looking for home inspiration online.