Forever on the lookout for the best hair tools, but don't know where to start? We put the Shark FlexStyle Air Styler and Hair Dryer (a well-known dupe for the Dyson Airwrap) to the test to see if it could tame our writer's mane.
We all know Shark for producing popular and top-performing vacuum cleaners. But did you know that they've moved into the world of hair dryer brushes, too? In fact, the Shark FlexStyle is much more than a hair dryer brush. It claims to curl, straighten, volumise, smooth and define hair with its attachments.
Shark promises powerful, fast drying and versatile multi-styling for any hair type and skill set using the Shark FlexStyle. So it's fair to say our expectations are high. Wondering whether this stylish, air styler and hairdryer lives up to these expectations? Our Homes & Garden Product Writer, Rosie Floyd, put it to the test for Yours.
Shark FlexStyle Air Styler + Hair Dryer: overview
Compact, ultra-lightweight and comfortable to use, the Shark FlexStyle 5-in-1 Air Styler and Hair Dryer is everything you could want from a hair styler, and more. Its size and weight may be small, but its performance certainly isn't! You can enjoy salon results at home without the extreme heat of other hair tools.
Whether you want to wear your hair smooth and straight, glam and curly, or naturally wavy, it comes with a total of five tools to help you achieve your hair goals. We love that it comes in a stylish carry case. You can use it for storing the Auto-Wrap Curlers, Paddle Brush, Oval Brush, Diffuser, Styling Concentrator and the device itself when you're not using it.
Key features
Five ways to style your hair
You can curl, straighten, volumise, smooth and define using the Shark FlexStyle
Comes with five attachments
The Shark FlexStyle rotates from a powerful hair dryer to a versatile styling wand with ease. There are two Auto-Wrap Curler attachments, a Paddle Brush attachment, an Oval Brush attachment, a curl-defining Diffuser, and the Style Concentrator for blow drying to achieve different styles.
Different speed and heat settings
With three speed and four heat settings, you're in control of how much heat and air you use on your hair. The Shark FlexStyle measures heat 1,000 times per second ensuring consistent air temperatures and no heat damage.
Testing the Shark FlexStyle
I have short to medium-length hair with layers, but it's very thick, especially towards the top of my head. Drying and styling my hair is a task that I dread so I typically try to wash my hair twice a week. I'm always on the hunt for something that's going to cut down time and make 'hair wash day' that bit easier. So, I was very intrigued as to whether it would work on my hair. My go-to style is straight and sleek, but I may curl my hair on occasion if I can be bothered before going out.
Just like other popular hair stylers on the market, such as the Dyson Supersonic, the Shark FlexStyle comes with a whole host of attachments. What I liked about it is the variety of attachments available to achieve different styles. Each one slots into the main styling wand with a click. Then you can choose to rotate the styler if you're drying or keep it upright for styling.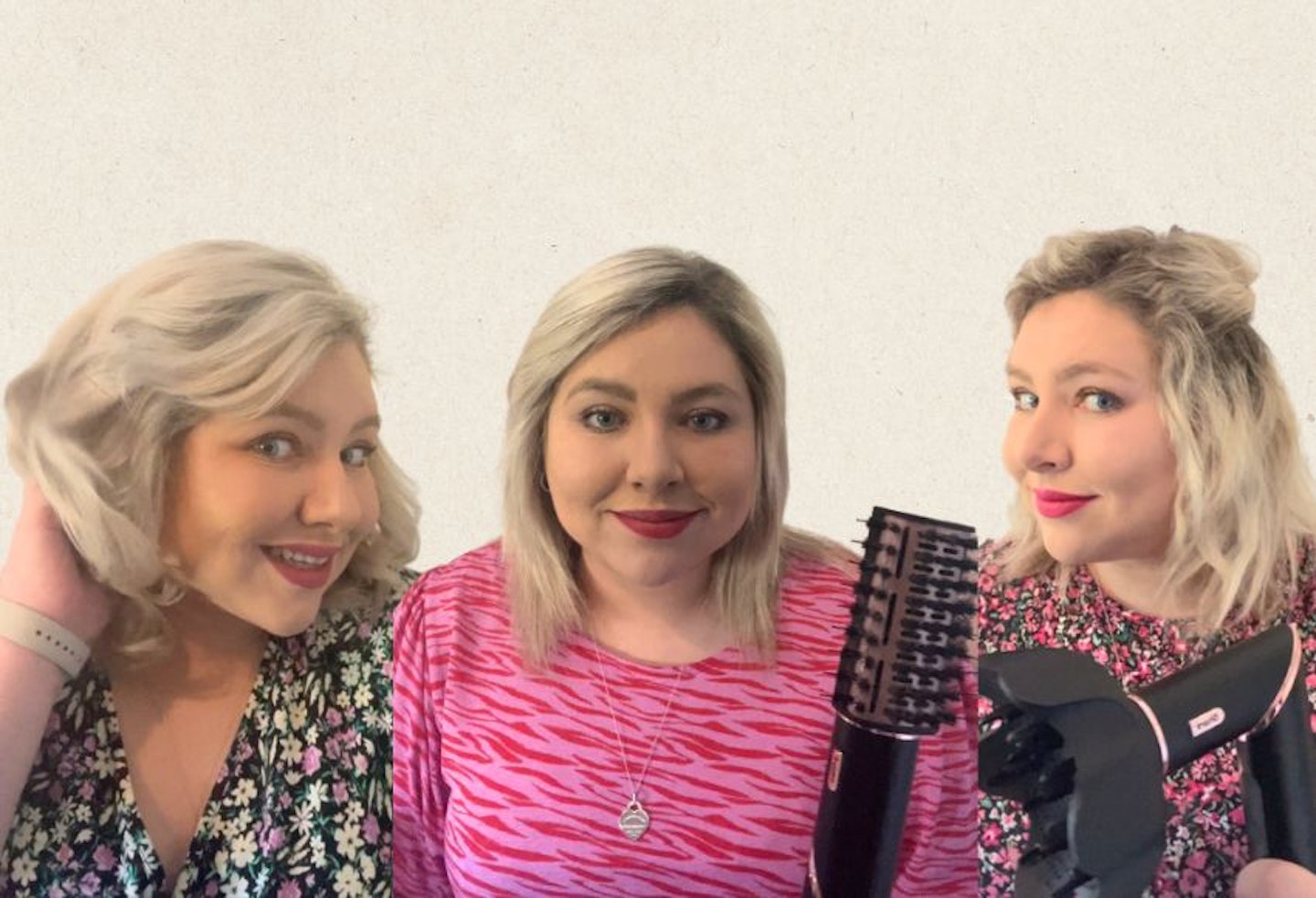 Styling Concentrator
This is the attachment you will use the most with the Shark FlexStyle. Before using the brushes or curlers, you'll need to make sure your hair is roughly 80 per cent dry before you use them. The Styling Concentrator can also be used for a smooth and stylish blow dry.
Paddle Brush
Love the look of sleek, shiny hair? The Paddle Brush will help you achieve that. The smoothing boar and nylon bristles create tension to straighten hair and add shine.
Oval Brush
Want to add volume to your hair? This is the one you'll need. It's perfect for adding bounce at the roots and styling fringes
Using the combination of the Styling Concentrator and the two brushes, I was able to get my hair from wet to sleek within 20 minutes. A task that would usually take around an hour with my usual hair dryer and straighteners. The brushes have actual bristles, rather than plastic ones, so they actually grip onto your hair, rather than slide right through it. I used the Paddle Brush to comb through my layers and then used to Oval Brush to curl my fringe under and add volume to it.
Auto-Wrap Curlers
You get two of these included, one for left and one for right-direction curls. It uses Coanda Technology to grab sections of your hair when you place it near the barrel to curl your hair. Just don't forget to use the cool shot to set them into place
I don't tend to curl my hair very often because of the sheer amount of time it takes as I have so much hair. However, the Auto-Wrap Curlers did make it easier. They seem to almost magically roll your hair up into a curl. It took a little while to get the hang of how much hair to include with each curl and which direction barrel I should be using. But after a little trial and error, I got there.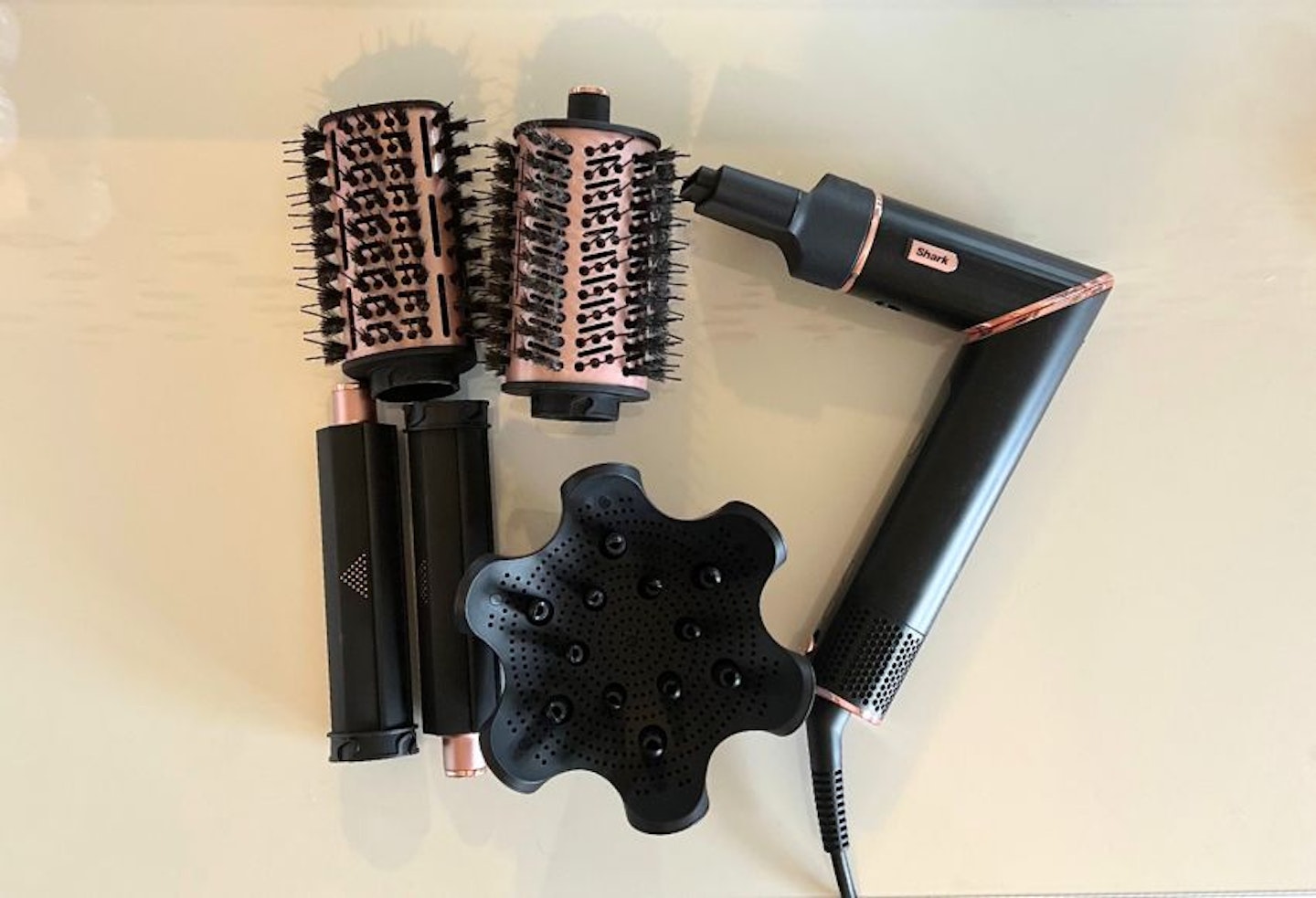 Diffuser
Perfect for curly and coily hair, the diffuser will lift and define your natural curls. It has extendable prongs to reach and lift roots.
The look achieved by the Diffuser is similar to my hair when I leave it to air dry naturally, but gave the waves a more defined look, similar to if I'd used something like a hair waver tool. This is the attachment I have used least just because this isn't a way that I like to wear my hair. I appreciate that you can adjust the length of the prongs so you can really get into the roots. As the top section of my hair is super thick, I couldn't really feel the heat coming from the diffuser unless it was on the full air and heat temperature and right up close to my scalp. I do think that's more to do with the thickness of my hair rather than the product itself though as I could feel it on my hand when I was moving the styler around my head.
Design
The design of the Shark FlexStyle deserves its own shout-out. Firstly, the colour is beautiful. I'm a sucker for anything black and rose gold so it's right up my street. The styler itself and all the attachments come beautifully presented in a carry case. That means you've got somewhere to store all of the attachments when you're not using them.
It's not heavy like some stylers can be. No matter what attachment I used, I was able to go around my whole head without getting an achy arm. I will say that the styler was a bit longer than I was expecting it to be. But that didn't affect the way I used it.
I particularly like how you can rotate part of the styler for more targeted drying, depending on what attachment you're using. You rotate the styler for the Style Concentrator and Diffuser and use it upright for the brushes and curlers.
Shark FlexStyle final thoughts: is it worth the purchase?
If I was rating the Shark FlexStyle for just the Styling Concentrator, Paddle Brush and Oval Brush, it would be five stars plus. It's helped me cut down on my styling time by over half compared to my usual hairdryer and straightener combo. Plus it uses less heat, which is great for my already bleach-damaged hair. I still like to use my straighteners on my hair after using the styler just to finish off the ends but I definitely don't use them for as long as I used to. Overall it helped me discover youthful hairstyles that have revolutionised my look.
I've knocked my overall rating down to 4.5 stars because of how tricky the Auto-Wrap curlers are to use, to begin with. There is certainly a knack for using them and figuring out which barrel you need to use for what direction you want the curl to be. Luckily, the Shark Beauty Youtube channel offers plenty of tutorials for them, as well as the other attachments, to follow depending on your hair type. I felt the Diffuser attachment could be more powerful, too. But as I've mentioned above, I think that comes down more to the thickness of my hair than the attachment itself.
It's also a pricey buy but if you're someone that is styling their hair from wet to dry regularly, I think you can justify the cost. Plus, it costs less than its direct competitor, the Dyson Airwrap.
In summary, this is a beautiful-looking styler that has helped transform my styling routine by cutting the time down by over 50 per cent. It's lightweight but it's still powerful. It doesn't use extreme heat either, with the maximum temperature being 95 degrees. It measures heat 1,000 times per second ensuring consistent air temperatures and no heat damage. You have total control over the heat settings and the amount of air you use too. You can truly tailor it to your hair's needs.
Shark FlexStyle FAQs
Where can I buy the Shark FlexStyle?
As the Shark FlexStyle is a super popular product, it regularly goes in and out of stock. As well as from the Shark website, you can get it from:
and Argos
...To name a few. We've tested it in the Black and Rose Gold colourway but Shark has also released the FlexStyle in a Stone colour, too.
Can you use the Shark FlexStyle on dry hair?
Designed as a wet-to-dry styler, the Shark Flexstyle does work best on damp hair. That's not to say you can't use the attachments when it's not hair-wash day. They'll still smooth or curl your hair (depending on which attachment you choose) but they won't work to their full styling capabilities. If you want to give your hair a refresh in between washes, you can always wet your hair so it's slightly damp and then dry to your preference with the Shark FlexStyle.
Rosie Floyd is a Homes and Garden Product Writer for Yours, specialising in home appliances, décor and furnishings, as well as pets. After completing her Journalism & Media degree from Coventry University back in 2015, she started her career writing about must-visit holiday destinations, moving on to creating content around outdoor living and garden buildings, before joining the team at Bauer.