The hair styling market is one that continues to grow rapidly, with top brands constantly competing to bring out the next best hair tool to help us switch up our barnets.
Although they've made their name in vacuum cleaners, Dyson launched the Dyson Supersonic hair dryer back in 2016 and just two years later, unveiled the Dyson Airwrap multi-styler.
Rather than using direct heat to curl hair, the Airwrap instead uses the Coanda effect which put simply by Dyson creates "a spinning vortex of air around the cylindrical shaped barrels of the tool" and "attracts the hair through the airflow, encouraging hair to wrap itself around the barrel and curling it through the use of the air vortex."
Clever, right? But how does the £400+ styler actually perform in practice? We put the Dyson Airwrap to the test to find out.
Pros
Easy to use
No extreme heat used
Dries and styles hair
Attachments mean you can create a variety of looks
Cons
Curls can fall out without the use of extra hair product
Key features
Self-wrap
The enhanced Coanda airflow attracts and self-wraps hair in both directions, resulting in voluminous curls and waves.
Multi-directional barrel
With just a simple twist of the heat-protected cool tip, you can create curls in both directions. The previous version of the Airwrap required a change of barrel.
Reduced heat damage
The Airwrap measures airflow temperature over 40 times a second, regulating the heating element to keep the temperature from causing extreme heat damage.
Testing the Dyson Airwrap
We're big fans of Dyson in my house and proudly own both a Dyson V15 Detect and an air purifier by the brand. After raving about the Supersonic hairdryer, naturally, I was curious about the Dyson Airwrap styler and whether or not it would be as much of a hit.
I have long, thick and naturally wavy hair but my very favourite way of styling it (when I can be bothered), is by curling it with a curling tong. While I've always found relative success with my ancient Remington Curling Iron, I've always been very wary of the damage the high heat was causing my hair, which is why I was instantly curious about the Airwrap as an alternative option.
I received the Dyson Airwrap multi-styler complete set which came in a stylish storage case, cushioned with soft fabric. Available in a variety of colours, like most Dyson products, the design of the Airwrap is sleek and stylish and although larger than traditional curling stylers, it's lightweight to hold and use.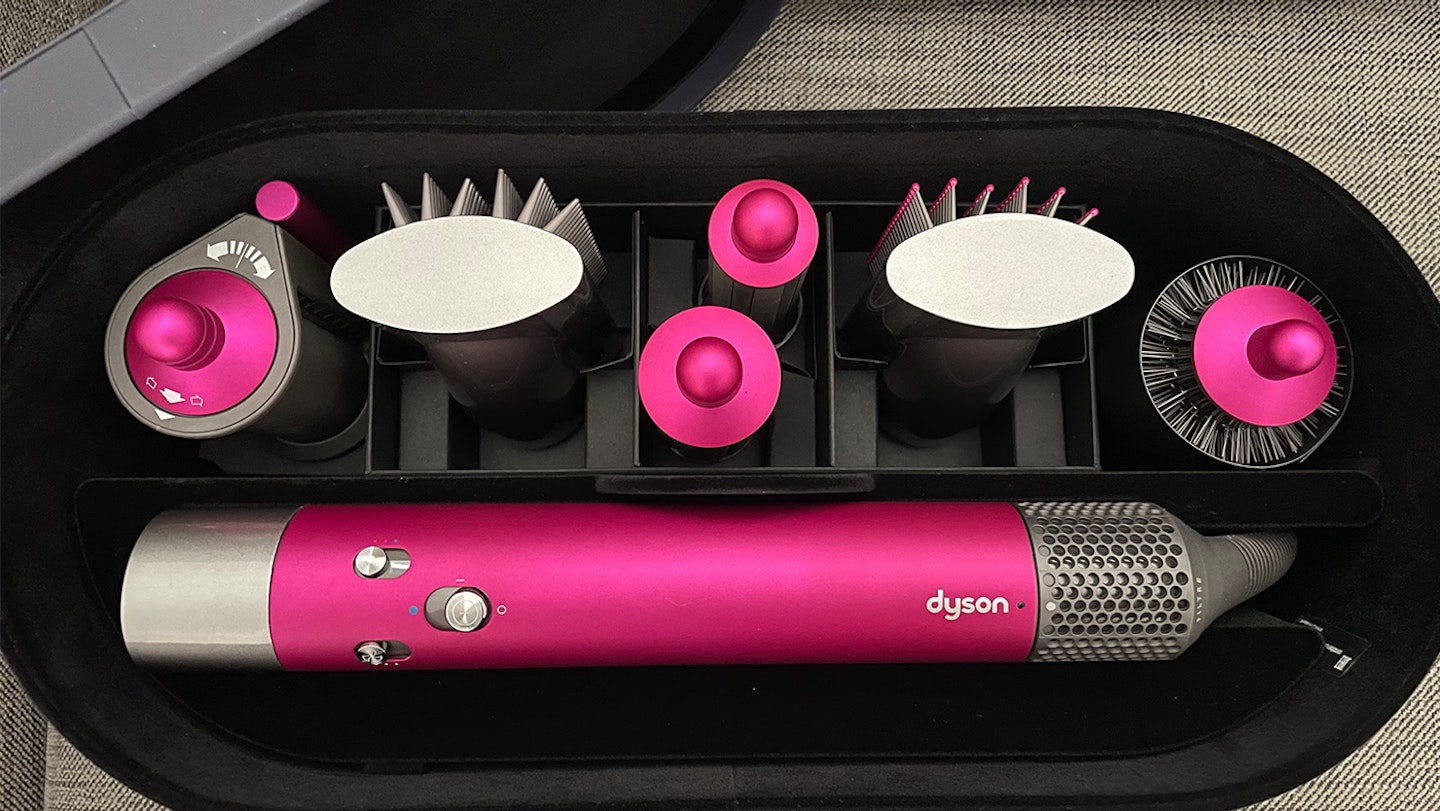 Attachments
The Airwrap consists of the main body of the multi-styler which you then screw on the various attachments, depending on what look it is you're after. Within my set came:
Curlings barrels: Able to curl in both directions, my set came with two different barrels as standard: 30mm and 40mm which can be interchanged depending on how big you want your curls. You can also buy longer 30mm and 40mm barrels if you've got longer hair plus a 20mm barrel for fine hair.
Coanda smoothing dryer: As well as being able to quickly rough-dry hair ready for styling, this nozzle uses Coanda airflow to flatten flyaways for a smoother finish.
Soft smoothing brush: Ideal for those with fine hair, this brush will help create straighter styles.
Firm smoothing brush: A brush for those of us with thicker hair, the firm bristles will help straighten thick or curly hair ready for styling.
Round volumising brush: The long, fine bristles of this round brush direct air deep into the hair to give body, creating tension to shape the hair as it dries.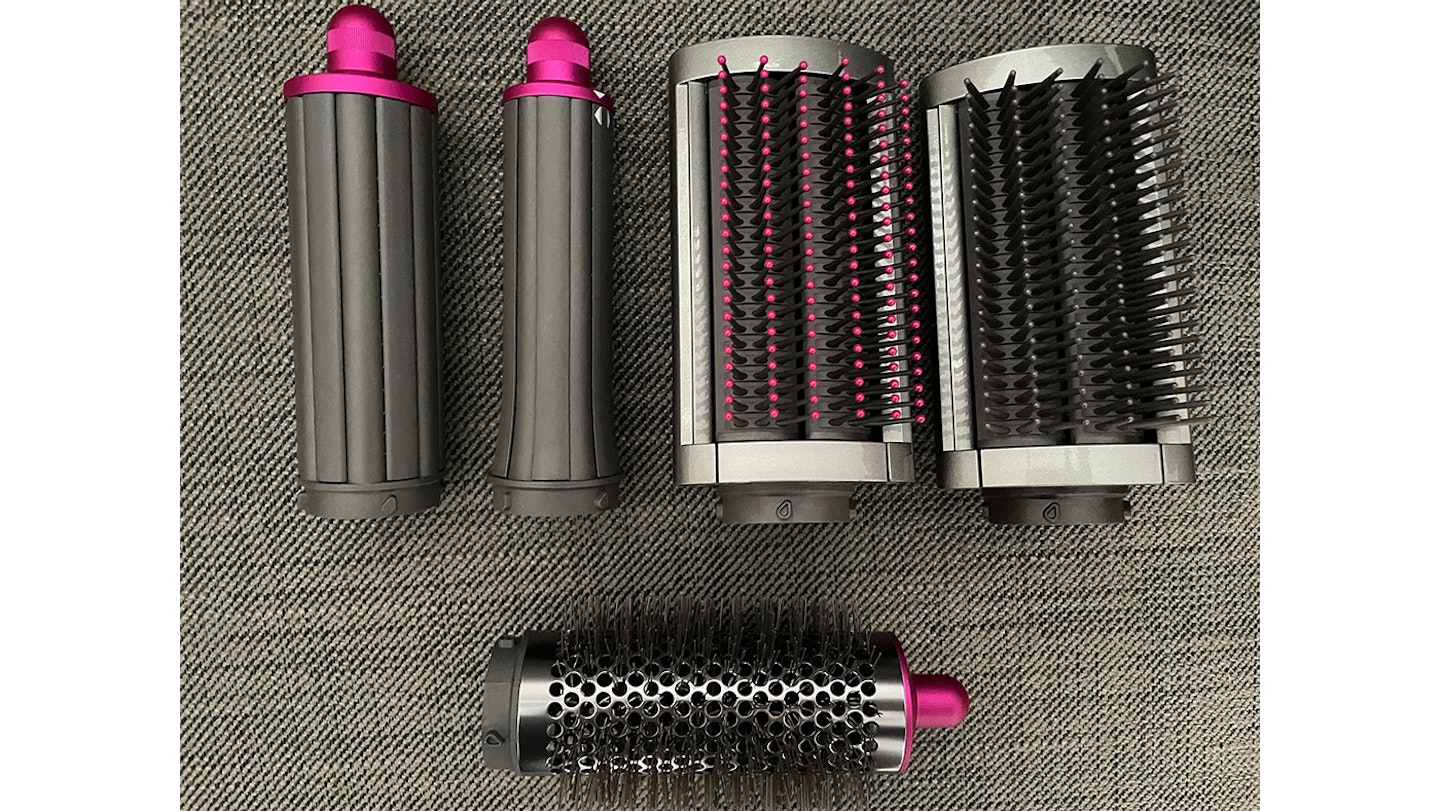 Performance
One thing any Dyson Airwap owner will tell you is that using the styler with the curling barrels does take some time to get used to. Having never used one before, I felt really intimidated to start with but the Dyson app (and TikTok!) proved very useful in helping me get started.
Before you start using the curling barrels, Dyson says that you need to pre-dry your hair to 80% dry first by using the included Coanda smoothing dryer attachment. Hair should look almost dry but feel cold to the touch. This is because hair is more pliable and therefore easier to style as the hydrogen bonds in our hair can be formed into new shapes, e.g. curls, without the need for extreme heat.
To use the Airwrap barrels, simply grab a small section of hair and holding it about 10cm from the tip, pull it away from the rest of your hair. Once you've set the styler to the heat and power settings that you desire (I used high for both), switch the Airwrap on (there's no need to wait for it to warm up) and move the section of hair towards the barrel. The air will automatically wrap your hair around the barrel so there's no need to twist, instead move the Airwrap towards your scalp and let it wrap the rest of the remaining section of your hair. Dyson says to then hold the barrel for 15 seconds before switching on the cold shot for 5-10 seconds to set the curl. Then turn the power off and pull the Airwrap down so it slides out.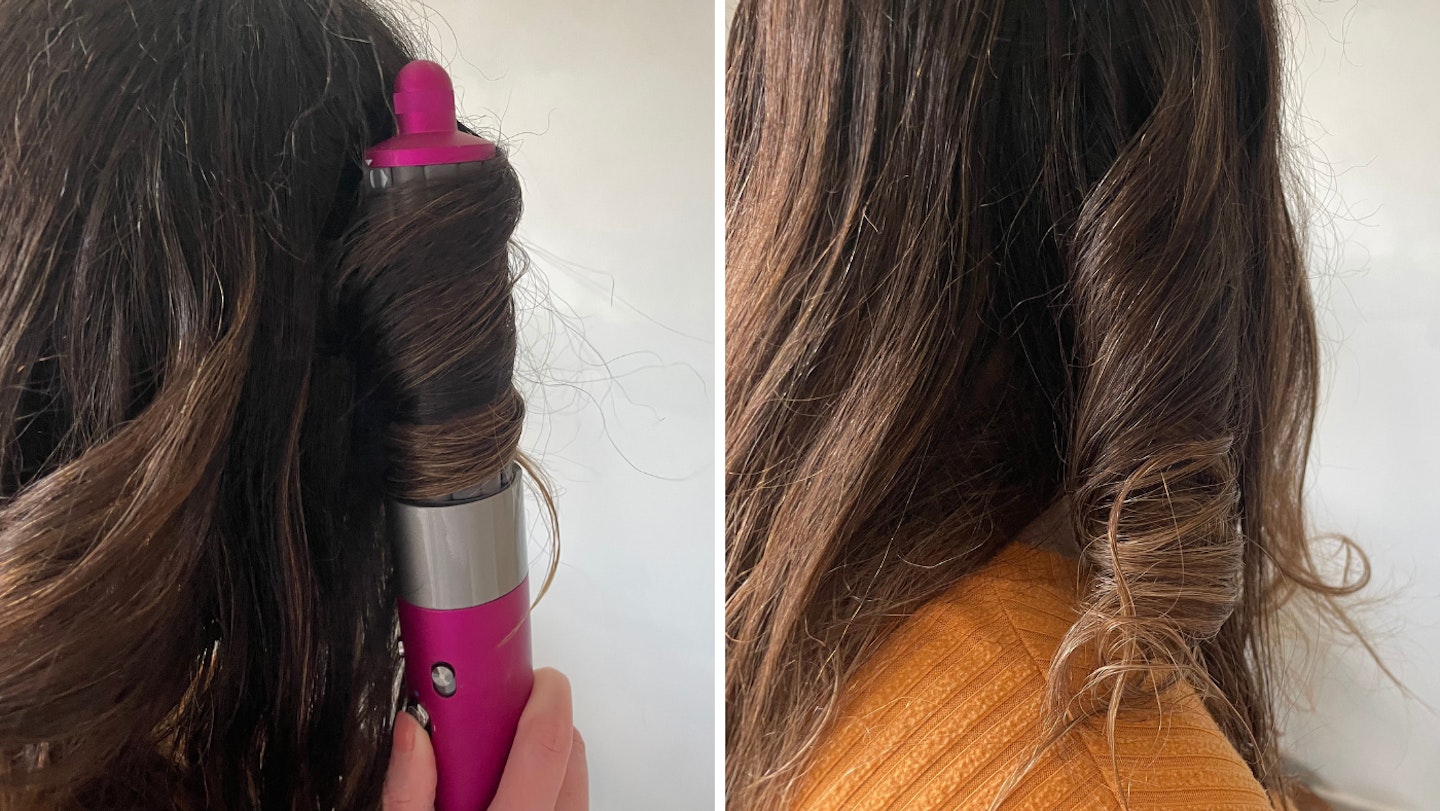 The current version of the Airwrap has had a very helpful update which means that you don't need to swap barrels to change the direction you curl your hair like with the older version. Instead, you simply turn the dial at the top to switch direction before continuing on with styling.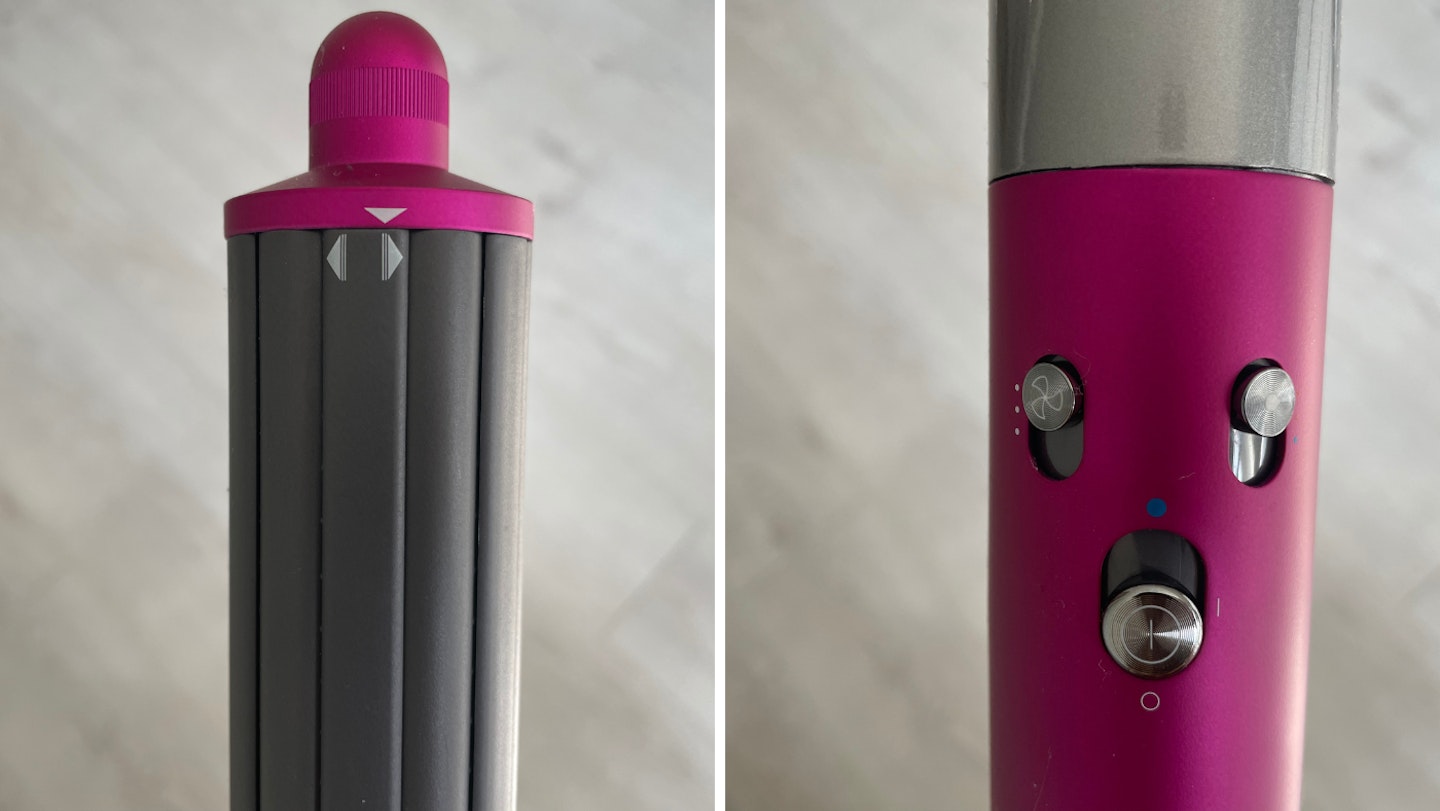 Once I'd done it a few times and worked out how best to section my thick hair, I was able to quickly and easily repeat the process to create curls and it went pretty much as Dyson instructed, although sometimes I found that if certain strands of hair didn't get automatically picked up, I'd need to help by wrapping it around the barrel myself.
It was all in all a pretty smooth process that for the first few times was fascinating to watch. I soon learnt that I didn't personally find much use for the brushes and tended to jump straight from the dryer to the barrels but I can appreciate that they're useful for those with frizzy hair. As someone prone to flyaways, I'm a big fan of the Coanda smoothing dryer, however, and found this to be very effective when using it to dry my hair.
I was really impressed with the curls both barrels produced, personally favouring the 30mm barrel for voluminous results. I loved the final look and was chuffed at how effortless it had been to produce.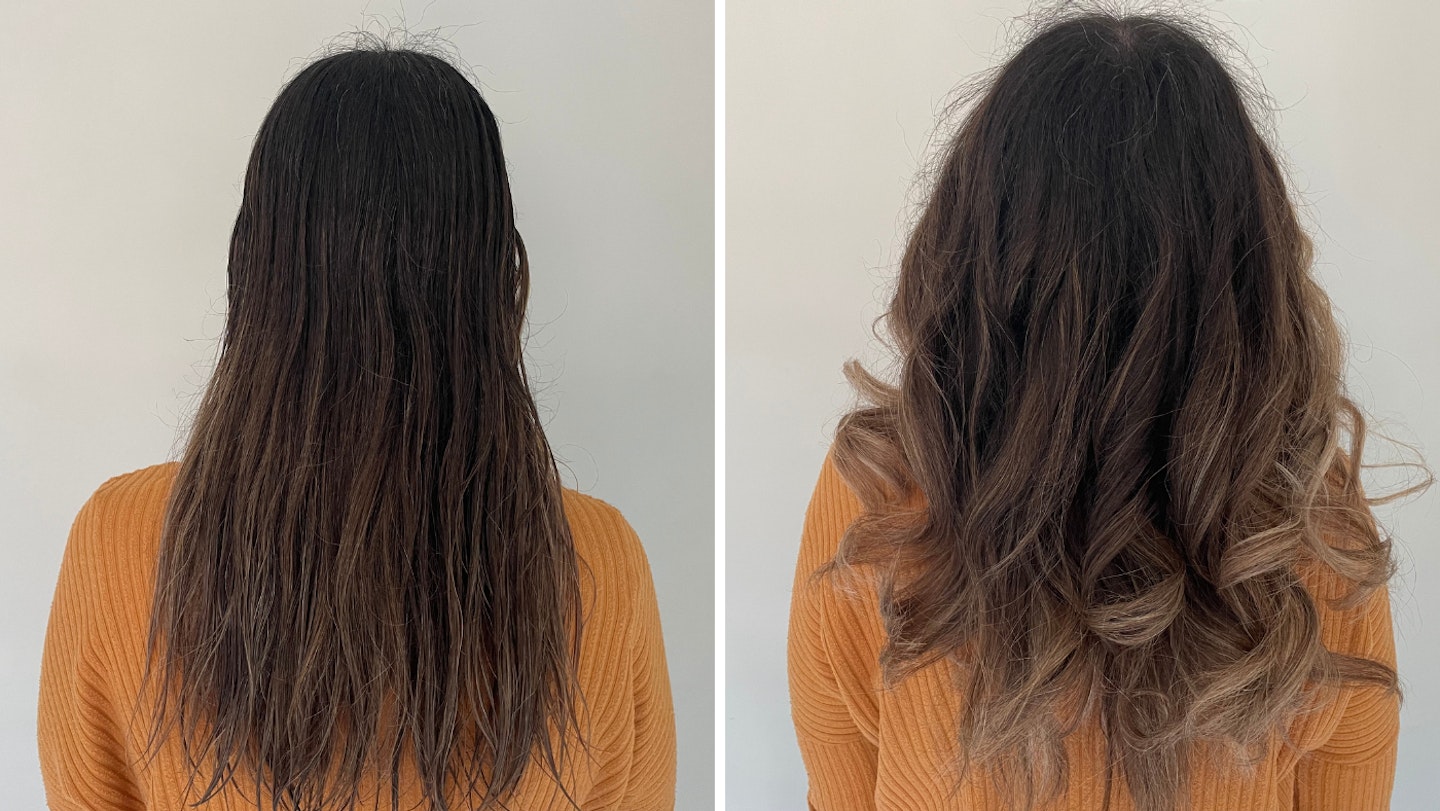 But sadly, as I went about my day, the curls quickly began to drop and by the evening, I was left with bouffant waves which while still looking great, wasn't what I wanted.
Research quickly told me that getting the curls to hold was a common problem people experienced with the Airwrap. While the type and condition of hair you have is naturally going to have an impact on how long your curl is going to last, the people that were finding success with their curls were using pre-styling products before using their Dyson Airwrap, which I had not been. The products used will entirely depend on each individual and it can take some time to figure it out but I personally found applying a hair mousse really helped my curls to stay in longer.
Final verdict
Getting to know the Dyson Airwrap and making it work for me and my hair has undoubtedly been a process. While actually using the styler was never a problem, I was disappointed when I found my curls didn't stick around. When using a traditional curling wand, this had never been an issue and my curls would last for days but this would be having used extreme heat, something I was never entirely comfortable with.
The Dyson Airwrap is undoubtedly an expensive product and it can feel frustrating to find out that you'll most likely need to pay for pre-styling products to ensure your curls last, given have much you've already paid for the styler. But for me personally, I'd rather have to use a product or two for success with the Airwrap rather than go back to using direct heat and damaging my hair in the long run.
The addition of the attachments and the versatility of the styler is a huge plus in my eyes, allowing users to create a variety of different looks just by swapping out the attachments and I really like that I'll be able to purchase any future attachments that Dyson brings out without having to buy a whole new Airwrap set.
It won't be for everyone but the results of the Airwrap are undeniably impressive and I love the salon-worthy bouncy blowout that it gives me and for that, I'm happy to stick with the Dyson Airwrap and do a little hair prep.
Dyson Airwrap FAQs
What can I buy instead of Dyson Airwrap?
If you're looking for a cheaper alternative, you may want to check out the Shark FlexStyle which costs less than the Dyson Airwrap at £299.
What is the difference between the old and new Dyson Airwrap?
With the original Airwrap, you needed to change the barrel itself to change air direction but with the new one, you simply just use the integrated switch at the top of the barrel to do so.
A Digital Writer for Yours, Emily Gilbert has been a journalist since 2015 and has worked across a variety of specialist and lifestyle brands both in print and online. Specialising in product reviews, Emily is the first to know about all the exciting new releases, her favourite being foody gadgets.