Ah, sleep. The ultimate restorative treatment to help your body and mind repair, helping us to feel fresh for the next day. If sleep evades you, you might feel more irritable, less able to focus and feel down. Yours may have the solution - with the best earplugs for sleeping in the UK.
According to the NHS, continuous lack of sleep can affect your overall health and make you prone to serious medical conditions, such as obesity, heart disease, high blood pressure and diabetes.
It's likely you'll have tried several things on your quest for perfect sleep: meditation apps, no TV in the evening, refraining from cheese and listening to sleep stories or music, but have you ever thought about using earplugs?
The best earplugs for sleeping will not only help you to block out sounds if you're a light sleeper, but can also help if you work shifts, or if your other half is a snorer.
Related: The best sleep sprays and mists to help you drift off
Is it safe to wear earplugs whilst sleeping?
With prolonged use, earplugs can push earwax back into your ear, causing a bit of a buildup. This can, in turn, problems, including temporary hearing loss and possibly tinnitus. Make sure to have ear drops on hand to reduce build-up, and speak to your doctor if you're having issues.
As well as wax build-up, the bacteria that grows on earplugs can cause ear infections, which are painful and can have long-term effects. Make sure to replace your earplugs regularly, keeping them clean in a dedicated case, if possible.
To help you find the best earplugs for sleeping, we've rounded up the top products rated by real people.
Keep reading for information on the benefits of sleeping in silence, plus other changes you can make within your bedtime routine.
How much should I spend on earplugs for sleeping?
We have found a range of earplug products available to buy. On average you should expect to spend around £10.00 on a pack of good quality earplugs that will be comfortable to sleep in.
Related: Essential oils that will send you straight to sleep
Best earplugs for sleeping UK:
Description
Beary Quiet Soft Premium Foam Earplugs are designed as a noise reduction solution for snoring
Need to know:
Hypoallergic
BPA-free
Case included
30 pairs
30-night trial
Review: "Bought this product for my fiancé who works night shifts and struggles to sleep in the daytime. It turns out that I actually use the earplugs more than him because he snores so loudly. When I first tried the product, I must admit I didn't read the instructions and just tried to wedge them into my ear. 100% read the instructions first and don't be impatient like me. Brilliant product and would recommend to any poor person who has to put up with a snoring partner."
Description
Made from high-grade silicone, these earplugs from Soundbloc are comfortable to wear and should
Need to know:
Hypoallergenic
Non-toxic
BPA-free
One year's supply (six pairs)
Storage case
Bonus wellbeing guide
Review: "I never thought I'd be one of those people that review earplugs, in fact, I rarely review anything I buy, but these deserve a fabulous review. I've used earplugs for years as I'm such a light sleeper and over the years I have tried every possible type going. I got these last week, and since using them, I've had the best night's sleep in a very long time. They mould perfectly to the ear and create a perfect soundproof seal."
"They stay put all night - a major issue with all other types as they would fall out in the night and then I would get woken up by the slightest noise. My partner snores and so far they completely block out the snoring. I wake up in the morning feeling completely refreshed. It's amazing, and the box they are presented in is really elegant. If I could give it more than 5 stars I would."
Best eco-friendly earplugs
Description
These earplugs from Happy Ears are a pretty revolutionary product. They're made from 100% recycled
Need to know:
Offered in a size to fit your ears
Made from 100% recycled ABS and TPE plastics
Versatile case included
Delivered in compostable packaging
Should last a year or longer
Review: "I bought this product a month ago and have been thrilled with the result. I've worn traditional earplugs for sleeping for many years. In the last year, they started cutting the inside of my ears, so I had to stop using them. I found Happy Ears earplugs, and they saved my ears and my sleep! The fit is comfortable, and the material is gentle on my ears. I was really glad I purchased the pack with all three sizes because it allowed me to find my perfect size, and it turns out I needed a large for one ear and a medium for the other just because of the way the plugs are shaped. I will definitely be a return customer for these."
Best earplugs for noise-cancelling
Description
These silicone earplugs reduce noise by 32dB, so they're the highest rated reusable earplugs on
Need to know:
Five pairs
Case included
Review:
"These are the best earplugs for sleeping I've ever used. Not hyperbole. It's true. I've tried a lot of different earplugs. Everything from the cheap and disposable spongey things commonly used on flights, to wax-like plugs for swimming. These silicone moldable earplugs beat them all by a country mile.
"First of all, they're simple to roll in your hands and then insert into your ears. You won't have to roll them very much.
"Second, when placing into your ears, it inserts comfortably and then fills out gently to what will be snug, comfortable all night fit. Before long, you'll forget they're in.
"Noise cancellation is excellent, perfect for a concentrated study or deep sleep. But you'll still be able to detect a faint white noise from a sleep machine or an alarm, should one, unfortunately, go off for you, which is what you want from earplugs."
Best two-in-one sleep mask
Description
Don't want to wear earplugs? Some sleep masks will also cover your ears, which, while they won't
Read More: The best eye masks for sleeping through the night
FAQs
What else can you use earplugs for?
Earplugs have a range of uses, including while you're working or studying. Here are some situations you might find your earplugs useful for:
• Sleeping
• Studying
• Working with people around
• Working in a noisy place
• Using tools in the garden
• At concerts
• On aeroplanes
• When swimming
Can children use earplugs?
Children should have no problems when using earplugs, but they should always be supervised, especially when putting them into their ears. Always ensure you have the right size and speak to your doctor for further advice.
How to clean earplugs
Your reusable earplugs can be cleaned using soap and water, a clean cloth or rubbing alcohol. If you spot any damage, they're excessively soiled or are no longer holding their shape, it's time to replace them.
Are sleeping earplugs effective and will I still hear my morning alarm?
Worried about missing your alarm? While earplugs will block out most noise, an alarm clock should still wake you up each morning. If you're unsure, you could always turn up the volume on your alarm clock for peace of mind.
If you have tiny humans running around, earplugs will also block out most squeals and grunts, but will not block out the sound of a baby or toddler continuously crying.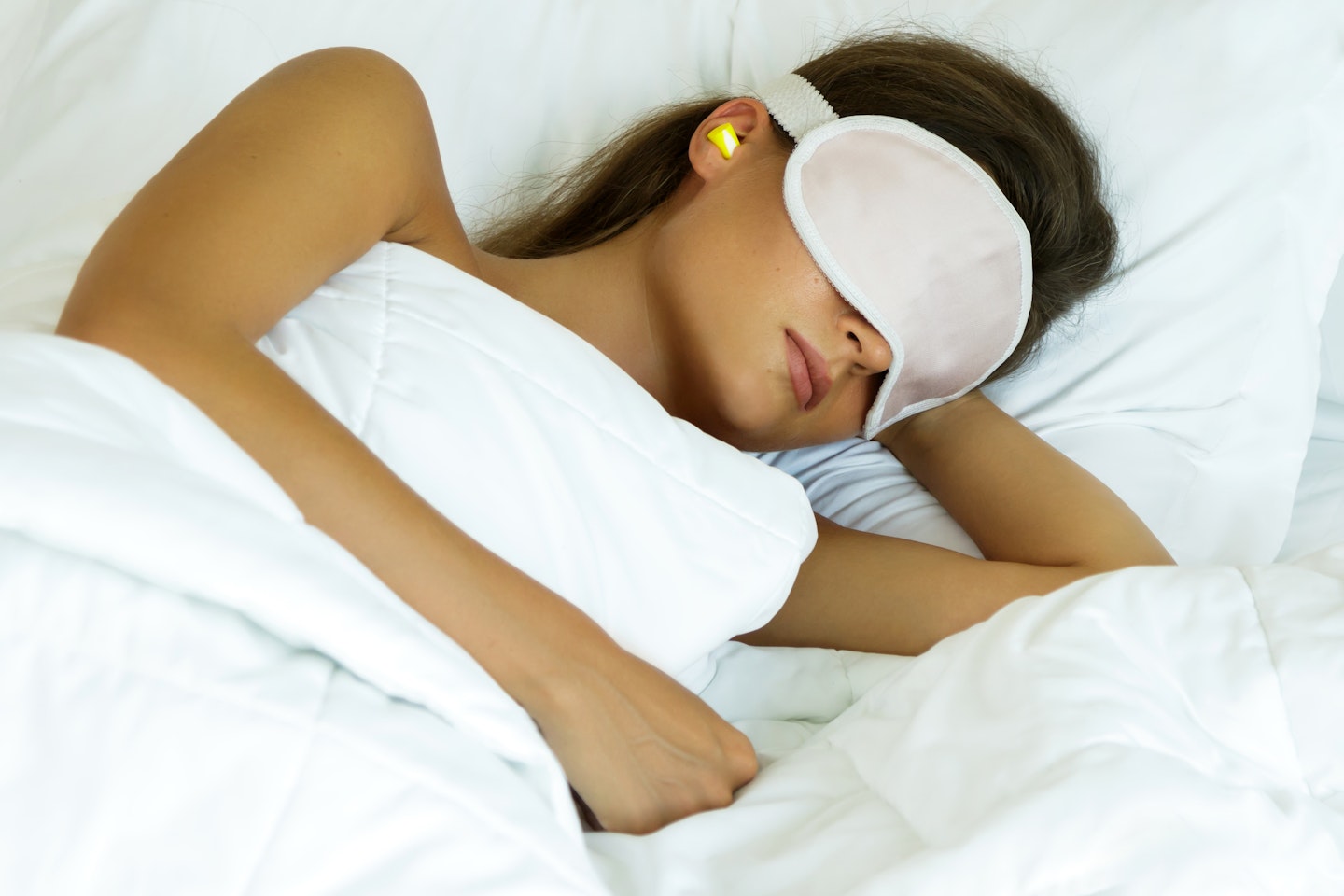 What are the benefits of sleeping in silence?
We spoke to Valentina Cartago, Nutritional Advisor at Bio-Kult, to find out more about sleeping in silence, as well as overall advice for getting your full eight hours.
"Up to one-third of our population suffers from sleep problems. Optimal sleep is critical for overall health, with studies suggesting an association between poor sleep and conditions such as hypertension, obesity, impaired immunity and dementia to name a few."
"Different types of noise can wake you up throughout the night, leading to fragmented sleep. This in turn can lead to issues such as low energy, poor cognition and mood the following day. Our sleep works in stages that repeat in cycles through the night: lighter ones (stage 1 and 2), deep (or slow-wave) and rapid eye movement (REM stage).
"Studies have shown that environmental noise such as traffic, can increase stage 1 but decrease deep and REM sleep. In addition, night-time noise may be contributing to increased production of cortisol and adrenaline, leading to elevated heart rate and blood pressure."
Does everyone need silence to sleep?
"Studies have had contrasting results on this matter, with one study finding that patients with sleeping issues had a 38% improvement in falling asleep with the help of white noise, another study broadcasted white noise in the rooms of patients over three nights and showed improved sleep quality compare to placebo. However, a third study used the sound of an air conditioner in the home but found no positive effect on sleep.
"Nevertheless, individuals experiencing anxious thoughts, or issues like tinnitus, may welcome background noise to help distract them and fall asleep. The type of noise would very much be an individual choice, as different sounds may work for different people.
"Nowadays, the choices are endless and can be found via free apps offering many different options, from nature sounds to white noise, to actors reading nighttime stories in a soothing voice to help you fall asleep. Otherwise, you can still buy actual sound machines or even choose playlists of background noises via music streaming services, ranging from coffee shop noises to two hours of rain."
What things can you incorporate into your bedtime routine to ensure a restful night's sleep?
Small changes in our evening routine and sleeping environment could help optimise our sleep, such as:
• Avoiding screen time one hour before bed to stop blue light exposure This has been shown to impair melatonin production (your sleep hormone). You could read a book instead, take a relaxing bath or maybe just do an evening meditation to help your body and mindfully relax.
• Avoid eating at least three hours before bed to allow enough time for your digestive system to digest food properly so that your body can then focus on melatonin production. And remember that eating spicy foods, chocolate or drinking alcohol, may trigger reflux in sensitive individuals once they lay down in bed, further impairing their sleep.
• Ensuring the room is dark enough to optimise melatonin production; so close those curtains. Or if you are unlucky enough to have a street light right outside your window and your curtains are not thick enough, you can always invest in a comfortable sleeping mask.
• Check that your room is at the ideal temperature, which according to the Sleep Foundation, is approximately 18.3 degrees Celsius.
• To fall asleep easily, your mind and body need to be fully relaxed, so investing in good quality, comfortable mattress and pillows could be some of the best money you ever spend. Just like the noise machine, different levels of softness/firmness will work for different people, so make sure you take some time to find the one that works best for you.