When summer comes around (or any time of year, to be honest) ice cream is always the go to for a sweet treat or dessert. But if you're counting your calories, it can be tough to decide which low calorie ice cream is actually worth buying. You may be asking yourself, 'yes, this is low cal, but does it taste any good?'
Thankfully in recent years, the low calorie snack and ice cream market has grown tenfold following the success of Halo Top. In fact, in August 2017, Halo Top became the number-one-selling pint of ice cream in the U.S. before joining us here in the UK. The beauty of low calorie ice cream is that you can enjoy an abundance of delicious flavour - even a full tub - without consuming the large number of calories you'd expect in traditional ice cream.
Best low calorie ice cream at a glance:
• Best for flavour variety: Halo Top - view on Tesco
• Best for rich flavour: Oppo Brothers - view on Ocado
• Best full-fat flavour substitute: Ben & Jerry's Lighten Up! - view on Tesco
If this sounds like something you could get behind now summer has arrived, we thought we would help you out by tracking down some of the best low calories ice creams on the market today. Or, if you want to try your hand at making your own ice cream, check out our Ninja CREAMi review which includes an option for making lighter ice cream.
Best low calorie ice cream
Best for variety of flavours
Description
First up we've selected Halo Top's gluten-free, vegetarian-friendly ice cream tub. It's 320kcal
Best for rich flavour
Description
This 475ml tub of ice cream is low-calorie and delicious, containing 90kcal per 100ml. It's made
Best full-fat flavour substitute
Description
This one's naughty and nice! Pop over to Tesco for Ben & Jerry's light ice cream, which has
Best for added vitamins
Description
Sometimes simplicity is everything and that's why we love a vanilla ice cream, yogurt, custard!
Recommened
Description
Having made ice cream as their family craft for two generation, Jude's have introduced this lower
Best value
Description
For less than £4, you get 900ml of delicious light vanilla ice cream - more for your money as most
Description
With 150kcal per serving, Haagen Dazs has attempted to replicate their luxury and creamy ice cream
Best supermarket option
Description
Many supermarkets have attempted to make their own low calorie ice cream, and they tend to be hit
Best vegan option
Description
This is our favourite vegan ice cream as it tastes just like normal ice cream - and that's coming
Best ice cream stick
Description
Uses fat-free Greek yoghurt instead of your traditional cream, this ice cream clocks in at just
Best organic
Description
Organic, dairy-free and approved by the Vegan Society and Organic Soil Association, this ice cream
FAQs
Is low calorie ice cream good for weight loss?
Low calorie ice cream can definitely be helpful in your weight loss plan - it's made to have fewer calories than traditional ice cream by using lower-fat ingredients, artificial sweeteners, or sugar substitutes.
Much like low calorie chocolate bars, the beauty of low calorie ice cream is that it allows you to indulge in a sweet treat with fewer calories. By reducing your overall calorie intake, you create a calorie deficit, which is essential for weight loss. By substituting high-calorie desserts with low calorie ice cream, it can help you to control your calorie intake, especially if dessert is something you're not prepared to give up!
However, it's important to note that simply consuming low calorie ice cream alone won't guarantee weight loss. While low calorie ice cream can be a part of a balanced diet, you should also consider its nutritional composition and ingredients. To achieve sustainable weight loss, it's recommended to focus on a well-rounded approach, including a balanced diet consisting of nutrient-dense foods, more physical activity, and mindful eating. Consulting with a healthcare professional or registered dietitian can provide personalised guidance tailored to your specific needs and goals.
For more healthy dessert options, take some inspiration from these tasty recipes.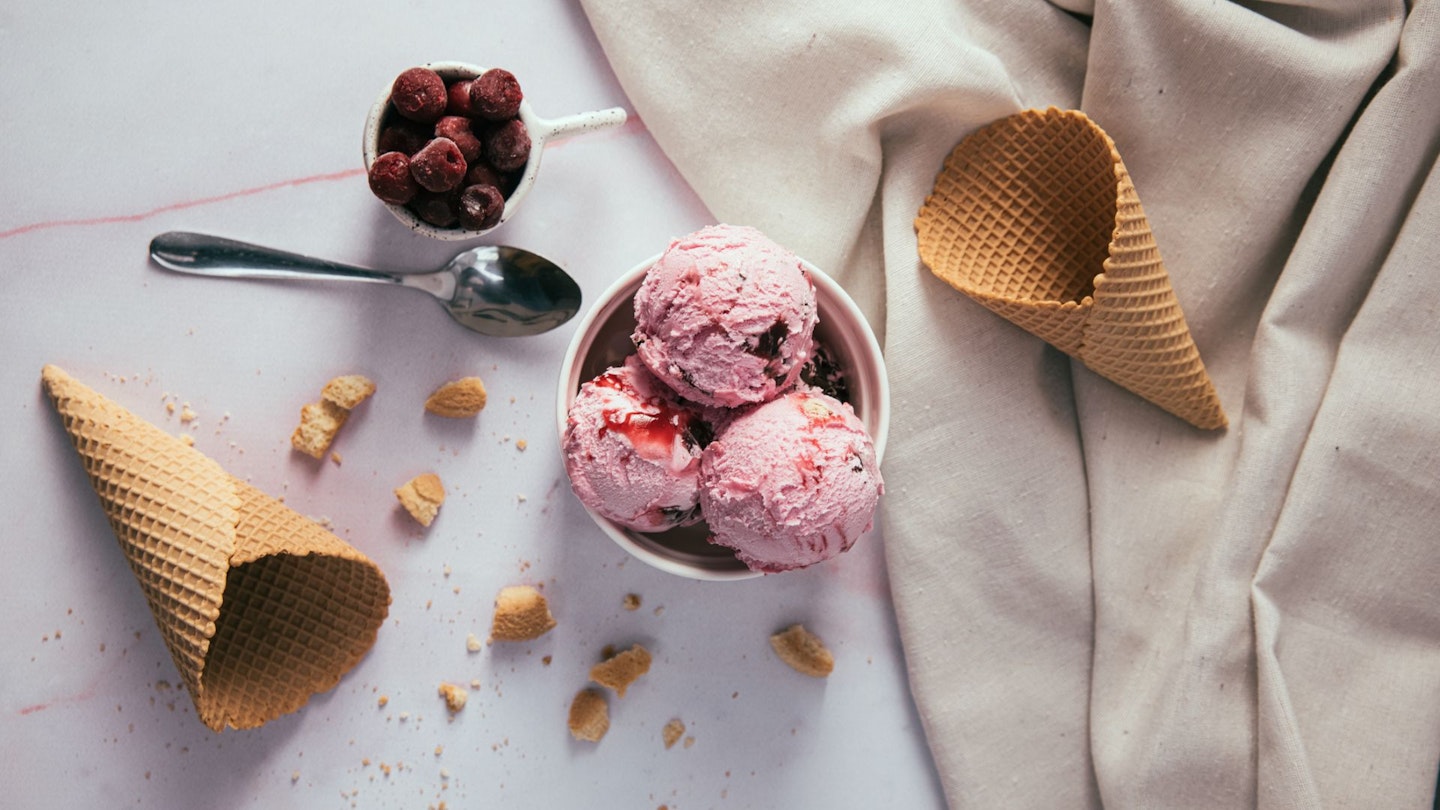 How is low calorie ice cream made?
Low calorie ice cream is made by using techniques and ingredients to reduce its overall calorie content compared to traditional ice cream. It typically starts with a base mixture of lower-fat milk or milk alternatives - which is why you might often find that dairy-free or vegan ice creams are typically lower in calories too.
Artificial sweeteners or sugar substitutes are used instead of sugar, and emulsifiers and stabilisers may be added to improve texture and prevent ice crystals from forming. Flavourings like vanilla, chocolate, or fruit extracts - artificial or natural - are added for that delicious taste, along with additional ingredients such as fibre or protein isolates for added nutritional value before the mixture is churned into ice cream.
If you want to know exactly what's going into your low calorie ice cream of choice, check the nutrition label and ingredient lists.
Where to buy low fat ice cream?
As the low fat and low calorie ice cream market has grown, so have the options offered in supermarkets. Now for most retailers, you'll find a 'lighter' or 'low calorie' section of the frozen dessert supermarket aisle. These can be found online too with a selection of ice creams and ice lollies:
Tesco: Under 150 calories per 100ml serving
Tesco: Under 100 calories
Ocado: Lighter options
Waitrose: Healthier options
ASDA: Lighter ice cream
Eleanor Weaver is the Deputy Homes & Garden Product Editor for Yours, specialising in home décor, furnishings and appliances. Having worked commercially on Yours magazine and Yours.co.uk for the past six years, she's previously hosted Yours Live events and loves looking for home inspiration online.