Whether you don't like working out at your local or garage gym, or getting into one simply isn't feasible, you can still get a thorough and pretty tiring workout from home with some adjustable dumbbells.
Whether it's through using resistance bands, viewing a live yogaclass, or just jumping on your home bike, working out from home has never been more accessible. Even for those less mobile, chair exercises are also quite effective in helping us tone up and get fit.
And for those who wish to incorporate weights into their training, or miss weightlifting, there's a very easy solution to this: dumbbells, or better even adjustable dumbbells.
Adjustable dumbbells are incredibly handy, the fact that you can vary the weights allows you to choose between different workouts, and gives you a much wider range of exercises.
Now there is a lot of choice when it comes to choosing a pair, so we've searched high and low and rounded up the best adjustable dumbbells, whether you're a beginner or a seasoned veteran.
The best adjustable dumbbells UK 2022
Description
These are overall an excellent product, with strong red nuts that secure and keep in place several
Pros: Easy to assemble, quiet vinyl coating
Cons: Limited range of weights
Best lightweight adjustable dumbbells
Description
These dumbbells are ideal for anyone looking to add just a bit more weight to their workouts,
Pros: Waterproof material so they're easy to clean, sleek design
Cons: Small range of weights
Description
These may look quite basic, but trust us, these traditional dumbbells are incredibly tough and
Pros: Wide handgrip, versatile as it can easily change from dumbbell to barbell
Cons: Short barbell bar
Best adjustable dumbbells for beginners
Amazon
Description
If you're just starting out in fitness, these adjustable dumbbells are a superb choice. They're
Pros: Unique, non-slip design
Cons: Limited price range
Best adjustable dumbbells for professionals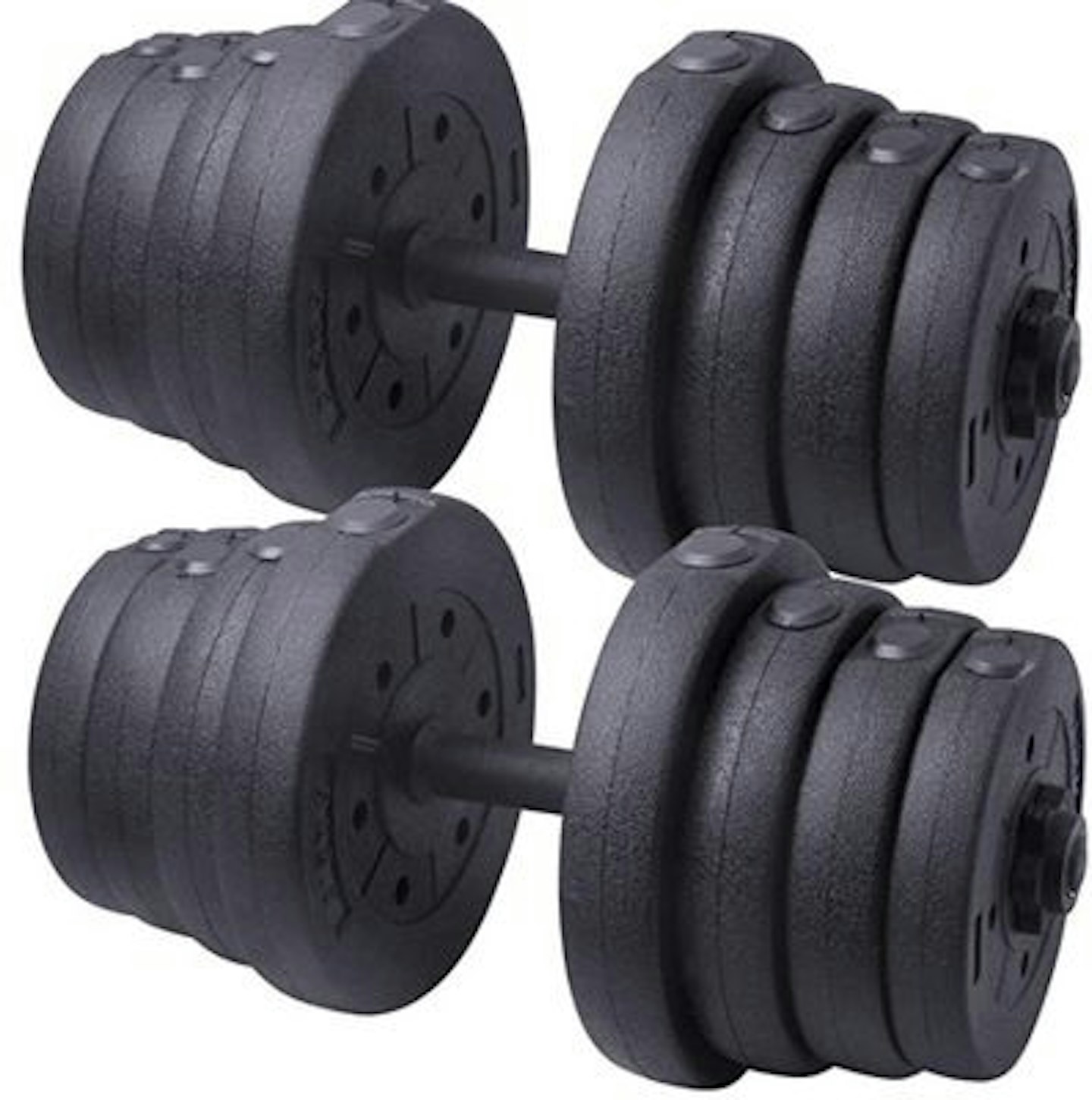 Amazon
Description
If your end goal is to put on muscle and gain as much strength as possible, these dumbbells by
Pros: Large range of weights
Cons: The weight plates are quite chunky
Best adjustable dumbbells for ease
Description
These dumbbells are incredibly easy to swap between plates, thanks to their GlideTech that makes
Pros: Easy to swap weights, stylish
Cons: Sold as a single dumbbell
Description
We love this aesthetic, these dumbbells are incredibly sleek and ultra-portable too, so you can
Pros: Soft grip, easy to use, compact
Cons: Limited weights
Why are adjustable dumbbells better?
Adjustable dumbbells sets can be a better option for your home than normal dumbbells as they're cost-effective and compact (so you get to save space). They are just one piece of equipment as opposed to fixed dumbbells that may need their own stand or rack as your collection grows.
They are much more versatile when you consider building muscle and strength without attending a gym.
Are adjustable dumbbells worth it?
This completely depends on you and your personal needs, but they can be an excellent investment for people who prefer to workout outside of gyms. They allow you to swap between weights thanks to the adjustable plates but can be awkward when doing exercises in quick succession that need different weights.
Popular articles to read next