Picking the right food for your dog is super important to ensure they stay healthy and happy. But with such a vast variety of food available for them, it can sometimes feel a little overwhelming to know what is best to feed your pooch.
That's why we've put together this dog food buying guide so you know what's best to feed your canine companion, how much and the different diets available.
Why your dog's diet is so important
A dog that's eating a healthy, nutritious diet will have bright eyes, good energy levels and a healthy coat and skin. Just like us, dogs need a balanced diet to get all the required nutrients to keep them fit and healthy. Diet (along with exercise) is important to prevent your dog from becoming overweight or obese, which can put them at risk of serious health complications.
What should I feed my dog?
Here's six things veterinary charity, PDSA, says you should consider when it comes to feeding your pooch:
Complete - always pick a dog food with 'complete' on the label, as this means it contains all the correct amount of nutrients that your pet needs.
Life stage appropriate - when selecting your dog food, make sure it's for the current stage of your canine's life, e.g. puppy, adult or senior. Not only will this mean they get the correct amount of nutrients, but it's important to make sure they get the correct amount of food to avoid health problems, such as obesity.
Pet Food Manufacturers Association (PFMA) - pick a dog food manufacturer that is part of this association, as its members meet extra quality standards.
Commercially available - while a homemade meal may sound healthier for your dog, the PDSA says it can be hard to make sure they get all the required nutrients. That's why they recommend opting for a commercial dog food instead.
Wet vs dry food - many owners choose to feed their dogs both wet and dry food or either or, always make sure you read the label to make sure you're providing your pet with the correct amount of food.
Ingredients - don't get too bogged down in the ingredients list, not only can they be quite overwhelming, but they also go on for ages! The PDSA ensures that dog food has to pass a vet inspection, so relax and pick something that your dog is happy eating.
This short video also shares what you should avoid feeding your dog, as well as the best types of treats for them.
How much should I feed my dog?
Always refer to the label on your dog's food packet to start with, which should state how much food you should give your pet. PDSA vets recommend feeding your dog twice a day, so just split their daily recommended amount stated on the back of their food packet into two. If you're someone who 'free feeds' your dog (when you leave food out for them throughout the day to graze on), make sure you consider what life stage your dog is at and how active they are. For example, this may be suitable for a dog that is very active, or those who struggle to maintain a healthy weight, however the PDSA doesn't recommend it for puppies or other dogs, as they may end up eating more than they need and developing obesity.
Different doggy diets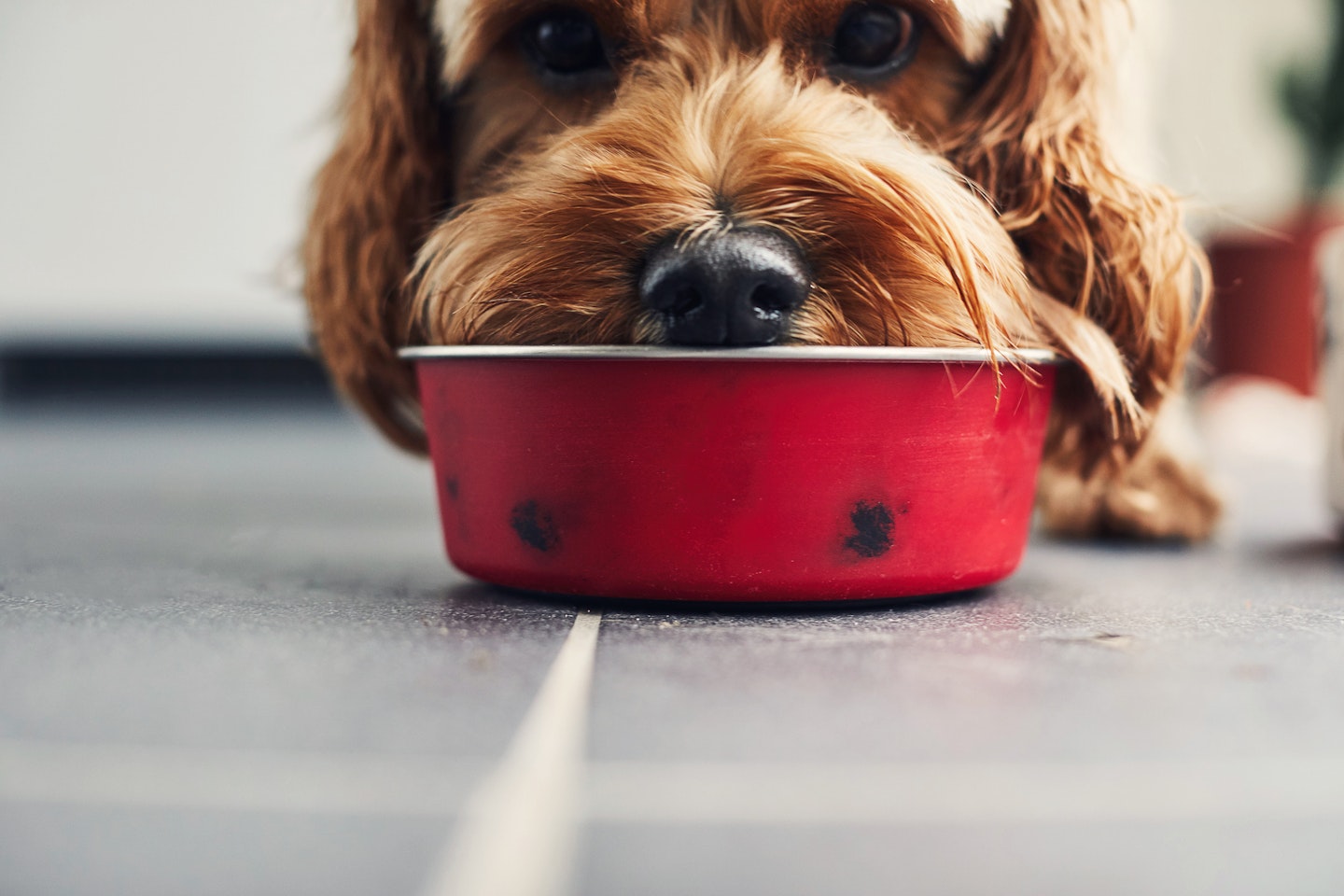 Wet dog food comes in either a tin or pouch and is preserved in jelly or gravy. It's usually more expensive than dry dog food, as the recommended feeding amounts are higher. If you do choose to give your dog wet dog food, make sure to keep an eye on their teeth, as it makes them prone to dental disease.
Dry dog food is the easiest to feed and store your pooch, however unlike wet dog food, this type of food has a lower water content, so you don't need to feed your dog as much to ensure they get all the nutrients they need. A good dry dog food will contain a high protein content, low carbs and be made with good quality ingredients.
Raw dog food
The PDSA advises not to try and create your own raw diet to feed your dog, as it's difficult to monitor whether they're getting all the required nutrients. If you do choose to feed your dog a raw diet, opt for food that is complete and commercially prepared, so you know your dog will be getting all the right nutrients.
Vegetarian dog food
If you're not a meat eater you may also want your dog to stay away from meat too. This is possible as dogs are omnivores. Again, pick a complete commercial dog food that is suitable for your dog's life stage, to make sure they get all the goodness they need. Avoid trying to create your own veggie meals for them, as you'll struggle to make sure your dog is getting all of their nutrients. If your dog does however have a medical condition or special dietary requirements this type of diet may not be suitable for them. Always speak to your vet first if this is the case.
Will my dog need different dog food as they get older?
Yes. What you feed a puppy will be different to what you feed an adult or senior dog, as they will require a different amount of nutrients depending on what life stage they're at. Commercial dog food companies design different diets specific to your dog's age to make sure they get the required nutrients for their life stage.
Puppy diet - this is what your dog will be fed while they are growing towards becoming an adult. Lots of puppy foods are designed to suit a particular breed or size, as this will impact their growth rate and the nutrients they need. It's advised to try and continue feeding your puppy the same type of food as given by their breeder. Some puppies enjoy three meals spread evenly throughout the day to help maintain their energy levels, then two once they're older. Keep checking the packaging of your puppy's food, because as they get older the amount they'll require will change. Make sure to weigh out their food and sometimes it's a good idea to weigh your puppy too, to make sure they're growing at the correct weight.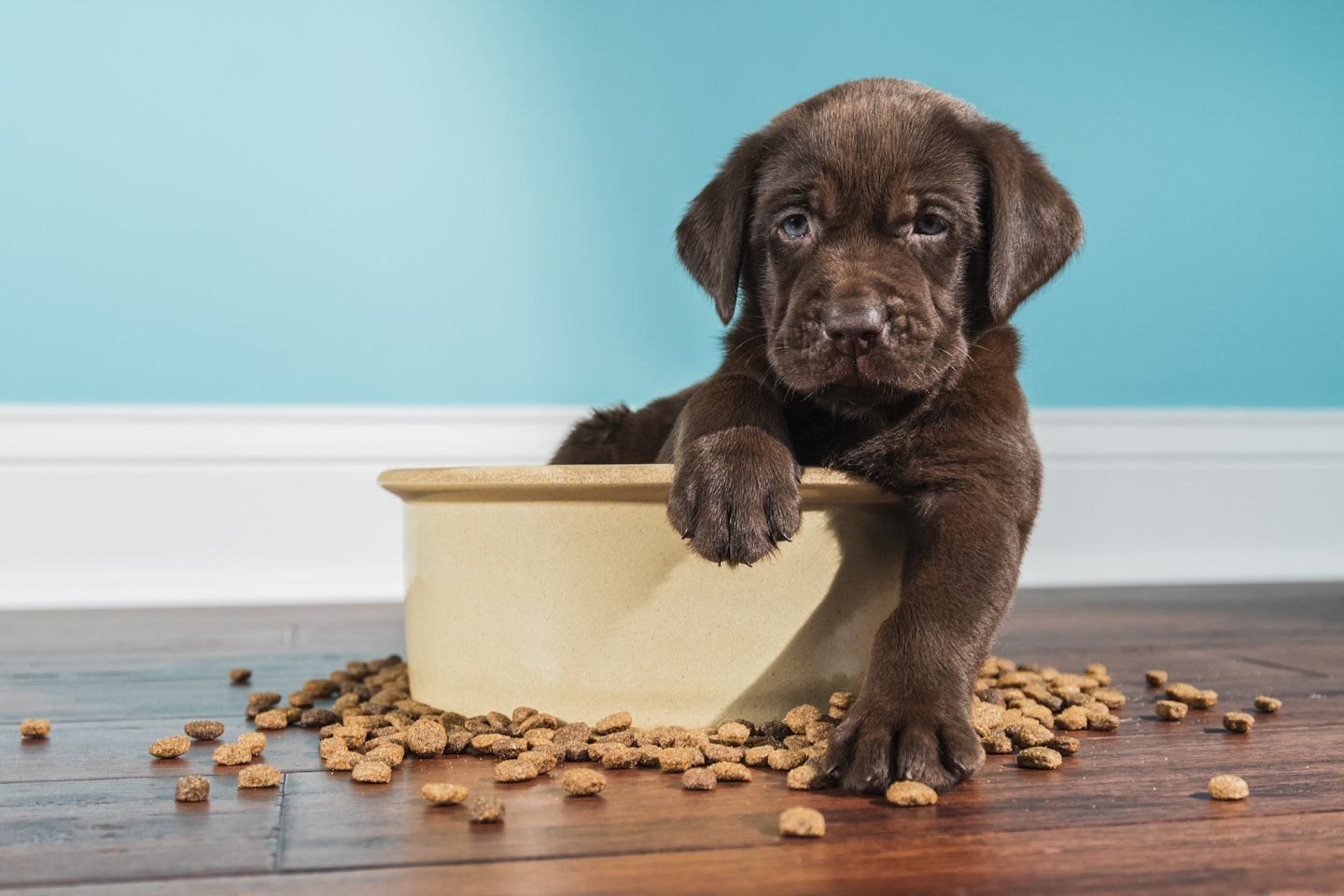 Adult diet - these diets are designed to keep your dog at a healthy weight and size once grown up. There are lots of diets available for adult dogs, so pick one that suits their lifestyle and needs. If your dog has any medical issues or needs to lose weight, they may require a specific diet. Speak to your vet if you're not sure which diet is best for your dog.
Senior diet - these are dogs that have reached half their life expectancy (7 years for small dogs and 5 for bigger ones). Their diets will be more digestible and nutrients that will help them with changes they can experience as they age, such as supporting their joints. Make sure to keep an even closer eye on how much your dog is eating and drinking if they're older. Drinking and eating too much or too little can lead to other problems, such as dental issues and arthritis.
How many treats should I feed my dog?
Treats are tempting, especially when you want to show your dog some extra love or give them praise. But it's important to note that a few treats here and there could actually equate to a whole cake on top of your dog's diet. So when you do decide to give your dog an occasional treat make sure it's not taking up more than 10 per cent of their daily diet. To factor this in correctly, reduce their daily food by 10% if you're planning to get them treats.
Can I feed my dog bones and food scraps?
When you have a pet and leftover food it can be tempting to pass this onto them to avoid waste or as a 'treat', however the PDSA recommends avoiding this, as not only can it cause them to become ill, but it can also lead them to put on unnecessary weight.
Popular articles to read next