These days, our kitchen countertops are full of different gadgets, from air fryers to help us get our fast food fix to toastie makers, and the best sparkling water maker is another that's definitely worth the investment if you're a sparkling water fan. Not only can it save you money in the long run, but it's also better for the environment too, as it reduces people buying single-use plastic bottles.
Last chance Black Friday deals on sparkling water makers
We interrupt the regularly scheduled content to let you know that although Black Friday is over, there's still time to grab some last-chance Black Friday deals on sparkling water makers. Want to grab a bargain? These are the retailers that still have deals available or keep scrolling to continue reading our buyer's guide.
Shop the best sparkling water makers deals: Amazon UK | Robert Dyas | Lakeland
15% off: Sodastream E-Terra Electric Sparkling Water Maker, WAS £144.99, NOW £123.99
15% off: SodaStream Genesis Sparkling Water Maker, WAS £99.99, NOW £84.99
45% off: SodaStream Terra Sparkling Water Maker, WAS £109.99, NOW £59.99
16% off: Philips GoZero Sparkling Water Maker, WAS £99.99, NOW £81
25% off: SodaStream Art Sparkling Water Maker, WAS £139.99, NOW £105
Sparkling water makers in the home were initially dominated by SodaStream and, although still very much the market leader, today, you'll find many different brands and options to suit your fizzy water needs.
So which is best? In our guide, we've found the best sparkling water makers to suit your needs (and budget), as well as answered all your questions about these popular devices.
Best sparkling water makers at a glance:
• Our favourite: SodaStream E-Terra Electric Sparkling Water Maker - view on Amazon UK
• Best sparkling water maker overall: SodaStream Genesis Sparkling Water Maker - view on Amazon UK
The best sparkling water makers 2023
Our favourite
Description
The newest release from Sodastream, the E-Terra, goes where few sparkling water makers have gone
Pros
BPA-free dishwasher-safe bottle
One-touch carbonation
Mains powered
Quick Connect cylinder technology
Three carbonation levels
Best sparkling water maker overall
Description
Whether you're throwing a dinner party or looking for ways to reduce the number of single plastic
Pros
Sleek and stylish design
Easy to set up and use
Features twist lock bottle system for quick and easy drink making
Produces up to 60 litres of sparkling water with gas cylinder supplied
Transforms tap water into sparkling water in seconds at a touch of a button
Cons
Bottle is not dishwasher-safe
Best manual sparkling water maker
Description
Available in a black or white colourway with a sleek-looking design, the SodaStream Terra
Pros
Designed for a modern kitchen
Looks stylish
Quick Connect technology for easy CO2 cylinder insertion
Versatile and convenient
BPA-free dishwasher-safe bottle
Cons
Some reviews suggest that the carbonation dissipates quite quickly
Most stylish sparking water maker
Description
Refill, twist and press to create a refreshing drink at home. It really is as simple as that with
Pros
Built-in safety relief valve
Just three steps to make sparkling water
Modern and sleek
Choice of colours to match your kitchen
Manual operation means no electricity is required and no cables cluttering your kitchen counters
Cons
Bottle is not dishwasher-safe
Best sparkling water maker for modern kitchens
Description
One of the newer SodaStream models available on the market, this one wins on style points if
Pros
Aesthetically pleasing
BPA-free dishwasher-safe bottle
Quick Connect cylinder technology
Easy-to-use manual lever
Different levels of carbonation available
Cons
Only available in two colourways
Best sparkling water maker for ease of use
Description
Reliable, easy to use and stylish are the best ways to describe this SodaStream. From delicious
Pros
Different levels of carbonation available
Mains powered
Modern design
Quick and convenient with One Touch operation
BPA-free dishwasher-safe bottle
Cons
Reviews suggest that any slight overfilling causes spillage
Best slimline sparkling water maker
Description
Made from stainless steel and available in a choice of colour finishes, the Aarke Carbonator 3
Pros
Choice of sleek and stylish colours
Slimline design
Rubber base so it won't scratch countertops
Different levels of carbonation available
Compatible with most standard CO2 gas cylinders
Cons
CO2 gas cylinder not included
Best sparkling water maker for quick and easy operation
Description
Water, cocktails, wine, juice and even tea - you name it, and you can probably make it carbonated
Pros
Carbonates any beverage, not just water
Can use any brand of standard 60L CO2 cartridges
Easy to operate
Safe and quick operation
No electricity or batteries required
Cons
Parts can only be hand washed
Choosing the right sparkling water maker for you
Before you invest in your new water carbonator, there are a few things to consider:
Size: First things first, you need to make sure your sparkling water maker fits on your kitchen counter. Whilst most are reasonably slim, they can be quite tall. If you have a small kitchen or compact counter space, you may need your new gadget to fit beneath an overhead kitchen cupboard. If so, we'd always recommend measuring up. For reference, the Drinkmate OmniFizz is the smallest of the sparkling water makers.
Types of bottles: Whilst most water carbonators come with plastic bottles, you can find some that use glass as well. Consider the type of bottle you prefer. Plus you can find some come with different size bottles (1L is standard). It's also worth noting that not all bottles are dishwasher-safe.
Bottle lifespan: The type of bottle can also affect its lifespan. Plastic bottles can typically no longer be used for carbonation after four years - your bottle should come with an expiration date. However, glass bottles can be used indefinitely.
CO2 canisters: With every sparkling water maker, CO2 cylinders are needed and this is an extra cost to account for. Consider the cost and how easy or readily available you consider the canisters of the brand you're thinking of going with. Not only that, but some come with quick, easy-to-connect CO2 bottles whilst others need to be screwed in. Both are simple to use but the former may be better for those with reduced dexterity in their hands.
What's included: A sparkling water maker isn't much good on its own! Consider in your purchase what's included. Most come with a bottle and CO2 cylinder, but you may find some that are available with added extras, like additional bottles, as part of a bundle deal.
How to use: Different water carbonators have different methods of operation. You can find both manual and automatic options with the latter being best for those who are looking for an easy-to-use machine. However, if you want more control over your fizz operation, you may prefer to go manual. Also, consider what you plan to make. Most carbonators fizz water that you can add sparkling water flavours to, whilst the Drinkmate OmniFizz will bubble absolutely anything.
Are sparkling water makers really worth it?
Yes, the benefits of sparkling water makers are endless; from giving you control over the level of fizz, giving you fresh bubbles every time, to doing your bit for the planet.
When speaking to sparkling water experts at SodaStream, they said, "Whether you like your sparkling water lightly fizzed or as bubbly as possible, you can sparkle your water to the exact level you like with the push of a button and add any flavours you like to make your perfect drink."
SodaStream goes on to add, "Do your part to look after the environment by making your own sparkling water at home, rather than buying ready-made bottles. SodaStream cuts the need to buy single-use plastic bottles (particularly as they are in short supply right now), turning tap water into delicious sparkling water."
How do sparkling water makers work?
Sparkling water makers use carbon dioxide to turn plain tap water into tasty fizzy water. They don't need electricity to work either, as you twist on the CO2 cylinder, and it will release gas into a carbonating bottle at the touch of a button. If the water isn't fizzy enough, you can just repeat pushing the button till the fizz is to your liking.
Is it cheaper to make your own sparkling water?
This depends entirely on your consumption and the machine of your choice. A SodaStream gas cylinder refill will cost you around £20 and will give you 60L of sparkling water. So, that's £0.33 per litre.
A supermarket's own-brand fizzy water could cost you anywhere from £0.40 to £1, depending on where you shop. Let's go with ASDA's four-pack of 2L sparkling water, costing £1.03. This works out at £0.12 per litre, so it's cheaper to purchase from the supermarket - even without the cost of the machine itself.
However, (and this is a big however) the number of plastic bottles you would use and throw away over a year would be pretty astronomical, and if you're trying to reduce how much plastic you use, it's definitely the eco-friendly choice.
Plus, you'll no longer end up accidentally running out as it's always on tap. Additionally, you can get creative with your flavours and syrups, and it puts you in control of how much sugar is in your drinks if you do like a sweet beverage.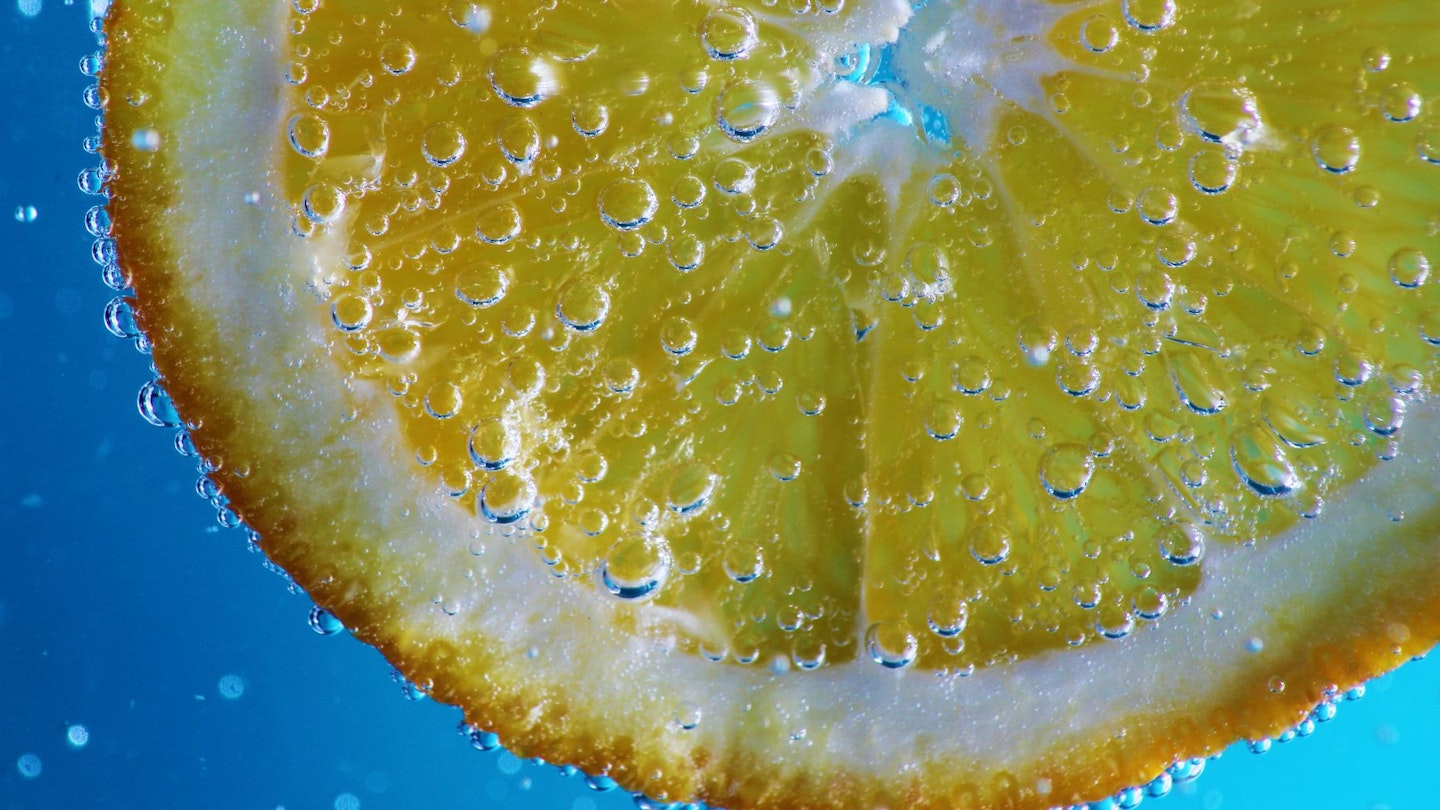 How to recycle gas canisters from your fizzy water maker
If you're thinking about getting a sparkling water machine, knowing how to recycle your gas bottles is vital. That's because if they aren't disposed of properly, they can be dangerous.
Did you know that if you place your gas cylinder in the bin, it may explode when it's being crushed? Well, now that you do know, here are some of the best ways to dispose of gas canisters:
Most gas bottles can be recycled if taken to your local household waste centre. Herthey'll be emptied and have their valve removed.
If you're buying your gas directly from SodaStream, you can return an empty cylinder within 12 months of your purchase. You'll also get your £10 deposit back after receipt at their warehouse. You can also do a gas exchange in-store at some retailers, such as Lakeland or Sainsbury's, so you can refresh your supply of gas in your weekly shop and save a tenner in the transfer.
Is drinking too much sparkling water bad for your health?
If you're thinking about investing in a water carbonator, you may be wondering whether or not it's bad to drink too much sparkling water. It's certainly a question we've asked ourselves, too. In fact there are many sparkling water benefits when it comes to our health.
The NHS website lists advice on Water, drinks and your health. It states, "Water is a healthy and cheap choice for quenching your thirst at any time. It has no calories and contains no sugars that can damage teeth."
We also spoke to Dr Reena Wadia, Gum Specialist and Founder of RW Perio, to find out more about the rumoured teeth issues that can come from drinking sparkling water.
"Lots of people are switching to sparkling water. Although sparkling water doesn't contain sugar, it is carbonated. It's definitely much less erosive than other beverages. But, it can still cause some erosion of the teeth (especially if the water is cold). Watch out for flavoured or sweetened sparkling water – this is more damaging. Plain, still water is always the best choice."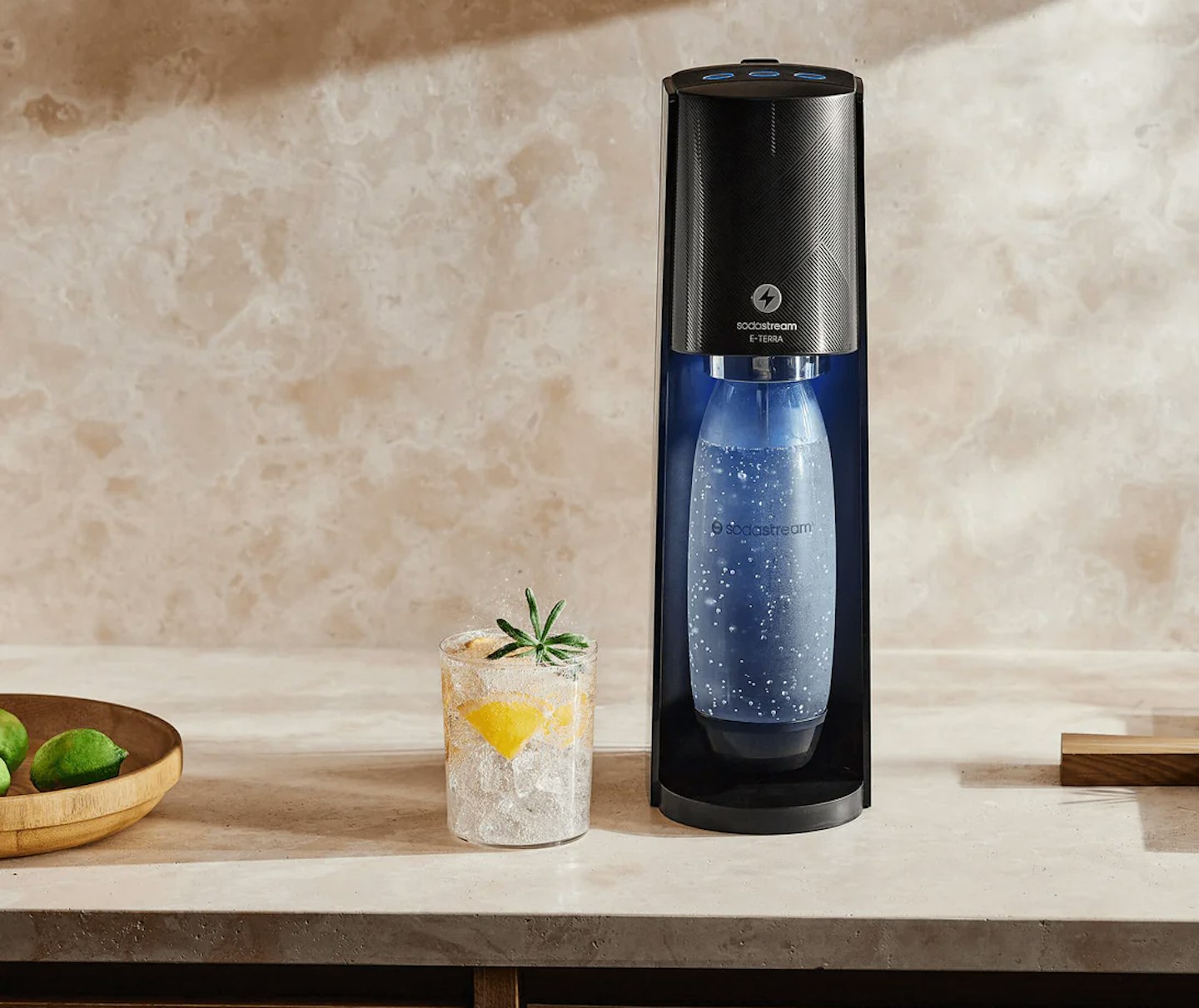 Does sparkling water have the same benefits as water?
Now that you've fully committed to a soda maker, it's essential that you understand the benefits that you can have from enjoying a glass of bubbly. Here's why we think you should make the switch to a drink carbonator.
Studies have found thathere's's no evidence that carbon dioxide in drinks is bad for you. In theory, this should mean that drinking sparkling water has the same benefits as drinking water.
However, for many years rumours have circulated around drinking sparkling water to drink lose weight. Researchers at Birzeit University in Palestine found" "There seemed to be a clear distinction in this study between fizzy and non-fizzy drink consumption in terms of weight gain, appetite and ghrelin production."
"These findings were further supported by the study in healthy adult volunteers, which similarly showed that fizzy drinks increased ghrelin production."
"It had been thought that the sugar content in soft drinks causes obesity, but this doesn't account for the link between weight gain and diet drinks that don't contain sugar. The researchers suggest carbonation could be the common link between the two."
Lily Anderson is a Deputy Editor for Yours, specialising in kitchen appliances, garden furniture and home essentials. Outside of her shopping world, Lily enjoys cooking up a tasty meal, reading a good book, dancing at festivals, and trying her hand at photography.