It's no secret that we're a nation of pet lovers - so we are need for the best vacuums for pet hair to keep our homes nice and tidy. But as much as we adore our fluffy friends, keeping fur off carpets, furniture and clothes can often feel like a daily uphill battle – especially without the right equipment to hand. Because let's be honest, a dusting pan and brush don't quite cut it. So we are here to help you find the best vacuum cleaner for your home.
Dogs and cats typically shed their hair at least twice a year – some do it more often. Even small furries, like rabbits and guinea pigs, can still create a sizeable amount of mess through moulting. If you're the owner of a frequent fur-shedding pet, investing in a reliable and effective pet hoover for pet hair is a must.
Best vacuums for pet hair shortlist
• Top pick: Shark Cordless Stick Vacuum Cleaner - Anti Hair Wrap and Pet Hair – view on Amazon UK
• Best robot vacuum : RoboVac G30 Hybrid, Eufy by Anker – view on Amazon UK
• Best for tighter budgets : Hoover H-FREE 500 Pets Cordless Vacuum Cleaner – view on Hoover Direct
Thanks to innovative technology, there are plenty of pet vacuum cleaners for pet hair that can catch flyaway fur and suck up stubborn static hairs with minimal effort. But much like shopping for any electrical appliance, choosing the right one for you and your home can often feel like a bit of a minefield – especially when we have so much choice!
To give you a helping hand, we've scouted out the best hoovers for pet hair on the market this year, from best cordless to best robot pet hoovers, we've even found the best odour eliminating pet hoover. The best handheld vacuum cleaners for compact cleaning are great or getting in hard to get places too and many models have a handhedl feauture.
If you need to give your carpet more of a deeper clean, then consider getting one of the best carpet cleaner for pets too. This, alongside your pet hoover, will leave your carpet looking fresh and as good as new. So let's get into the best vacuums for pet hair for pet hair.
The best vacuums for pet hair
Best robot vacuum
Description
This robot vacuum and mop is ideal for hardwood, tile, laminate floors, and medium-pile carpets
Pros
Smart Dynamic Navigation 2.0 for efficient cleaning
Strong suction power
It provides up to 110 minutes of runtime
When the battery is low, it will return to its charging point
Cons
All hairs get tangled in the brush and outside filter, and have to manually clean it
Best pet vacuum for reliability
Description
Recognise this familiar face? With more than 11 million manufactured – most of which are still in
Pros
All the classic Henry features
Extra pet-friendly features
The innovative self-seal tab locks all the dust in the bag
HairoBrush easily picks up stubborn pet hairs from carpets and stairs
Charcoal-activated MicroFresh filter tackles lingering pet odours
Cons
Needs to be plugged in so can limit flexibility
Best for tighter budgets
Description
The Hoover Cordless Pet Vacuum Cleaner with Anti-Twist is a good option for those who are looking
Pros
Adequate battery run time in standard mode
Two levels of suction power standard or turbo
Lightweight to use
Easy to manoeuvre/good turning circle
LED light function on both power heads
Cons
Battery length is quite short when used in turbo mode
Best handheld vacuum for wet and dry cleaning
Description
This Beldray Cordless Wet and Dry Handheld vacuum cleaner offers the ultimate convenience in
Pros
Lightweight
Decent dust capacity
Best power suction
Description
If your pet is prone to being a bit whiffy, this Miele vacuum cleaner is a great choice. It
Pros
Active AirClean FilterTurbo Tool good for stubborn hair and dirt
Corded electric for powerful suction
Great manoeuvrability
Lightweight
Cons
Bagged Vacuum Cleaner that will need frequent cleaning
On-off button is unreliable
Things to consider when buying the best vacuums for pet hair
To help you make the right decision for your home, we've included a list of the key features you should look for in a pet hair vacuum. Whether you prefer dust-bags or are looking to go cordless, here are a few important things to consider:
Dust bags or bagless?
Most newer vacuums feature dust cups now instead of dust bags, while there are benefits to both it comes down to personal preference.
Dust bags work in the traditional way where you change the bag once it's full, replacing the bag isn't hard and it's a hygienic way of getting rid of all the bits your vacuum has collected. Vacuum cleaner bags aren't necessarily expensive but can be annoying when you forget to stock up.
Pros: No filter maintenance, less contact with dust – this makes them better for allergy sufferers, less mess when emptying.
Cons: You will have to buy dust bags (more frequently with lots of pet hair), not the best for the environment – the bag and the dust both end up in a landfill.
Bagless vacuum cleaners store dust and dirt in a cup, this cup then needs to be emptied when it reaches maximum capacity. A downside to dust cups is that alongside emptying the cup, a filter will also have to be regularly cleaned and maintained for best results.
Pros: Eco-friendly dirt removal, no need to stock up on bags and spend money.
Cons: Messier when emptying, will fill up quickly and require time-consuming maintenance, likely to set off allergies with close exposure to dust.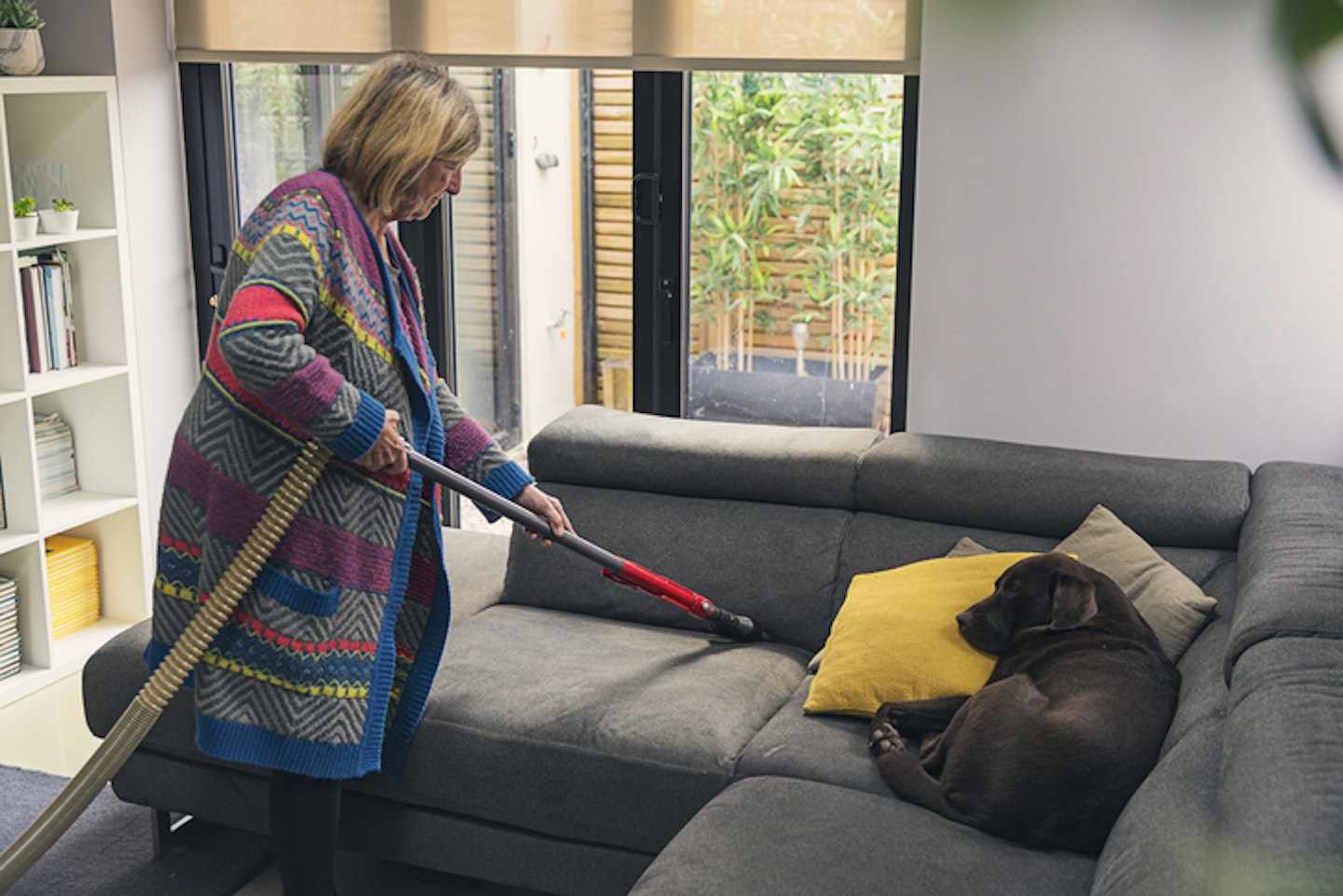 Cable or cordless?
Think about your supply of sockets at home – do you have one everywhere you intend to vacuum? Going cordless is great if you hate the hassle of switching sockets when moving rooms or have a house that's in short supply of empty sockets. If you want to stick to corded vacuums then pay close attention to cable length, most have an operating radius of 10-12 metres.
Cordless vacuums will have to be charged and this can be inconvenient if you want to hoover for longer periods. Most cordless vacuums have a battery life of 40-80 minutes depending on the brand. 40 minutes can go by quite quickly and having to charge in between a big clean can be frustrating. The best cordless vacuum for pet hair is a great place to start when it comes to homes with furry friends.
Anti-hair wrap technology
Most importantly when looking at vacuums for pet hair, keep an eye out for anti-hair wrap brushes. Bristle brush-rolls are great for removing pet hair you cannot see deep in the fibres of furniture and carpet; they allow for a deeper clean than flat brushes.
Anti-hair wrap technology is great for pet hair and a lot of brands have started to incorporate this in their vacuums. This technology works by removing hair from the brush-roll, by actively separating hair from dust as you clean, perfect for preventing clumps of pet hair on the bristles.
Ellen Kinsey is a senior health and wellness product writer for Yours, specialising in natural health and beauty. She lives and breathes all things food, travel and wellness.