Keeping a clean and tidy house can be a chore, but it doesn't have to be with a decent vacuum cleaner. Having the right tools, you can make the job much easier and more efficient, so you can get the task at hand done - pronto. That's where the best vacuum cleaners come in - they not only improve the cleanliness of your home but also save you time and effort in the long run. Whether you prefer a cordless stick vacuum, a powerful upright vacuum, or a smart robot vacuum, here are the best vacuum cleaners on the market that can meet your specific needs and preferences.
Vacuuming is nobody's favourite chore. But we're determined to make it at least bearable by choosing smart, innovative and lightweight models. We want you to be ready to tackle everything from cobwebs to crumbs with no problems. In our guide to the best vacuum cleaners, we cover what you should be looking for and explain what the different types are. Plus, we answer your burning questions - such as bag or bagless? All this - and more below...
Best vacuum cleaners at a glance:
• Best cylinder vacuum: Miele Complete C3 Vacuum Cleaner — View now on Amazon
• Best upright vacuum: Hoover HL5 Upright Vacuum Cleaner — View now on Amazon
• Best handheld vacuum: Shark Cordless Handheld Vacuum Cleaner — View now on Currys
• Best high-performance cordless vacuum: Dyson V15 Detect Cordless Vacuum Cleaner — View now on Currys
Ultimately, the type of vacuum cleaner you choose will depend on your personal preferences and needs. Consider factors like the size of your home, the type of flooring you have, pet hair and allergies. Luckily, there are hoovers for pet hair, which could make spring a sneeze-free breeze. With so many great options available, you're sure to find a vacuum cleaner that meets your needs and makes cleaning a breeze.
With so many types of vacuum cleaners available out there, it can be overwhelming to decide which one is right for you. So with that in mind, let's take a look at the best cordless, upright, cylinder, handheld, and robot vacuums on the market to keep your home in tip-top shape. We've listed some vacuums from Shark and other reliable brands.
The best vacuum cleaners
Best cordless vacuum cleaners
The ultimate, convenient solution to tricky cords getting in the way of a clean...
Best high-performance cordless vacuum
Description
This is one of the best Dyson vacuums in terms of its power and performance. This Dyson V15 Detect
Pros
Laser dust technology ensures a deep clean
Decent running time
Comes with an additional three attachment heads
Suitable for all flooring
Best cordless vacuum (Editor's choice)
Description
The Dyson V11 Absolute Cordless Vacuum Cleaner is, without a doubt, one of the top vacuum cleaners
Pros
Incredibly light
Fantastic suction
Easy to use
Best cordless vacuum for homes with pets
Description
The Dyson V8 Cordless Vacuum Cleaner may be whisper-quiet, but it's still a mighty machine. With
Pros
Comes with a wall-mounted charging dock
Great for homes with pets because of its de-tangling technology
Three power modes
Cons
Some reviewers found the battery drained quite quickly when using it on MAX power
Best cordless vacuum on a budget
Description
If you're looking for a budget-friendly option, the Bush 25.2 Volts cordless vacuum cleaner is
Pros
Attractive design
Brilliant battery life
Comes with a great range of accessories to assist with your cleaning needs
Lightweight
Cons
Takes a very long time to charge
Best cordless all-in-one vacuum, mop, and steam
Description
Designed to clean hard floors and medium-pile carpets, the MACH V1 Ultra is an all-in-one vacuum,
Pros
Vacuums, mops, and steam-cleans hardwood floors and carpets
Automatically self-cleans, sterilises, and dries its roller brush
Air dries flooring
Industry's First TÜV Rheinland Certification
Cons
Best used on hardwood floors
Best corded vacuums
You can't go wrong with a corded vacuum... You don't have to sit around and wait for your cleaner to charge.
Best cylinder vacuum
Description
The Miele Complete C3 Cat and Dog PowerLine Bagged Vacuum Cleaner is a powerful cylinder vacuum
Pros
Being a bagged vacuum, it's hygienic to empty as the dust bag can be disposed of straight into the bin.
Tested for the equivalent of 20 years' use
Excellent for pet hair
Cons
At 9.4 kg, it's heavier than some other models on the market
Best upright vacuum
Description
If you would like a corded vacuum cleaner, then this Hoover HL5 Upright model is a breeze to use
Pros
No run time
Suitable for all floor types
Best handheld vacuum cleaners
Best handheld vacuum for wet and dry cleaning
Description
This Beldray Cordless Wet and Dry Handheld vacuum cleaner offers the ultimate convenience in
Pros
Lightweight
Decent dust capacity
Best robot vacuums
Best overall robot vacuum
Description
The Eufy Robovac is a smart robot vacuum that automatically adjusts suction power for an effective
Pros
Powerful and quiet
Alexa and Google Assistant support
Includes boundary tape
Suitable for pet hair
Cons
No laser room mapping
No mop
Best robot vacuum and mop
Description
This robot vacuum and mop is ideal for various types of floors, leaving them spotless. You can
Pros
Good value
Offers two different cleaning modes, including a mop function, which is a unique feature.
Smartphone compatible
Cons
The mop function and suction power is weak
FAQs
What type of vacuum is right for me?
The traditional upright vacuum cleaner is a popular choice for many homeowners, as it provides powerful suction and an adjustable bar that can work on carpets. Plus, it's a vacuum that cleans hard floors well. However, if you're looking for something more lightweight and versatile, a cordless vacuum cleaner may be a better option.
Cordless vacuum cleaners offer greater freedom of movement, as you're not restricted by a cord and can move around your home with ease. They're ideal for quick and easy cleaning, and many models come with a range of attachments that allow you to clean hard-to-reach areas like corners and crevices.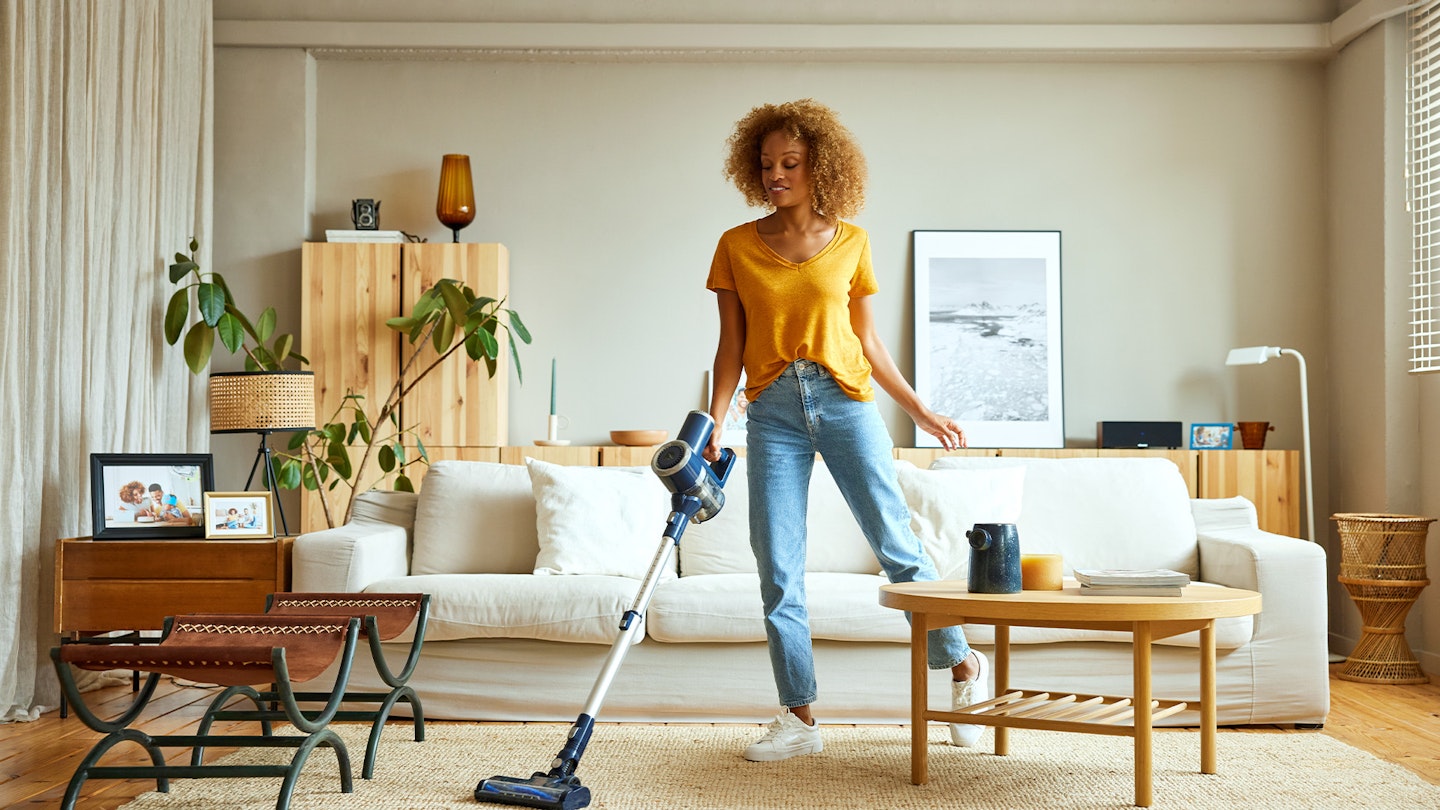 Another option is a robot vacuum cleaner, which can automatically clean your floors for you. These devices use sensors to navigate around your home, avoiding obstacles and cleaning as they go. They're the best vacuum cleaners for busy households or anyone who wants to save time on their cleaning routine.
What to consider when choosing the best vacuum cleaner
In our quest to help you find the best vacuum cleaner for your home, we're here to get you acquainted with the different types. So, we have noted down some pros and cons of each type of vacuum to help you find the best fit for you. Hopefully, this will serve you well...
Stick vacuum cleaners
Pros: Allowing you to move around furniture with ease, lightweight stick vacuums have risen in popularity over the years. Corded or cordless, they're slim and great for those with limited storage space. Simple to empty, they usually have multiple power options so you can tailor the device to your needs.
Cons: Despite all their positives, some stick vacuums just don't have the power that an upright vacuum can offer and cordless options can be limited on run time.
Upright vacuum cleaners
Pros: The most traditional and popular choice, upright vacuums are ideal for giving carpets a good deep clean. With bagged and bagless options to choose from, they're easy to store and use.
Cons: Generally heavier than other types of vacuum, these can be a bit of a nightmare to transport up and down the stairs and don't always give you the flexibility to get into the tight nooks and crannies without using the additional brush heads and tools.
Cylinder vacuum cleaners
Pros: Generally smaller, lighter and more affordable than upright vacuums, cylinder vacuum cleaners are easy to move around the home and can be used on a variety of surfaces with ease. Bagged or bagless, their flexible hose design means that reaching curtains and other hard-to-reach places can be easily done.
Cons: Although lighter than upright cleaners, these models can still be hard to manoeuvre, especially up and down the stairs. Some users also find that they need to bend down more and that it takes more effort than using an upright.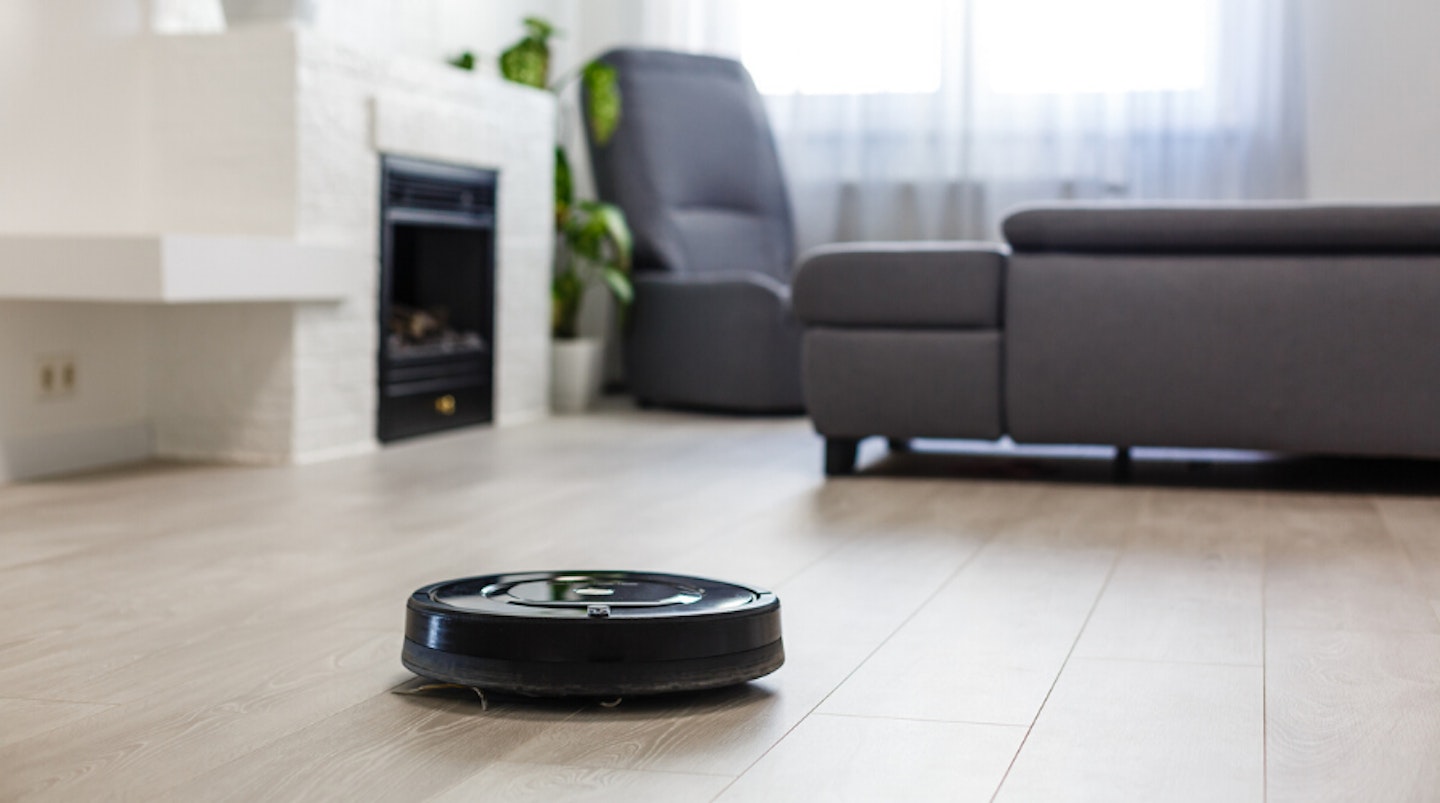 Robotic vacuum cleaners
Pros: The future has arrived - robots are doing our cleaning for us! These nifty little automatic vacuums will scoot around your house to keep it dust-free with minimal effort from its owner. Usually remote-controlled or programmed, they're brilliant for cleaning up after kids or pets and getting underneath and around furniture.
Cons: As useful as they are (and totally mesmerising to watch, by the way), their cleaning power doesn't really compare to a full-sized vacuum. As they're newer tech, they're expensive and must have a tidy room to clean properly.
Handheld vacuum cleaners
Pros: Handheld vacuum cleaners are perfect for those who need a quick clean-up without dragging out their full-sized vacuum cleaner. They're lightweight, portable, and easy to manoeuvre, making them ideal for spot cleaning and reaching tricky areas like stairs, upholstery, and car interiors. They're also great for picking up spills and messes in a hurry, making them a lifesaver for busy families and pet owners.
Cons: Handheld vacuum cleaners typically have a smaller capacity and battery life than their larger counterparts, meaning they may only be able to tackle bigger cleaning jobs if they are recharged or emptied. They may also not have the same suction power as full-sized vacuums. So, they might struggle with deep cleaning carpets or picking up larger debris. Finally, they can be quite noisy and may not be suitable for those who prefer a quieter cleaning experience.
Bag or bagless?
While bagged vacuum cleaners might seem outdated, many people prefer them as they make the job a much cleaner one. Easily replaceable, bagged vacuums are hygienic and a good option for those with allergies as they stop the dirt from being released into the air when being emptied.
Of course, there is a cost involved with replacing the bags as often as needed, which should be taken into account.
Bagless vacuum cleaners offer pretty much the opposite experience; while being cheap to maintain as you don't have to replace the bags, they can be messy when you come to empty them. As many canisters tend to be see-through, it's ideal for checking if you've picked up anything you shouldn't have. When it's full, but if damaged, they can be costly to replace.
Are bagless vacuum cleaners better than bagged ones?
It depends on your personal preference. The best vacuum cleaner for you may have a bag - it may not. Bagless vacuum cleaners are more convenient because you don't have to buy and replace bags, but they can be messier to empty and clean. Bagged vacuum cleaners are more hygienic, but you must purchase and replace bags regularly.
What type of vacuum cleaner is best for pet hair?
If you have pets, you'll want a vacuum that can tackle pet hair. Look for a model with solid suction power, a good filtration system, and attachments specifically for pet hair, such as a motorised brush or a crevice tool.
How often should I replace the filter on my vacuum cleaner?
It depends on the type of vacuum cleaner and how often you use it. As a general rule, replace the filter every three to six months. However, if you have pets or allergies or use your vacuum cleaner frequently, you may need to replace the filter more often.
What's the difference between an upright and a cylinder vacuum?
Upright vacuum cleaners are designed for larger spaces and are typically easier to manoeuvre. Cylinder vacuum cleaners are better for smaller spaces and are more versatile, as they come with attachments for cleaning furniture, stairs, and hard-to-reach areas.
Ellen Kinsey is a senior health and wellness product writer for Yours, specialising in natural health and beauty. She lives and breathes all things food, travel and wellness.