We've found the best kettles for hard water so you can get a clean and clear cup of Joe every time. In the UK, most of us live in a hard water area and have had to deal with limescale across our homes — so we've made it our mission to find the best kettles for hard water areas. Nothing takes the biscuit more than rogue flakes slipping into your tea or coffee from your kettle, turning that beloved brew into a less-appetising and unplanned infusion.
Our team of shopping experts tried and tested a number of kettles in their homes with hard water to find which ones delivered a limescale-free cuppa from these very best quiet kettles. They also looked for those that included the necessary specs to ensure limescale could be prevented from building up over time.
Best kettles for hard water at a glance:
Best value: Russell Hobbs Brita Purity Filter Clear Plastic Kettle 22851 – view on Argos
Best for an extra clean cuppa: Russell Hobbs 20760-10 Brita Purify Kettle – view on Amazon UK
Best for temperature control: Sage The Smart Kettle – view on Sage Appliances
Best for energy efficiency: Russell Hobbs Inspire Electric Kettle – view on Amazon UK
Whether you are on the hunt for the best smart kettles or want something simple and effective to filter tap water, we have hand-selected the top products on the market to help you on your way.
We also studied the reviews for each kettle listed, making sure we only selected kettles with excellent reviews — a minimum of four out of five stars. We want to make sure the best kettles for hard water we have selected have met the demands of real-life users and go on to deliver customer satisfaction.
Best kettles for hard water
Best value kettle
Description
Pros
Filters and boils simultaneously.
Quiet
Delivers great-tasting water
Stylish
Quick boil
Cons
Small capacity at just one litre - best for smaller households
Best for extra-clean cuppas
Description
This kettle from Russell Hobbs is much the same as the Russell Hobbs Brita Purity Filter Clear
Pros
Filters and boils simultaneously
Quiet
Delivers great-tasting water
Stylish
Quick boil
Cons
It has the same small capacity, with the extra need to be more careful with glass!
Best for large capacity
Description
While this isn't technically a kettle, it's the best way to achieve the same great filtration as
Pros
Don't need to pick up a heavy kettle
Quick to boil
Easy to use and fill
Energy-efficient
Cons
Despite the larger capacity, some found it needed refilling more often
Best for easy-cleaning
Description
Not only do we love the elegant design of this kettle, but it's one that's been highly rated by
Pros
Stylish
Quiet
Comfortable and easy pour
Quick to boil
Easy to clean
Cons
Some reviewers thought it would be a metal kettle, but it's actually plastic
Best glass kettle for hard water
Description
Easily prepare your favourite hot drinks with this Russell Hobbs kettle. You'll be able to keep
Pros
Has a limescale filter
You can see limescale build up so you know when it's time for a clean
Energy efficient mode for a one cup fill
Feels like it takes up less space on the counter since you can see through it
Cons
Modern design won't suit everyone's tastes
Best for temperature control
Description
Not everybody wants a scalding cup of tea, especially if you like to drink it without waiting
Pros
Ideal for tea drinkers
Easy to clean
Sturdy build
Surprisingly quiet
Smart and intuitive design
Cons
Pricier than most other kettles
Recommended
Description
Boasting an elegant, pearlescent design, you can choose from a range of six colours. This kettle
Pros
Easy to clean
Quick to boil
Spout pours well
Stylish
Choice of colours
Lightweight
Cons
Some reviewers say it's a little noisy if you're after a quiet one
Best for style
Description
This might be the most expensive kettle on our list, but you can't resist the iconic design of a
Pros
Quick boil
Lovely design
Easy to fill
Sturdy
Easy to pour
Cons
Some may not like the large branding across it
Best for energy-efficiency
Description
If you find yourself rushed off your feet or need that morning cuppa urgently to feel more alive
Pros
Looks more expensive than it is
Quick boil
Easy to use and clean
Quite lightweight
Cons
Some reported it leaves a plastic taste
What to look for in the best kettles for hard water
Filtration
Filtration is important for stopping any limescale residue from entering your drink — no one likes to see those flakes floating in your tea or coffee! There are two key filtration methods available; reusable mesh filters and cartridge filter technology.
Reusable, mesh, anti-limescale filters are the most cost-effective option. The filter sits near the spout and stops the limescale from escaping. It can be removed, cleaned, and reused with any build-up.
Cartridge filter technology is more advanced and works to eliminate the build-up of limescale in the kettle too as it'll filter and boil at the same time. This option is great if you prefer the taste of soft water, filtered water in general or are looking for crystal clear water cleansed of any impurities.
While you may be guaranteed a cleaner, clearer cuppa, it's worth considering that the cartridges will come with a higher cost for replacement and the built-in filtration system will reduce the water capacity of your kettle. You're likely to get fewer cups out of one boil which might mean running the kettle multiple times for larger, tea-loving families.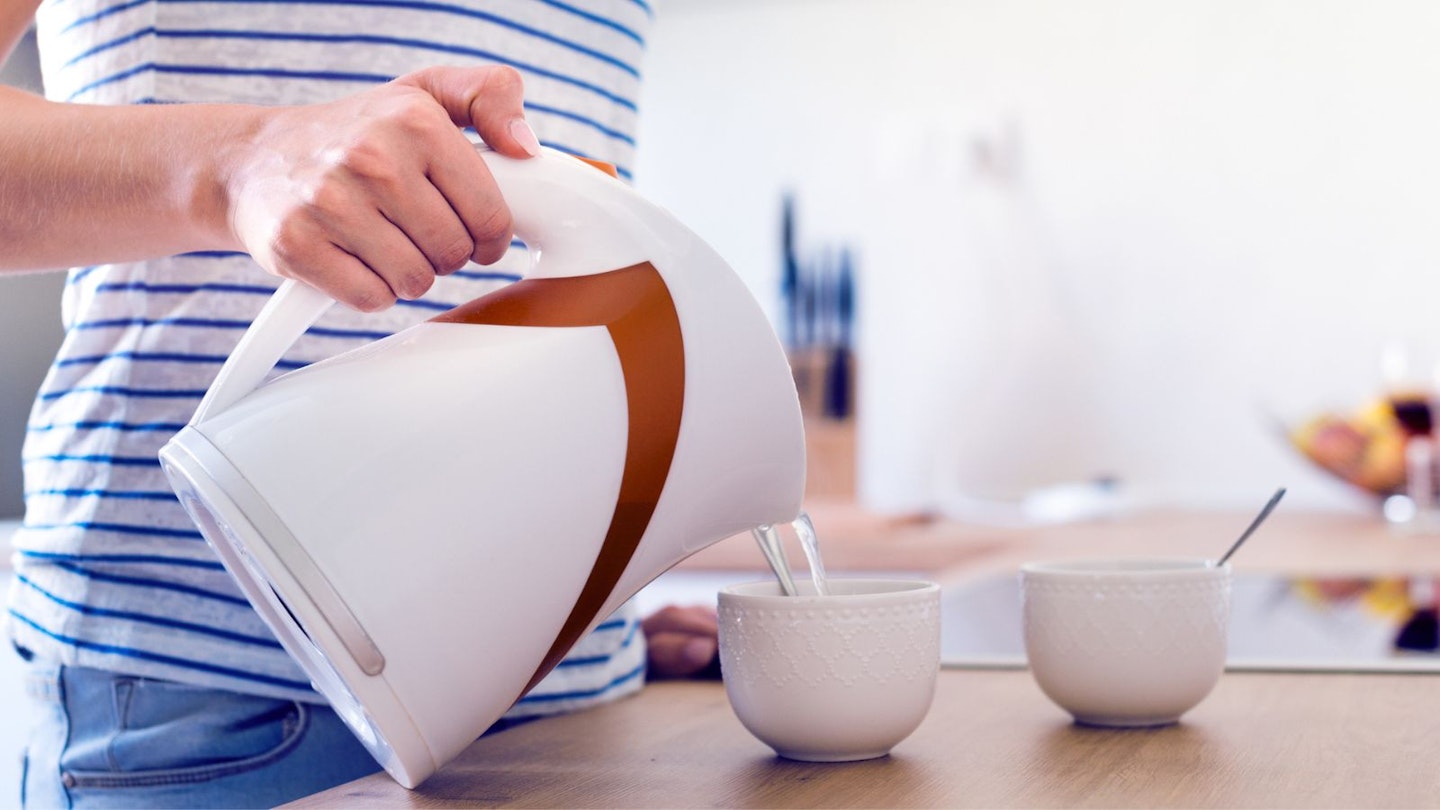 Concealed heating element
Having an exposed heating element in the body of your kettle can make cleaning it more difficult as you'll have to try to navigate around it to remove limescale residue. As the heating element isn't removable, this could be a tricky job for any super stubborn limescale. An exposed heating element is also likely to collect limescale easily which can increase the build-up of limescale residue in your kettle.
By choosing a kettle with a hidden heating element, the residue won't have extra components to grip, helping to reduce any build-up.
Electric kettle
Electric kettles typically boil quicker than stove-top kettles, which gives the limescale less opportunity to form. We've also found that in a lot of anti-limescale electric kettles, they'll come with a quick boil to help reduce this further, as well as deliver your cup of tea or coffee in no time at all! If you're after a quiet kettle, electric kettles are the best for this. Plus, you can normally get electric kettle and toaster sets that look the same to match the rest of your kitchen.
We've listed some great kettles you can buy with a mix of filtration options to suit your budgets and needs.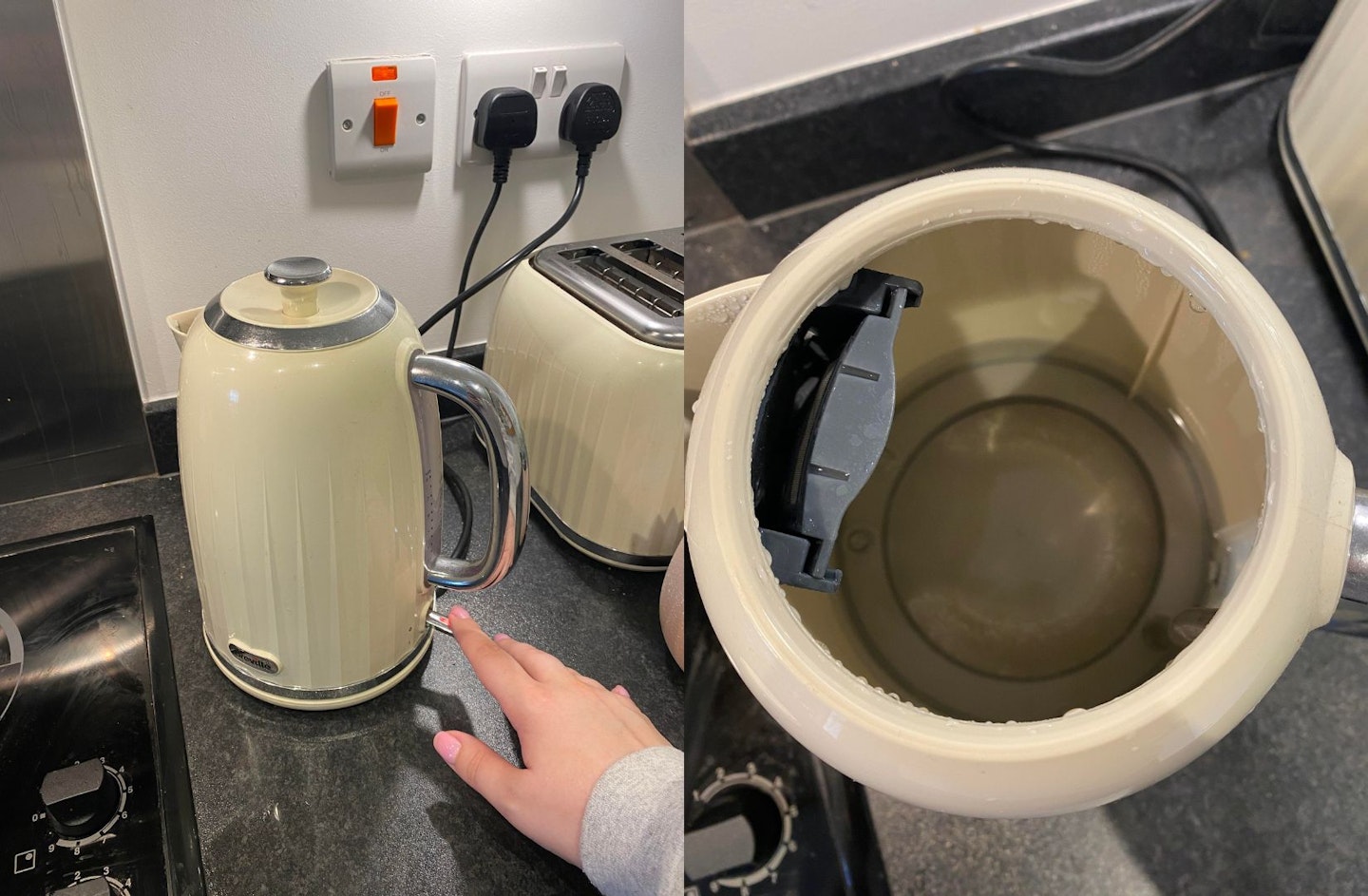 FAQs
What is hard water?
Sixty per cent of the UK has hard water, but what exactly is it?
'Hard water' is created in the sourcing process across regions where water seeps through soft, sedimentary rocks like limestone, sandstone, and chalk resulting in water with high mineral content.
In comparison, soft water doesn't have these collected minerals as the water has percolated through less porous, metamorphic rocks without dissolving the chemical compounds.
You're more likely to find soft water in Scotland, Wales, and Northern Ireland, and hard water across the UK, especially in the South East of England.
Because of the high mineral content, hard water can leave behind a chalky residue known as limescale.
Is it safe to use a kettle with limescale?
Yes, it's perfectly safe for you and in fact, research suggests that it could be good for you with the heightened mineral levels helping to fulfil your calcium and magnesium intake. Good levels of calcium can help promote strong bones, regulate muscle contractions and make sure your blood clots normally.
While it might be safe for you, it isn't such good news for your kettle.
Limescale build-up can reduce the lifespan of your kettle, which is why it's important to clean and descale regularly to get the most from your appliance.
How to clean your kettle?
Nick Small, small appliances expert at AO.com, says: "Having a kettle that has a high level of limescale build up can be a factor as to why your kettle is using more energy than it should be. This is because the water will take much longer to boil. If you live in a hardwater area, you'll find that limescale can build up quickly because the water supply contains high amounts of calcium and magnesium.
"It's quick and easy to get rid of this build up - you should give your kettle a descale every couple of months, using either a dedicated descale product or a homemade mixture of half white vinegar and half water. Simply leave the mixture in the kettle overnight, empty in the morning and pop on a full kettle of water bringing it to the boil and then empty again."
To descale your kettle with safe, natural ingredients that are super low cost, follow the advice in this video on how to clean a kettle and it'll be sparkling again in no time.
Eleanor Weaver is the Deputy Homes & Garden Product Editor for Yours, specialising in home décor, furnishings and appliances. Having worked commercially on Yours magazine and Yours.co.uk for the past six years, she's previously hosted Yours Live events and loves looking for home inspiration online.