Finding the best kettle for your kitchen is essential for many brew-loving Brits. After all, waking up and making a cuppa is part of many people's morning rituals. But imagine if you could boil your kettle without having to leave the warm, cosiness of your bed in the morning. Well, with the best smart kettle, you can. Ok, so you'll still have to make sure there's water in the kettle beforehand but, apart from that, a smart kettle can be controlled at the touch of a button from your phone. There are even some that can be controlled by your voice via your Amazon Alexa device.
To many, this may be deemed as 'lazy', but there are actually a lot of benefits to this new bit of tech. Intrigued? Here's everything you need to know about them, as well as the best ones you can buy now.
Black Friday deals on smart kettles
We interrupt the regularly scheduled content to let you know that although Black Friday is over, there's still time to grab some last chance Black Friday deals on smart kettles. These are the retailers that still have deals available or keep scrolling to continue reading our buyer's guide.
Explore Black Friday smart kettle deals on: Amazon UK | Robert Dyas | ao.com
20% off: Swan Alexa Smart Kettle WAS £99.99, NOW £79.99
19% off: Breville Temperature Select Electric Kettle, WAS £79.99, NOW £65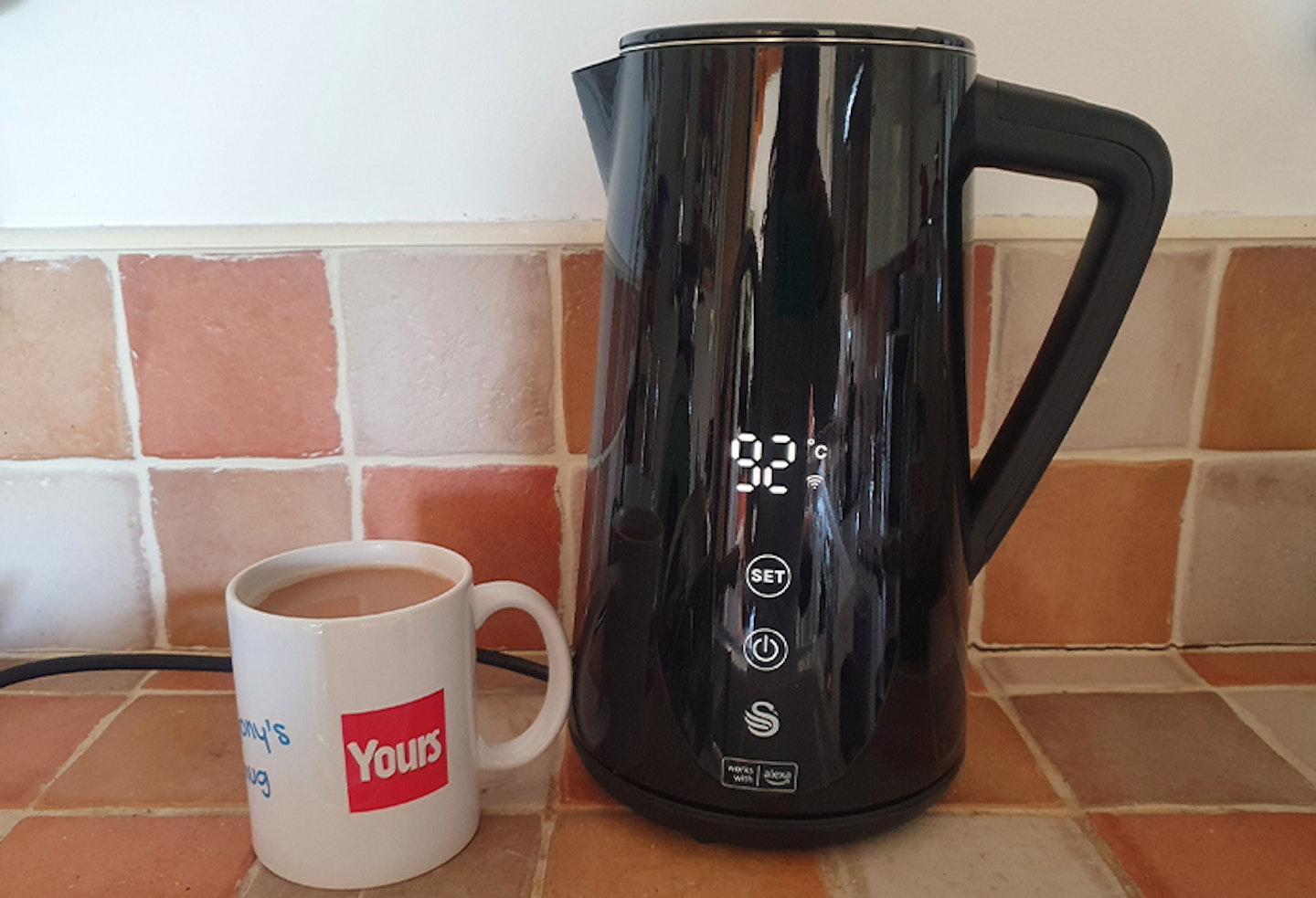 Smart kettle are exactly the same as your standard quiet kettle, the main difference is they can be set to various temperatures and controlled via an app on your phone. This means you can boil your kettle at the touch of a button, pre-set temperatures and boil times. Some have a 'keep warm' function too, so you can keep your water at a specific temperature for a period of time. While some will even tell you how much water is left in your kettle.
There are a few — such as the Swan Alexa Smart Kettle that we've listed below — that can be controlled by your voice. Yes, this does mean if you say 'Alexa, turn on the kettle', it will do it.
Best smart kettles at a glance
• Best for Alexa devices: Swan Alexa Smart Kettle — Buy on Amazon
• For easy temperature controls: Weekett Smart Kettle — Buy on Amazon
• Best overall: Smarter iKettle — Buy on Ebay
Best smart kettles
Best smart kettle for Alexa devices
On Sale
Description
This sleek-looking kettle from Swan is the first Alexa smart kettle. You can set it to work simply
Pros
Stylish, sleek design
Can control via your voice and app
'Keep warm' function
Variable temperature options
Exterior doesn't get hot when boiling
Best for temperature controls
On sale
Description
As well as voice control, temperature variations between 40°C and 100°C and being able to control
Pros
Water gauge on both sides — good for left and right-handed people
Can control via your voice and app
Good water capacity
Baby bottle programme
Variable temperature options
Cons
Not the most flattering design
Best overall smart kettle
Description
Another attractive and sleek-looking kettle is this one from iKettle that, again, does everything
Pros
Large water capacity
Can control via your voice and app
'Keep warm' function
Variable temperature options
Stylish design and colours available
Cons
Doesn't have double-wall technology, so exterior will get hot
Best smart kettle for beginners
Description
There's no denying the Xiaomi Mi is as pretty as a kettle can get. While this kettle does come
Pros
Beautiful design
Affordable
Can control temperatures via the app
Double-wall protection
Cons
Can't turn kettle on via the app
Comes with a European plug, so need to purchase an adaptor
Other kettle options...
If you're not completely ready to jump straight to a smart kettle, then you can dip your toe in the water with these other options, which have temperature selections.
Description
This kettle from Sage could almost be mistaken for the Weekett kettle. It's ideal for tea and
Pros
Temperature selection via the base — ideal for tea and coffee connoisseurs
Keep warm button
Cons
Not the most stylish design
Description
It may be the most basic kettle in our roundup, but this one from Russell Hobbs still has some
Pros
Quiet boil
Fast boil
Can manually select water temperature between 60°C and 100°C
Anti-limescale filter
Description
Similar to the Sage Smart Kettle, this one from Bosch allows you to select your water temperature
Pros
Temperature selection via the base — ideal for tea and coffee connoisseurs
Keep warm button
Concelead heating
Limescale filter
Cons
Not the largest water capacity
Description
Now, you may have seen (or even have yourself) those little teapots which have tea baskets inside
Pros
Temperature and brew time selection
Keep warm function
Can also use as a normal kettle
Sleek design
FAQs
How do they work?
You will need a wifi connection to use this type of kettle. This is so you can connect it to your phone and then be able to control it with this.
Once you have your smart kettle you'll need to follow the instructions, which will usually prompt you to download the compatible app. Apart from then needing to fill the kettle up yourself, you will then be able to carry out different tasks via the app, which may include:
• Switching your kettle on/off
• Checking the water levels inside
• Setting different temperatures
• Turning on a 'keep warm' setting
• Adding different voice commands for your kettle to recognise
You can use a smart kettle exactly the same as your regular kettle too. Plus, multiple people can download the app, so that they can also control the kettle on their phones.
What are the benefits of a smart kettle?
These types of kettles are great for people who have mobility issues. Rather than having to constantly get up and down and walk to the kitchen to turn the kettle on, they can do this from their phone or via voice control. New parents benefit from them too, as when they make up a formula bottle they need to boil the water to 100°C and then let it cool to 70°C. A smart kettle can do both and keep the temperature at 70°C. This can save a lot of time and stress.
Smart home tech is something a lot of appliance brands now offer, so if you're someone who loves a bit of tech, a smart kettle could be a great investment.
How do I clean my smart kettle?
You descale your kettle exactly the same way, whether it be a smart kettle or a normal kettle. Some smart kettles, such as the Alexa Swan, will tell you when your kettle needs descaling, which is particularly useful if you live in a hard water area and need a kettle to reduce limescale.
Bryony Firth-Bernard is a product writer for Yours. On the weekend she loves whipping up new recipes in the kitchen and spending time with her friends and family.