When it comes to luxurious bedding, the best feather duvet can truly upgrade your sleep experience. Feather duvets, known for their plushness and warmth, are the epitome of comfort. Made from the soft, insulating feathers of ducks or geese, they envelop you in a cosy cocoon, making them the best duvet choice for those chilly nights.
While feather duvets are praised for their softness and heat retention, other types, like synthetic or down alternatives, have their own benefits. However, if you are looking for bedding that is made of natural fibre, then a feather duvet may be perfect for you. According to Sleep Seeker, feather and down duvets are usually at least 85 per cent feathers and 15 per cent down. There are also entirely duck or goose feather duvet options too.
As the seasons change, so do our bedding preferences so knowing how to choose the best duvet for both your sleeping habits and the season is important. For those sweltering summer nights, a summer duvet comes in handy. Or if you overheat at night or have night sweats, a cooling duvet becomes indispensable, ensuring a comfortable sleep with ease. Feather duvets, with their natural breathability, can be a great choice even in warmer months when chosen with the right tog rating.
The best feather duvet at a glance:
• Best feather duvet for luxury: The White Company Hungarian Goose Down Duvet - The White Company
• Best value feather duvet: John Lewis Natural Duck Feather and Down Duvet - View on John Lewis
• Best feather duvet for different tog options: Dusk Duck Feather & Down Duvet Collection - View on Dusk
However, one thing to note is that a duvet is only as good as its cover. Choosing the best duvet covers that suit your style and comfort preferences is important too. So, without further ado, let's tuck into these luxurious feather duvets so you are one step closer to a dreamy sleep.
Best feather duvets
Best feather duvet for luxury
Description
If you are looking for a cosy warm sleeping experience, then the Hungarian Goose Down Duvet could
Pros
Premium blend of 90 per cent white goose down
Versatile design allows attachment to a second duvet for extra warmth.
Comes with a 10-year manufacturer's guarantee
Cons
Contains 10 per cent small feathers but very close to a purse goose down
Best value feather duvet
Description
Sink into dreamland with this comforting John Lewis Natural Duck Feather and Down Duvet. With a
Pros
A higher ratio of feathers to down provides a good value
Supports sustainable and ethical sourcing practices.
Features a Life-natural finish with antimicrobial protection for added freshness.
85% Duck Feather, 15% Duck Down
Cons
Some users might prefer higher-down content for a fluffier feel
Best feather duvet for different tog options
Description
This Duck Feather and Down Duvet Collection is filled with 90 per cent duck feather and 10 per
Pros
Versatile with multiple tog options, including an all-seasons duvet option.
100 per cent cotton percale casing
Filled with a blend of 90 per cent duck feather and 10 per cent duck down for comfort.
Cons
Limited information on ethical sourcing or environmental considerations.
Best feather duvet for sustainability
Description
If sustainability is a top priority for you, then the EarthKind duvet could be the solution. This
Pros
Environmentally friendly with reclaimed natural filling from pre-loved feather and down.
Lower carbon footprint compared to traditional naturally-filled duvets.
Packaged in a reusable bag
Cons
The 4.5 tog rating might be too light for colder seasons.
Best feather duvet for warmth
Description
You may have heard of those super warm Canada Goose Jackets for their warmth - and this duvet is
Pros
Filled with ethically sourced, premium Canadian Goose Down
The cold Canadian climate ensures generously sized, quality down clusters.
Comes in a range of togs for year-round flexibility.
Made and tested to EN standards 
15-year guarantee
Cons
Doesn't have a single option
Best budget feather duvet
Description
Wrap yourself in pure luxury with Viceroy Bedding's Duck Feather and Down Quilt. Suitable for all
Pros
Features a blend of 85 per cent White Duck Feather and 15 per cent White Duck Down
233-thread count cotton breathable cover.
Hypoallergenic and 100 per cent natural fibre anti-dust mite casing for added peace of mind.
Cons
Maybe too thin for some
Reviews say unpleasant smell to start with
Best feather duvet with pillows
Description
Snuggle down with this Duck Feather & Down Double Duvet. Designed for year-round comfort with a
Pros
A blend of 85 per cent Duck Feather and 15 per cent Duck Down
230 thread count soft cotton fabric cover
Soft touch microfibre and non-allergenic
Cons
One review says it's noisy and rustles when moving it around.
Buyer's guide: Best feather duvets
What to consider when buying the best feather duvet
Feather volume: This indicates the volume and quality of the feathers. A higher fill power means better insulation and fluffiness.
Tog: This measures the duvet's ability to trap warm air. A higher tog rating is warmer, making it suitable for colder months, while a lower rating is ideal for summer.
Feather vs. Down: While both come from birds, feathers are larger and flatter with a quill, whereas down is fluffier and provides better insulation.
Hypoallergenic properties: For those with allergies, ensure the duvet has been treated to be hypoallergenic.
Care instructions: Feather duvets require special care. Always check the cleaning instructions to maintain its quality and longevity.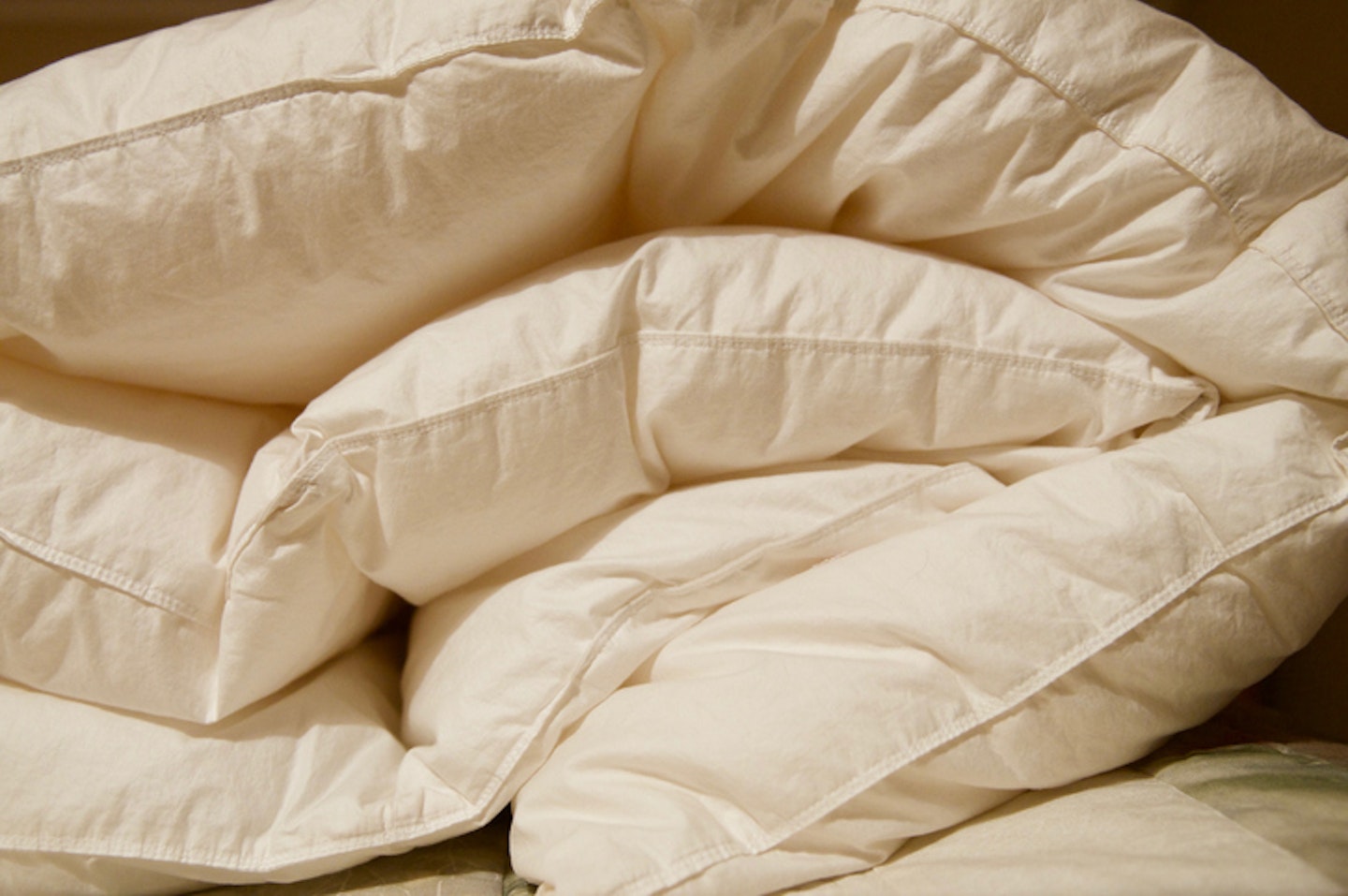 What's the difference between a feather duvet and a down duvet?
While both come from birds, feathers are the outer covering and have quills. Down, on the other hand, is the fluffy layer underneath feathers and is known for its superior insulating properties. Down duvets tend to be lighter and fluffier, while feather duvets have a bit more weight to them.
Why choose a feather duvet over other types?
Feather duvets are renowned for their exceptional warmth and luxurious feel. The natural properties of feathers provide excellent insulation, ensuring you stay snug on those cold nights. Plus, there's an undeniable touch of luxury that comes with feather bedding.
How often should I replace my feather duvet?
With proper care, a high-quality feather duvet can last up to 10 years or more. However, if you notice it becoming lumpy or flat or if the filling starts to escape, it might be time for an upgrade.
Is a feather duvet suitable for all seasons?
Yes, while feather duvets are known for their warmth, they're also breathable. By selecting the appropriate tog rating, you can enjoy the comfort of a feather duvet year-round. For summer, opt for a lower tog, and in winter, go for a higher one.
Can you still use a feather duvet with allergies?
Many feather duvets undergo special treatments to make them hypoallergenic. This process ensures they resist dust mites and other allergens. However, always check the product details and consider a hypoallergenic cover for added protection.
How to care for a feather duvet?
Feather duvets require a bit of TLC. It's best to shake them out regularly to maintain their fluffiness. While some can be machine washed, always check the care label. Professional cleaning is often recommended to preserve their quality.
Why does a new feather duvet have a distinct smell?
It's not uncommon for a new feather duvet to have a natural scent. This aroma usually dissipates after a few days. Airing it out can speed up the process. If the smell persists, consider getting it professionally cleaned.
Ellen Kinsey is a senior health and wellness product writer for Yours, specialising in natural health and beauty. She lives and breathes all things food, travel and wellness.