It's time to break out your favourite dress and some Union Jack bunting for this once-in-a-lifetime occasion. The coronation of King Charles is something you're not likely to forget. So, it goes without saying, that a party is in order. There's nothing quite like coming together and celebrating as a community, whether with friends, family, or neighbours. So, with this in mind, Yours wants to help you celebrate in style – with plenty of Union Jack memorabilia to decorate your home with. We have compiled the ultimate, go-to essential list of the best coronation party ideas – ready for May.
When will King Charles' Coronation be?
Charles officially became King when his mother, Queen Elizabeth, passed away. However, this needed to be acknowledged by the Government at the meeting of the Ascension Council. It was at this meeting, at St James Palace, where Charles was formally confirmed as King.
As for the Coronation ceremony itself, this event is rooted in a longstanding tradition. On Saturday, 6 May 2023, King Charles will be crowned alongside the Queen Consort. Plus, on the following day, a special Coronation Concert will be broadcast on the BBC, live from Windsor Castle.
What do you need for the big day?
Whether you're planning a large street party or just a lowkey shindig with friends, there are a few things that you need to make the event extra special. For example, what to wear to a street party is something you should be looking at.
After all, you don't need to be super fancy - but, thortful recommends bringing layers due to the unpredictability of the British weather. Too right. Of course, the Union Jack is associated with both street parties and the royal family, so we suggest making it a part of your outfit. thortful even suggests wearing your own crown for that extra touch. Or, you could leave that for King Charles and Queen Consort Camilla.
From bunting to plenty of tea and cakes, we've made a quick list of what we think you'll need to celebrate King Charles' Coronation.
Our favourite Coronation party ideas
Decoration
Benji Lewis, an interior designer, says on decoration: "Whilst red, white and blue are clearly patriotic and you won't be letting the side down by using these on your tabletop, the Coronation is clearly a massively rare and regal moment so bear that in mind when you consider things."
With that in mind, perhaps choosing a different scheme altogether may be preferred. For example, floral patterns are quite British - and will look gentle and elegant.
At home, you should definitely be in-theme. Whether splashing out on something new and celebratory or looking for retro and vintage finds for a mismatched harmony, it's best to go all-out for this party. With everything you need to mark this occasion in style, we've listed some special homeware, patriotic decor, and extra-special knick-knacks.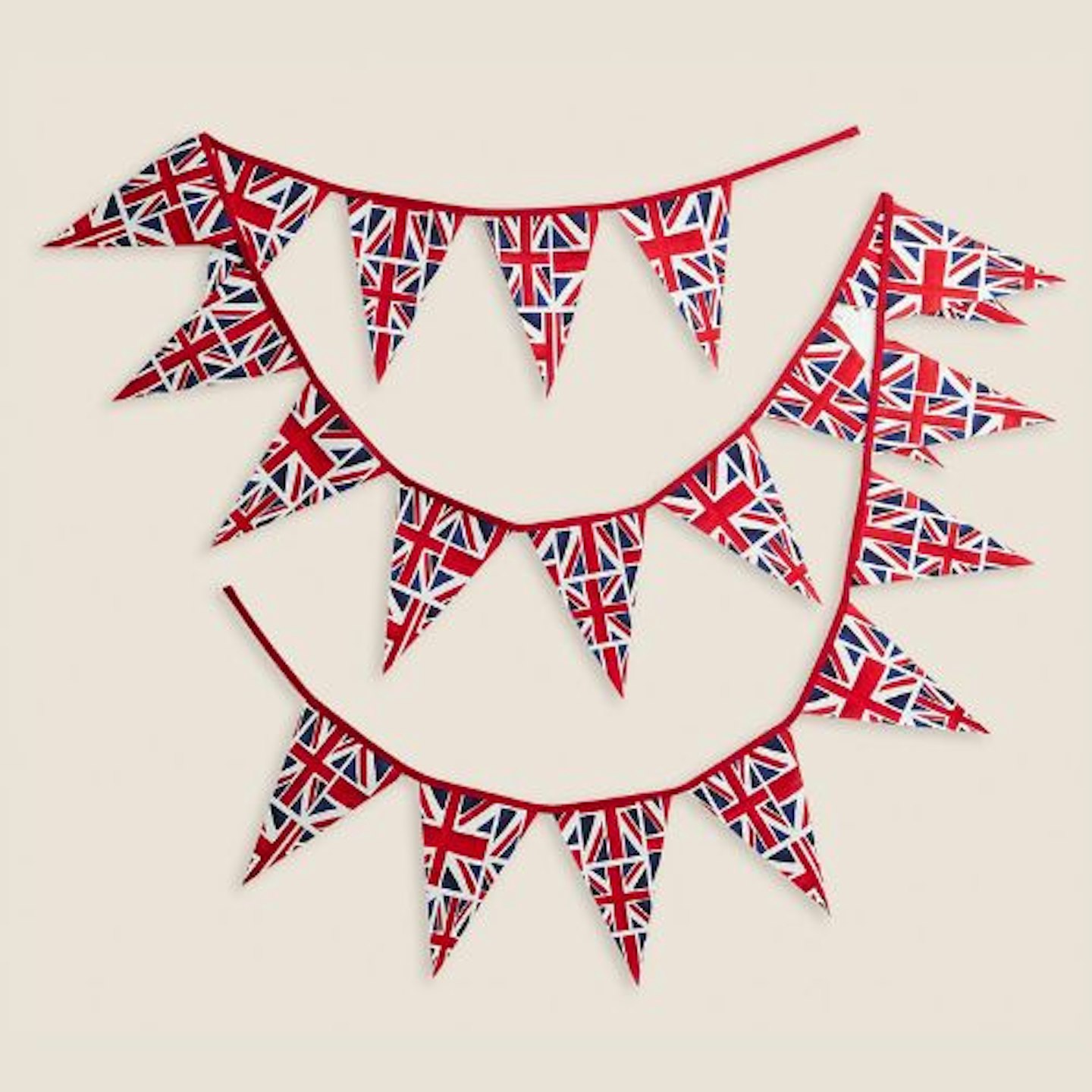 1 of 11
Union Jack Coronation Bunting
Of course, it wouldn't be a celebration without bunting. We can't think of anyone else other than M&S to help.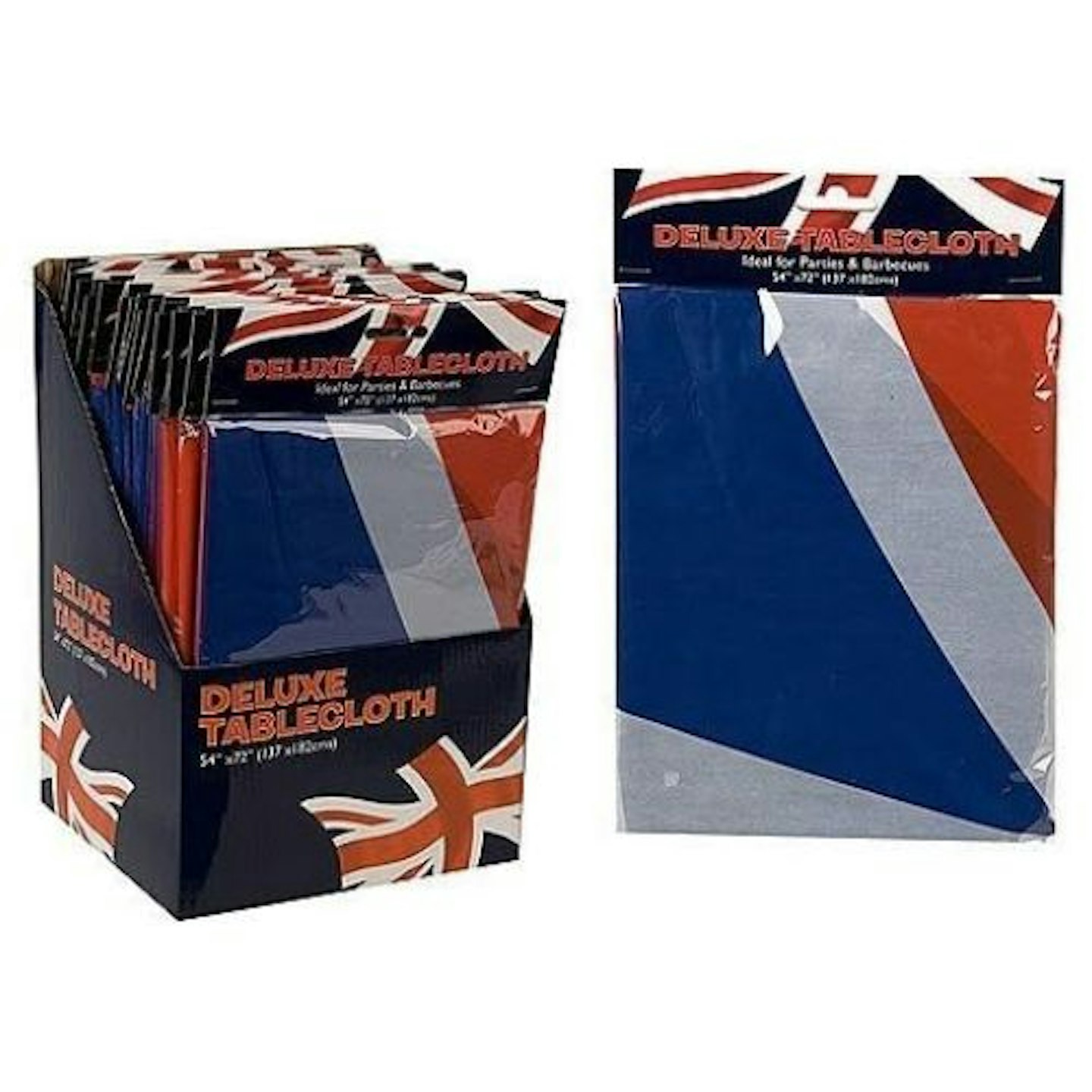 2 of 11
Union Jack Plasticloth Tablecloth
If you're putting out a spread, save your table from mucky fingers and any spills with this ever-so-patriotic tablecloth.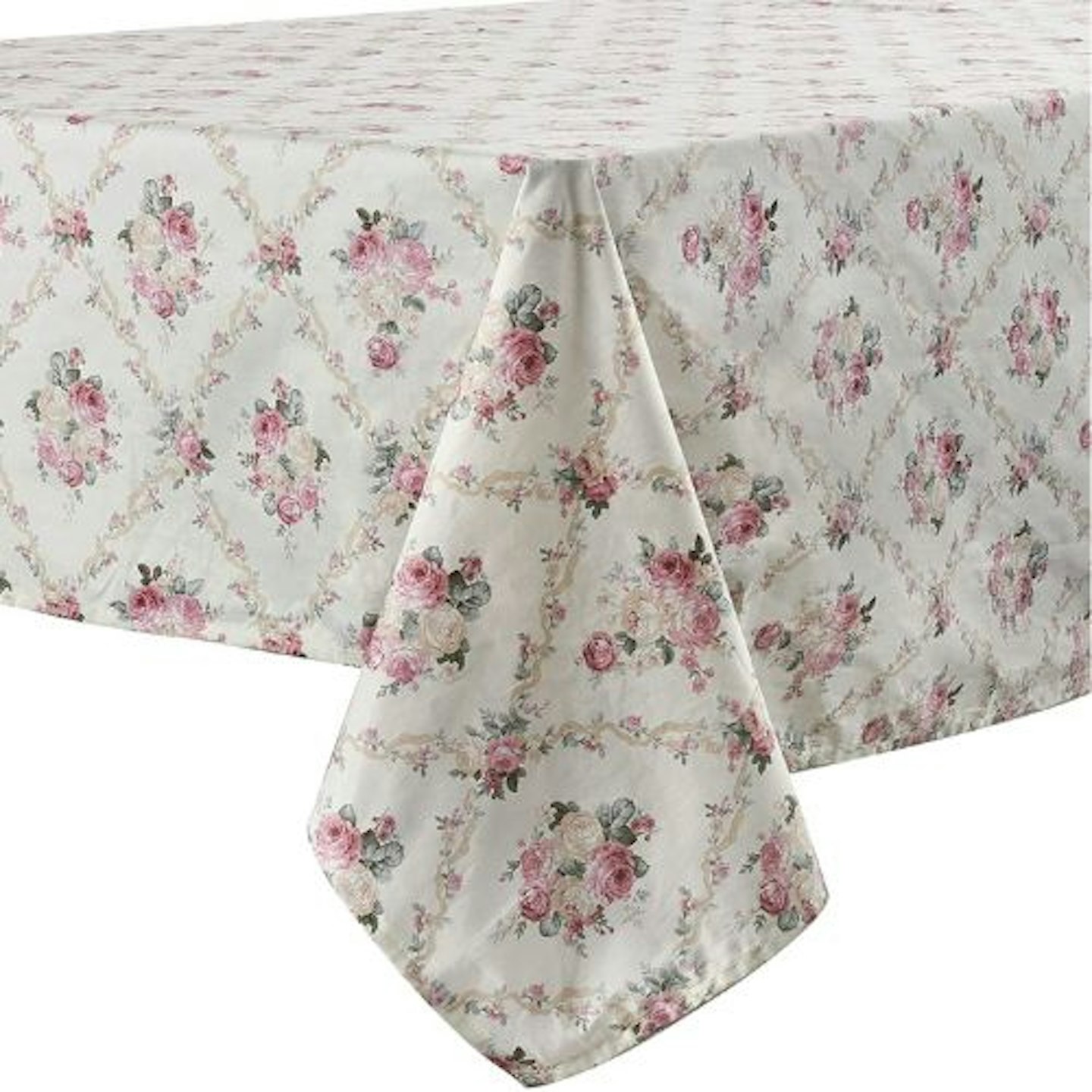 3 of 11
Rose Print Tablecloth
If you want to stray away from the Union Jack, why not try something floral? This rose tablecloth could do the trick.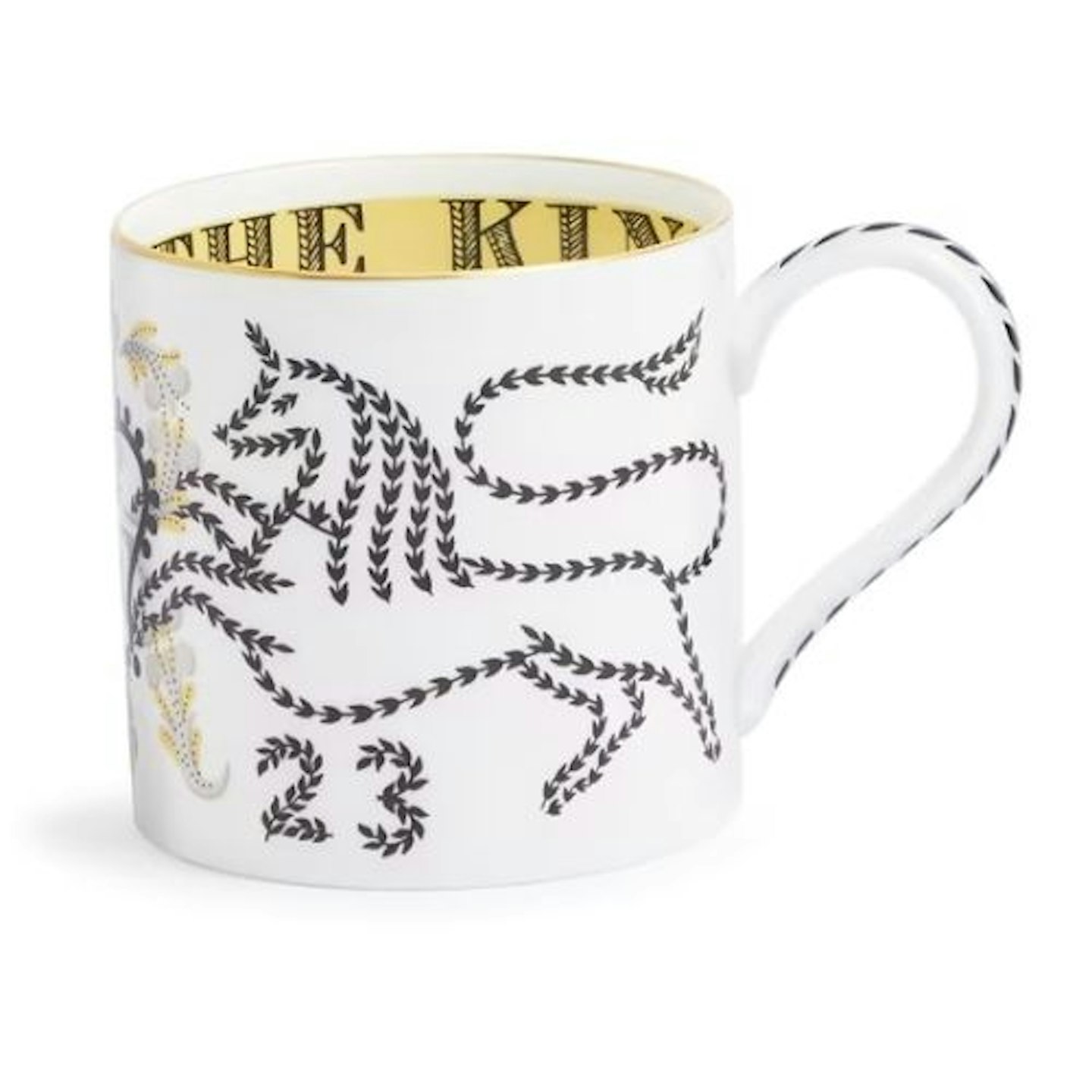 4 of 11
King Charles Coronation Mug
Mark this momentous occasion with Wedgwood's stunning bone chine Commemorative mug for the Coronation of King Charles. It's based on the original 1953 design for the coronation of Queen Elizabeth II, which is a beautiful touch. You can even grab a Limited Edition version, priced at £130. Keep this safe on display or sip from it on the Big Day.
5 of 11
Coronation Cake Stand
Treat your party to a durable bone china cake stand, this is the ideal coronation souvenir.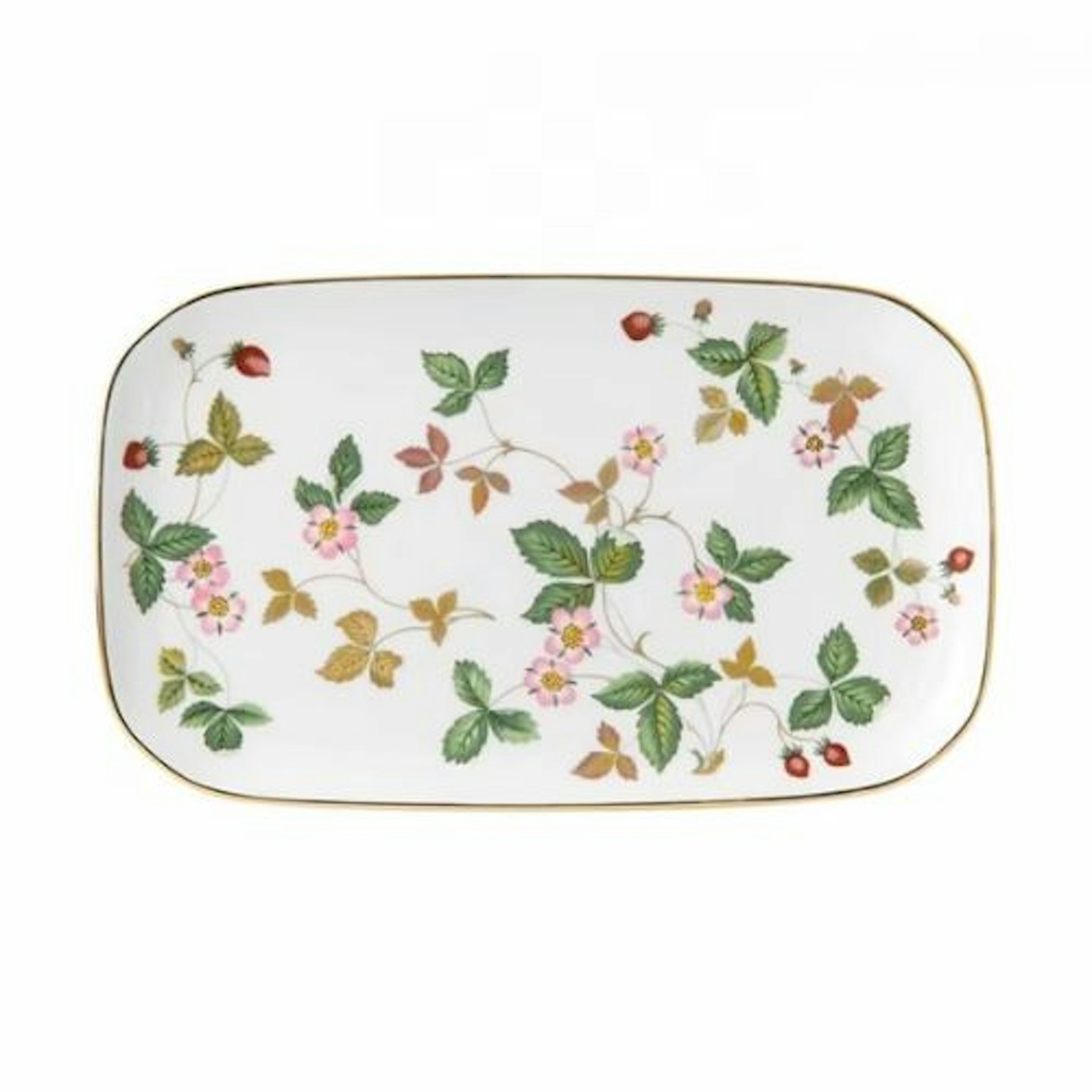 6 of 11
Wild Strawberry Sandwich Tray 30cm
A British party wouldn't be complete without cucumber sandwiches and lashings of ginger beer. If you want to push the boat out, this Wedwgood sandwich tray will last forever. We love the delightful botanical pattern.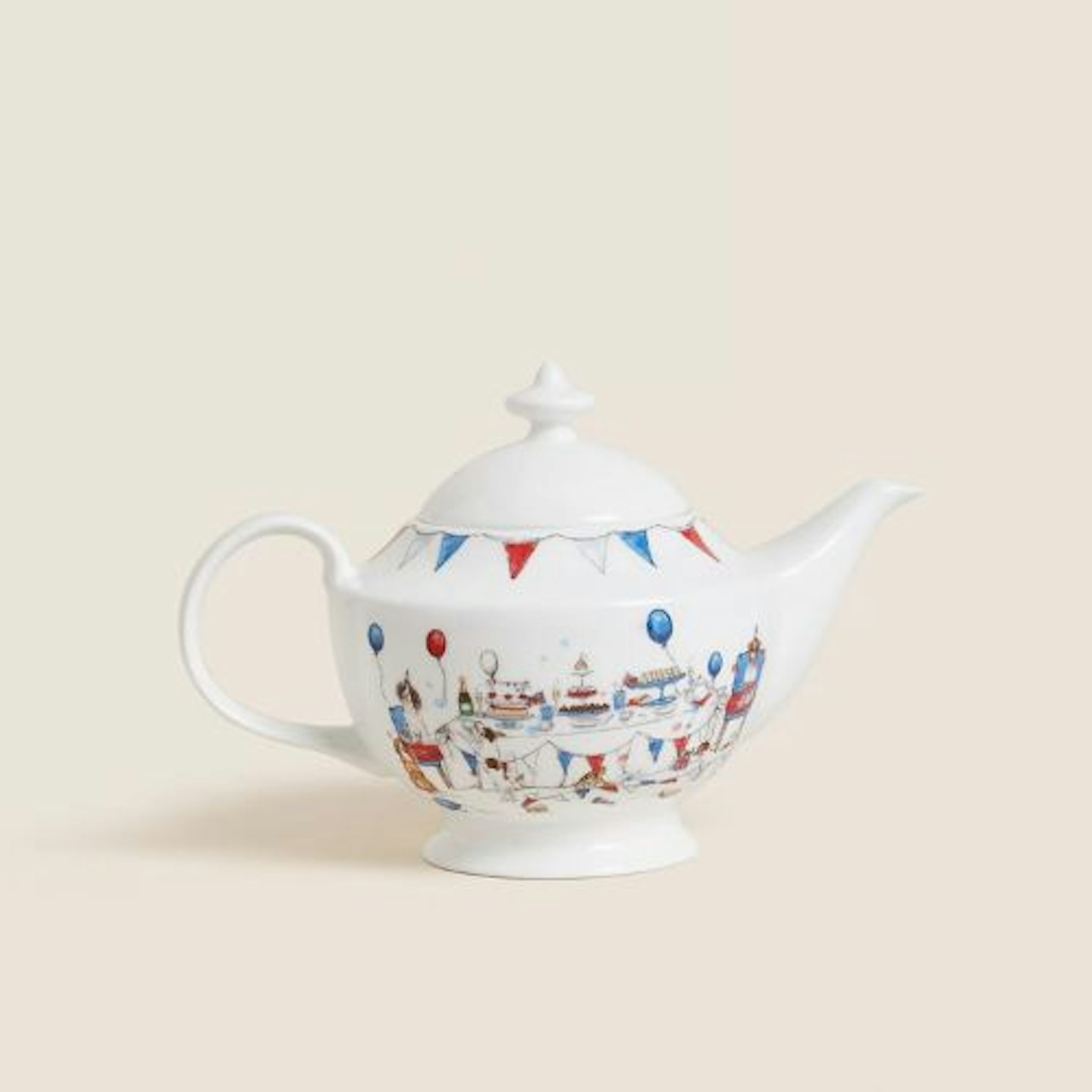 7 of 11
Coronation Teapot
To match that cracking cake stand, why not add to the festivities with this playful teapot? It's super quirky.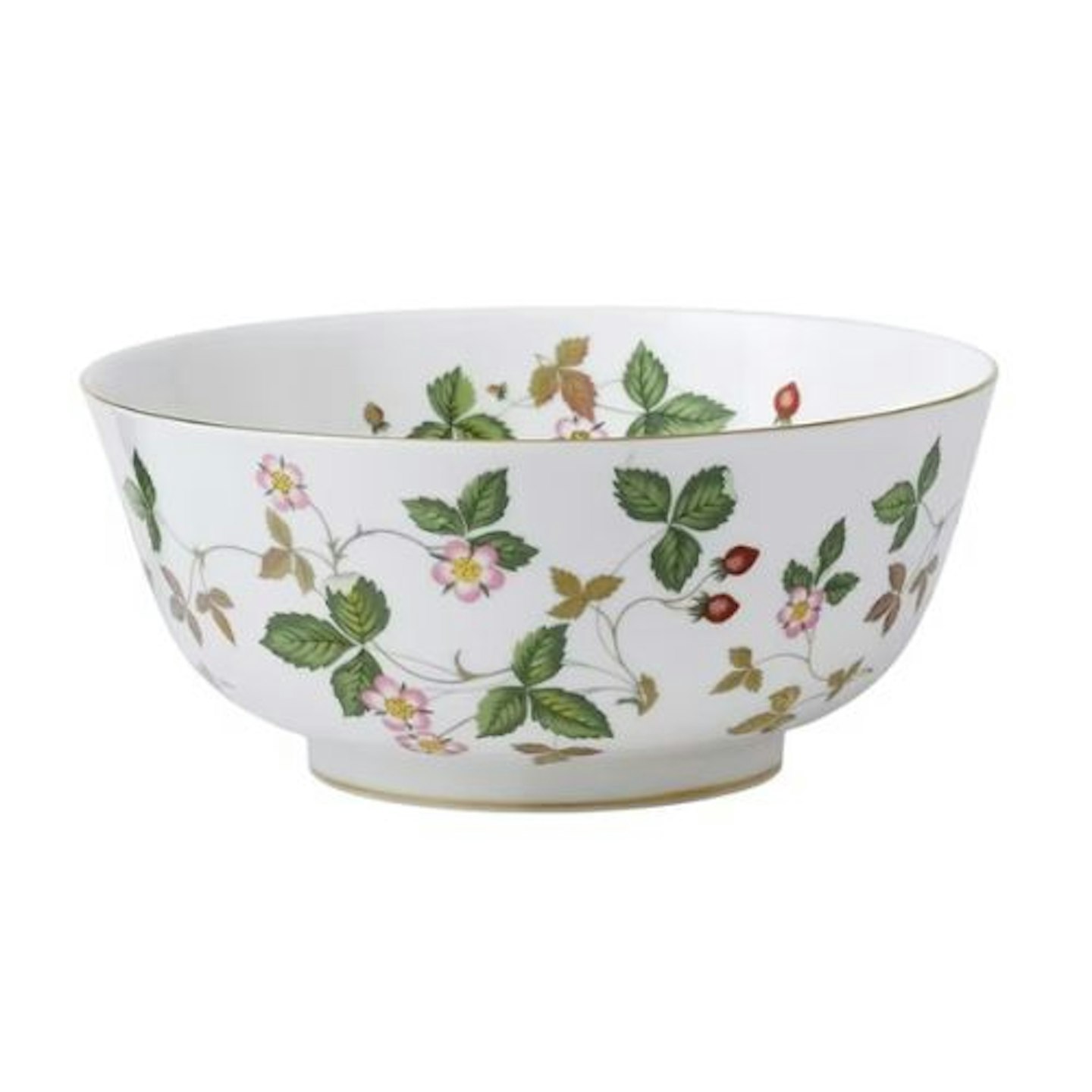 8 of 11
Wild Strawberry Salad Bowl 25cm
Perfectly suited to a few leafy greens, this delicate salad bowl will look amazing on your table.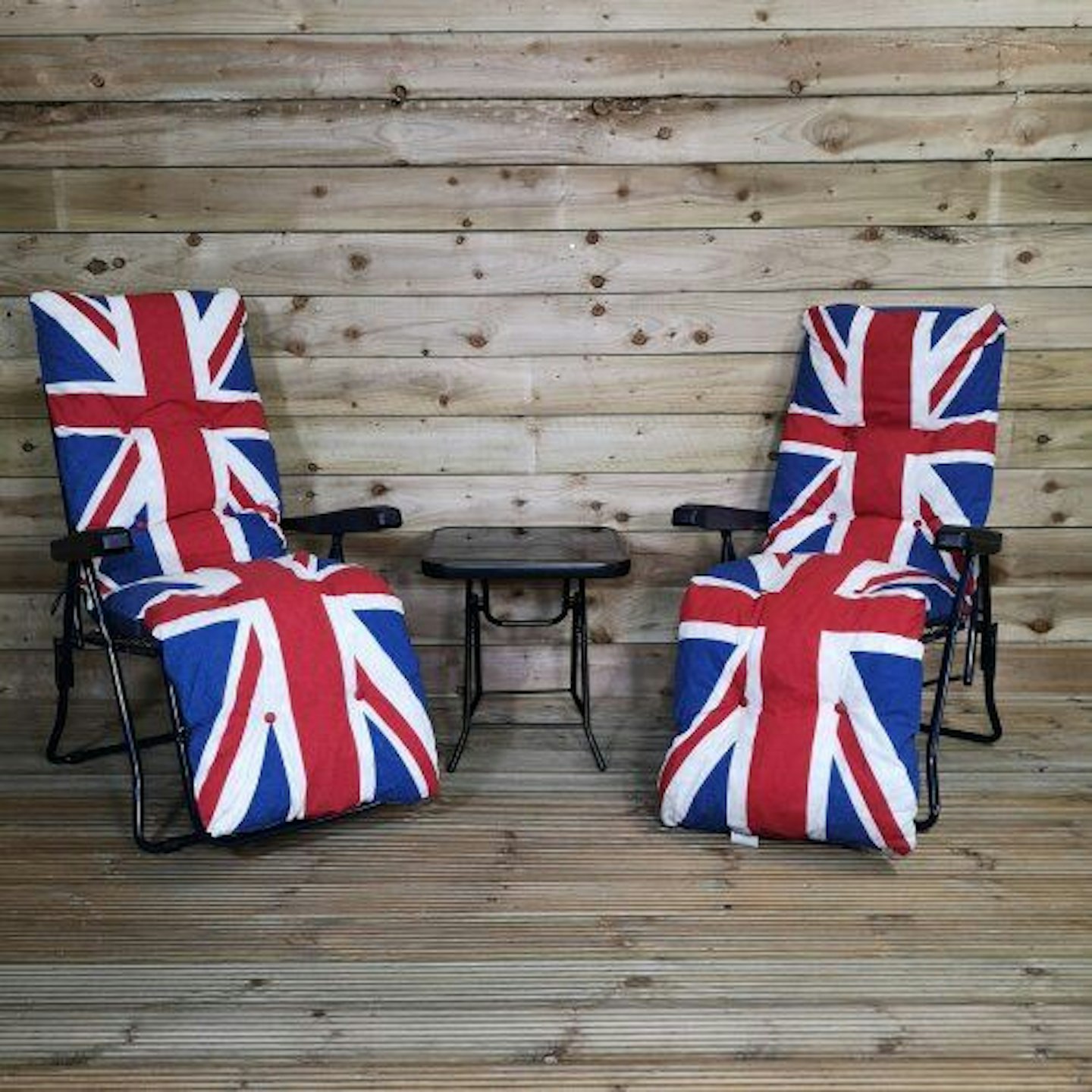 9 of 11
Union Jack Sun Loungers (Pack of 2)
This pack of two sun lounger chairs with a sturdy steel frame with keep you comfy during your street party. They're easy to put up and fold down for easy storage. Keep them around during the summer, too.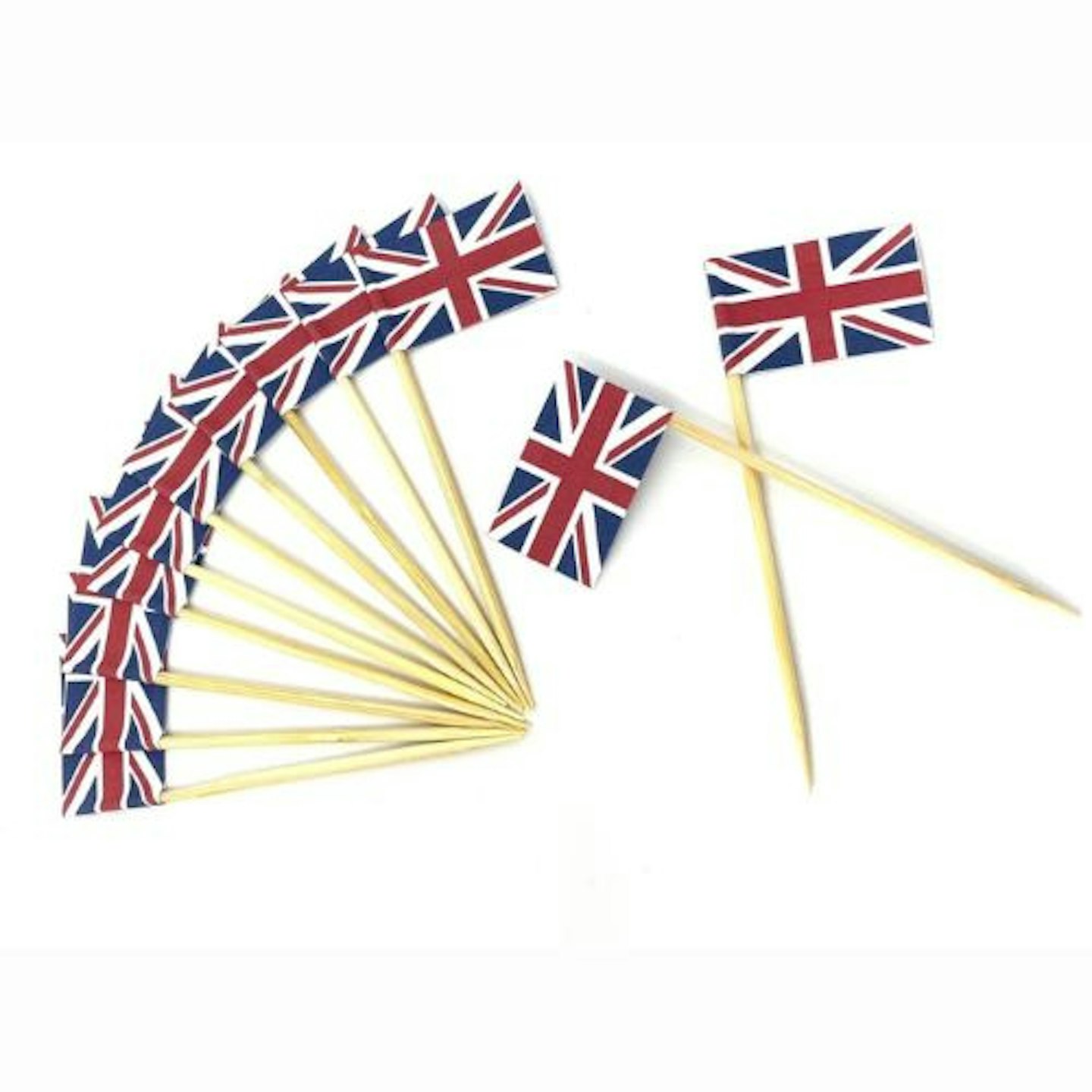 10 of 11
Union Jack Flag Cupcake Toppers
Grab these flag cupcake toppers, perfect for any sweet or savoury treat served on the Big Day.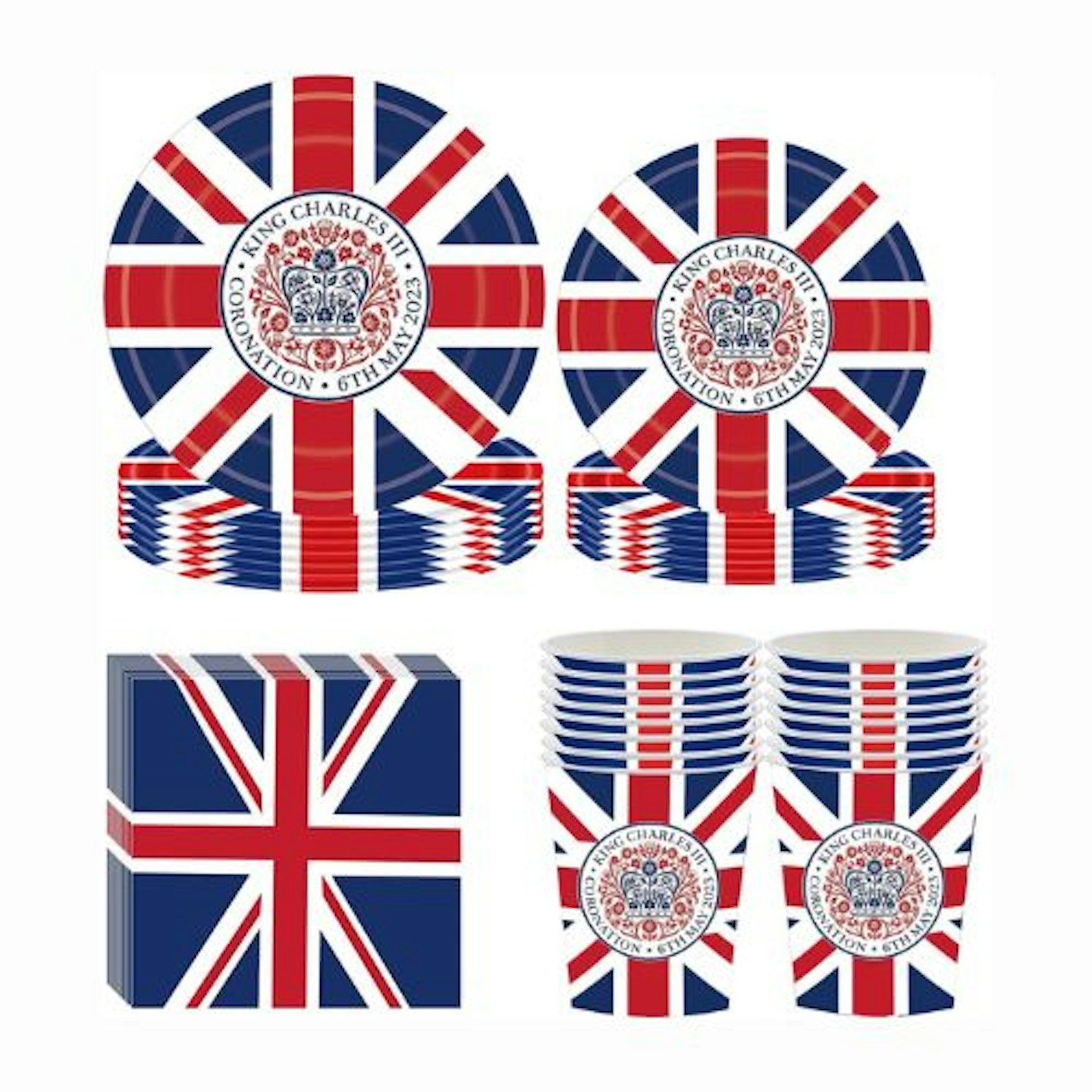 11 of 11
Union Jack Party Supplies Set
If you want to save yourself washing up, perhaps it's worth grabbing this disposable party set.
Food
For this to be a proper great royal knees-up, we suggest holding a big discussion on the Big Day to divvy out tasks and duties. Plus, asking everyone to bring a dish and drink and "don't forget to include vegetarian/vegan type options" will make sure no one is left out on the day.
To avoid any trips to A&E on the Bank Holiday, ask your neighbours to label ingredients and flag anything that contains allergens.
For this occasion, consider classic British recipes, such as Scotch Eggs, sausage rolls, Bakewell Tart and Victoria Sponge cake. Grubs up! A party isn't complete without some proper good food. Check out our selection of treats...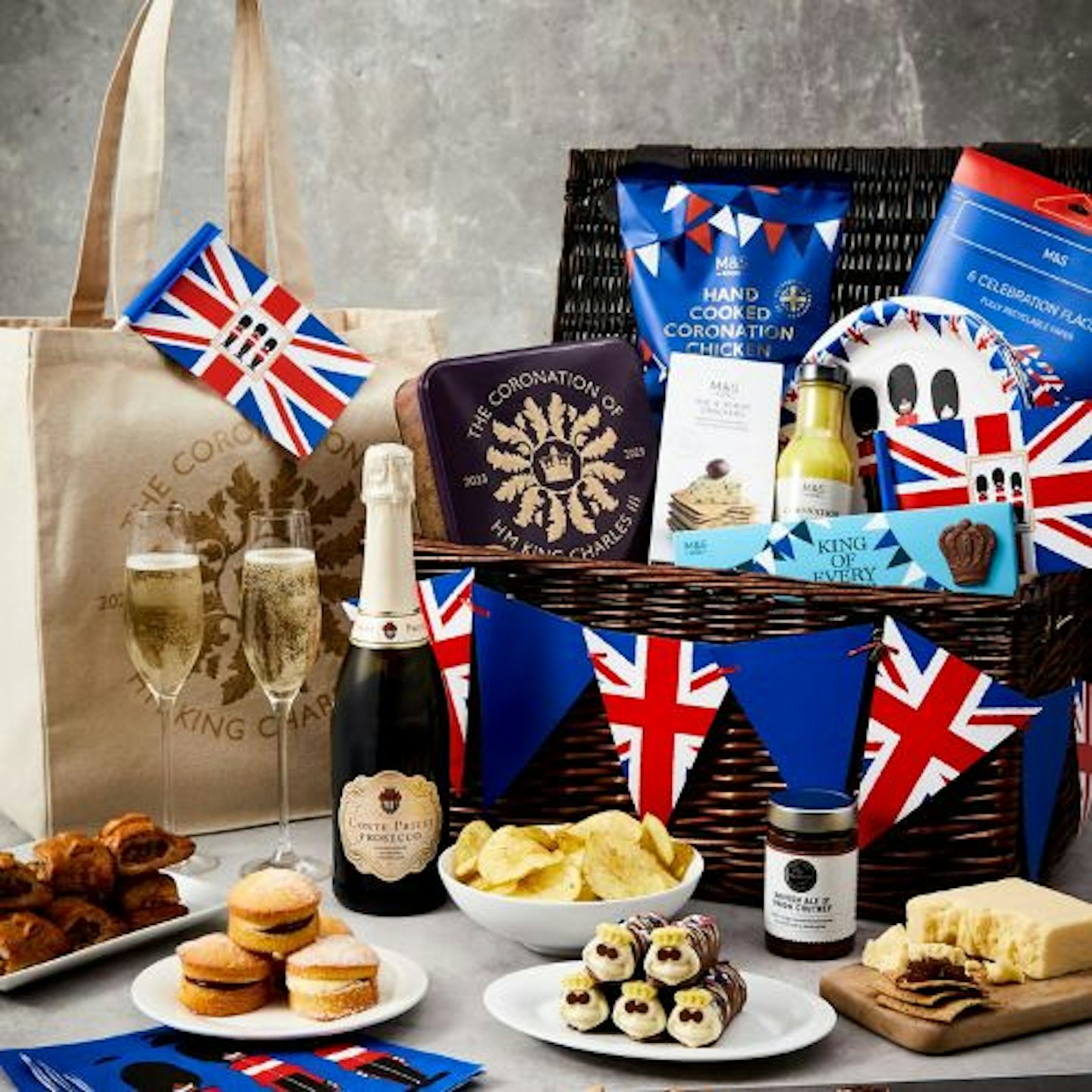 1 of 7
Coronation Celebration Hamper with Prosecco
We love this lavish food hamper from Marks & Spencer. It features a selection of savoury bits, tasty desserts and a bottle of prosecco. Plus, there are plates, bunting, napkins and flags, too - to help give your home a patriotic feel. Not forgetting the adorable mini King Colin cakes.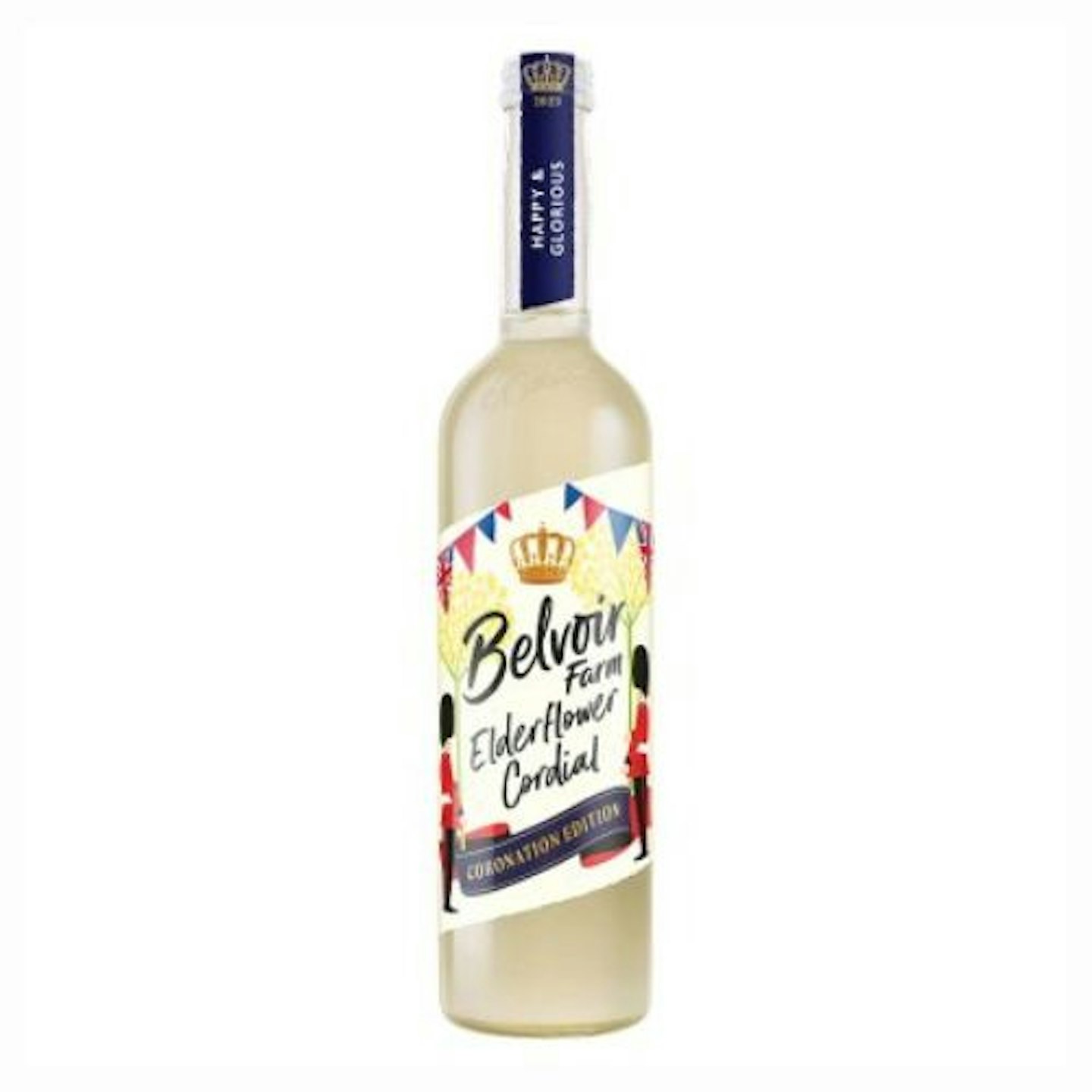 2 of 7
Belvoir Elderflower Cordial - Coronation Edition
Perfect for a street party and garden party celebrations, a splash of Belvoir Farm Elderflower Cordial will elevate your drinks on the Big Day.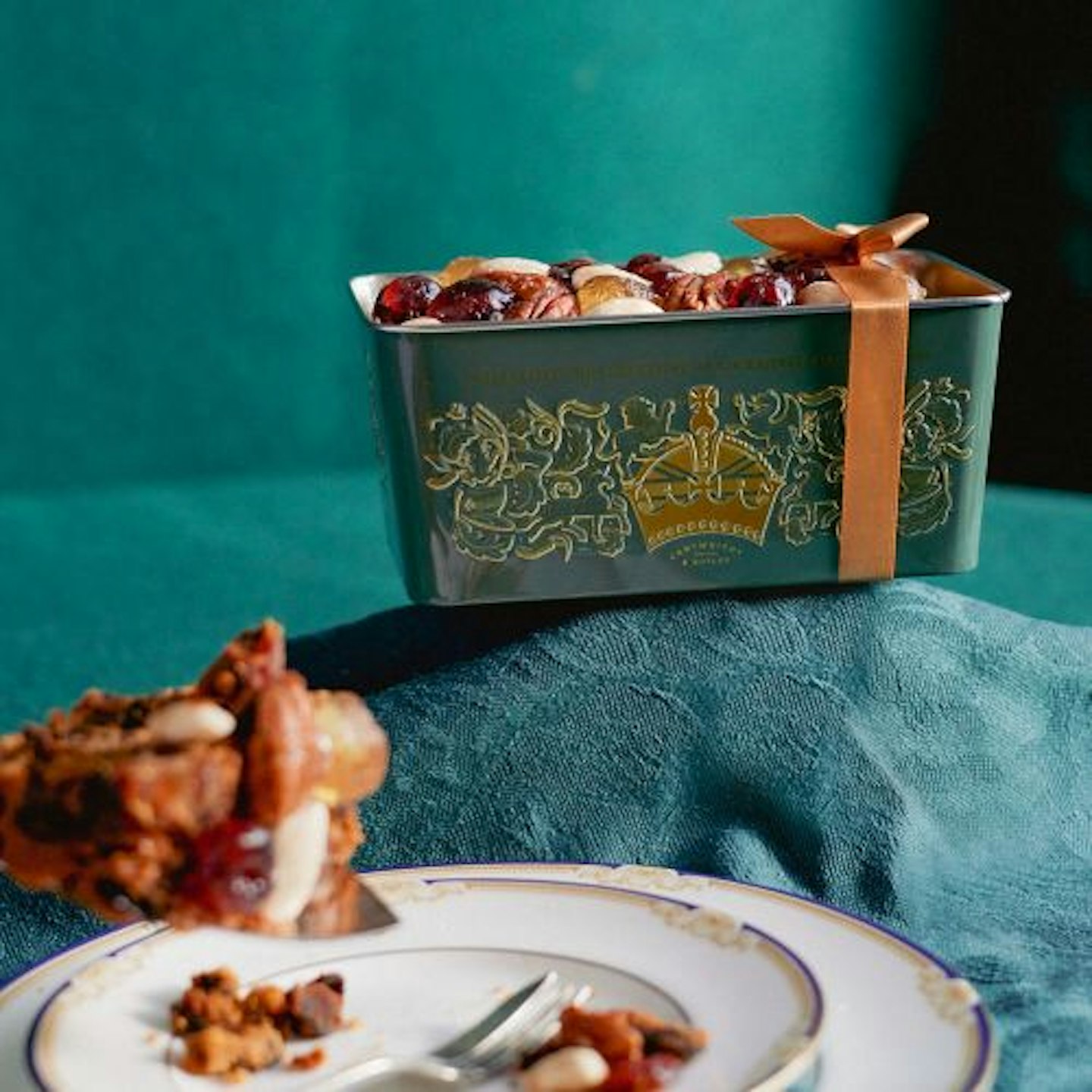 3 of 7
King Charles III Coronation - Jewel Loaf Cake In Tin
What would a regal afternoon tea be without a slice of cake? Celebrate the Big Day with this rich, fruity loaf.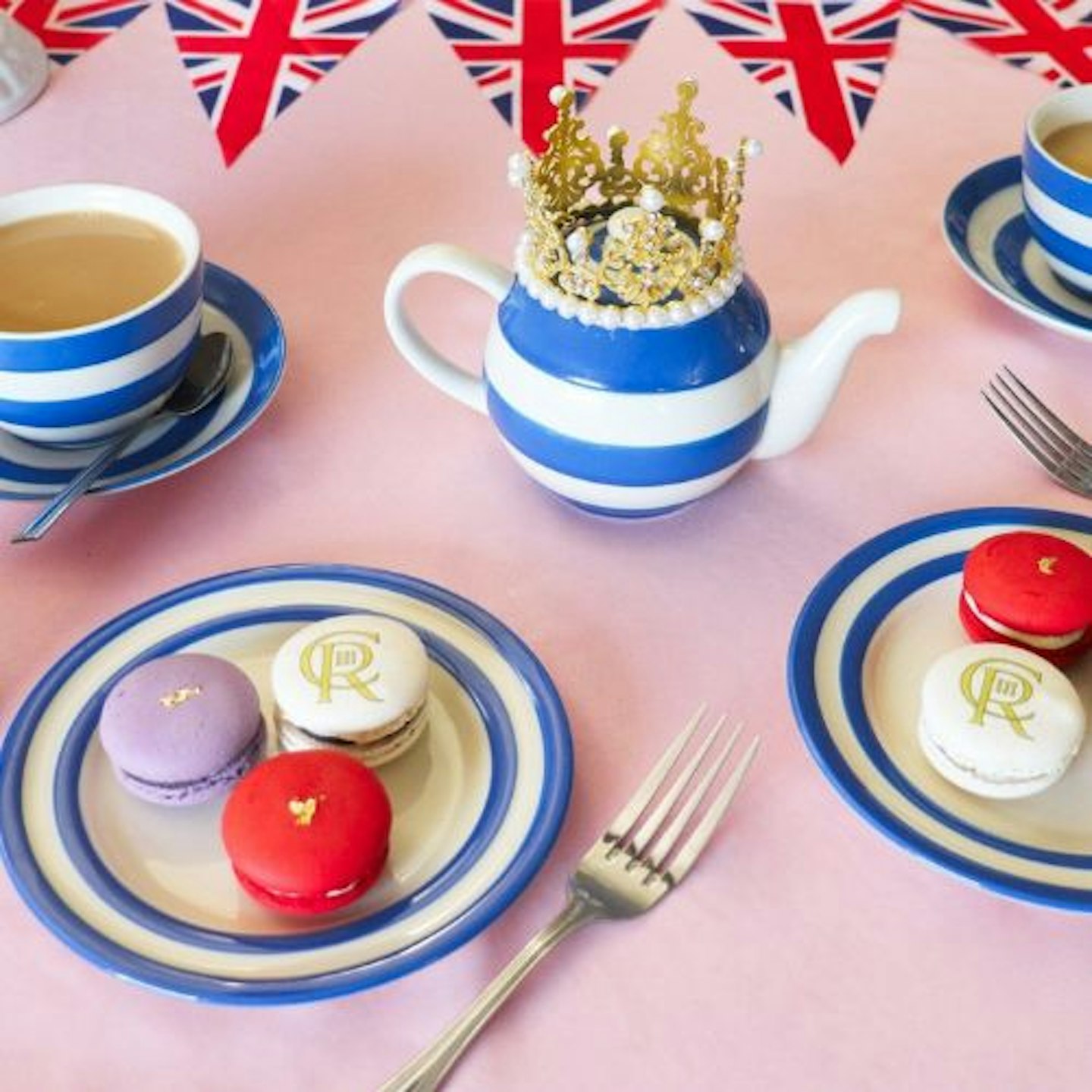 4 of 7
Coronation Macarons
These delightful-looking macarons are handmade and make a delicious addition to your celebratory spread.
5 of 7
Veuve Clicquot Yellow Label (250th Anniversary Edition)
Why not grab a cheeky bottle of bubbly from Veuve Clicquot? Splash out on this once-in-a-lifetime occasion. Celebrating 250 years, the Maison has released an exclusive collection of its most emblematic creations.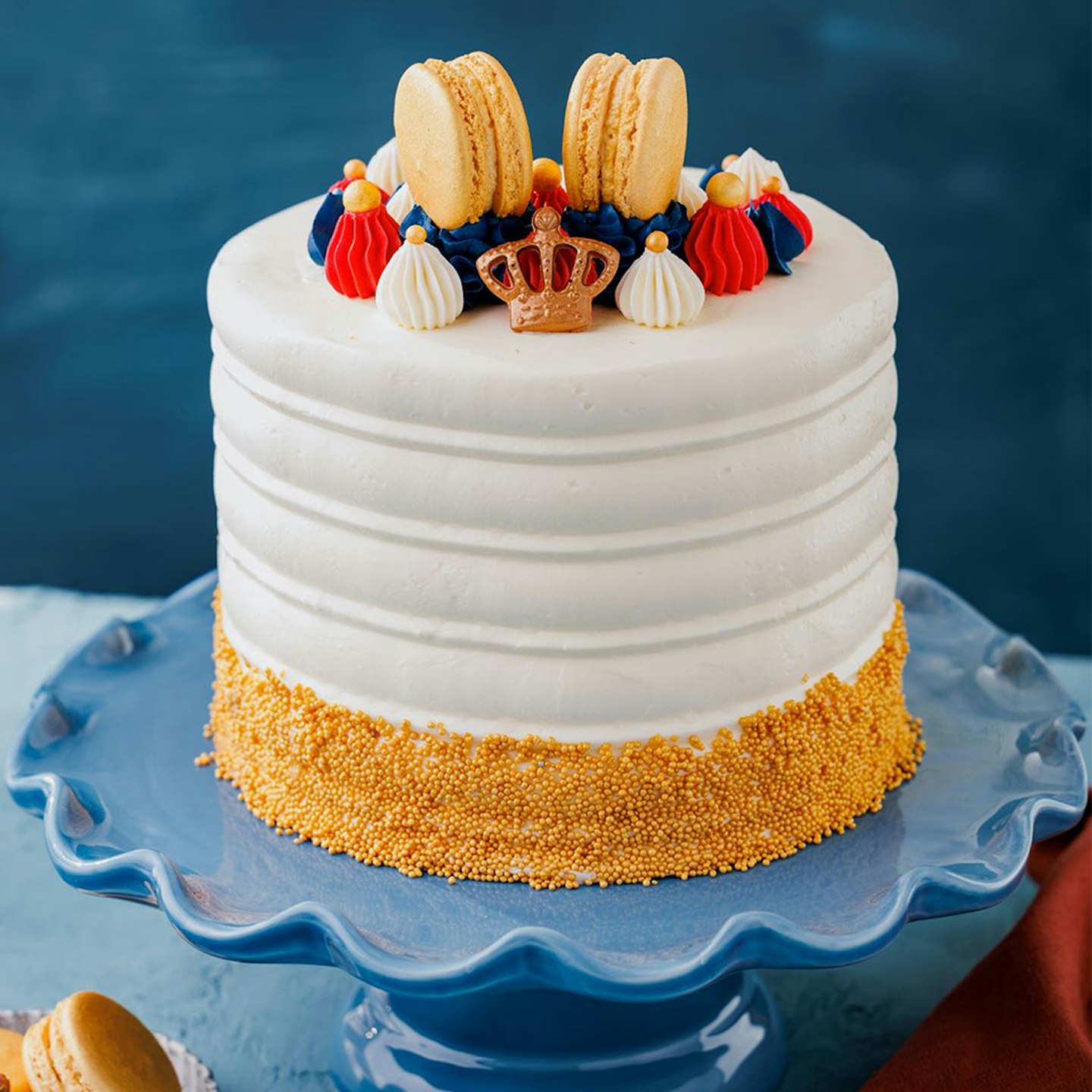 6 of 7
King's Coronation Cake
Now how's this for a showstopper? With layers of plain sponge filled with strawberry cream, fresh cream, and strawberry filling, this impressive cake is coated with an elegant rippled Swiss meringue buttercream and golden pearl border and finished with a red, white, and blue piped crown with luxurious golden vanilla macarons, golden pearls, a chocolate crown and a chocolate royal crest plaque. Fit for royalty!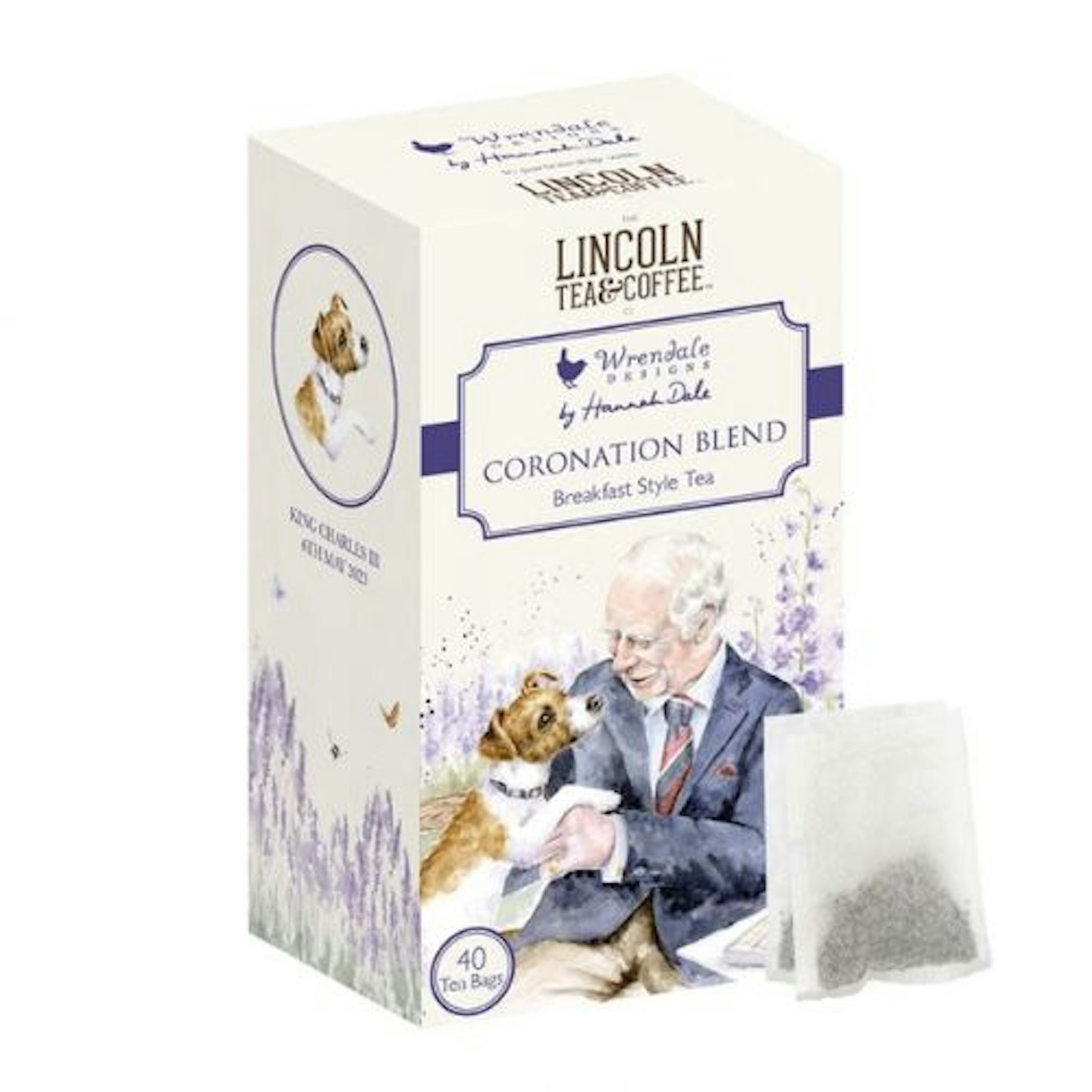 7 of 7
Wrendale Designs King Charles Coronation Tea
Wrendale Designs has teamed up with The Lincoln Tea & Coffee Co. to celebrate the King's Coronation to create a special box of tea, fit for a king. Isn't the design beautiful?
Don't forget!
Need some more inspiration? We've got some extra bits that you may forget...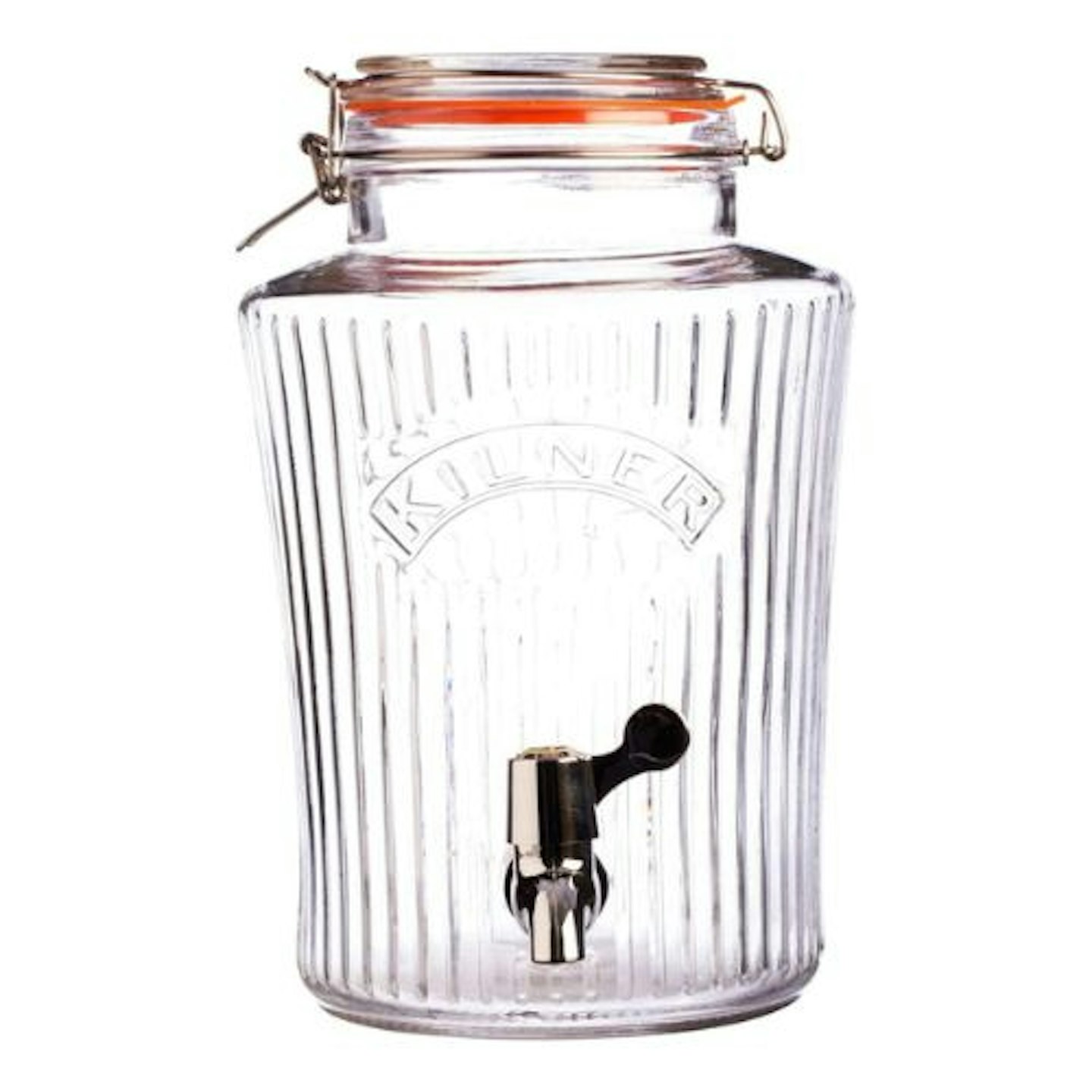 1 of 5
Kilner Vintage Drinks Dispenser, 5 Litre
Generous, this vintage-inspired drinks dispenser will come in clutch with your ready-made Pimms.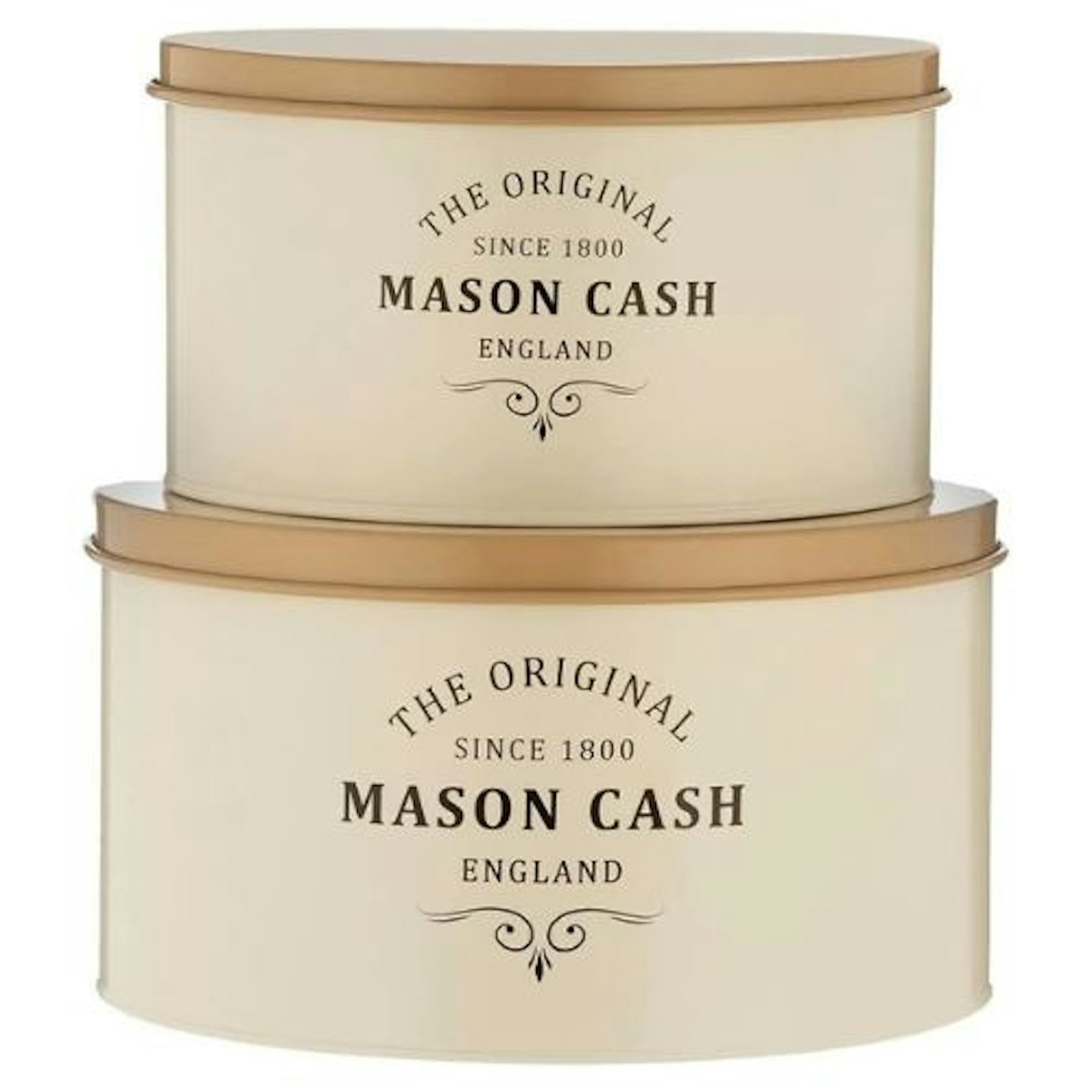 2 of 5
Mason Cash Heritage Cake Tins (Set of 2)
Mason Cash is treating us to these stylish cake tins, inspired by early 20th-century sculleries. They have that timeless, classic look that will look after your precious Coronation cakes and sweet treats with pride.
3 of 5
Viners Champagne Bucket
Thinking of bringing some champers to the street party? This set will see you right through - and beyond.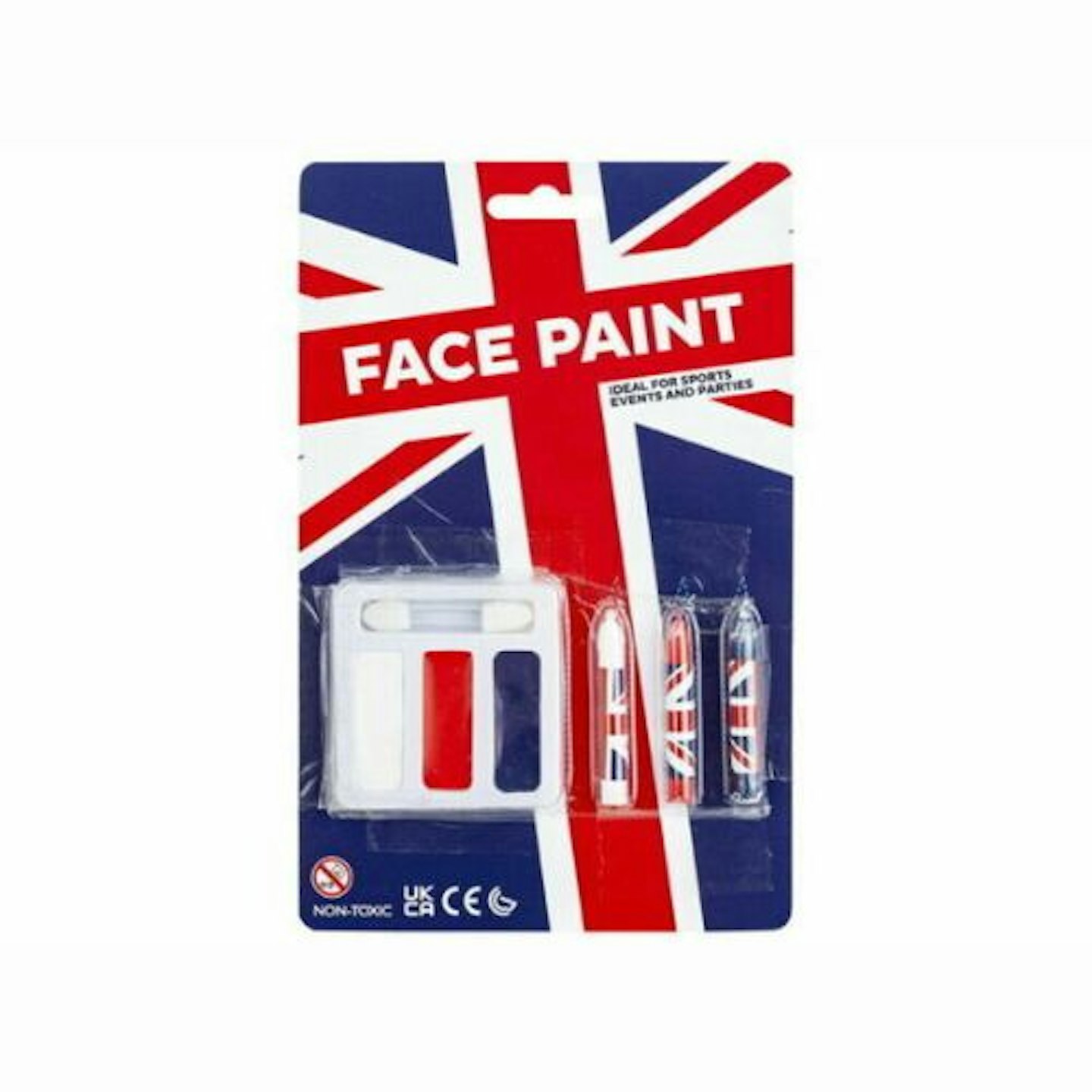 4 of 5
PMS Face Paint - Red, White and Blue
Perfect for the kiddies, get in the spirit with some face paint. It'll be perfect for the Big Day.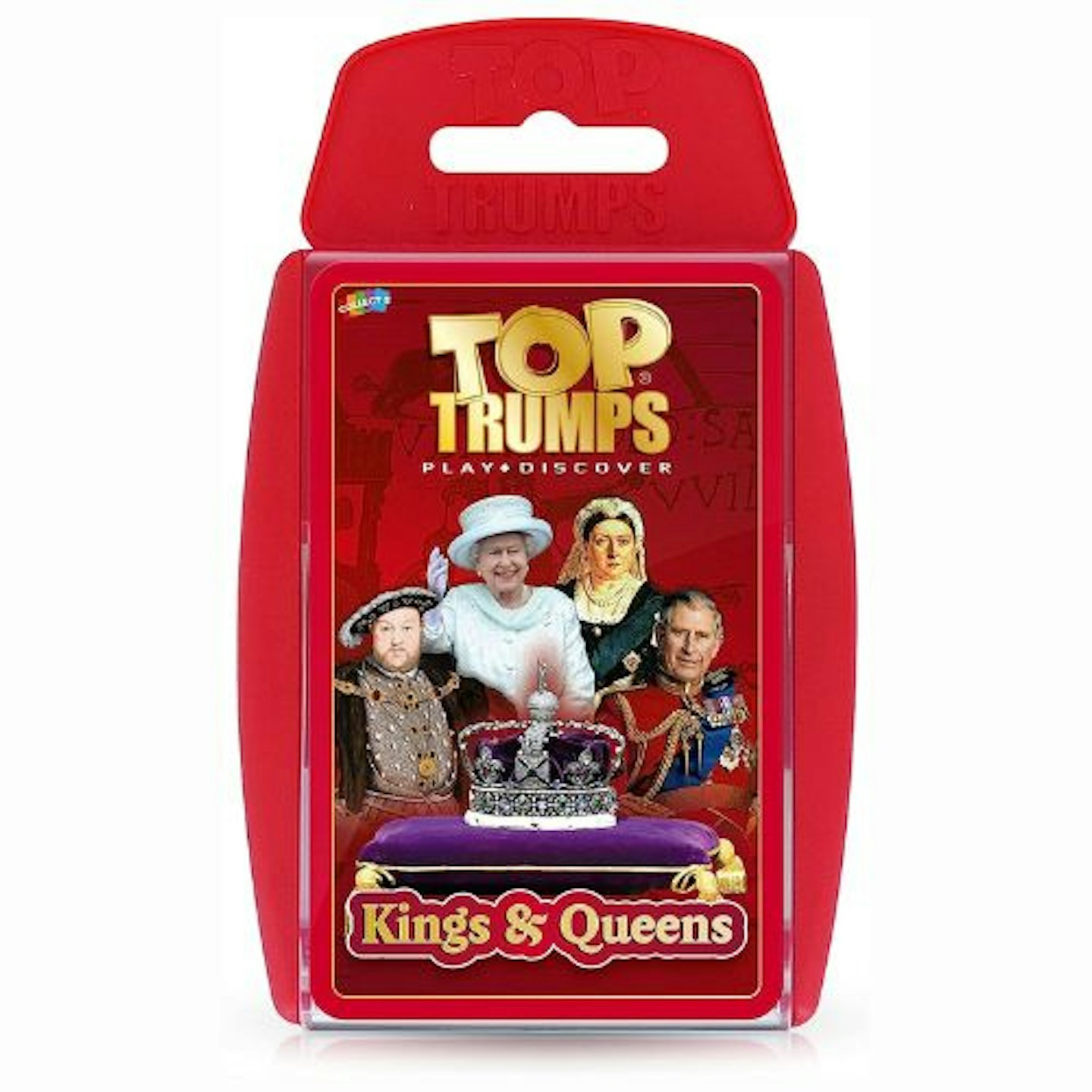 5 of 5
Top Trumps Kings and Queens Classics Card Game
Stumped for activities on the Big Day? You can't go wrong with Top Trumps. They have a fabulous "Kings and Queens" pack - made especially for this special occasion.
FAQs
Any tips on planning?
If you don't have time to close the road by speaking to your local council, you can run what is called a 'Street Meet', says A Plan Insurance. So, if you live in a cul de sac, "councils are generally happy for this to go ahead without permission". If not, use your driveways, parking areas and front gardens. After all, none of these will require council permission - and should be problem-free as long as you "don't obstruct pavements".
Where will the Coronation happen?
As it has for the past 900 years, it is set to take place in London's Westminster Abbey. This is also where Queen Elizabeth II had her Coronation in 1953. Conducted by the Archbishop of Canterbury, the service is helped at Westminster Abbey and will be preceded by a procession from Buckingham Palace, known as the 'King's Procession'.
After this service, the newly-crowned King and Queen will return to Buckingham Palace in a larger ceremonial procession, known as the 'Coronation Procession'. Here, they will be joined by other members of the Royal Family.
Who will be at the Coronation?
Aside from the traditionally invited members, it's expected that Prince William and Price Harry will be in attendance. Plus, members of the public will be able to watch this on the BBC - and other news outlets. We're not missing out. If you want to peep at the guest list for King Charles's Coronation, be our guest.