If you are on the hunt for the best Pilates accessories, you have come to the right place. Pilates is a type of exercise developed by a German physical trainer called Joseph Pilates in the 1920s. It is a dynamic workout that involves movement practices that work on your body's strength, mobility, balance, coordination, flexibility and breathwork. If you are looking to get started on a new fitness venture we have a guide to Pilates for beginners to help you on your way.
Differing from yoga, Pilates is a flow of movements that helps to focus on core strength. There are different types of ways that you can practice Pilates. You can either book a private one-on-one session, head to your local gym for a class or follow easy exercises at home videos. The range of movements from a Pilates session engages the muscles in your arms, shoulders, core, legs and glutes, making you feel stronger and leaner - plus you don't need special equipment to get started too.
Best Pilates accessories at a glance
• Best padded exercise mat: Bonnlo 240cm Folding Gymnastics Mats - view on Amazon UK
• Best yoga mat: Liforme Original Yoga Mat - view on Amazon UK
• Best Pilates accessory for building muscle: Gritin Resistance Bands - view on Amazon UK
Before you book into a class or start browsing for Pilates videos, it is good to invest in a few key Pilates essentials such as an exercise mat, gym clothes, and other equipment. This could be a Pilates bar or even resistance bands. If you are new to the world of Pilates, then we have created a guide on the purpose of certain equipment and how to use them.
If you have decided you would like to give Pilates a try or are on the lookout for the best Pilates equipment, then read our list of the best Pilates accessories and equipment to help you get started on your fitness journey.
Best Pilates accessories and equipment
Best padded exercise mat for Pilates
Description
The number one essential for pilates is a proper exercise mat. Spare yourself from working out on
Pros
Waterproof leather cover
Cushioning for comfort
 Environment friendly EPE foam
Cons
May be too thick to be portable
Best yoga mat
Description
Liforme's mats have been specially designed using eco-polyurethane (an eco-friendly foam), making
Pros
Biodegradable
Sweat-resistant
Patented Alignment System
Free yoga bag
The best Pilates accessory for balance
Description
This balance ball will help to relieve any back pain and improve your core exercises. It may look
Pros
Comes in Sky Blue, Purple and Coral Pink
Made from durable PVC and latex-free
Suitable for sensitive skin
Best Pilates accessory for building muscle
Description
Each resistance band is a different shade, but not for appearance's sake. Each colour varies in
Pros
Five different resistance levels
Carrying Case
Made of natural rubber
Cons
Reviewers say that during some workouts, they do roll up your legs as they're rubber and not heavy duty.
The best Pilates accessory for toning and sensitive joints
Description
This double-handled pilates ring is a staple piece to help you perfect your practice. It is used
Pros
Comes with a wall chart and pdf
Premium-grade, chemical-free material
Thick padded handles
Cons
Some reviewers say the poster was missing, so check when delivered.
The best alternative to a Pilates machine
Description
This portable pilates bar is a versatile fitness and yoga tool designed to exercise your entire
Pros
Metal buckle design which is sturdy and durable.
Made of high-quality nylon rope
Easily disassembles for storage or travel
The best Pilates socks for extra grip
Description
Slippy socks are a no go when it comes to pilates classes. You do not want to be slipping all over
Pros
Super soft Pilates socks for home and studio.
Breathable organic cotton blend.
Low-cut heel and toe with cross strap across the foot
The best gym leggings for Pilate workouts
Description
A good pair of gym leggings will never go amiss. This pair from Sweaty Betty is made with stretchy
Pros
High-waisted workout legging
Sweat-wicking
Has two side pockets
Four colours and prints
Range of sizes
Cons
Some may prefer a 3/4 length
Best Pilates accessories FAQs
Benefits of Pilates
Improved confidence and wellbeing: After a Pilates session, you will feel a sense of accomplishment as you will start to see the results. This, in turn, will help you feel more confident and empowered, knowing you are taking control of your health and wellness.
Good for surgery rehabilitation: Pilates is a great way to prepare and recover from hip and knee replacement surgeries and is a safe practice for arthritis and osteoporosis.
Improves balance and coordination: If your balance is a little off, you're more likely to experience a painful fall – but a regular Pilates class could make all the difference. Studies show that Pilates is one of the best forms of exercise for improving balance.
Builds core strength, bone density and posture: Experts believe that working all the muscles that help to hold you upright helps to build core strength and improve balance. Pilates also helps to improve posture, making you look younger and slimmer instantly.
Is Pilates good for the over 50s?
Yes, Pilates is a fantastic activity for over 50s. It is good for your balance, coordination, bone density, posture, breathing, circulation, strength and flexibility. If you are looking for an introduction to Pilates the NHS have a great video series on Pilates workouts.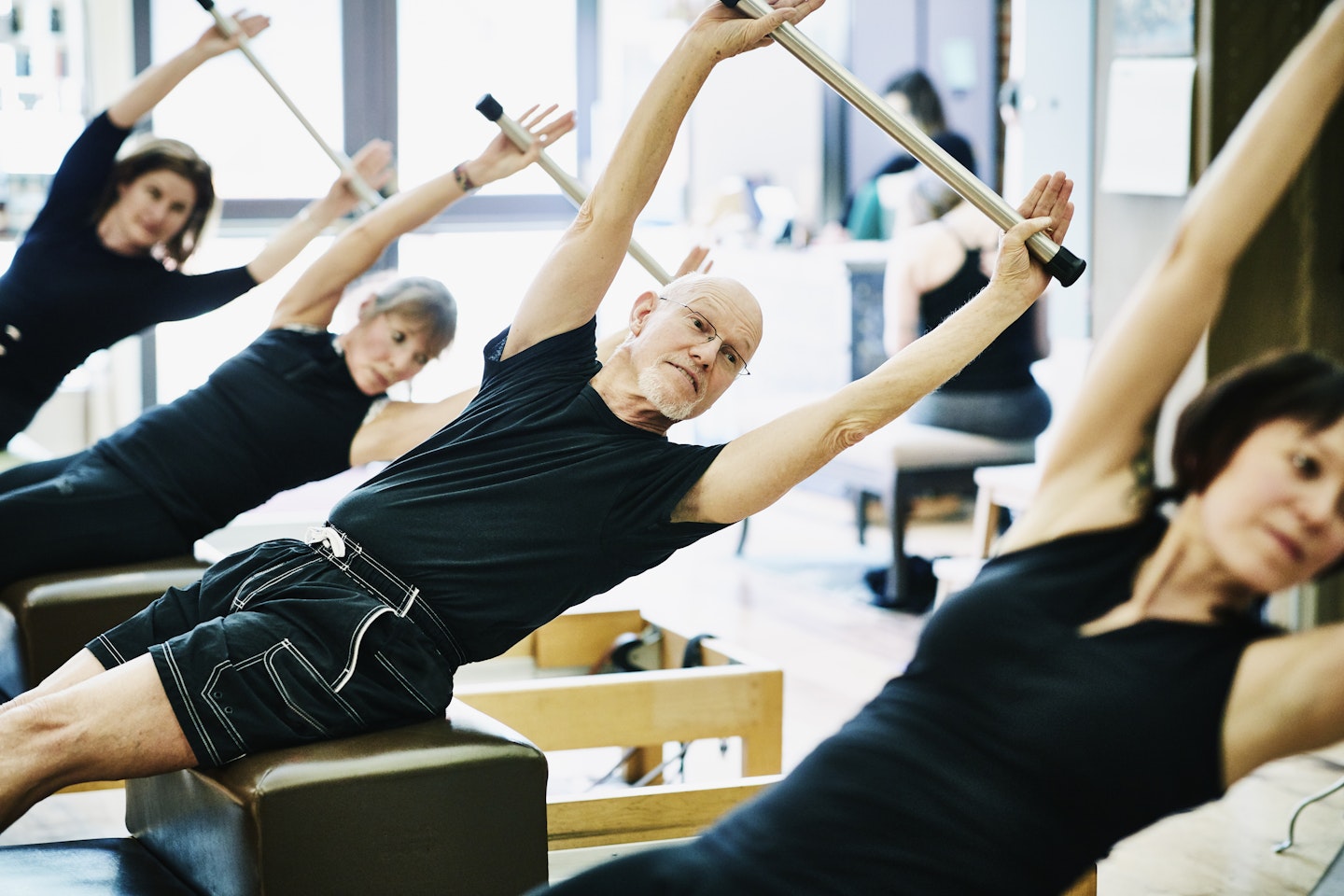 Why should I use a resistance band?
Resistance bands may be small, but they're impressive when it comes to the benefits they provide. Using a range of resistance level bands will help build strength where you need it - making it great for a training routine or a rehabilitation programme. Here are some benefits of using resistance bands:
• Use to increase muscle engagement
• An affordable piece of exercise equipment
• Portable and easy to carry on the go-to exercise indoors or outside
• Versatile for a range of exercises and movements
• Use to stretch for improved mobility dynamically
• Tone and build fitness through regular exercise
• Assist in bodyweight exercises, such as standing push-ups or pull-ups
• Easy to store
This video from The Fit RV is a good video to watch for resistance band beginners and for seniors.
What is a Pilates ring?
Although there are many Pilates apparatus options available, the Pilates ring is a versatile piece of equipment that really tackles those hard to tone areas (like the inner thighs and bingo wings).
Pilates is the perfect option for anyone with sensitive joints — or even if you prefer not to jump around a lot during a workout, Pilates is performed mainly sitting or lying on a mat.
This video from The Balanced Life Pilates with Robin Long shows you how to do a Pilates ring workout from home.
How does the Pilates bar work?
Pilates bars are a great alternative to a pilates machine and are handy tools to add to your Pilates workouts and can help you develop strong core muscles. These bars are often weighted and have convenient grips. They sometimes feature straps and bands, which will allow you to use the bar in more ways, just like the CHYIR Portable Pilates Bar Kit.
In this video from Pilates Therapy, you can learn how to use a portable Pilates bar and get started on a full-body workout.
Can seniors with arthritis benefit from Pilates?
Yes, if you have arthritis Pilates will benefit you. Pilates is gentle enough that it will allow the joints to move without impact, which in turn encourages increased circulation and strength to the joint. "Strengthening the muscles around the joint will support those structures which are giving rise to pain, and improving the posture will allow the body to be more balanced," states Pilates Plus Physio.
Ellen Kinsey is a senior health and wellness product writer for Yours, specialising in natural health and beauty. She lives and breathes all things food, travel and wellness.