For better, for worse, for richer, for poorer, in sickness and in health are the vows two special people in your life made to each other almost 40 years ago. You may even remember buying them a wedding gift on the day they became a married couple all those years ago! Whether you were there on their big day all those years ago or not, a ruby wedding anniversary is certainly a milestone that needs acknowledging with something special. To mark this momentous occasion, we've pulled together a guide around the best 40th wedding anniversary gifts, so you can help them celebrate in style. If you can't be there in person, we can help you with letterbox gifts too.
Whether you're looking for ruby-inspired ideas, personalised presents or even a once-in-a-lifetime experience, we've found it all. Want to buy a gift that the couple will actually want? We've looked beyond the ordinary to bring you extraordinary ruby wedding gifts for wives, husbands, parents, grandparents and friends.
Where to buy the best 40th wedding anniversary gifts:
How Yours selected the best 40th wedding anniversary presents:
All of these thoughtful ruby wedding gifts have been hand-selected by the Yours shopping experts. Our team has spent hours investigating and researching 40th wedding anniversary gifts, so you can choose the best one.
Best 40th wedding anniversary gifts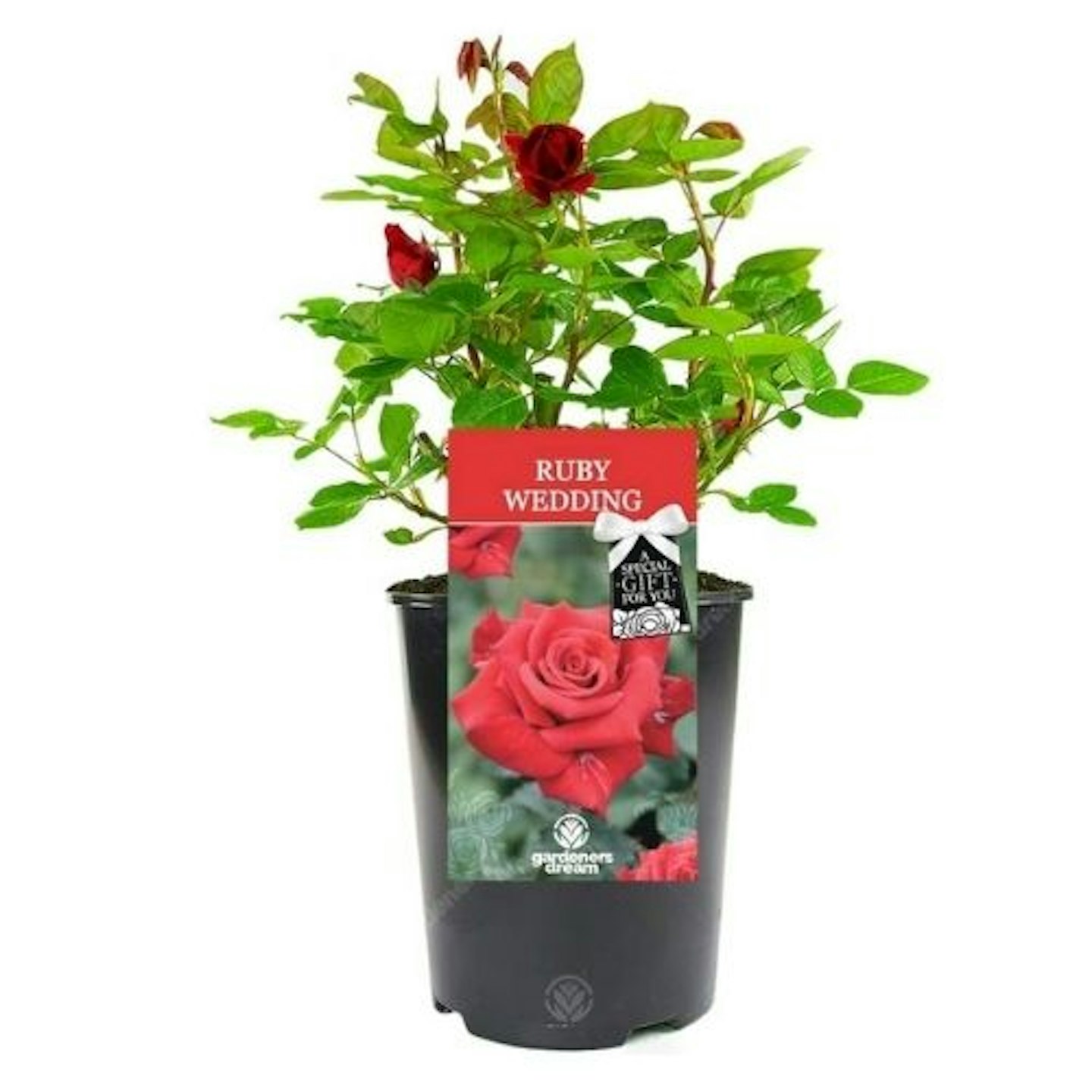 1 of 12
Ruby Wedding Rose - 40th Wedding Anniversary Gift
Over the last forty years, a relationship has been nurtured, grown and maybe had a thorn or two in the road. This rose bush symbolises just that. Plus, it'll look beautiful planted in the back garden.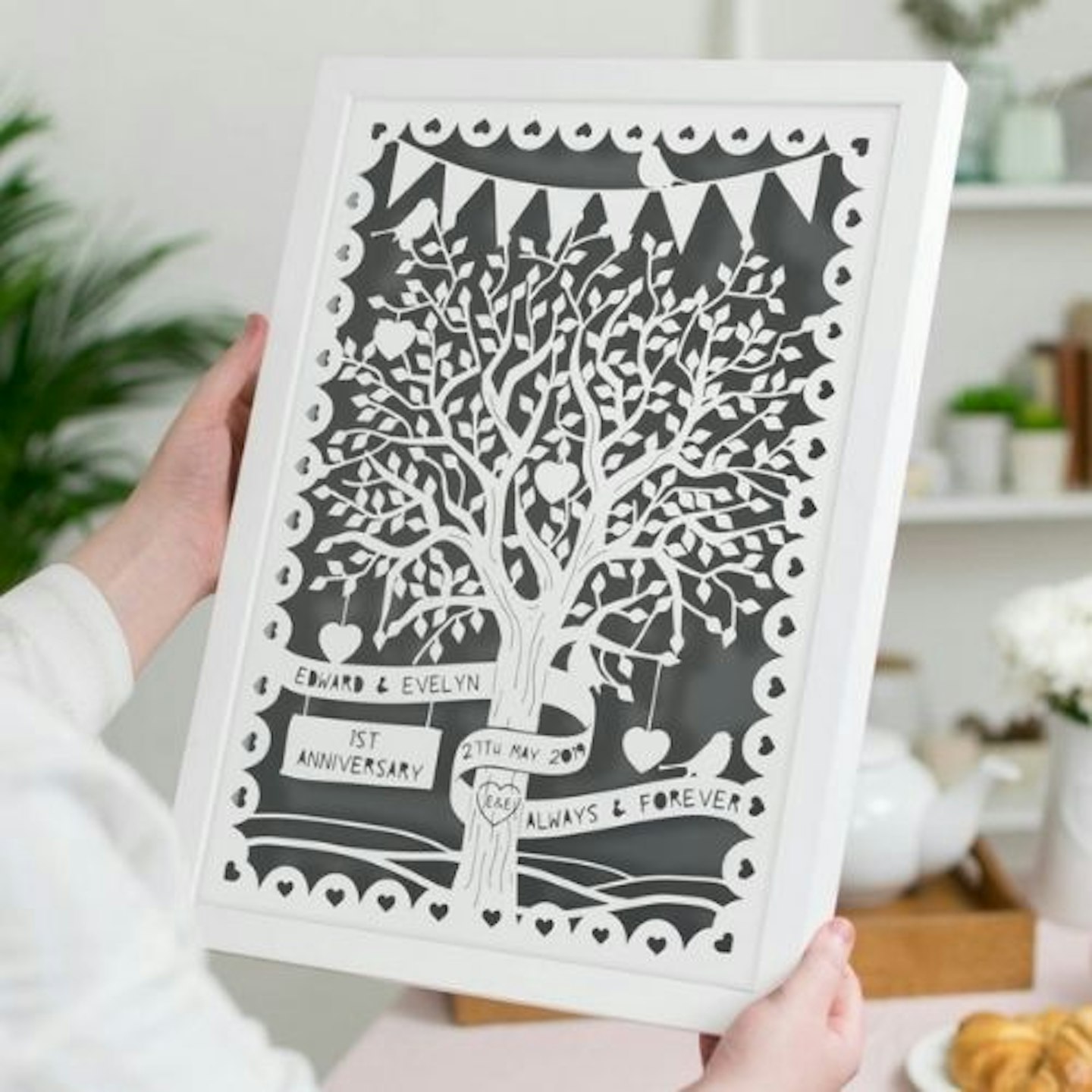 2 of 12
Personalised Love Tree Papercut With Bunting
A papercut design is a go-to gift for any family celebrating an anniversary. It's so intricate and beautiful, and being personalised means it's totally unique. You can add text to the papercut as long as it's between 12 and 18 characters long, plus initials on the tree.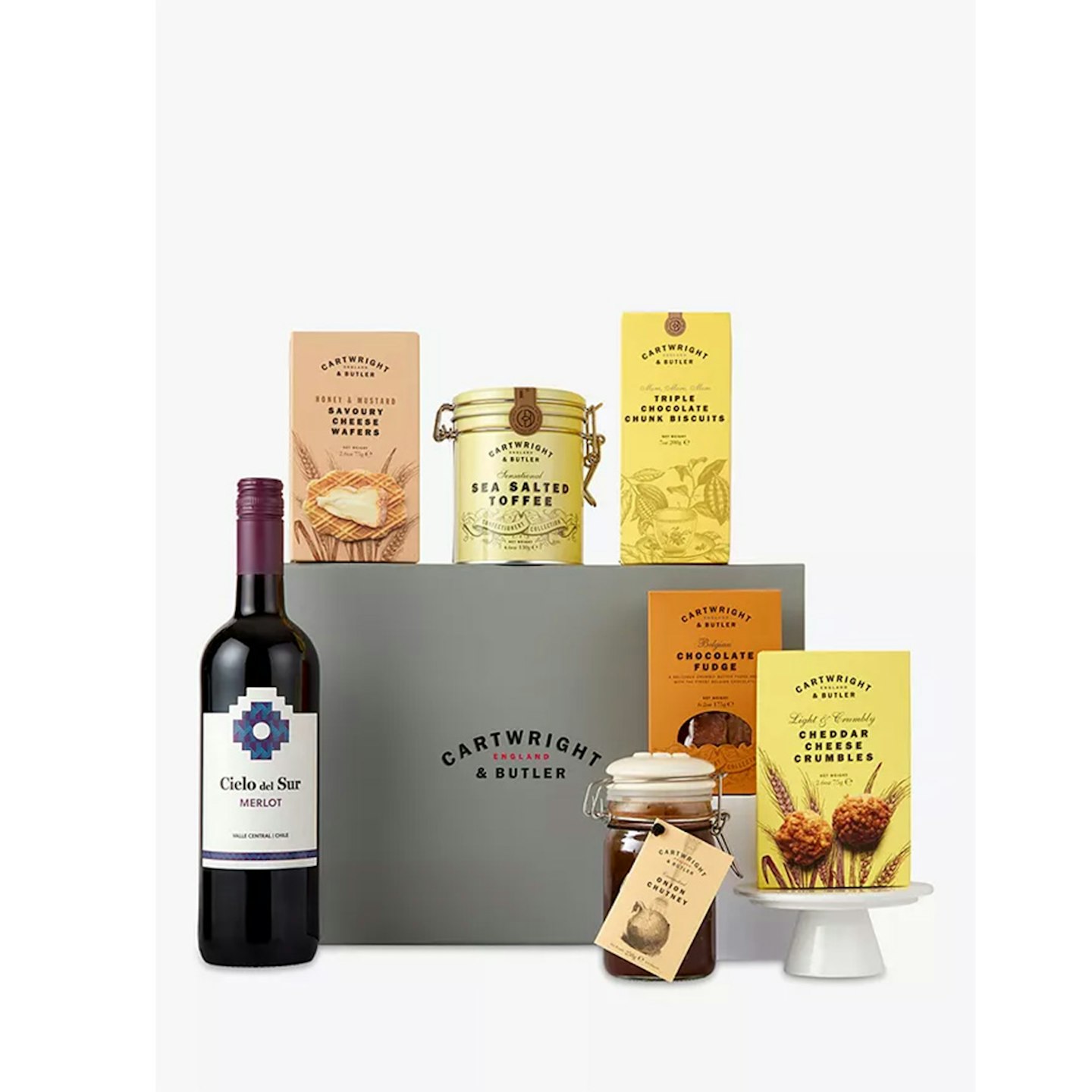 3 of 12
Cartwright & Butler Sweet & Savoury Selection Box
A hamper is a really personal touch to give as an anniversary gift, even as a friend or relative or the couple, not just from one partner to the other. This one includes tangy honey & mustard cheese wafers, melt-in-the-mouth Cheddar cheese crumbles, both to be paired perfectly with a dollop of caramelised onion chutney.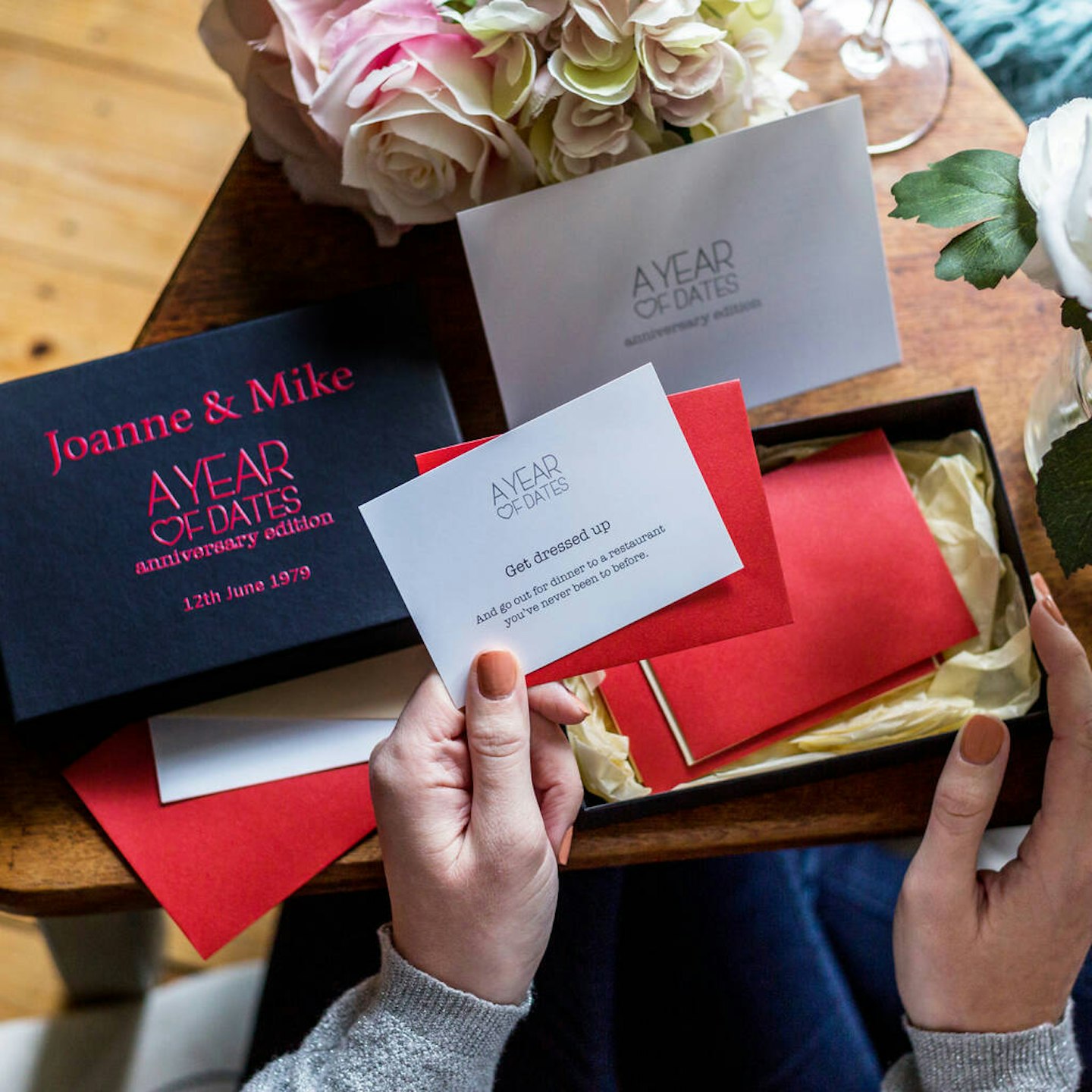 4 of 12
40th Ruby Wedding Anniversary Box Of Dates
We all know how hard date nights are to think of, especially when you've been together for 40 years! This sweet gift has 12 romantic date ideas in sealed envelopes. The dates can be interpreted to suit and fit the recipient's lifestyle with a range of fun and different ideas to make memories that last forever.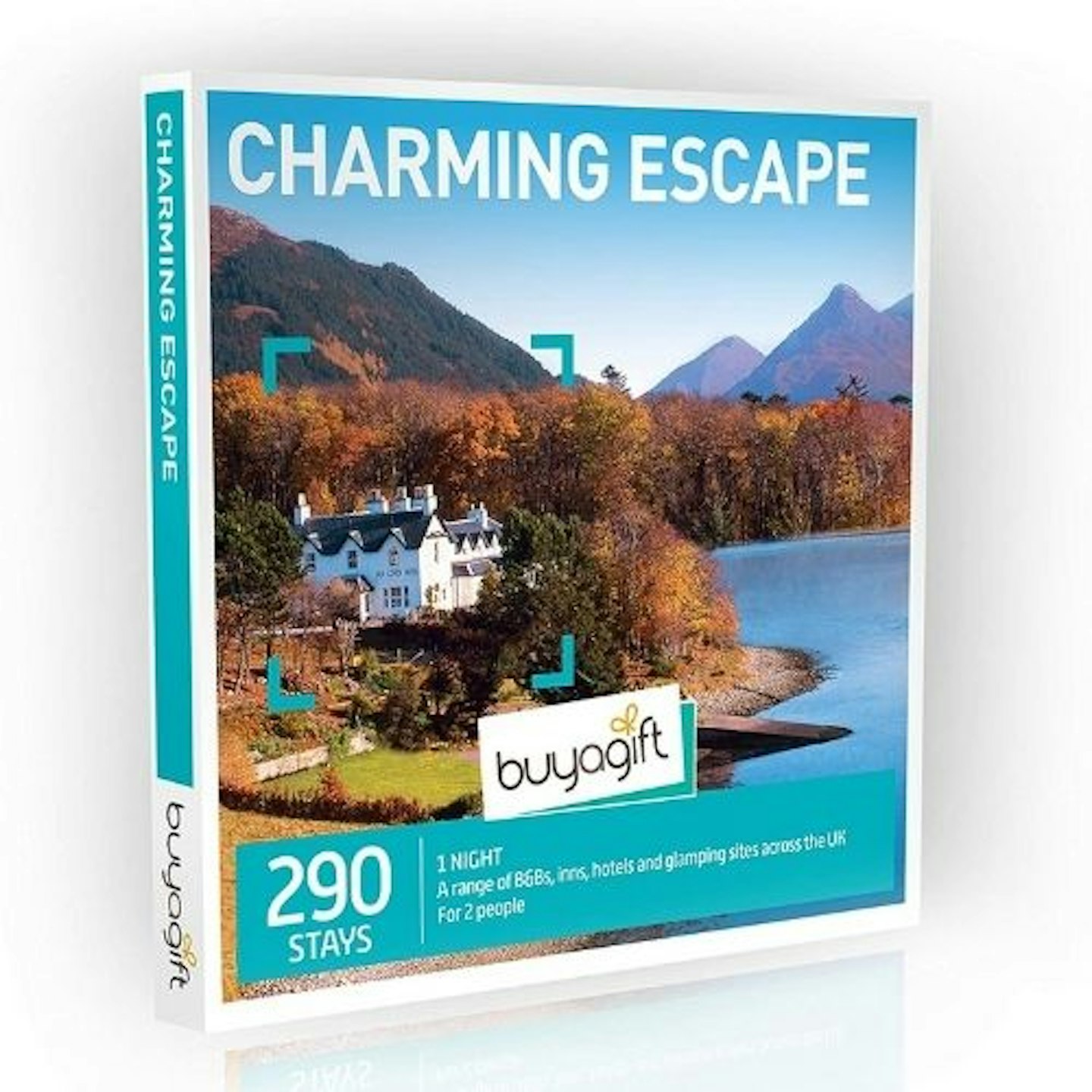 5 of 12
Buyagift One Night Charming Escape Gift Experience Box
Nothing says happy anniversary like gifting a romantic trip away. It even gives the happy couple control over where they stay as there are over 290 one-night escapes available. Plus, it's valid for two years from the date of purchase with free and unlimited exchange during this time.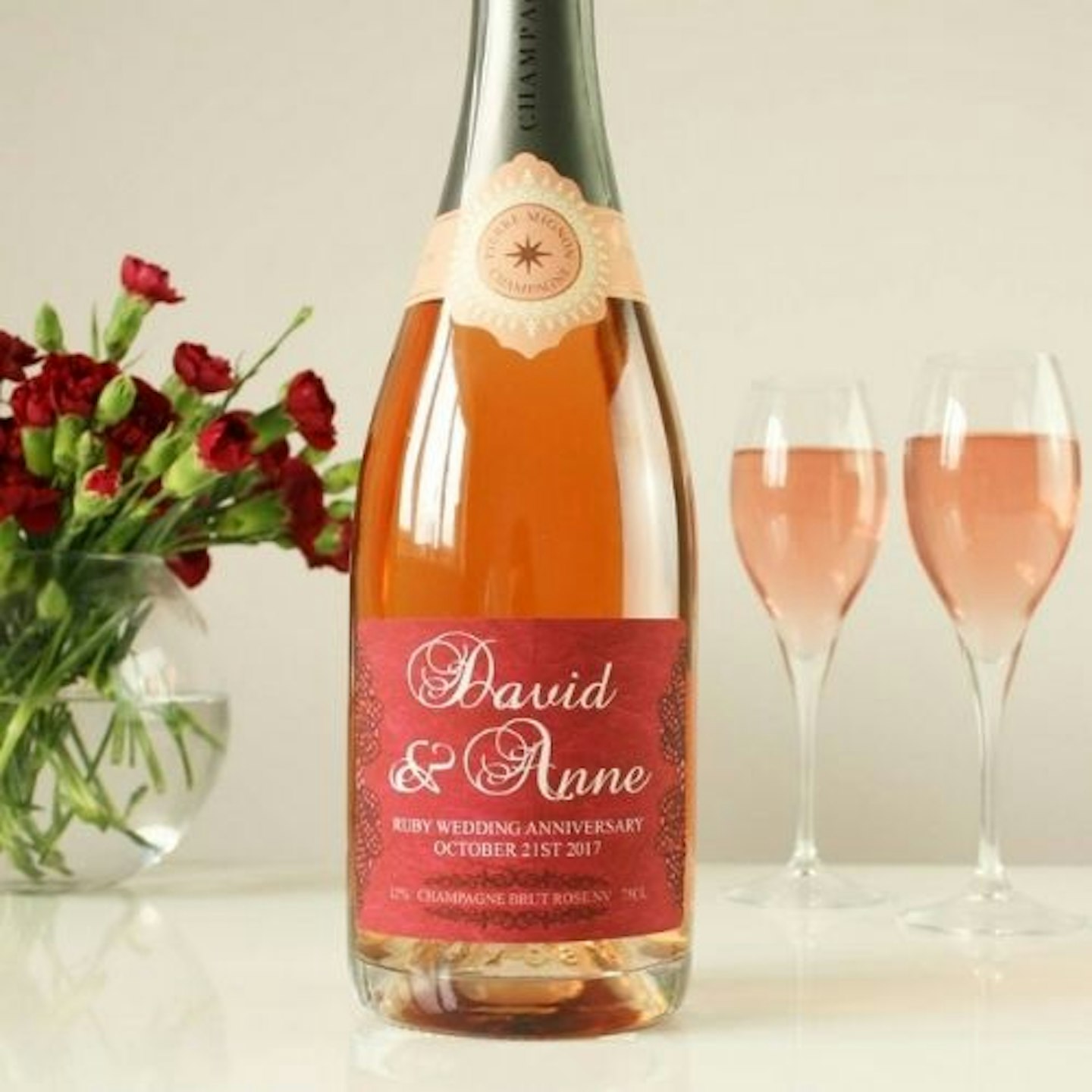 6 of 12
Ruby 40th Wedding Anniversary Personalised Champagne
What's better than a bottle of Champagne when you're celebrating? Personalised Champagne, that's what. You can choose normal Champagne or opt for rosé (for an extra £13) - choosing the rosé does work well with the ruby-coloured label.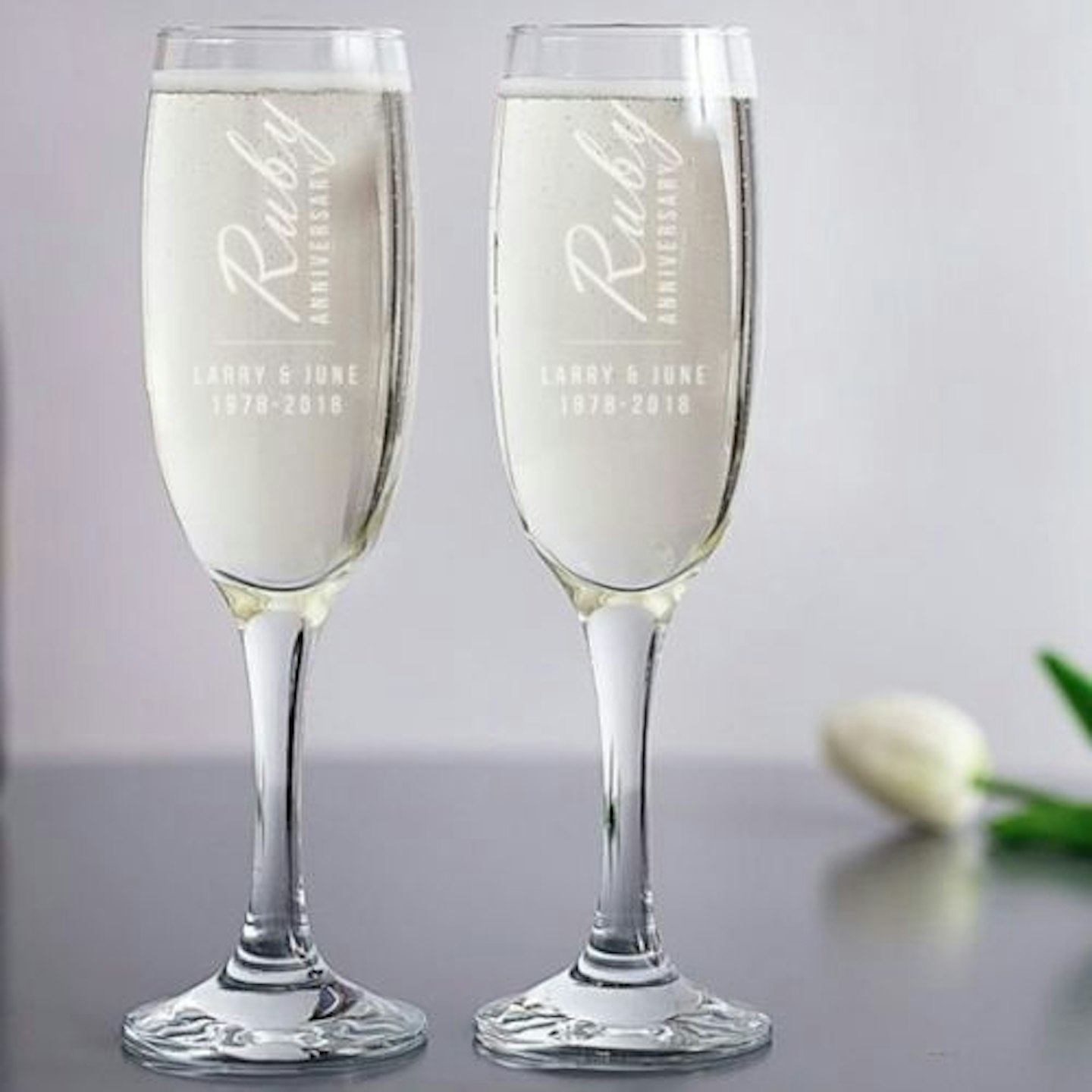 7 of 12
Personalised Ruby Anniversary Champagne Flutes
To go with the fizz, how about a pair of personalised champagne flutes? The two of them can toast each other on their special day, plus use the glasses again and again for years to come.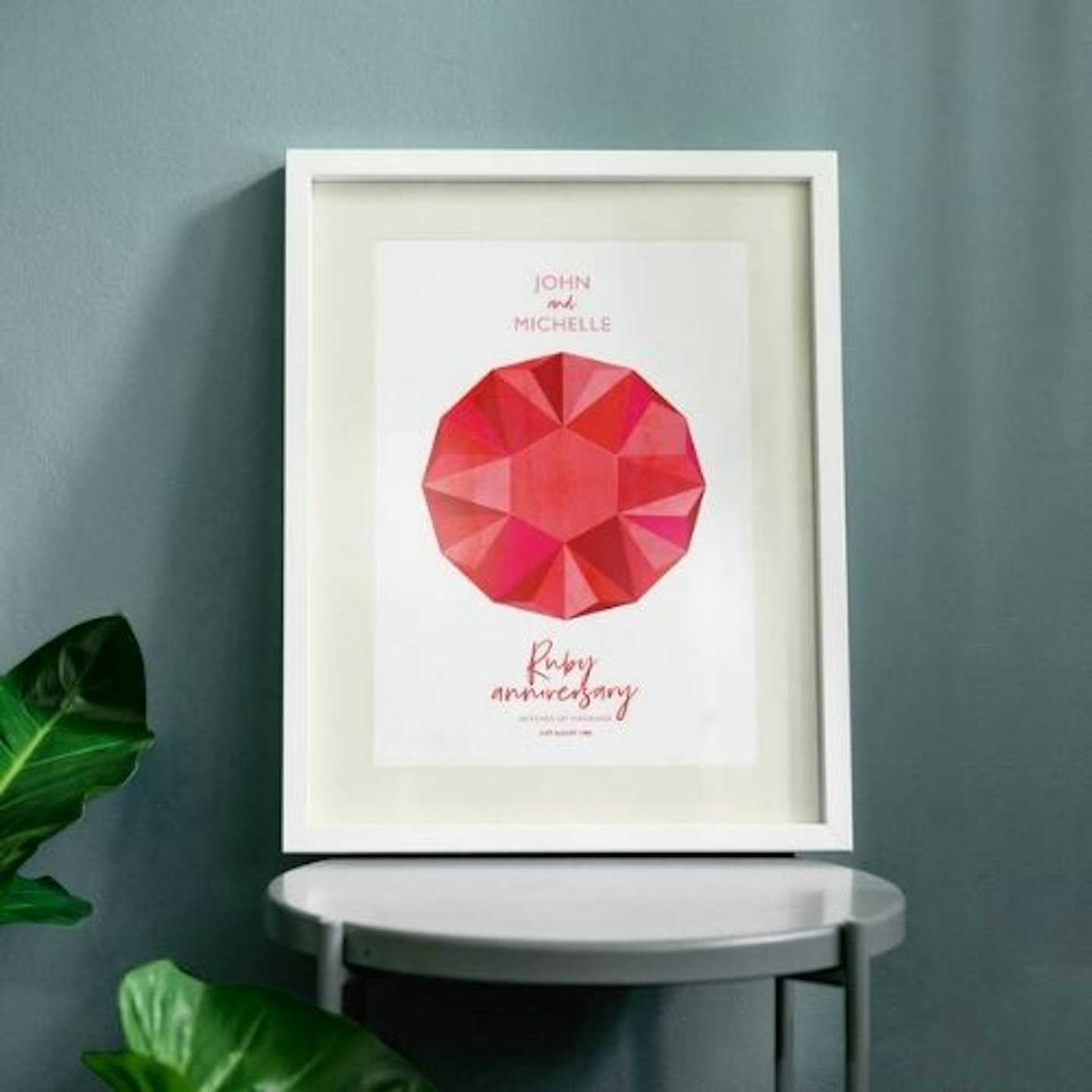 8 of 12
Ruby 40th Wedding Anniversary Personalised Print
An inexpensive personalised print with a beautiful big ruby watercolour design; it's available in a range of sizes and also you can choose between framed and unframed.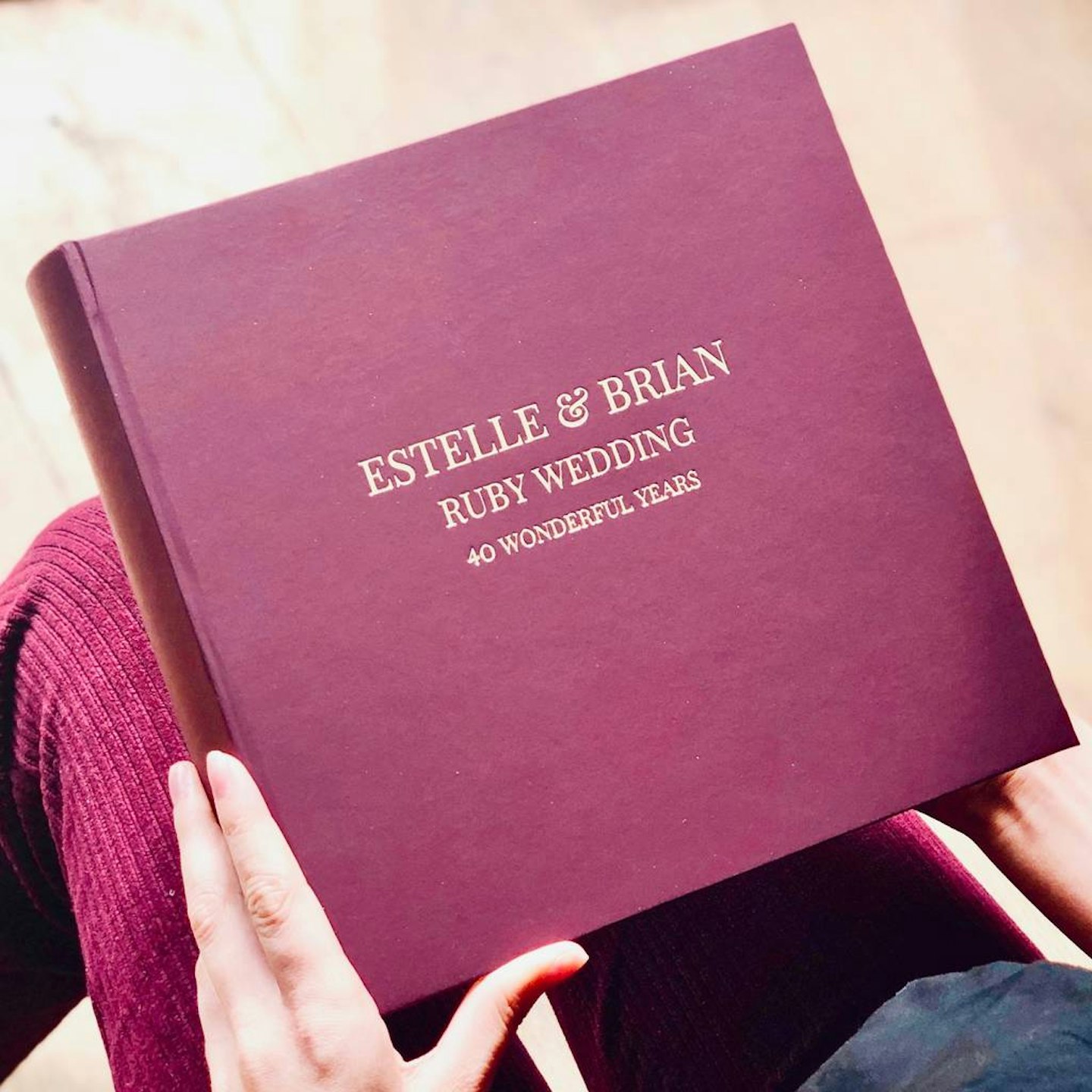 9 of 12
Personalised Ruby Wedding Album
Personalised with your own choice of words on the front, we reckon the lucky couple will adore this handmade photo album with an expandable spine. There are 40 plain pages of stiff cream photo board which can be used for sticking photos in, writing messages, putting cards and more.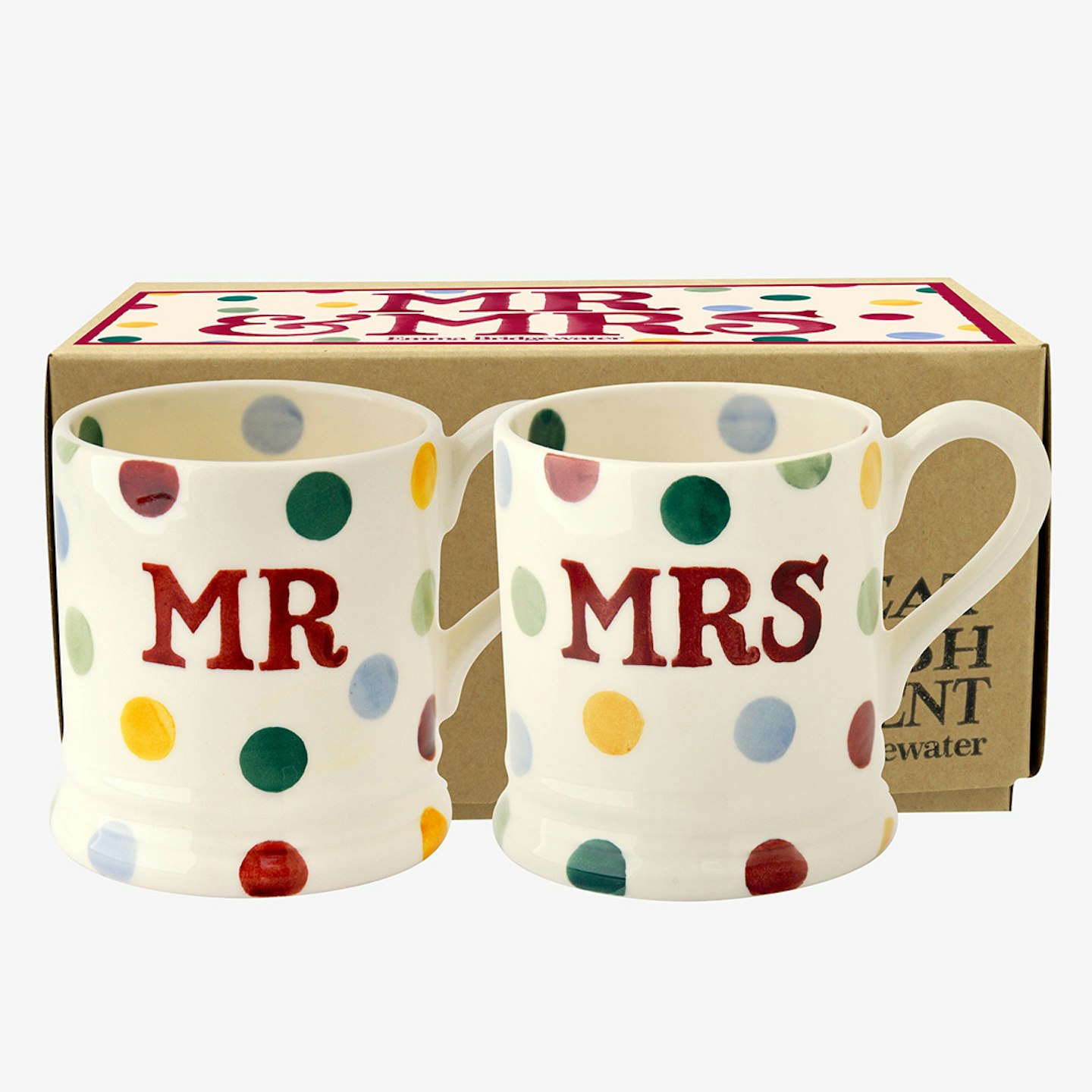 10 of 12
Emma Bridgewater Polka Dot Mr & Mrs Mugs, Set of 2
Whether they prefer coffee or tea, you can't go wrong with a set of mugs and these earthenware ones featuring the iconic Emma Bridgewater Polka Dot print is sure to be well received.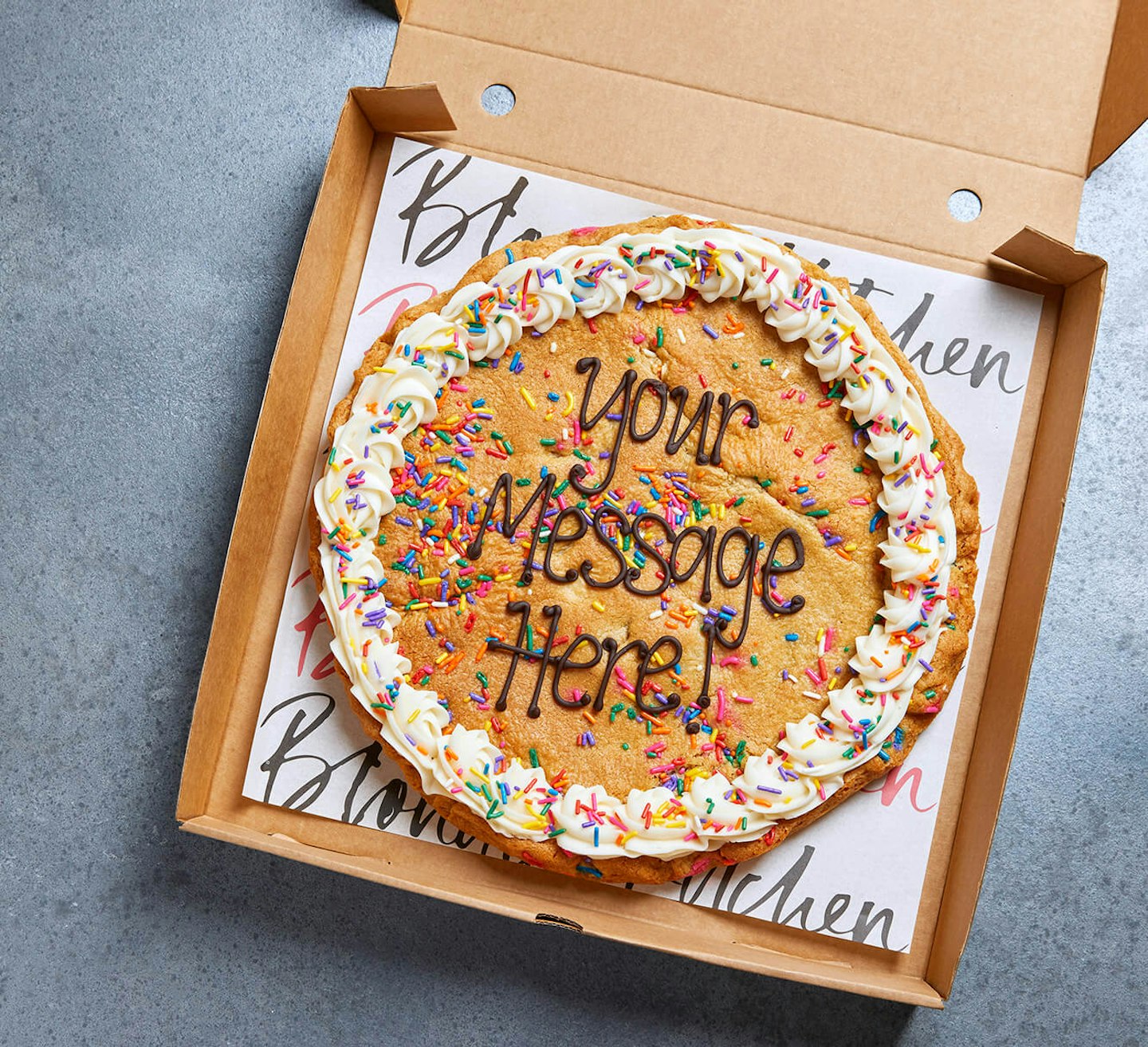 11 of 12
Blondies Kitchen Giant Cookie
Who wouldn't want to receive a giant cookie on their anniversary? With various flavours and combinations available (we recommend the Kinderblocker Glory), this 12-inch cookie has a doughy middle and golden crisp chewy edge and can be personalised with a message of your choice of up to four words.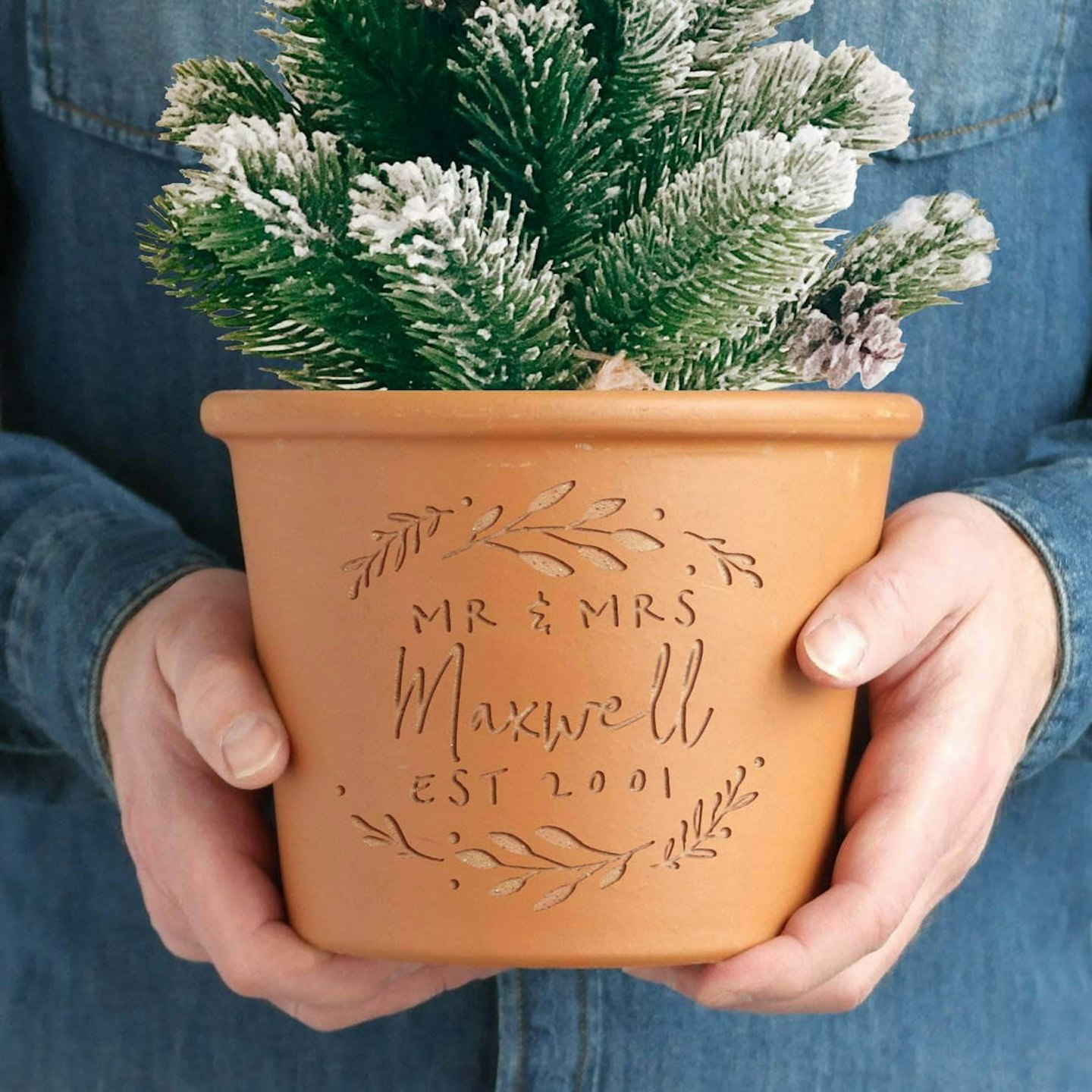 12 of 12
Personalised Engraved Signature Pot
A great one if the happy couple enjoys a bit of gardening, this terracotta plant pot is engraved with your chosen text in handwriting within a pattern of delicate leaves. You can even add on some seeds for an extra £3.
The verdict
After reviewing all the presents above, we have decided that the Personalised Love Tree Papercut With Bunting from Not On The High Street makes it to the top of our gift list.
We've come to this conclusion as nothing marks a special occasion quite like a personalised, keepsake gift. The couple who have reached this remarkable milestone will be able to hang this pride of place in their home. Magical, right?