You can be sure to have a quality night's sleep with the Simba Go Hybrid®Mattress. We all understand the importance of a good night's sleep and the role a comfortable mattress plays in that. But what if we could find a mattress that not only ensures a restful sleep but also aligns with our eco-conscious values? That's where the Simba GO Hybrid Mattress comes into play. On our hunt to find the best mattress for your bedroom, health and wellness writer Ellen Kinsey tested out the Simba GO Hybrid mattress over three months.
During this time, she assessed how this mattress has impacted her sleep quality and overall well-being.
We've previously reviewed the Simba Hybrid Pro mattress and the Simba Hybrid mattress. Both offered a blend of comfort and support, and we were eager to see how the Simba GO Hybrid fared.
The Simba GO Hybrid Mattress goes one step further as it is designed with organic components. This environmentally sustainable and ethical choice offers softness, support, and breathability - it truly is a dream to sleep on.
This mattress really steps up your sleep quality in a way that's good for you and the planet. As someone who values both a good night's sleep and sustainability, I was excited to try out the Simba GO Hybrid mattress. And I must say, it lived up to my expectations. So let's get into it.
Pros
Made from organic materials and an environmentally sustainable choice
100 per cent recyclable
Breathable and very comfortable
Excellent guarantee
Easy and fast delivery
Cons
The premium price tag for premium quality
While latex is naturally anti-microbial and offers many benefits, individuals with latex allergies might need to be cautious
Requires a break-in period -as with many new mattresses, it might take some time for your body to adjust to feel the benefits
Simba GO Hybrid Mattress overview
This sustainable and innovative mattress has impressed me with its unique combination of softness, support, and breathability and has significantly reduced my back pain and migraine issues. This mattress is a worthy investment if you want to upgrade your sleep experience without compromising your green principles.
The Simba Green Organic GO Hybrid mattress uniquely blends comfort and sustainability. It's made from organic materials and is 100 per cent recyclable, making it an environmentally friendly choice. However, it's not just about being eco-friendly - this mattress also caters to sleepers' needs with different preferences and requirements too.
The innovative combination of natural latex and advanced Aerocoil springs ensures a luxurious sleep surface that adapts to each sleeper's unique body shape and movements. Plus, the adaptability makes the mattress suitable for individuals with varying sleep positions, including side, back, and stomach sleepers.
What sets the Simba GO Hybrid mattress apart is its innovative design. It combines natural, biodegradable latex with patented sleep technology, providing exceptional stress relief and cushioning. Plus, it has half the carbon footprint of traditional hybrids.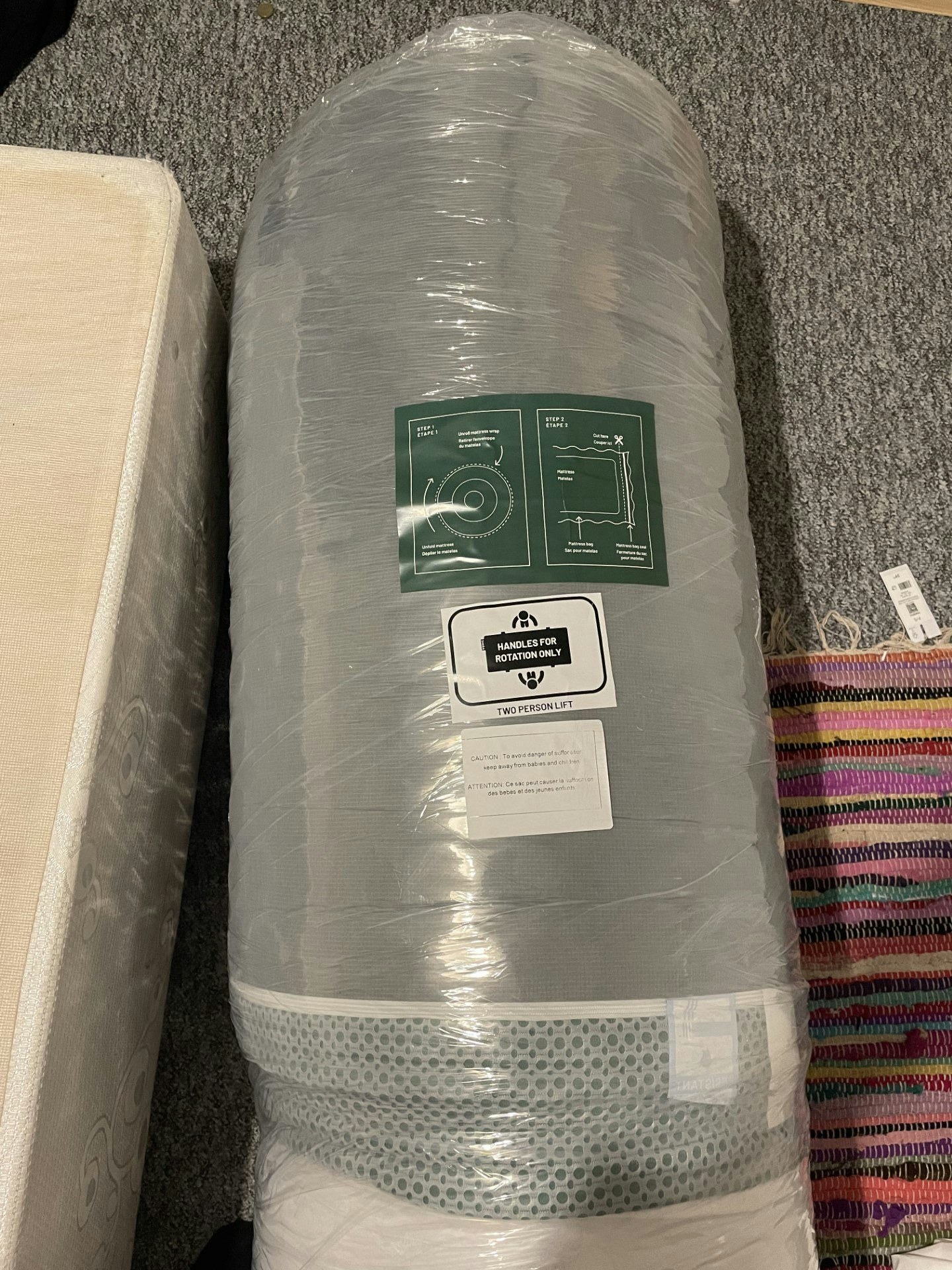 Key features
Eco-friendly design
The Simba GO Hybrid Mattress is designed with sustainability at its core. The mattress is made from organic materials and is 100 per cent recyclable. This means that when it's time to replace your mattress, you can do so without worrying about contributing to landfill waste. This eco-friendly design is a testament to Simba's commitment to environmental responsibility.
Sleep technology
The Simba GO Hybrid Mattress incorporates advanced sleep technology to ensure a restful night's sleep. The mattress features patented Aerocoil springs, which provide superior body support and optimal pressure distribution. This technology ensures that the mattress adapts to your unique body shape and movements, providing a personalised sleep experience.
Breathability
One of the standout features of the Simba GO Hybrid Mattress is its breathability. The mattress is designed with a GOTS-certified organic cotton cover, which provides a pure, cooling surface. This, combined with the mattress's enhanced airflow, ensures that you stay cool and comfortable throughout the night.
Allergy-friendly
The Simba GO Hybrid Mattress is designed with an anti-allergenic barrier layer. This makes it a suitable choice for individuals with sensitivities or allergies as it is designed to deter dust mites and enhance airflow, contributing to a healthier sleep environment.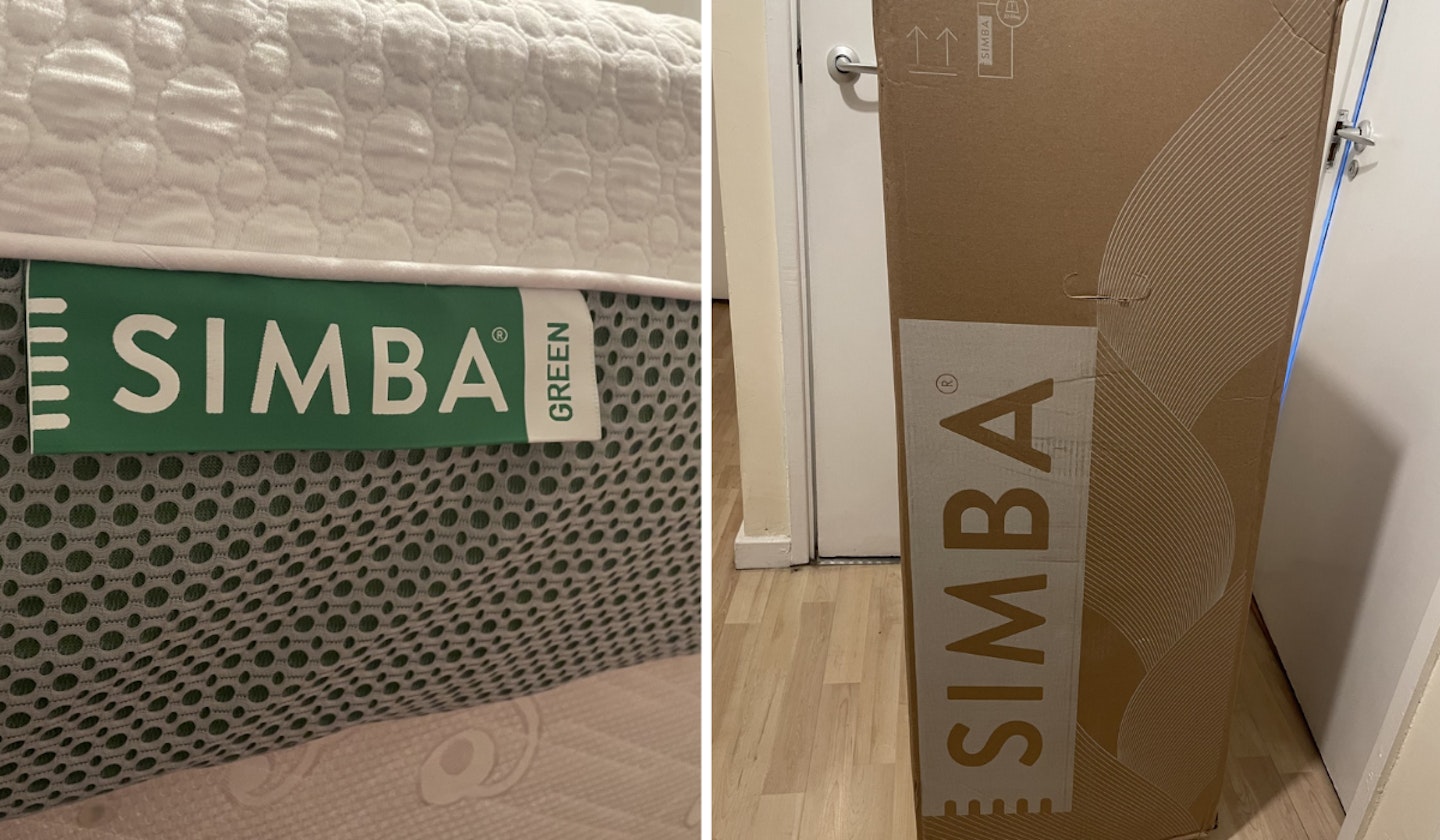 Testing the Simba GO Hybrid Mattress
Over the past three months, I've had the pleasure of sleeping on the Simba GO Hybrid mattress. Not only did it improve my sleep quality, but it also made a significant difference in my back pain and migraines.
During this time, I've assessed how this mattress has impacted my sleep quality and overall well-being. I've taken notes, paid attention to how I feel in the morning, and even tracked my sleep patterns.
The first few nights were an adjustment as I was used to a rock-hard mattress previously - and certainly, not one that moulds to your body. However, after a week or so, I got used to the six layers of micro springs, and then one month later - I could feel the difference in the support.
Month 1: During the first month with the Simba GO Hybrid mattress, my neck and back issues began to ease, thanks to the targeted support for my hips and shoulders. As a result, I woke up feeling a little more refreshed and rejuvenated, with fewer aches and pains to start my day.
Month 2: The second month only deepened my appreciation for the Simba GO Hybrid. After a three-week stint away, sleeping on a variety of different beds, I was thrilled to return to the comfort of my own bed. The mattress's breathability and temperature regulation kept me cool and comfortable. The high-quality materials and construction of the mattress consistently provided the right balance of support and cushioning for my body.
Month 3: By the third month, my neck and back issues had improved dramatically. I even swapped my orthopaedic pillow for a regular one for the first time in years. The consistent support and comfort provided by the mattress allowed my body to fully relax and recover during the night, resulting in a noticeable reduction in pain and stiffness.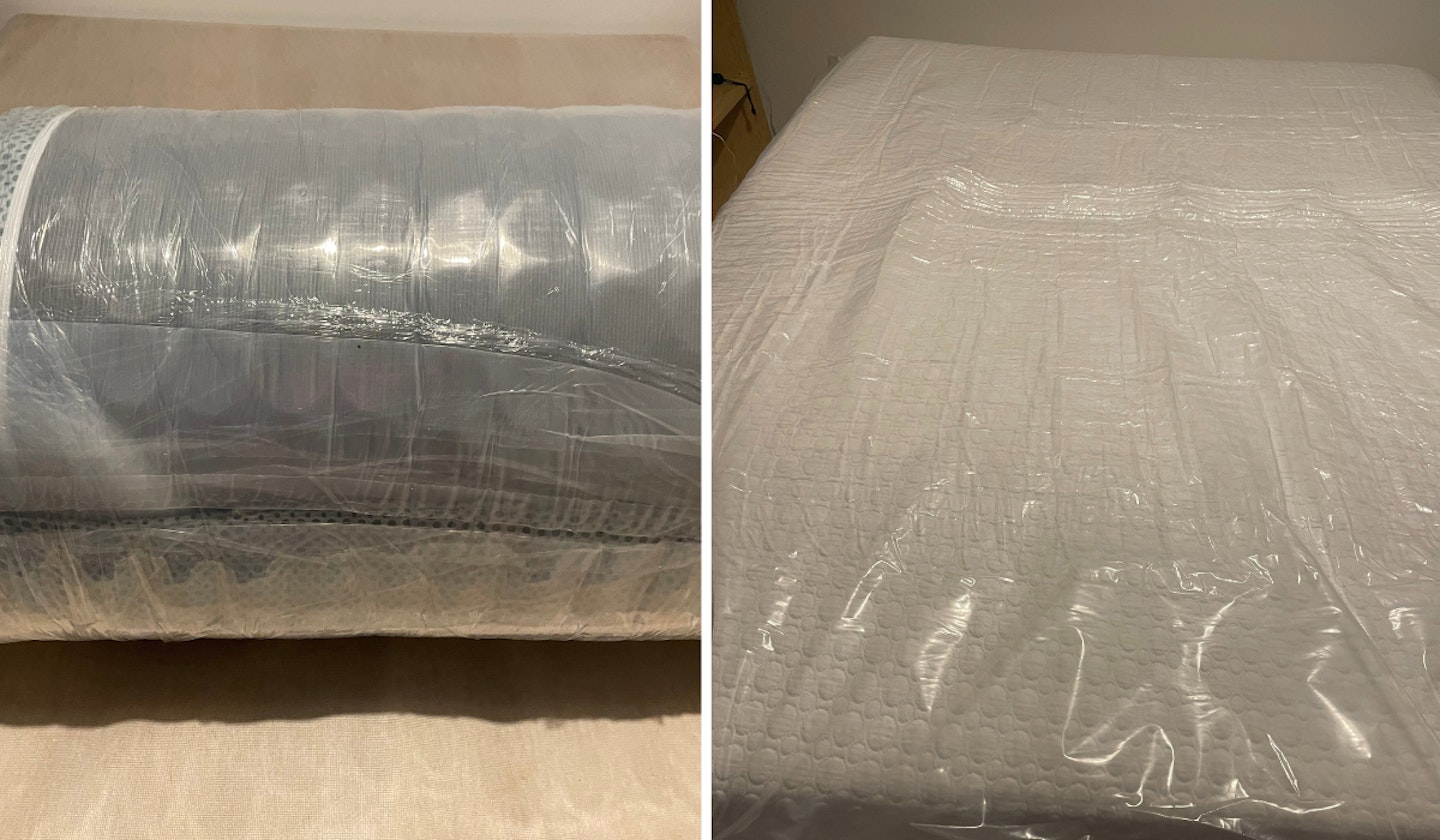 Performance
The Simba GO Hybrid mattress is soft and comfortable yet provides excellent support. It moulds to your body shape, ensuring a restful and rejuvenating sleep experience. Plus, it's breathable, so you won't get too hot during the night.
What initially caught my attention about the Simba Green GO mattress was its eco-friendliness as this is their organic and most 'green' model. I always strive to make environmentally conscious choices, and the fact that this mattress is made up of renewable and biodegradable materials really appealed to me.
After three months of sleeping on the king-sized Simba GO mattress, I can confidently say that it has improved my sleeping experience. Gone are the days of the rock-solid mattress that countless tenants had used before me. I now wake up less at night and enjoy a much better sleep quality.
Usability
The Simba GO mattress is designed with functionality in mind, making it an excellent choice for those seeking a comfortable and functional sleep solution. The combination of GOLS-certified latex and patented Aerocoil® micro springs ensures superior support and pressure distribution, while the zoned SupportCore™ base targets critical areas like hips and shoulders, reducing stiffness and aches when waking.
Additionally, the mattress is designed for easy disassembly and recycling, with eco-friendly features such as the absence of chemical glue and the inclusion of up to 75 per cent recycled yarns in the Simba Renew layer, demonstrating the company's commitment to sustainability.
Build
The Simba GO mattress has six layers that work together to ensure a restful and rejuvenating sleep experience. The breathable, GOTS-certified organic cotton cover provides a pure, cooling surface, while the recycled Simba Renew layer adds an anti-allergenic touch that enhances airflow and deters dust mites.
A GOLS-certified organic latex comfort layer offers increased breathability, support, and optimal pressure distribution. Plus, the patented Aerocoil springs provide exceptional body support.
The Simba GO mattress also incorporates cutting-edge sleep engineering to optimise its performance. Using organic and sustainable materials ensures the mattress's longevity, making it an investment that will stand the test of time.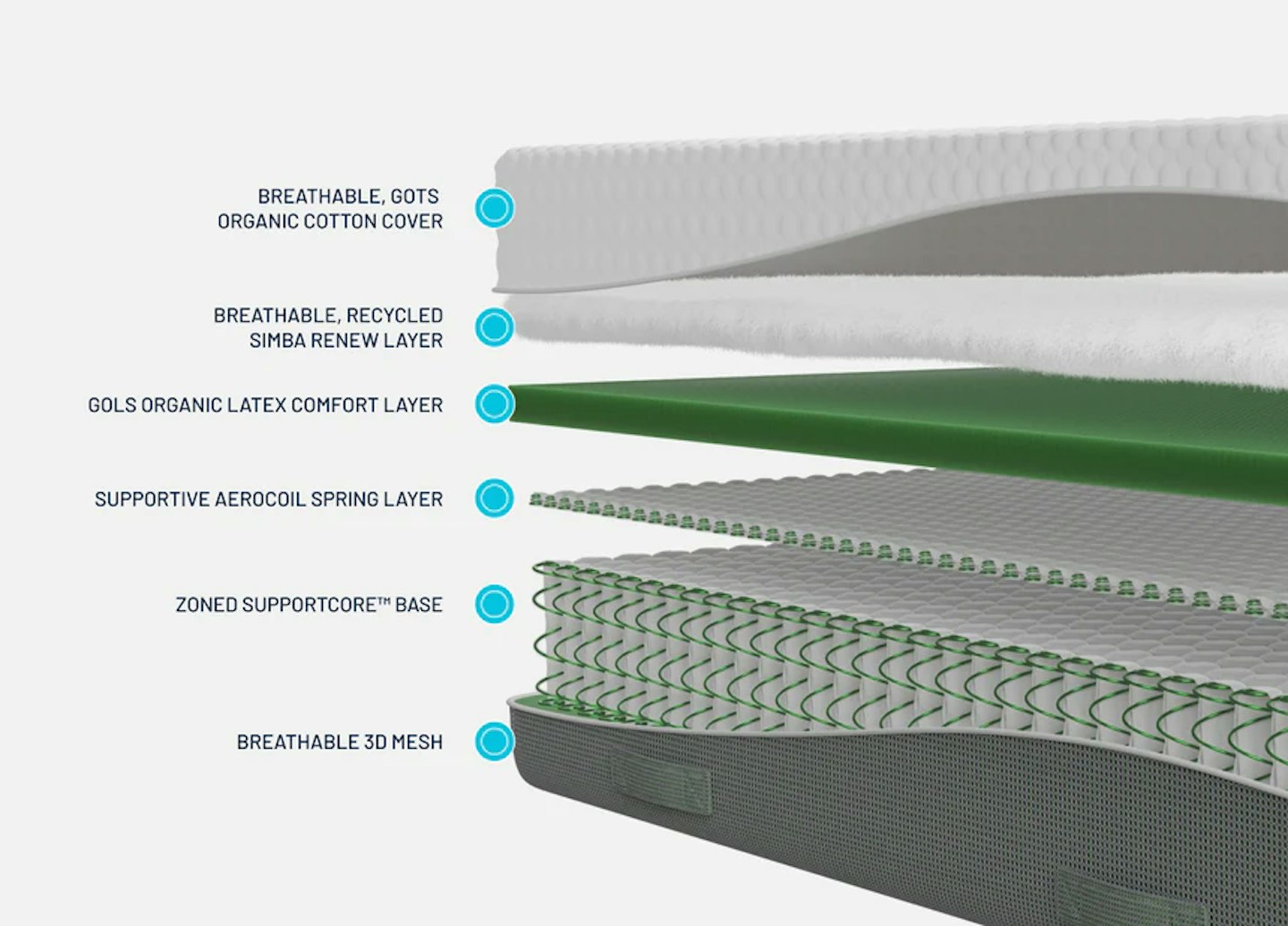 Final verdict
After thoroughly testing the Simba GO mattress for three months, it's clear that this eco-friendly and innovative mattress delivers on its promises. Combining comfort, support, and breathability, the Simba GO Hybrid has proven to be an excellent choice for those seeking a restful night's sleep that aligns with their environmentally conscious values.
Priced at £2,399+, it's a premium choice for those who value both their sleep and the environment. Simba also offers a flexible monthly payment plan starting as low as £60.24 a month. Plus, the first year is payment-free! The company even provides mattress removal and recycling services for a seamless transition. It also comes with a free mattress protector and carbon-neutral delivery within three working days.
When it comes to competition, Simba GO stands out. Its unique blend of sustainable materials and advanced sleep technology sets it apart from brands like SilentNight, Nectar Sleep, Emma, and Eve Sleep.
From its sustainable materials and construction to its impressive performance in alleviating back pain and migraine issues, the Simba GO Hybrid mattress has our recommendation for anyone looking to invest in a high-quality, green sleep solution.
FAQs
Can the Simba GO mattress be recycled?
The Simba GO mattress is fully recyclable and is Simba's most eco-friendly mattress, incorporating biodegradable organic latex, recyclable Aerocoil springs, and recycled hollow fibres that comply with the Global Recycle Standard (GRS).
Is latex an organic and sustainable material?
Latex is an organic and sustainable resource. It's not only wonderfully elastic and supportive, but it's also naturally derived, renewable, and biodegradable. The sap of rubber trees, which can produce for up to 20 years, is then processed into latex.
Is the Simba GO mattress suitable for people with allergies?
Those with latex allergies are protected by a layer of Simba Renew and an organic cotton cover so yes it is suitable.
How can I tell if my mattress needs replacement?
There are several signs that your mattress may have had its day. If you're not sleeping well or waking up with body stiffness, discomfort or aches, it might be time to consider a new mattress. If you're finding that you sleep better in different beds or if your sleep satisfaction has declined compared to the previous year, these are clear signals.
Other signs of a worn-out mattress can include disturbed sleep patterns, visible signs of wear and tear like sagging or tears, an increased prevalence of allergies or asthma if the mattress is over eight years old, protruding springs affecting your sleep comfort, and unusual noises from the mattress.
Alternatives to the Simba GO Hybrid Mattress
Description
Sleep like a pro with this extremely comfortable and breathable mattress...
Pros
Medium firm for comfort and support
Washable, anti-allergenic sleep surface
Cooling materials for temperature regulation
100 per cent recyclable; partially made from surplus foam
Alternative Simba option
Description
The original Simba Hybrid Mattress is a five-layered hybrid offering gravity-defying comfort and
Pros
Free, carbon-neutral delivery
Risk-free 1-year trial
Supports a variety of sleep types
From a B Corp-certified company
Cons
Price could be beyond some budgets
Hybrid can be too firm for some
Ellen Kinsey is a senior health and wellness product writer for Yours, specialising in natural health and beauty. She lives and breathes all things food, travel and wellness.