Coffee machines have revolutionised the way we brew and enjoy our daily caffeine fix. These popular kitchen gadgets have become an indispensable part of many households and workplaces, catering to the diverse tastes and preferences of coffee enthusiasts worldwide.
From the simplicity of a cafetiere coffee machine to the sophistication of espresso machines, coffee machines offer a wide range of options for brewing that perfect cup of coffee. Coffee machines not only save us time but also allow us to explore a world of flavours and brewing methods, right in the comfort of our own kitchens.
If you're in the market for a new coffee machine that looks great and performs well, we might have just the machine for you. Here's how our tester Louisa Denuzzo got on when she tested the Nespresso by De'Longhi Gran Lattissima Coffee Machine.
Nespresso by De'Longhi Gran Lattissima overview
Pros
Easy to set up and use, only a few parts to put together
Simple to take apart and clean
Compact and stylish
Automatic alert when it needs to be descaled or rinsed
Many types of coffee and flavoured pods are widely available
Cons
Only two colours are available
Testing the Nespresso by De'Longhi Gran Lattissima
The Nespresso Gran Latissima by Delonghi is a stylish modern-looking coffee pod machine that comes in either white or black. There are many Nespresso machines on the market, some, like this one, take the original pod shape and some take the newer dome-shaped pods. Whichever type of coffee pods you are looking for, Nespresso has a large range to suit all budgets. Both shaped pods are available online or in supermarkets.
This model comes with its own detachable milk jug/frother, a removable cup support for use with smaller cups for expresso and smaller drinks and a booklet that gives instructions to make anything from expresso to a Macchiato.
The machine came very well packaged and was super easy to set up, from unboxing it only took a few minutes to put together. It also comes with a water testing strip to test the hardness of your tap water, I thought this was a great idea and have never had this with any other previous coffee machines I have owned. This is probably the lengthiest part of the process as once you have worked out what type your water is, you will need to set your machine accordingly, it's just a couple of button presses so nothing complicated just follow the manual instructions and you're good to go.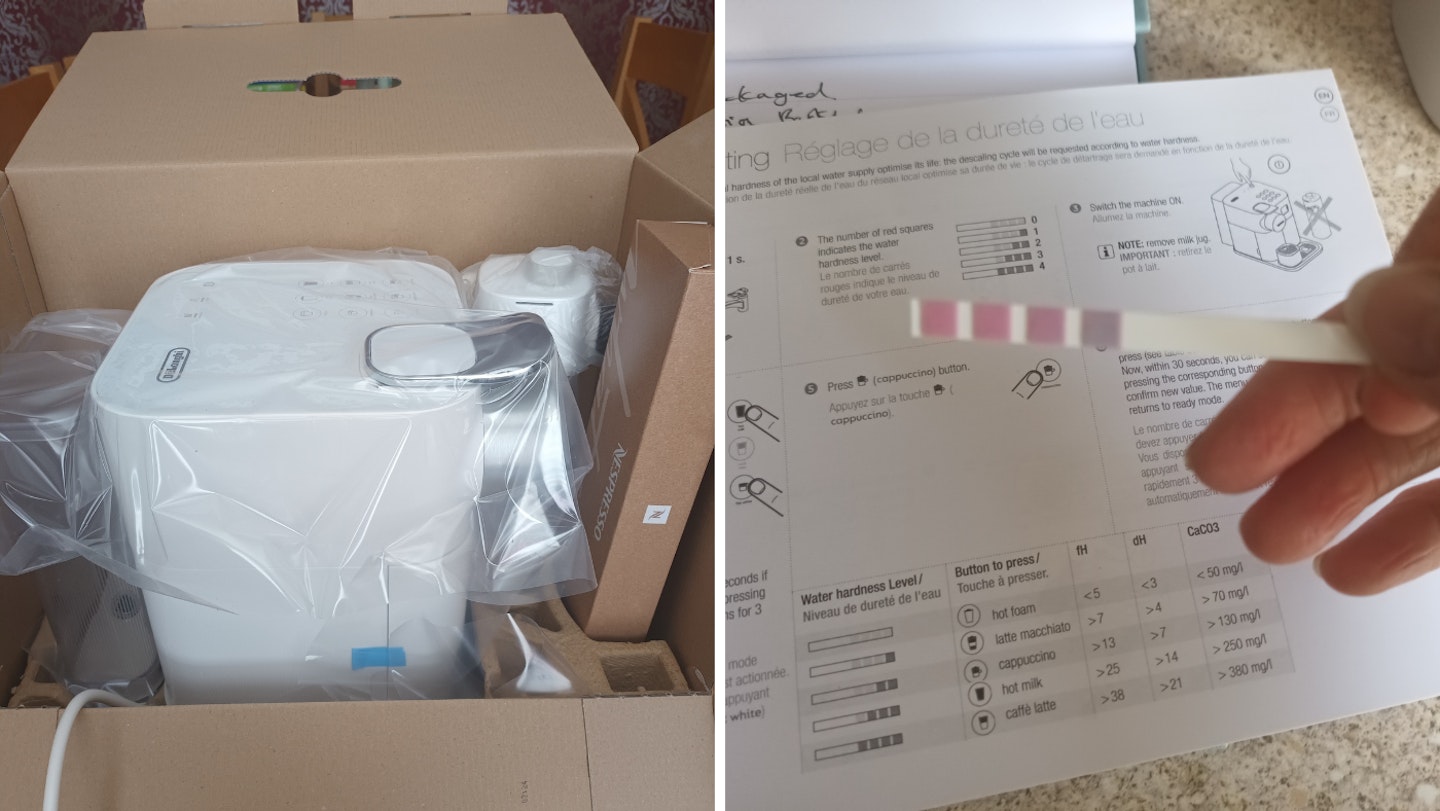 Once you have selected your drink type from the display panel, pop in your pod, push the lever down and direct the milk spout towards your cup - if you are using milk - and the machine will do the rest.
I found the instructions clear and easy to follow and there is a table in the instruction manual that shows you the drinks that can be made and the ratio of milk to water so you have an idea of what they should look like when prepared.
This coffee machine has a large 1.3L capacity water tank and a descaling setting as well as a rinse button to flush out the milk spout, meaning there is no need to disassemble and clean in between drinks. This setting is only needed when the rinse button is illuminated.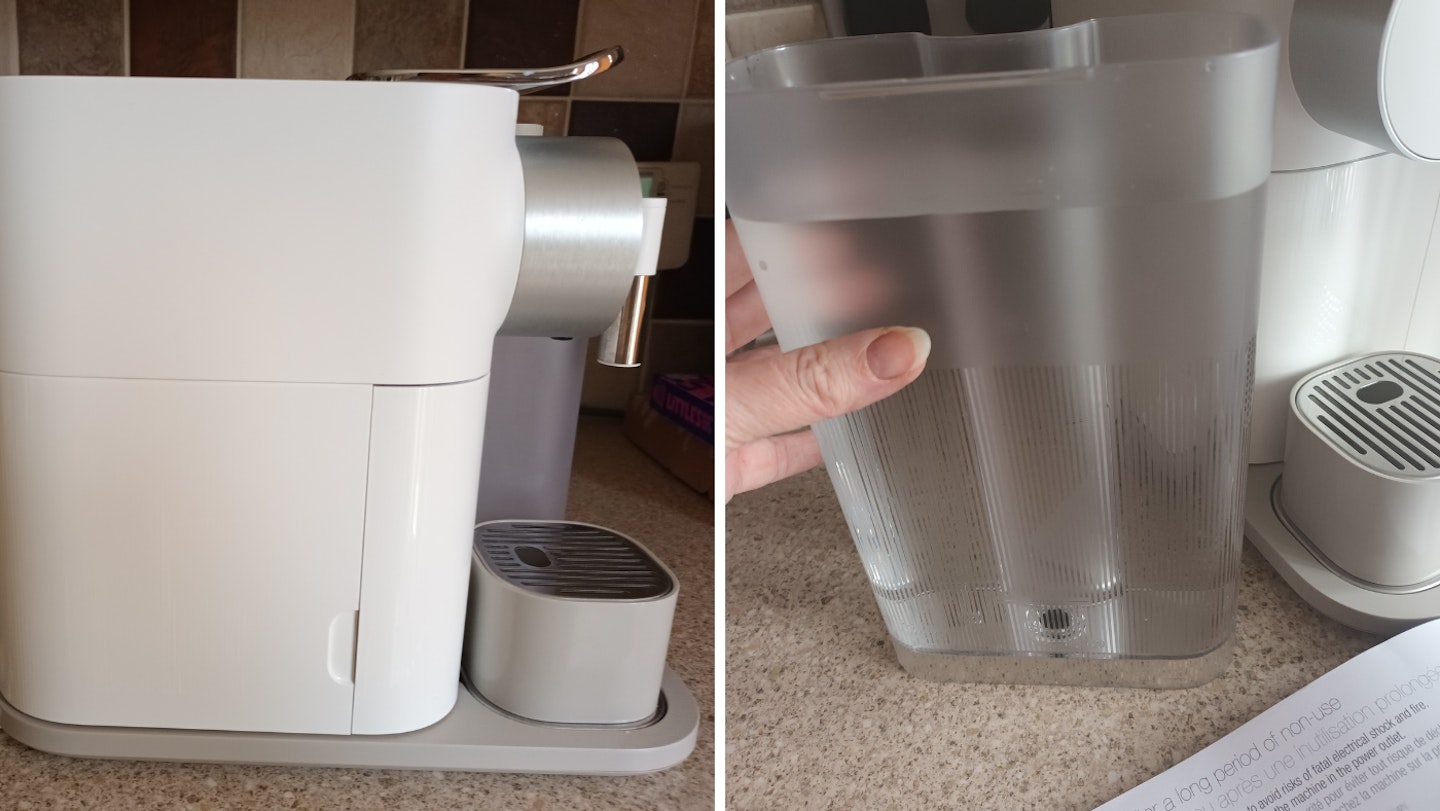 The machine heats up in 25 seconds, which is super quick compared to others on the market. All the parts except for the milk jug connector are dishwasher safe, you must remove this before cleaning.
I tested the machine over a period of four weeks and of the nine drink options available, made the expresso, lungo (americano), cappuccino and a latte. All were smooth-tasting and delicious. The cappuccino comes out smaller than you would normally expect from a café (140ml) but this is to optimise the taste from the pod. You could top up with more milk or water although this would alter the taste of the drink. I personally found that I liked the smaller size myself.
My husband likes the expresso and lungo as when made, they have a crema on top just like a barista-made coffee.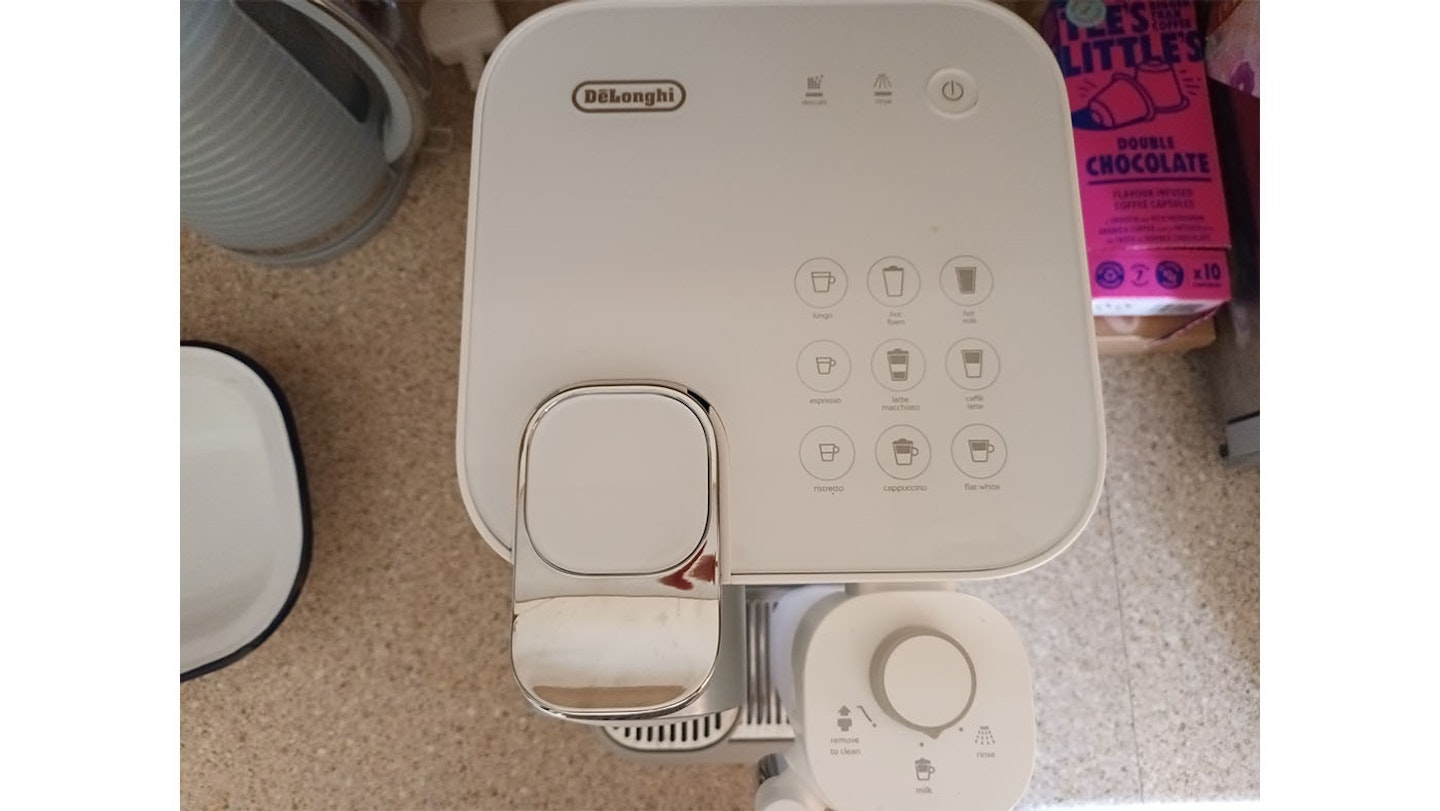 The coffee is smooth and hot and the milk frother produces a light foam which goes straight into your cup, I particularly like this feature, no messing about with frothing the milk with a wand and then pouring it into your drink, it's all done automatically.
The machine has a bar pressure of 19 which I think produces a superior tasting drink, smoother than some other similar machines I have tried previously.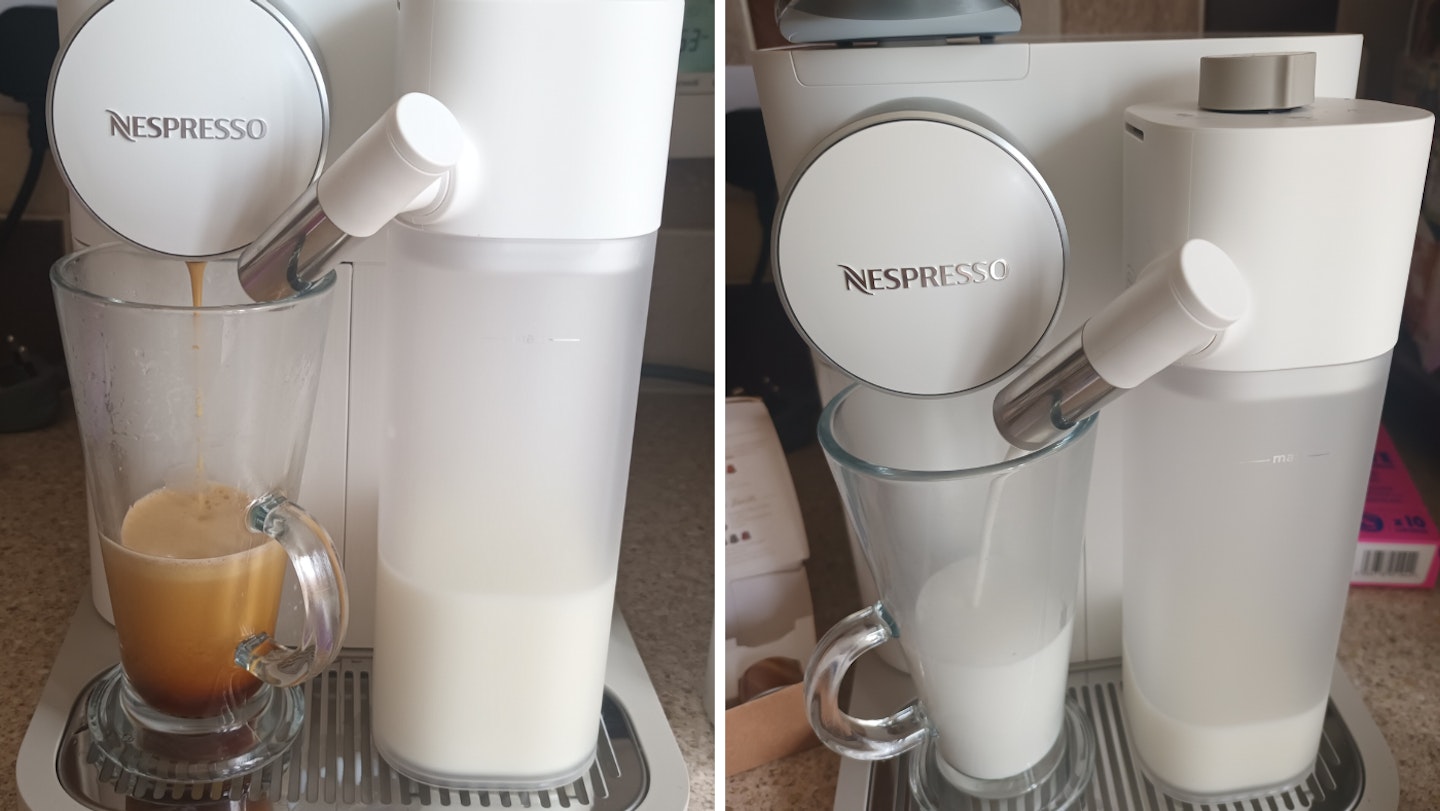 Final thoughts
My overall opinion of the Nespresso Gran Latissima is that it is a modern, stylish-looking machine, although it's a little pricey, it's worth it for the ease of making great coffee and the variety of flavoured pods that are readily available. I think it would be nice to have it available in more colours and maybe have an extended guarantee of 2 years rather than the standard 1 year.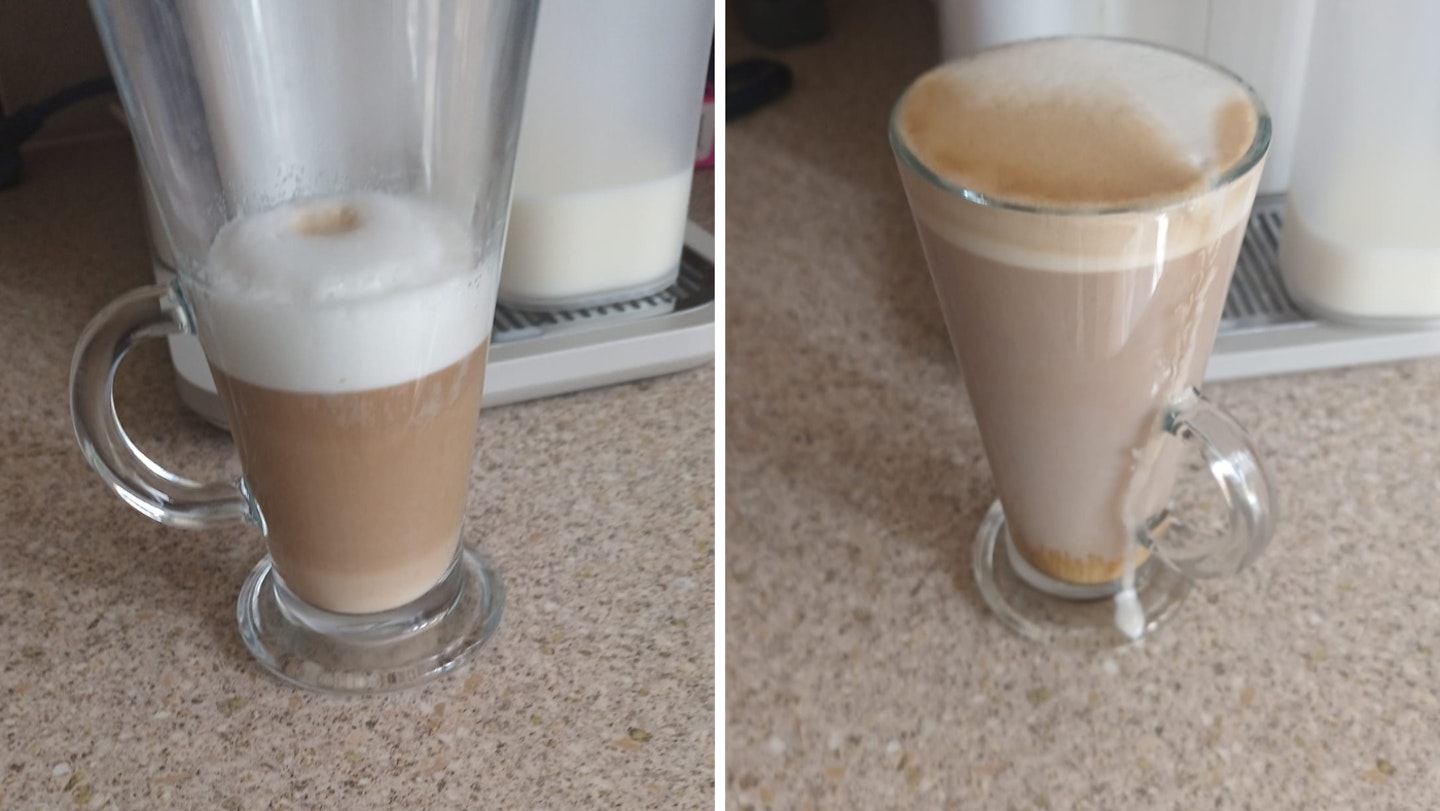 This product is available for £369 so it's at the slightly higher end of the market. However, it makes great-tasting coffee and is simple to use which will appeal to many. This machine is great for those who enjoy a quality coffee taste and a lovely frothy cappuccino or latte without the hassle of using a separate wand or frother.
Nespresso by De'Longhi Gran Lattissima FAQ
What capsules are compatible with Nespresso Gran Lattissima?
You can use any Nespresso capsule coffee pods with the Gran Lattissima coffee machine. Alternatively, there are now many third-party pods from the likes of Aldi that will also be suitable too, just be sure to check the packaging first.
Features & Reviews Editor Emily Gilbert has been a journalist since 2016 and has worked across a variety of specialist and lifestyle brands both in print and online. Specialising in travel content and product reviews, Emily is the first to know about all the exciting new releases, her favourite being gadgets for the home.