If you're fed up with the sight of your laundry draped over your radiators, getting one of the best heated clothes airers could be the solution you're looking for. The great British weather can make it extremely difficult to get our laundry dry, particularly in the autumn and winter when rainy days mean hanging outside is not an option.
This means we're forced to hang our washing inside on an indoor laundry airer or accept the expense of running laundry loads in the tumble drier. However, this can add up quickly on electricity bills, and hanging clothes inside can lead to dampness and condensation and can even be a hazard to our health.
Black Friday deals on heated clothes airers
We interrupt the regularly scheduled content to let you know that although Black Friday is over, there's still time to grab some last chance Black Friday deals on heated clothes airers. These are the retailers that still have deals available or keep scrolling to continue reading our buyer's guide.
Explore Black Friday deals on: Amazon UK | Robert Dyas | Very | The Range | Debenhams
Save £11: Electric Heated Clothes Dryer Drying Horse Rack Extendable, WAS £75.99, NOW £64.99
Save £23: Beldray EH1156 Heated Clothes Airer, WAS £72.99, NOW £49.99
Hanging clothes to dry inside can lead to mould and spores in the air and on your walls. These spores can also trigger health issues and aggravate allergies. So, if your house is prone to dampness, a heated clothes airer will be really beneficial for you.
The best heated clothes airers at a glance:
Best heated clothes airer overall: DrySoon Deluxe 3-Tier Heated Airer - View on Lakeland
Best three-tiered heated airer: Bargains-Galore 3 Tier Electric Clothes Airer Heated - View on Amazon UK
Best for sturdy build: Dunelm 2 Tier Heated Airer - View on Dunelm
The best heated clothes airers to buy
Best heated clothes airer overall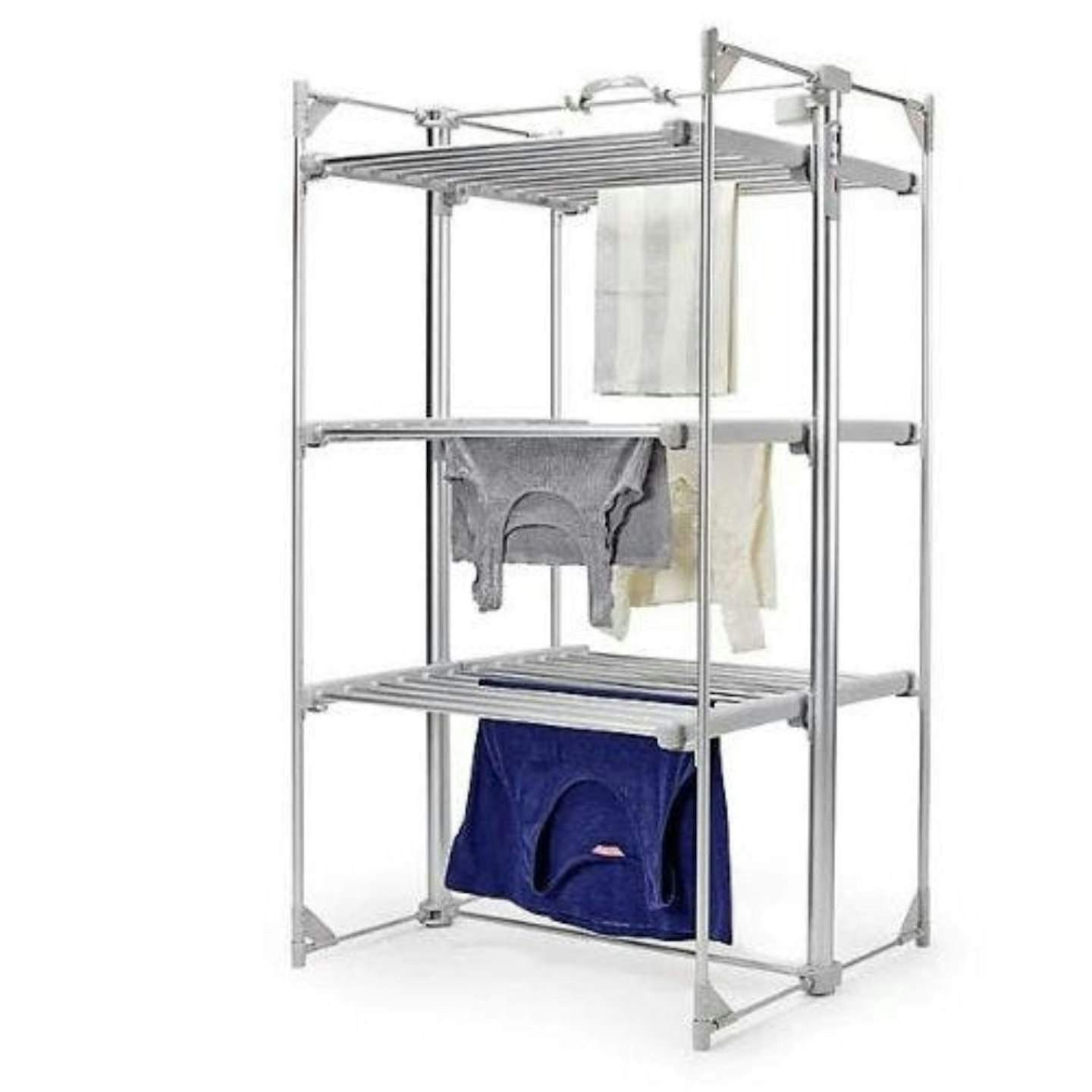 Credit: Lakeland
Description
Rather than hanging your clothes out all day to dry, this speeds up the protest and even has a
Pros
Offers 21m of drying space
Easy to set up
Relatively compact
Sleek design
Cons
Makes more of a difference, leaving some bars empty
Best two-tier heated clothes airer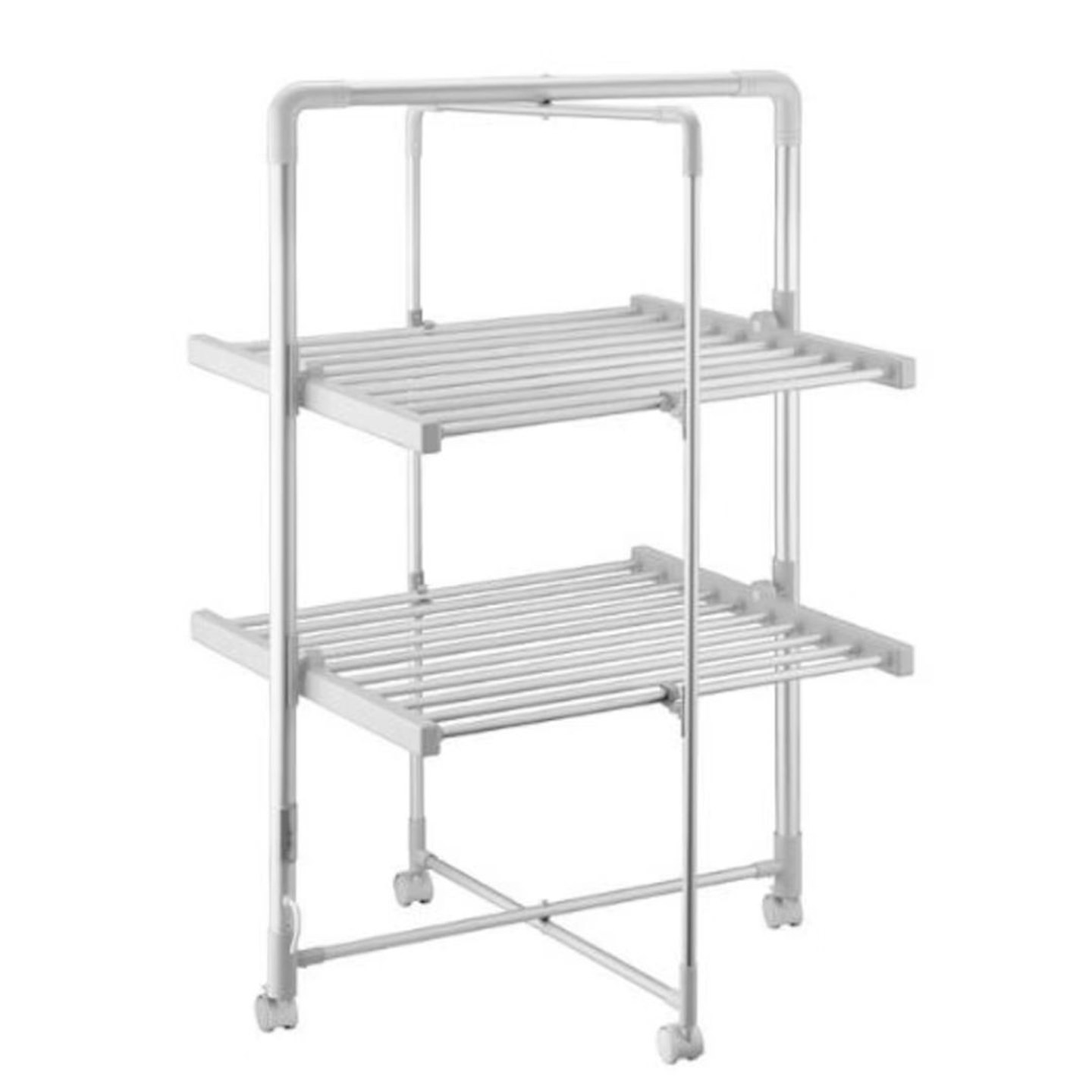 Credit: Amazon
Description
Costing just 6p an hour to run, this two-tier heated clothes airer from Easylife is an effective
Pros
Adjustable drying space to accommodate long garments
Flat drying
Ready assembled
Lightweight
Comes with four detachable castors
Cons
Bottom bars are quite low - not ideal for long clothes or if you have a bad back
Best three-tiered heated airer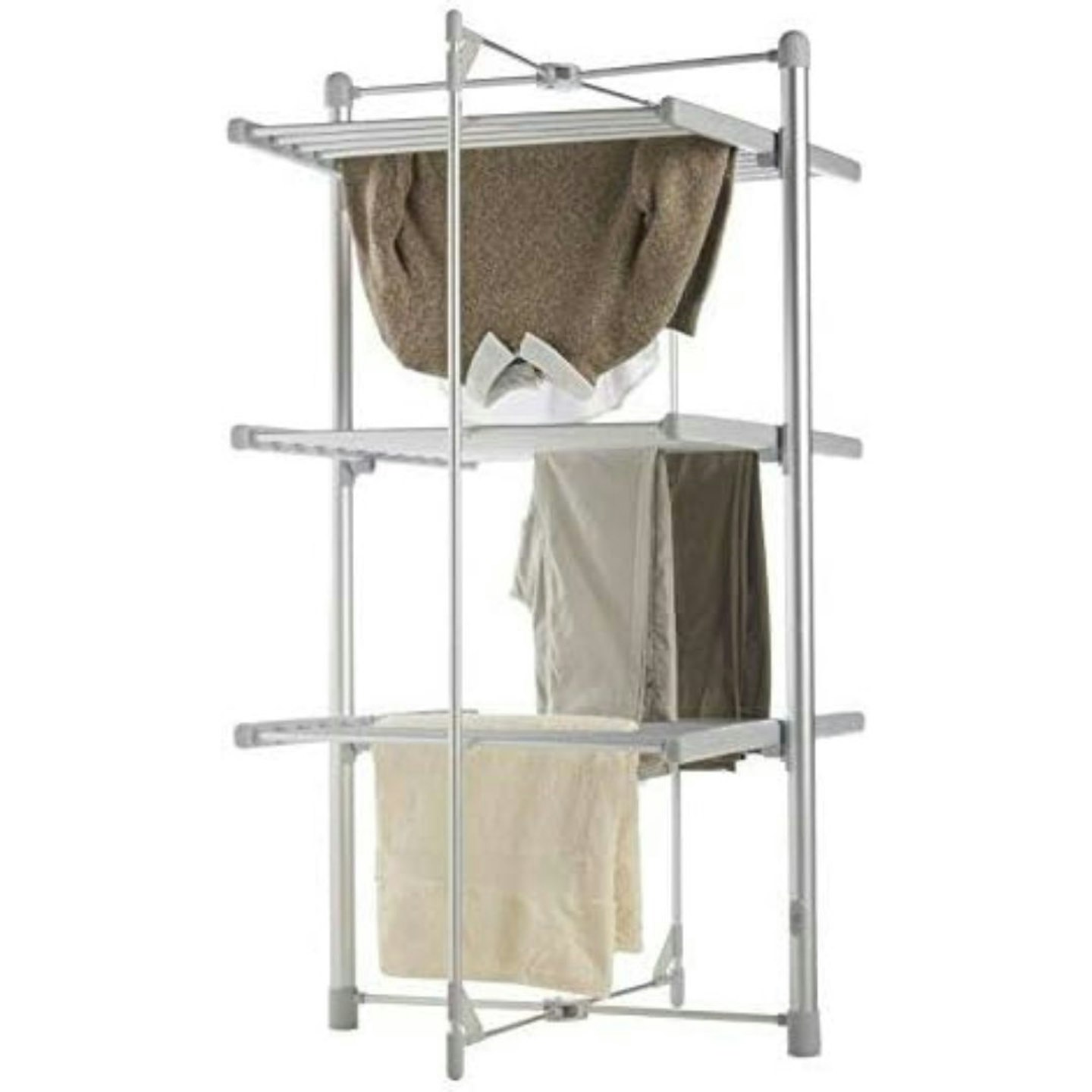 Credit: Amazon
Description
With three tiers to dry your clothes, it's less bulky than a lot of clothing airers which take up
Pros
Ideal for flat drying or hanging long items
Durable
Plastic caps on airer prevents scratching in wooden floors
Cons
Some found it hard to fold up
Best for sturdy build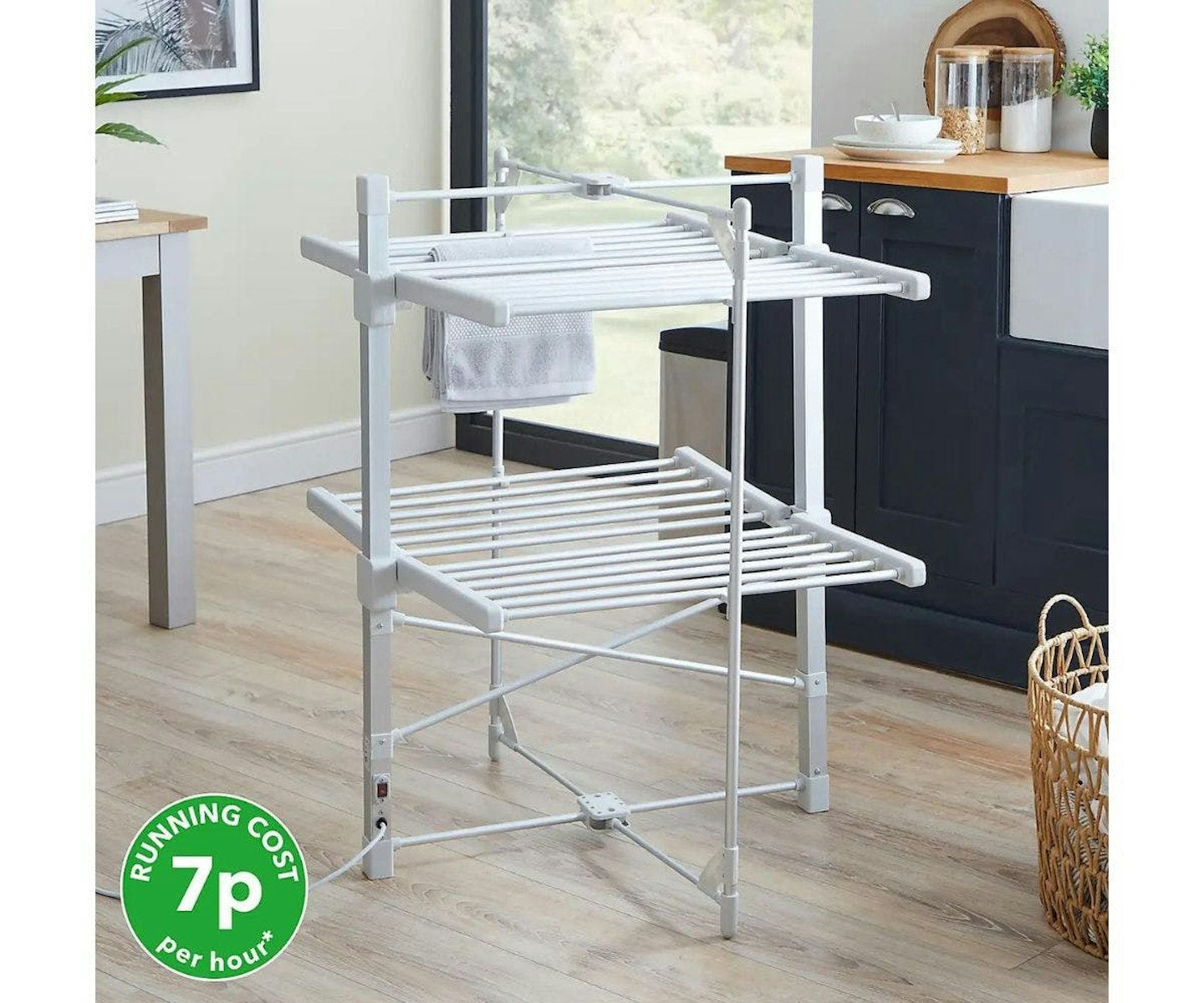 Credit: Dunelm
Description
Whilst customers often find airers to be a little flimsy, they found the opposite with this one in
Pros
Easy to set up
Compact fold
Sturdy build
Lightweight
Heats up quickly
Cons
Some found it didn't heat up hot enough and took a while to dry garments and sheets
Best portable heated clothes airer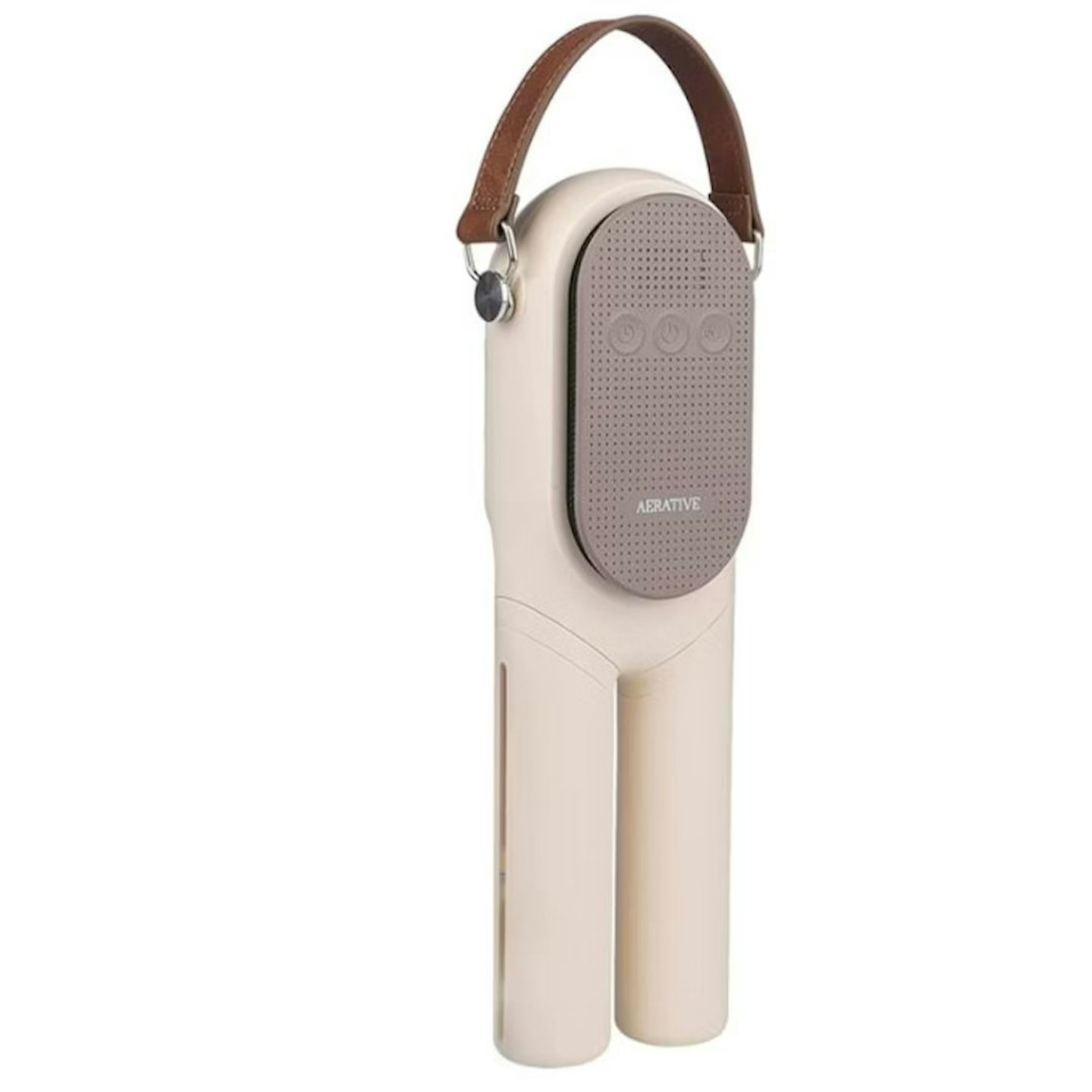 Credit: Amazon
Description
A slightly different inclusion among the more traditional airers on this list - this is a portable
Pros
Portable
Multiple uses
Attractive design
Cons
Still needs to be plugged in
Best for flat drying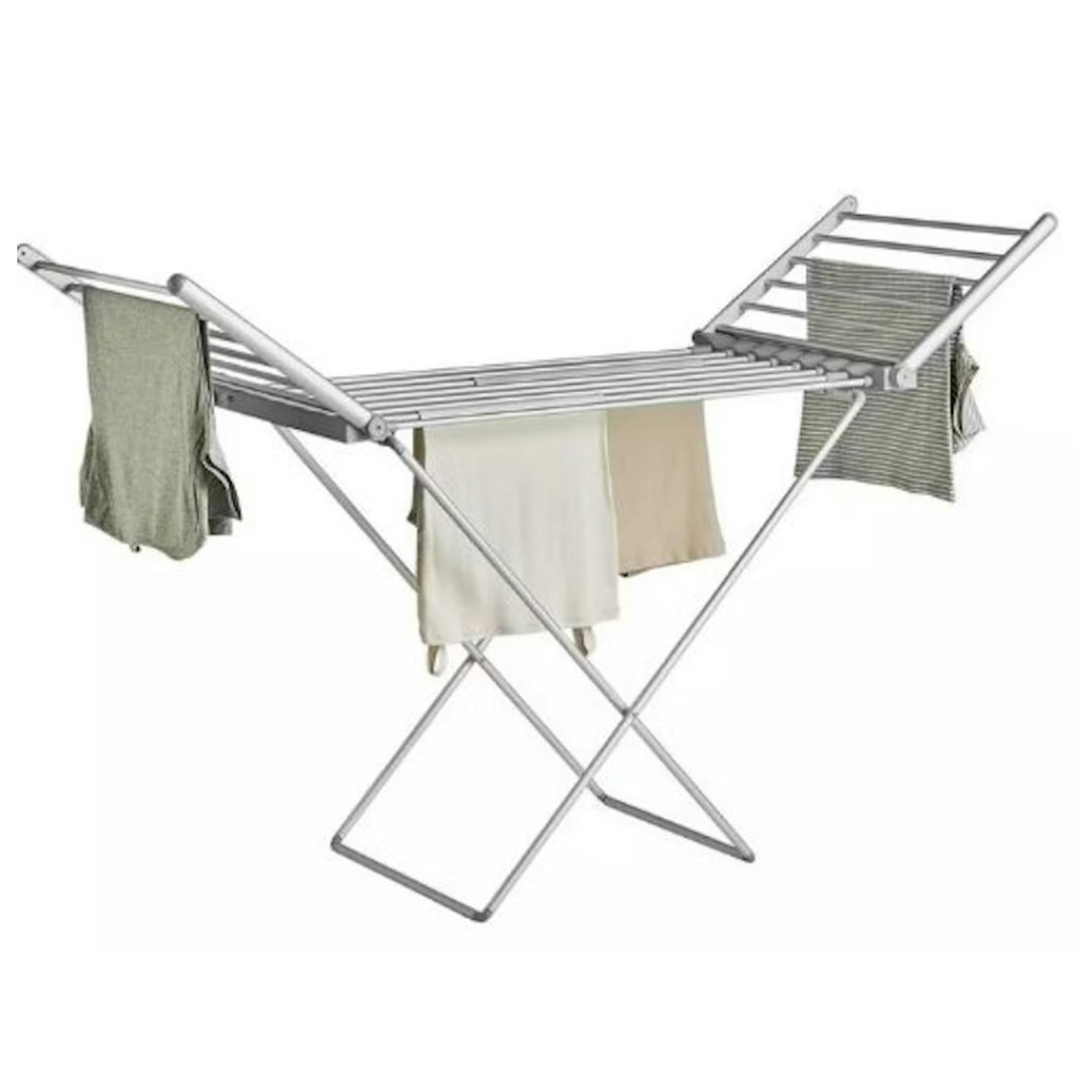 Credit: Argos
Description
A smaller, more convenient option, this heated airer enables you to dry your clothes whatever the
Pros
Quick heat up
Quiet easy to put away
Lightweight
Cons
For best drying performance, it's recommended to regularly move items to dry all parts of the garment
Best heated airer for limited space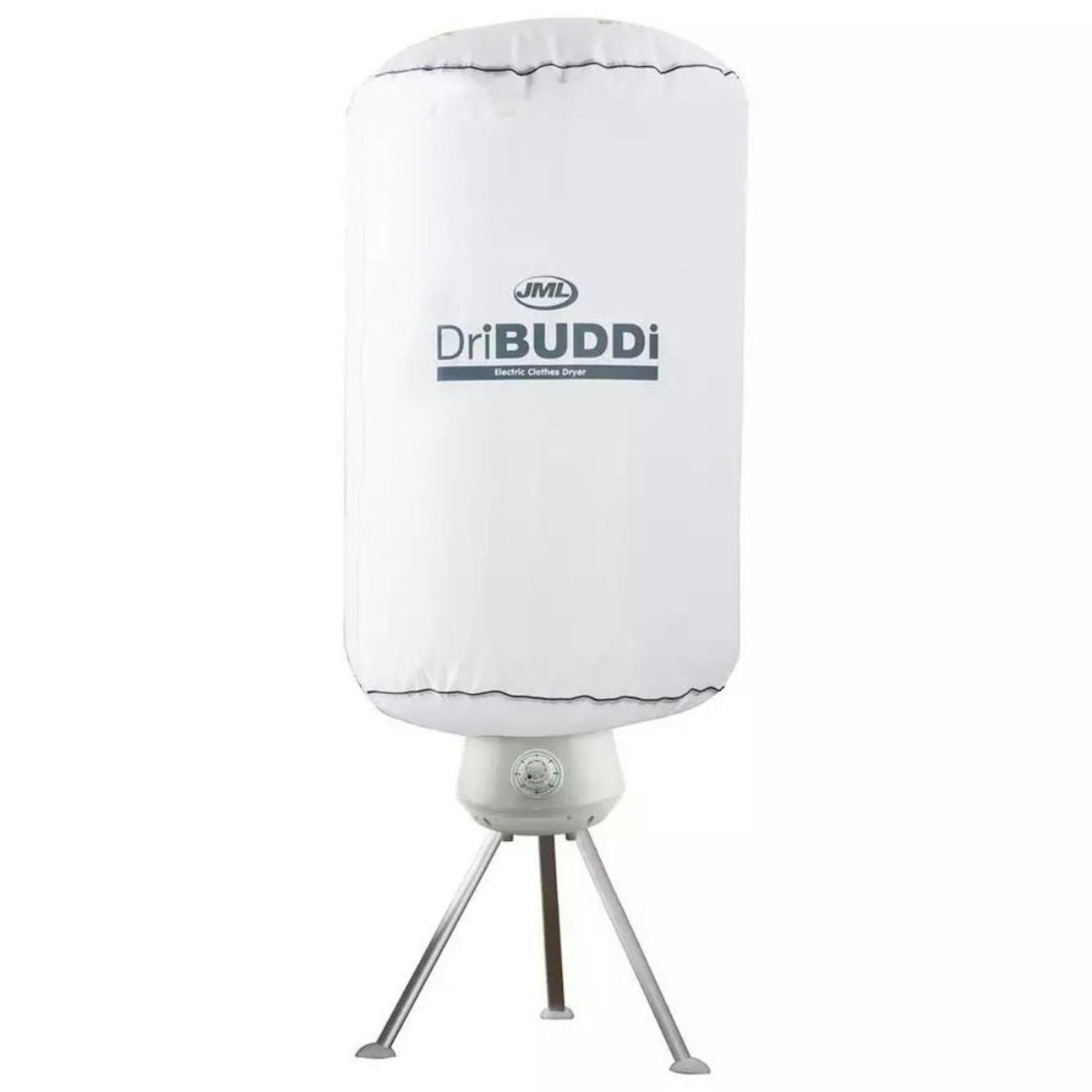 Credit: Argos
Description
Designed much like the Dry Drying Pod, this indoor airer uses a warm air motor to drop creases and
Pros
Compact width
Easy to use
Lightweight
Gentle dry
Best flat drying airer with cover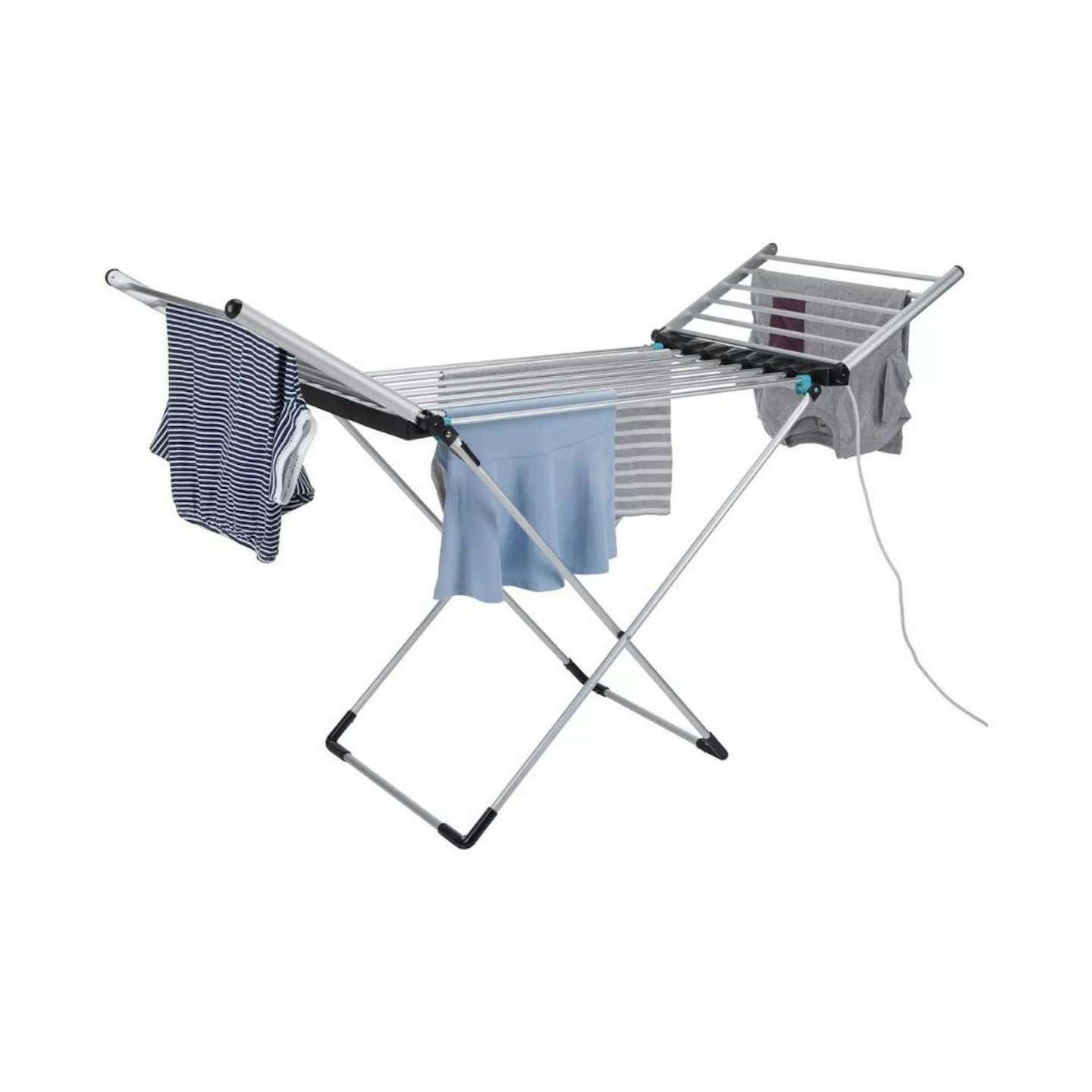 Credit: Argos
Description
Lightweight yet sturdy, this heated clothes airer from Minky is ideal if you've got lots of
Pros
Includes a cover to be more efficient at drying
Sturdy
Holds one wash load
Cons
Larger size may not be ideal for those limited on space
How do electric clothes airers work?
The answer is just like any clothes rack - the key difference being you plug it in!
Each rack on the airer warms, drying the clothes you hang quicker, more efficiently, and at a fraction of the cost of running a drier.
It's a bit like hanging your clothes on the radiator, except a heated airer offers you more space to hang your clothes. Hanging your clothes on radiators actually makes them less efficient at heating your house, meaning your boiler needs to work harder, incurring higher energy bills.
In the warmer months, you won't want to turn on your heating to dry your clothes quicker, and if you have radiators that are unfit for hanging clothes on, this is a perfect solution for you.
Heated clothes airers are perfectly safe, take up no more space than your usual clothes horse, and since they dry the clothes quicker you can take them down and store them away more swiftly than with a standard clothes rack too, saving you space in your home. They also provide a safe place to dry your washed wool garments without ruining the shape of them.
Some come with covers, which make them even more efficient by holding the heat inside the airer rather than letting it escape. Electric airers are also very economical to run, some less than 3p per hour.
Hints and tips to get the best out of your electric heated airer
Electric heated airers can be a convenient and energy-efficient way to dry your clothes, especially during the colder months. To get the best out of your electric heated airer, here are some tips and hints:
Load Clothes Properly: Do not overload the airer. This is one of the most common mistakes. Avoid putting too many items on the airer at once. For efficient drying, leave enough space between items to allow warm air to circulate. Shake out clothes before hanging them to reduce wrinkles.
Choose the Right Location: Place the airer in a well-ventilated area, but not too close to open windows or doors, as this can decrease its efficiency. Ensure there is enough space around it for proper airflow.
Sort Your Laundry: Dry similar types of clothing together. Lightweight and heavy items can have different drying times, so it's more efficient to group them.
Use the Timer: If your airer has a timer or adjustable heat settings, use them to control the drying time and temperature. Not all items need the same level of heat or drying time.
Rotate Clothes: Periodically rotate or reposition the clothes on the airer to ensure even drying. This is especially important for larger items like towels or bed linens.
Drying Order: Start with the lightest items first, as they tend to dry faster. This prevents you from having to remove dry clothes and leave damp ones on the airer for longer.
Check for Dryness: Periodically check the clothes to see if they are drying evenly. Remove items as they dry to make space for others.
Ventilation: Ensure there's good airflow in the room. If your home is too humid or poorly ventilated, it can slow down the drying process. Use fans or open windows slightly if necessary.
Energy Efficiency: Use your airer during off-peak electricity hours if your electricity provider offers discounted rates during certain times of the day.
By following these tips and hints, you can make the most of your electric heated airer, ensuring efficient and effective clothes drying while prolonging the life of the appliance.
Heated clothes airers FAQs
Are heated clothes airers expensive to run?
Electric airers are really economical to run and a lot cheaper than a tumble dryer. Some can even cost less than 3p per hour, though more commonly you're looking at 4-6p per hour when in use.
Do heated airers shrink clothes?
No! Using a heated clothes airer is just like drying your clothes on a radiator, giving you no shrinkage and reducing creases at the same time.
Can you leave heated clothes airer on overnight?
Heated clothes airers are really safe, but of course, we wouldn't recommend leaving it on overnight while unattended. However, thermostatic-controlled ones with auto-off timers are perfect for getting some controlled drying time overnight, if necessary.
Hannah Carroll is a Senior Home, Parenting and Lifestyle Product writer for Yours, specialising in product testing and reviews. As a mother of three, Hannah loves finding clothes that make her feel fabulous and products that are great for large families.