If you're anything like us, you'll be living in wooly jumpers throughout the whole of the autumn and winter season, so it's essential you know how to wash wool without ruining your favourite Christmas jumper.
The good news is, that wool is naturally stain, odour and crease resistant, meaning it requires less washing than your other clothes. When the time does come to wash your wool, there's a few ways you can go about it.
Before you begin, always check your garments washing instruction labels to see if they can be washed in the washing machine or if they require hand washing only.
How to wash wool in the washing machine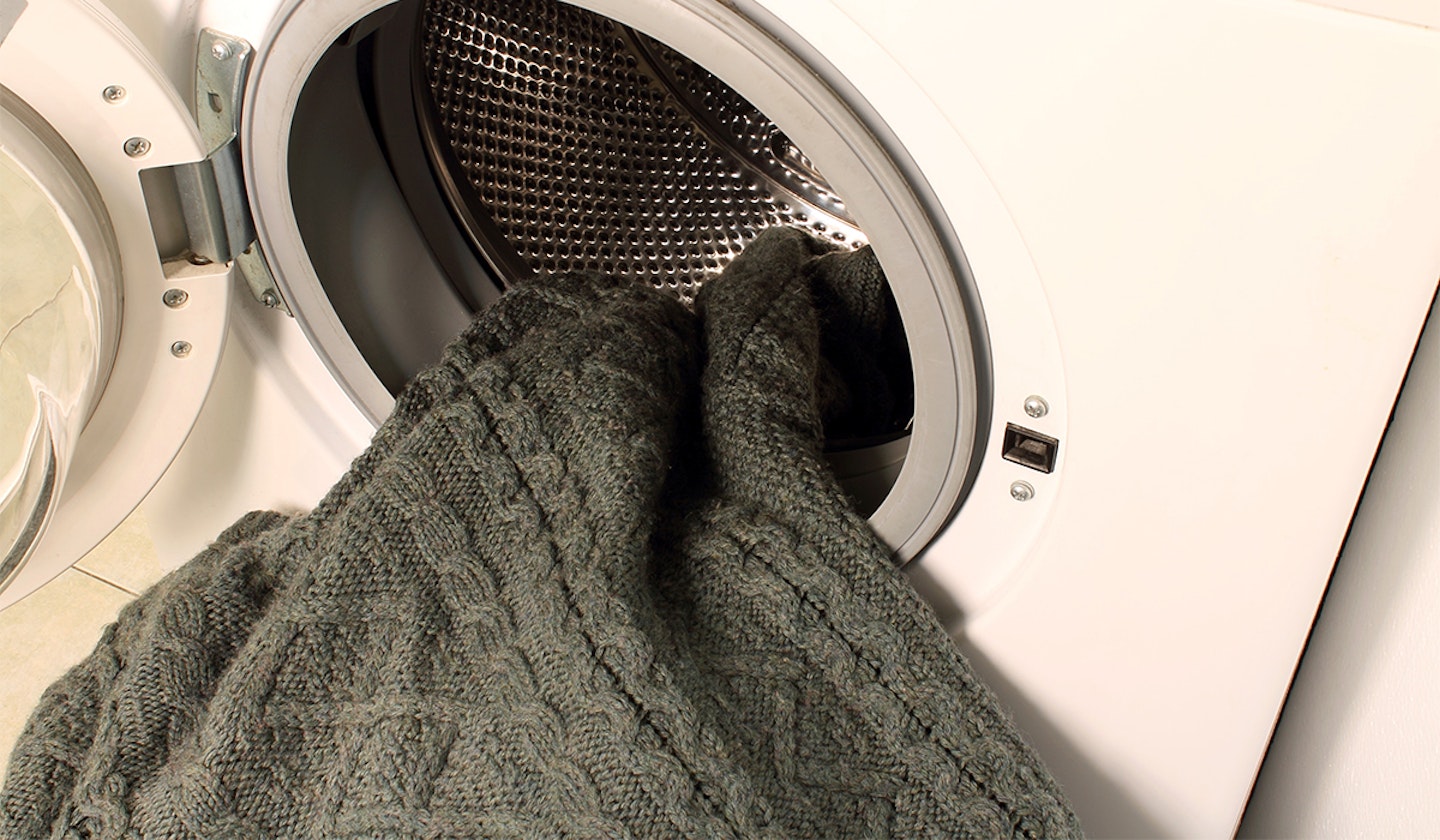 Many wool items of clothing can be washed in the washing machine safely (just as long as the label says you can) without shrinking.
Most modern washing machines have a wool setting. This is normally a gentle washing cycle at 40 degrees or less. If you don't have a wool setting on your washing machine, use a delicate wash or cold water wash setting.

It's best to use a natural, mild detergent when washing wool, preferably one that's Woolmark recommended. You can usually find this symbol on the packaging.

When it comes to drying your garment indoors, it's best to flat dry your clothing. You can do this by laying your wool garment out flat on a clean towel until it's fully dried. You may also prefer to lay your garment over the top of a heated clothes airer as the heat won't affect your clothes. Depending on the weather, you might prefer to air dry outside. It's not advised to hang wool on the washing line as it could lose its shape due to how heavy wool is when damp, so instead, lay your clothing out flat on a wire drying rack outside.
How to hand wash wool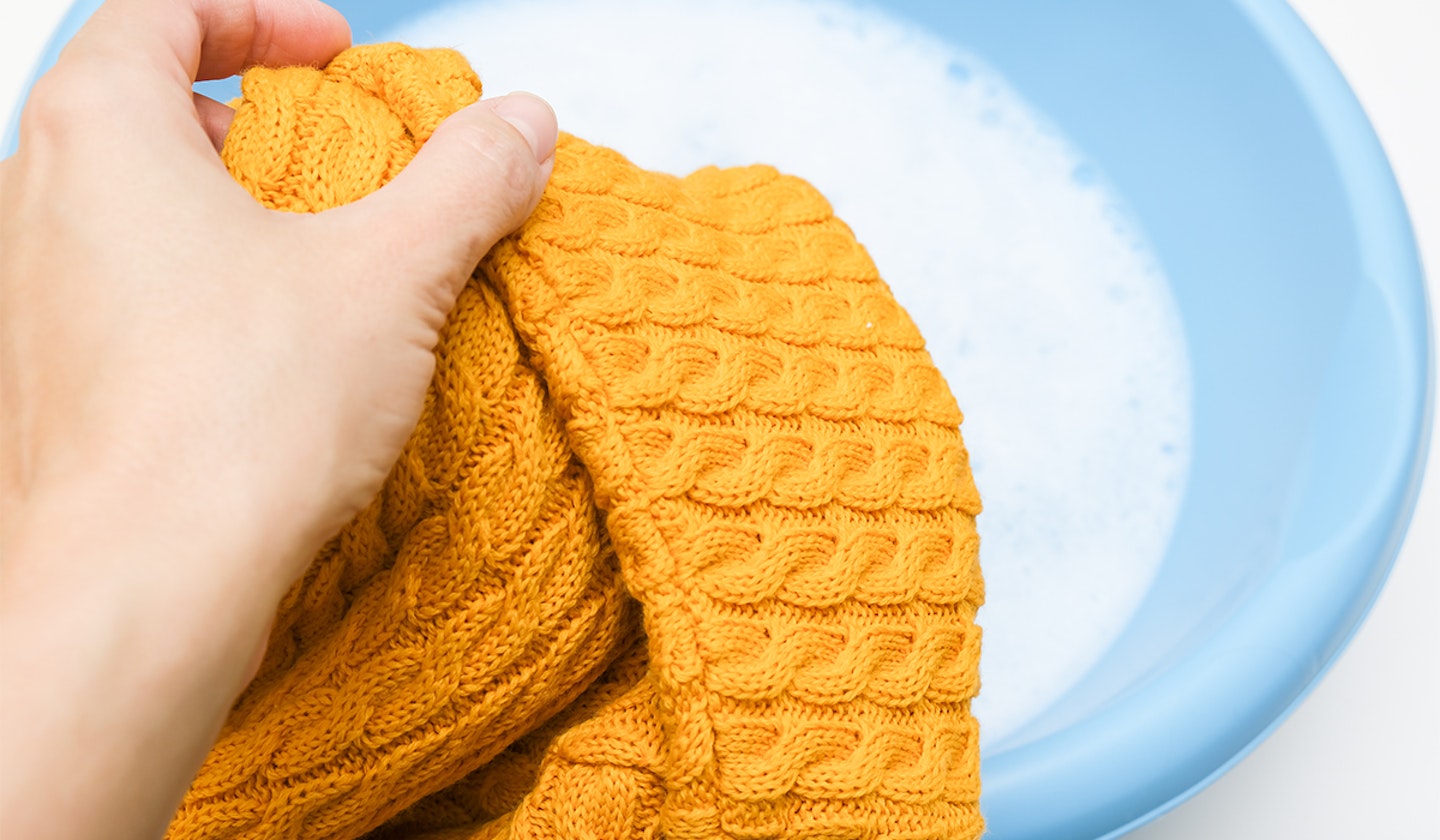 If your garment is marked hand wash only, fear not. While it can be tempting to leave your hand wash clothing items at the bottom of your washing basket, it's easier than you might think to hand wash wool.
Turn your garment inside out and place it in a bowl of clean lukewarm water (ideally 30 degrees) with some mild and gentle detergent in.

Allow your garment to soak for 10 minutes before rinsing in lukewarm water then finally rinsing in cold water.

Dry your hand washed garments in the same way as described in step three above.
Is it possible to unshrink wool?
We've all accidentally shrunk one of our favourite wool items of clothing, but before you panic about ruining your favourite jumper, there are ways to 'unshrink' it. While the garment is still wet, lay it out flat on a towel and gently stretch it out to the desired shape and use safety pins to secure it to the towel to keep it in shape before leaving to dry.
Note that there is a risk of damage when using this method, so it really should be treated as a last resort. It may not be possible to get it to its original size and shape.
How to spot clean wool
Whether you've spilled some food on your wool jumper or have accidentally get some makeup on the collar of your wool top, there's nothing more annoying than getting a mark on your freshly washed wool jumper. Luckily there are ways of spot cleaning your wool to remove stains.
Start by using a lint free cloth that's been soaked in white spirit or spot stain remover spray. Start dabbing the stain gently from the outside in. Once the stain has been removed, use an absorbent cloth or towel to soak up the excess solvent and leave to dry.
For oil or grease stains, begin by scraping off any remains of the grease with a blunt knife before laying some tissue on the area of stained wool and using a hot iron to soak up the excess oil.
To enjoy more regular stories just like this, become a Yours subscriber and become part of our fun and friendly community of like-minded readers.
Lorna White is a Senior Digital Writer at Yours.co.uk. She was previously a writer at Yours Magazine writing features and news stories before joining the digital team. Lorna loves the great British countryside and likes to spend her spare time out and about in her home of Nottinghamshire walking her dog, Pippin.