The Emma NextGen Premium Mattress is a good contender for being the best mattress for aches and pains. We all know that getting a good night's sleep works wonders for improving focus and productivity. Then, there are some of us who have aches and pains and we're looking for a solution. Cutting-edge technology for comfort and pain relief is front-and-centre with the Emma NextGen Premium Mattress.
By increasing the height of the pocket springs from 12cm to 18cm this mattress provides better pressure distribution. In addition, there are three foam layers and a stabilising layer that provides improved comfort and ergonomic support. This innovative construction allows you to change your sleeping position without waking up your partner – less creaking springs and more body-hugging support, so to speak.
We tested Studio by Silentnight Memory Hybrid Mattress which was praised for its targeted body support. This mattress is also medium-firm and claims to offer 20 per cent more ergonomic support than the Emma Original Mattress. In addition, Emma claims that the improved Infinity pocket springs provide better airflow and breathability for sweat-free sleep. It uses a different structure from the iGel Mattress, which we rated the best mattress for hot sleepers. With highly breathable Point Elastic Airgocell® technology, the Emma NextGen Premium Mattress absorbs and evaporates sweat.
As someone who is in need of a good night's sleep, Homes & Garden product writer Natalie Knowles tests the Emma NextGen Premium Mattress and is hopeful for sweet dreams.
Key features
• Edge-to-edge (E2E) technology – no frame thanks to the improved durability of the zoned pocket springs
• Great breathability and spinal alignment
• Breathable cover – that's soft to the touch and keeps your body comfy and cool
• Recyclable materials and reduced carbon footprint to make it Emma's most sustainable mattress
Testing the Emma NextGen Premium Mattress
How we tested
Oh, how I need a new mattress that promises back support. I'm having physio for a winging shoulder blade and collarbone injury, which has resulted in my left shoulder becoming partially dislocated. The GP appointments, X-rays and referrals have been going on for months and I'm so ready to feel comfortable again. I've done everything possible to make sensible lifestyle choices to minimise the pain. Also, if improving my mattress can help, rest assured, I'm all for it. Primarily, I'm testing the Emma NextGen Premium Mattress to see if it can reduce the discomfort I'm in for a better night's sleep. Just to say, I'm doing this in conjunction with other lifestyle improvements including yoga, taking magnesium, a healthy protein-rich diet, and a pillow spray.
I've unboxed the Emma NextGen Premium Mattress to test how it inflates to become a full double bed mattress. Also, I've taken a look at the packaging design with regard to its recyclability. I've slept on the Emma NextGen Premium Mattress for a month and through journaling I've loosely recorded how well I was sleeping. In addition, I dabbled with the Emma Up app which helped me to understand my sleep patterns and improve them.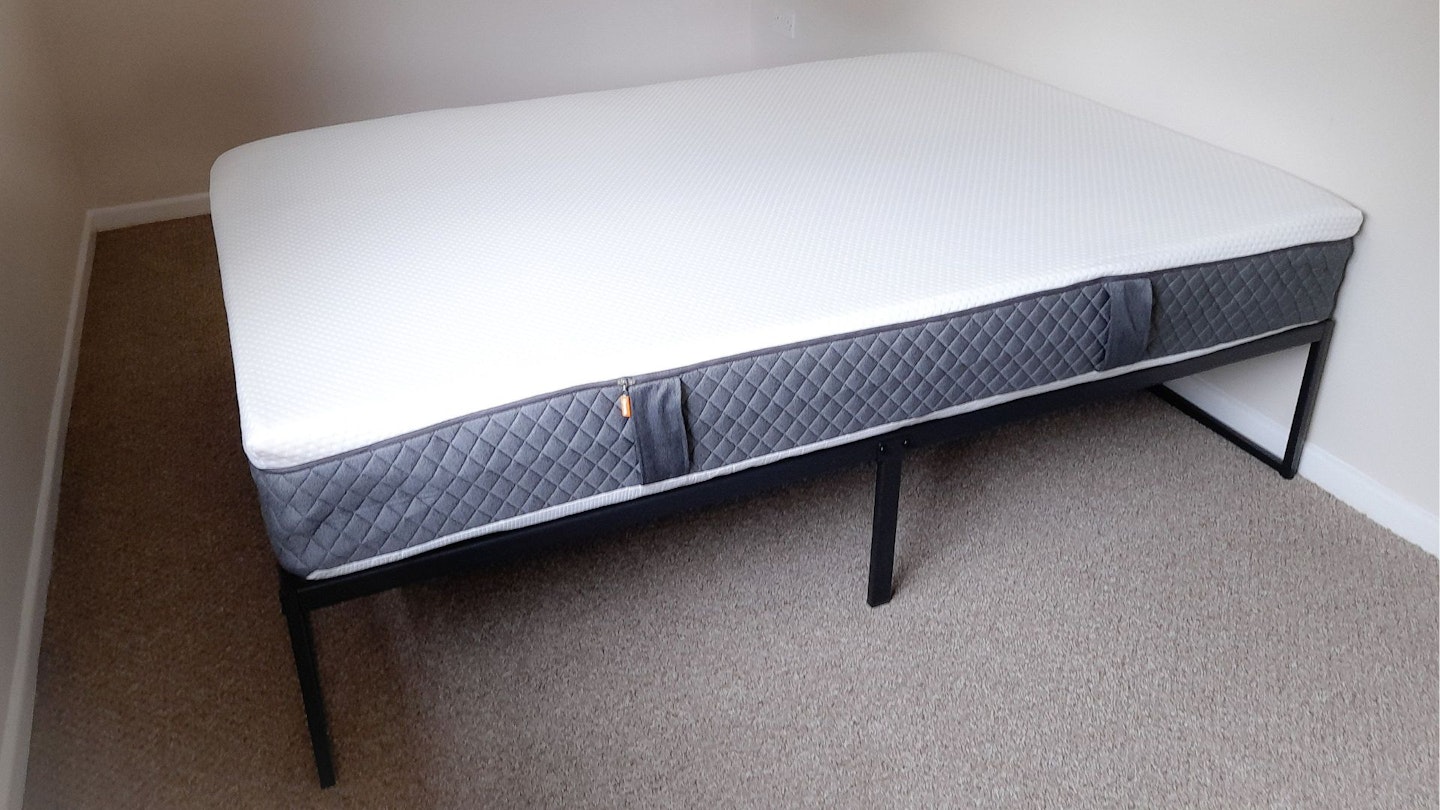 Performance
The Emma NextGen Premium Mattress is a hybrid of foam and spring. It targets seven zones in the body: head, shoulder, lumbar, pelvic, knee, lower leg and foot to provide support and comfort. It has two layers of high resilience foam, extra tall pocket springs, a layer of Visco foam and a stabilizing layer. In addition to superior back support, this mattress has breathable materials that regulate temperature; an absolute boon in hot weather. The cover is removable and machine washable to keep it fresh. Unzip to reveal the memory foam and pocket springs inside. Keep the mattress cover hygienic and allergen-free for years with an occasional wash.
The two features I've noticed the benefit of in particular are temperature regulation and absorbing motion and noise. I'm not a hot sleeper but I've been testing this mattress during a heatwave and I've kept cool during the hottest nights of the year. I am a fidget, tossing and turning until I get comfortable (blame my bad back). There's no creaking at all from this mattress. If you're sleeping with a partner there's less disturbance from them getting up to go to the loo, for example. But I can't promise that this mattress will stop them from snoring.
Usability
I've never had a memory foam mattress before and it feels noticeably firm and solid. But it subtly moulds to your body and supports it. I felt able to drift off without the usual tossing and turning as all my vertebrae clunk back into place. My quality of sleep is better. I agonised thinking about whether it was just me wanting the mattress to have a placebo effect on all my aches and pains. But even when I took a 4pm nap, I felt utter contentment and I was able to relax.
Back sleepers should opt for medium to medium-firm mattresses. Front sleepers need their alignment supported with a firm mattress. Side sleepers put all of their weight onto one side of their body. This creates pressure points on the hip and shoulder. A softer, contoured mattress is the best option to redistribute body weight. I tend to sleep on my front, but regardless of whether you're a front, side or back sleeper, this mattress will support you. Side sleepers should potentially invest in an additional soft pillow to support their neck and shoulder.
Yes, I have discovered a mattress that helps to support my spine and hyper-mobile bones, giving me the blissful relief of a deep and restorative sleep.
Build
It's a hybrid mattress, being a combination of metal springs and memory foam and it's Emma's most environmentally friendly mattress yet. By decreasing the amount of foam used by 79 per cent, and incorporating 51 per cent recycled steel springs, the mattress effectively lowers its CO2 emissions. The NextGen Premium emits 32 per cent less carbon per kilo and a significant 58 per cent less than the Emma Original.
This mattress offers exceptional comfort too. It's like a Scooby sandwich of five supportive layers and seven zones that instantly adapts to your body's shape. It gives your back firm support whilst cradling shoulders and hips with a softer feel. The enlarged pocket springs also help to reduce night sweats by maximizing airflow, preventing overheating. Believe me, this is true, I was testing the mattress during the hottest weeks of the year. The upper layer is Halo Memory Foam™ which is an adaptive and highly breathable foam that eases the pressure on sensitive joints. Press lightly on the top few layers of quilted memory foam and it moulds itself to your touch. This layer also aligns the spine and provides body-hugging comfort.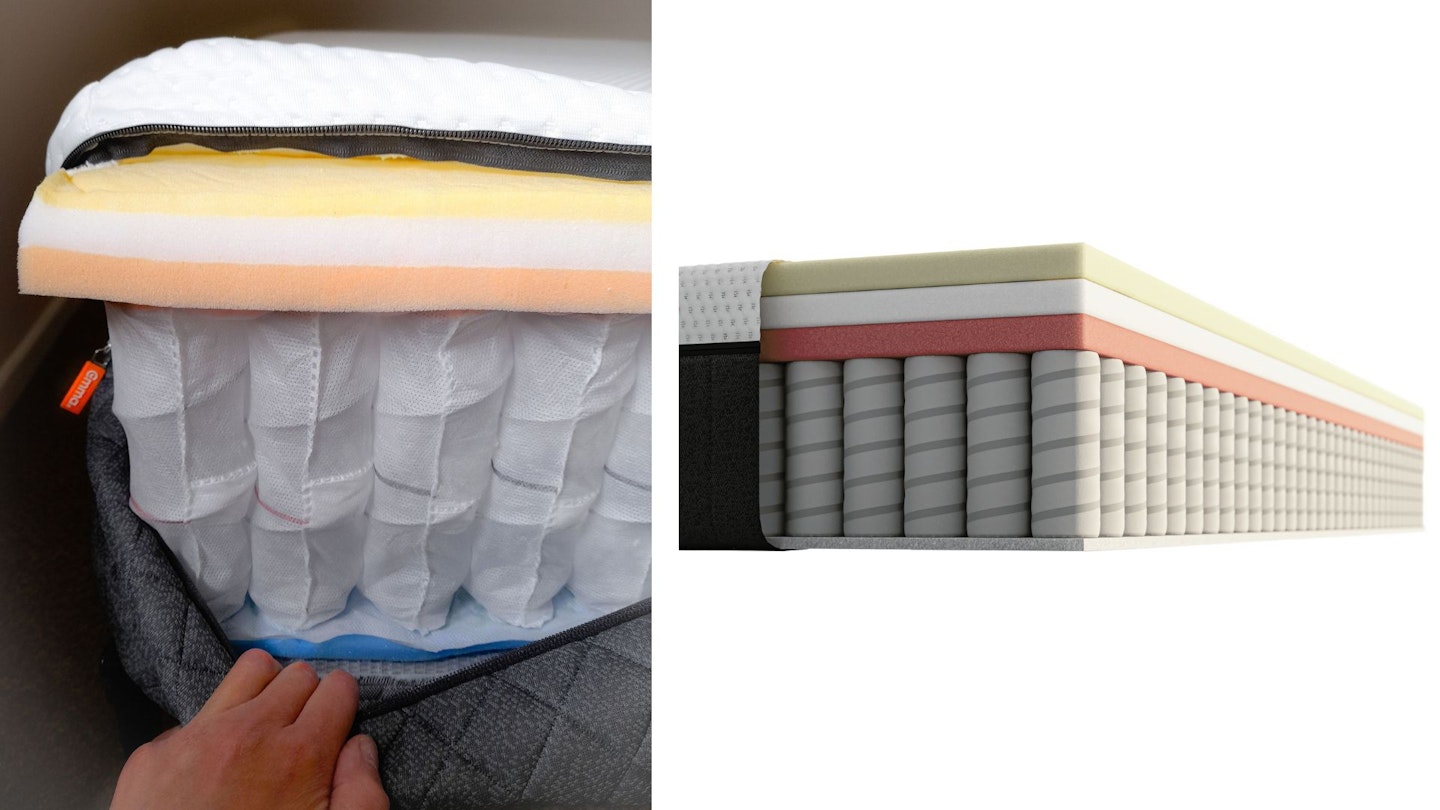 Next, there is Point Elastic Airgocell® which is a foam that regulates temperature. The denser foam layer below provides reinforcement and reduces motion transfer. Zoned metal springs are edge-to-edge without the need for a frame to support the mattress. Finally, the High Resiliency Extra (HRX) base foam provides durable stability for relief, rest and recovery no matter what position you sleep in.
The zip enables you to easily remove the Emma UltraDry™ outer cover. This award-winning breathable cover has moisture-wicking properties. Meaning sweat moves to the fabric's outer surface so it's rapidly evaporated rather than absorbed which helps to regulate your body temperature. The wide and soft handles make it very easy to manoeuvre.
Unboxing the NextGen Premium Mattress
The mattress arrived in a compact rectangular box. Its extraordinary packaging and means a double mattress can fit in the back of a car with the seats collapsed. Or pop it in your car boot if it can accommodate 45 x 45 x 110cm.
The cardboard box has stylish bright orange and white Emma Sleep branding. The box is roughly a quarter of the size of a double mattress, but it is heavy and really needs two people to lift it. I shimmied it like I was doing a Strictly Come Dancing routine, but I recommend you enlist a partner to help. There's a QR code on the inner lid of the box which takes you to an ebooklet about the mattress. And that's it, were no paper instructions or marketing inside the box.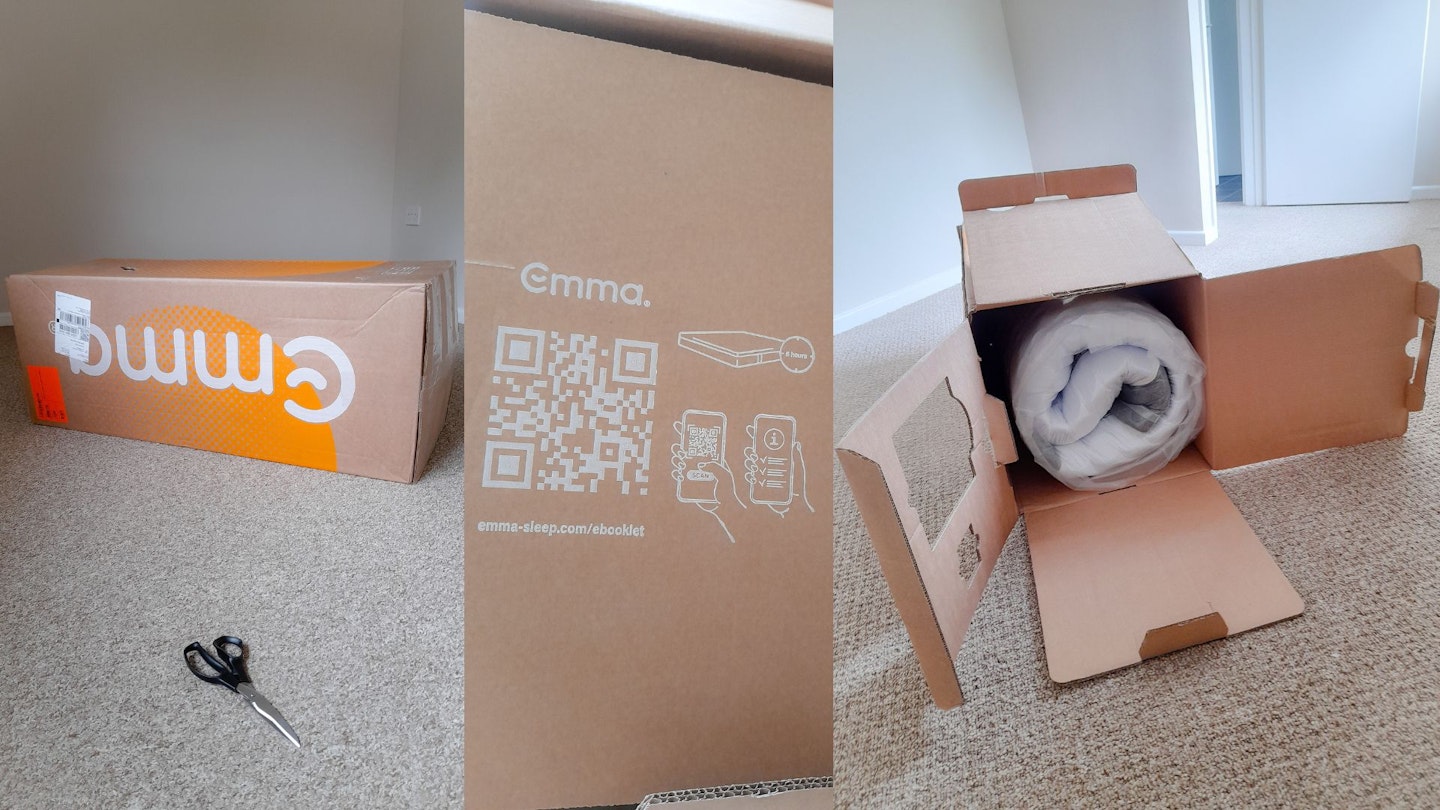 I was doing the unboxing on my own. I used a strong pair of scissors to cut through the cardboard lid and the mattress slid out of the box with ease.
I cannot believe this mattress has steel springs. The rolled mattress is completely deflated and wrapped tightly in plastic. It's like those plastic vacuum bags to store clothes in. You suck the air out with a vacuum so it condenses the garments and they can be transported or stored without dust or damp getting into them. As I unrolled it I could see the springs gaining more definition. I could hear it hissing. This process happens quite fast over the course of 30 minutes. There's an icon on the inside lid of the box that suggests waiting five hours for the mattress to be useable.
Luckily, I was in a completely empty room at Knowles Manor so the mattress and I could go twelve rounds with this 29.5kg beast until I freed it from the plastic. It's amazing how it takes shape so quickly. I'm fairly strong (apart from my shoulder), but I do recommend having a second person to help. This unboxing was better than a gym workout and bear in mind this was the hottest day of the year so far. It got my heart rate up that's for sure.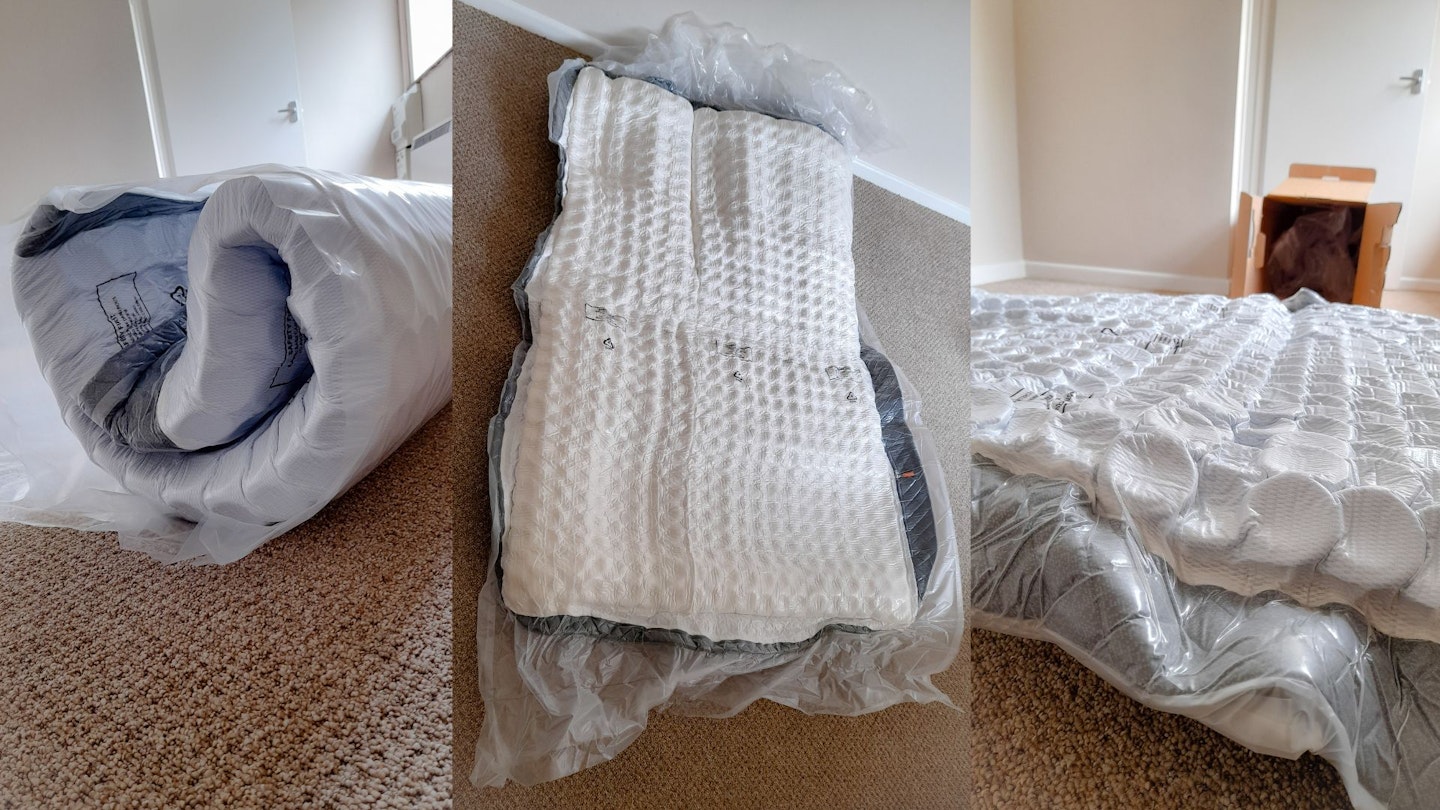 I wished I hadn't flipped the mattress earlier when I was wondering which way up it should go, as the slightly shiny base was on top. You can tell by the touch as it feels slightly plastic and non-slip, whereas the top of the mattress feels like soft puckered fabric. An indication on the plastic wrap would have helped. But as a helpful guide, the zip with the orange tag indicates it's the top side of the mattress. Now I had to flip it. Thankfully, there were wide fabric handles on the side of the mattress that I could grip. I went through the pain so you don't have to. But actually, it was easy to flip over and remove the remaining plastic.
I was in a newly painted room, so it was difficult to tell if the mattress smelt strongly. But I do think there was a smell from it (known as off-gassing). This was confirmed after sleeping on it for a night or two. Nothing bad, just a new mattress smell that's particularly noticeable when you take it out of the plastic.
I need a lie-down!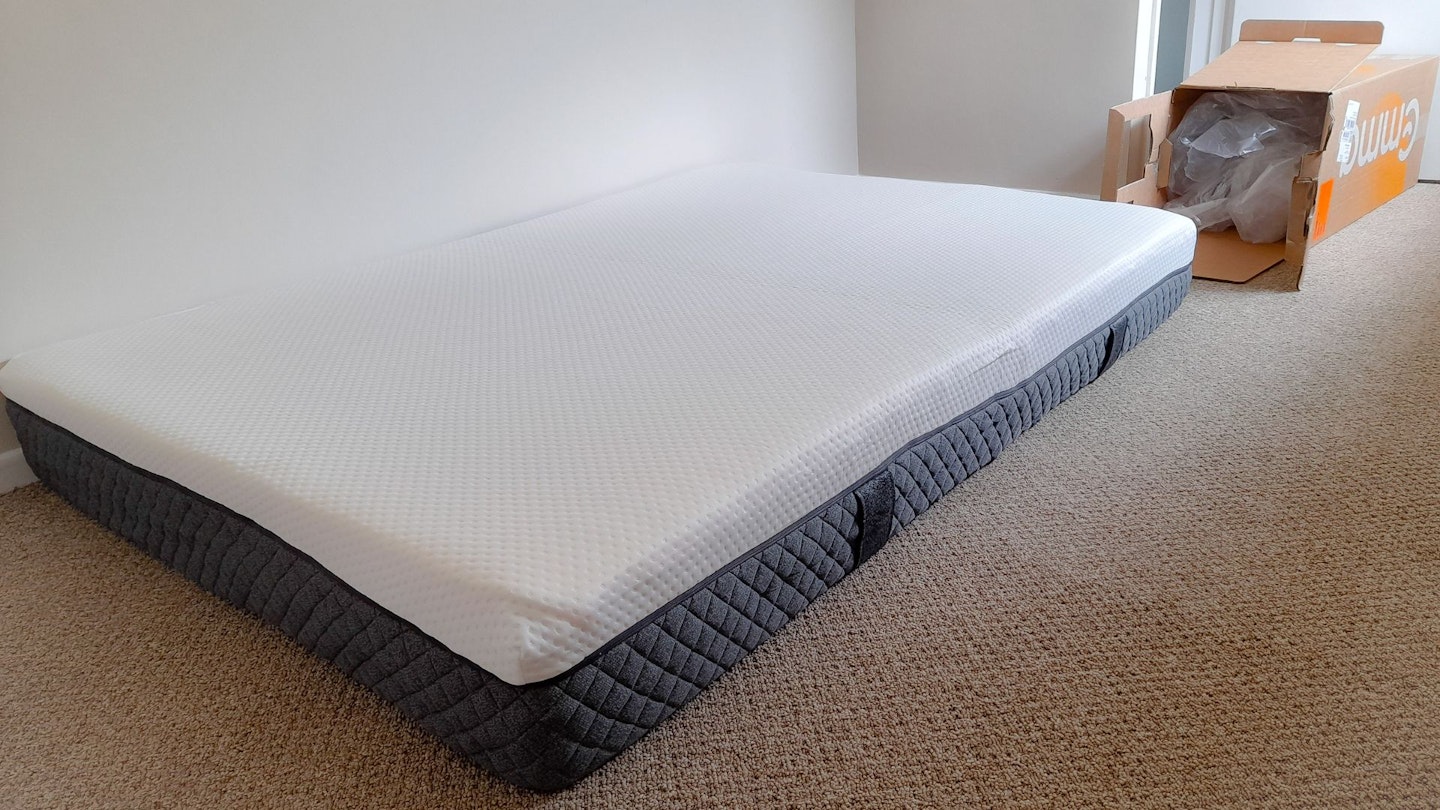 Fitting a mattress protector on the Emma Sleep mattress
I read several reviews where people are caught out by the depth of the mattress. As such, fitted sheets and mattress protectors come up too short. The Emma Sleep mattress is 23cm deep (I measured with a good old-fashioned ruler). I've purchased a Slumberdown mattress protector that has a skirt depth of 25cm.
With a mattress that's as wonderful as this, I'm not risking getting anything spilt on it, even though it does have a machine-washable cover. If there's one thing I've learnt from years and years of furnishing rented accommodation it's to measure, measure and measure. I made sure the dimensions of the mattress protector were 135cm x 190cm which are the measurements of a standard UK double bed. The mattress protector fits like a glove, thanks to its elasticated skirt. I feel better knowing my Emma Sleep mattress is protected for those times I have breakfast in bed.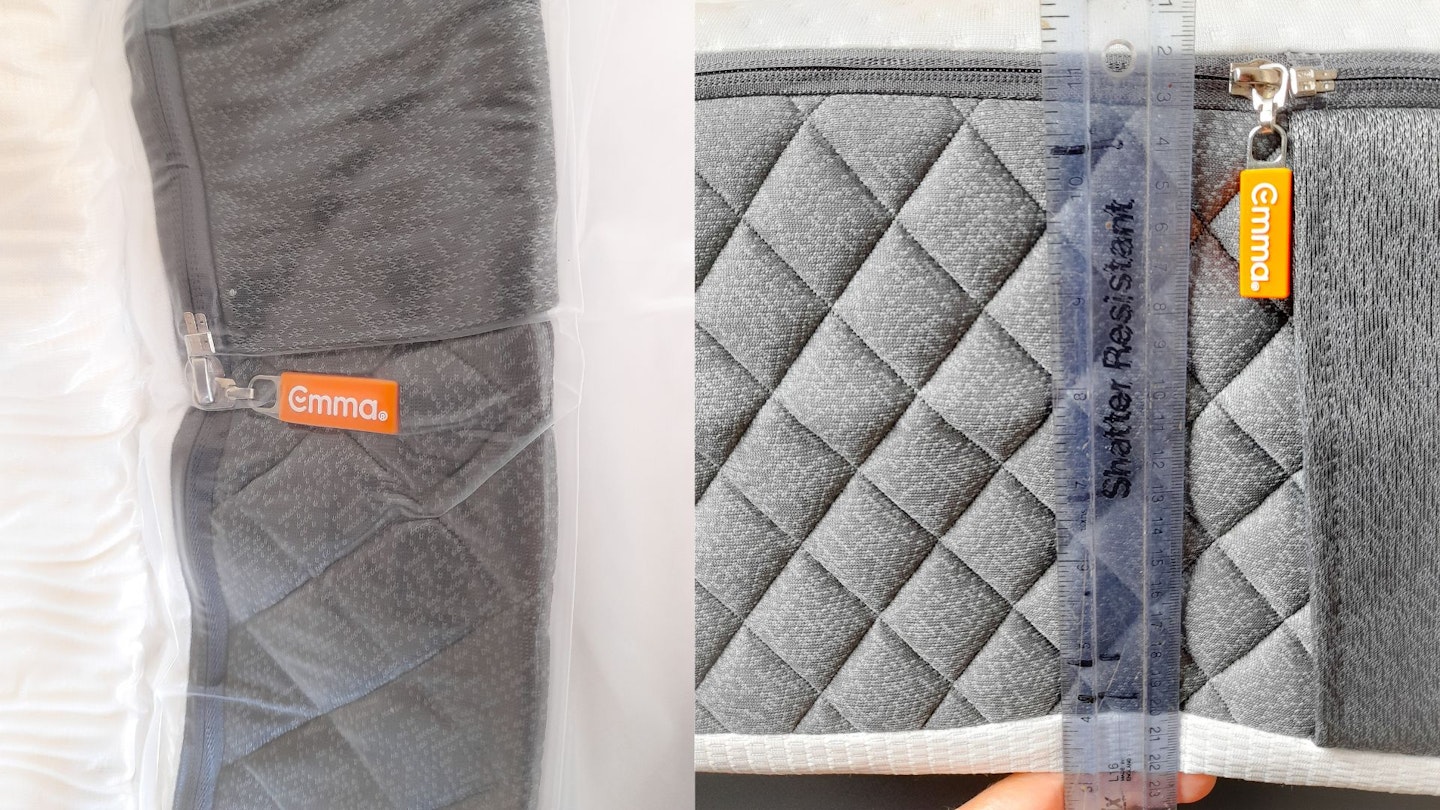 Final verdict
In short, it's an improved version of Emma's Original Mattress, with 20 per cent more comfort and 32 per cent less CO2 emission. Kudos to the 58 per cent less carbon per kilo, with recycled springs and reduced foam usage.
I've re-evaluated how a mattress should feel. The NextGen Premium Mattress is absolutely smooth, while I've been used to being able to feel the spring and the buttons (like a Chesterfield armchair). Also, there's not much sinkage on a medium-firm mattress. A firm bounce on the mattress demonstrates the robustness of the zoned Infinity Springs. There's no doubt that this is an effective mattress that aids muscle recovery. I definitely feel rejuvenated sleeping on this mattress. It's lovely to wake up with no sore muscles and feel energised.
NextGen Emma Premium provides the best medium-firm support to ensure correct spinal alignment and support. My sun salutations may be a bit wobbly at the moment, but I'm definitely glad this NextGen Premium Mattress by Emma Sleep was recommended to me. In terms of price, this mattress is mid-way between the Silentnight Studio Memory 1000 Pocket Mattress and iGel Advance 2050i Mattress. If you're on a slightly tighter budget, opt for the Silentnight Studio Memory 1000 Pocket Mattress.
Just to add, I really admired the economy of the packaging. The mattress is four times bigger than the box. I can't say that I know what giving birth feels like, but that thought did cross my mind as I watched this living mattress heave, hiss and contort its way into shape. The plastic and cardboard box can be folded or broken down and disposed of in the recycling bin or taken to a recycling centre.
Rating: 5/5
Alternatives to the Emma NextGen Premium Mattress
Best hybrid mattress with targeted body support
Description
Looking for a mattress that will feel like it's giving your body a gentle hug every night? You
Pros
Body-hugging memory foam
Great sink-in sleep
Delivered rolled up and easy to unpack
Cons
Small length for tall person
Best mattress for hot sleepers
Description
If the dreaded night sweats are keeping you from having an uninterrupted night's sleep, the iGel
Pros
Choice of firmness
Soothing and supportive pressure relieve
Moisture-wicking fabric to prevent waking caused by humidity for an all-night fresher feel
Cons
It's very deep so you may need to buy extra deep fitted sheets if you use them
Using the Emma Up app to improve my sleep
The Emma Up app is available on Android and Apple devices. Sign up for a seven-day free trial and if you like it, it's just £11.94 for six months. I've never used a sleep app before and within a few minutes, I was intrigued and impressed by the quality and detail of the content. The app asked me what was my sleep goal: falling asleep faster, sleeping through the night or waking up energised.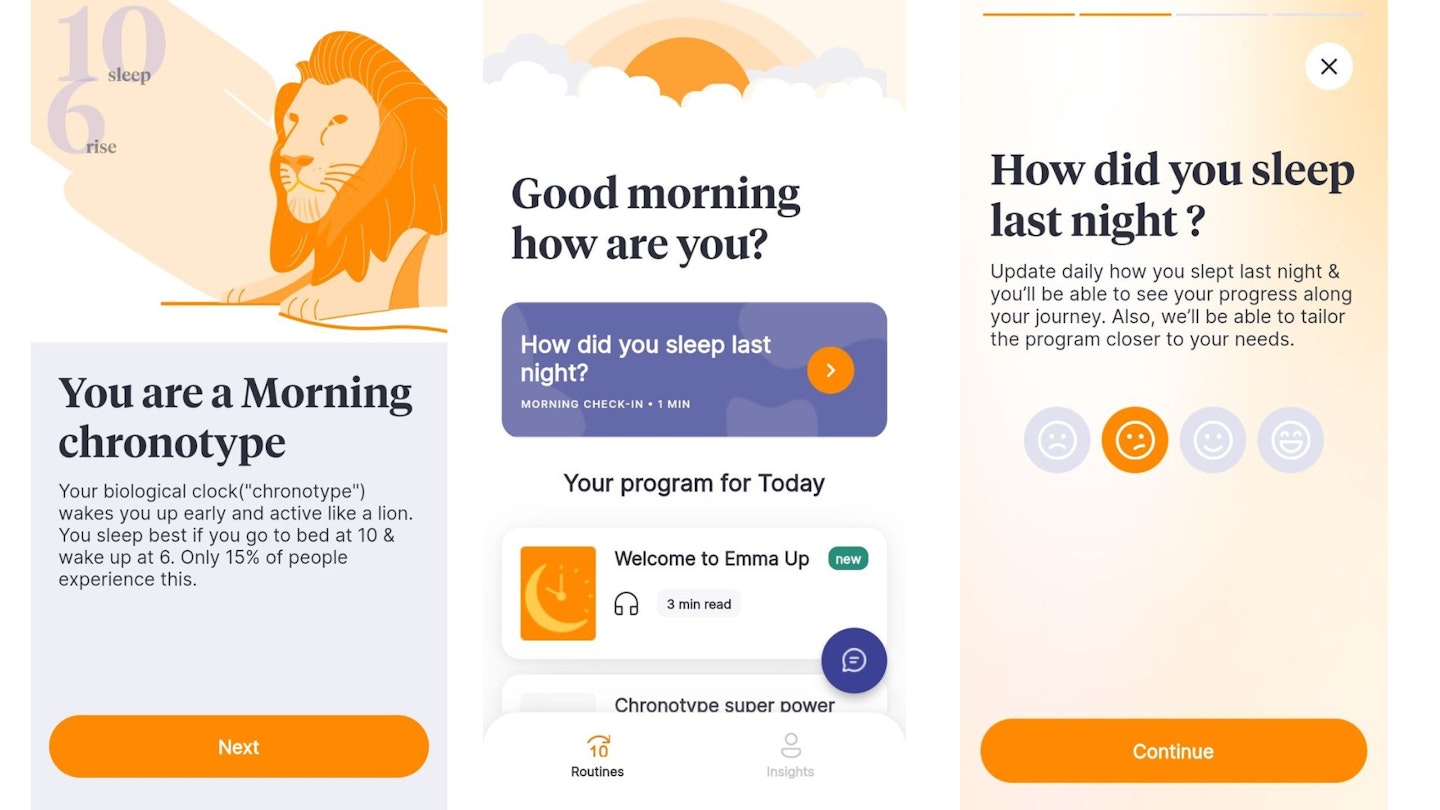 Normally, I like to go to bed around 10pm and wake up at 6am. But, my sleep is interrupted by noise and discomfort. I've used hypnosis in order to drift off and this has been very effective, however, I then wake up in the dead of night and struggle to fall asleep again. In recent months I've kept a journal to note my moods, but this Emma app is more specific in retraining the body's habits in order to get a better night's sleep.
Emma Up analyses your sleep quality and daily habits over time. This is to help you to understand why you don't sleep well. I answered some preliminary questions before it asked me how much time I spend preparing for sleep. I must say it's a question I've not really thought about before and perhaps this is how I can improve my sleep and establish a relaxing wind-down ritual.
The app encourages scientifically proven lifestyle changes, reinforcing them through monitoring, in order to make them habitual and result in better sleep. It claims that I should see improvements in the first three weeks of use and significant changes in twelve weeks.
I discovered that my chronotype (biological clock) is Morning. I wake up early and I'm active like a lion (which I loved because my star sign is Leo). Only 15 per cent of people are this trope.
The app is clear, well-designed and informative. Be aware that if you sign up for the free trial you do have to add a payment method and remember to cancel the subscription within seven days.
You need to make the commitment to tracking your habits until they become second nature (i.e. making time to relax, get sunshine, and exercise during the day). Also, you need to check in and answer the question: "How did I sleep last night?" Finally, there is a daily article to read, it takes just three minutes and is insightful.
I liked how proactive the app was in helping me to relax in such a way that I'd fall soundly asleep. I also liked the expert advice about the social factors of sleep and common-sleep-related problems and how to positively resolve them. Finally, words like chronobiology, melatonin release and Circadian rhythm were hooks to intrigue me and want to learn more. Personally, I would say that I'm naturally at home with a journal more so than an app, but this form of logging and reflection could really work for some and convert night owls into morning larks.
FAQs
What is a hybrid mattress?
A hybrid mattress combines the features of a innerspring mattress, that has springs with the addition of layers of memory foam. Innerspring mattresses are a traditional form of mattress construction and contain metal coils that are wrapped in a fabric cover. They are more affordable but nosier than memory foam. Memory foam contours to your body shape and provides relief on pressure points, such as joints. It absorbs motion so you are less likely to be disturbed by a partner or a pet. Bear in mind that memory foam can trap heat unless the mattress has cooling features.
Hybrid mattresses are constructed from metal coils with a combination of memory foam, latex, polyfoam and micro coils. Hybrid mattresses have a great balance of bounce, durability edge support and temperature regulation. Additionally, they are more expensive.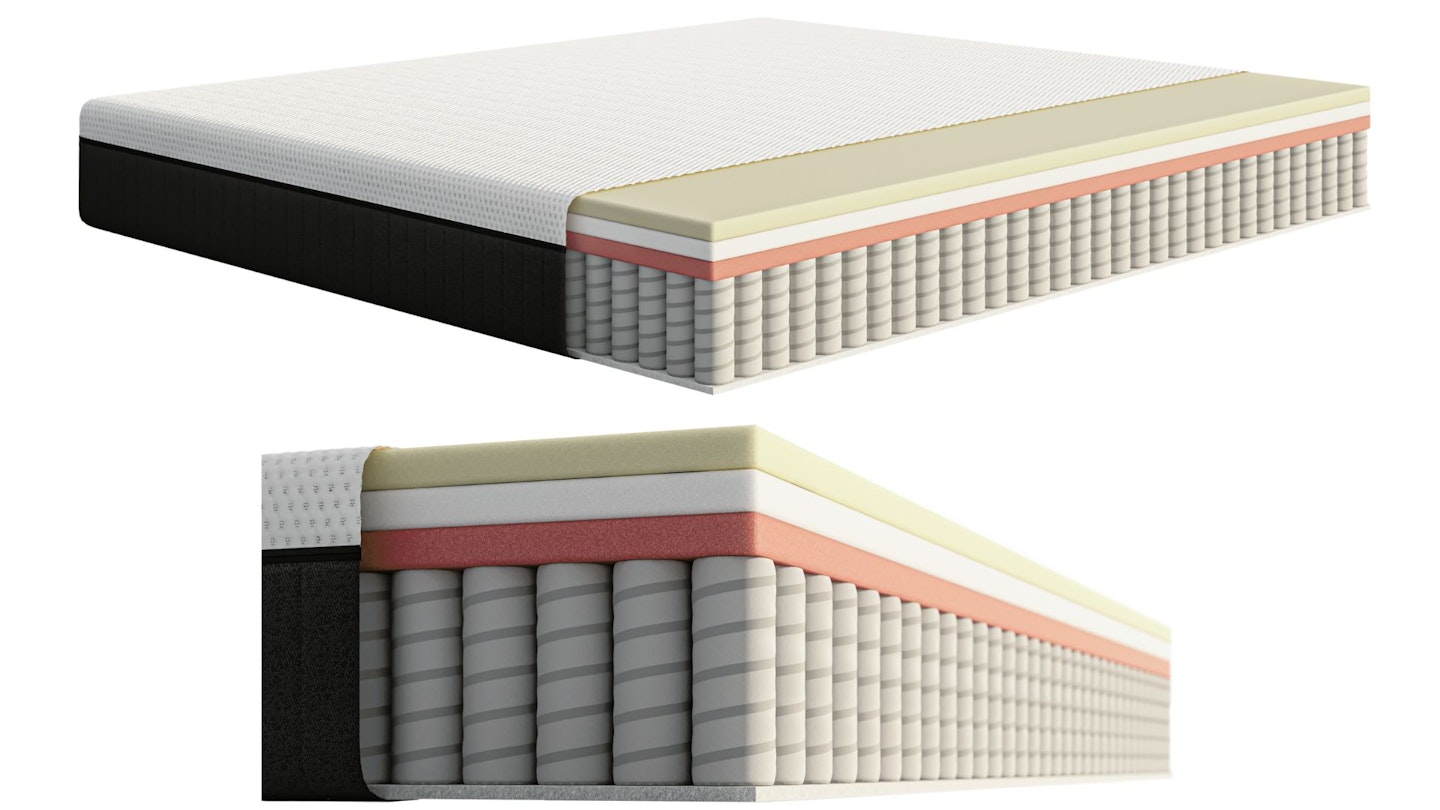 Does Emma offer a sleep trial for the NextGen Emma Premium mattress?
Yes, you can test the Emma NextGen Premium Mattress for a 200-night sleep trial.
What level of firmness does the NextGen Emma Premium mattress provide?
On a firmness range of 1 (soft) to 10 (firm) all Emma NextGen Emma Premium mattresses are 6.5 (medium firm).
What does moisture wicking mean?
Moisture moves to the fabric's outer surface so it's evaporated rather than absorbed. Moisture wicking is a feature of this mattress cover and it's also seen in sports attire. Nike go in depth about moisture wicking fabrics, such as polyester. Through "capillary action" fibres transport sweat to the surface of the fabric where it evaporates. The result is that it keeps you cool and dry.
Natalie Knowles is a Homes & Garden Product Writer for Yours, specialising in home appliances. When she's not testing sparkling water makers, she flexes her creative flair as an artist.