After hearing about Paris and other French cities being plagued with a growing bed bug problem, you might be thinking about preventive measures, such as a bed bug spray, in case you have to deal with an infestation of your own. Bed bug infestations in the UK have actually surged by over 50 per cent in the past five years, according to the British Pest Control Association. They say bed bugs account for more than a quarter of all the country's pest control callouts, so they're a more common issue than you may think.
If you're unsure what bed bugs look like, they are small, flat reddish-brown insects that feed on the blood of both humans and animals. While there is no known transmission of diseases through their bites, they can be uncomfortable to deal with for a couple of days. They're really good at hiding themselves in cracks and crevices of our furniture and mattresses and can easily move from one location to another so that's why they seem to be everywhere in Paris at the moment as the resurgence can be linked to the movement of people during the summer, with many people accidentally taking these pests with them in their luggage.
Best bed bug spray at a glance:
• Best overall: NOPE! CP Bed Bug Killer Spray Treatment – view on Amazon UK
• Best natural bed bug spray: RepellShield Bed Bug Spray – view on Amazon UK
• Best bed bug spray for large infestations: CritterKill Professional Bed Bug Killer Spray – view on Amazon UK
When we hear the name 'bed bug', we instantly think of them lurking in our bed linen and mattresses, but Jeannette Hudson, furniture expert at Online Sofa Shop, says that's not always the case. "Although we commonly associate bed bugs with infestations in beds and mattresses, they can infest various upholstered furniture, including sofas and couches." She also says they can be carried in on clothing, bedding and other items so it's important that you know how to spot the signs of them in your house. That's why we've got some top tips for protecting yourself from bed bugs in our FAQs, along with a selection of the best bug sprays available to help you get rid of the problem.
An infestation of bed bugs can move from one piece of furniture, bedding and clothing to another in no time at all, so it's important to treat any pests you spot, promptly and properly. That's why it's important to have a bed bug spray at home so you're ready to act the minute you see one of these creatures lurking around your home. Bed bug sprays are one of the most effective treatments for dealing with these pests, so take a look at our top picks below.
Best bed bug spray
Best overall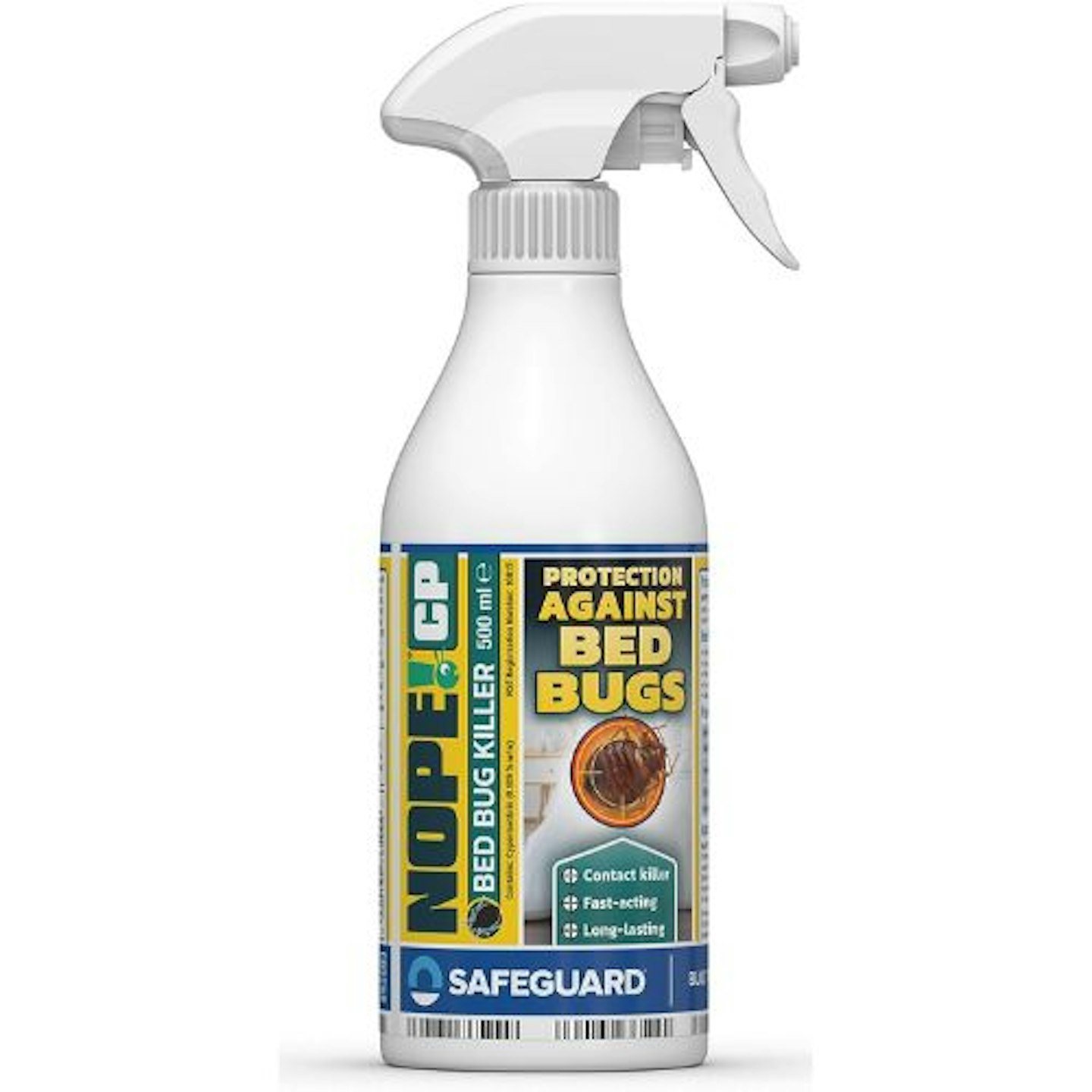 Amazon
Description
Getting rid of bed bugs on contact as well as their eggs, the NOPE! CP Bed Bug Killer Spray
Pros
Get rid of bugs and eggs
Long-lasting treatment
Cons
One reviewer felt the spray didn't seem to go very far
Best natural bed bug spray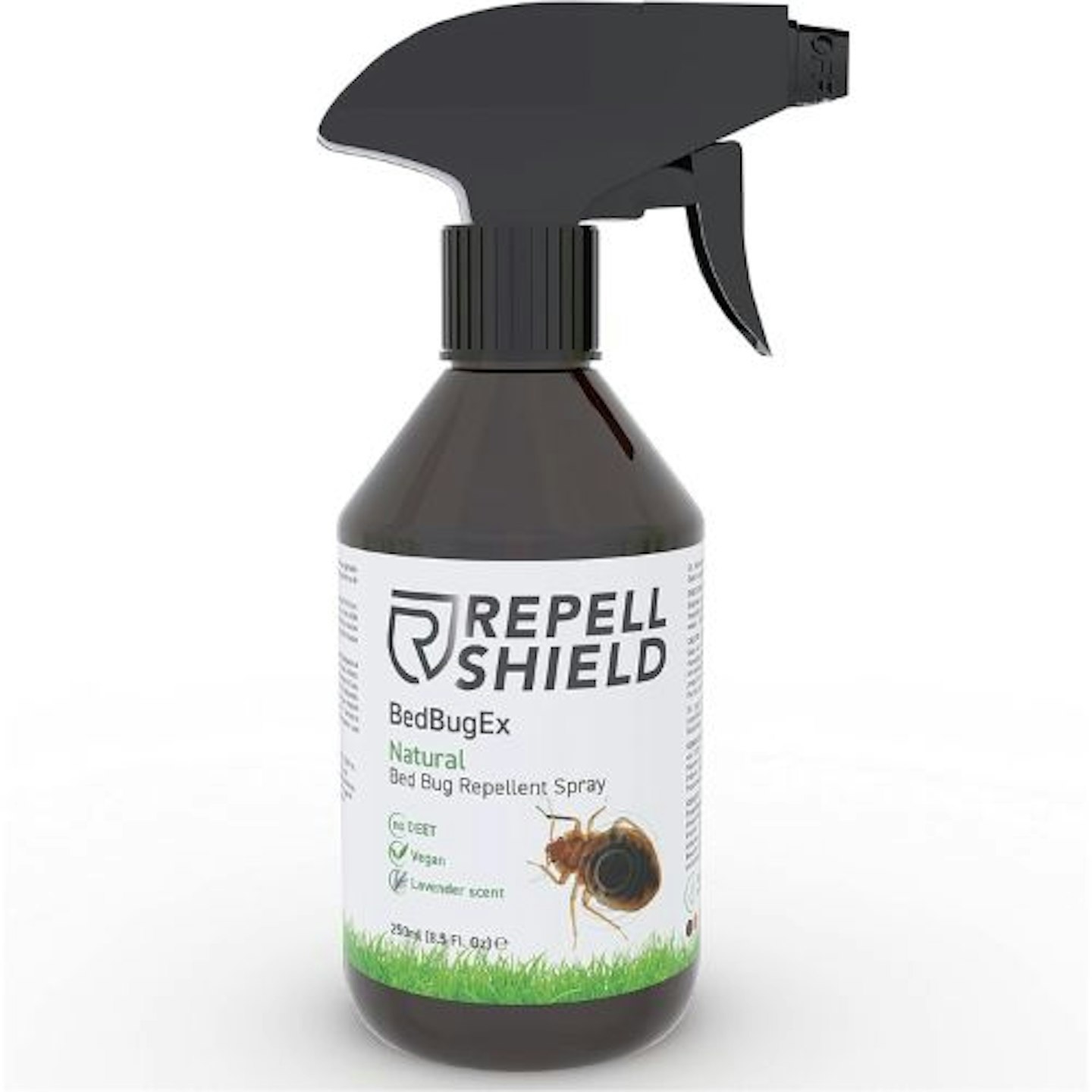 Amazon
Description
For an alternative to chemical-based bed bug killers, why not use this RepellShield Bed Bug Spray?
Cons
Reviewers have seen mixed results
Best bed bug spray for large infestations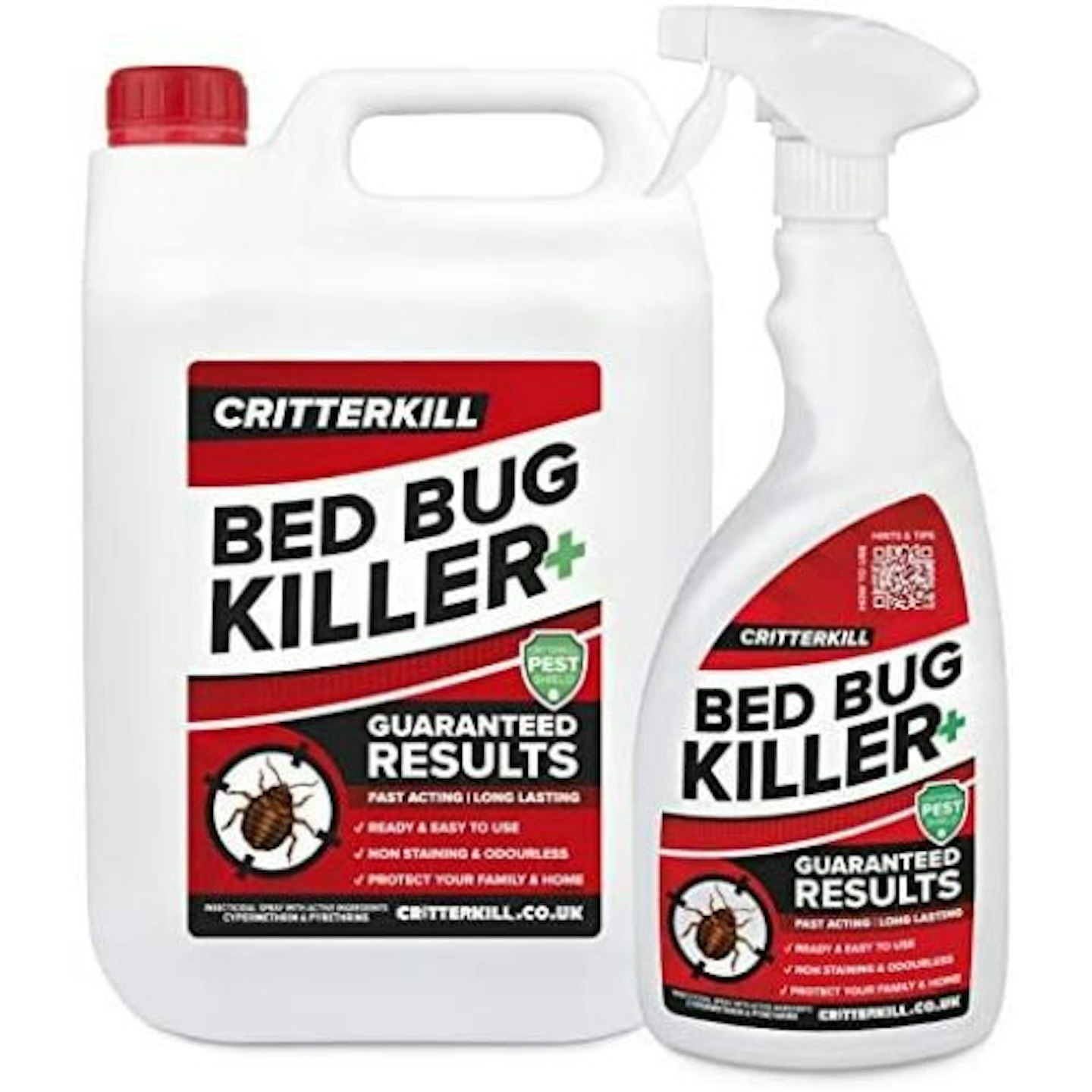 Amazon
Description
If you've got a large area that needs to be treated, or you want to spray around a couple of rooms
Pros
Great on most flying and crawling insects as well as bed bugs
Large bottle will last a while
Cons
Some reviewers have said it has a strong scent so be sure to make your home as airy as possible while using it
Best bed bug aerosol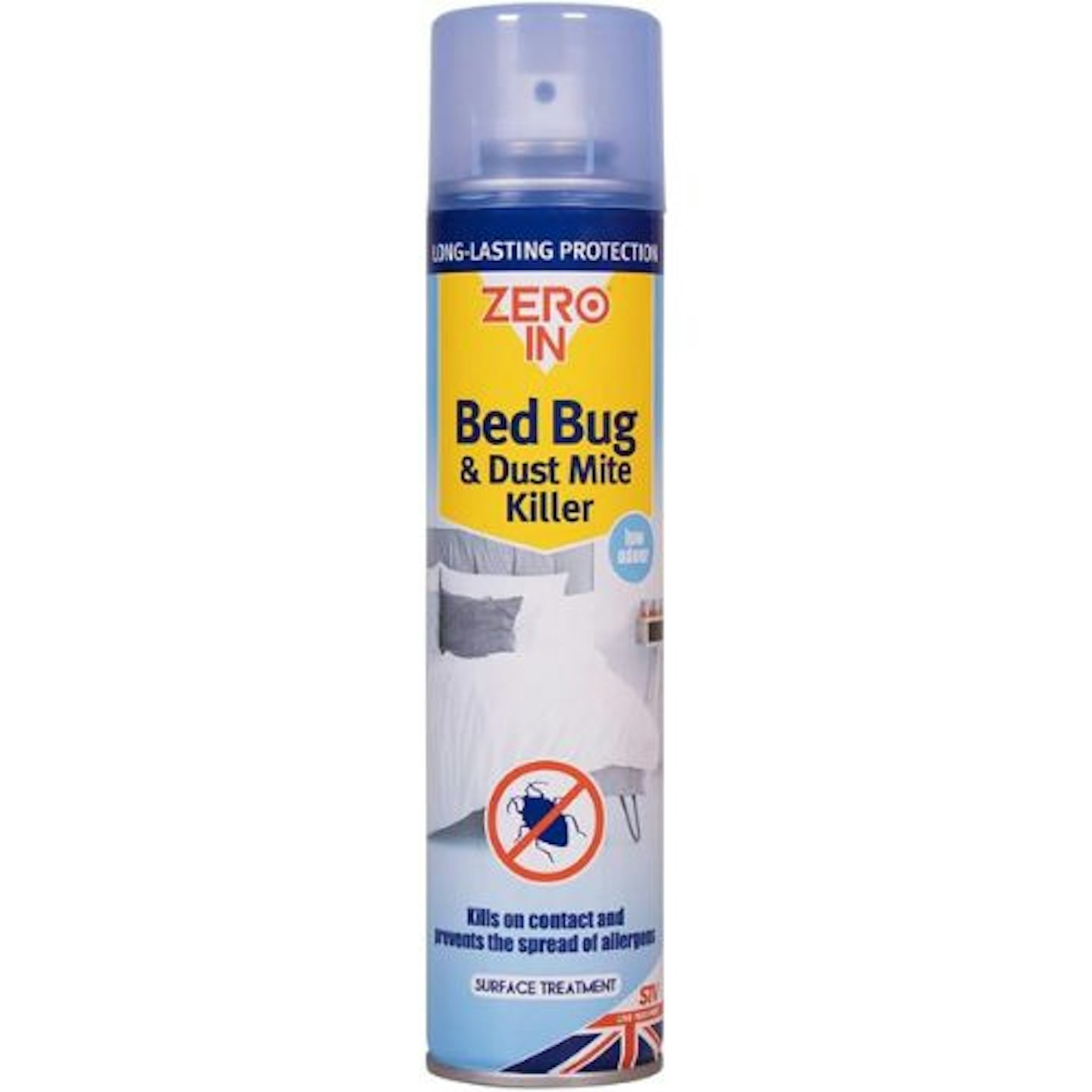 Amazon
Description
Treat infestations in your bed, mattress and bedroom furniture with the Zero In Bed Bug & Dust
Pros
Fresh linen fragrance
Over 12 month protection
Cons
Some reviewers have said the nozzle can be a bit leaky
Best water-based bed bug spray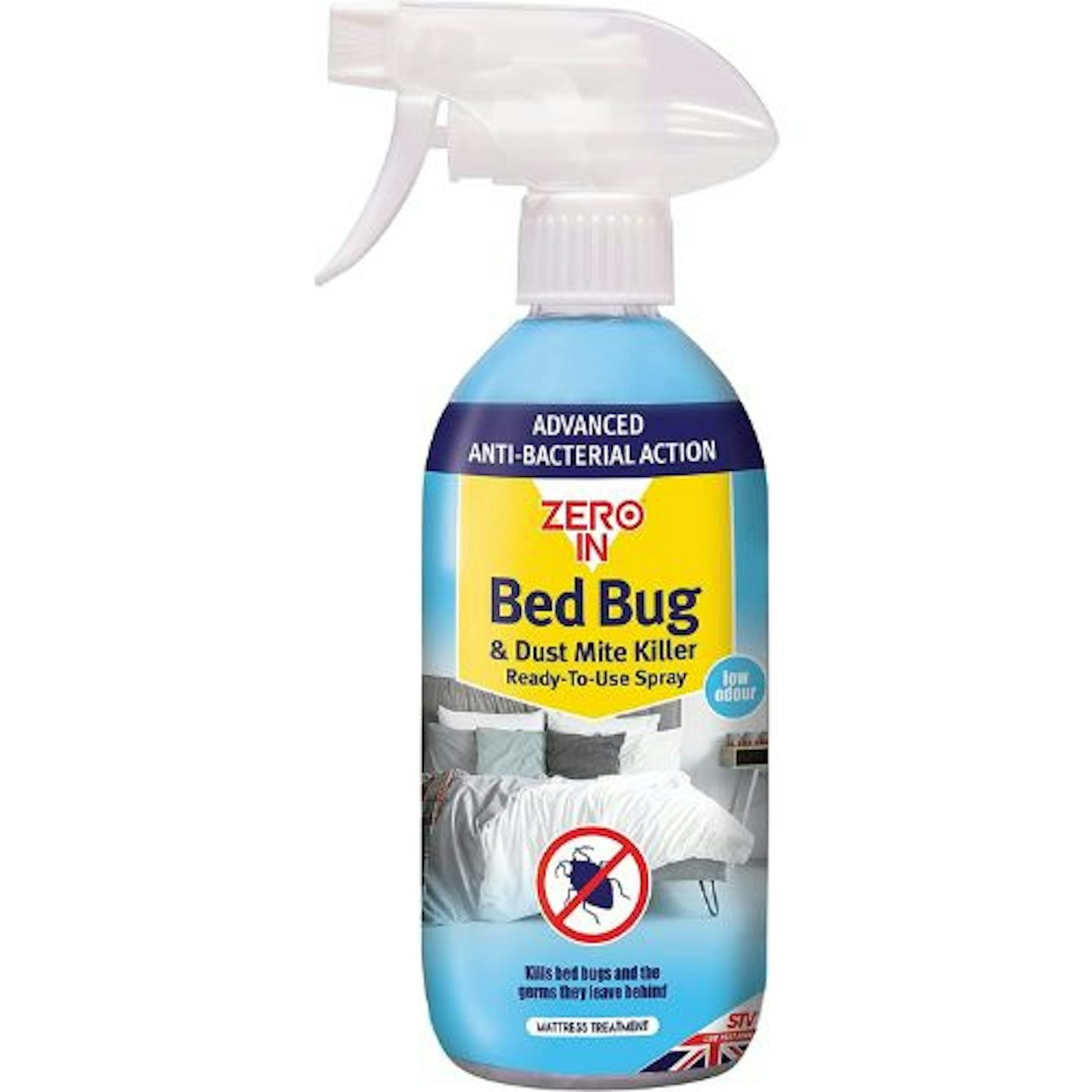 Amazon
Description
If you prefer a water-based spray as opposed to an aerosol, take a look at this Bed Bug & Dust
Pros
Solvent-free
Offers advanced antibacterial action
Cons
Reviews are mixed as some have had good results and some didn't
Best for fast action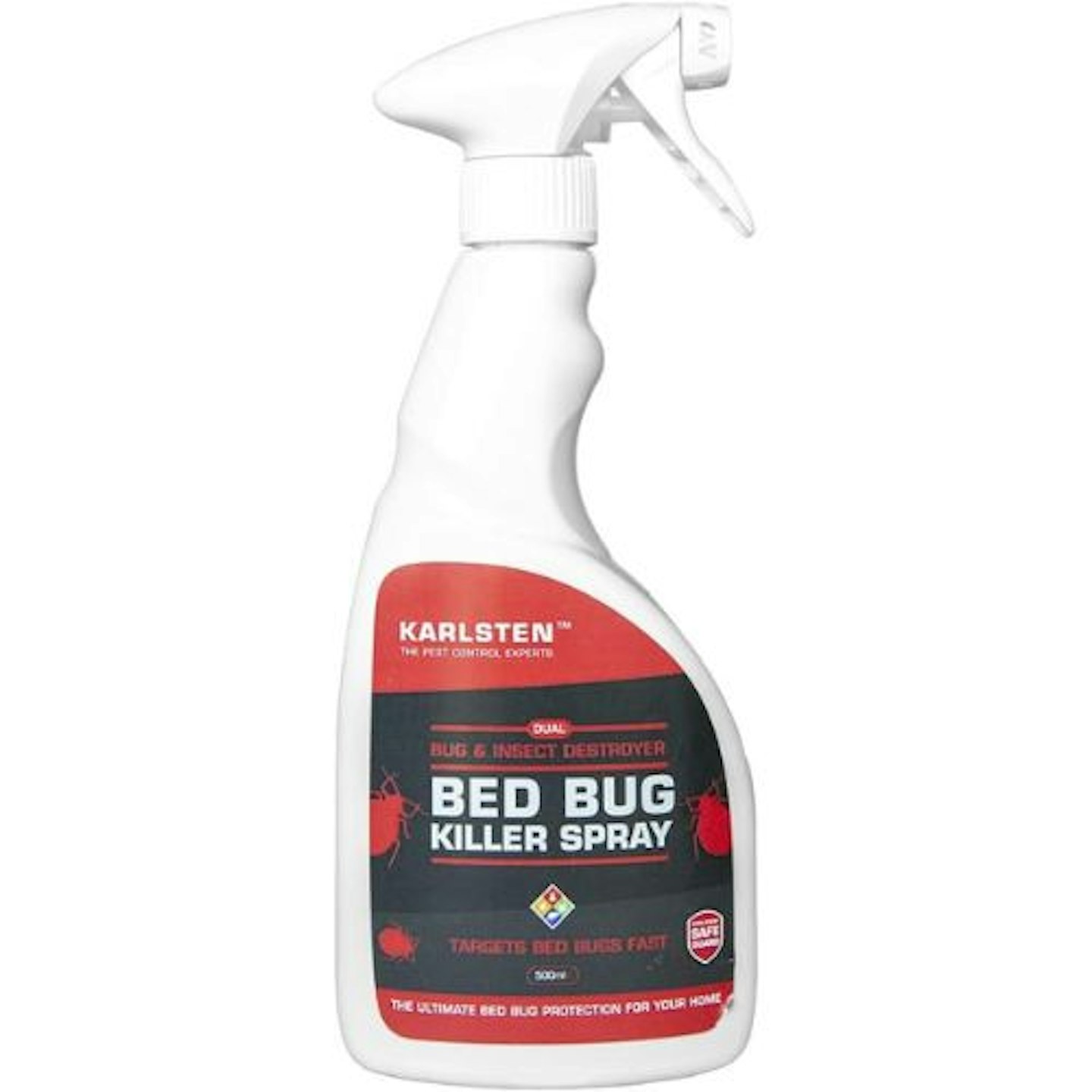 Amazon
Description
Say goodbye to bed bugs instantly when using the Karlsten Pest Control Bed Bug Killer Spray. The
Pros
Spray bottle
Works instantly
Cons
As it contains cypermethrin, it's not designed to be used on bed sheets or pillowcases but can be used on bedding and mattress
Recommended bed bug spray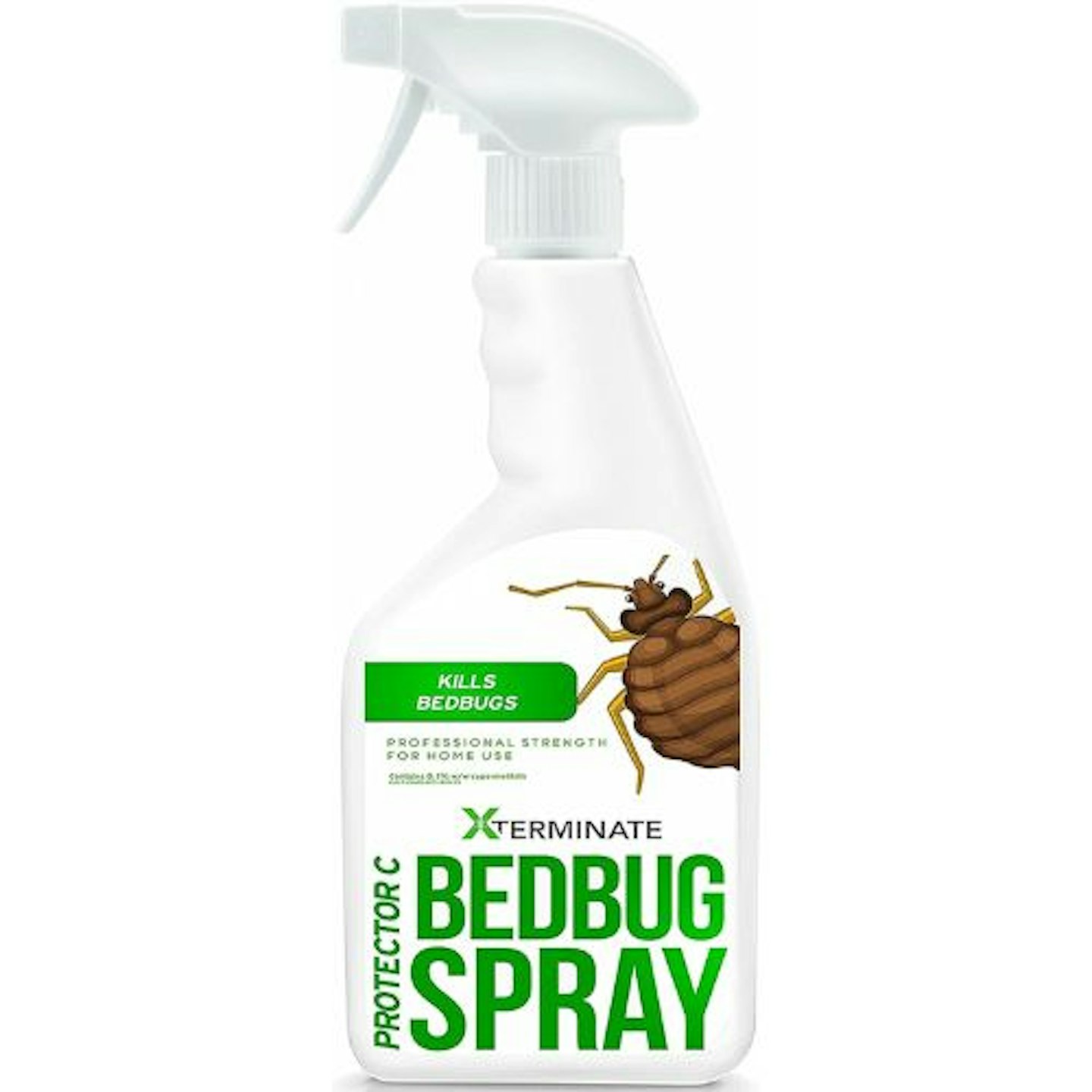 Amazon
Description
Easy to use and effective, the Xterminate Bed Bug Killer Spray can be used in bedrooms, on your
Pros
Effective active ingredient
Can be sprayed on a variety of surfaces
Cons
Not so effective on larger areas
FAQs
What do bed bugs look like?
As we've mentioned above, it can be hard to see bed bugs as they're able to conceal themselves in all the nooks and crannies around your home, but if you know what exactly you're looking for, you might be able to spot them more easily. As you'll see from the photo below, bed bugs are small, reddish-brown insects that are around four to five millimetres in length, with six legs and no wings. They also have short antennae and a piercing mouth that may be small in size but leave a substantial bite.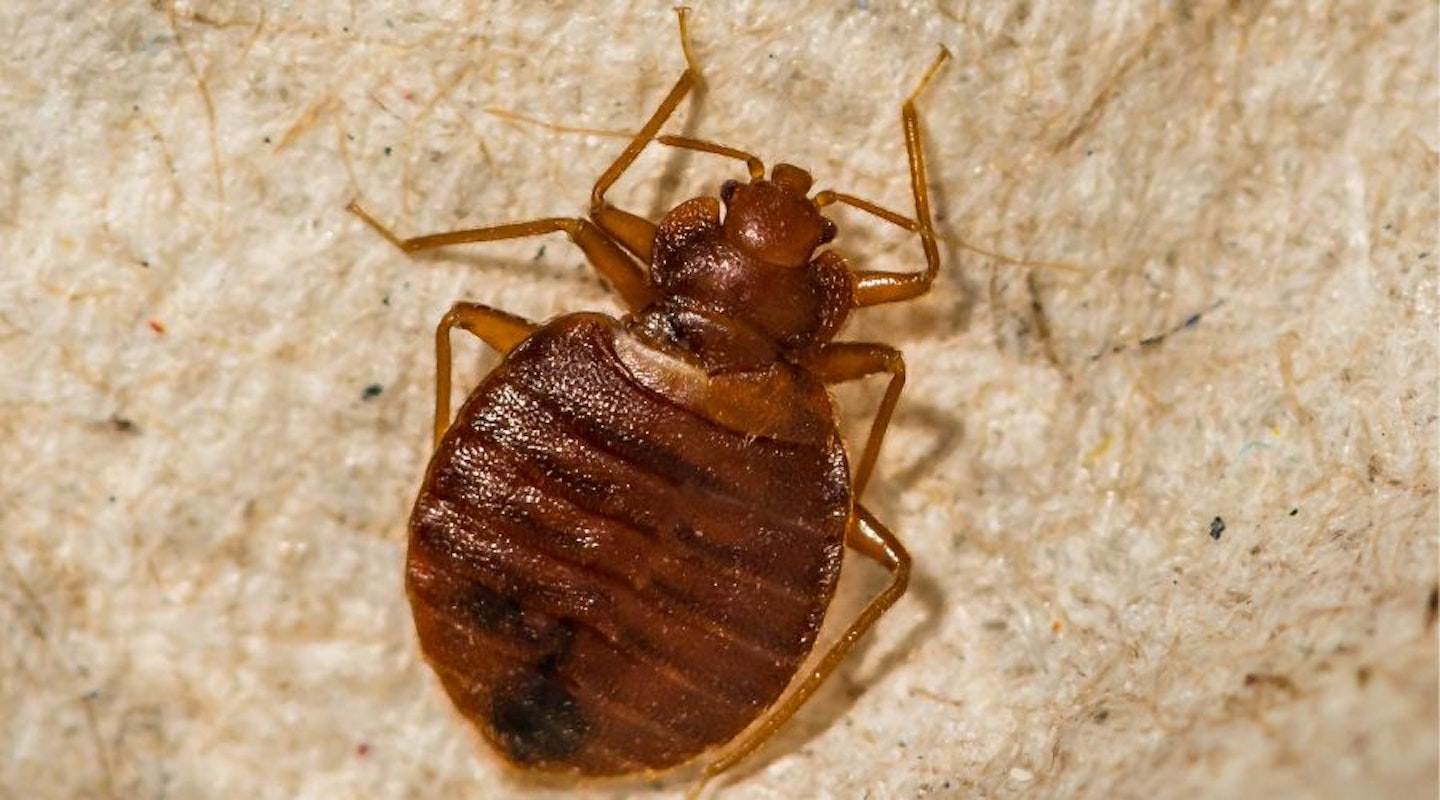 How do bed bugs start?
Bed bugs can spread when they're introduced into new environments after moving about on people's belongings from infested areas, or infested items, like used furniture. Once bed bugs are in a new environment, they reproduce quickly and hide during the day, which is why spotting them early and treating them the minute you see them are essential for stopping infestations from growing out of control.
How to protect yourself from bed bugs in your home
Thanks to Online Sofa Shop, we've got some tips on how to prevent bed bug infestations and how to spot the signs the pests might already be in your home.
Be aware of signs
First and foremost, it's essential to familiarise yourself with the signs of a bed bug infestation. The insects primarily feed on human blood and are most active at night. Their bites often result in itching, redness, and swelling, typically occurring while you're asleep.
Inspect your home
Whether you're at home, or staying in a hotel or Airbnb, take the time to thoroughly inspect your space for bed bugs. This includes scrutinising the bed, bedding, and furniture for any signs of infestation.
Launder your belongings
After staying in a hotel or Airbnb, wash your clothes and bedding in hot water. This can help kill any potential bed bugs or their eggs that may have hitched a ride with you.
Regularly vacuum
In your own home, make a habit of regularly vacuuming, paying close attention to potential hiding spots for bedbugs. Dispose of the vacuum bag immediately to prevent any potential infestations.
Be cautious with used furniture
If you plan to purchase used furniture, exercise caution. Before bringing any second-hand items into your home, thoroughly inspect them for signs of bed bugs. This simple step can prevent the introduction of bed bugs to your living space.
Maintain cleanliness
Keeping your home clean, and avoiding clutter, can help reduce the risk of bed bug infestations. A well-organised home makes it harder for pests to find suitable hiding spots.
Seal entry points
Prevent bed bugs from gaining entry to your home by sealing any cracks in the foundation and exterior walls.
Seek professional help
If you suspect a bed bug infestation in your home, act fast. Just like you need mouse traps to catch mice and sprays to get rid of spiders, bed bugs need to be sprayed with treatments so you can say goodbye to the problem. However, bed bug infestations are notoriously challenging to eradicate, and expert assistance is often necessary.
How long does it take for bed bug sprays to work?
How long it takes for a bed bug spray to work varies from treatment to treatment, the number of pests you've got to get rid of, and how effectively the spray is applied in the first place. Typically, bed bug sprays do kill bugs on contact, but it may take a few weeks for the infestation to be completely gone. If after using a home treatment, you're still experiencing problems, you should call in a professional pest control expert to help you get rid of them.
What do bed bug bites look like?
If you've been bitten by a bed bug, you'll soon know about it as they're incredibly itchy. Bed bug bites typically appear as small, red, itchy bumps on the skin and are easily distinguishable from other insect bites as they usually come up in clusters.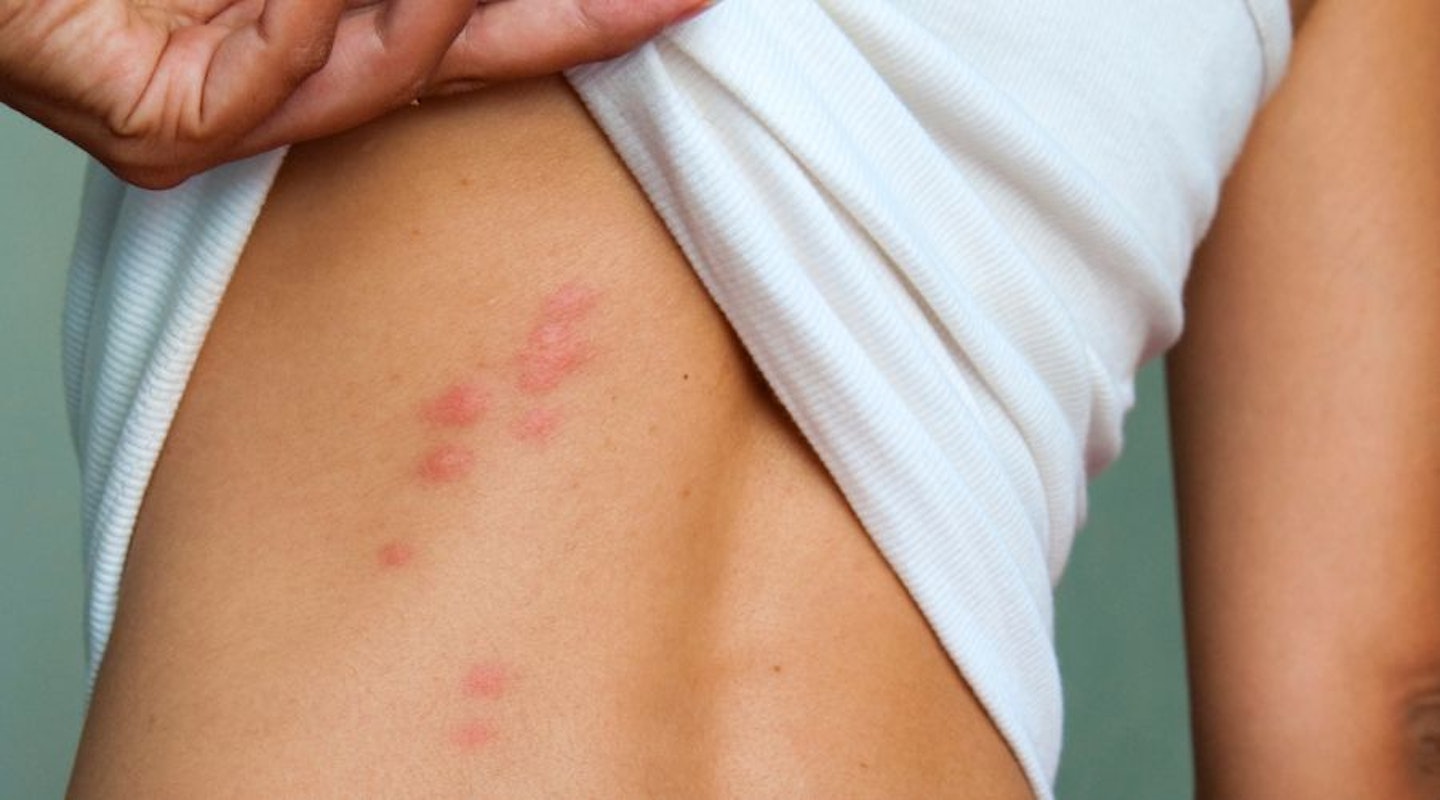 Rosie Floyd is a Pets, Homes and Garden Product Writer for Yours, specialising in home appliances, décor and furnishings, as well as all things dogs. After completing her Journalism & Media degree from Coventry University back in 2015, she started her career writing about must-visit holiday destinations, moving on to creating content around outdoor living and garden buildings, before joining the team at Bauer.