Kate Middleton has gifted us with plenty of high-fashion glam ever since she joined the Royal family - so it's no wonder most of us are keen to get our hands on some Kate Middleton dress dupes! Not only is she expertly styled, but her flawless looks have gotten us through the last few years. Our beloved Kate has been showing off her fashion chops from function to function with plenty of gorgeous dresses for mature women. She's always dressed to the nines in some flattering dresses with a beautiful smile on her face. We love it.
Much like Susanna Reid, Kate's penchant for expensive garments isn't always practical for us. Luckily, it means one thing: dupes. That's where we come in. We've scoured the net for the best deals for alternative Kate Middleton dresses that are almost exact to the real thing. Thanks to M&S dresses, OASIS garments and Debenhams collections, finding a Kate Middleton dress dupe couldn't be easier.
Have you got a special event coming up that you'll need a summer dress for? If so, these Kate Middleton-inspired dresses will make the perfect addition to your wardrobe. Much like Sophie Wessex's outfits, these alternatives have all the glam of a Royal look, just without the hefty price tag. Yours has picked out the best Kate Middleton dress dupes for your celebration.
Catherine Walker Coat Dress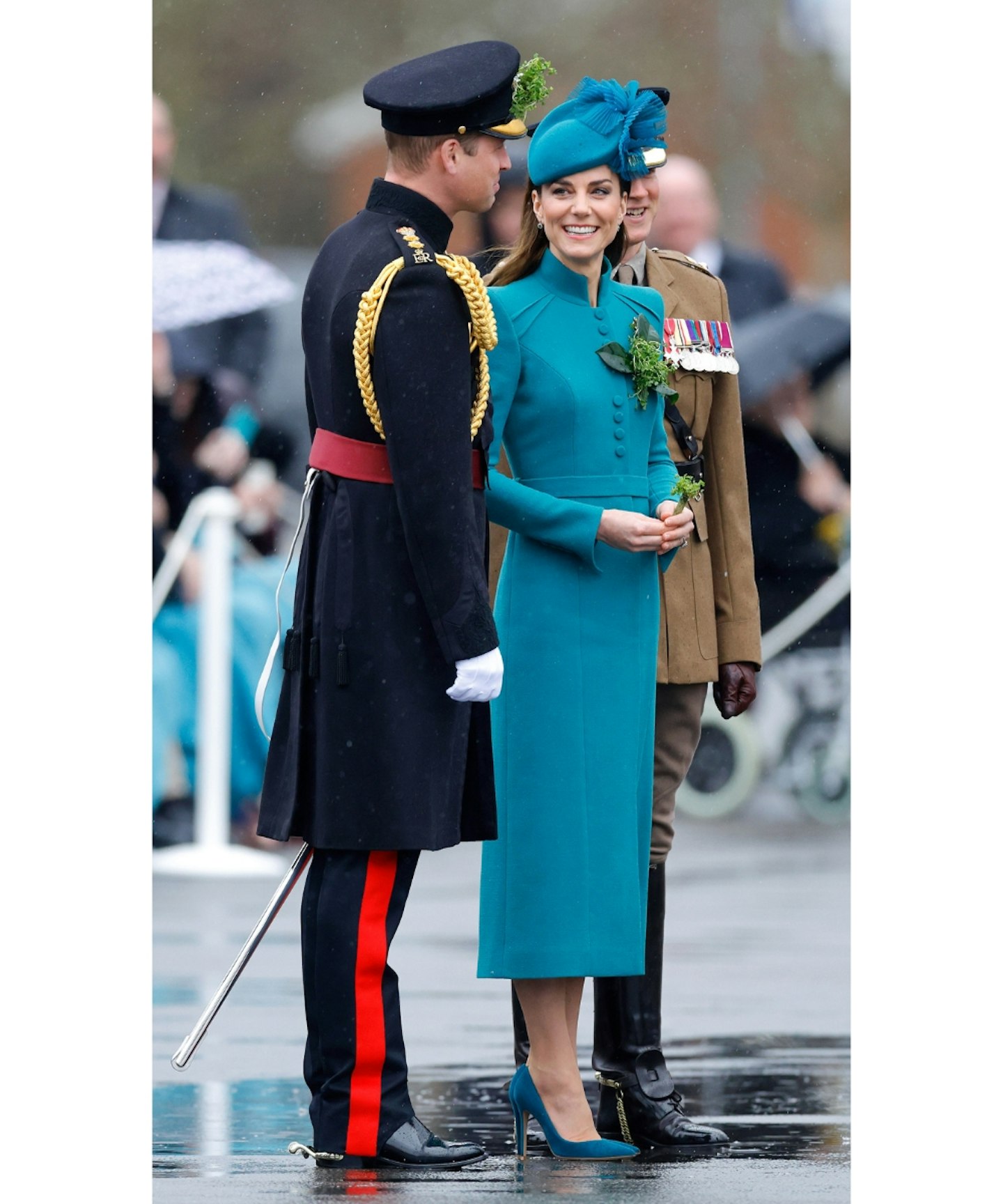 This year's St. Patrick's Day Parade was the first The Princess of Wales attended as Colonel of the Regiment after succeeding her husband in December 2022. To mark the occasion, Kate wore a bespoke Catherine Walker coat dress is a stunning teal shade. Here's how to recreate the look.
Catherine Walker Coat Dress Dupe
Best blue Kate Middleton dress dupe
Description
Hush's Millie Dress has beautifully textured fabric drapes around the body perfectly. Simple and
Alexander McQueen One-Shoulder White Dress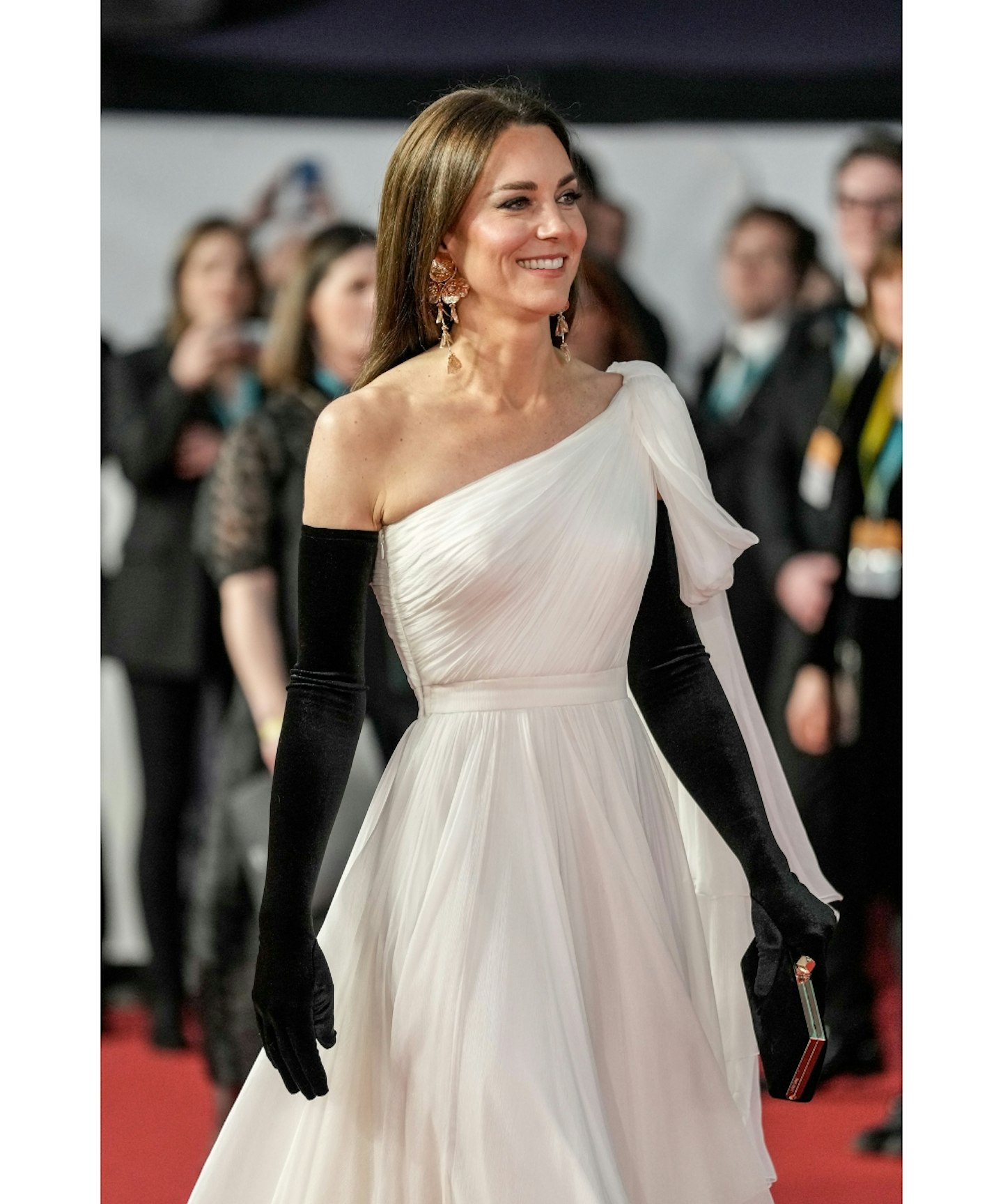 The Princess of Wales wowed during the BAFTA Film Awards with this one-shoulder white gown. Kate, fan of recycling outfits, had previously worn this stunning Alexander McQueen dress at another event, but had it altered to create a cape-like drape around her left arm. This ethereal look is super-easy to recreate on the high street.
Alexander McQueen One-Shoulder White Dress Dupes
Best asymmetric Kate Middleton dress dupe
Description
A fantastic dupe for the Alexander McQueen dress, the Club L London Dominique dress is made with a
Best eco-friendly Kate Middleton dress dupe
Description
If you want more of a party dress look than a gown look, this dupe from boohoo is ideal. This is
Emilia Wickstead Blue Checkered Houndstooth Midi Dress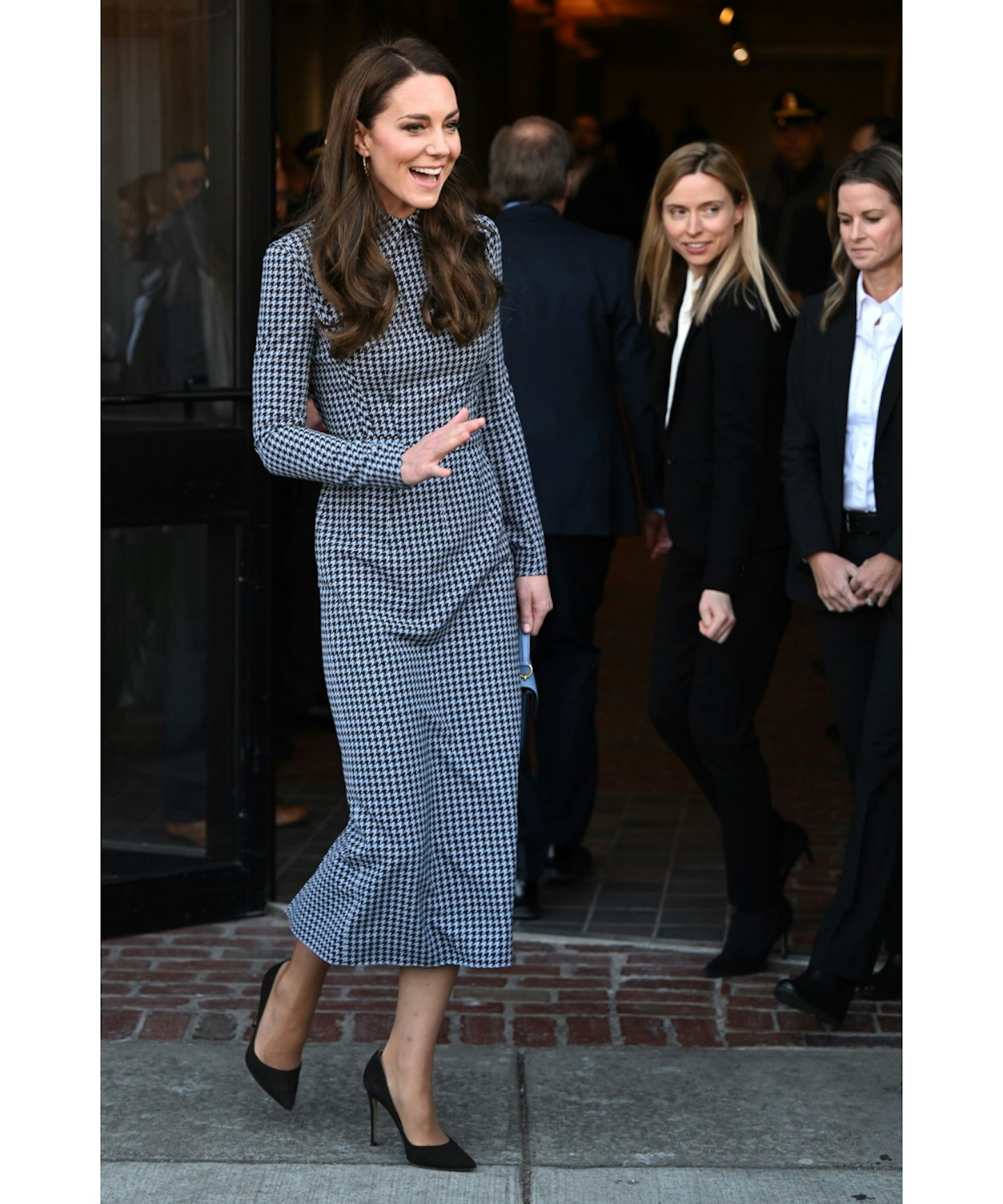 The Princess of Wales began the Christmas month by visiting Harvard University in Boston to attend the second annual Earthshot Prize Awards Ceremony, meeting those who are combating the effects of climate change in the area. One of the many outfits on her visit, this Emilia Wickstead houndstooth dress was a marvel and can be easily duped from the high street.
Best houndstooth Kate Middleton dress dupe
Description
Perfect for those colder days, this houndstooth knit dress takes all of our favourite elements
Jenny Packham Lace Skirt Suit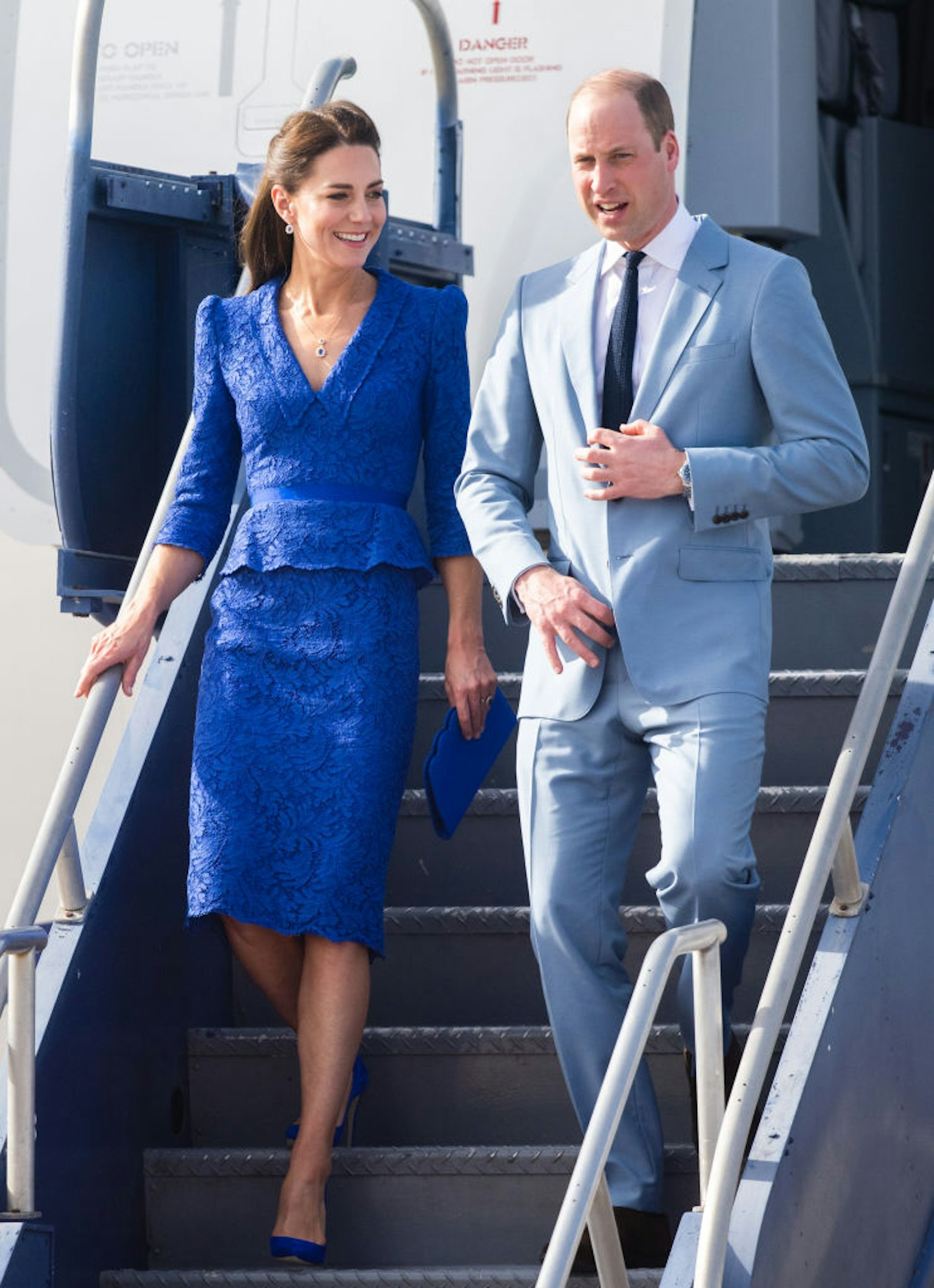 To kick off the royal tour, Kate landed in Belize, dressed up in a royal blue lace skirt suit from Jenny Packham, paired with a matching blue clutch. An extra detail, the blue reflects the colours of the flag of Belize. How thoughtful! As for Kate Middleton Dress Dupes, we've found two lace blue midi dresses that give the 'Kate feel'.
Jenny Packham Lace Skirt Suit Dupes
Best lace Kate Middleton dress dupe
Description
One thing we love about Kate's dress is the lace design, so this Wallis dress has really captured
Best fit and flare Kate Middleton dress dupe
Description
Trust John Lewis to stock this pretty, flattering lace dress just in time for a Royal celebration.
Tony Burch Cap-Sleeve Midi Dress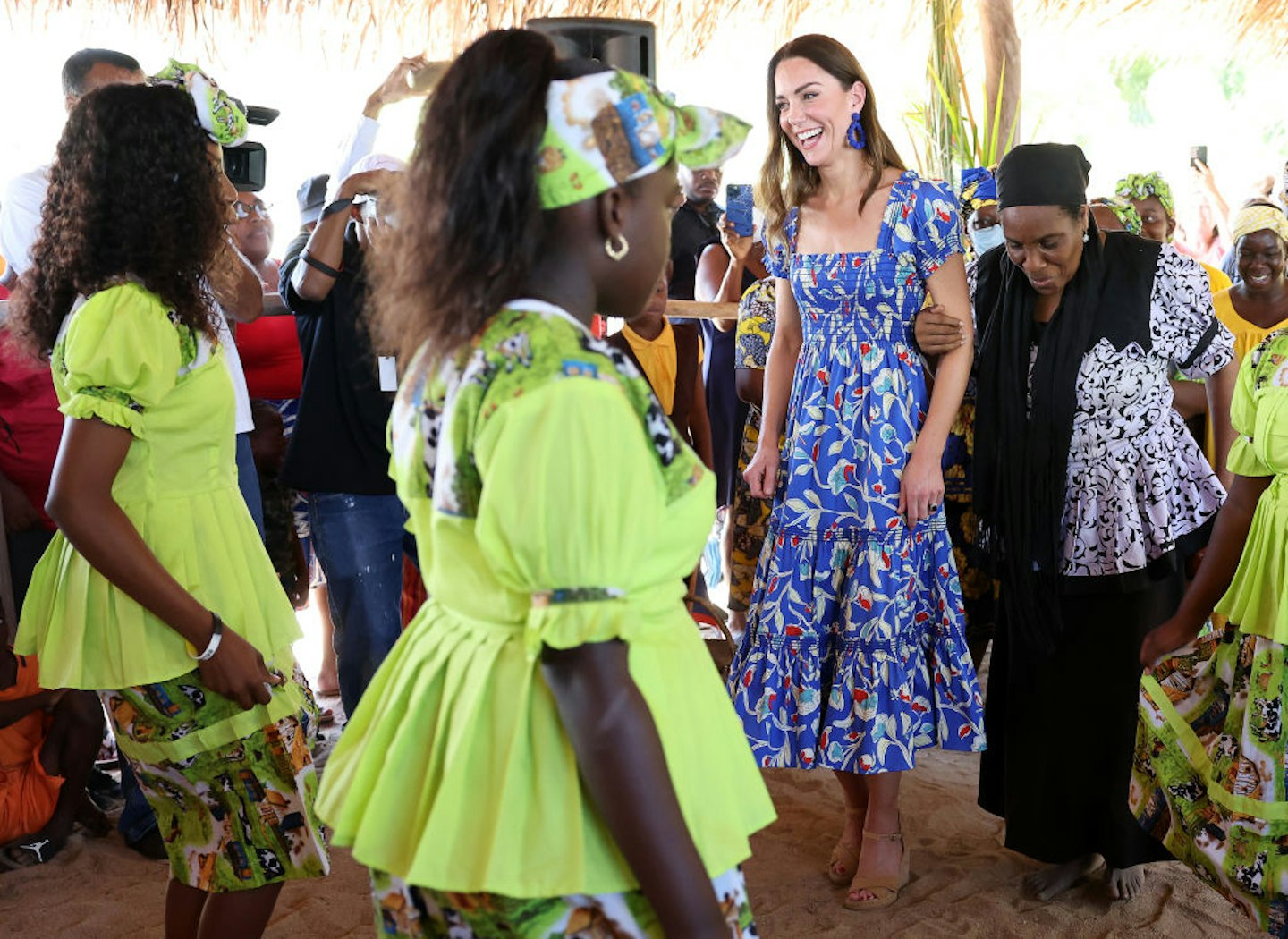 Kate and William toured a family-run cacao farm when in Belize. Here, Kate kept things colourful and vibrant. She chose a printed, blue Tory Burch cap-sleeve midi dress – with blue accessories. We've chosen some blue midi dresses that definitely live up to Kate's style.
Tony Burch Cap Sleeve Midi Dress Dupes
Best cap sleeve Kate Middleton dress dupe
Description
Flaring out a little at the shoulders for a modern shape, this blue maxi dress by Warehouse is
Best maxi Kate Middleton dress dupe
Description
Phase Eight is a favourite of ours. They are breaking barriers with their ethically recycled
The Vampire's Wife Hot Pink Gown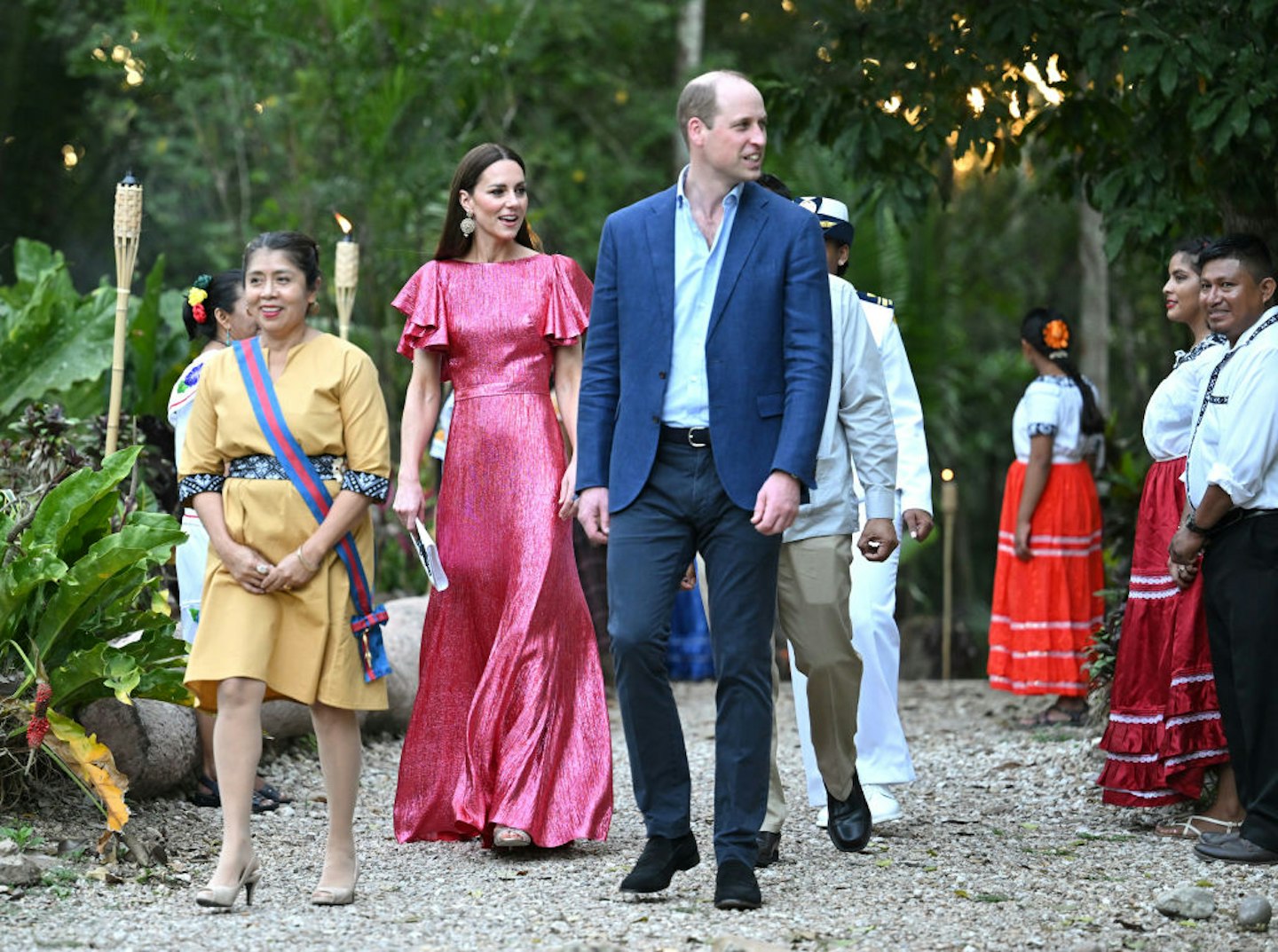 At the end of their time in Belize, Kate and Will attended a party which celebrated the Queen's Platinum Jubilee. Hosted by the Governor-General of Belize, this party was an occasion for our Kate to dress up with a divine shimmery dress, hot pink with flared cap-sleeves from The Vampire's Wife.
The Vampire's Wife Hot Pink Gown Dupes
Best ruched Kate Middleton dress dupe
Description
Up first… is a ruched number from French Connection. We love the cut and colour of this dress, and
Best crinkle Kate Middleton dress dupe
Description
We love Monsoon. This number, which is made from recycled polyester, is the perfect dress for
Sunny Yellow Midi Dress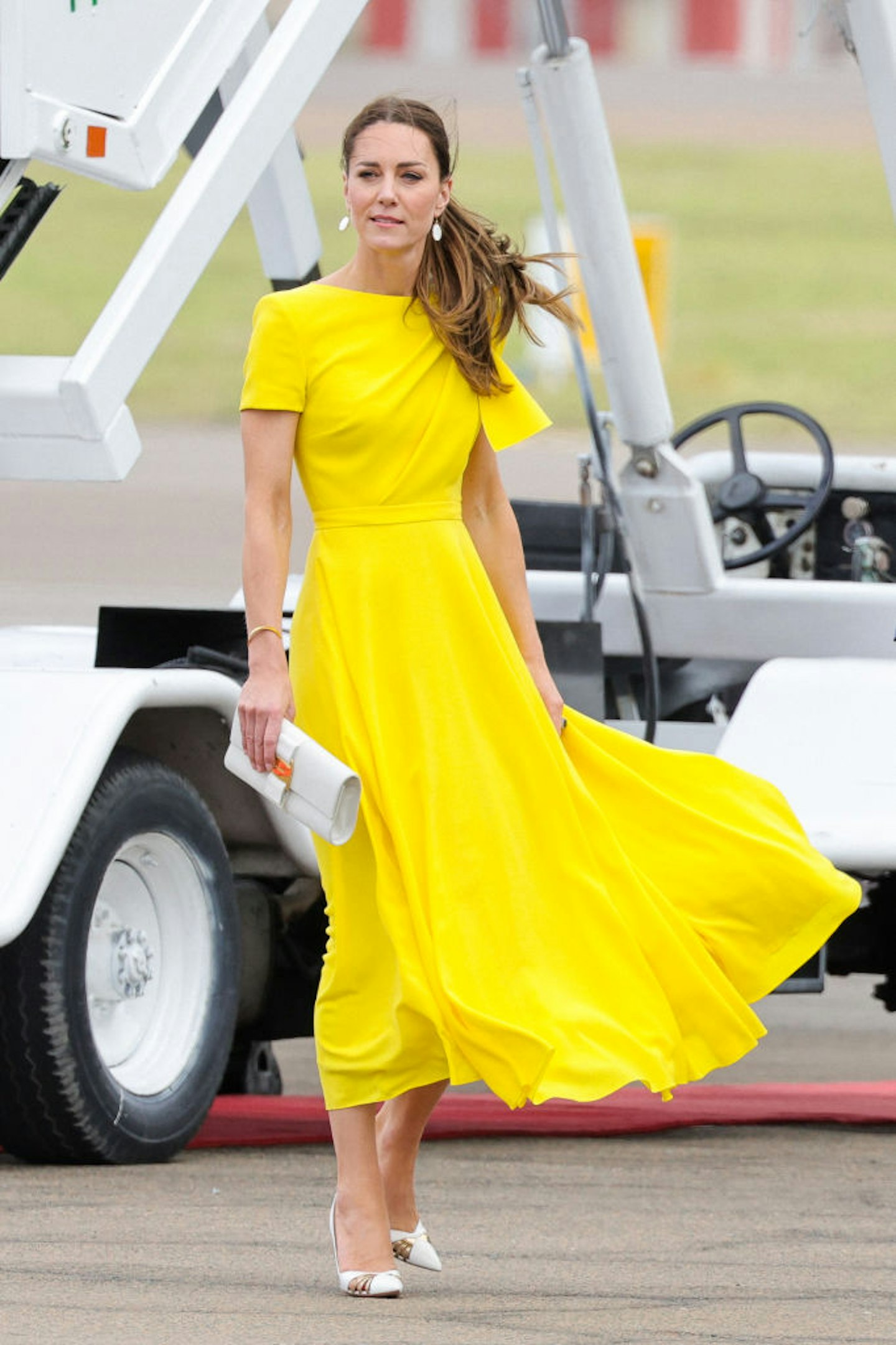 When Kate arrived in Kingston, Jamaica, she wore this sunny yellow midi dress with a ruched bow at the shoulder. Our Kate looks like a ray of sunshine in this pretty and vibrant midi dress.
Yellow Midi Dress
Best key hole Kate Middleton dress dupe
Description
This dress from Karen Millen is bright and sunny. It would look great for a Coronation
Best belted Kate Middleton dress dupe
Description
We love how comfy this dress looks, whilst also looking runway-worthy. Pair with some sunglasses
Mint Green Pleated Dress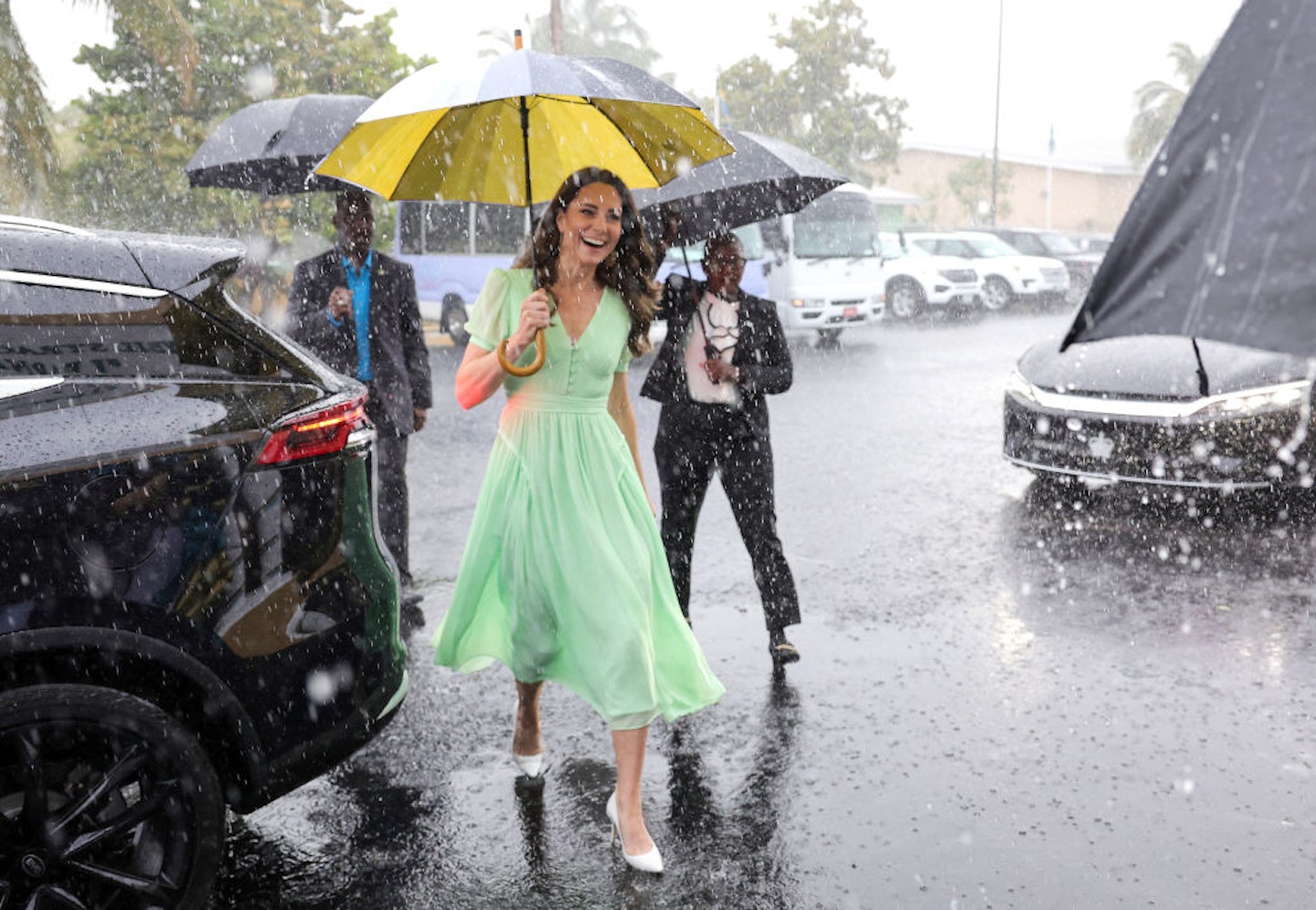 Even when it's raining, Kate knows how to rock a frock. Here, she is seen sporting a spearmint chiffon midi dress from Self-Portrait. We love the colour and how beautiful this makes her look. Let's find some dupes!
Mint Green Midi Dress
Best V Neck Kate Middleton dress dupe
Description
For something a little more luxurious, opt for this Monsoon dress from M&S, made with flowing
What style dresses does Kate Middleton wear?
Kate Middleton is known for her classic, elegant, and sophisticated sense of style. Her fashion choices often reflect a blend of modern trends and timeless elegance. She usually opts for a tailored silhouette, as well as A-line fit and flare dresses and skirts.
Solid colours, subtle patterns and prints are a must too, and she always opts for a subtle yet sophisticated accessory if her outfit does not include embellishments.
Where does Kate Middleton get her dresses from?
Kate Middleton, Princess of Wales, has been known for wearing dresses and outfits from a variety of designers and brands. Some of the designers whose creations she has worn include Alexander McQueen, Jenny Packham and Emilia Wickstead.
For more on royal fashion, make sure to check out our round-up of the best Sophie Wessex fashion dupes.
Piper Huxley is a Homes, Garden and Wellness Product Writer for Yours, an all-rounder when it comes to home and wellness. When she's not at her desk, she's practising yoga, cooking up a storm or tending to her houseplants.