Rita Hayworth, American actress, dancer, and producer, achieved fame during the 1940s as one of the era's top stars, appearing in 61 films over 37 years.
However, while Rita lit up the screen with her sensual beauty and trademark red hair, she paid a high price to get there.
Here is everything you need to know about Rita Hayworth, including her childhood, past loves and the films that she is most famous for.
When is Rita Hayworth's birthday?
Rita was born on October 17 1918, in New York City.
What was Rita Hayworth's real name?
Her real name was Margarita Carmen Cansino.
Rita Hayworth's early life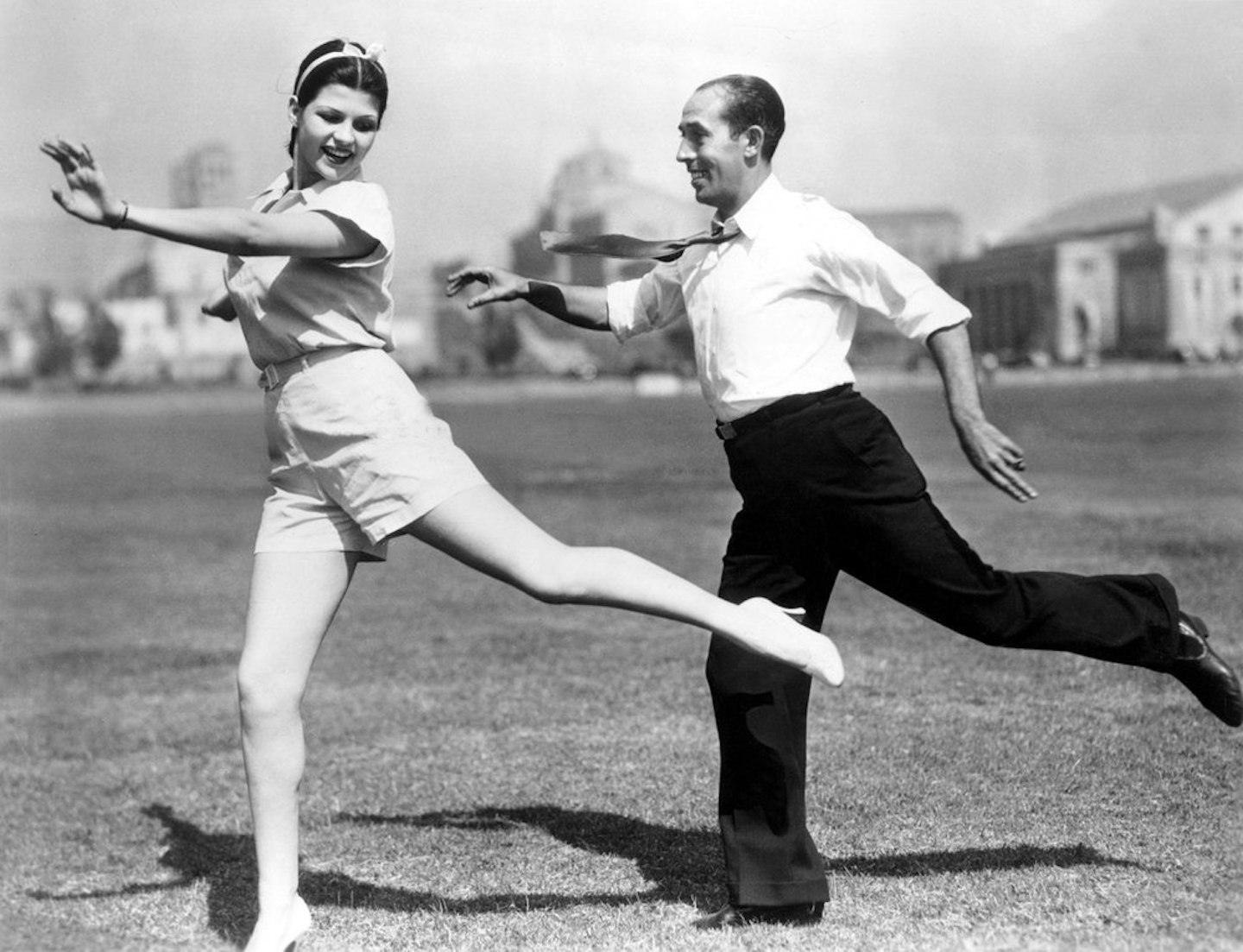 Rita's childhood was not a happy one. Her father, Eduardo Cansino, was a Spanish dancer who emigrated to New York in 1913, where Rita was born five years later.
Eduardo moved his family to Los Angeles as he hoped Hollywood would bring them fame and fortune.
Rita remembered, "I didn't like dancing very much, but I didn't have the courage to tell my father. Rehearse, rehearse, rehearse. That was my girlhood."
Dancing queen – Rita Hayworth's excellent dance skills
Her father's failing fortunes – he lost his money during the depression - meant his hopes were pinned on Rita and her natural dance talent.
By now, Rita was 12 but looked older. Her father took her out of school, dressed her in sexy clothes, added scarlet lipstick and made her his dance partner.
They toured seedy casinos and nightclubs in Mexico, where child labour laws were less strict.
Eduardo made out that his daughter was his wife – and he also overstepped that boundary when he wasn't on the dance floor.
Rita Hayworth's early career
Then Rita was talent-spotted by a Fox film producer. Photos of Rita Cansino show a raven-haired, slightly plump Latin-American dancer.
She had small parts in a string of films and that might have been the summit of her career. But another man was about to change all that – a 41-year-old lounge lizard and car dealer called Edward Judson.
Rita admitted later, "I could never have made the grade in Hollywood without him. I was just too backward. My whole career was his idea."
Was Rita Hayworth married?
Yes – she actually married five times! Aged just 18, she embarked on her first, marrying her manager Edward Judson.
He saw she could have all-American appeal and changed her name (Hayworth was her mother's maiden name).
Judson was certainly an efficient hustler who got her press coverage and notice, but he was as unscrupulous as her father.
As Rita remembered, "I married him for love, he married me for an investment. From the first he told me I couldn't do anything for myself. My personality crawled deeper and deeper into a shell."
Rita Hayworth's lovers
Judson ordered her to sleep with men who could help her career. One of these was the head of Columbia Pictures, the ruthless Harry Cohn, who expected sex from his female stars as part of the deal.
But even though she had become the mistress of Howard Hughes, Rita courageously drew the line at Cohn. He was too shrewd a film mogul not to see her potential, so nevertheless she was signed to Columbia.
Between them, Cohn and Judson completed the transformation from Latina dancer to "America's Love Goddess".
Rita lost 20lbs, dyed her luxurious hair auburn and, most extremely, had her hairline raised by electrolysis – a painful procedure that took many months. She also took acting lessons – something she had long wanted to do.
Rita Hayworth's height, hair colour and other vital statistics!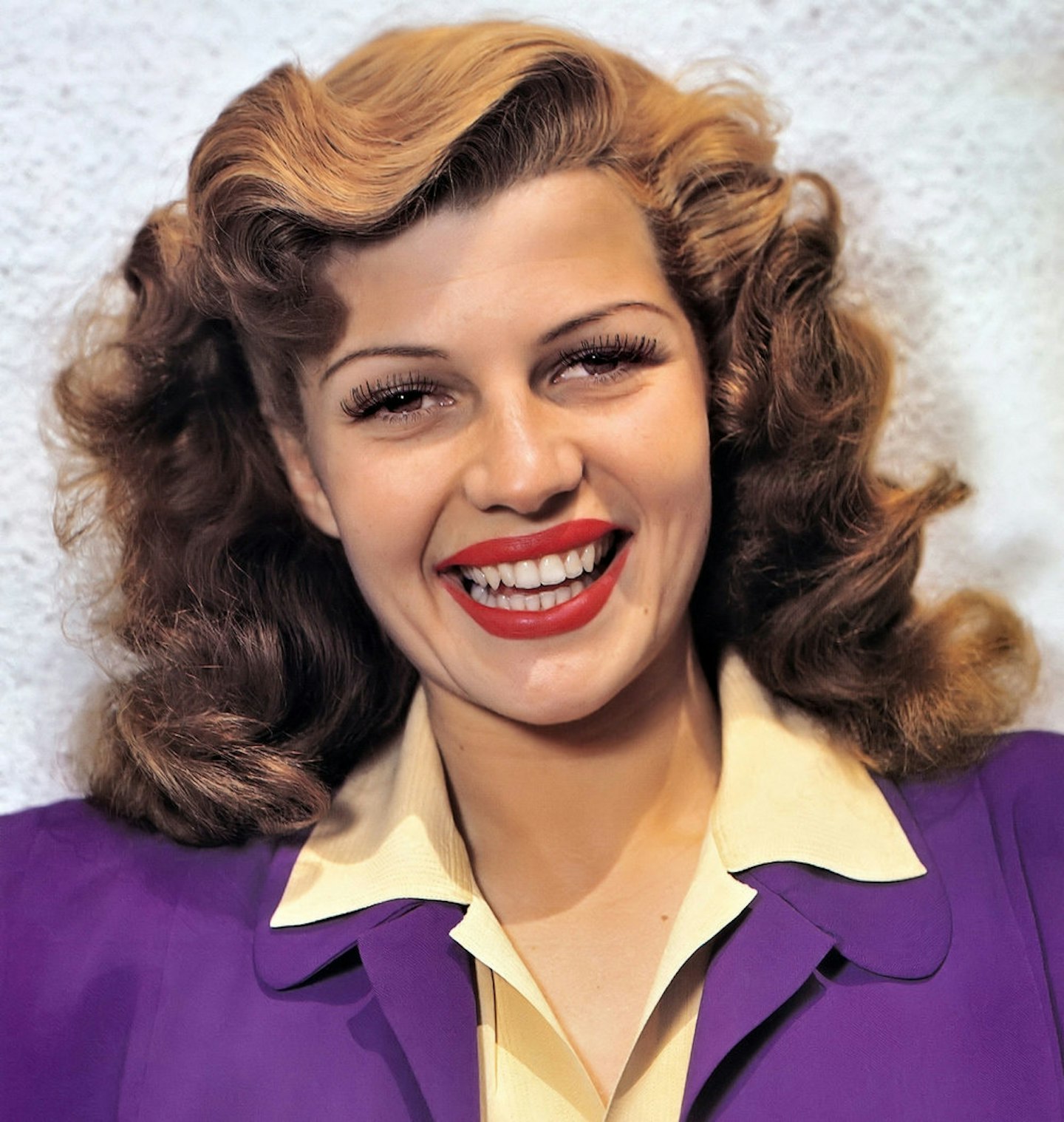 Naturally a brunette, Hayworth found fame as a redhead. She was 5'6 tall and weighed a tiny 8.5 stone.
Rita Hayworth's film career
The new-look Rita began to be noticed. In 1939 she got critical acclaim playing the unfaithful wife opposite Cary Grant in Only Angels Have Wings and then she made Strawberry Blonde (1941) with James Cagney and You'll Never Get Rich with Fred Astaire. Rita Hayworth was a star, not to mention a favourite pin-up for American troops following the famous photo of her in a negligee in Life magazine. On-screen she was sensual, warm and moved with effortless confidence, off-screen she was shy and quiet, in many ways, a lost, frightened soul. Her father had abused her and her husband pimped her out. No wonder the choreographer Jack Cole noticed, "Rita was a lonely person, you always felt that about her."
But her continuing film success (My Gal Sal, You Were Never Lovelier) did give her the strength to finally leave Judson and file for divorce on the grounds of cruelty – encouraged by her then lover, Victor Mature.
Rita Hayworth in Gilda (1946)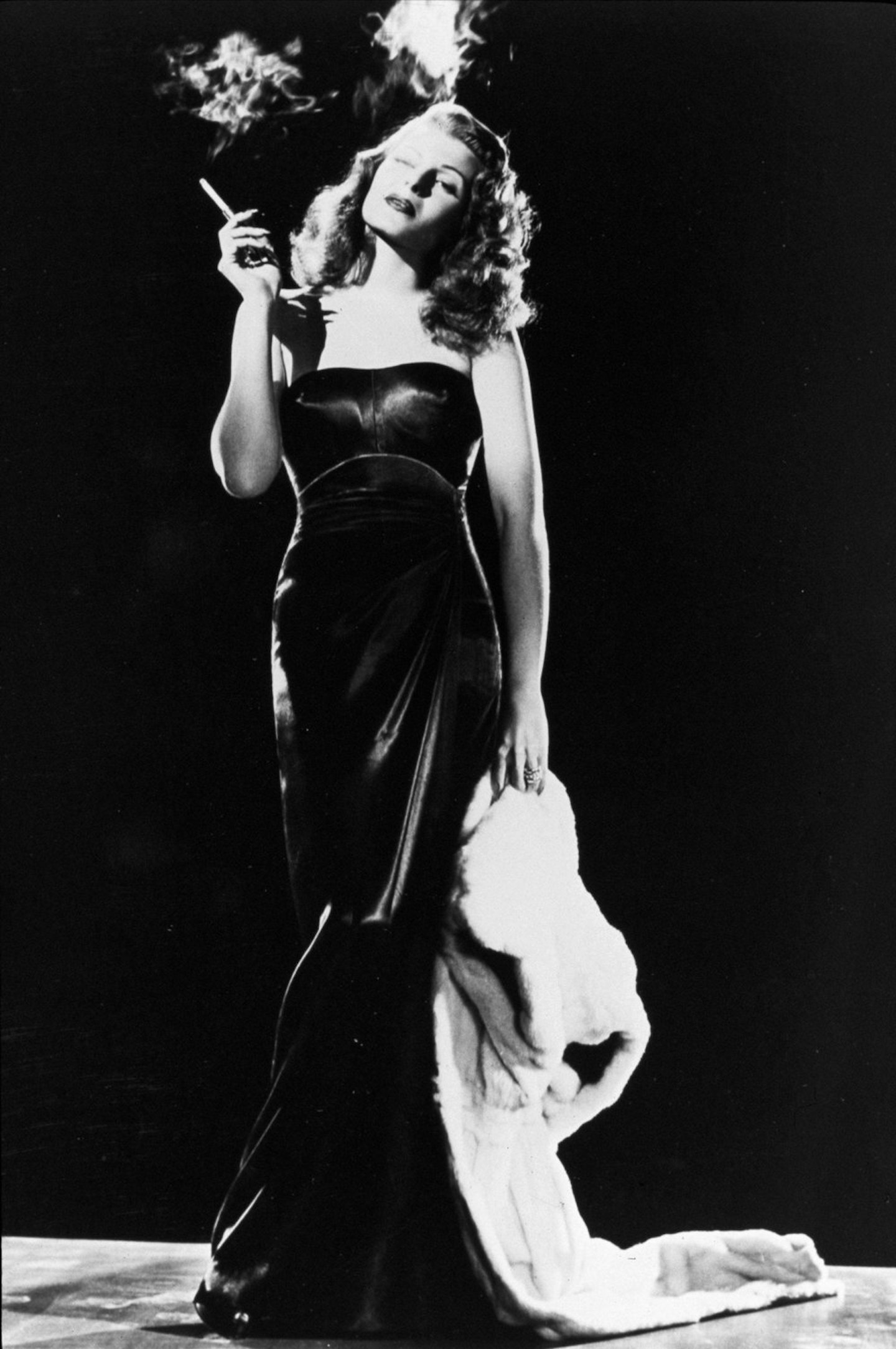 Gilda, made in 1946 and directed by Charles Vidor, is still probably Rita's best-known role.
Still her best remembered film, Rita played Gilda, alongside Glenn Ford, as a reckless femme fatale, with enough sensual firepower to scorch every man she met. But as Rita pointed out – that was not her.
"Every man I know has fallen in love with Gilda, and awakened with me," Rita Hayworth said ruefully.
One strange thing came of the role – it was widely reported that the USA was planning to test an atomic bomb shortly after Gilda's release, bearing a photo of Hayworth that was cut from an issue of Esquire magazine. While her then-husband Orson Welles said the story made her 'fly into a terrible rage', he found the idea rather amusing.
Rita Hayworth marriage to Orson Welles
In September 1943, Rita married actor and director Orson Welles, the man she called the love of her life.
Their happiness should have been complete with the birth of a daughter, Rebecca. But Orson was another controller.
Rita was, in many ways, his Eliza Doolittle. He suggested books she should read and wanted to change her image – hence her short blonde hair and no-dancing role in the film he directed her in, The Lady from Shanghai.
The marriage broke down and when Rita sued for divorce she said tellingly, "I can't take his genius any more."
Rita Hayworth's marriage to Aly Khan
Her third marriage got even more publicity than her second. Aly Khan was the playboy son of the fabulously wealthy Aga Khan.
They were both still married when they started their affair, but managed to get divorced in time so their daughter, Princess Yasmin, could be born in wedlock. Yet despite the scandal, Rita's popularity survived.
There was something vulnerable about her that made women, as well as men, care about her.
Her Pal Joey co-star Kim Novak said of her, "She was just a tender, sensitive, beautiful human being. Very gentle."
The marriage was a short-lived affair that ended in an acrimonious divorce.
Rita Hayworth's fourth marriage, Dick Haymes
Sadly, Rita's judgement in men went from bad to worse. Her fourth husband, singer Dick Haymes, had the nickname Mr Evil and he took financial advantage of her before she divorced him too.
Although notable films such as Pal Joey and Separate Tables in 1958 were still to come, this was the beginning of Rita's decline.
Her drinking was beginning to affect her ability to perform, but so was something else – the early onset of Alzheimers, although it would be many years before it would be diagnosed.
Rita Hayworth's fifth marriage to James Hill
One more disastrous short-lived marriage to film producer James Hill, ended in divorce on the grounds of mental cruelty in 1961.
Rita Hayworth's daughters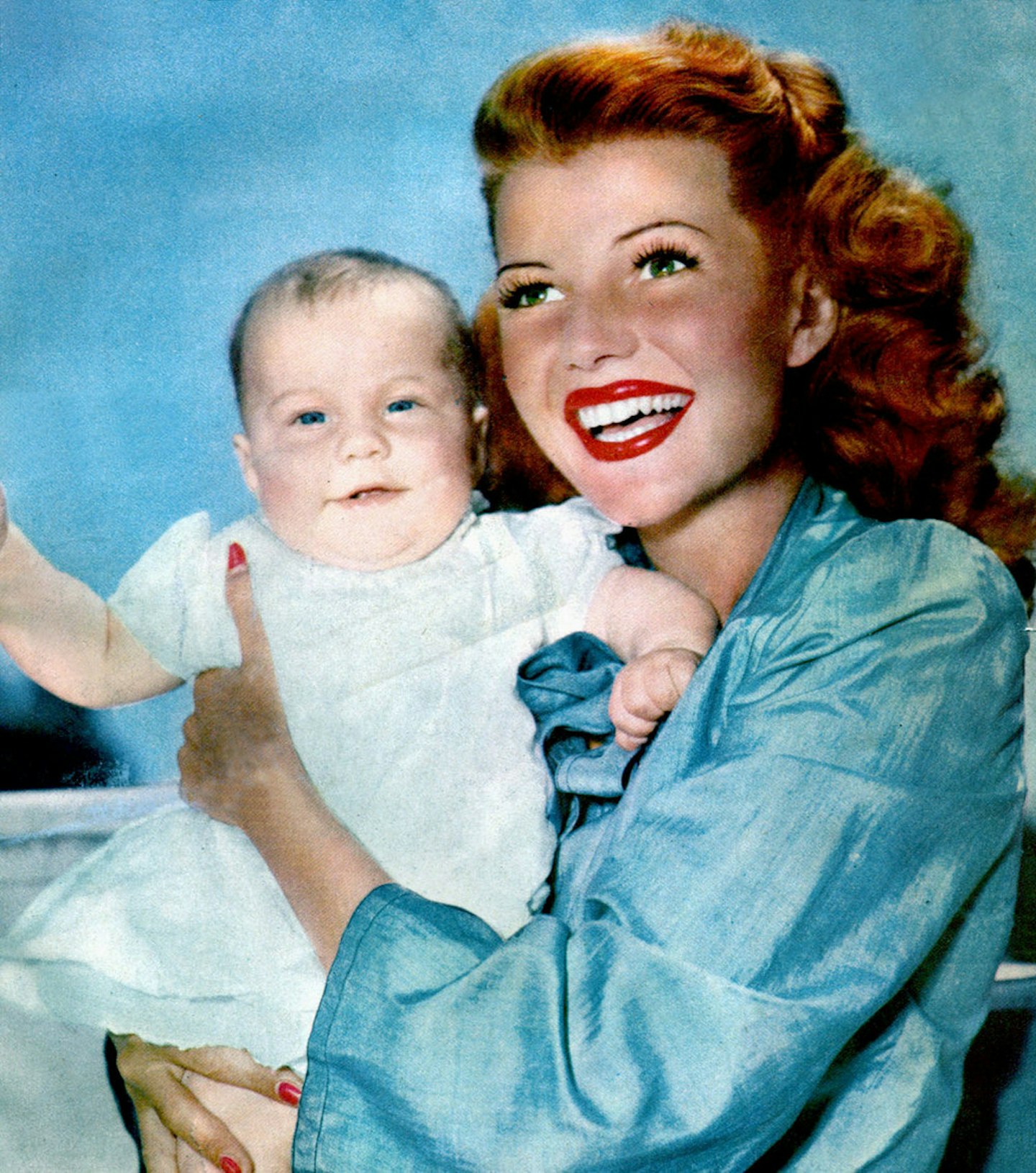 Rita and Orson Welles had daughter Rebecca in December 1944. Rebecca died in 2004 at the age of 59. Rita also had Princess Yasmin Aga Khan with Aly Khan in 1949.
What was Rita's final film?
Gorgeous Rita's last screen appearance was in 1972 in The Wrath of God. She'd previously continued to work hard throughout the 1960s, and made two films in 1970 - Road to Salina and The Naked Zoo.
Rita Hayworth's death
In 1977, Rita was finally able to stop drinking, but her erratic behaviour carried on.
In 1980 she was finally diagnosed with Alzheimer's and put under the care of her daughter Princess Yasmin.
In 1987, Rita died, aged 69. At her funeral, her pallbearers, all famous Hollywood names, included her Gilda co-star and former lover Glenn Ford.
Her lifelong friend, child actor Jane Withers – who Rita met at Fox when she was still Rita Cansino, gave the eulogy and described her as "a sweet, kind and gentle lady".
She had told Rita then – who longed to act but didn't think she could – that acting, "just has to be in your heart".
But while Rita Hayworth's heart let loose a carefree joy that lit up the silver screen, Margarita Carmen Cansino's hid a lifetime's pain and endless search for love.
Did Rita Hayworth sing?
Despite appearing in many musicals, Rita was far superior as a dancer than as a singer.
Her singing roles were dubbed by various ghost singers. Here she is, miming to Put the Blame on Mame from Gilda.
Rita Hayworth quotes
"Every man I know has fallen in love with Gilda, and awakened with me."

"Basically I am a good, gentle person, but I am attracted to mean personalities."

"All I wanted was just what everybody else wants…to be loved."

"From the time I was 12 I was dancing for bread and butter, but in my heart I was always an actress."

"Old age – that's when a woman takes Vitamins A through G, and still looks like H."

"Movies were much better in the days when I was doing them."

"I think all women have a certain elegance about them which is destroyed when they take off their clothes."

"I never really thought of myself as a sex goddess; I felt I was more a comedienne who could dance."
Rita Hayworth's best films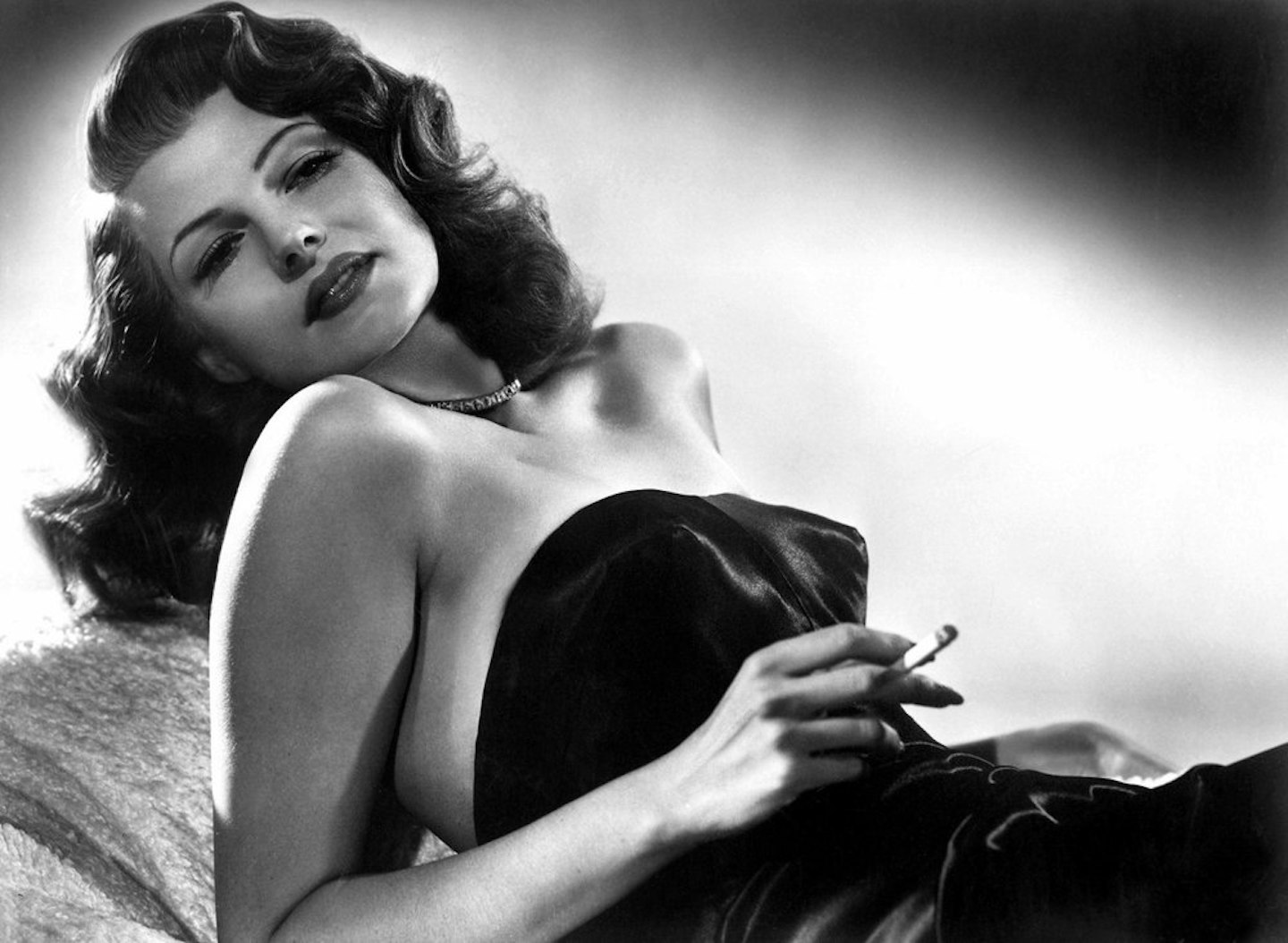 Rita worked in Hollywood for 37 years, making a whopping 61 films. She's best known for Gilda, Cover Girl, You Were Never Lovelier and The Lady from Shanghai. Other Rita Hayworth films included...
Pal Joey, 1957

Affair in Trinidad, 1952

Salome, 1953

They Came to Cordura, 1959

Blood and San, 1941

Only Angels Have Wings, 1939

Separate Tables, 1958

The Loves of Carmen, 1948

You'll Never Get Rich, 1941

Fire Down Below, 1957

Down to Earth, 1947
Rita Hayworth and the Shawshank Redemption
This was the title of a 1982 novella by Stephen King, which was later made into a film called The Shawshank Redemption, in 1994.
It's set in 1948 and follows Andy Dufresne, who is sent to Shawshank State prison for the alleged murder of his wife and her lover.
Here he meets Red, who smuggles in various items – he asks him for a poster of Rita Hayworth.
He covers his wall in pin-up posters and – spoiler alert! – He escapes from prison through a tunnel carefully hidden behind them.
Rita Hayworth's diamond bracelet
Rita was lucky enough to own some beautiful jewellery. Here's one of her diamond bracelets, appearing on the Antiques Roadshow.
How to do Rita Hayworth hair
Recreate her famous Gilda hair waves with this tutorial, discover how she kept her red hair so shiny with these Hollywood beauty tips:
Rita Hayworth and Frank Sinatra
Frank Sinatra insisted that Rita was given top billing in Pal Joey. He said, "To me, Hayworth is Columbia. They may have made her a star, but she gave them class".
Fred Astaire and Rita Hayworth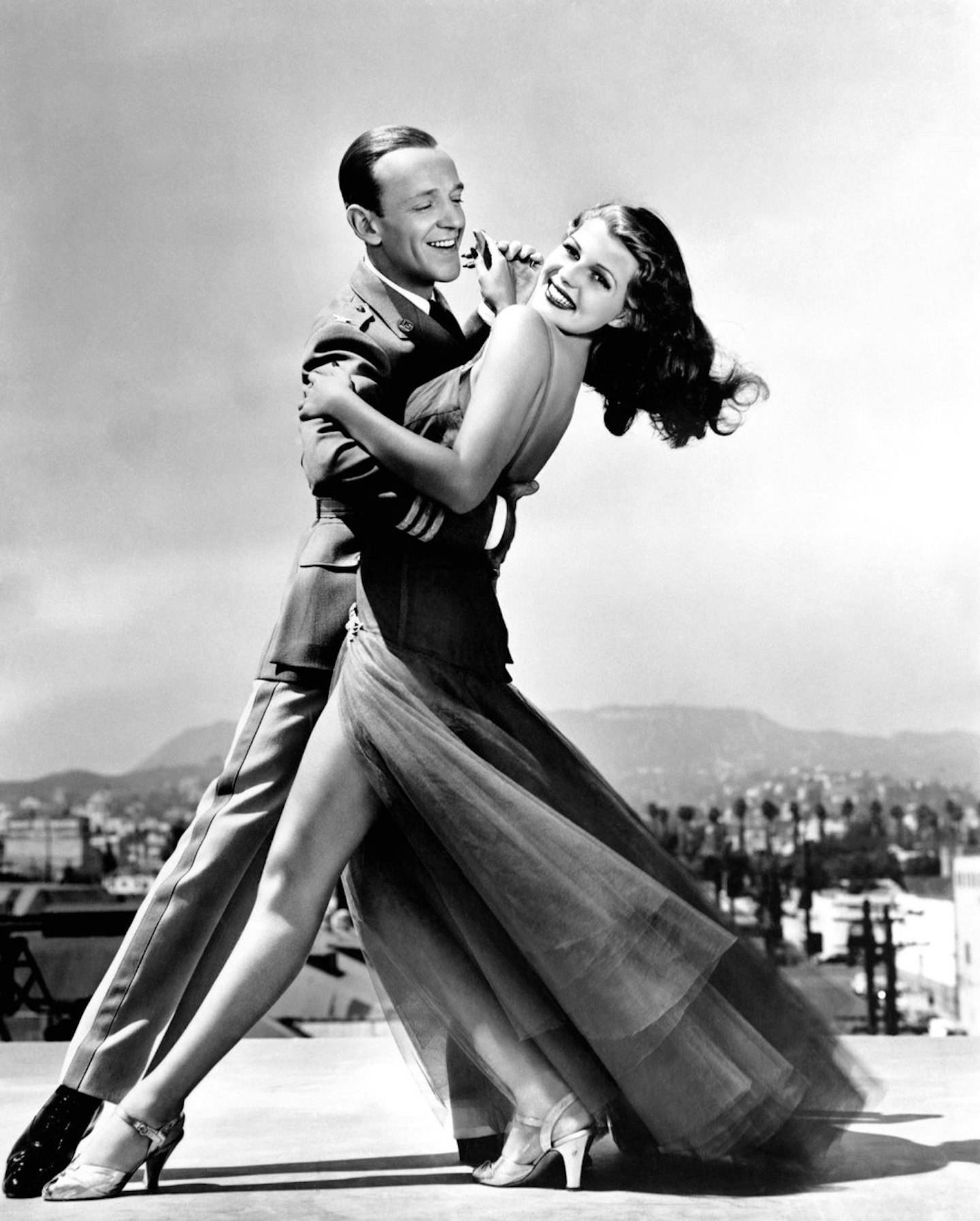 Fred Astaire named Rita Hayworth as his favourite dance partner. He said she could learn the steps in the morning, mull over them during lunch and dance in them in the afternoon without a single mistake.
Read more popular articles
Janet Leigh: Psycho, her turbulent marriage to Tony Curtis and more